The Meta team is actively developing media monetization and distribution. Soon FB Reels will be available outside the USA, and the ability to download across social networks in perfect quality is must-have knowledge for reusing cool content. Learn how to entertain your target clients with videos downloaded from Facebook.

Let's start with the most important thing for creators and businesses growing on social networks, especially Facebook or Instagram. Developers of these largest online media platforms are introducing all possible methods of direct monetization within the platform itself. Thus, after testing Stars (an internal payment system) in 20 countries, this function is going to be implemented on FB worldwide. Hence, wherever users are, they can build closer relationships with followers through broadcasting and publishing clips. The monetization function is only available when watching Facebook videos so far, but according to the recent news, the developers plan to expand the possibilities of internal payments. Stars are already being tested in the feed, in gaming, and in the huge video library built into the platform.
The key takeaway from this:
Facebook video content is becoming increasingly important, and if you learn not just to produce everything from scratch and Live broadcasting but research and download captivating content in time, then you may gain your audience's attention more easily. For example, a video that you share on the Facebook community with your customers can remind potential buyers about your company and services, which will increase sales on the website or directly inside the built-in marketplace.
Users can find and download a myriad of clips:
You can save content from the Creator Studio. Recently, the platform has added an option for finding inspiration across this section. This way you can track the latest popular posts and specific industry hashtags. As a result, you can download some targeted videos that the audience will surely like, or you can deliver them across Stories and Reels adapting to various forms of content.
Download Facebook Live. When downloading entire streams, it's not necessary to share them in full length. Save the whole broadcast so it will be saved in premium resolution, and you can also proceed to edit this clip. This means you can cut out the coolest catchy piece and post it where it will be relevant to the audience. For example, you can adapt this fragment for the Instagram feed, Reels, or share it on other streaming social platforms or thematic forums.
Download parts of shows and series from the Watch library. This section works almost like embedded YouTube. Here, users not only upload personal videos but it is the media library with shows and series filmed and shown exclusively in the Facebook community. By applying the FB video downloader, you can download any materials from this section.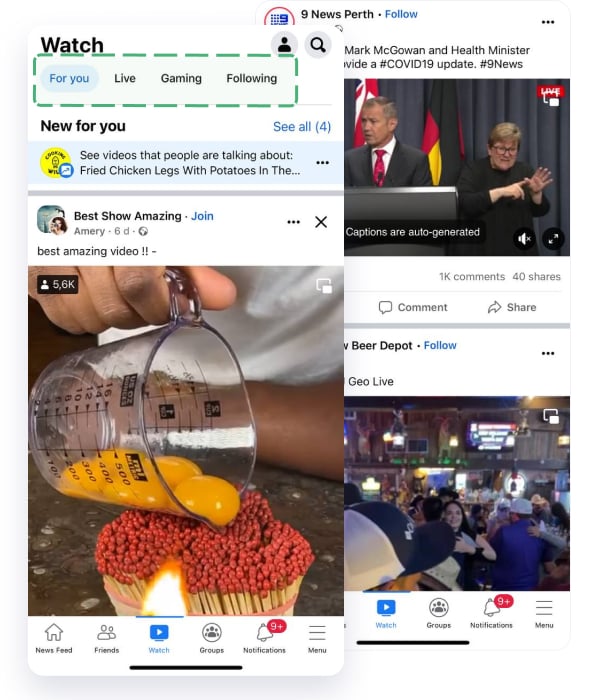 Next, I will provide the instructions for the downloader allowing you to save videos to a PC or smartphone. This method has the following advantages:
It won't require registration and is free.
You don't need to install or download anything.
You will receive the video in the format it was originally uploaded to the platform.
This way, the content will be suitable for reuse and processing. You will be able to aggregate gigabytes of useful materials sorted out for your niche, which will improve your interaction with your audience. To detect viral media, it is important to understand who your followers are and what interests them. This will be the last section of this article.
Download Facebook videos on mobile & desktop
To download video from Facebook to mobile devices, use the following instructions.
How to save from FB video library to any mobile:
STEP #1 – GO TO THE FACEBOOK APP OR VISIT THE MOBILE VERSION VIA A BROWSER
Since the application is updated very often you may be confused and try to find the copy link function in the menu behind the three dots. However, Facebook has a different rule.
STEP #2 – USE THE SHARE MENU ITEM TO COPY THE LINK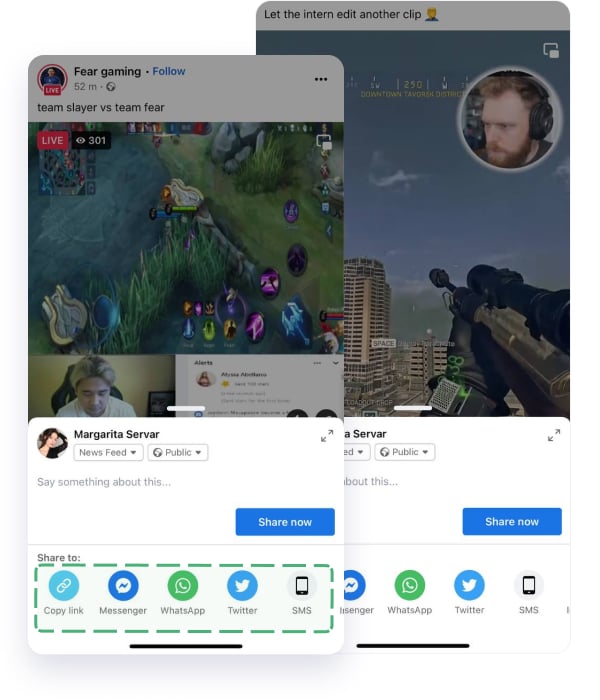 To copy the link, firstly find the desired video. For instance, open the Watch library. Pick the arrow which is intended to share content within the site. Scroll to the right side.
In the end, you'll see the Copy Link menu item.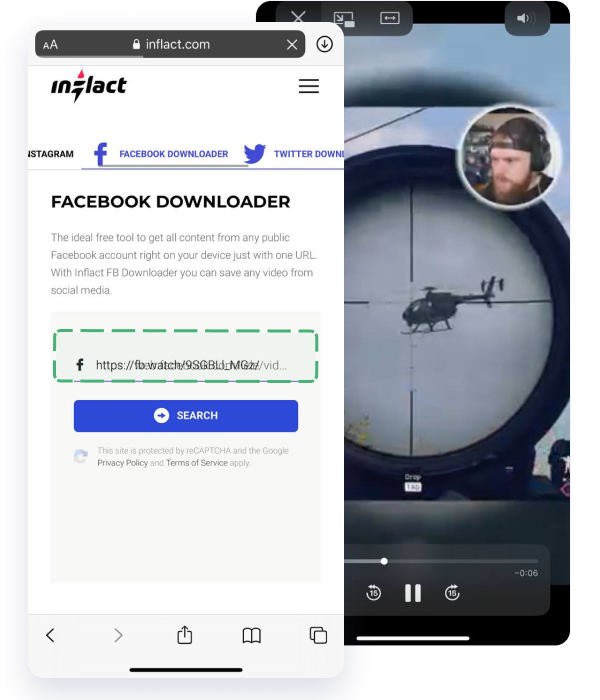 This free service allows users to save videos on mobile and desktop via a URL. Paste the link into the search box and choose the button Search. In a few seconds, the service will find the video associated with the URL and make it available for you to download.
STEP #4 – SAVE THE CLIP TO THE DEVICE MEMORY
Select the download button. The visual will be saved in the downloads folder from where you can transfer it to the phone gallery. This tool is web-based so it will be compatible with any iOS, Android, or Windows device. All you need is internet access.
You don't even need to have a personal Facebook account and it will not be necessary to log in and enter personal data. So this method is definitely anonymous.
It's possible to download any Facebook Live video
With the help of the Facebook video downloader, users can keep not only the videos that are posted to the media library or feed. You can also download Live broadcasts which are in progress or have already been saved to the library of likes. Where can you discover a list of Live broadcasts that are hosted on Facebook?
If you utilize Facebook on your desktop, you can see the extended functions of the Watch library. In the application, you will see the feed clips selected by the algorithm based on your preferences. While discovering clips through the Desktop version, you can use the advanced search.
You will see the Watch library section including Live broadcasts, and by exploring it you will uncover the current and recorded saved broadcasts. At first glance, it seems that it is impossible to save the current one, but it is not so. Copy the link and paste it into the Facebook Downloader; even the ongoing Live will appear on your device for the download.
How to find interesting niche content on FB
Start by analyzing in-demand content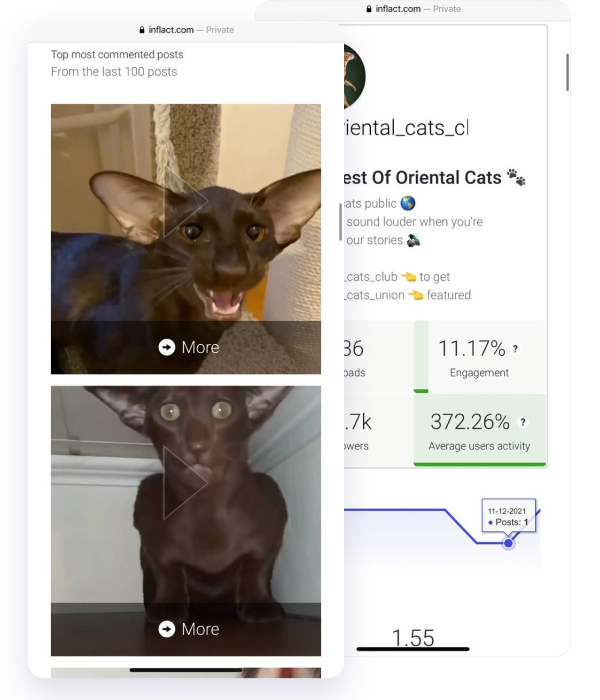 If you're looking for a Facebook video to use on Instagram, knowing engaging content will allow you to select the visuals that really work in your niche.
First of all, understand what content your audience is interested in. If you are unsure of what to post on Instagram, do an analysis of your competitors' or your own profile to see which content has the highest engagement. To do this, use the free Inflact Profile Analyzer. How does it work?
Collect about 10 accounts that you think are popular with your desired audience. You can make a search in the application or through User Search, which will quickly find a selection of accounts by keywords.
Insert nicknames into the search. After a few minutes, the tool will find the profile and display content analytics.
Evaluate the top posts by likes and comments. Pay attention to these publications in sample accounts. Think about which videos or photos get the most reactions from your followers. Try to find something similar in the resources of the Facebook library.
Where to find niche Facebook videos?
Even in the Facebook app, you can sort content and search for unique exclusive clips in private groups. This content is ideal for re-posting on other social networks for other and wider audiences or in a blog since only members of a group will see hidden videos.
In order to select Facebook groups to discover a video suitable to share with your subscribers, use the internal navigation. Facebook offers numerous sorted categories in search across different niches. For example: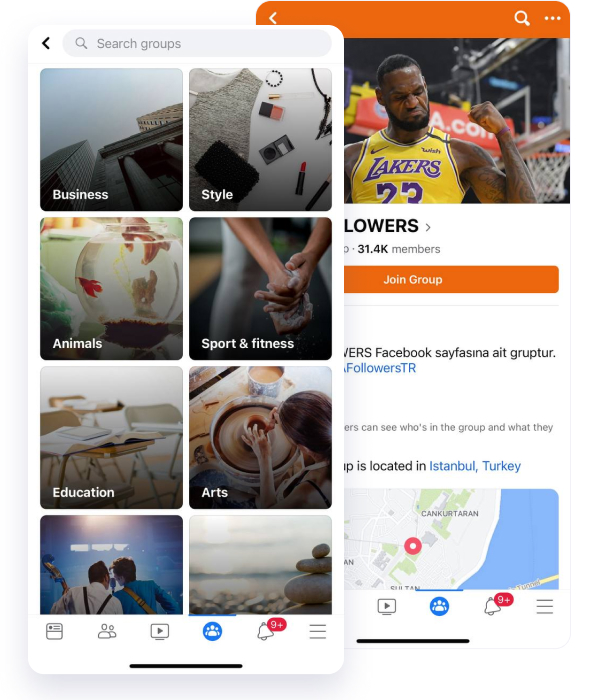 You can send requests to a closed group so that later you have the opportunity to download content from there.
If your target audience is TV show fans, you can easily find interesting snippets from the Watch library. By downloading videos of favorite shows and posting them on social networks, you will get a lot of reactions to the content.
How can you increase your Instagram activity with Facebook videos?
Poll your audience – Do they watch any shows on Facebook Watch?
When you get answers, if your users indicate that they are using this library, you can select several shows and images of the main characters which can be useful in your content promotion.
Next, you just need to download an episode of the show and present it in a new way. For example, you can highlight some funny moments or intriguing moments and ask what your audience thinks about them.
This way you will get a lot of comments from your Instagram. And this will have a positive effect on the perception of your account by the algorithm. Because the more comments and engagement your posts have, the more actively your other posts will be suggested to these users.
Therefore, with the help of well-selected content, including fragments of shows and series, you can become a really "human" business page for your audience. Showcase you are not only aimed at direct sales but also at entertaining and establishing more close friendships through content.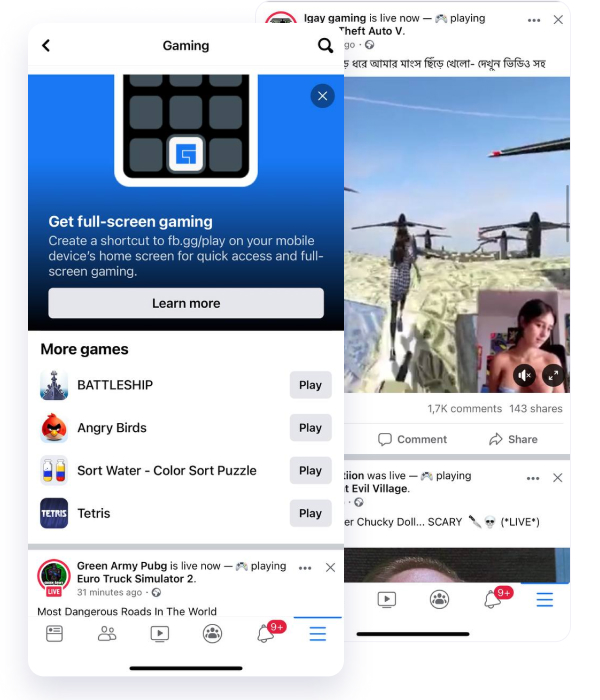 In this library, you will find recordings and broadcasts of games. All of these videos can be downloaded and shown to audiences if they are interested in games. For example, if you sell equipment via Instagram, set-top boxes, or lead a community of gamers, such content will be a great attraction.