The social network has added the Instagram Reels tab to the hashtags gallery. Now you can achieve higher account reach, engagement, and sales thanks to Instagram Reels hashtags not only in feed posts but also in extremely viral Reels clips.

Therefore, after this Instagram update, you need to apply Instagram Reels hashtags for every clip you post. Thanks to the fact that the Instagram audience is now highly involved in this content type (they interact with Reels much more than with Stories, or the content in the feed), you need to use this chance to boost your profile's organic activity. When Reels appear in a dedicated hashtag gallery, people who were looking for something in the app will come across your account. This can significantly uplift sales from the app because one demo Reel with the right set of hashtags might work much better than paid ads.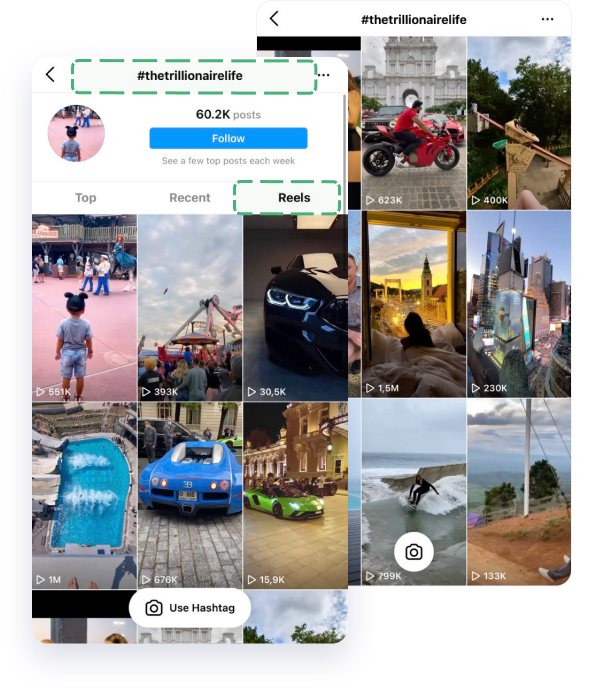 Perhaps if you want to research tags in the app, it will take you a lot of time – scrolling through each clip, opening the caption, looking through the tags, and manually typing them into a document. Sounds like a nightmare, right? Below, I will show you the automated tool for research where you can copy relevant hashtags in one click. There are two types of hashtags we recommend to paste into Reels captions:
Niche-specific. It is very important that the tags you put in the description should coincide in meaning with the video. Otherwise, this hashtag will not bring you a relevant audience – just views count.
Popular hashtags for Instagram Reels. There are special tags that are used exclusively for this type of content, such as in TikTok challenges for example.
Below you will find a selection of such Instagram Reels trending hashtags that were found specifically on top-rated clips. In order to find them, we checked Reels that are displayed in the Explore section, where you all probably dream to get to with your content.
As a bonus, you will also learn how to make Reels on Instagram without actually shooting and editing content too much. You might have neglected posting Reels because the editor looks unfamiliar, but in reality many top accounts simply repurpose content that helps them win millions of views and direct targeted audiences to their accounts. So, keep on reading this tutorial even if you have zero Reels on your account.
How to find best hashtags for Instagram Reels – begin with niche tags
The most convenient option to research and generate hashtags for Reels is using a dedicated tool – the hashtag generator. Inflact Hashtag Generator has the richest hashtag database, which is renewed regularly. Therefore, you can be sure that the service will show you trending Instagram hashtags that were added according to the new tendencies and challenges.
The advantage of this generator is that based on your search queries (you can enter up to five keywords per search), you will be offered not only tags that directly contain the words chosen as keys, but also the synonymic and relevant ideas commonly used with similar tags according to Instagram.
Thus, even if you don't guess the top keywords for hashtags in which you have a huge potential chance to promote your clip, then the Hashtag Generator will display the optimal options.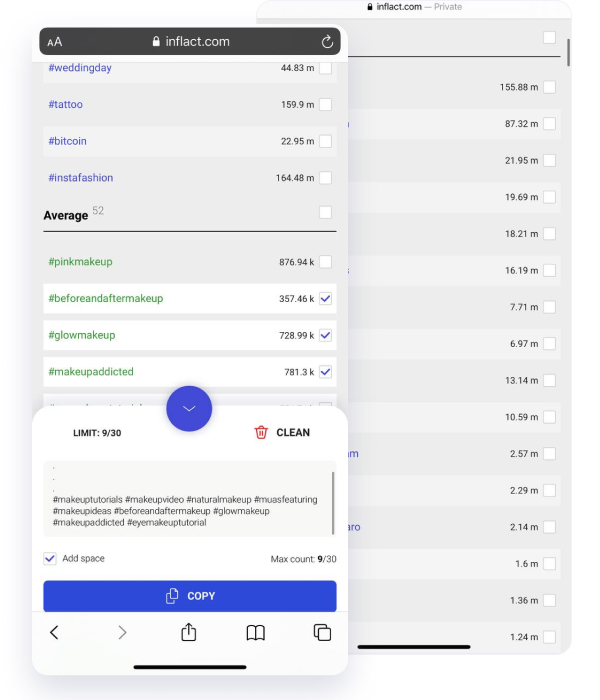 In the Instagram app, you can't copy tags. So with this tool, you can enrich your Reels with tags by simply copying them into a file. Then you just switch the hashtag order, update them with the new tags, and remove irrelevant ones.
Discover the most up-to-date hashtag strategy in the Myth-Busting Instagram Hashtag Guide.
What are the best tactics that will help to bring your Reels to the top hashtag gallery?
#1 BEGIN WITH NICHE KEYWORD BRAINSTORMING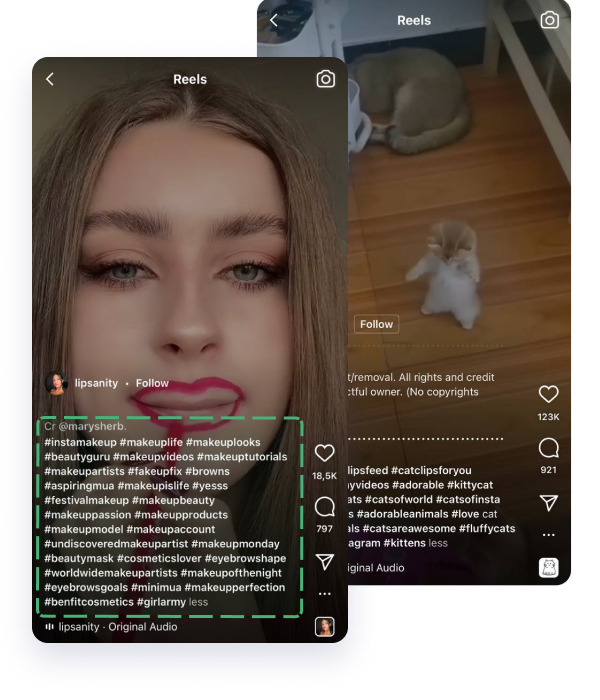 To start with, you need to select keywords or topics that relate to the meaning of your clips, by which a potential subscriber or consumer can find you. For example, if you publish Reels about makeup, you have to write down all the words that users may specify in the search if they want to discover similar content.
Advice: Hashtags are one of the few options for how people can discover themed content in the app. So, think over the words that users or consumers would likely apply if they need your product or piece of content.
When hashtags are listed in the Reels description, you open them up for millions of targeted search inquiries.
#2 PROCEED TO THE HASHTAG GENERATOR
After you have selected the keywords, you need to register on the Hashtag Generator. Enter keywords one by one or several similar words at once. Next, you will need to tick the boxes with hashtags that suit your meaning and for which there is not too much competition.
Note: It's vital to view the hashtag gallery before using the hashtag in your set. Firstly, you will be sure that the content in the gallery is relevant. Secondly, you can estimate the competition level.
For example, if the gallery lists several million publications, then most likely your Reels won't appear in a top position. In order to check how competitive it is, open the gallery through the application. Keep an eye on the number of views on the top clips. If top clips have too many views, then it might be challenging to compete in this hashtag section.
So as a result of this research you will accumulate a database of hashtags that will be related exclusively to your content and to your business. Whenever a potential follower or consumer enters such an inquiry in the search bar, your Reels will very likely drive them to your account.
What is more, to promote Reels on Instagram Explore, we will need to enrich the hashtags selection with 1-4 hashtags that are used exclusively with Reels. They may be very competitive but still help to distinguish this type of content from the rest.
Essentially, hashtags favor your content for the IG algorithm, and with a viral Reel your chances to reach the top are even doubled. When hashtags are applied regularly and in every Reel, the Instagram algorithm itself begins to better understand what your content is about and it will more often show it to people who display an interest in such topics. For example, they can use the search inside the application, or like posts or Reels with certain hashtags.
As a rule, Instagram will display your content on the Explore of these people more often because the algorithm will count it as relevant for them.
#3 TRACK RESULTS OF HASHTAGGING
Is it even worth it to spend time on hashtag research? We know without any doubt that, based on our tests, hashtags can even triple your average Instagram reach. But the most vital thing is to find the most effective selection of hashtags. It can even be one single hashtag. That's why it's your main duty to monitor the statistics of each post with various hashtags.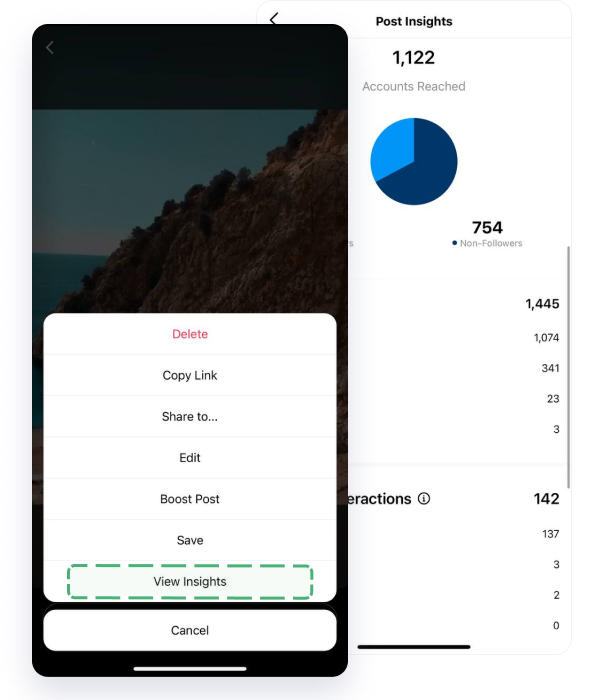 How can you evaluate the performance of hashtag sets?
Open the Reels section in your account. Even if you haven't uploaded any Reels so far, you can now see in this section all your feed videos. So check on the stats right away.
Choose the menu item View Insights.
See how many people have reached this video through hashtags. Also, take into account the numbers showing engagement – Saves, Comments, Shares.
Highlight top Reels every week based on these statistics. Later, you will understand what hashtag sets have driven the best result in reach and engagement.
Instagram Reels viral hashtags: use these 15 top tags
You can copy some or all of these Instagram Reels hashtags listed below and use them in captions. We researched them by using the Hashtag Generator.
#reelsi̇nstagram
#instagramreels
#reelslove
#trendingreels
#reelsinsta
#reelsviral
#reelsofinstagram
#reelsitfeelsit
#reelstrending
#reelsexplore
#reelsforyou
#reelsviralvideo❤️❤️❤️❤️
#instagram_reelslove
#instagram_reels
#reelsininstagram
If you research Reels on the top of Instagram, you will find out that many of them include one or several of these trending and viral Reels hashtags. Some of these tags already list tens of millions of publications, but some of them have recently appeared and the competition is not that tough.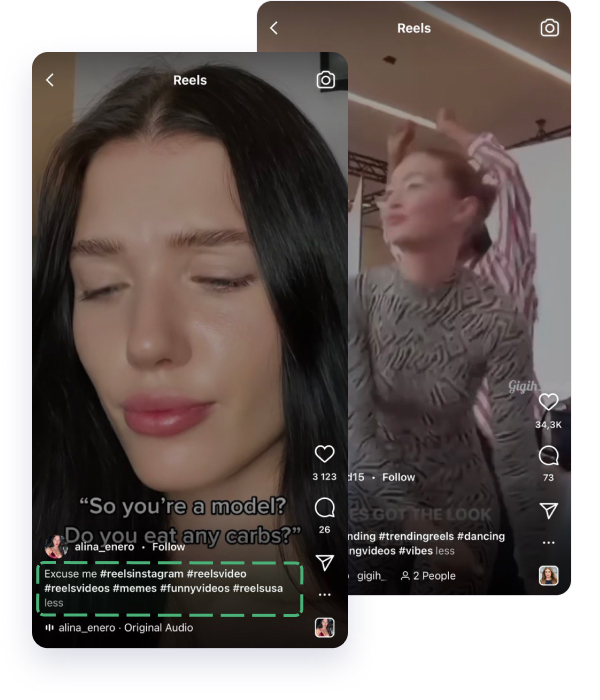 Note: You should keep in mind that Instagram hashtags are constantly shifting, which means that new tags appear every day. That's why you need a valuable tool like Hashtag Generator to keep posted about recently added hashtags and hashtags dedicated to contests.
The Auto-update description is one of the unique features of the Inflact Posting Module that make it possible to experiment with multiple hashtag sets at once. This means that instead of the 30 allowed hashtags, you can reach more users with 90 hashtags. The system will change the description automatically at three specified times so that your post or Reels will be displayed in various hashtag galleries.
Bonus: how to make Reels on Instagram without shooting – download Instagram Reels
The most important and pleasant thing is that you can start to make Reels now by using ready-made content. These may be clips that you have shot earlier, a TikTok video, or the content that you have found on other Instagram accounts or across other platforms, so that you know your audience is going tolike it.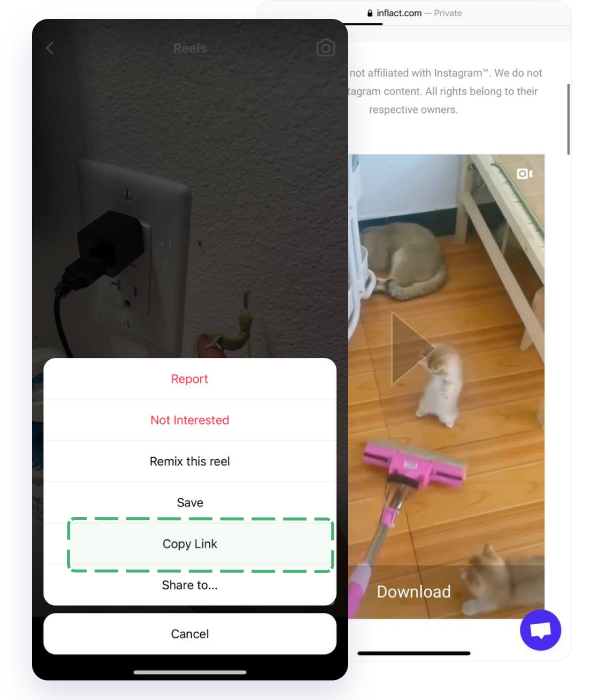 You can download content posted by other users as well and upload these videos as Reels. If you did not make the clip yourself but downloaded it from other accounts, use this checklist.
Checklist for reused content that can be applied for Reels:
Should be relevant to your audience – choose something eye-popping for them.
The source must be indicated in the caption.
Relevant hashtags should be pasted into captions to attract more people from Explore and hashtags galleries.
Repurposed clips that are correctly promoted through tags will do wonders for the activity of your account if you use them as Reels. Try to put tags to your account so that people who notice your Reels from Explore can quickly proceed to your account.
Even videos downloaded from other Instagram accounts can lead the audience to your profile. For this you won't need to arrange any shooting process – simply research clips that your followers may like and hook them from the Explore.
Essentially, you need to download Instagram videos in high quality. With the help of the Inflact Downloader you can download Instagram Reels, IGTV, and feed posts. Even though there's now a special section called Reels in the tool, you just need to copy and paste the URL to the video downloader.
First, find the Reel or video that you need to store in perfect quality for reuse.
Second, choose the menu item Copy Link by tapping on the three dots in the menu.
Lastly, paste this link to the Downloader'sVideo section.
The service will find the associated file and will make it available to download with just one click. That's how you can smartly make use of funny Reels you've found on Instagram to engage with the audience on your account. Paired with hashtags, this Reels posting strategy will boost your profile activity and drive potential followers with minimal effort.