How to save pictures on Instagram? Reliable tool for saving everything in the Instagram world! Try to use Instagram picture Downloader right now!

———Do you want to save Instagram photos, videos, stories and IGTVs on your phone or computer without loss in quality? We know how to do that!


Welcome to our free Instagram profile downloader that can help you to keep every cool and bright moments forever!


How to save other people's Instagram photos on PC? Now, it's very simple! Using Instagram downloader you can download your Instagram content and media files of your friends and celebrities!


Learn how Instagram picture downloader works!
Save pictures, videos, stories, IGTVs directly on your PC!

Get the chance to inspire yourself at any time!
Don't know what it is and how to use it? Stay with me and learn the following:
What is Instagram picture downloader;
Advantages of such a method of saving the Instagram content;
How to save pictures from Instagram.
Get ready to find out the top secret info that saves you lots of effort and money!




What is Instagram picture downloader?
Hey, my Instagrammer, do you know what is Instagram picture downloader? It is simpler than you think! Our new tool allows you to download any pictures, videos, stories, IGTVs profiles directly to your phone or computer!


No need to zoom the media files trying to see something in the format of the Instagram app. Now, you can view images and videos in a large size and distinguish any important details in the photo and video. It is cheering news, isn't it?:)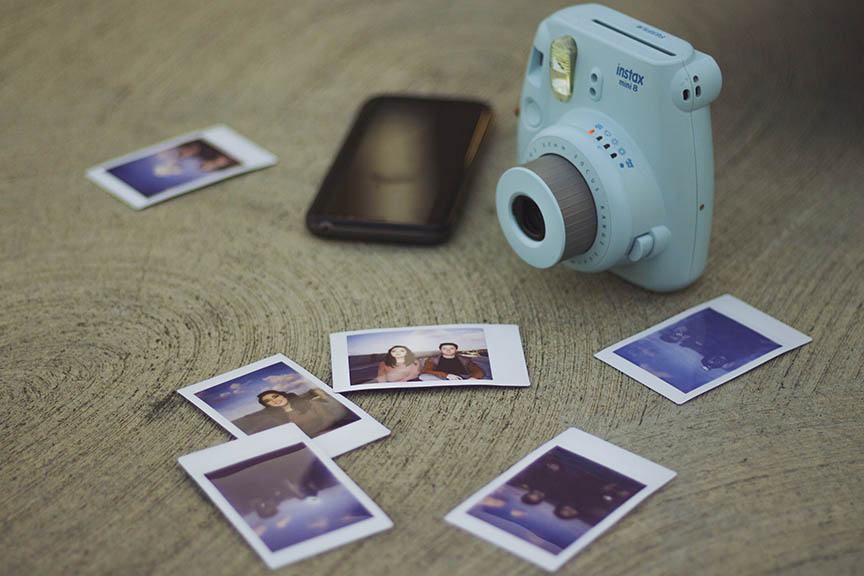 Most significantly, the policy of Instagram prohibits to download the content, whether it is your media files or files of your friends or celebrities. The only thing you can do is to add the files into the saved publications on the Instagram. But to view them, you need a stable Internet access since the app doesn't work without Wi-Fi.


Instead, Instagram picture downloader provides users with the ability of saving media files for free on any e-device. You can see it at any time without a stable Internet connection. All files are kept on the phone, PC or MAC.


P.S.: Don't worry, all downloaded files will have the original quality and format. Instagram picture downloader does not distort or reduce the quality, but on the contrary, makes photos even more improved.



Obvious advantages of free tool!
In 2023, taking screenshots of publications or saving your favourite ones to the Instagram saved folder is no longer relevant. It really takes a lot of time, effort, and most importantly - it's inefficient! As you can see, there are many minuses, but no pluses!
Another thing is Instagram Downloader! The tool combines a large number of pluses and no minuses!


1. Absence of registration
Inflact Instagram Downloader is a built-in tool that is available to every user. It does not require registration or entering personal data. You just add a URL to the search line and the service download for you the desired content.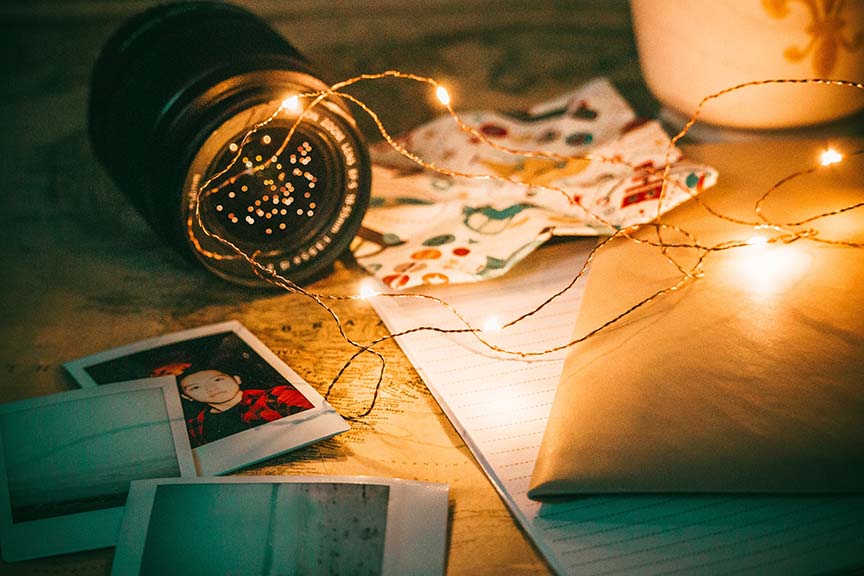 2. Suitable for any device

You can choose any device for saving the desired Instagram content. It can be your phone, PC or MAC. Moreover, you can view it at the appropriate time. It will stay with you forever and serve as an additional source of inspiration.


3. Free and fast
Instagram Downloader is a new, free and effective tool tool that saves any media files of your chosen Instagram profile for you within a few seconds.


4.High-quality of preservation
You don't have to worry about the quality of your saved files. The service saves all files in their original quality and does not cut their format.


5.Access to download any content
Using tool you can download all Instagram photos from your page and page of any user. It can be your friends, celebrities, or just people who inspire you. The main requirement is that the account must be public.


WOW! Lots of buns for free?
You read everything correctly!

Convenient tool at your disposal!
-Pictures
-Video files
-IG stories
-Profiles
-IGTVs
How to save a picture from Instagram?
Well, are you interested in how to download pictures from Instagram? I know that I'm right! After all, this is one of the most necessary tool. How to save images from Instagram? Let's figure out the plan, following which you can download Instagram profiles yourself:



First of all, open the website of Instagram;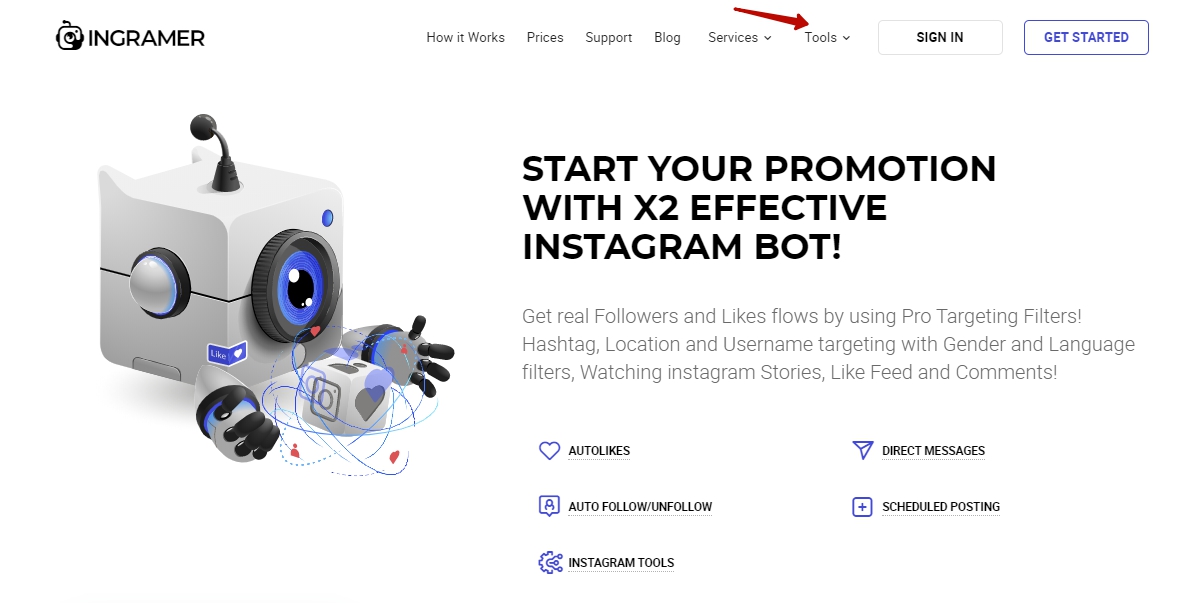 2. Click the tools button on the panel;
3. Select Instagram Downloader from the tools;
4. In the panel that opens, mark the needed Instagram content. It can be: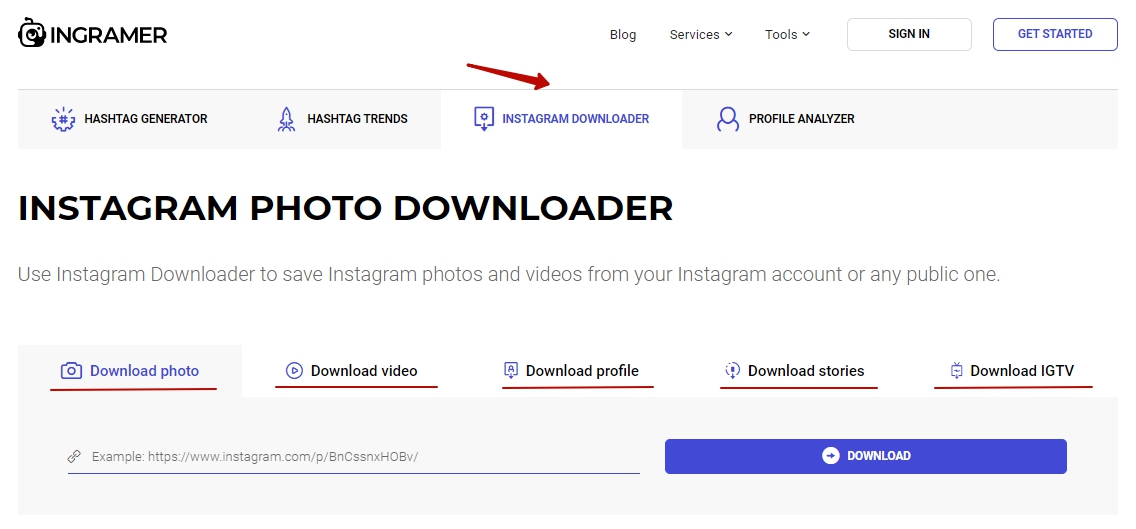 5. After selecting the desired one, for example, download photo, add a link to the image and click the download button;

6. After a few seconds, the service asks you to confirm your actions and download the photo you have selected. Click on the download.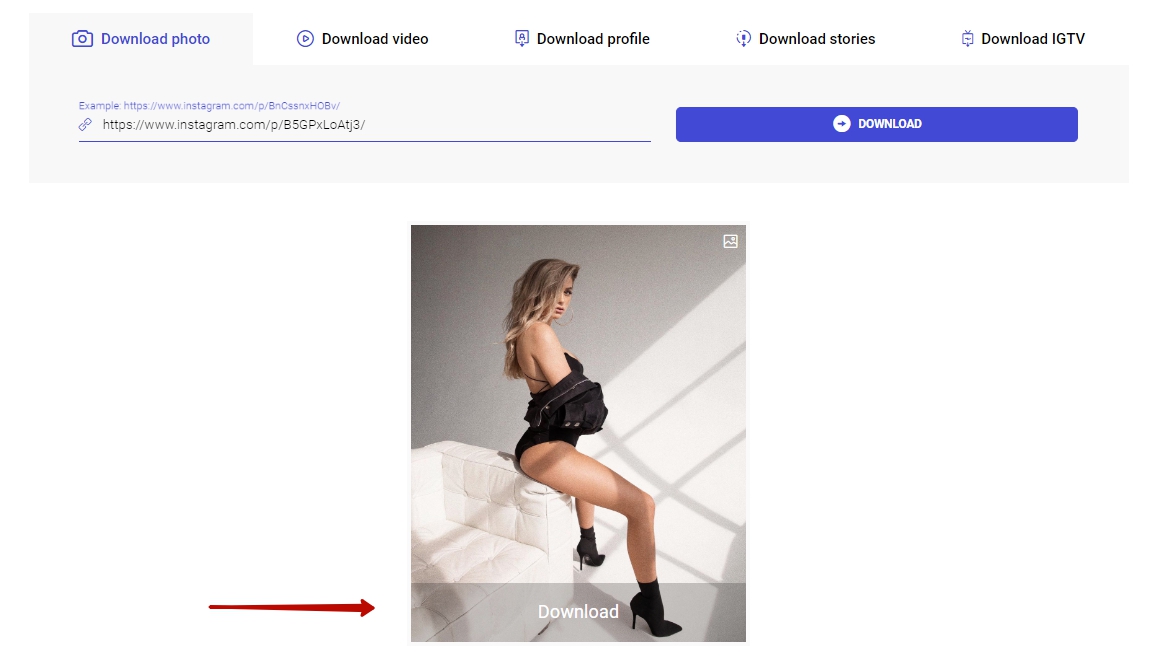 And so, what's the easiest that could be? Maybe selecting of the trending hashtags using the hashtag generator! Above all, the right choice of hashtags under your publications can drive traffic to your page several times!


If you haven't tried different ways of setting hashtags, read the article 3X Posts Reach In 1 Hour: How To Use Hashtags To Succeed? Be in the top today!




Conclusion
Probably, you have already used different services to save pictures from Instagram before the reading of this article. And you know without me that many require registration, payment, or impose limits on the allowed number of downloads per day.


Therefore, if you want to save images from Instagram and to avoid unnecessary expenses but get a convenient and effective tool for free, then the choice is obvious.