People pay attention to everything they see on Instagram, especially from trusted bloggers and friends. Let's learn how to get clients for business – it's easier than you think.

After just 5 minutes of studying this article and vital tools, you will be able to find your first customers – no matter how much experience you have. Also, these methods will not require you to invest in paid advertising. On Instagram, you can take off organically, even without huge costs, if you just do SEO optimization. Therefore, in order to minimize risks and test the ground, you can get by with free ways to find customers.
Spoiler: We will learn not only to look for customers, but to make sure that customers find you themselves and contact you in Direct with orders.
Advantages of finding clients on IG
You are seen from the personal side, which inspires confidence – even in a professional account, you can reveal your personal life. Show off your travels, hobbies, family, and pets so that potential customers have more points of contact with you.
It is easy for you to maintain feedback and follow up – in the community, your followers and customers are always at hand. You see what's going on in their lives that will help you organically connect through DMs, comments, and other interactions. For example, if you are a manicurist, all your clients can receive an automatic message in Direct with a reminder of their appointment every 3 weeks – this is excellent customer service.
Transparency – your professional IG is an open book of comments and suggestions. If other people are satisfied with your services, it will be visible on your profile and new orders will rain down.
Rapid reputation growth – thanks to promotion through themed accounts, bloggers and other SEO methods on Instagram, you will get stable and, most importantly, rapid growth.
It is much easier to boost your profile on Instagram than a site on Google – the SEO competition for sites can be too high, as well as the cost per click in advertising. On Instagram, promotion is much faster and cheaper.
You can find clients all over the world – Instagram is a social network where you can find clients even in Africa. Only for this you will need to optimize the profile for the tastes and language of this target audience.
For whom is Instagram the best source of customers?
Freelancers
Visual professions
Artists
Marketers
Coaches
Next, we will look at the important points for finding clients for photographers, web designers and nail masters – these are the most sought-after specialists judging by the search. We will add hacks for other specialists to this article later.
How to find clients on Instagram – tips for all businesses 2022
#1 Profile optimization for businesses
It often happens that users change their account from personal to business and think that after that, customers will line up on their own. But in reality, the entire profile – including texts and visuals – is your business card. Therefore, let's point out what exactly you should optimize and how.
Username. If it's just your name, you're losing customers. This section should have keywords – indicators of your services.
For example, your name is Julia and you are a nail master. Create a more tailored for business usernames – "Julianailmaster," "julia_nails," or other available variations.
The username is indexed in the search, so when people enter "nail master" in the search bar and they are in your city, the first thing they will be searching for is your account. Tell me, do you still want to be signed up as just "Julia"?
Name. This is not the same thing, and this line is also visible in the search results and is indexed by keywords. Here you can add more keywords and even a call to action.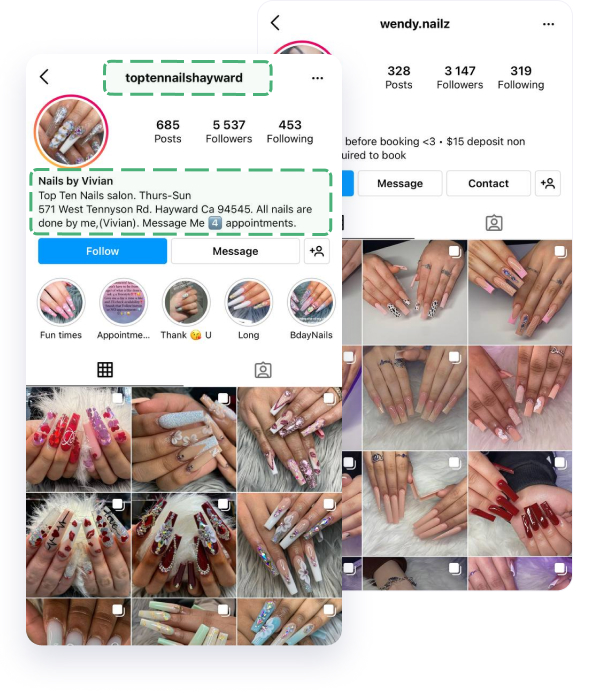 Hack: if you are at a loss for keywords, copy and mix the words of key competitors. Also test different descriptions and names and different keywords.
Description. The bio should contain your unique selling proposition. Because there are probably a lot of competitors. Therefore, it will be easier for you to defeat them with an exclusive offer.
For example, write down that the first 3 clients who sign up with you in a week will receive a 15% discount. This will encourage your audience to write to you in Direct immediately after viewing the profile.
Profile photo. Yes, this small round photo can help you attract more customers. Use your close-up photo. Bright colors and strokes around the photo will make your account more visually noticeable in the app.
#2 – Compiling niche tags will help customers find you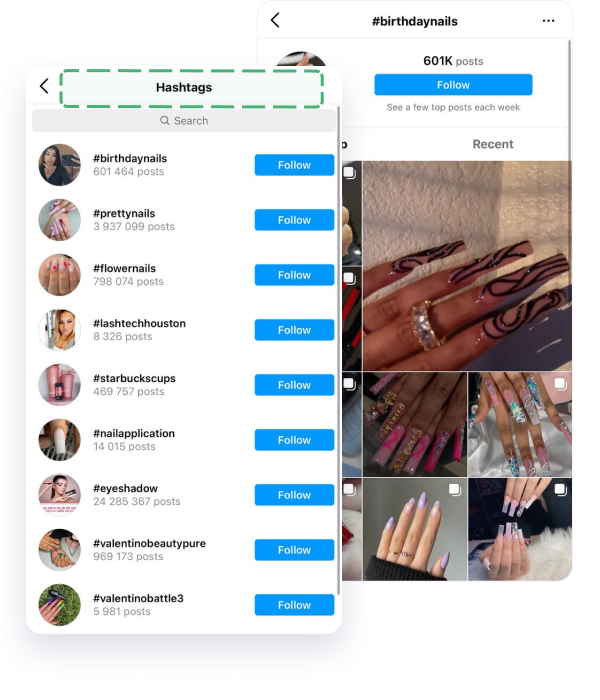 Tags for your business profile and customer search are just as important as keywords for website promotion. Just as you use suitable keywords for each page of a website, so under each photo on IG there should be a set of hashtags and alt-text.
It is most convenient to search and copy tags from the Hashtag Generator. To get started with the generator you must:
Find keywords. They must be you must use a wide variety – tied to your product, service, region. Think of what prospective clients may enter in the search bar to find you. What is their intent? This is the keyword. Based on these words, the generator will show you relevant hashtags.
Or
Copy key tags from competitors. In the Analyzer, you can see which tags your competitors are using. Copy it into the Generator and it will give you hundreds of similar niche hashtags – don't try to pull them out of your head.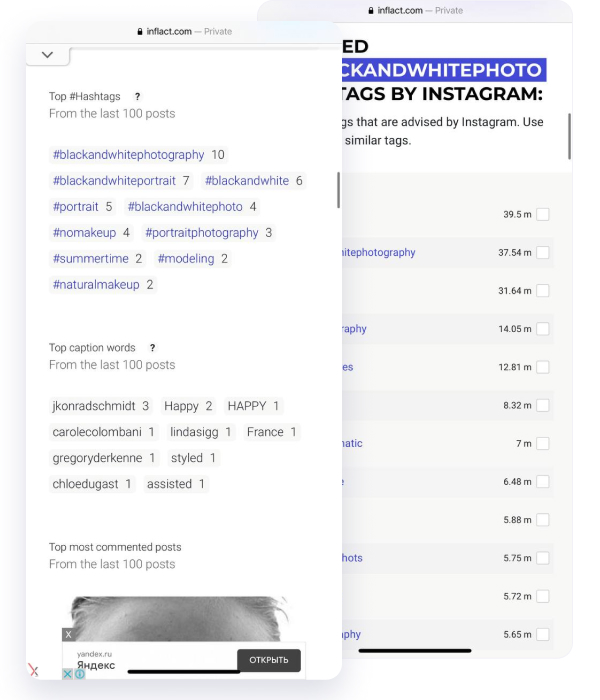 Read the article on choosing hashtags.
#3 - Combine email marketing with IG
If you already have a database of customer emails or phone numbers, you can find their IG profiles by inputting this data to the reverse search tool. Read the instructions in the article – this is easy to do through User Search. You can find customer emails and copy them in a CSV as well as perform a reverse account lookup by email or phone number.
Link your email newsletter with Insta marketing to boost your impact:
Collect emails of people who order from you. Some clients may not log into Instagram often, but almost everyone checks their email. Therefore, you can maximize the effect of your outreach. If people don't check Direct, you have a chance to win a repurchase via email.
What is the easiest way to maintain an email database?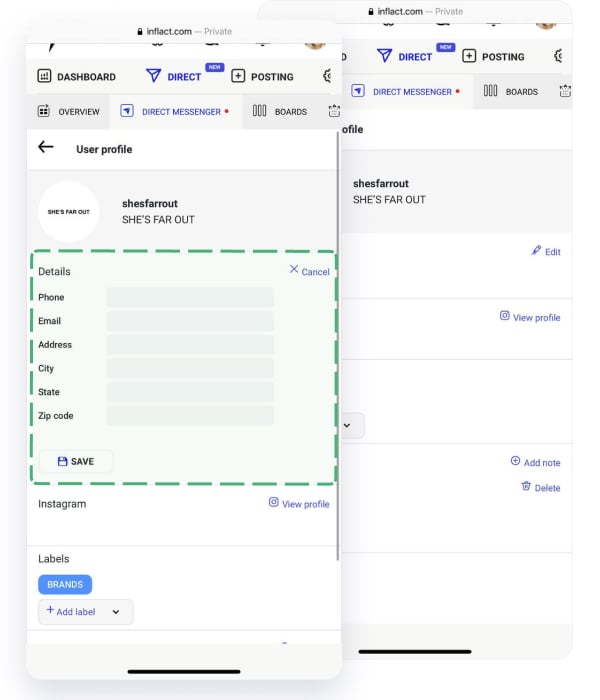 In the Inflact Direct module, you will have a full-fledged CRM for managing clients with personal cards for each client. This means that when you contact customers you can add an email to their personal cards. From there, you can easily copy emails to bulk email services.
#4 – Bulk customer following and interactions
If you need to find potential buyers, you should not wait until people start following you. Now the competition on Instagram is high, so you must take the initiative yourself and select target customers for a narrow niche. These accounts should be targeted so that you do not waste time on those people who are not interested in your services.
Where you can find potential customers on Instagram:
People who follow your competitors. You should focus on similar accounts – business accounts or those who provide similar services, and for sure the followers of these people will be interested in your services.
Feature accounts followers. Themed groups on Instagram, or so-called feature accounts, aren't profiles of particular people but rather Instagram magazines where people pay for advertising and publications.
Therefore, if you are, for example, a cosmetologist or a makeup artist, you should select 10-15 such accounts – here you could look for potential clients. Your target audience is likely to live here and may be interested in your services.
After you identify the client sources, you can manually go to visit their accounts, like posts, watch stories, or immediately follow.
Content on your profile is the point. Before you start attracting potential customers, your profile must be designed perfectly. This does not mean that you have to use photo templates and everything should be exactly the same – the most important thing is highlighting your expertise and exclusive content. Read this article on how to style your profile and visual trends on Instagram.
A more effective way to attract the attention of potential customers is to entrust all of the above actions to the bot for Instagram.
Based on the target accounts that you specify in the settings, and also based on hashtags and socio-demographic characteristics – a certain location, age, or gender – you will be able to attract these same people without actually wasting time on monotonous manual activities.
The bot is now an automated assistant and manager of your profile that will bring:
Only those people who are really interested in your product. It will not interact with accounts that are not your potential customers. This is the advantage of using the bot over advertising or buying followers. Based on our tests, by using automation you can attract 200-300 potential customers in the first month.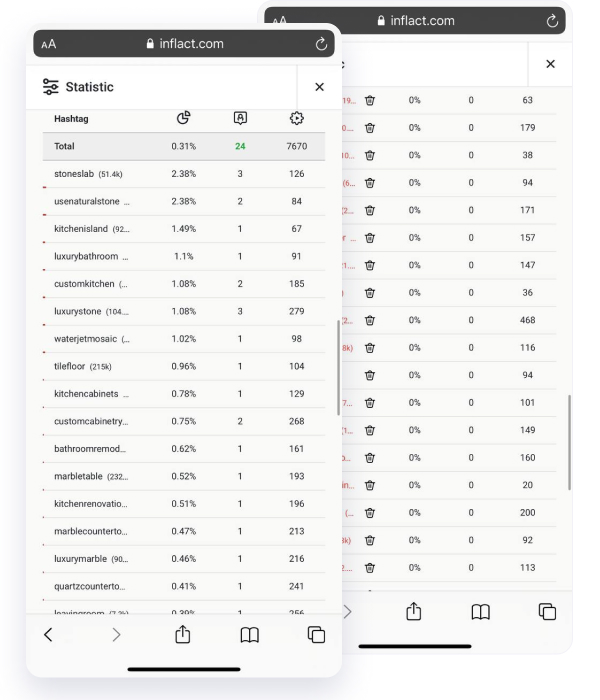 The Inflact Promo Module for 2022 the most proven and guaranteed Instagram bot that allows you to set up narrow targeting for interacting with potential customers. Also, thanks to a VPN and enhanced security mode, your behavior and interaction will be perceived by the Instagram algorithms as if you yourself perform all the actions with the target profiles.
By the way, now you can try Promo Module for just $9 and get a free VPN with a money-back guarantee. That is, without risking anything, you can bring the first customers to your profile, even if so far your close friends are the only followers.
#5 – Effective communication in Direct and maintaining a customer base
And after you receive the first orders and the first customers through your Instagram profile, it is important to establish comfortable and effective communication with them. But now the main thing is not to overdo it by writing to customers and aggressively offering services and goods. Nobody likes direct selling in private messages.
Carefully read the guide that will teach you how to turn Instagram into a real customer service tool and optimize automatic messages for your business. You don't have to sit on Instagram 24/7 to chat and answer questions from potential customers (or assign another person to do so).
Now you can use an automatic tool that will send messages according to your pre-made templates. Here are some points that you can set up for effective communication through the Inflact Direct module:
You can set up automatic quick replies that will be sent to potential customers five to ten minutes after they write to you. Automatic responses are read and sent based on trigger words or phrases. For example, if you are often asked about a product size, you can use the word "size" as a keyword and save the answer that you would normally write to people manually.
Replies to Stories reactions. And since Stories is the main accelerator of sales through Instagram, read our article Why Stories are so important for business so you can stand out by announcing a discount, an exclusive offer, or posting positive answers and feedback from your other customers in Stories. People can react quickly and immediately dive into the Direct. You should have prepared responses to such reactions for clients.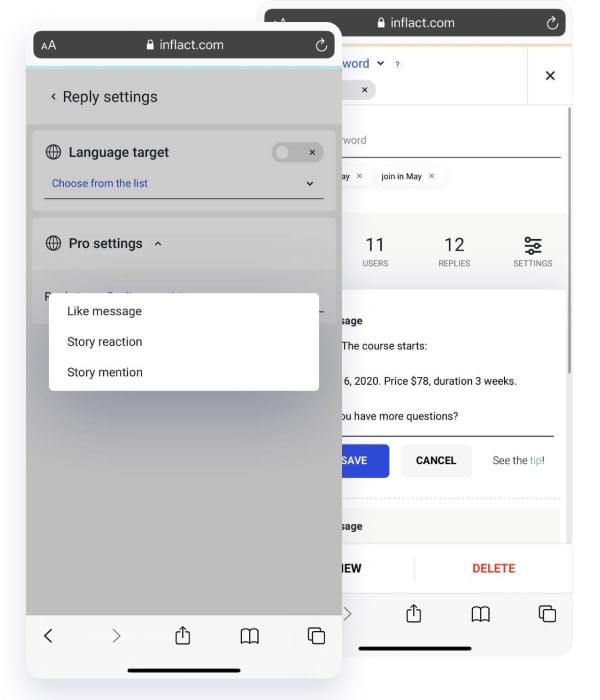 You can set up bulk DMs for your followers. This is a convenient way to notify each client about upcoming exclusive offers. Also, this is the only way that will allow you to reach out to Instagram clients all at once.
You can create user lists and sort them by the Kanban boards. It is very convenient for customer management and outreach. You can categorize each client by a particular topic; in this way it will be easy for you to visualize groups of clients.
For example you may sort chats by services. If you are a photographer you may create separate boards for individual photo shoots, family photo shoots, and wedding photo shoots. After this sorting, it will be easy for you to navigate in the chats – you can conveniently send a message for each customer segment.
Therefore, Inflact Direct Module is not only a CRM for customer management, but also an advanced, automated online chat tool which allows you to communicate with customers 24/7 and nourish relationships.
Next, we will look at examples of accounts that Insta-based clients want to find frequently.
How to find web design clients on Instagram
For representatives of this profession who are engaged in the production of visual materials, including web designers and graphic designers, Instagram is no less important a platform than Behance. Just as business owners, people who are looking for designers for posters, for Instagram design, and for website design are all on this social network. Therefore, the first thing you need to pay special attention to is the aesthetics of your profile. Here are good examples: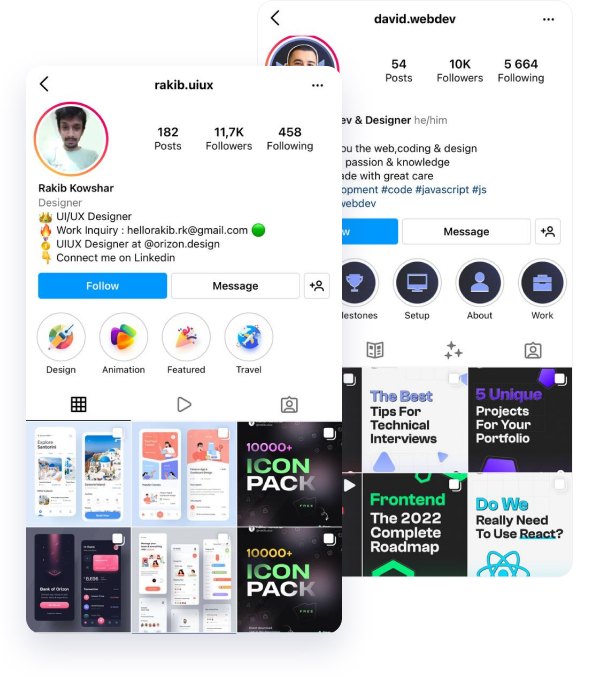 Many designers already use Instagram to showcase portfolios and this leads directly to orders. You can take advantage of Instagram more than portfolio sites where users can only post images of works and projects – Instagram gives you the opportunity to show behind the scenes of your work.
Be sure to upload photos, videos, and other materials about your work process. And also share a report about each project – you can review the current project you are working on, e.g. even if you have some difficulties or questions from working with a customer you can use Instagram to get boosted on trending topics.
So by keeping a close eye on your diary and designer portfolio, people will know who to recommend and you will be able to find potential clients in many ways.
How to use Insta for web-design promotion:
In the feed, post photos of your work and your personal photos. Make sure that the profile contains at least a few photos with you, because this is not a professional site for finding clients but a page on a social network.
Use stories and other video formats to post back-to-back design moments.
Make useful posts for other designers – for example, share the tools you work with and useful tricks, or discounts, events, and webinars. If you expand across the professional community, then other designers can invite you to projects and thus you will be able to gain more clients.
How to find photography clients on Instagram
Instagram is a unique and important platform for finding clients for a photographer. In fact, it can be the main or even sole source from which you attract clients. By tagging you, your clients will publish your works to their feeds and you'll receive an organic influx of traffic through numerous clients.
In order to get customers as quickly as possible use these tricks.
Offer free photo shoots to influential bloggers who have a large number of followers. Since bloggers constantly need fresh pictures, they are unlikely to refuse if they like your style.
Ask the blogger to pick one photo and tag you in Stories and in the feed.
You will see how this blogger's followers will boost your SEO by clicking on the tag. They will check out your profile, and the algorithm will really like it. It will start suggesting you to similar audiences and very quickly you'll get organic customers.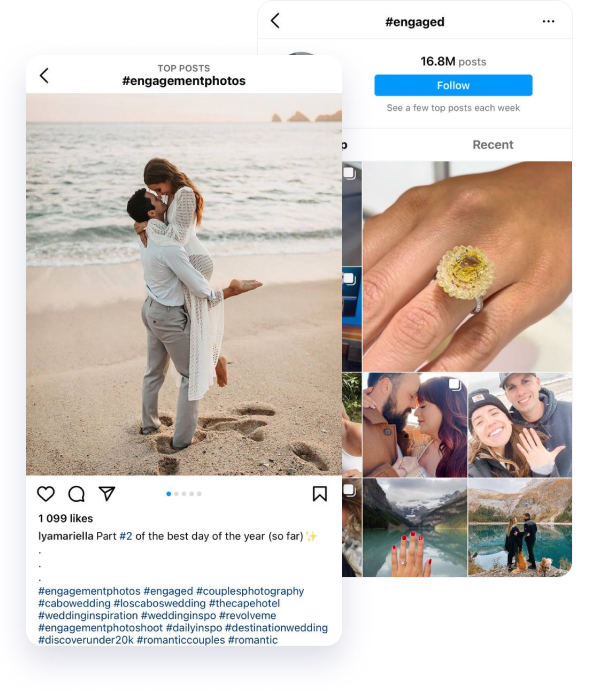 Therefore, to promote as a photographer, it is very important to start with influencer marketing and cooperation with real clients. Whether you are shooting a wedding, or are a child or family photographer, you can still find bloggers who are the right fit for you.
That is if you want to become a famous family photographer, find lifestyle bloggers who would like to get cool pictures for free. Think about the audience – which blogger is a perfect fit for a free photoshoot?
Do not look at the number of followers – focus on the fact that the influencer has a similar style.
Hashtags are obligatory for the promotion of the photographer.
How to connect with photography clients:
Resist the temptation to think that Instagram is a social media that was designed to show images to random passers-by.
Interact with Instagram as a community. Find other author pages that produce content you like and interact with them by commenting and liking their posts.
Use relevant locations and tags. For example, if you want to get bridal photoshoot clients, you can go to the hashtags which future couples post. Also, you can search for couples by romantic geolocation: parks, cafes, cinema, resorts, and so on.
Follow these people. Most often the female decides on the session, so follow mostly women.
Don't forget you can instruct the Instagram bot to follow users associated with niche tags.
How to find clients for nail masters on Instagram
Instagram is the perfect source to find manicure clients. For this you just need any audience of girls, and if they like the design of the profile, your prices, and reviews of your work, then you will most likely quickly receive an influx of customers.
Just like with photographers, you can start collaborating with bloggers – offer users who have a lot of your target followers a free manicure for getting covered on their account.
In this way, your account will get boosted organically because people visiting your profile is the surest way to impress the Instagram algorithm. It will understand which audiences will like your profile and will offer it to similar people.
An important criterion for finding clients for a manicure is the hashtags.
Focus on narrow tags – such location-based ones. Since manicure is a service that is provided offline, you should focus on the city in which you are physically located.
Pick up tags that include the name of your city. By these hashtags clients can potentially find you.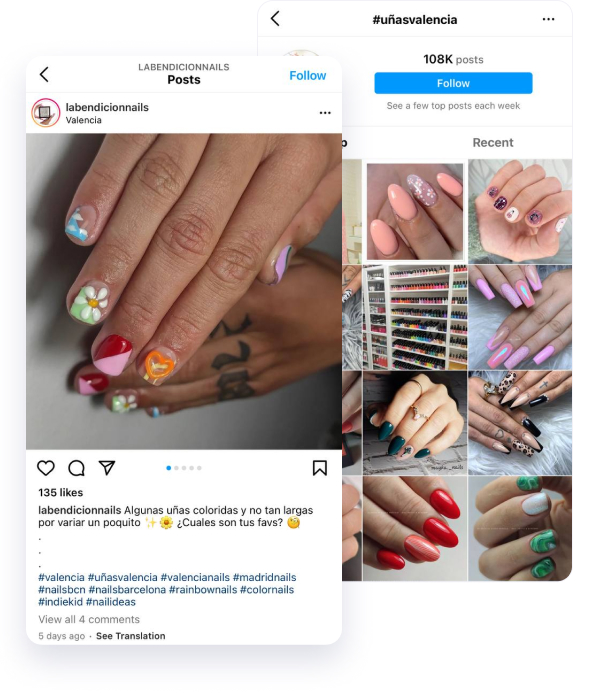 Since your service is a regular one, the most important factor for finding and retaining customers on Instagram is communication. Human to human (H2H) is a new-age business model.
And if you provide manicure services, be sure to communicate after providing the service to customers. For example, 1-3 days after meeting the client, write them to ask for feedback.
You can use the received feedback for a demonstration of social proof in highlights after a while.
Direct message past clients to invite them for the next procedure. This way you save your customers time and sign them up for your services. This will help you create an uninterrupted flow of clients who will come exclusively through Instagram.
Also, you can set up the Promo Module to target niche accounts' followers. Select local nail bars, beauty salons, and other beauty places that are popular with girls in your city. When you watch the stories of potential customers and like their feed, they will visit your account more often. Within the next week you will receive more nail clients.