Even though an impressive number of likes might be flattering, they do nothing for your promotion. If you want to attract engaged customers and get exposed organically, you need to know these facts about Instagram comments.

The algorithm of 2021 will not promote users that just have likes and followers. It will support users that gather Instagrammers around their content for a longer time. That's how this social media company will grow its revenues by delivering in-app ads.
What does it mean for you? Time is money. Time spent on your posts is money for Instagram. That's why your goal is to increase engagement.
When people slide carousels, leave comments, save and share posts, or read lengthy captions, they spend more time on your profile. Let's dive into easy methods to organically boost the time spent on your posts thanks to comments. As a result, your posts can go to the Explore feed, and you can win more clients, followers, and views.
Hacks to get real Instagram comments under your posts
#1 – GIVEAWAYS ARE THE COMMENT KING
We all love to get free things. Especially when a favorite brand is giving away dream goods, the activity is enormous. When launching a contest, you lay down the law.
Suggest people perform as many activities as possible – but they should be easy.
When users save your post, tag a friend in a comment, and share a post, it's a combo. Instagram recognizes this post as super-engaging and will show it to more users.
For example, a brilliant contest by @ohpolly collected almost 20K comments in 20 hours.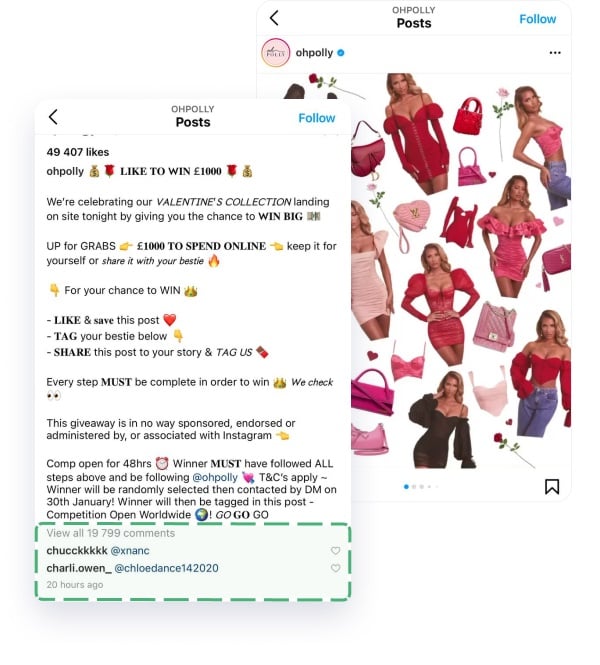 Keep an eye on their caption with a clear headline, bold fonts, and urgency (just 48 hours for the competition). Apply these methods for your next giveaway to make the algorithm bring you to the top.
Note: Giveaway your goods or vouchers users can spend on your website. When you reward precious but unrelated goods, people are likely to unfollow you after a contest.
#2 – ASK THEM FOR A SIMPLE ACTION
Well, what if you have nothing to reward your audience? Can you get more comments in this case? Of course, you can.
Instagrammers are extremely friendly and supportive, and – after all – it's social media. Simply ask your community to leave a comment, and they will. And they shouldn't overthink the meaning. It can be an emoji.
For example, @benefitcosmetics drives its audience to drop an emoji if they dream about a cosmetics package. So manageable, yet effective for getting comments.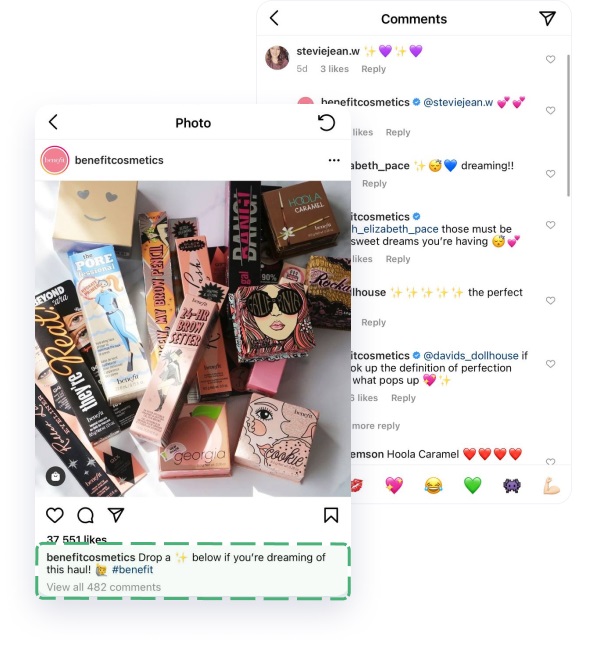 Pay attention to how @benefitcosmetics carefully replies to every reaction from followers, even to emoji comments.
#3 – ASK USERS TO TAG FRIENDS WHO RELATE
It always happens that users tag friends or share posts that they think will correspond to their friends. And this is a win-win situation for those who want to be promoted by the IG algorithm. The system indicates this content as interesting and shows it to more people.
What should you keep in mind? Add posts that imply mentioning other people. Usually, memes work perfectly for this task – all of us share memes that correspond with our friends. Read our blog post to learn how you can use memes for a business account.
For example, @savage.princessxo stimulates users to tag people they miss under this post. In combination with this cute visual, this post hits on the Explore page.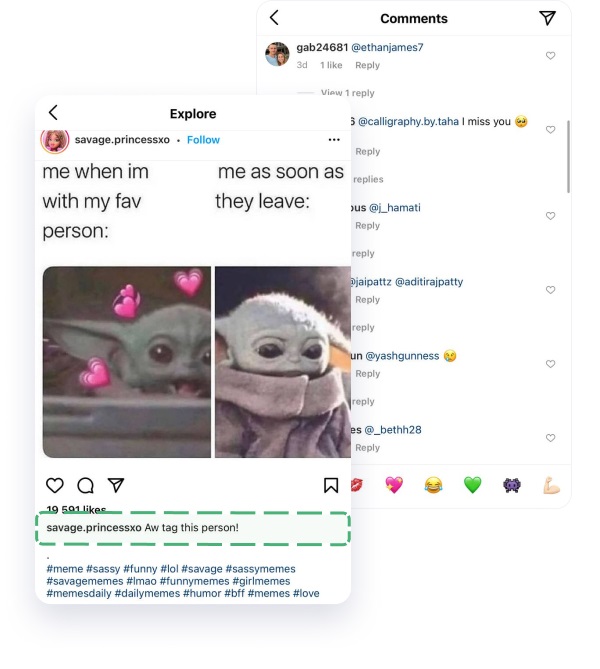 #4 – ASK THEM TO CHOOSE BETWEEN OPTIONS
People love to feel that their opinions matter. At the same, such posts don't intend users to leave meaningful and smart comments. They simply are to choose between several options.
What is important: you need to upload a carousel post to let them choose. And...
When users slide images, thinking about which option they like more, they spend more time with this post. Hence, Instagram considers this publication worth the attention of other users.
Smart, huh?
Let's head to an example. @glamtipbeauty is a feature account that collects images of influencers and fashion brands. But even without original content, they produce engaging posts and may charge commissions for promo posts.
Choosing among six outfits takes quite more time than carelessly double-tapping a single image.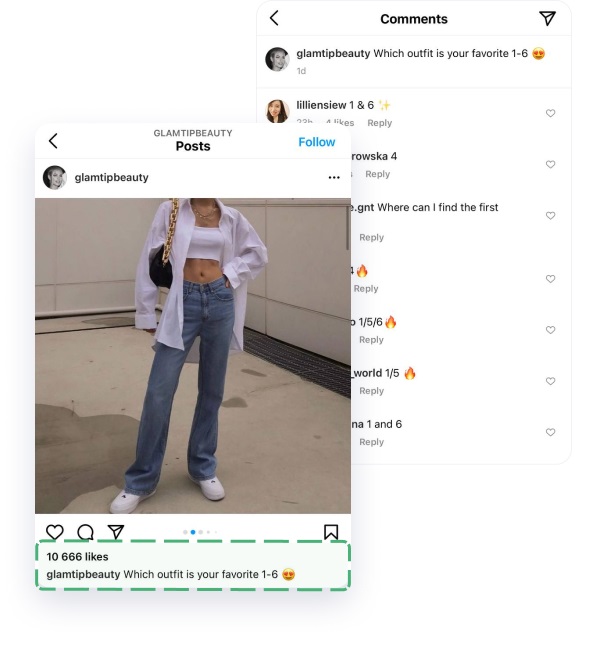 #5 – USE POWERFUL HASHTAGS
Hashtags in 2021 are like SEO keywords that help the IG algorithm to recognize the meaning of your post and show it to the right audience. With hashtags, your content gets discoverable, which will result in more comments.
For example, this cute publication with chihuahuas was starring in the Explore section.
Note: Images with cute animals are incredibly effective for getting more comments.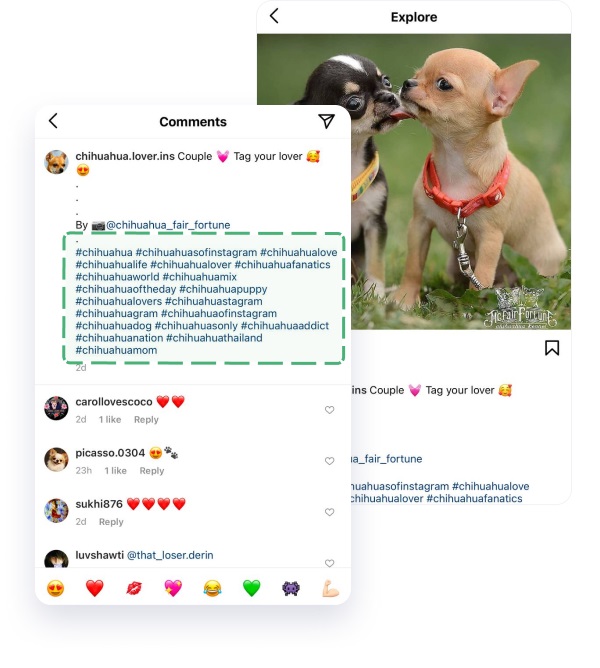 You can see that hashtags have done their job. How can you find the most relevant hashtags that make a post searchable?
Investigate hashtags of your competitors with the Profile Analyzer.
Collect them in a document.
Paste them into the Hashtag Generator.
Get hundreds of related hashtags favored by Instagram (marked with green color).
By the way, is it better to put hashtags in comments or in captions on Instagram? The answer is – it doesn't matter. You can insert hashtags where you want, and they will work in any case. Some users prefer to leave them in captions, divided from the main text with spacing and dots. Some of them post comments with hashtags. The algorithm recognizes them in both ways.
How to pin comments on Instagram and reply to them
One of the primary rules when dealing with Instagram comments – you should encourage them. If a person leaves a comment that goes nowhere, will they comment on your posts next time? If other users don't see engagement in comments, will they want to join the discussion? No.
Reply to the comments to get more comments. This snowball will keep growing.
That's why your secret weapon for promotion 2021 is to know how to pin comments on Instagram and interact with them.
When you pin a comment, Instagram will notify this user. Will it stimulate a person to be more attentive to your content? Indeed. Here's how can you easily pin the best comment:
Find the desired comment.
Slide left.
Tap the pin icon.
Find this comment on the top.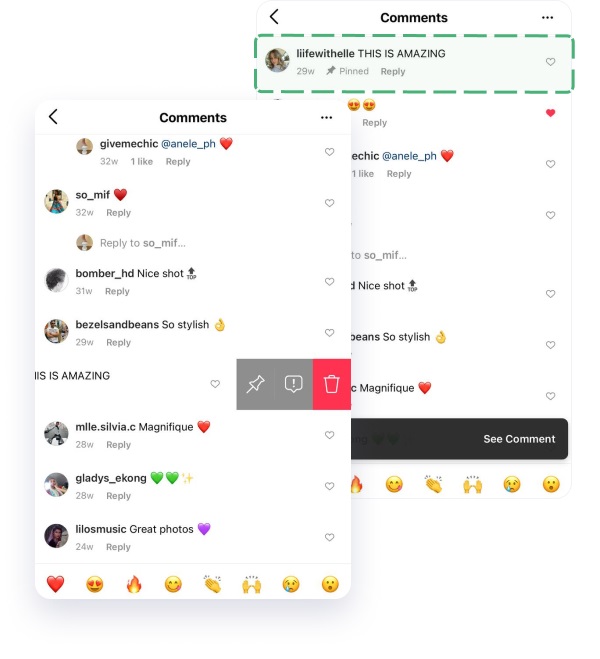 Moreover, even the busiest accounts like @ohpolly react to almost every comment. And not in one word – they do their best to stimulate discussions.
For example, they ask their community to share the plans for Valentines' Day. When people answer, they keep asking questions. And it's remarkable client management. Firstly, because people feel more intimate connections with the brand, they feel needed. Secondly, @ohpolly's post turned into a lively thread and migrated to the Explore feed.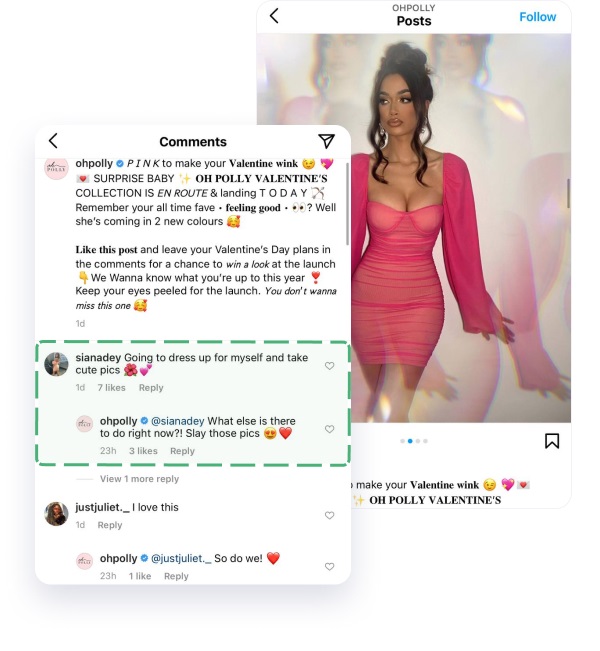 Conclusion: Dedicating your time to comments in 2021 can uplift your posts' reach organically and build trust in your community. Use the simple strategies we listed in this article. What is more, hashtags can help your post get better exposure, and so they need to be added in your copy or comments.