Don't know how to get Instagram followers without spending hours in the app? Start using a VPN with the Inflact growth feature. It'll help you obtain your target audience, bypassing many restrictions. Learn everything you needed to know about these three geeky yet helpful letters, V-P-N.

Even if you don't suffer from restrictions like users in China or don't need to unblock Instagram to use it at school, a VPN (virtual private network) is a worthy tool to switch on when using this app. It shields your IP, so your actual geolocation is secure. This ninja tool lets Instagrammers avoid the app restrictions tied with countries. Moreover, the information you transfer is encrypted, which guarantees enhanced security.
We also recommend employing a VPN if you aim to increase Instagram followers with growth tools, like Instagram bots. Inflact supplies users with a trusted virtual private network so they can build their target audience faster and at no risk. Let's dive deeper to explore a VPN's purpose and the peculiarities of using it along with Inflact.
What is a VPN: benefits & why it enhances Instagram followers' growth
A VPN is a virtual private network that covers your IP and changes traffic direction originating from your app or web browser. Sounds promising, right? But it's more important to understand its perks and intricate functional mechanisms.
As soon as you set up a promotion on Instagram with the help of software, a VPN guarantees that your IP does not frequently change. Thanks to the VPN, Inflact performs its activities on your behalf safely, without the possibility of being recognized for "strange behavior."
The key is that the IP address in the app and on Inflact is identical, so using the automation tool with an enabled VPN is a quick yet secure way to gain followers.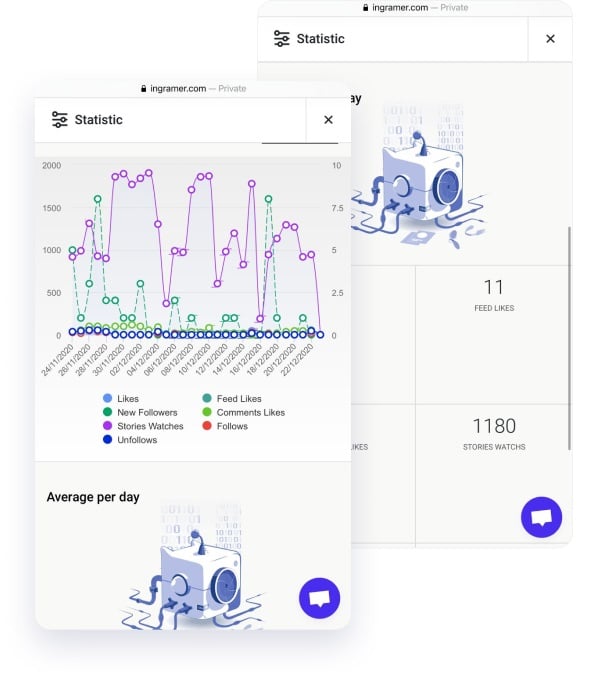 Here are the advantages of using a VPN tool for Instagram:
The possibility to grow many Instagram accounts. If you run several profiles with zero subscribers, and you intend to expand this number to 1K in a short time, try target growth tools. With a VPN, your IG accounts and growth service will be assigned an identical IP address. Thus, Instagram algorithms will consider that it's one "person" (source of traffic) who performs all the activities. You can prepare for Christmas while Inflact will interact with your target clientele.
Read our latest investigation of the Instagram automation tools in the blog post Get Instagram followers fast with a bot – is it real in 2022?
Note: There is no 100% insurance against being detected by IG when using a bot. But if you apply a VPN, Inflact works more efficiently.
Your data is encrypted. A VPN tool will improve the level of your online security by encoding the information. Thus, neither your provider nor any governmental institutions can spy on your actions on the web, including the Instagram app. Users who value privacy, even if they have nothing to hide, always browse the web with a VPN on.
Unblock Instagram in your location. If you travel or live in China, you know that social networks are forbidden, and people should always use a VPN. Furthermore, sometimes Instagram makes location-tied features, and you need to wait until they are available in your country. A VPN can help you enjoy Instagram, no matter where you are in the world.
Note: the speedy VPN by Inflact works globally and picks the closest location.
The VPN prevents promotion stops. It also extends the limits: Inflact can perform more activities without pauses required by Instagram safety policy. Improving the promotion speed and effectiveness. If your Instagram app has the same VPN connection as your Inflact profile, the promotion results will be so much better.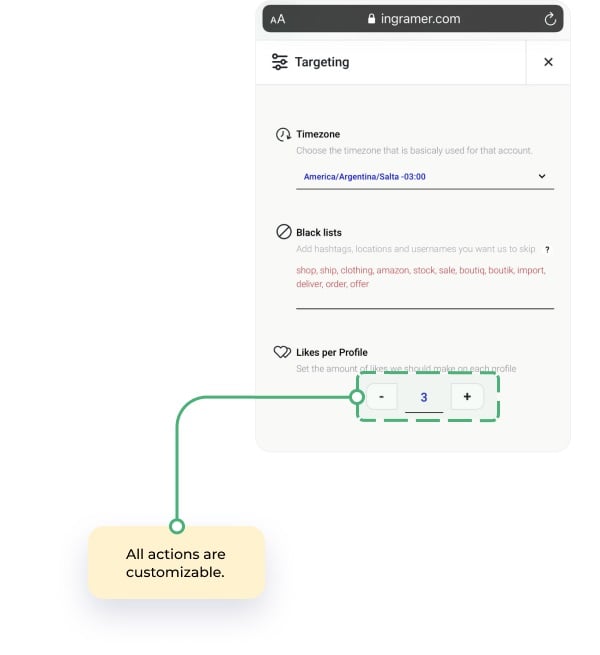 Protection from intrusive ads. As you know, Instagram and other socials use your location and geotag to show advertisements that are likely to get you on the hook. If you enable a VPN, advertisers can't get data about your online behavior and preferences. Thus, ads will be removed from the feed.
Conclusion: When you order a VPN with an automation tool, your account is more protected thanks to IP correspondence. By applying this promotion trick, you will get new followers faster because the software can perform more activities without restrictions. Additionally, you will get better Internet protection and will be freed from both ads and location limits by Instagram.
If you already use Inflact, you can purchase the VPN in your dashboard. Questions left? Read the next section.
The VPN by Inflact FAQ: all your questions covered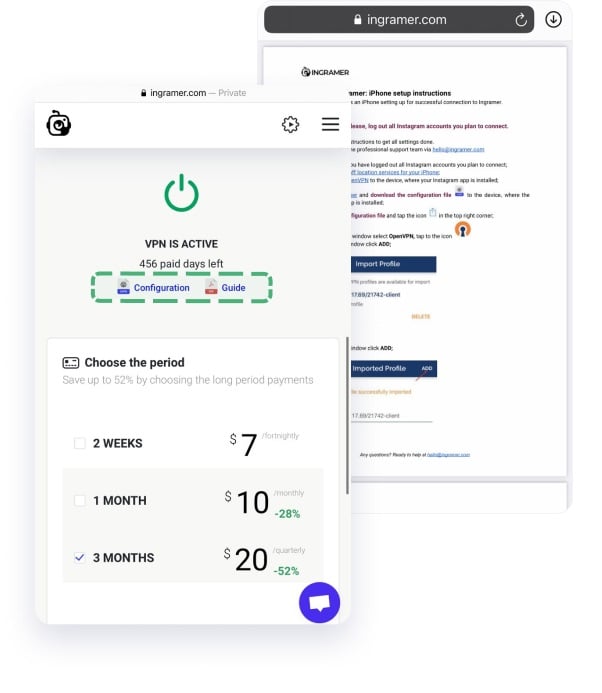 Thousands of Inflact users employ it with our VPN, and many of them ask common questions. Explore the answers below.
Q1: How do I activate my VPN?
A1: After you order a VPN, we provide the configuration file and a detailed guide. Confirm your order and install the VPN tool on the device you usually use to log in to IG. Follow this link to get a VPN for fast Instagram growth.
Q2: Once I buy the VPN on your site, should I also download it on my Instagram profile?
A2: You should download and enable the VPN tool on each device that you utilize to log in to your Instagram account. This will ensure that every time you use Instagram, your IP remains identical.
Q3: What do you mean by unstoppable promotion?
A3: It means that you will get better results. When you use the VPN that we offer, the Promo mode works more forcefully without the need to pause every time Instagram would recognize a log in with a different IP.
Q4: Two of us are using our business IG account on two different devices. Does it mean we both have to download the VPN on our phones?
A4: Yes. If you promote one account and log in from different devices, it's recommended to enable the VPN from both.
Q5: Do I also need to log out of my other IG accounts or only the one I connect to the VPN?
A5: You should log out of the account that is promoted on Inflact. The VPN service doesn't affect other accounts.
Q6: Can I turn my location services on once everything has been set up?
A6: We don't suggest enabling location services. You can leave it deactivated only for the Instagram app.
Q7: Can I use any other than Inflact VPN for Promo mode?
A7: It's recommended to install the VPN from our site because we guarantee that the IP will be corresponding. In this case, Inflact can perform more activities from your profile.
How to get Instagram followers with a private VPN
Now you've got a better understanding of how to get Instagram followers in 2021 with a trusted tool – you just need to activate a VPN to improve safety and promotion speed. If rapid and long-lasting audience growth is what you want now, follow these steps:
Sign up on the Inflact website.
Connect your profile to the Inflact Promo mode. Make sure your account lists at least 12 posts, and it is older than 2 weeks.
Purchase a VPN. As soon as you order, the instruction will appear on your dashboard. Enable the VPN to allow more actions and avoid restrictions.
Adjust Promo mode. Now you can choose the direction for your Instagram promotion.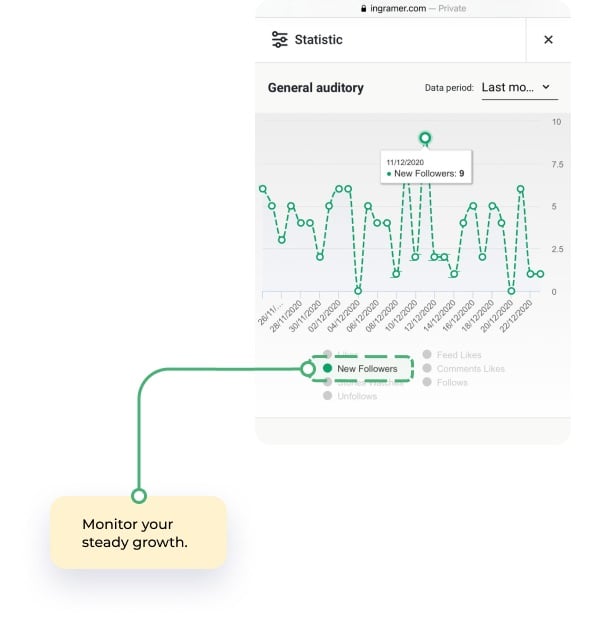 In your dashboard, set up targeting details – you can add hashtags (the tool will interact with accounts using these hashtags), competitors' nicknames (it will engage with your rivals' followers), locations (you can attract people from certain destinations). You can also decide what kind of actions you want Inflact to perform on your behalf – it can like posts, view stories, follow and unfollow people. Examine the performance analytics weekly and see what works best for you.
Note: Inflact takes care of your safety, so it begins with a Safe mode, increasing the number of actions steadily.
As practice shows, it's possible to grow follower numbers from zero to 1K of interested and warm audience. You also need to produce meaningful content consistently and apply SEO tricks to improve the discoverability of your account. Read our article Instagram SEO: 5 Hacks to Grow Fast.
Don't hesitate to share your thoughts and questions about the VPN and Promo mode in the comments below.