Want to hack someone else's Instagram account to find out recipe for success? We are in no way calling for fraudulent methods! This is an ethical method to get to know about it.

Deep Instagram account analysis is better than hacking
Without the connection of analytics, Instagram has little to say about the growth and statistics of any account: the profile shows only the number of followers, subscriptions and publications – and a high subscriber rate does not mean success on the social network.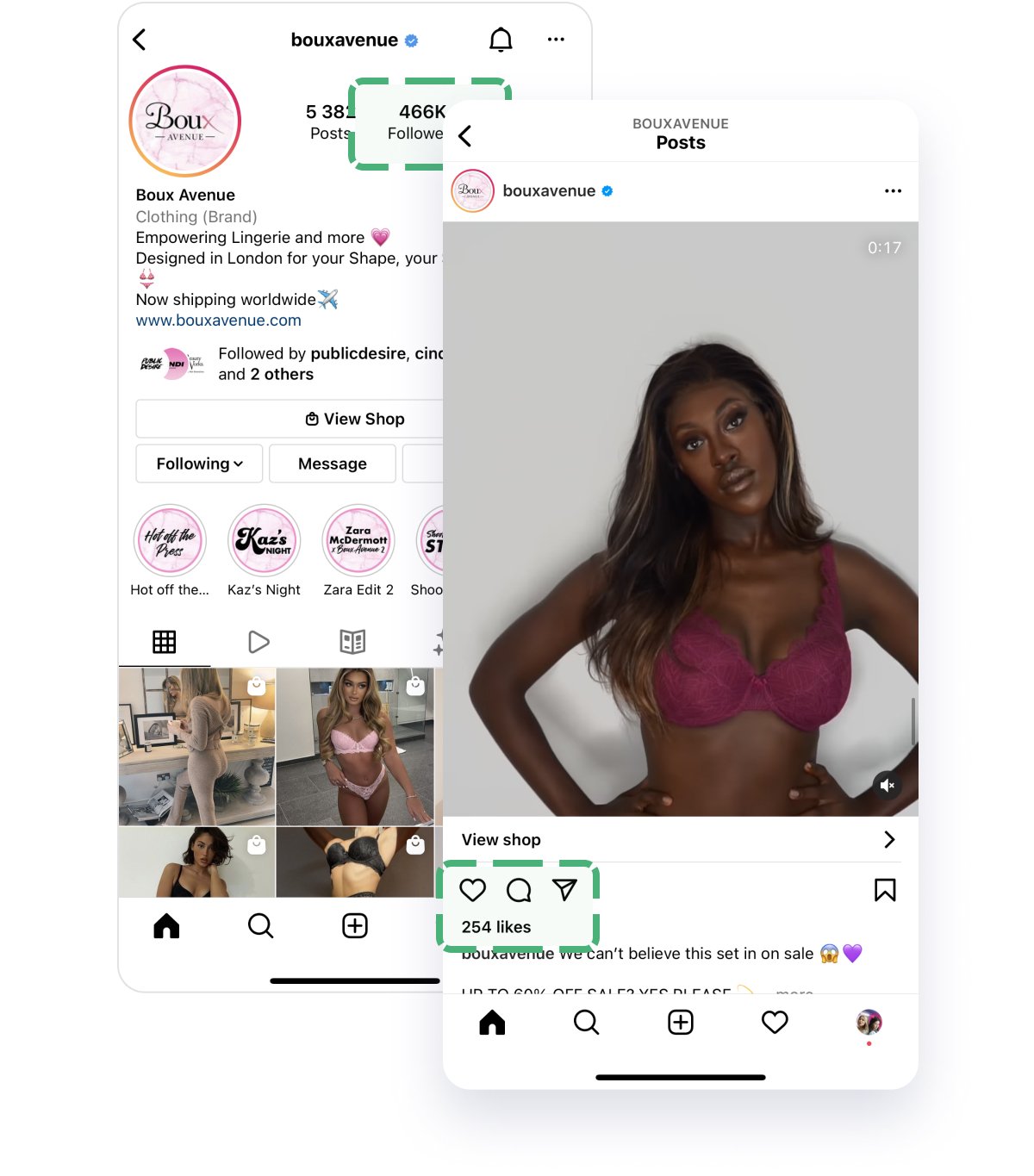 Once upon a time, everything was simple: popularity was calculated only by the number of subscribers and the number of likes and comments. It was then that the services for boosting fake followers flourished, accounts were filled to capacity with bots and everyone was happy and "popular". Until Instagram decided to make the game fair and put the engagement rate at the top of the table.
The cool advanced analytics of competitors allows you to correctly assess the growth indicators of an Instagram account and properly promote it – this is an honest way to hack any account on Instagram. By studying the numbers, you can easily figure out what's happening with any profile. Followers are growing, but engagement and likes have stopped? Check your account for bots and audience engagement. Pay attention to the periods of audience activity and account owner activity and publish content accordingly.
Hack an Instagram account with proven metrics
All real and important metrics on one page – this is the perfect tool for spyware and honest Instagram hackers.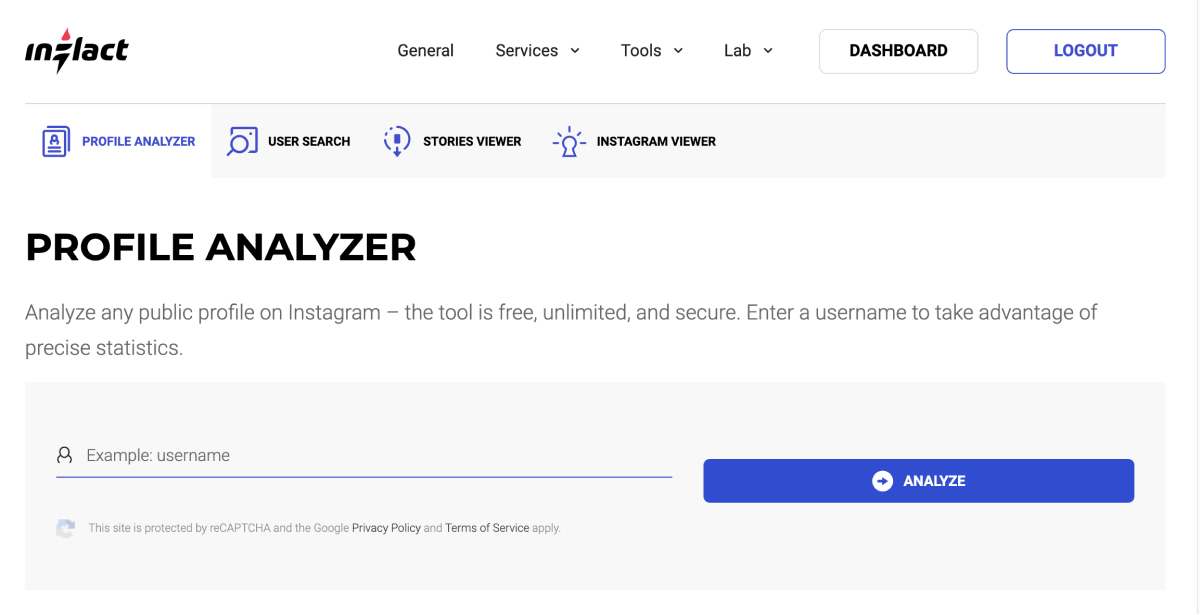 With an Inflact Instagram profile analysis, you can get all this information about any Instagram account in 30 seconds:
Uploads
Engagement
Followers
Average user activity
Posts per day
Posts per week
Posts per month
Amount of posts and engagement by weekday/time from the last 100 posts
Most popular post time from the last 100 posts
Top #hashtags used in the account from the last 100 posts
Top caption words used in the account from the last 100 posts
User's interests
Top word matches in user descriptions
Top most commented posts from the last 100 posts
Top most liked posts from the last 100 posts
This is just WOW information to know about the account you'd like to hack.
Let's get deeper in every part of the analysis and understand why you need it and how you can use it for your goals:
Number of Instagram uploads or posts
Look at this number and make a decision about the number of posts for your account.
For small and medium-sized businesses that maintain accounts on social networks, the rules are approximately the same: publish once a day or even less often. Stories on Instagram are important for business – through them communicate effectively about promotions, discounts, sales and other advertising activities. It is better to use the feed for publishing entertaining, engaging or informative content.
Engagement rate
ER is essentially the sum of user reactions per post, over a period of time, or per user. Starting from reaching 100-200 thousand subscribers, beautifully high engagement rate numbers from 10% are almost unattainable. For million-plus accounts, ER rarely rises above 3%.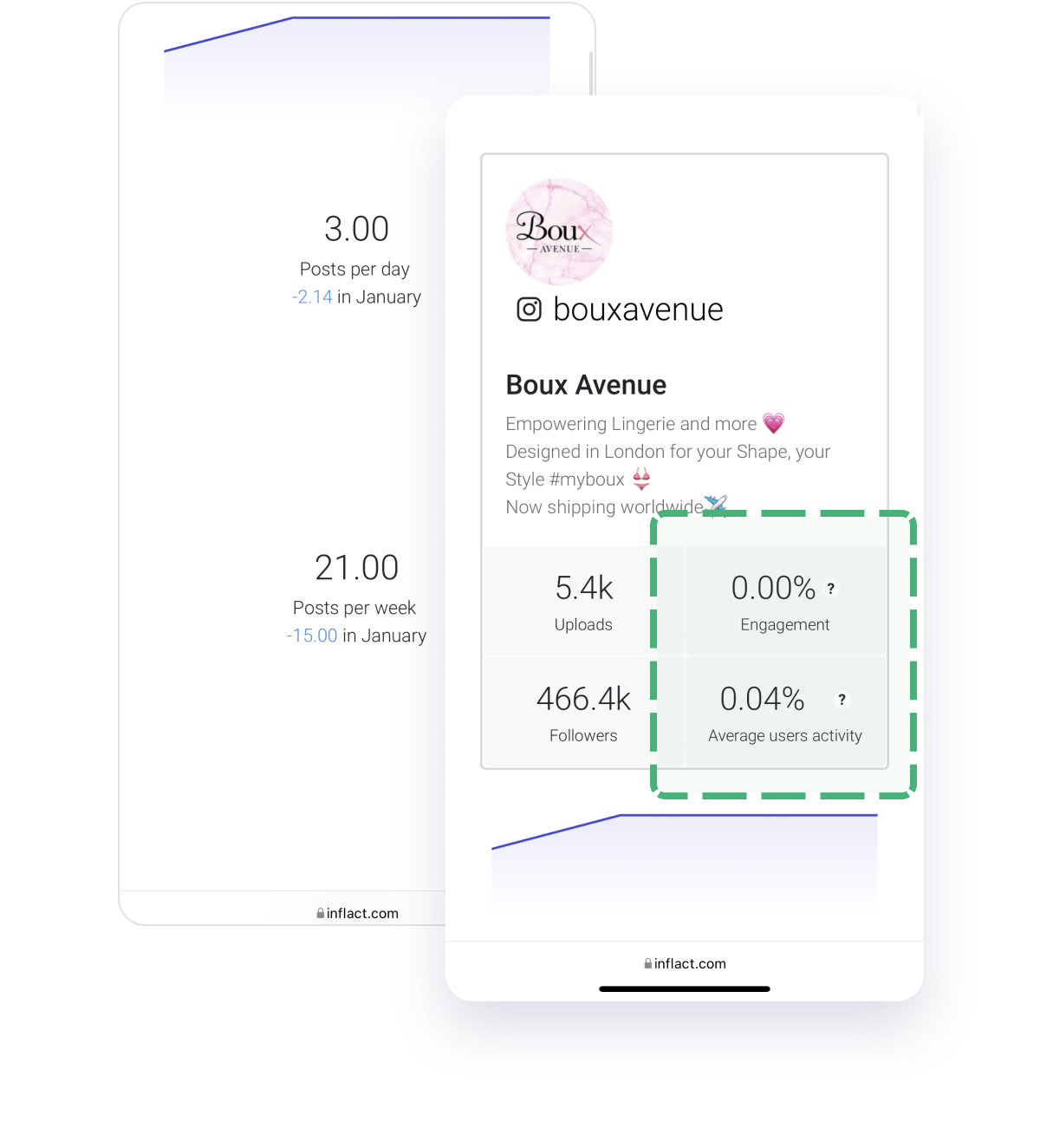 Posts per day + Posts per week + Posts per month + Amount of posts and engagement by weekday/time from the last 100 posts
All these metrics can help you to find out the best strategy for posting in your account, if you have the same or a similar audience as the rival account you're analyzing. Always write all the points of your strategy based on the interests of the target audience. This also applies to the point about the time and frequency of publications. In general, most Instagram users check their feed on a daily basis, and 30% of all users check it several times a day.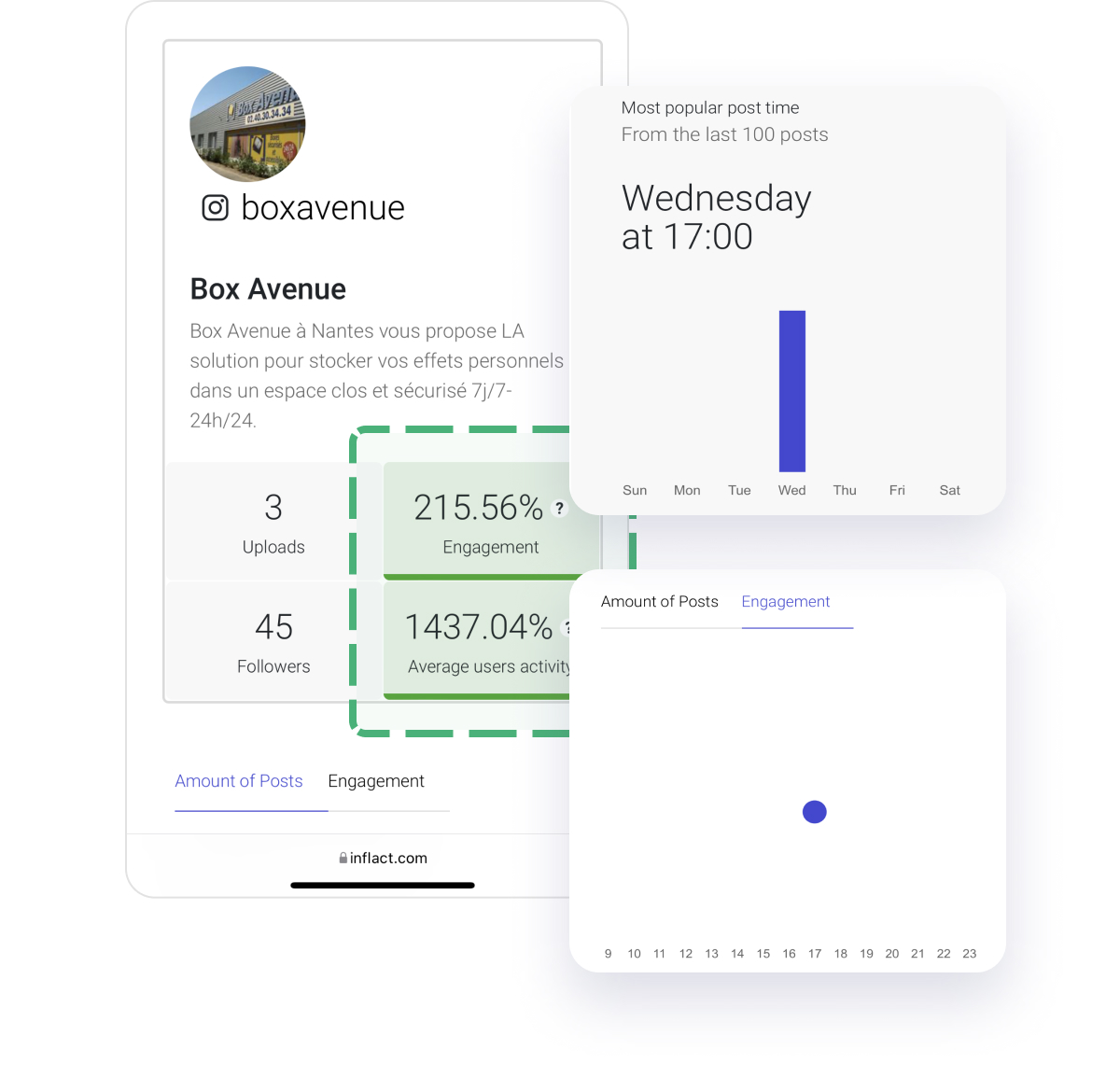 But the time for different audiences is different, some users work and cannot go on Instagram, some study, some sleep during the day and work at night. Even dinner time is better, too. Think about the audience. Know their habits, needs, and preferences.
Most popular post time
There are many myths about the correct time to post. The recommendations are similar: the best is morning (10 o'clock) and evening (6-8 o'clock) on weekdays. The ineffectiveness of weekend publications is sometimes mentioned – which may have been relevant before the development of the mobile Internet. Now users stay online at any time.
But we are saying it is best to checkthis metric in your rival's account and try copying it.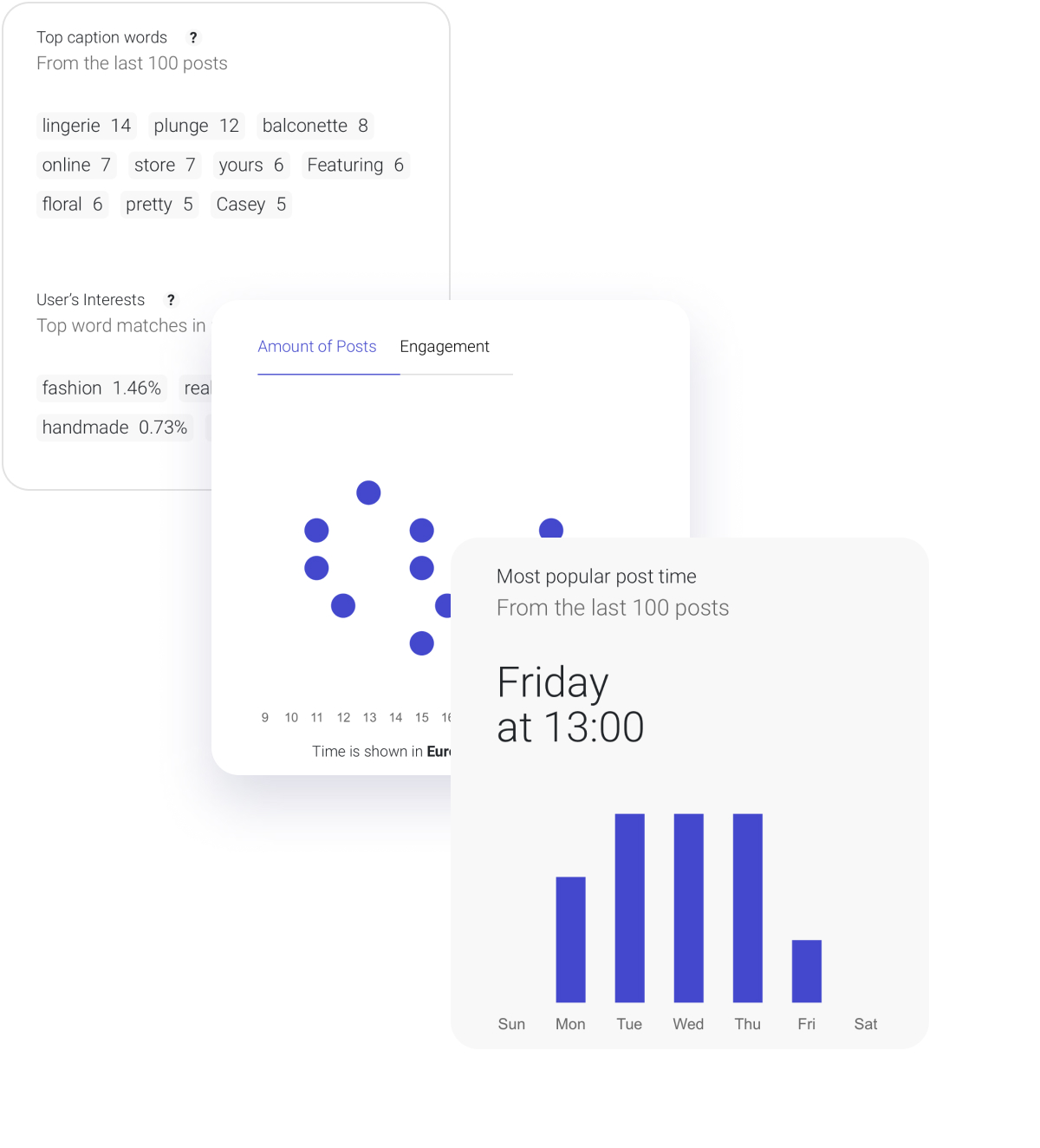 Top #hashtags used in the account from the last 100 posts + Top caption words used in the account from the last 100 posts + Top word matches in user descriptions
Look at competitors' most loved hashtags and captions. Study the hashtags your direct and indirect competitors are using. See how they mix cues with different frequencies. Explore the experience of opinion leaders in your topic.
See what hashtags they themselves and their active followers use.
Use this for your hashtag strategy.
Top most commented posts from the last 100 posts + Top most liked posts from the last 100 posts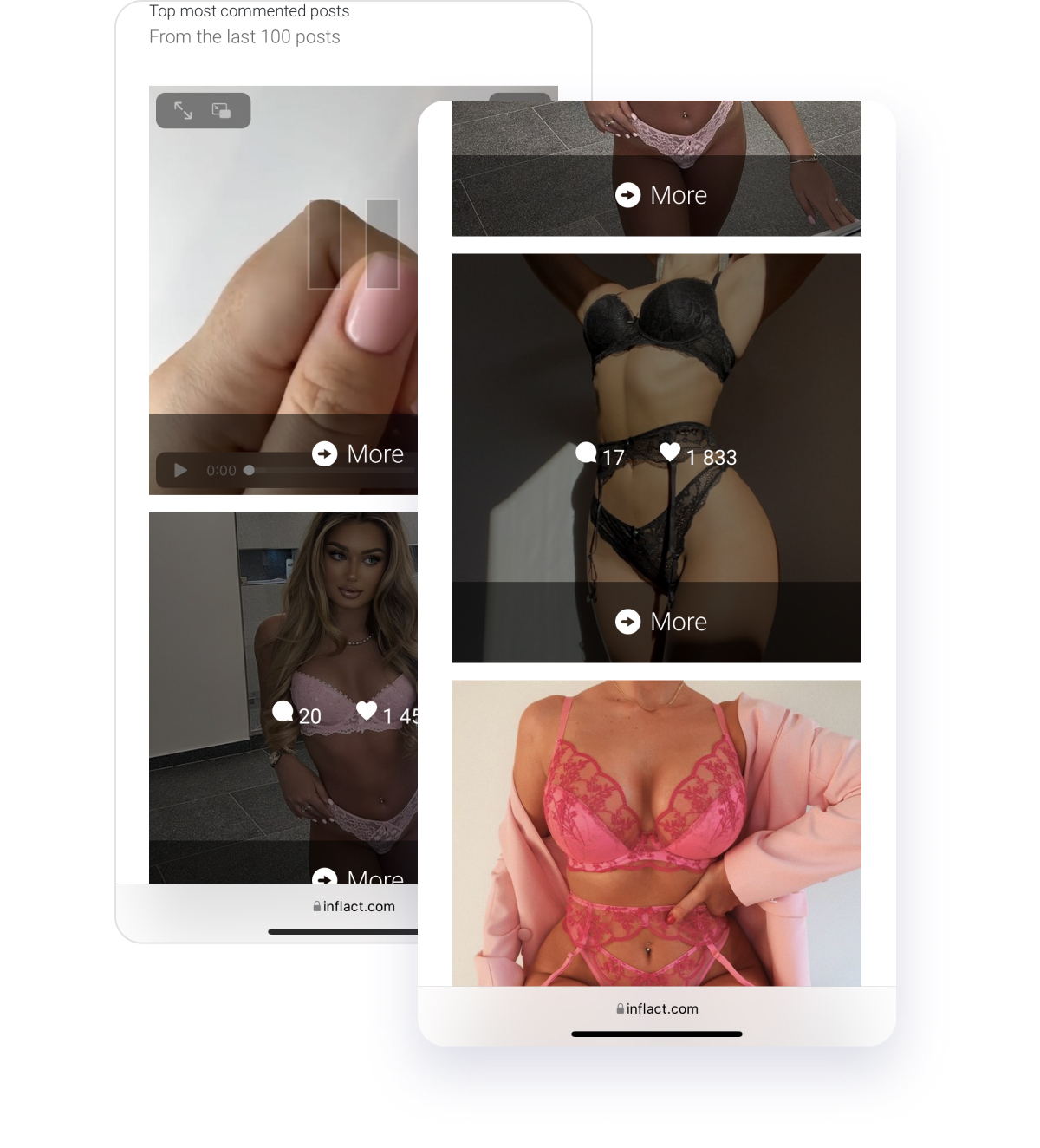 With these tips you can get brilliant information about the most successful content pieces made by your competitor! Also, by having all this info in your hands you can analyze:
The number of posts by the length of the text (decide what content is easiest for competitors to deliver).
Quantity by type of content (you will understand which content is the most common, which the audience is already used to).
Engagement by length and type of content (find out what content your audience responds to best).
Afterwards
Based on this knowledge, we can draw up a profile and form a content plan. We add our own themes, which our competitors do not have, we serve old themes under a new sauce. We answer the questions asked to competitors. We try to do more, better, faster.
We finish everything with an analysis of at least our own work in the reporting period and as a maximum analysis of the results of our account and the accounts of competitors that we were equal to before starting work. Based on the data obtained, we make changes to the publication plan.