Hashtag marketing brings impressive results. Yet you may wonder how to hide the them, as putting tags in every caption makes the text cluttered and distracts from your post subject.

We need to start with the fact that even top accounts with more than 1M followers actively use hashtagging. That is, you should not hesitate to apply tags because a professional marketer or Insta account manager who strives to get organic followers conducts tags research first.
Don't worry that followers will notice that you use all of the allowed 30 tags. This is not shameful at all and in no way will it reduce your influence on the audience.
In this article, I'll show you a few ways you can make your main caption text cleaner if you're getting frustrated with the extra 30 words. We'll review the most advanced tag generator, Inflact, which automatically creates copy with hashtags that will already be hidden if you activate the toggle switch. Tags will be separated from the main text of the publication with dots and spaces.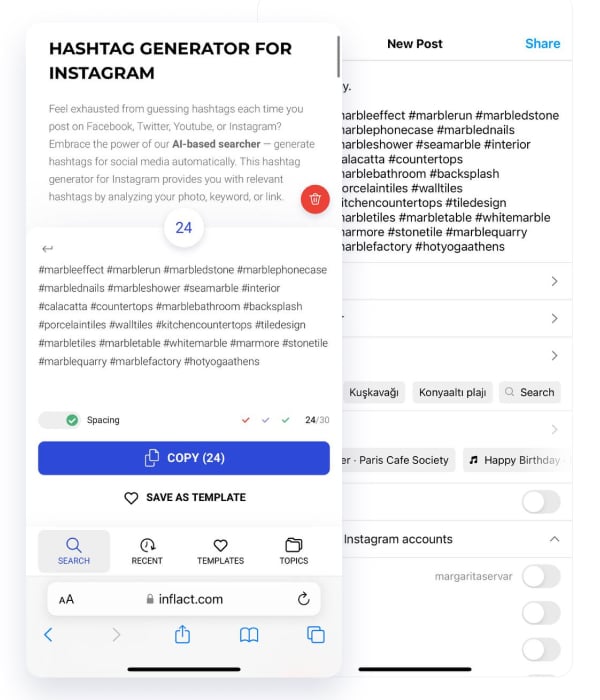 You can copy this set with one click and paste it in the caption. At the same time, due to dots and paragraphs, the attention of the reader will be focused on the text and not the tags. This convenient tool lets users stay away from special third-party services that arrange paragraphs for the caption on Instagram.
Also in this article, I will give you a super useful insider tip — how to copy your competitors' hashtags. If you open the Instagram app and find a competitor account, you will not be able to copy the caption by clicking, and, as a result, you cannot copy the tags. In fact, no text can be copied from the Instagram application!
However, the absolutely free service Inflact Profile Analyzer will help you copy someone's top tags. At the same time, you do not have to surf through all the publications across all the accounts in order to understand what tags your competitors use. The smart service highlights top tags in a separate section, from which you can copy them to the Hashtag Generator. After copying them into the search bar for tag generation, you can discover thousands of synonymous tags. This helps expand your content's organic reach and cover even more users.
Let's take a look at each hashtag marketing strategy step.
Hide hashtags on Instagram with the Inflact add spacing button
Research hashtags via the Inflact AI Hashtag Generator
At the first stage, you will need to do research. After this you will have sets of hashtags for each post group.
The Inflact tag database is regularly updated. One of the nice things about the service is that its algorithm is based on artificial intelligence.
This means that this generator is not a primitive service that gives you ideas only on the basis of one word or contains exactly the keyword that you entered. For example, if you enter the word "marble" as a search query, the tag generator will offer you lists of hashtags that include synonymous ideas that may also be relevant to your business and a specific publication.
For example, these can be hashtags that include the words "granite" or "natural stone." When you're trying to come up with keywords out of your head, you might not guess all the variations and synonym options. Therefore, smart artificial intelligence will offer you only the most relevant ideas without guesswork and extra time.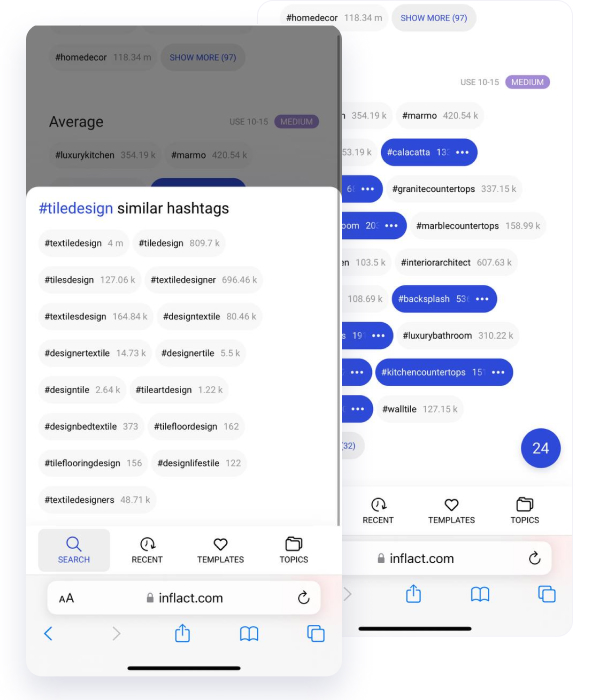 And this step is extremely simple. You only have to come up with the most narrow niche keywords that are specific to your particular publication. Of course, your publications can explore various topics, so the most important thing is that the tags fit this topic. Don't use keywords that are too broad because then your target customers won't be able to find you. The Inflact search bar lets you enter up to five keywords at a time, refining your search criteria.
A few seconds after the search starts, you will see grouped tags with the current number of publications in which they are used. This is an indicator that will help you understand how many competitive Reels and top posts exist.
As a rule, those hashtags that list up to one million publications have a large coverage. This can play into your hands in the sense that many people can discover your Reel. However, getting into the top publications can be much more difficult. Therefore, it is desirable to use the most popular and trending tags combined with more niche ones that have several thousand publications.
Create templates in folders
Now you can enjoy all the advanced features of the updated generator interface. By the way, this service is available both on mobile devices and on the desktop, and there is even an application that you can download to your mobile phone. Read about the advantages of the updated generator.
The main feature is that you can hold a certain tag and see similar synonymous ideas right on the screen instantly. This will help you use all possible variations. Such convenient tag management is vital! You don't need to keep tags in a file or in notes.
You can select 30 hashtags and then select the menu item Create Template. This Template will be saved in your Generator account and you can quickly copy this collection next time. Keep growing this collection with new or more relevant ideas.
Use automated dots & spacing to hide hashtags
This handy feature to hide post tags is built into the generator. You just need to rotate the toggle switch to add spacing to any tag set.
And if you have ever tried to put a line break in the Instagram app, you understand what a headache this is. Therefore, using this smart generator, you get not only the most relevant keywords and diverse results on the topic but also a convenient format for copying with ready-made spaces.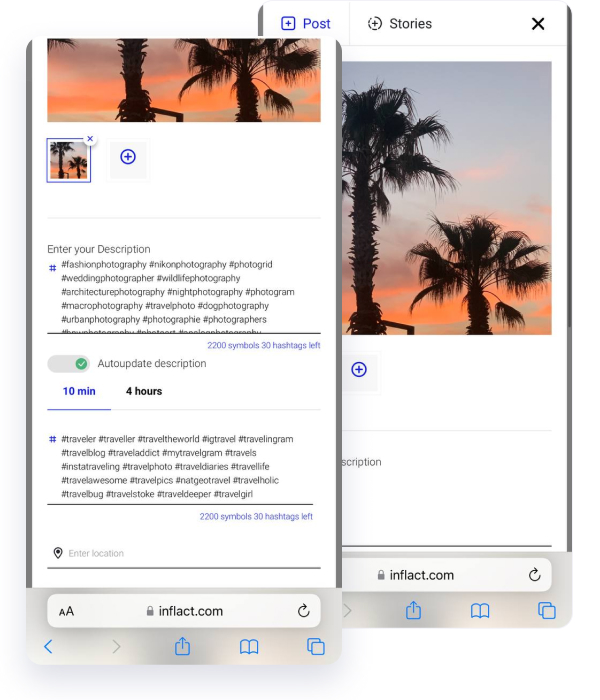 By the way, one unique Inflact Posting module feature lets users use up to 90 tags at a time. The Posting itself will update the tags after a certain amount of time. That is, you can add 90 tags for one publication at once, and the tool will automatically change the hashtag set so you don't have to do it manually.
Alternative way: Hide hashtags in the first comment
This is a basic way to hide hashtags from viewers in your post. Just insert them in the first comment instead of caption. Users who read your publication will probably not always check and read the comments. Therefore no one will notice your tags. In this case, the hashtags will still affect the reach.
However, sometimes if you use tags by inserting them into comments, you can not always see how many people came to your publication driven by tags. This might be a crucial insight for your strategy. Sometimes it may not be available in the Instagram app, so if analytics and the performance of tags is important to you, try to paste them in captions.
How to copy hashtags on Instagram
As I promised earlier, now I will show you how you can copy tags from the Instagram application. If you want to get the tags of top competitors or a successful blogger then you can do it with the help of a web service.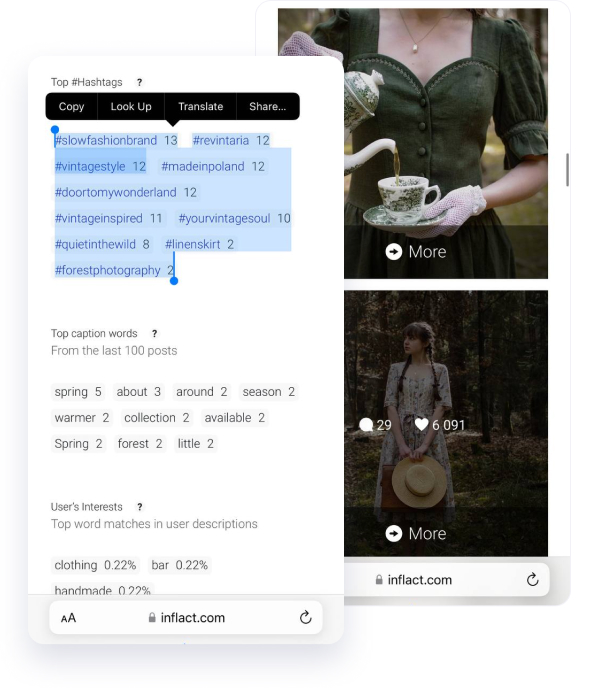 This is an absolutely free way and it is called the Profile Analyzer. In addition to the top 100 hashtags, it will also show you more detailed information about any public Instagram account.
For example, the data will include:
the posting schedule
the best time for posting
the most liked and commented publications, and so on.
So just paste the username into the Profile Analyzer and you can copy their tags for free. Find the section on hashtags and just export them from this section. Next, you can start generating more relevant tags based on these through the generator.
Input one or more tags into the generator and tick off options offered by the AI. Next, you will see how the generator will offer you thousands of relevant hashtags based on those you copied from competitors.
Bonus: Instagram Reels hashtags
#reelsinstagram #reelsforyou #dancereels #btsreels #reelslike #reelsfashion #reelsviralvideo #instagramreels #reelsinstragram #reelsmusic #fypreels #tiktokreels #motivationalreels #famousreels #naturereels #likereels #lovereels #instareels #viralreelsvideo #newreelsvideo #bookishreels #reelsideas #reelsininstagram #hotreels #reelsofinstagram #reelsphotography #reelsinstagram #instagramreels #instafeeds #bestvideos
Since the social network plans to remove the Recent tab from the tag gallery, we advise you to actively post Reels to get to the top. Copy these tags into posts to reach more views.