The hype around the creator economy is growing — almost every platform has several options for monetization. Instagram and Facebook promised to allocate $1 billion to nine programs to promote social media monetization by 2023.

Instagram is considered the fourth most popular social network in the world that surpassed 2.3 billion registered users in 2023. The idea to build up a space for sharing photos and socializing across geographical, political, or economic borders is now turning into a real supranational market with its own economy, financial mechanisms and regulation.
For an average user, it is an opportunity to earn money through monetization. In simple terms, you can get income for generating content through affiliate marketing, influencer marketing, and other strategies.
You most likely are already registered in socials, but it doesn't always go with a solid grasp of how to monetize your Instagram account. The most common mistake is to think they only pay bloggers with millions of followers. Everyone can benefit from content.
We advise you to familiarise yourself with 9 programs on how to use monetize tools on Instagram in order to understand what potential benefits it can bring for your business or for your expertise.
9 features that can help you earn money on Instagram
Here are all the features that the platform has implemented so that brands, companies and individual authors can capitalize on.
#1 COMMISSION
A tool that will allow authors to receive commissions for products that they tag in their publications. The rates will vary, as both brands and influencers bid their own fee.
The final offer depends primarily on your ego and the agreements customized with the advertiser, but you should not discount such objective circumstances as additional costs for shooting (like renting a studio, hiring a hairstylist, etc.).
The unspoken industry standard is $100 per 10,000 followers, where the total rate is recalculated according to extras for a type of post and additional factors.
Don't say yes to everything that comes. Such a policy brings nothing if you want to advance with how to monetize Instagram page. You should never consider products or services that go against Meta advertising standards. The ad will be rejected at best, while a dramatic scenario leads to a blocked account.
Remember that greed loses what it has gained. It is not in the core to stay focused on how many followers do you need to monetize Instagram. The engagement rate makes a big difference to evaluate the results of any promotional campaign. A number of up to 5% is considered poor coverage, so you are risking ending up in advertising black lists. So, it is crucial to strike balance with the frequency of promotional posts and avoid ads that are completely out of sync with the topic of your blog.
#2 REELS PLACEMENT BONUSES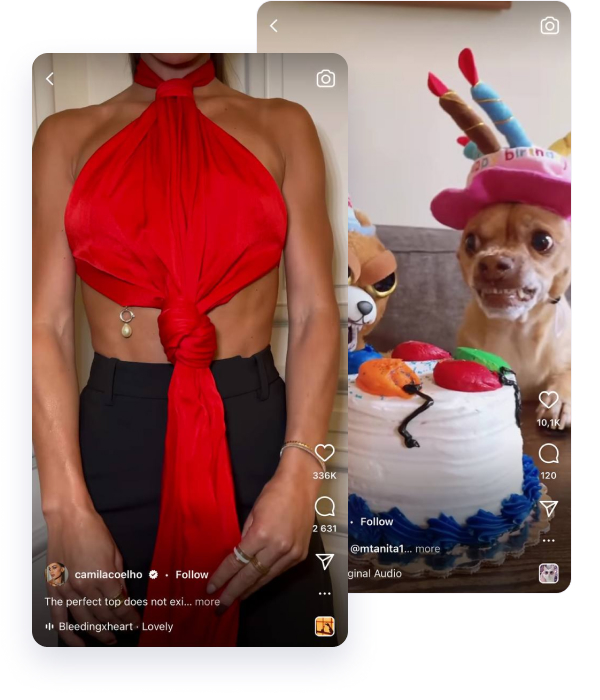 Recently, the approach to how to monetize Reels on Instagram has been no different than how to monetize any other Instagram videos. Since Meta management is hunting for TikTok audience, the format that looks confusingly authentic was insufficient. So they went further and introduced Reels Play Challenges. And now we have a precedent with an in-app income that takes no third-party investment.
The bonus program offers to complete four unique tasks within 30 days. You'll be able to see the bonus progress on the progress page under the Bonus settings. After you have reached certain production and performance, the account is replenished with the sum for which the challenge was claimed. For example, you can receive $1000 for producing 15 original Reels in the current month with 10,000 plays.
#3 VIRTUAL BADGES
This is a new brand concept that allows fans tip creators during a live broadcast on Instagram. It is a great example of how to monetize Instagram influencers' online presence. There are three tariffs for badges based on the number — one heart for $0.99, two for $1.99, or 3 for $4.99. As a visual icon is displayed near a viewer's nickname throughout the entire session, it is not only a sign of commitment, but also a sure way to stay on the top of conversation. Such comments and questions are highlighted and have less chance to be passed by.
It may seem as a more complex strategy and maybe it is enough to be OK with knowing how to monetize views on Instagram for Reels and posts. But trust me, by letting your top fans show their support, you are building up a proper strong community and leveraging your personal brand in the most efficient way possible.
#4 PERCENTAGE OF ADVERTISING IN VIDEOS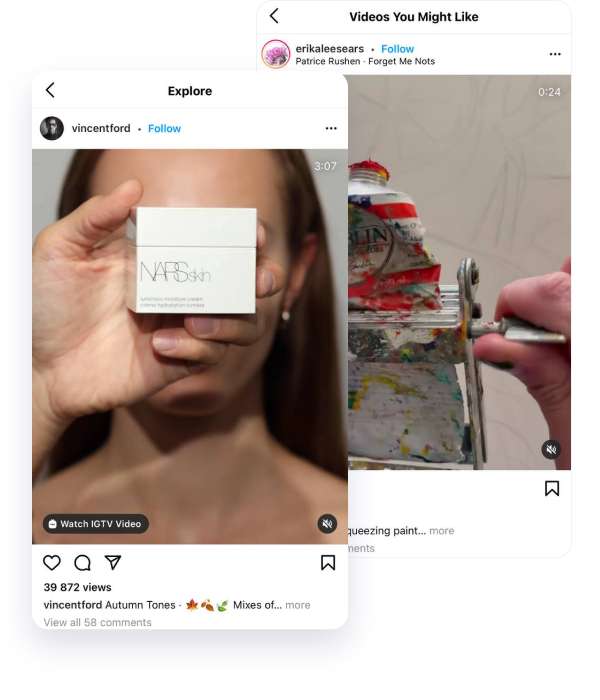 The Instagram in-stream ads program is similar to the YouTube affiliate program, which pays creators a percentage of advertising revenue. Instagram Chief Operating Officer Justin Osofsky said last year that creators would receive a commission of 55%.
#5 INSTAGRAM SHOP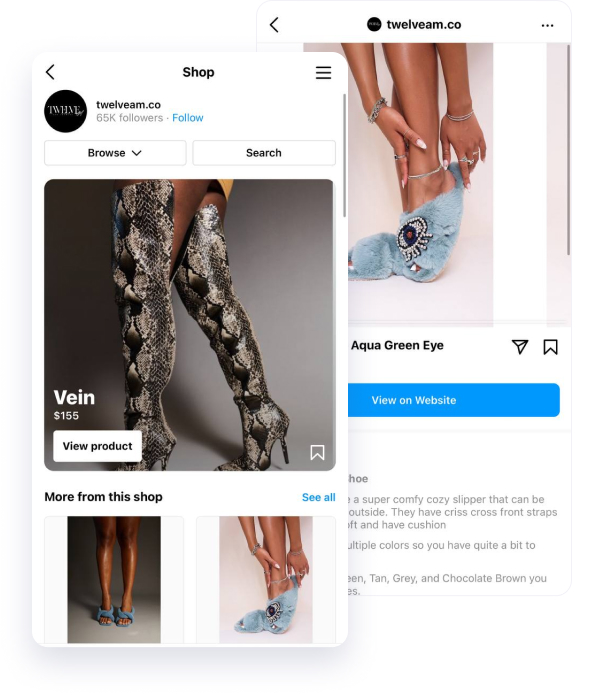 We face impressive statistics that 90% of all users follow at least one business on Instagram and to become a digital captain of the industry you'd better be aware of how to monetize Instagram photos/videos with your products or services.
Instagram Shopping is a feature that allows users to buy products directly from your photos or videos.It is convenient as now you can sell in-app. It is up to the business whether to enable the checkout feature on Instagram or not. If you decide not to connect, the account will transfer the user to the site, and use Instagram solely as a showcase.
Unfortunately, the second option is temporarily the only one for some countries, but the platform aims to make it available for all regions.
#6 FINANCING OF VIDEO PROJECTS
This will work as bloggers' "houses" where the platform finances the production of content. There is already a Sway Life show with the support of the company, the social network also plans to support the authors of short formats.
#7 MARKETPLACE
Instagram wants to play a role in the deals between brands and bloggers by creating its own "marketplace" that will help them find each other. It is not yet known whether the social network will charge any percentage.
#8 SUBSCRIPTION TO EXCLUSIVE CONTENT
An exclusive content subscription means the creator is paid for generating content. If you have raised the dedicated audience that sees practical (or any other) value in what you offer, it must be poised to потреблять ваш digital product even not for free.
By and large, you are blessed with a relatively simple way to benefit from your main line if you have a dramatically vague understanding of how to get monetized on Instagram. Premium content will have it covered, so it is enough to proceed with daily shooting routine and provide your subscribers with something they can't get anywhere else.
# 9 NFTS
The platform is currently exploring the possibility of creating a market for NFTs. Meanwhile, mobile developer Alex Paluzzi has studied the Instagram code and revealed the development of a feature that seems to allow authors to sell and place bets on NFTs.
How can you gain interested Instagram followers?
As is clear from all nine functions, each of them implies the production of high-quality content that will involve the audience. So, the first question that may strike you is how many Instagram followers to monetize content would it take to get it real. Good news, it is never about numbers, it is the engagement that matters. You can earn great money on any social platform if your audience really cares about what you are talking about, and people will gladly want to thank you and even subscribe to the content for a fee if it is really useful.
Therefore, if you are an expert in any field, your first task is to gather an interested audience.

It's actually not that difficult, but here are some of the easiest ways to get exactly the target audience you seek on Instagram.
#1 Mass following and mass liking (should be targeted)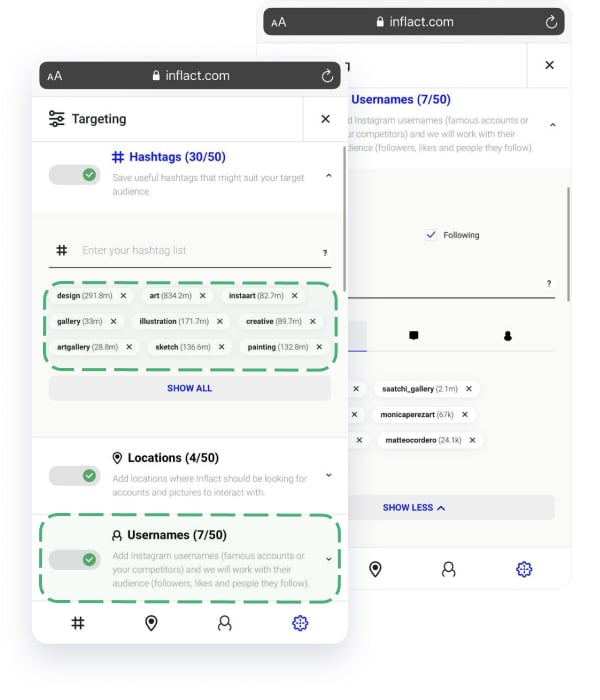 These are the old proven methods, but they still work now with the caveat that you will not subscribe to random users, only those who will likely be interested in your content or product.
Most often, these can be followers of your competitors, and people who subscribe to certain hashtags and feature accounts — niche groups on Instagram. Often the account manager (especially if the account is new) has to go to each profile manually and view the active audience, for example people who often leave comments, to attract them to the account. They start following and putting likes.
Now there are modern tools that allow you to automate this process so that specially trained algorithms will perform these actions for you: the Instagram bot that behaves like a person, that is a real manager of an Instagram account. It engages with specific accounts by indicated nicknames, hashtags, or demographic characteristics. Inflact Promo Module will subscribe to the accounts of your potential audience, put likes, or watch their stories. This way, the audience will be interested in your content and will easily notice your account. When you use such automation tools with a VPN, your promotions become secure and your account will not fall under an Instagram ban.
Buy ads in large themed accounts
Now there are many thematic public groups or feature accounts on Instagram that are dedicated to various popular topics on this social network, for example, fashion, pets, house designs, models, healthy lifestyle, and so on. Therefore, if you want to get a basic idea about how to monetize Instagram, find such accounts that are large in your niche and connect with some for cooperation.
This method can be more effective than buying paid Meta ads because people who subscribe to these themed accounts already trust them and trust what they post. Therefore, you will notice the organic traffic of the target audience, who are likely to be more interested in you than the people who saw your ads in their feed.
From hashtags to sales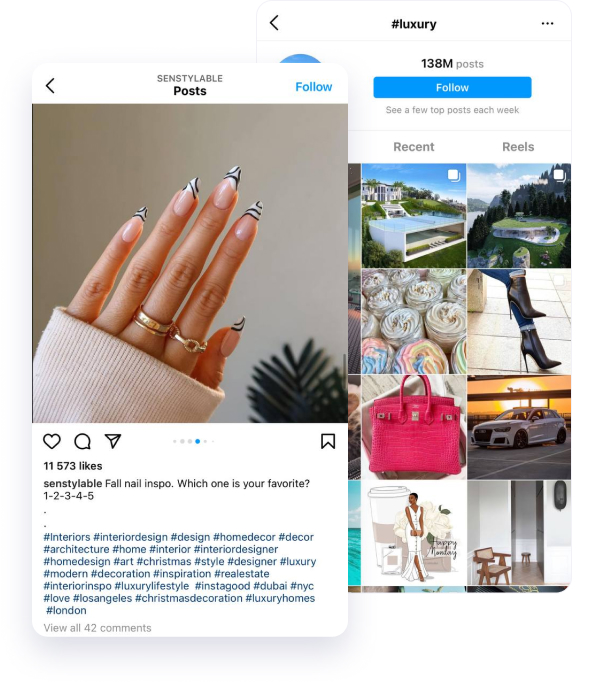 From hashtags to sales
Tags are free and the only way to search and sort content on a social network so far. And often when people enter a target word in the search bar and select a hashtag, they can find your account in the gallery. They might be looking for a specialist or blogger in a certain niche.
For example, if I want to find a fitness instructor, I enter this inquiry and choose a specific section in the search bar, select tags, and a gallery of top posts for this tag will open. After exploring, a person will probably subscribe to your content and try your services/products.

To Crown It All