Do you think you need to be an MBA business coach or a fashion model to start making money on Instagram? It's a myth – you can earn even with your pet's images or by reusing content. Let me show you how.

New bloggers may think they need to gain hundreds of thousands of followers to make real money from social media. The truth is that the number of followers is not always the key to the commercial success of your Insta account. In fact, smaller influencers and niche communities tend to monetize easier thanks to the genuine engagement inside their communities.
Before you tap into earning money with your content, services, or products, I advise that you dive deeper into the essence of running a blog. Initially, your goal is to find a specific niche and find the answer to the question: what is the value of the content/products I'm going to monetize via IG? It doesn't necessarily have to be a physical good.
If you are still searching for your true calling, I suggest you read our comprehensive beginners guide for IG influencers. While reading and completing the exercises, you can better understand the topics you are passionate about to maintain the community for a longer time.
Look at the examples below to comprehend how you can easily monetize in any industry you choose. The main task is to gather a genuine audience among followers.
Working examples of how to monetize Instagram
#1 – MONETIZE A PET'S ACCOUNT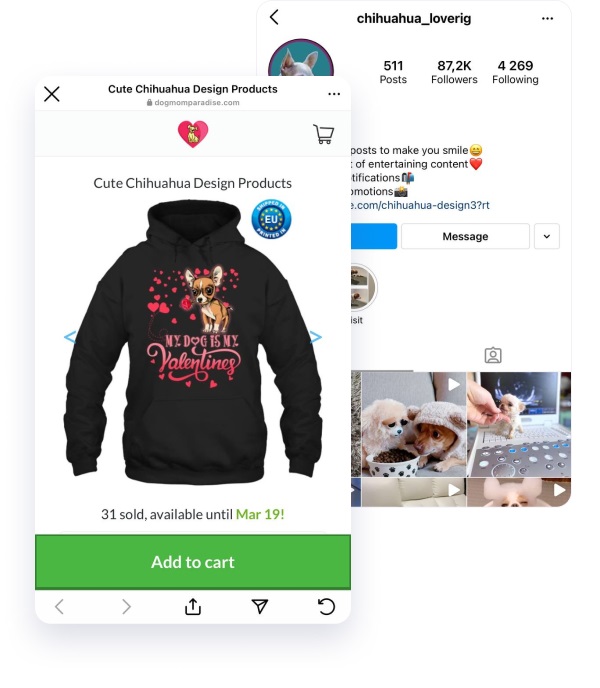 @chihuahua_loverig is a community on Instagram that amasses photos and videos of funny chihuahuas, and they've gathered over 87.1K followers. This means you don't always need to take images on your own. When the community is popular, you can start making money for promoted posts.
Let's view how @chihuahua_loverig monetizes around people who love chihuahuas:
They opened an online gift shop with merch. It's a smart idea to attract people who like pets or a special breed. Afterwards, they become the potential buyers of branded souvenirs you offer to them. Simply paste the link to your bio and announce they can shop in the CTA of your captions. You don't always need to create a website – use e-commerce platforms and make listings of products for sale.
Charge for promotions. Indicate in your bio that users can DM you if they want to promote their accounts. It's a typical scheme for all feature accounts.
Hack: Set up automated replies by keywords for all users that contact you for promotions. If you mention in your bio that users need to send a DM, you can set a keyword and they will receive the response instantly.
#2 – MAKE MONEY AS A FASHION FEATURE ACCOUNT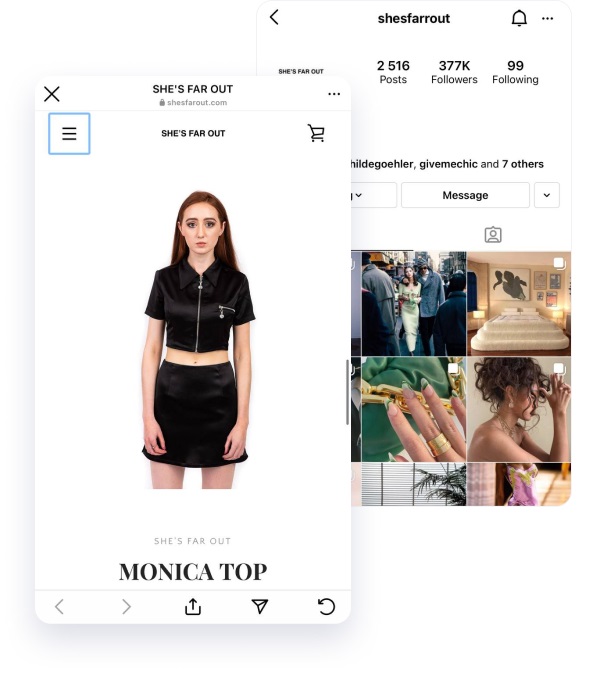 On Instagram, you can find feature accounts, or magazines dedicated to fashion, styling tips, vintage runways, and movies, etc. These communities seldom use their own images. Instead, they browse photos from bloggers and fashion shows across Instagram and combine them into an aesthetically pleasing feed.
For example, @sheisfarout is one such account, and 377K people follow them to find inspirational visuals. It took time to gather those followers, but now this community offers items for sale that attract their audience. You can find the link to their shop in the bio section.
It's a good strategy you can try to develop on IG. Start an account, start posting, and create appealing content. When you get a higher reach, more people will check out your shop and buy products.
#3 – SELL YOUR SERVICES
Instagram is a perfect platform for those who offer knowledge in exchange for money. If you are a coach, even without a degree but with real cases and reviews, this platform will favor your experience.
If you aim to monetize a service, I suggest using the Promo module along with target ads. The Promo module will find clients and interested audiences and interact with these people as you normally do – watching stories, liking their feed, and following. But instead of doing this manually, you can grow awareness in your particular niche automatically.
Target ads will not engage with potential clients in the long term but can help you get your first customers. Read our dedicated guide to get into the nitty-gritty of Instagram ads.
For example, @stephflockhart is an influencer who is sharing beauty rituals in exchange for money through IG. You can find the link to the e-book, order a beauty course, or get a personal consultation.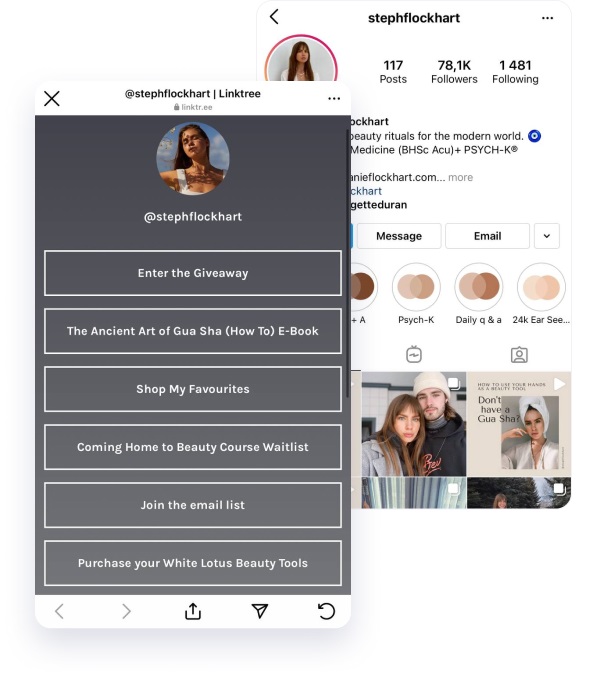 What is more, you will find a shop list with the products favored by this influencer. It's a perfect way to monetize with affiliate links. These links direct users to the website where they can order the products, and the blogger gets a commission as a reward.
Instagram doesn't let you place numerous links in an account or in captions. For this reason, it's crucial to apply link-in-bio tools, so you can place all the possible monetization channels.
#4 – BECOME AN AFFILIATE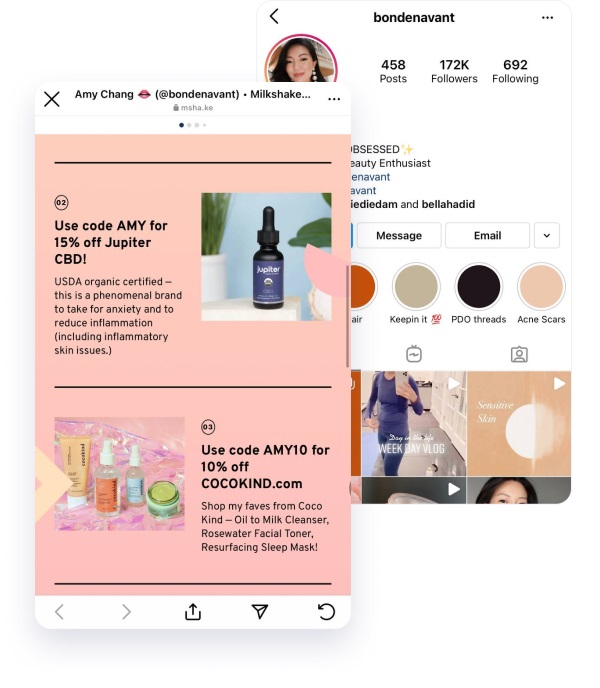 Brands are looking for influencers that will sell their products. When you create content on a certain topic, you are likely to use goods that you want to recommend to your audience. These goods and brands can help you earn money.
Just imagine how much more effective the ads from influencers are than other types of ads. Bloggers build communities of people who admire them and trust their choices. That's why, if you are a trusted leader, making money from affiliate programs and referral links is a must.
Let me show you several examples of how can you share referral links on IG:
Amy Chang is a beauty enthusiast. She talks about skincare products, hair, massage, makeup, and postpartum. The portrait of the audience is clear, and if they like the content, they will be willing to buy. What's more, Amy supplies people with the promo code AMY. For brands, these codes serve as an indicator to measure the success of a certain influencer.
@bargainhomesabroad is a good example of how you can earn on IG without content prepared by yourself. They amass real estate for sale and publish images and descriptions, but the links to agents are referrals. So when people buy homes by these links, the account owners gain commissions. Also, in the links tied to their bio, you will find an affiliate URL to a masterclass appealing to their audience – the "How to Move Abroad Masterclass."
Lastly
If you are still postponing making money from IG, I hope you've now got a lot of ideas. Surely, you need to do some individual research to find partners and brands or think over your services. When doing business on IG, having a Direct folder organized by labels and equipped with auto-replies is essential. Check the Direct module to improve the ROI of any online and offline shop.