The Instagram app is constantly updated, and new useful features appear every month. The social network has finally been refreshed with a repost function. However, the option can't be used in all cases. In this article, we will show the main ways to repost on Instagram using not only the built-in functionality but also with a free service that can help you to repost in the best quality possible.

What types of reposts are built into Instagram?
Currently, Instagram supports several types of reposting:
Stories to Stories. You can repost someone else's Story to your Stories.
Your Stories to a post. Duplicate the publication of your photos or videos from Stories to your main feed.
Post to Stories. Add someone else's post to your Stories.
Unfortunately, it is not yet possible to repost in a post-to-post format using the internal functionality. But these types of repost can be realized if you know some tricks, which we will reveal further in this article.
How do you repost on Instagram Story?
You can repost someone else's post on Instagram Stories if it is public and reposts are allowed by the owner.
But even if reposting is not allowed by the owner, if the profile is public you can still do it!
Repost on Instagram with an in-built function
Open the desired post and click on the "paper airplane".
In the window that opens, select "Add a post to your Story" (on Android — the button with a plus sign).
Then you can add text, stickers, GIFs to the new Story and publish it.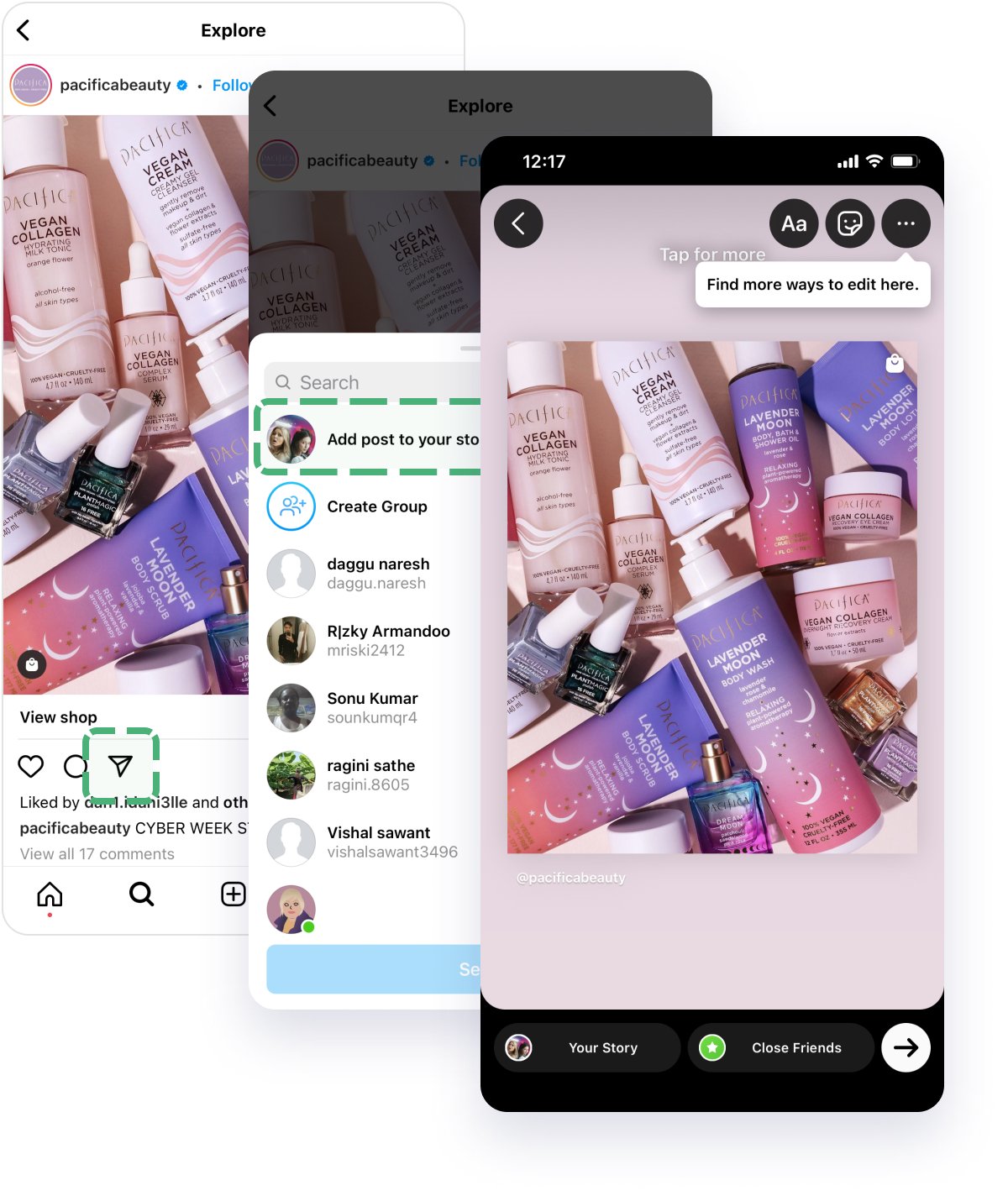 How to repost an Instagram Story to your main feed
A repost on Instagram can be done not only from a post to Stories, but also vice versa. A photo or video from your Stories can be shared as a post in the feed.
Open Stories and tap the three dots in the lower right corner of the post.
From the menu that opens, select 'Share to Post'.
Edit the post as desired, add text, hashtags, geolocation, and publish.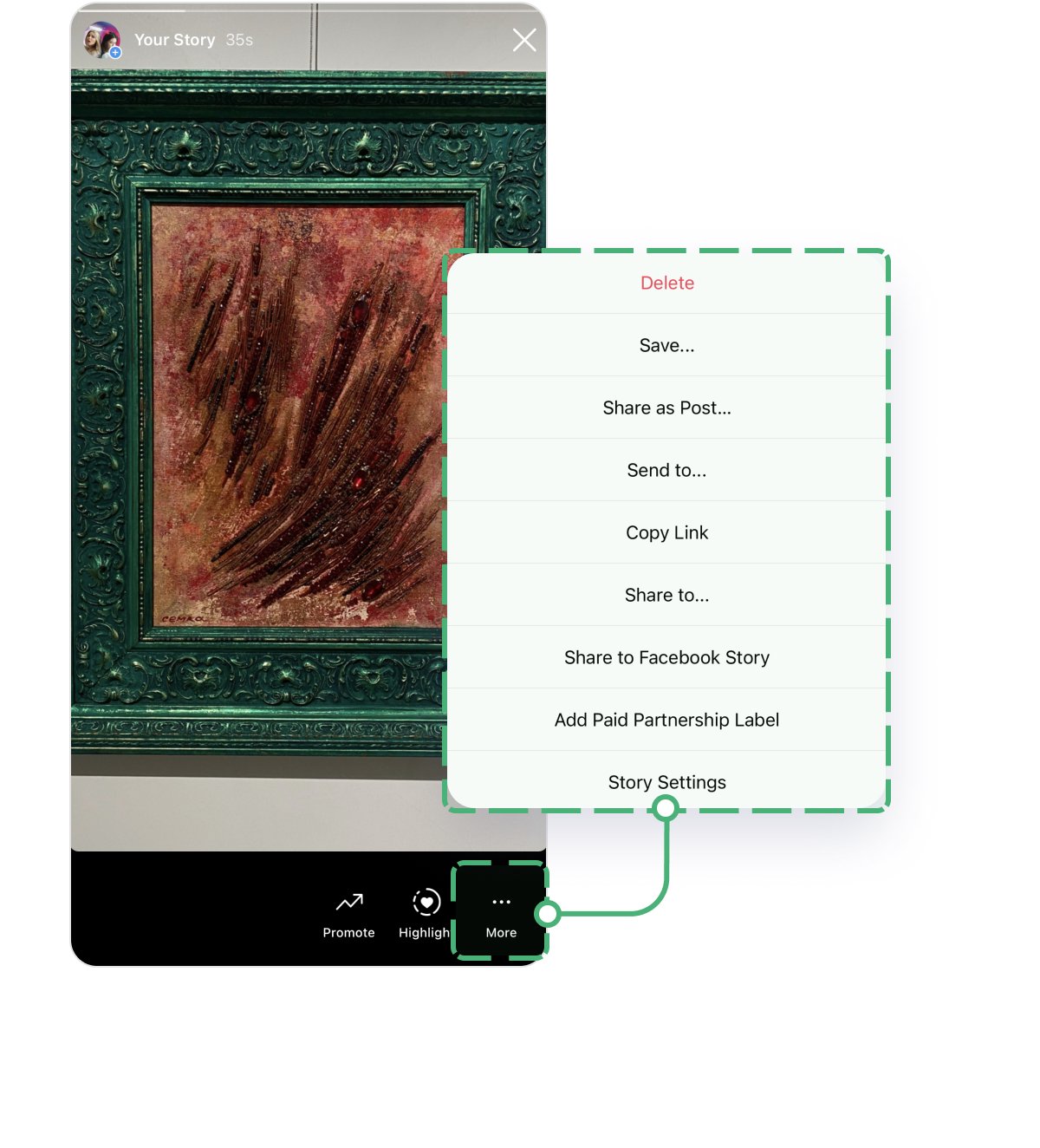 How to repost a Story on Instagram if there's no share button
If the 'Share to Post' button is missing from the menu:
Refresh the app or open Stories
Click on the views counter in the lower-left corner.
Next, find the 'Share' icon and click on it.
A familiar window for editing a post will open. Crop the photo (video) if desired, add effects, filters, text, hashtags, geolocation, and share with followers.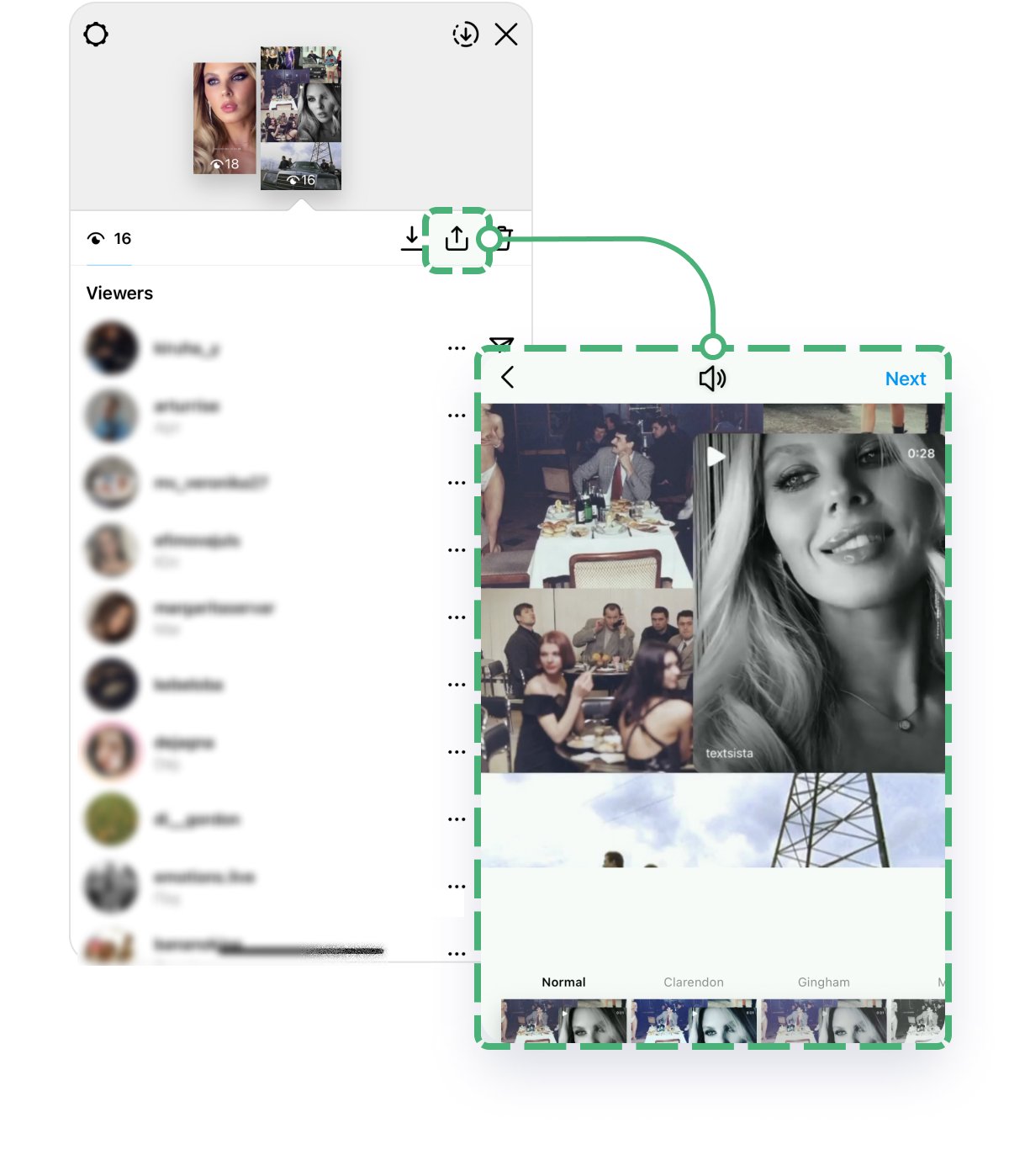 How to repost someone's Story in your own Stories
You can repost Stories to another user's Instagram only when you have been tagged in it.
If you have been tagged in a Story, a message with an 'Add to Story' link will be sent via Direct. By following the link, you can share Stories.
Instagram's simple and straightforward interface makes it easy to focus on viewing beautiful photos, but its repost functionality leaves much to be desired. Whereas on most social networks, reposts are done in a matter of seconds and with just one click, on Instagram things are a little different. It can sometimes be confusing trying to make exactly the repost you want.
How to repost a video on Instagram
Repost video using screenshot or a screen video
As you can see, the built-in Instagram functionality is not always enough to make the necessary repost. In addition, a screenshot using the built-in options is only available when the account is public. If the account owner has restricted its availability, you will not be able to repost, even if you are a subscriber.
In such a case, you can use an alternative option—a screenshot, or a screen video. This is one of the easiest ways to share someone else's photo:
Open the desired post in the Instagram app.
Take a screenshot in your usual way.
Edit by cropping all unnecessary content and upload the picture to your profile.
In this case, the clickable link to the author of the post will not be automatically added, but you can manually tag the person from whom the post was taken.
Or, alternatively, you can download any story from any profile on Instagram and repost it in your own feed or Story. Just use a professional downloader tool for it
How to repost on Instagram in the original quality
Don't forget that screenshots of screen videos reduce the quality of the content, so don't use this way of reposting on Instagram if you need to make a high-quality and professional repost. Special programs help to significantly facilitate the repost of posts on Instagram. There are many tools for reposting: paid or free, simple or multifunctional. Let's take a look at the best one:
How do I repost on Instagram with photo and video downloader
With this tool, you can make a repost of any public content and publish it on your own resource in the original quality. Use the downloader to make any content look clear and professional—without any distractions like the format of any other repost option or text over photo and video.
How to Download from Instagram? How do I use Instagram Downloader?
Download Instagram photos in three steps:
#1 Open the Instagram photo you want to save and click on the three dots in the upper right corner
#2 Click to copy the url link under the Instagram photo
#3 Paste the link to the photo into the insert line of Instagram Downloader and click the download button
After clicking, the content that you've downloaded from Instagram will immediately be saved to the Downloads folder as a JPEG file.