Sometimes a photo that you just reposted can gather more engagement than the originally posted content. Therefore, comprehending how to repost on Instagram and apply visuals on other platforms can effortlessly hold your target audience intrigued.

Numerous methods exist to distribute top content many times, but not all of them allow you to reuse visuals from other accounts. Instagrammers may not understand how to find such visuals resulting in maximum reactions from subscribers. Before you tap into the content that other users create, try to conduct research on target influencers in the industry. They should be attractive to the TA to get the maximum boost by the IG algorithm.
Some ideas of media for reposting in 2022 are presented below. You may test them in your strategy:
Niche-themed accounts and influencers. Gather a selection of so-called feature accounts, bloggers, and photographers to monitor their content and deliver it to subscribers. One may download content from such accounts in bulk by using the Inflact Profile Downloader and the Stories Downloader.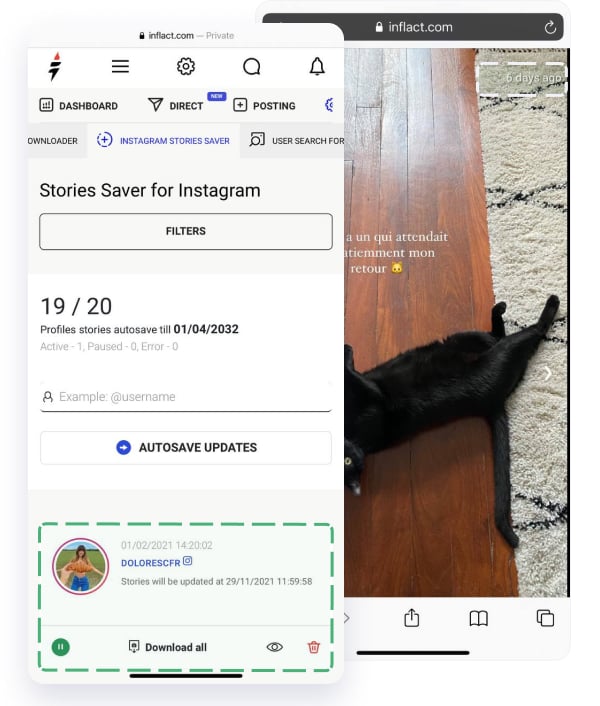 The Stories Downloader is able to monitor all the stories on dozens of profiles and upload them to the system, even if you miss something in the application. After that, you can upload the archive with the most fascinating content for the repost.
The Profile Downloader will help you download all the visuals from accounts in an archive. They will be preserved in their original quality, so they will be ready for reposting on Instagram. This way users can amass thousands of stories and photos from the feed all in one.
To conduct quick research of profiles by niche, try the Instagram User Search. There are a lot of convenient categories and the ability to search for people by keywords. Collections of accounts can be organized in lists so that it is convenient to discover the content for each group.
Your customers' content. It's a necessity to pre-plan these reposts if you have a business profile on Instagram. Stories and posts from people who tag your products and use them will be demonstrations of social proof. Therefore, this is a fantastic way to diversify the feed for the benefit of sales through Instagram. The IG audience trusts real reviews and the experience of influencers, so feel free to implement this into your strategy.
Memes. Embed jokes in a digital strategy to cater to younger audiences. Evaluate the age, location, and interest of your clientele to understand what they think is funny and what topics are trending. Make a selection of funny accounts, celebrities, and cool idols of the prospective audience. Get ready to monitor this content to repost reactively. At the moment, jokes about zodiac signs are trending in IG. They are personalized, so they collect the maximum reactions, i.e. Shares, and adding to Saved. Repost such content and you will notice how the interaction will increase.
Content from other social networks like TikTok, Twitter, and FB groups that are relevant to followers. It is important to plan beyond Instagram, searching for engaging content and news across other online media. You will need a TikTok downloader if you aim to deliver clips without watermarks. You can also share tweets by simply screenshotting and making them fit your account style. Moreover, one may amass videos from Twitter, which you can also share for your IG followers.
To utilize relevant visuals for reposting, select the most interesting profiles on other sites for your industry. For example, if you manage a makeup artist account on IG, it may be TikTok creators who share quick tutorials on the topic. You may use such visuals for Stories.
Next, we'll look at ways to distribute visuals with less stress. These can be both methods inside the application and with the help of side services, because it is not always achievable to make a repost in IG. Also, many applications for reposting in the free version leave watermarks.
Note: In case an account is private, you cannot make a repost because only the user's subscribers will be able to see it.
How to repost a story on Instagram
It is straightforward to repost if any Instagrammer has mentioned you. This is often what influencers can do if they shoot content for you. In this case, you will receive a notification about the tag in the DM, and in the notifications section, and from there you can add this to your Story in one click. Next, we will consider a more complex case – if you need to publish a story without a tag.
How to repost on Instagram story without being mentioned
If you are not mentioned but still need to show content to followers, do not rush to record the screen. This will noticeably worsen the quality of the visual, plus Instagram will also reduce the quality when posting second time.
To do this, it is better to download the story in its original quality using a third-party service like this downloader. You will receive an mp4 file on your device, which you can re-upload as a story in your profile.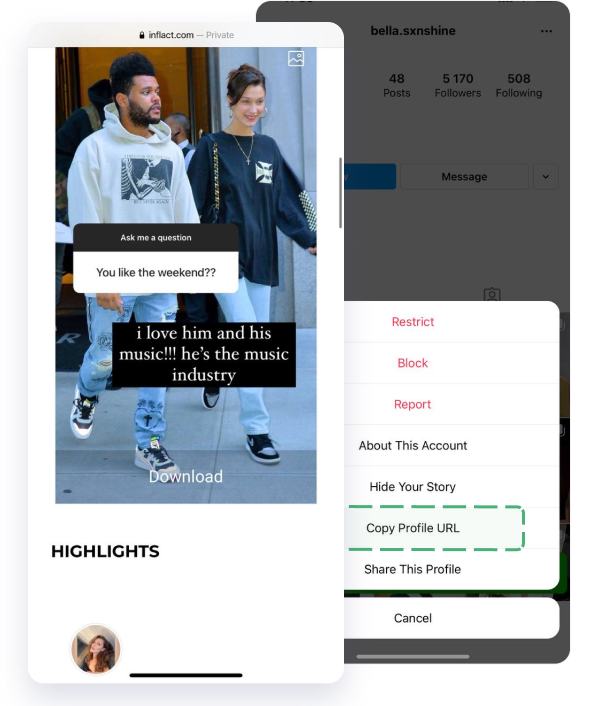 It is very easy to download stories for a repost – you can do it for free and without registration:
Find the link to the profile from which you want to repost.
Paste the profile link into the downloader.
Clips/images will be displayed in a few moments.
Click on download.
Browse the visuals in your device's gallery. You can keep it on a PC if you post to Instagram from your desktop via a scheduled posting service; otherwise, save it to your phone if you post on mobile.
Select a clip or image from your device or schedule in advance via desktop apps.
How to repost on Instagram Stories – mine content in seconds
You can distribute Stories from a public profile across many sources, like DM, as feed posts, or to your Stories.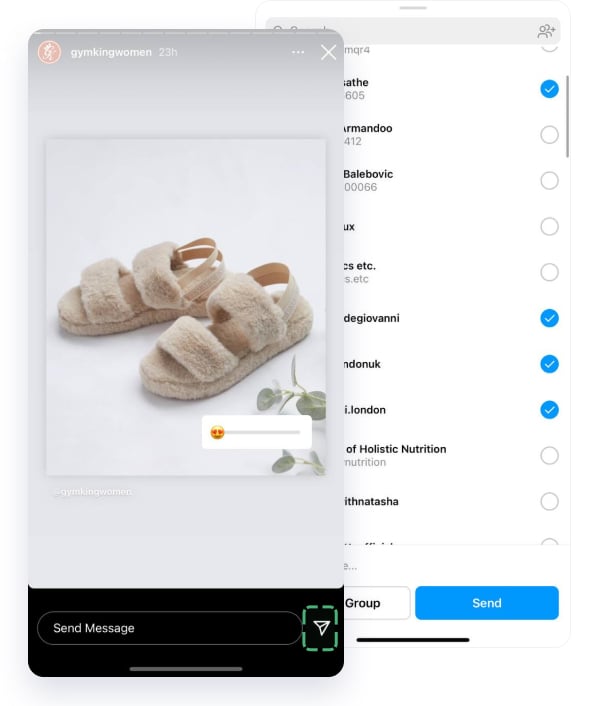 Sometimes users can disable such options in their privacy settings. Then you won't find an icon under these stories. In this case, the downloader for Stories will help you download the media file, which you can then share on your account.
If you want to repost your own Story to the feed, then you need to select the More menu item. Next, select the "share as a Post" item from the list. After that, the editing screen will open, where you can apply the built-in filters and adjust the frame for the post.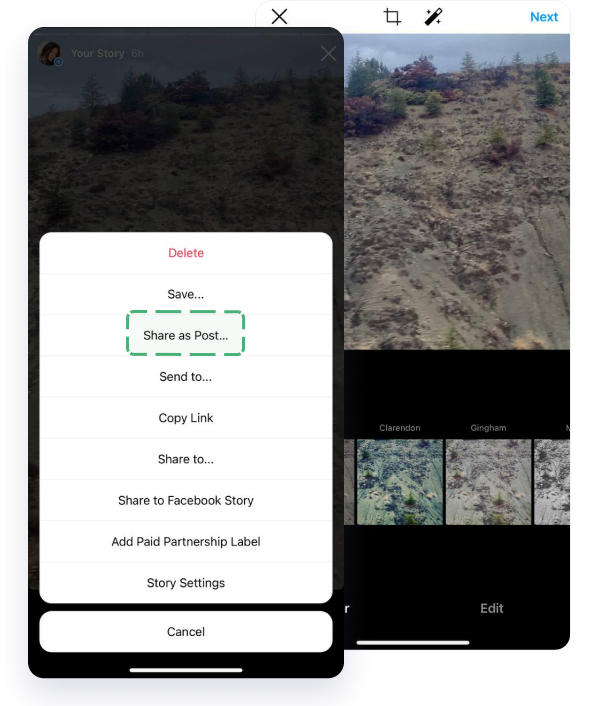 If you need to repost another user's Story to your feed, then there is only one way – to download this story through the downloader.
Important: When you publish a story, ask users to share content in private messages. The more times others choose the share function, the clearer it will be for the Instagram algorithm that your content is interesting. Thus, the system will show this story to moree users in the feed.
How to make a repost to other social networks
Stories seem to be the most exclusive and real-time content that should be shared within this site and on others. Because the Stories are mostly watched only by subscribers of a certain user, and they are not visible in the Explore section, this content is more exclusive. It will be easier for this content to surprise your subscribers.
How to make a story repost on Facebook. To do this, you need to select the More menu item. Next, you will find the "Share to Facebook Story" item. After that, the visual will appear in your feed on FB and will be available to a larger audience.
How to make a repost to other sites. Stories will be a valuable asset for TikTok, Twitter, and maybe even for your website. If you need to repost the content of other users, you will need to download this media file in the way described above in this section.
Thus, by preserving your own and others' Stories, you don't need to puzzle over the creation of content; instead just use ready-made and successful materials.
How to repost a video or a photo on Instagram
At the moment, Instagram holds a huge library of video content and it may be helpful for one's digital marketing strategy. The trend will only expand, because the online media creators plan to launch built-in monetization for video creators, particularly Reels.
Many influencer creators are already getting money from Instagram for videos, so this type of content will only improve. Your task is to track and select the material that will be useful in your business to attract and interact with the audience.
Note: It is also essential to share clips posted by your clients or influential users about your business regularly. You can track such content by hashtags – branded hashtags or niche ones. Make a keyword search using a hashtag generator that will offer similar hashtags based on the keyword (this may be the name of your company). Add them to your set and carefully monitor new posts in the gallery of these tags.
Use downloaders for robust reposting
Important: When posting someone else's visuals, you should make a note in the signature that will indicate that the content is not yours. For example, it can be a creator's change, just specifying the name or noting that the source is unknown. Therefore, you will not violate the creators' rights, while you improve your account and have an opportunity to reach viewers from the Explorer.
The Video Downloader. With this tool, you will get videos that users upload to the feed. To download, simply copy the link from the application into the search bar of the service. Downloading is free and anonymous — it means you can use the service without logging in or creating an account if you prefer to stay outside the platform. Please note that it only works with public accounts.
The Reels Downloader. Every time you see a creative clip, be aware that it can also cause a reaction from your audience. To download it, copy the link to the clip in the menu and paste it into the tool, after which you will see a screen with the download option.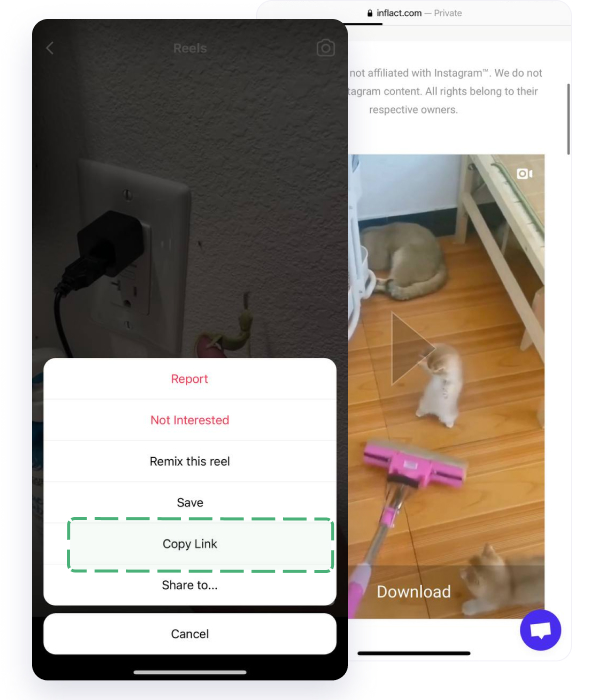 In the application, you can only repost Reels to messengers or Twitter. A clickable link to the clip and the visual itself will be inserted.
IGTV+ Live downloader. You can easily repost any video from Instagram TV to your feed or story. Sometimes Instagram users hold Live sessions with invited experts for interviews and to answer questions important to the audience. If you find such Lives that may be interesting to your subscribers, you can download them. By downloading content, you can easily edit it. For example, cut out some of the most engaging moments and place them in your feed or in Reels.
How to repost an Instagram photo
Users can repost feed content to Stories. However, the function is only available for visuals from public accounts.
Built-in quick share to Stories. Winning media can be distributed to a Story via the icon for all share cases. Select the very first option, "Add post to your Story." After that, the application will open the screen to create a Story, where you can add text, stickers, music and other elements to the photo.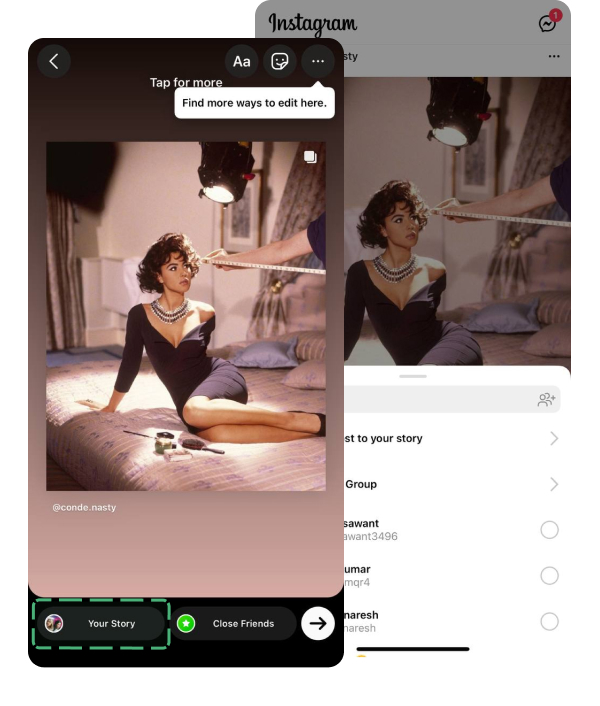 Sharing in the Direct. It's straightforward to distribute photos in private messages. Pick the desired recipient from the list to whom you aim to send a visual.
Utilize images saved via the Photo Downloader. If one needs to use a photo in a feed, it's impossible to perform right on IG. However, there are additional apps for this procedure, where you register via IG and the repost option opens. Unfortunately, such applications often indicate the nickname of the original account and the app logo, which might hobble the aesthetics.
When an unmarked photo is essential, you'd better extract it. Following that, create a post or a Story, or use it for other purposes.
This way you will get content where you just need to indicate in the signature the source of the account from which you uploaded it. This will not spoil the aesthetics with unnecessary watermarks.