In the case studies, we're going to look as closely as we can into the Instagram marketing of popular and successful brands. I have a bunch of cool and effective instruments to analyze what's going on in the profiles.

Moreover, in this article I'm going to do a manual investigation of the Daniel Wellington account to find answers to these questions:
What is the composition and the concept of the Daniel Wellington feed?
How has it changed since the beginning and what changes led to the follower's interest in the account?
What specific promotional concepts has the brand used in the posts from the very beginning? Which of them is still working? Which of them is out-of-date?
Who are the influencers that DW has chosen?
How fast and why did the DW account gain popularity?
@DanielWellington - what is this?
We're going to do an investigation of the Instagram account of the most popular watch brand on social media. Daniel Wellington sells minimalist and well-recognized wristwatches with great success. The company's sales grew 4700% between 2012 and 2015 thanks to amazing customer service and, of course, to their one-of-a-kind Instagram marketing. No one knew the Daniel Wellington brand before 2011, and now it is a company with a simple idea but with $200M in revenue.
Long story short: DW's business in a few numbers
2 - backpackers met in Australia: Young and inexperienced Filip Tysander and a stylish stranger who wore a chunky Rolex Submariner with a NATO strap. His name was Daniel Wellington, and Tysander would develop a fixation with his watch.
2 - fashion companies were started by Tysander (selling neckties and plastic watches), but neither of them really took off. What he really wanted to develop and sell was a luxury watch on a military strap - like the one worn by Daniel Wellington.
$24K - the amount of Tysander's own money he used to found his watch company, named after his companion Daniel Wellington.
5 years - how much time he needed to grow the company from thousands of dollars to a multi-million dollar business.
50% - the profit margin Tysander rakes in from the DW company now.
2017 - the year the DW company was named as the fastest-growing European company.
$18 - the average estimated wholesale price of DW watches according to the independent evaluation of a watch expert.
$140 - the average selling price of watches on the DW website.
DW is one of the earliest brands that used influencers instead of traditional fashion marketing to show off and promote their watches. They needed to create an unstoppable flow of traffic to their websites. And they decided to rely on Google Ads and Instagram influencer marketing. External links to the DW profile from all over Instagram make the promotion strategy almost flawless. And audiences from large influencers' social media accounts helped the brand to reach a wide audience with little cost. The philosophy of DW's promotion is in making changes according to what the market needs. They've changed their Instagram approach more than 10 times and made over 2,700 changes to their site. Now that we understand the business of DW, let's dive into the strategies and exact steps of the brand, to highlight the most valuable and important lessons to use.
The analysis of content and concept of DW Instagram
From the very beginning of the Daniel Wellington account, the key feature for the feed was consistent product placement. They never get enough of showing watches. On different wrists, in different locations, in different styles and colors. Somebody might say it is boring. But the concept works. And when someone sees one of these posts that clicks with their own personality, they just can't stand not having that watches on their own hand anymore. The idea seems to be something like this: Show as many variants and styles of watches, outfits, situations, and types of usage as possible to inspire as many people as possible, in as many places on earth as possible, to own them. Show the watches as a universal style detail that suits every single person.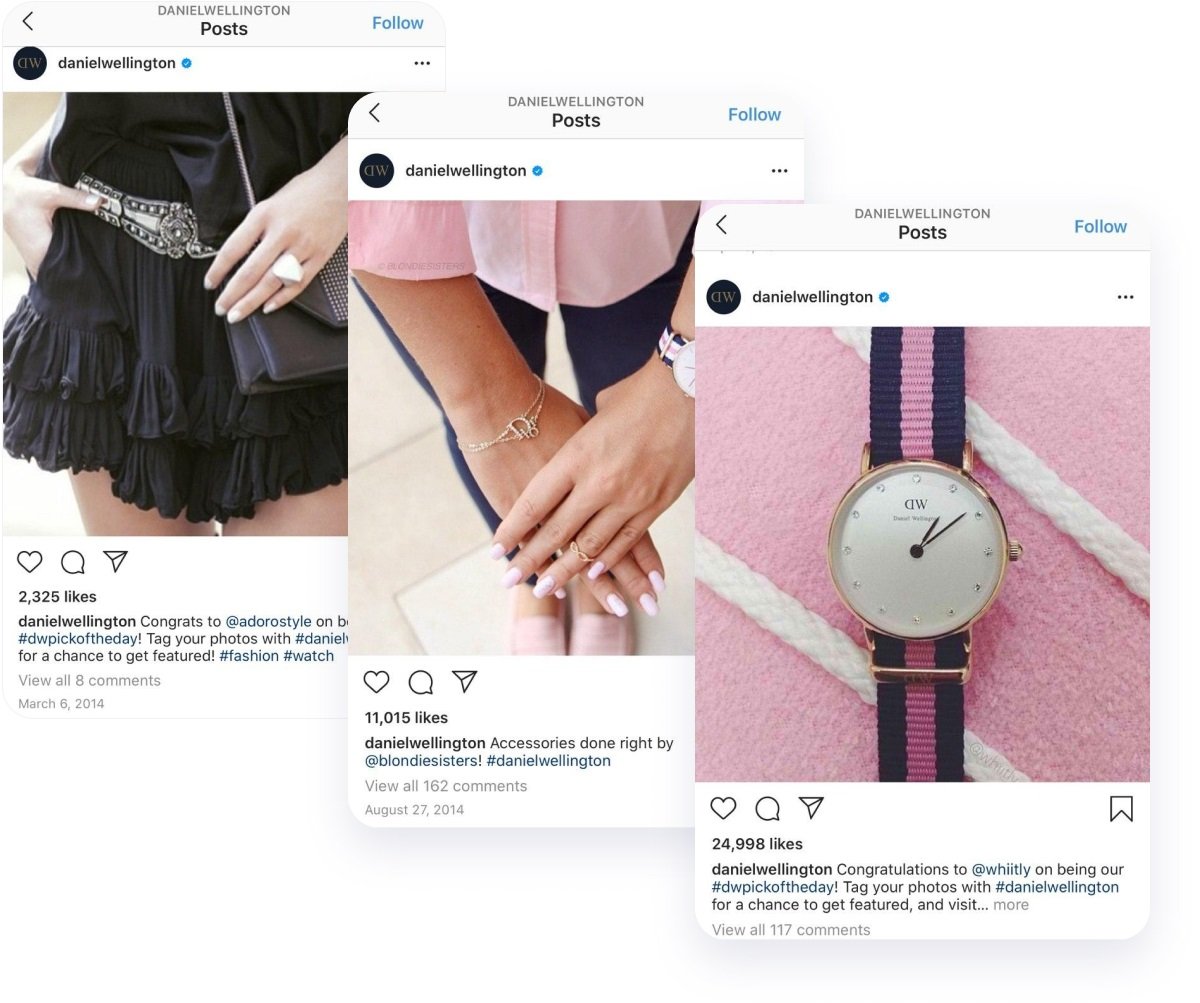 Tip for your Instagram: Don't be ashamed to show your product in posts too often.
Product placement should be smart and various: show different types of people with your brand, and various places and situations of use.
Valuable changes and milestones in the DW account history
At the dawn of the DW Instagram feed in 2012, we can detect the first steps in their social media marketing. They started with simple watch photography. Covered with basic Instagram filters like Sierra. What is the key piece of their IG brand starter pack at that time? Hashtags. Plus the one of the most successful concepts of Instagram marketing, which DW showed us in use:
Branded hashtags and contests every day.
#DWpicoftheday
#DWpicoftheweek
#DWpicofthemonth
#DWpicoftheyear
All of these hashtags together have more than 150K posts under them! User-generated content is unbelievably high for the Daniel Wellington brand. I would say it is almost a miracle — but they did it: 90% of DW account publications are made by their audience, influencers and fans. How did they attain and maintain this? DW is generous enough to give their following an incredible opportunity to win watches just for a photo almost every week. "Win a new watch and your picture shared on the official DW Instagram." Fame — it's something that Gen Y is seeking online. DW dishes it out. Content and popularity — it is something that DW wants. And they get 1,000s of pictures a day with their watches all over the network!
1 watch per day = millions in reach = GENIUS!
So, they will never face a lack of UGC.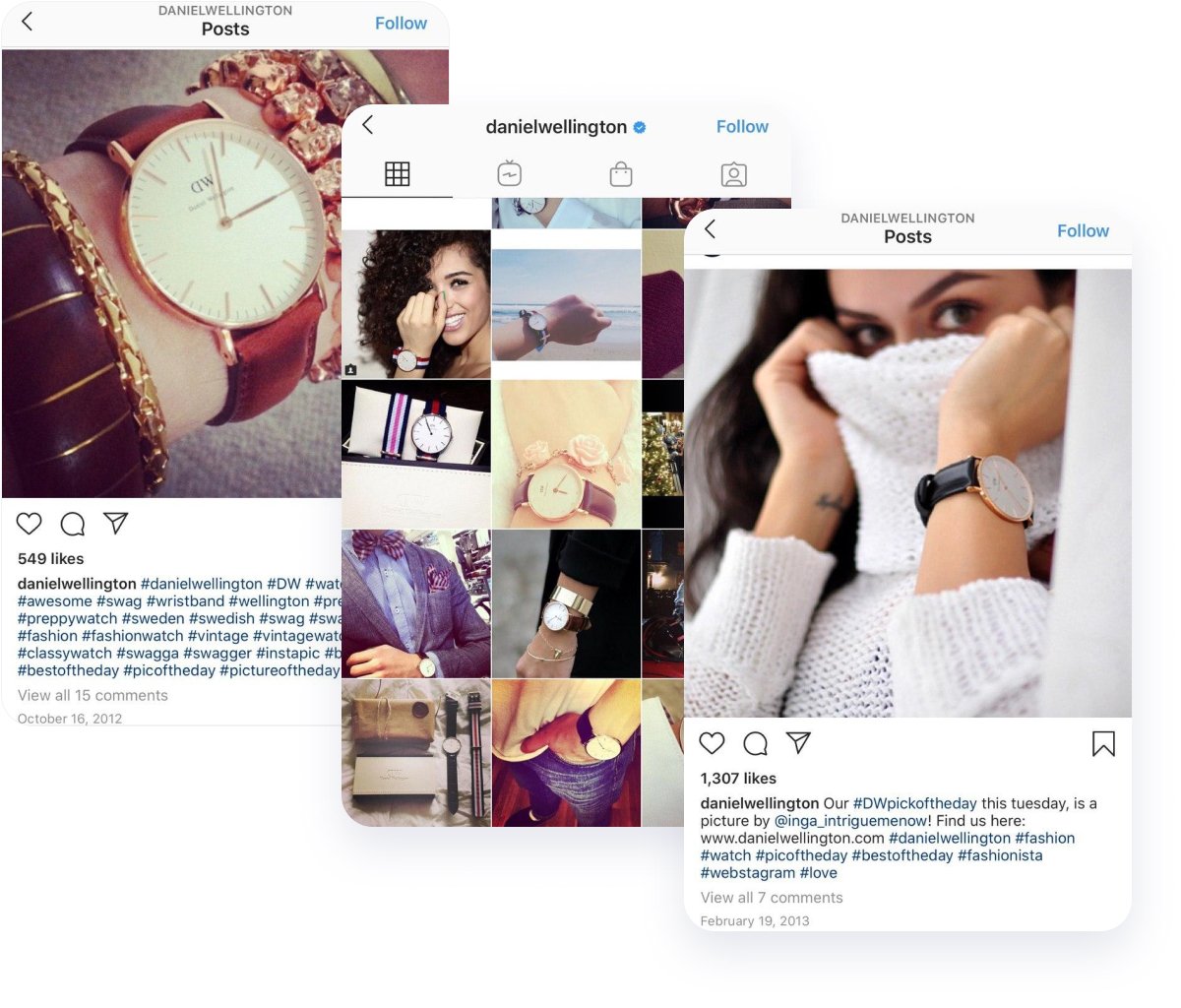 The savviest thing about #DWpicoftheday is that nobody can recognize at first sight if the post is made by a paid influencer or just by a normal user. This is a brilliant strategy to follow up. This creates trust and a really warm, non-materialistic atmosphere on the profile. At the same time, with their winning Instagram marketing strategy, they never forget to widen their media reach with outside publications. DW has more than 600 mentions around the web for now.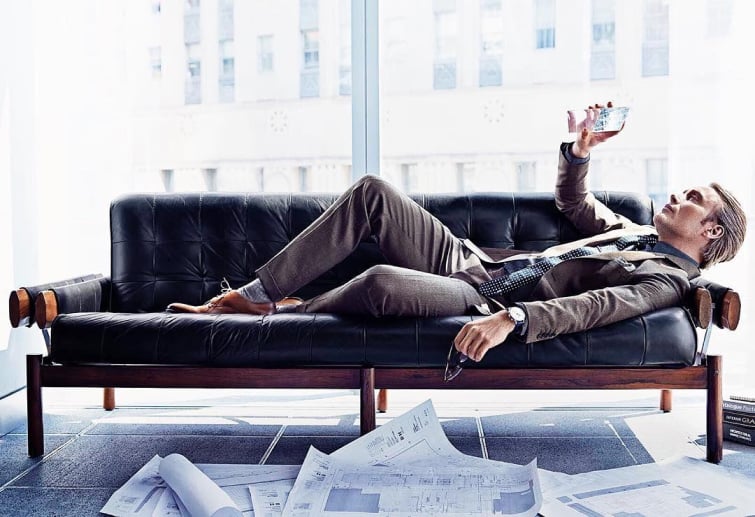 Now let's move on to one of the most important years in DW's Instagram branding — 2014. This is a year of incredible growth and slight changes.
Tip for your Instagram: Pay attention to mentions of your brand around the web. Try to get as many mentions as you can — no matter if they are created by big influencers, other brands or just normal users.
New content targeting
With a change of the concept of their photos, DW moved closer to another group of clients: young successful men. Future businessmen. Before, it was more like a "stylish girl's accessory" positioning. And that was a good choice for targeting! For the first steps in a UGC strategy, choosing an audience of stylish IG girls is just genius because these people are really generous about making photos for the brand like no one else. Now, in 2014, DW began posting more and more male-oriented content.
Meanwhile, they continued coming up with:
Daily and weekly contests with free watches as prizes
UGC content every day and even twice a day (which was incredible for 2014!)
Strong hashtag strategies
Mid-influencer posts once a week on average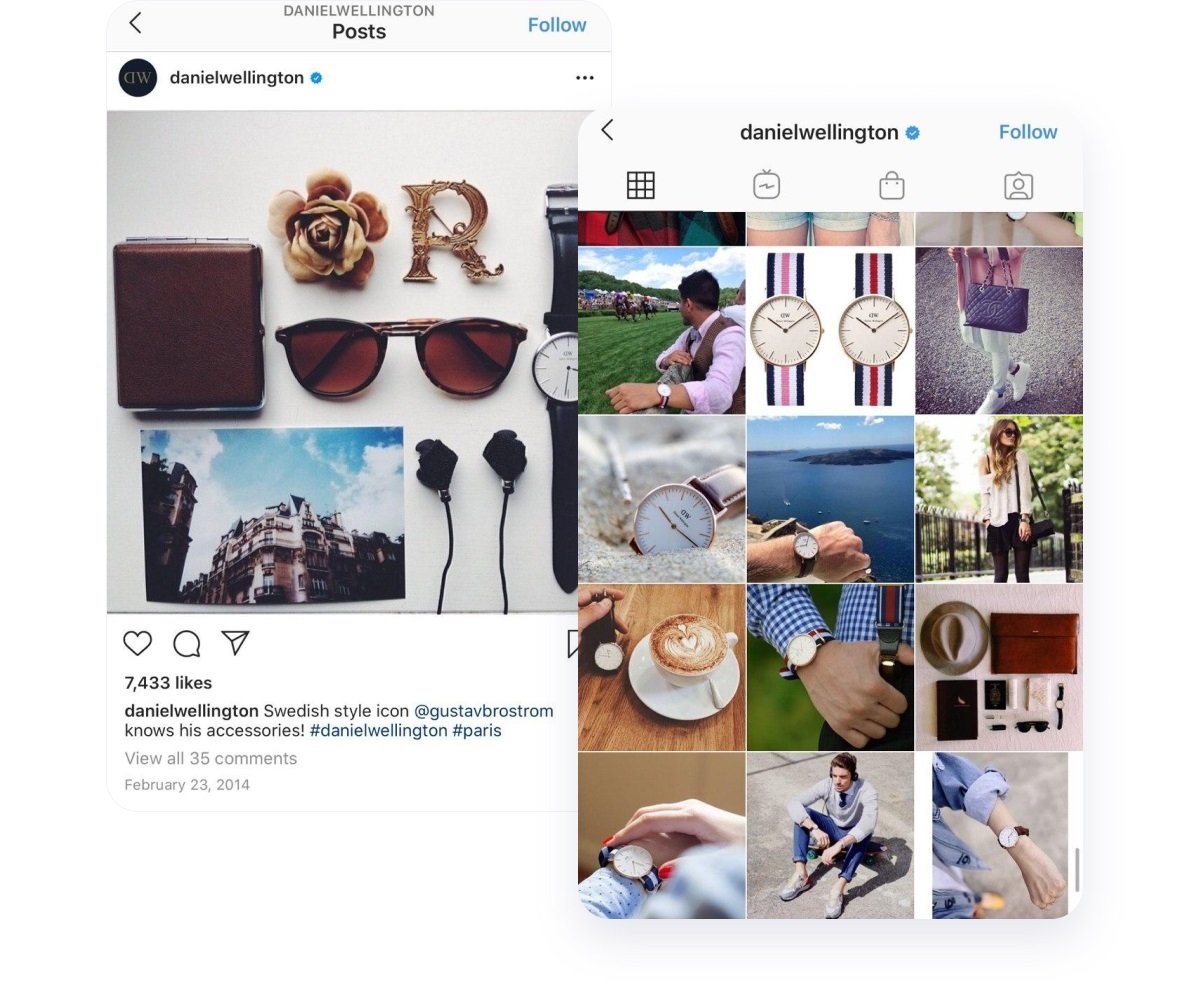 And it wasn't too long before they met with their first great result — 150 K followers.
Another big benchmark is the first amazing engagement success with an influencer. It was more than a hundred thousand likes on the post, which was unbelievable at that time. To be clear, the nearest rivals were around 30K likes. That was the first time when Instagram noticed and loved the DW profile.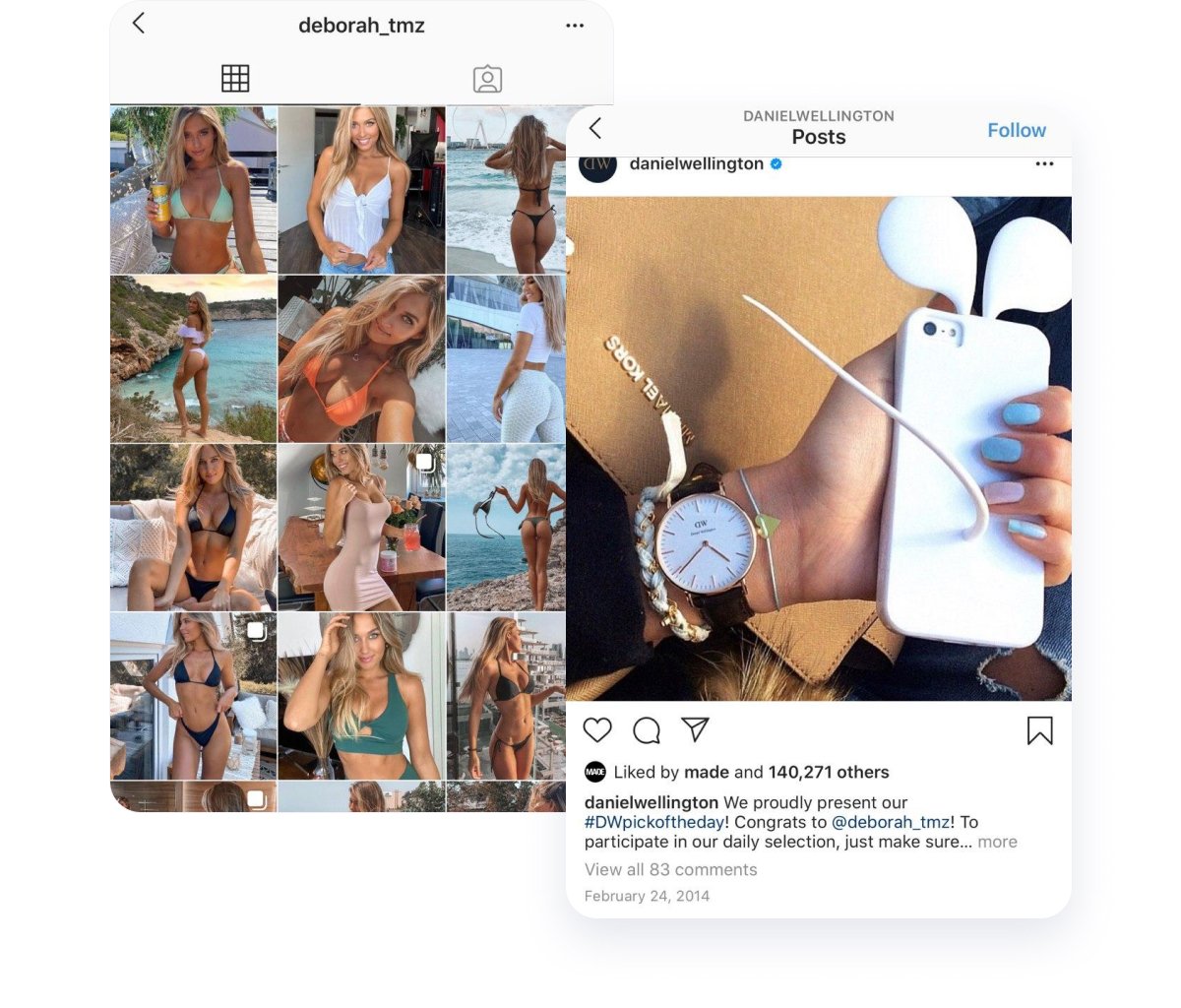 The free shipping option is always a treasure for any business (no matter how everybody jokes about this marketing cheat). For DW Instagram, it was a milestone, too.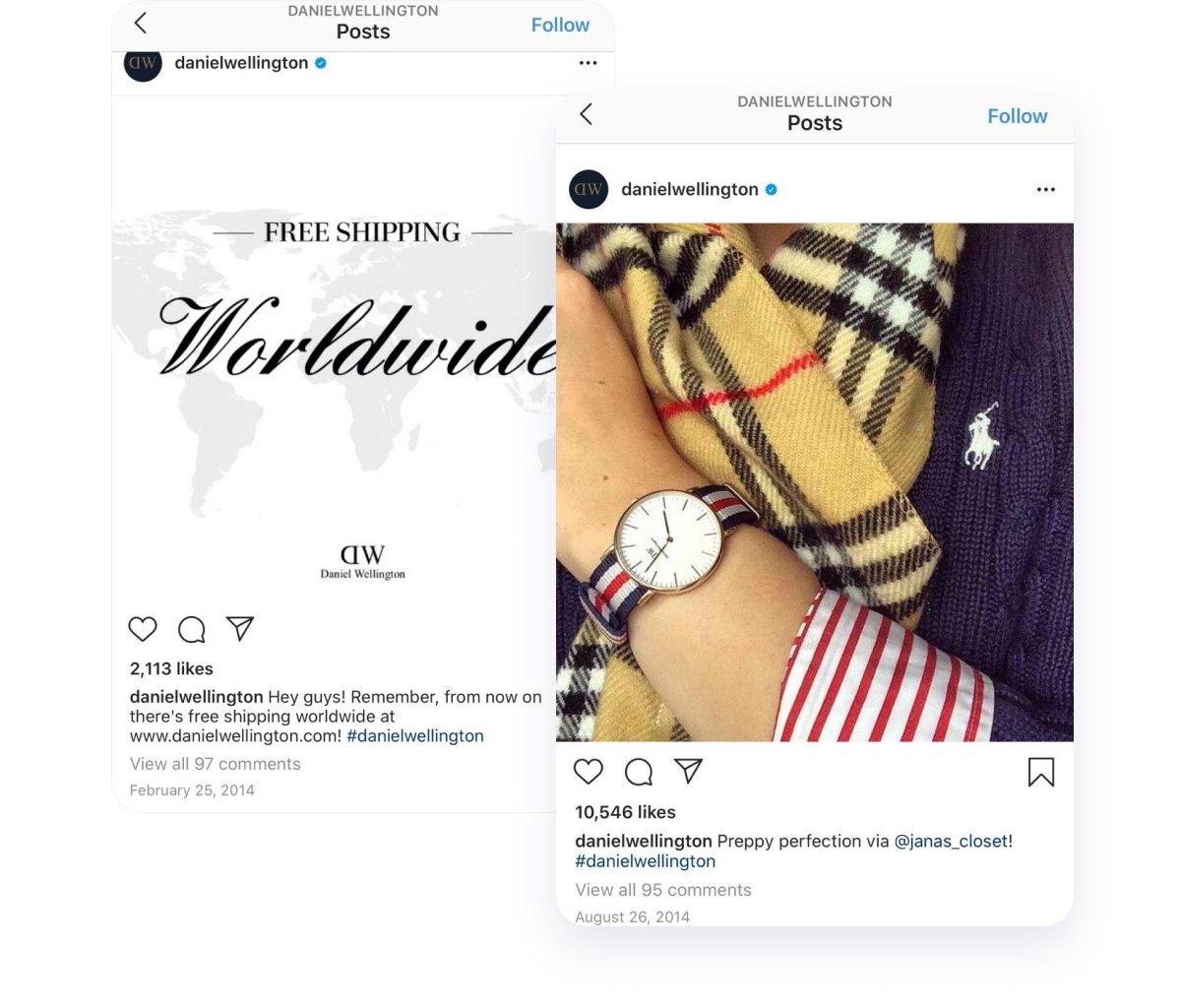 It is a rather obvious thing to see how influencers' posts are beating the algorithm of Instagram. They are driving 200% more engagement than others on the profile.
500K in 6 months with Influence marketing
The effect of great influencer marketing is cumulative. So DW gained 350K followers in 9 months — from 150K to 500K followers! And another half a million was gained in 6 months. What a speed, and what a strategy. There were more than 400 micro- and mid-influencers' posts with DW mentions on Instagram.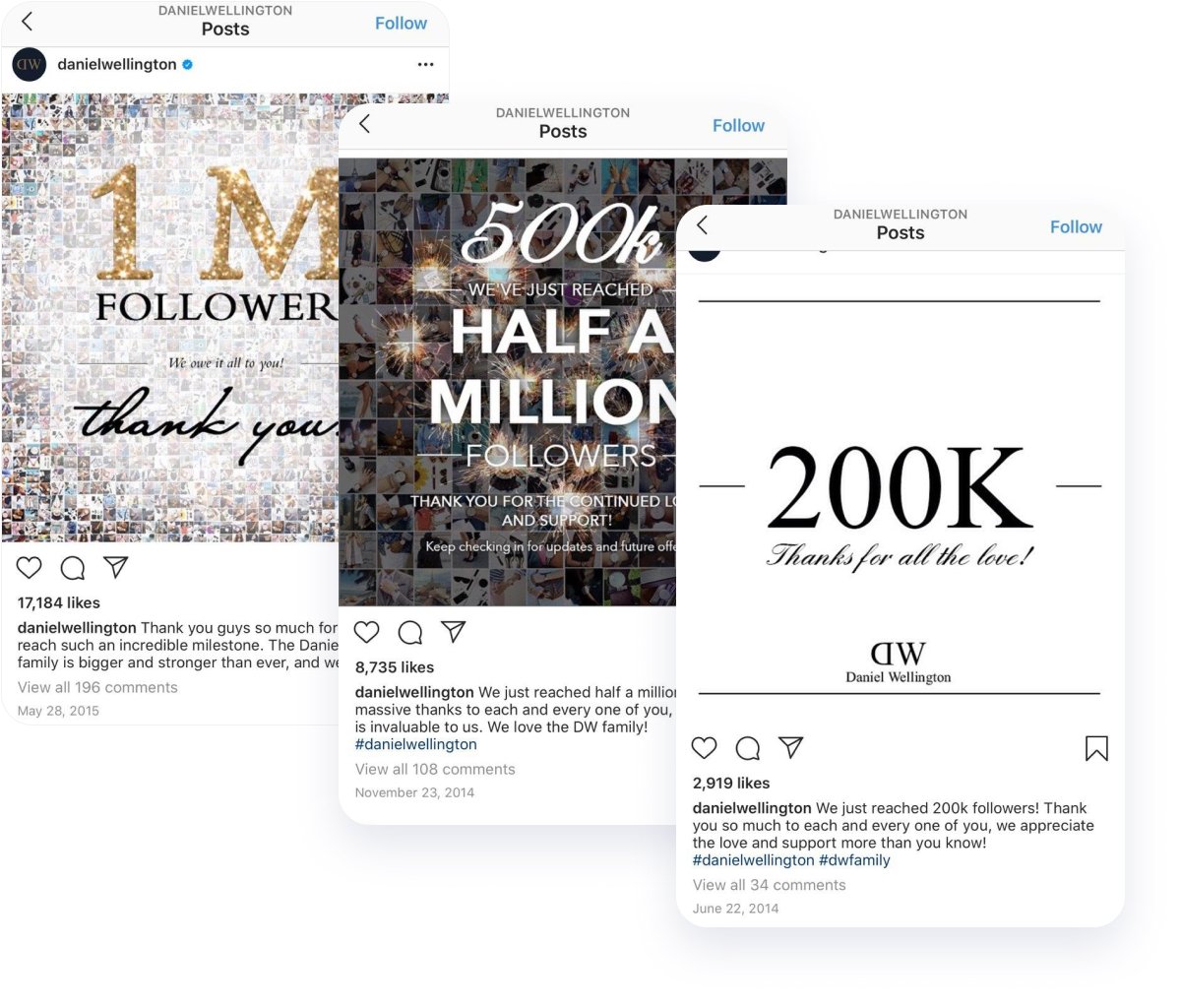 Pinterest — Instagram promotion strategy
DW's Pinterest strategy needs attention, too. It reflects Instagram success well, while it is almost the same content on both social media channels. But you know how great outfits work on Pinterest. And DW knew it too. DW now has almost a million followers on Pinterest, and more than 10 million mentions. This mechanism is unstoppable and DW tried promotion influencers with 500k+ followers, showing great results, ending up with 2 million followers in 2016.
Tip for your Instagram: Don't ignore the ability to promote your Instagram posts through Pinterest. These two social media platforms work great together.
+1M in 10 months!
Now the profile uses all possibilities of promoting through various audiences. They literally grew up with their following. From students to businessmen, and now they are portraying families, kids, pets, and all the details of life that their followers came into.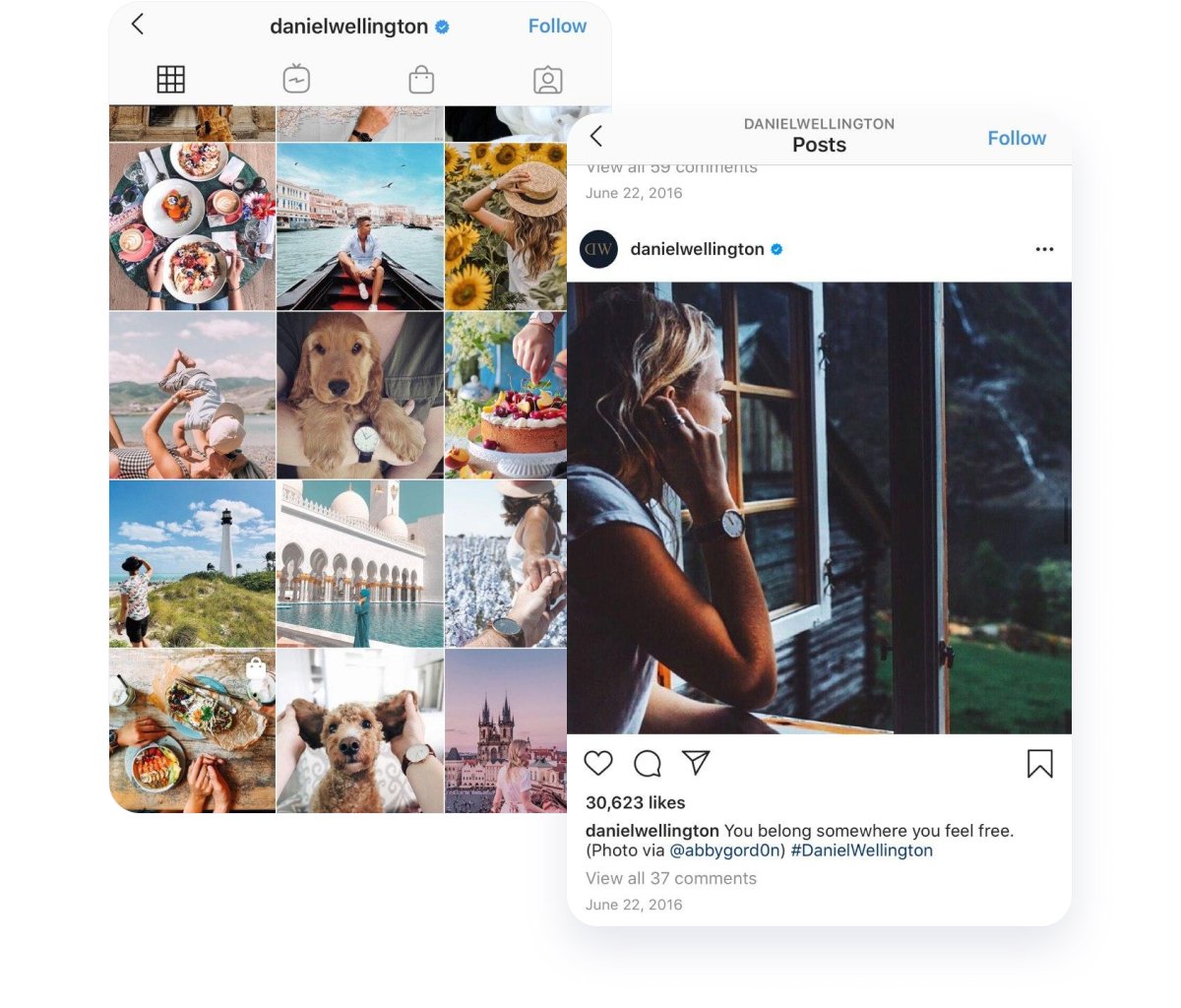 For all the metrics that follow, I've used a Profile Analyzer tool.
Consistency
The posting schedule of DW's Instagram has changed since 2012. Now they are making two posts a day without fail. 14 times a week!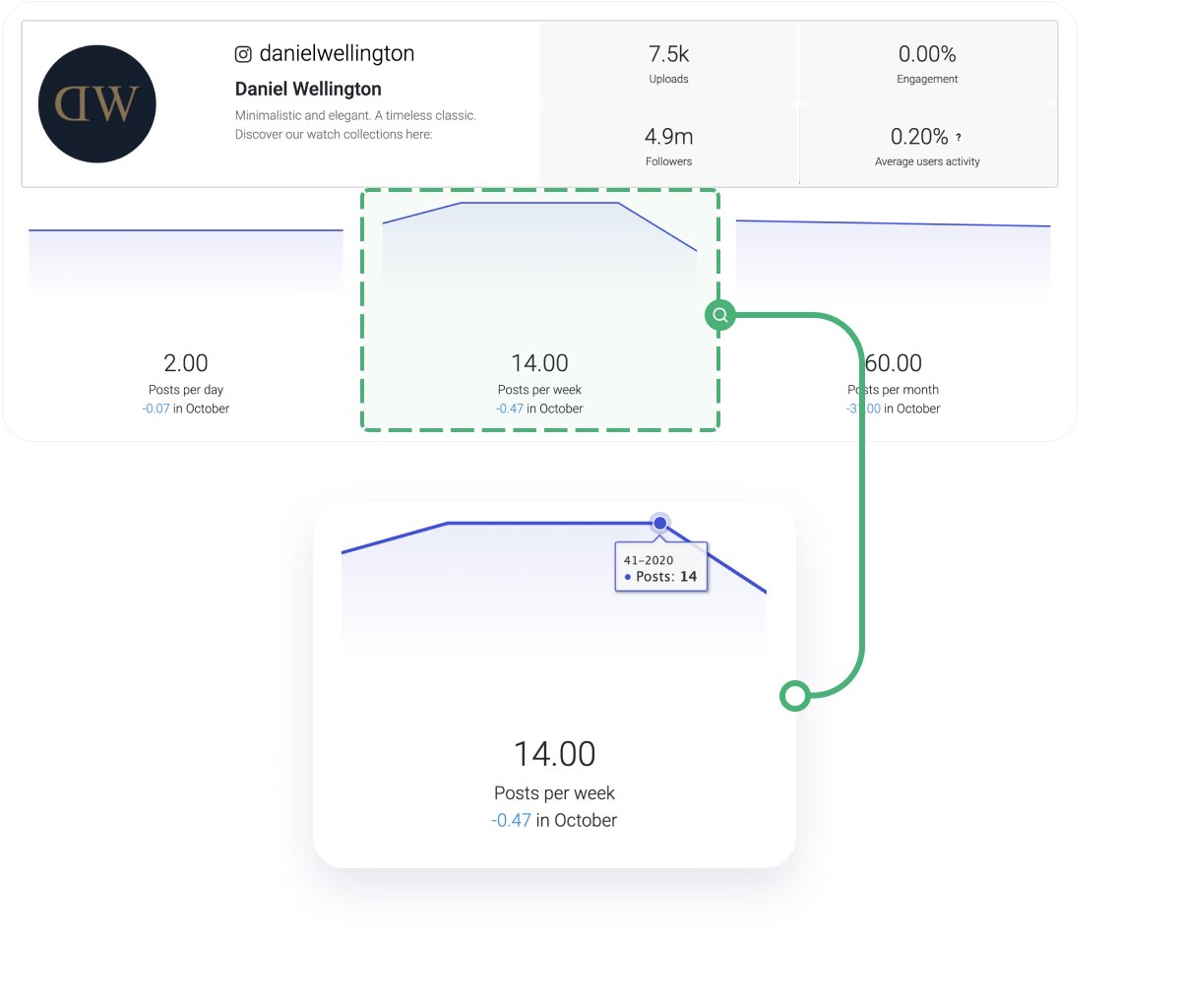 Tip for your Instagram: Try to do the same. Every new post is a possibility to make a sale.
Engagement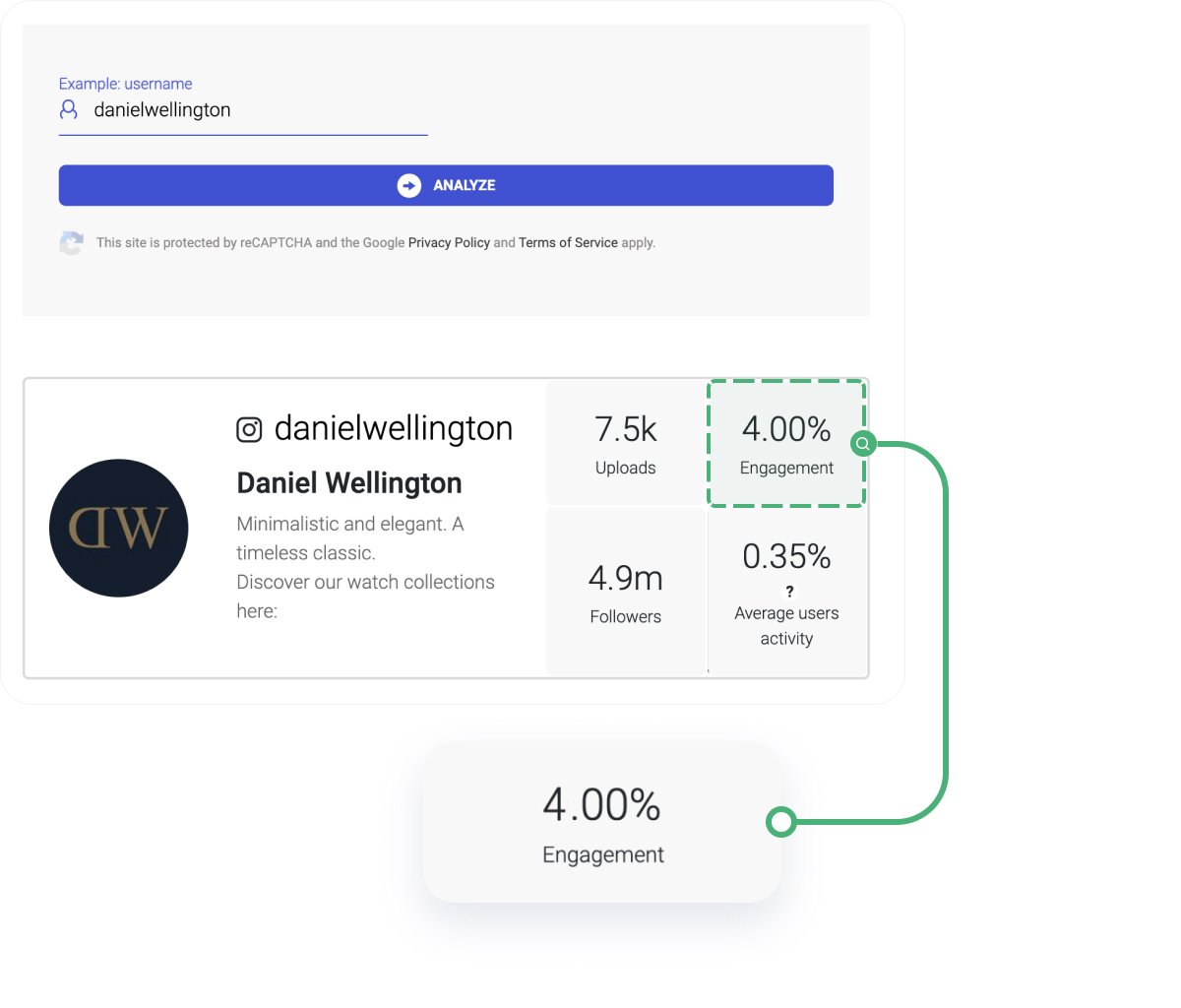 The level of engagement on the account was almost the same all the time. The exception was for influencer's posts. 4% is more than OK for a brand account.
Top hashtags
The list of top hashtags that we have here reflects the situation on the account for the last year. It is a calm and self-confident hashtag marketing strategy for now:
#DanielWellington 90
#DWPickoftheDay 24
#IconicLinkLumine 17
#DWaroundtheworld 4
#LayZhang 4
#HaileyBieber 4
#OdellBeckhamJr 4
#DWcompletethelook 3
#danielwellington 3
#LeeSungKyung 1
I bet that if we analyzed their hashtags for 2012-2014, it would have been a much more realistic and strategic list like this:
#wristwatches
#menswatch
#womenswatch
#girlswatch
#preppywatch
#minimalistwatch
#minimaliststyle
#minimalistwristwatch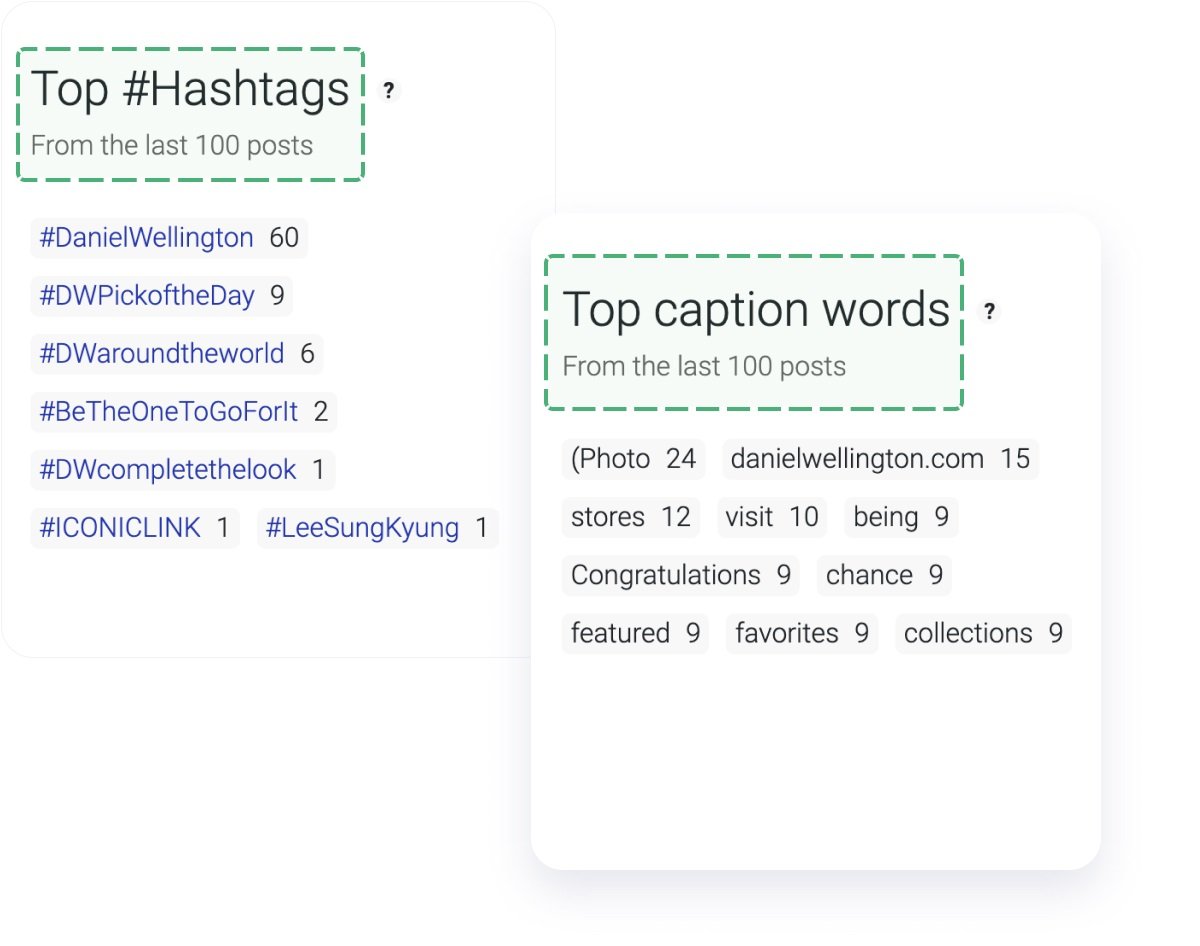 Tip for your Instagram:
This is the time to start your hashtag strategy! Use a
Hashtag generator tool
for this.
Top caption words
In this list, we can recognize good old marketing moves. Tell them who you are. Never stop telling them who you are and why are you here. This is a strategy to note for anyone who's selling on Instagram. Use your brand name as often as you can. Use the name of your store or website as often as you can.
Top commented posts
There's nothing special to mention about the top commented posts on the DW account. They are not about any giveaways or contests, which is typically the case for all top commented profiles. These are just announcements of new models of watches. And the comment box is full of questions from potential customers. The thing you need to note from this metric is that no comment is left without a clear answer by the DW customer support team.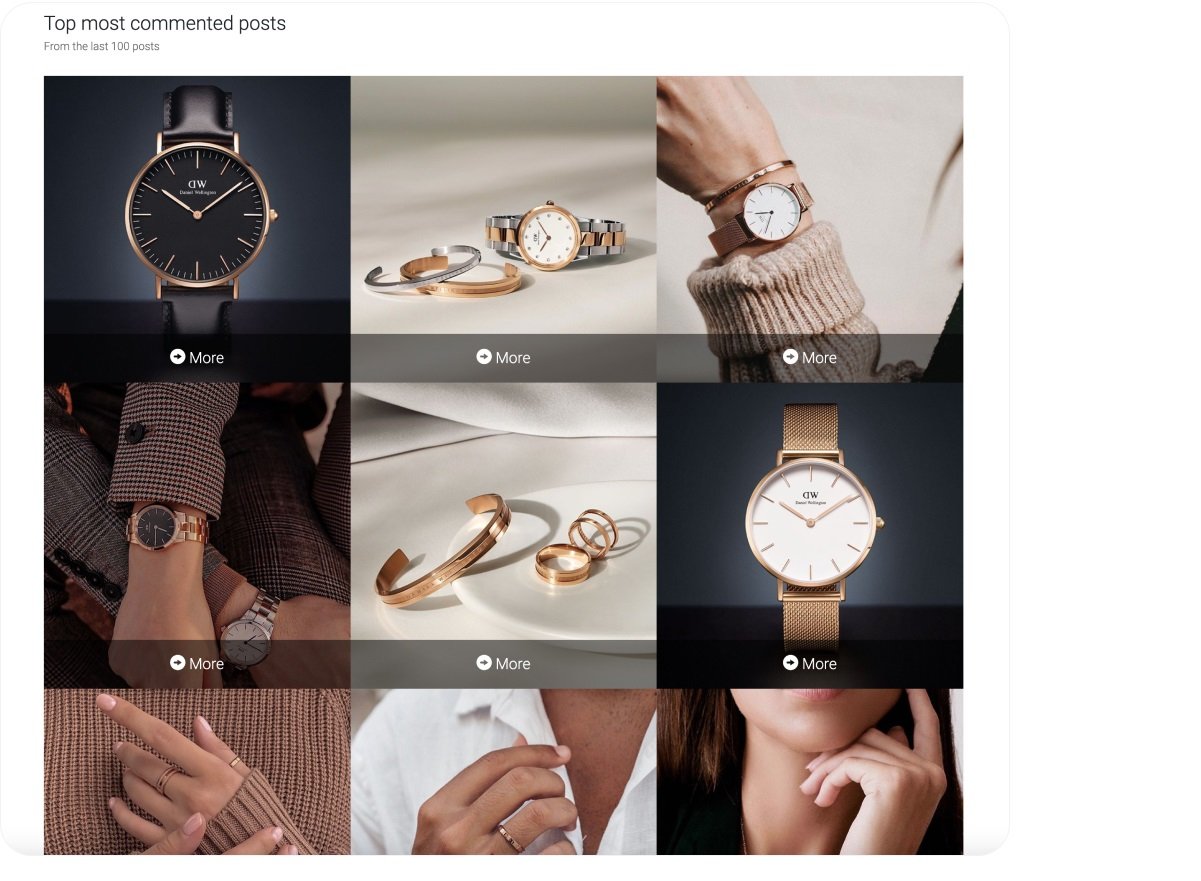 Top liked posts
The common theme for top liked posts of the DW account is that the content is of women, showing women's product. You can see that 9 in 10 photos are made in a light pastel palette, with stylish and easily-recognizable details of 2022 style.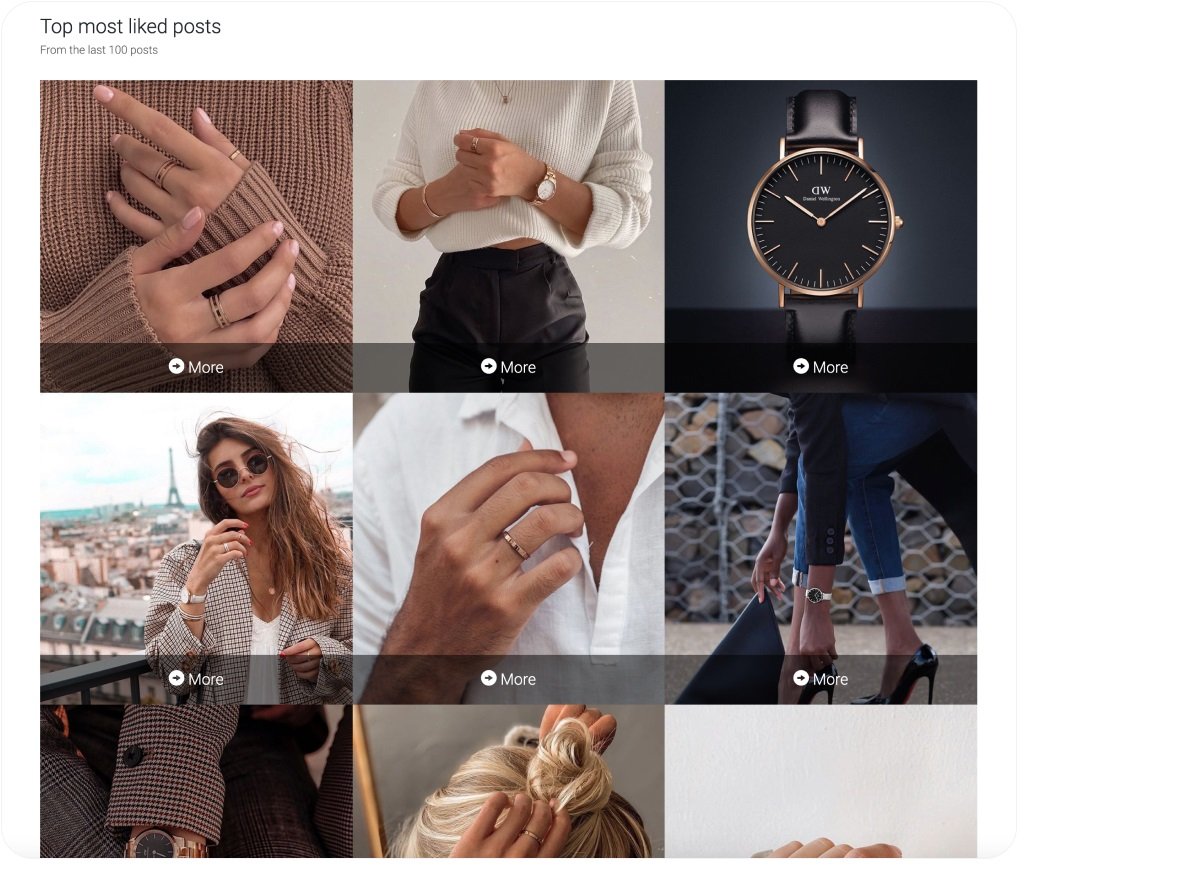 Tip for your Instagram: analyze your own most-liked and most-commented posts. These two stats are incredibly useful for creating engaging content in the future.
Top 3 main promotion strategies of Daniel Wellington Instagram
Make one free to earn a million
How to make your product viral on Instagram?
Don't try to sell it. First, offer it for free!
Sounds crazy, and I guess Henry Ford would fire that marketing manager who suggested this strategy to him. But it works well in the case of a low-value product with these steps:
Choose small but well-engaged influencers.
Filip Tysander created an incredible team of managers who were seeking influencers for the company's needs.
They chose 10 micro-influencers with under 50K followers instead of one 500K influencer.
They offered free watches for a post with product placement.
And voilà — Instagram is full of #DW mentions just in a few years.
Influencer marketing for the Instagram algorithm
The amazing amount of outside links to the DW account is a miracle for the Instagram algorithm. This strategy increases visibility over the network for a limited budget. Plus don't forget that each influencer is free to post a picture with a product placement any time they want. And the result of such an idea is a less "salesy" atmosphere in the account and on the hashtag search.
Discounts not for all
Another way the brand spurs social users into sharing is by running regular discounts. How do they offer them instead of posting banners with enormous red numbers? Almost all influencer's posts are accompanied by promo codes, giving their followers 5-20% off on their purchases. This helps influencers to build more trustful relationships with their audience and to encourage followers to buy DW watches, while followers themselves benefit from the cost savings.
UGC is king
DW runs a daily #DWpickoftheday competition, where winners are rewarded by being featured on the official @DanielWellington. Being featured on the popular account itself is a highly personal and intimate experience with the brand. It creates loyalty. It creates a positive portrait of a DW brand every day. It gives Daniel Wellington managers thousands of pieces of unique content to use on the account.