Every professional Instagram user should know that the newsletter is one of the most effective instruments for making sales on the social platform. You're contacting your target audience directly and creating a new thread in their inbox while presenting yourself, your product, and giving answers to the most popular questions.

Nowadays the Instagram newsletter is an almost normal and standard procedure for every business including shops, services, and of course influencers. Every one of these groups has its own goals for setting up a perfect and effective newsletter on Instagram.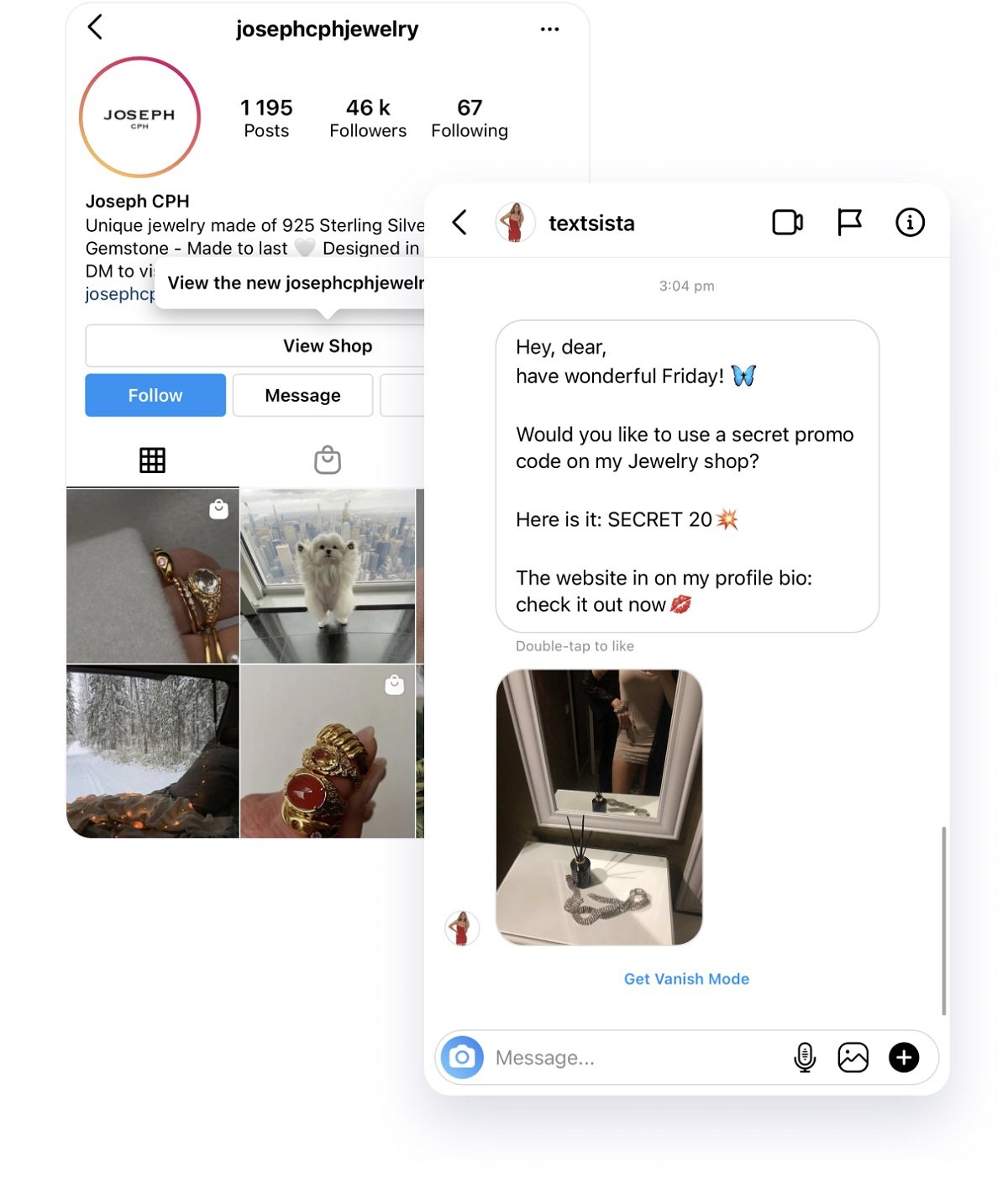 Instagram direct messages newsletter for shops
First, the most popular group for this kind of activity is Instagram shops. If you're the owner of such a business, why haven't you tried this before, when you've been making sales through Mailchimp for years? Instagram shops need to send direct messages to Instagram users and make a professional, well-thought-out newsletter a part of their normal weekly routine for making immediate sales. Let's make a great newsletter with an automatic Direct messages tool.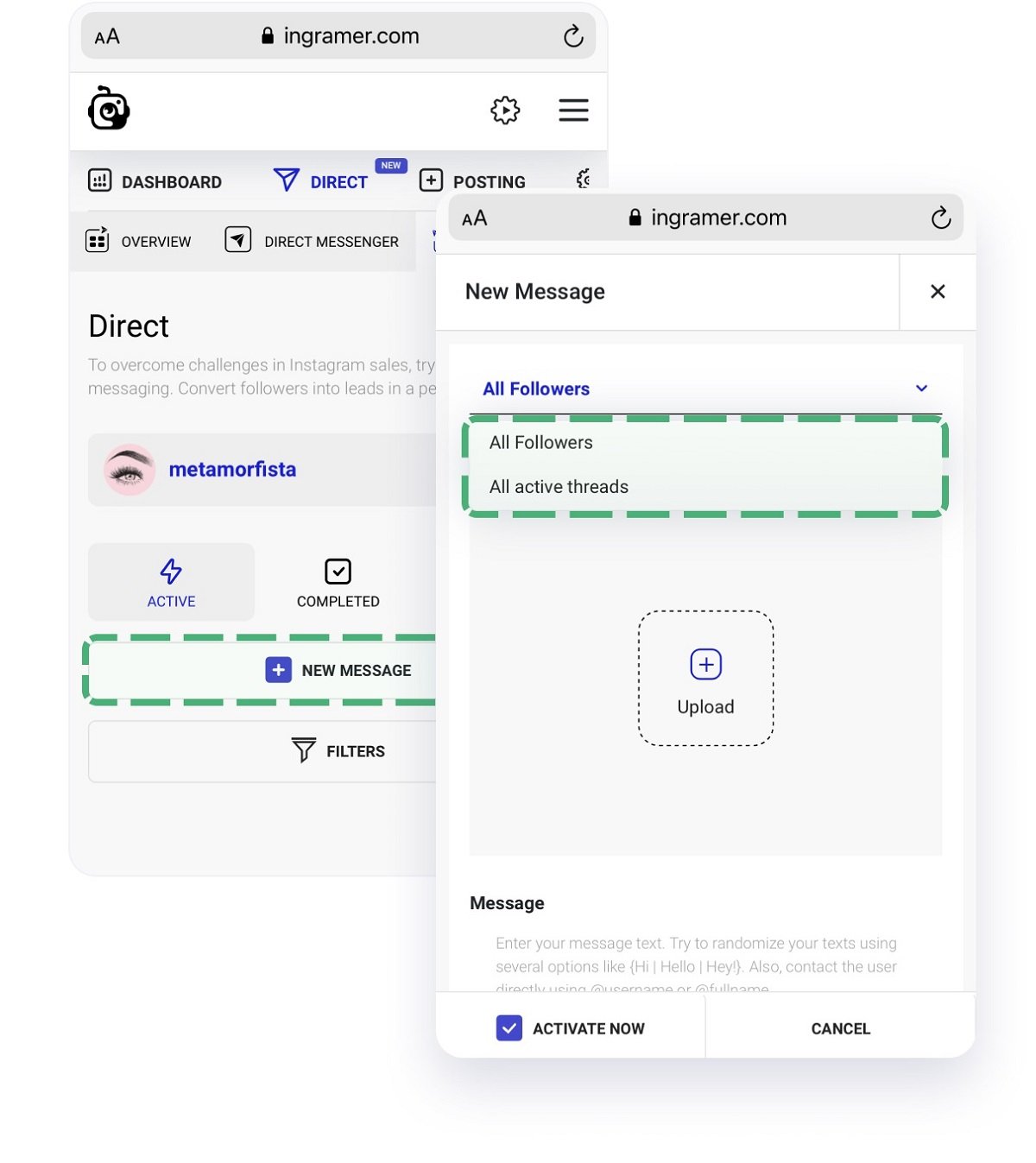 Don't forget to check the most popular time for sending out your newsletter! Use a special tool to see when tour competitors post with the biggest engagement. This time is suitable for a profitable mail out too.
Instagram newsletter templates for shops
A great deal
Make a newsletter with your latest activities, discounts, and any offers that you have that can BE REALLY profitable for the user. This is the most important and popular thing — the great deal, something that is only available in the newsletter. Offer a discount on participation in a referral program for your brand.
Make it intimate and unique. Of course, you should not publish this offer on your profile, but make this offer to a thousand users in direct messages, to make it more exclusive and increase their interest.
Template:
Hey, I'm contacting you directly to offer a secret great deal.
Would you like to get a golden chain with 30% off?
Here it is: _________
We sell amazing vintage jewelry, and you should look through our Instagram catalog – you'll definitely find a treasure for your future outfits.
You can use the promo code _________ for your purchase on the website.
But ssshhh! This is a secret.
You can only ever share it once with your best friend.
You can do segmentation by gender and language in a DM automation tool to reach the target audience.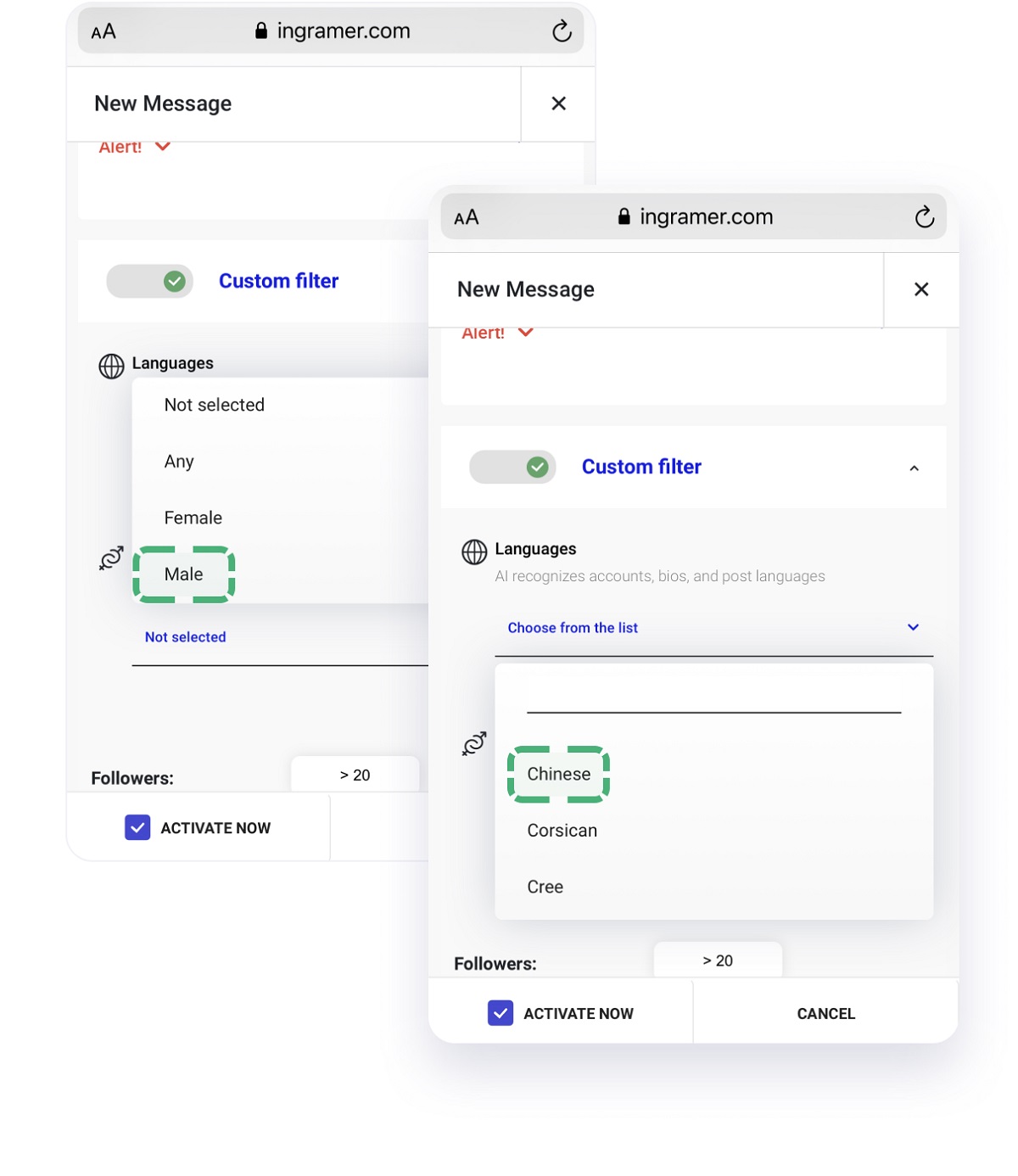 Ultra-useful information
Sometimes your posts, with such valuable information, are not visible to all your Instagram followers, so it is better to duplicate it with a great mailout. And with a newsletter, you can reach all possible potential customers and grab their interest with your professionally made checklists, guides, or top advice on your topic.
Template:
Hey, your profile looks stylish and so sophisticated.
I'd like to present our latest guide on jewelry trends:
Top looks with the gold chain in 2022.
---
You can check it out and find all the pieces from this guide on our Instagram shop.
Amazing new in
One more reason for using Instagram direct messages for an Instagram shop is to create big interest around your newest collection or a new arrival in your store, to show the most important features of the product and to make a sale immediately.
Template:
Hey, it looks like you would be interested in...
We've had >100 direct messages about when this new collection will arrive.
And it is here — in all possible variations.
First-day sale is 20% off just for our followers, so check it out and don't forget to use the promo code _________ to get a follower discount.
Instagram newsletter templates for influencers
As for Instagram influencers, the newsletter is one of the most powerful tools for creating trust and direct communication with your potential follower or a future follower.
Lead magnet
The most popular reason for an Instagram influencer to make a newsletter is to share some REALLY useful and professional information that you don't show on your account but want to use as a lead magnet. This could be a guide to some topic that will be fascinating to the user, or real testing results, etc. Send bulk direct messages with such precious information that will attract your users to your account immediately.
Template:
Hey, I'm ready to share something with you...
I've had >100 direct messages about why I am _________
And it is here _________
Comment with your reaction to this news, I'd like to hear from you
XOXO
Share the latest
Another popular reason for the Instagram influencer to use Instagram direct messages is to announce some giveaway or a new video on YouTube, and to send a preview directly to interested followers.
Template:
Hey, your profile looks stylish and so sophisticated!
It seems that you'd like to get these _________
You can check _________ out and find _________
So, there are tons of reasons to use Instagram direct messages for your business, no matter whether you have an Instagram shop or just a beautiful Instagram profile that works as a blog. The only thing that you should not forget is to follow the limits that Instagram has for direct messages. This is the really IMPORTANT AND GENTLE thing that Instagram wants to control.
Here are the latest limitations on Instagram direct messages in 2022:
The older your Instagram account, the more direct messages you are allowed to send.
The normal amount to send is between 50-100 direct messages per day. For newer accounts it should be less – try to keep it to 20-50 maximum.
Of course, you can't send all the daily limit within one hour. This will definitely cause a ban. 3-5 direct messages in an hour are ok, sending one message every 15 minutes.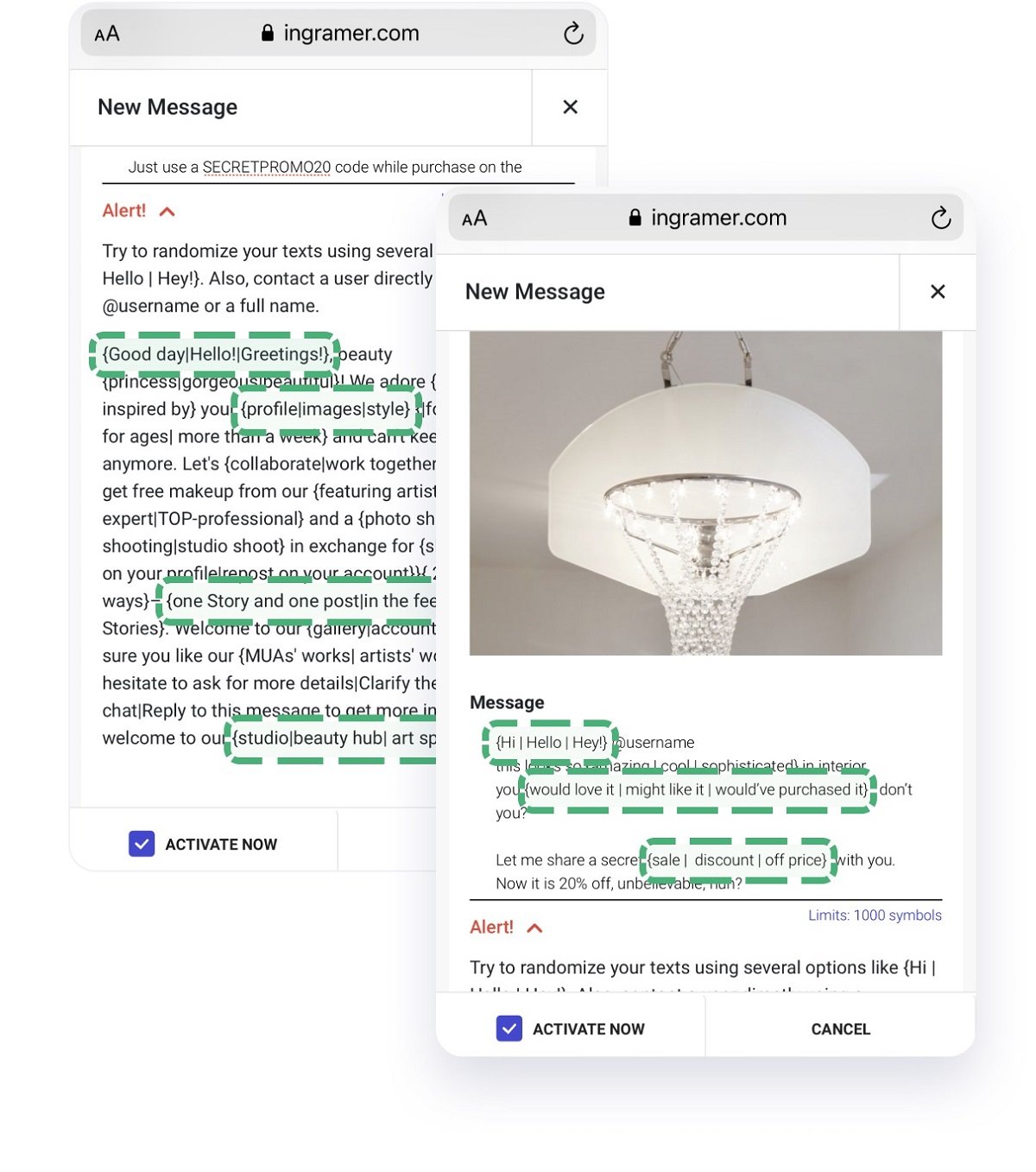 Moreover, it is better to mix and make your newsletter text different every time to avoid ban for a spam. You can do randomization of texts right in the Direct messages tool. Can you follow all these limitations manually? Yes, it is possible for one or two days, and on the third day you'll just throw it out of your normal life and forget. Don't forget that you'll need to find the users you'd like to message — all manually. Sounds frightening. Better to use a special tool for this goal. The most convenient and the greatest thing that we have for you is — an Automated Instagram Direct Messages Tool.
The service will do everything for you. It has a special algorithm that works exactly in the way that Instagram requires. It will make all the newsletters for you without any mistakes, following all Instagram's limits. So, if you are sitting and doing everything manually, you'll probably make a mistake in 2-3 hours, sending out three more messages than you should do. With the automation tool, which is automatic and really accurate, you won't get banned from Instagram.
What's more, with the automated direct messages tool, you don't need to move at all. You set up your newsletter, make some variations on its contents, set the targeting for users you'd like to reach, and that's it. Everything will be done on time without you having to do anything else.
How do you start a great marketing campaign in 10 minutes? Set up a newsletter in Instagram direct messages. Firstly, get a subscription to this tool.
Go to the direct messages tool
Choose bulk messaging
Authorize your account if needed
Create a new message
Choose if you want to message to all active threads or to special users
For users choose custom filters to target their profiles in detail (gender, following, number of posts, even language)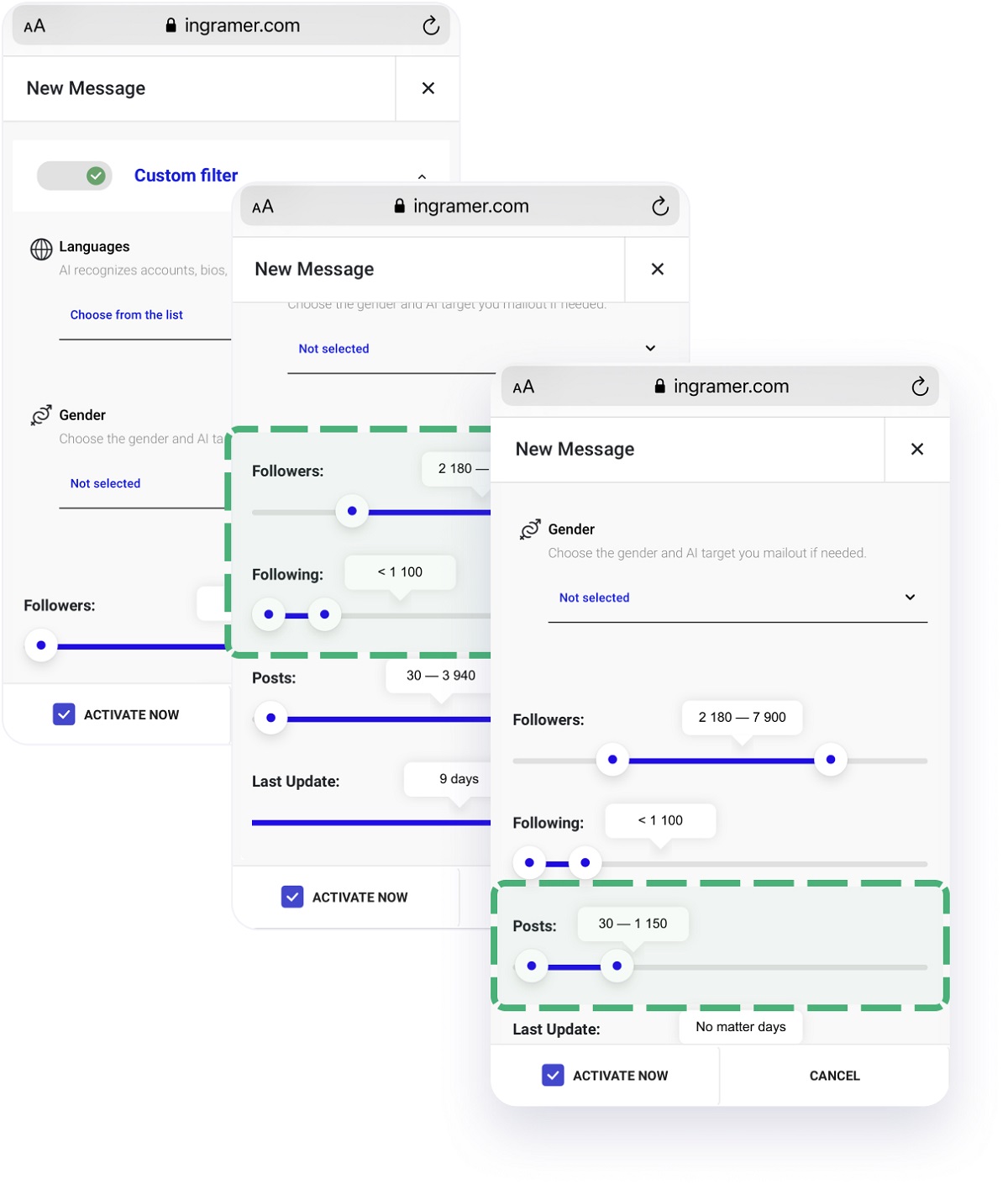 Paste your professionally written text and image
Start your marketing campaign in one click