Don't know what to post? Read this article to find fresh ideas for your Instagram.

No matter how serious your Instagram is, memes can really help your posts go viral. Let's be honest, people open Instagram to have fun and relax. Negatively-charged content isn't likable. Kylie Jenner, Reese Witherspoon, Starbucks, and many other brands and celebrities share memes in Stories and in their feed. But you may ask...
What memes are trendy right now? How do I discover trends? In this article, I've gathered the main trends ready for a remake – on your account. These posts will help you to perform better and create true engagement. Even if you feel that your business is too "official" for entertaining content (I don't believe it), I bet that reading this article will make you smile.
What Instagram memes are going viral now?
#1 2022challenge
Reese recently kicked off the meme that transformed into a viral challenge with its own hashtag. Originally this celebrity posted the 2022 calendar depicting her emotions tied to every month of the year.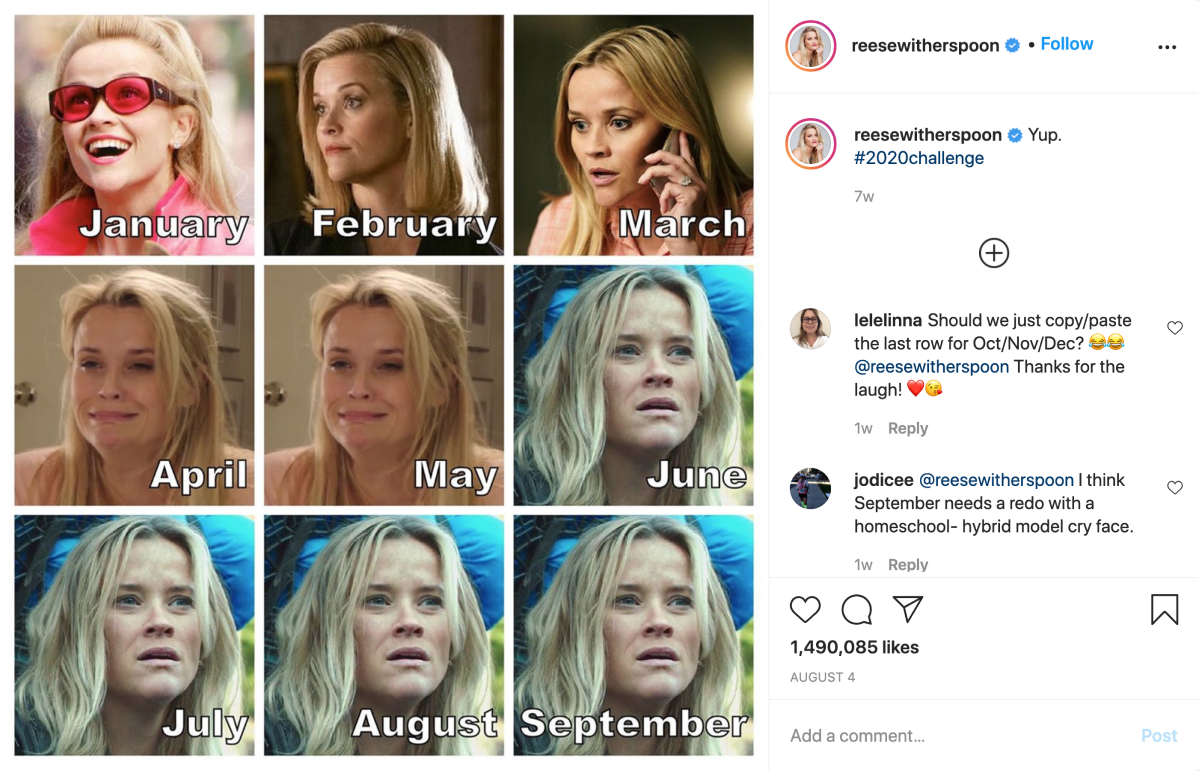 Now the hashtag counts over 64K posts since just August 4. Companies, influencers, and simple Instagrammers add their creatives to the #2022challenge. Brands like Oreo, KitKat, and HelloKitty have picked up this challenge and uploaded Reese-like posts.
Follow celebrities' accounts that are popular among your audience. Even if you are not a true fan, influential people often launch challenges you should be aware of being a marketer or an influencer.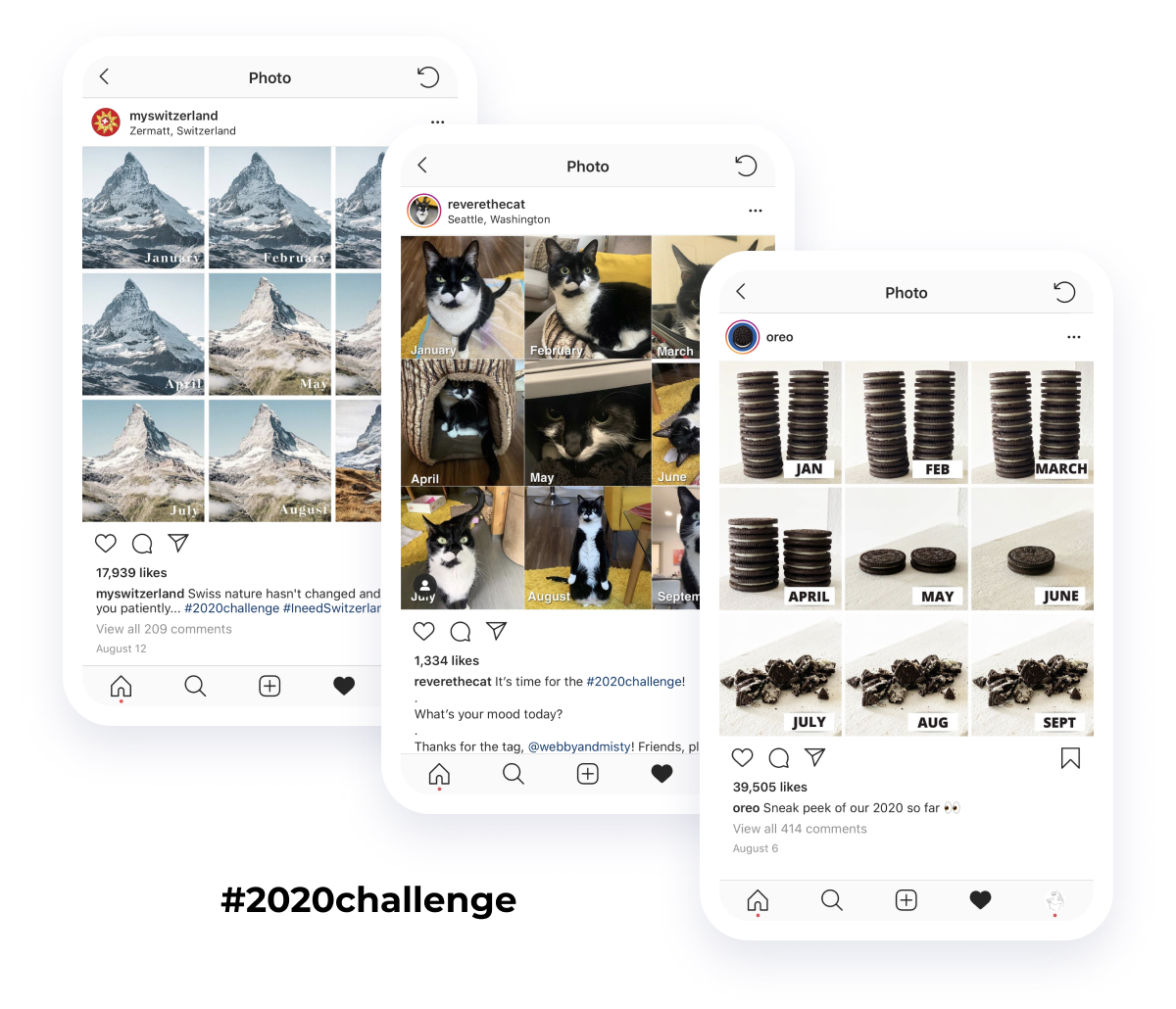 How you can use this challenge in your content strategy:
Create a collage 3X3 with your images or images of your product. As you see from the examples, photos don't even need to all be different. For example, My Switzerland's content makers only made photo edits to change the meaning by months.
Add the hashtag #2022challenge so that thousands of people see your post. Did you know that hashtags improve the reach of your posts by at least twice? Read our recent article The only hashtag strategy that boosts your Instagram reach in 2022 + myth buster to learn exclusive tips.
Schedule your Instagram posts. As soon as your content plan for a week or the entire month is ready, add the images and copy in the Inflact Scheduled Posting. You will only need to set the date, time, and location so that your post is published automatically.
Hack: Use the auto-update description feature – the caption and various hashtags can be updated in 10 minutes and again 4 hours after posting.
#2 Memes from Twitter
If you are not ready to create a viral meme, use Twitter to monitor the latest trends and listen to what people talk about. Many brands and influencers use their own or someone else's quotes from Twitter, screenshot them, and post an image on Instagram. People share these funny posts and get hundreds of new organic followers.
Many brands use quotes from Twitter as memes for their content strategy: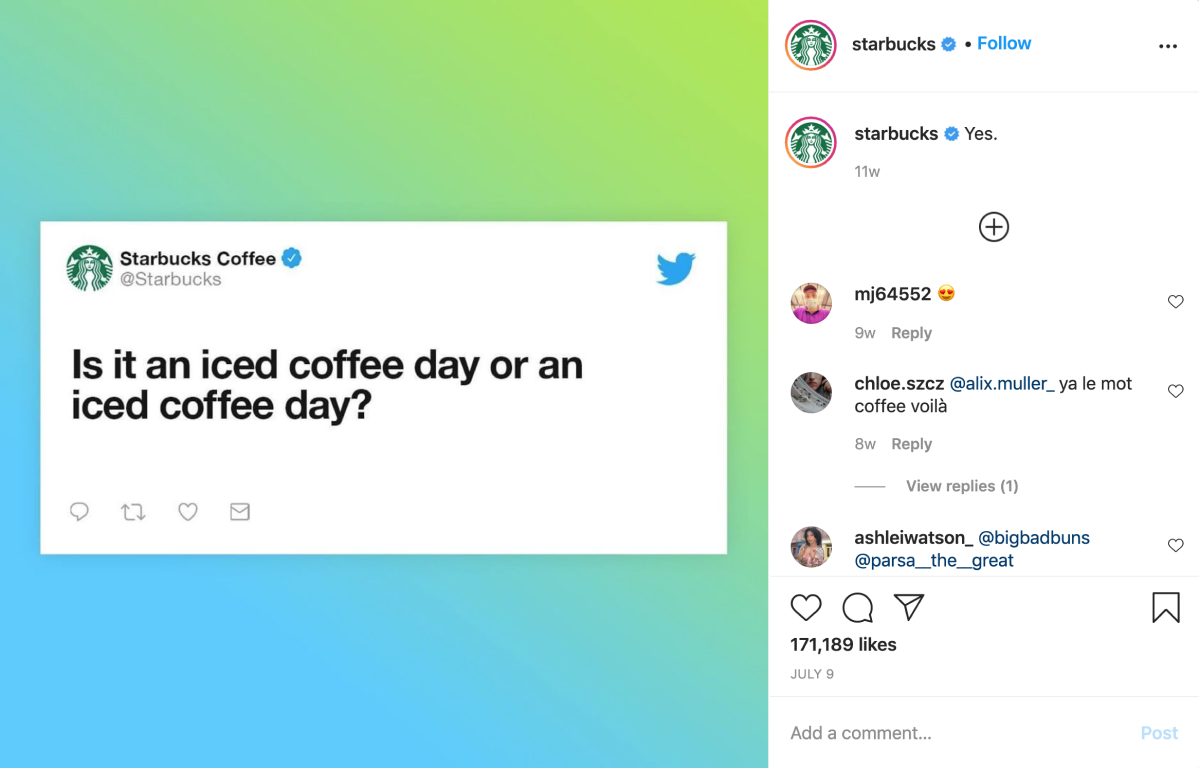 Starbucks is using its Tweets to make their followers smile and stimulate purchases. But many brands scroll the Twitter feed to grab some fresh quotes from influencers.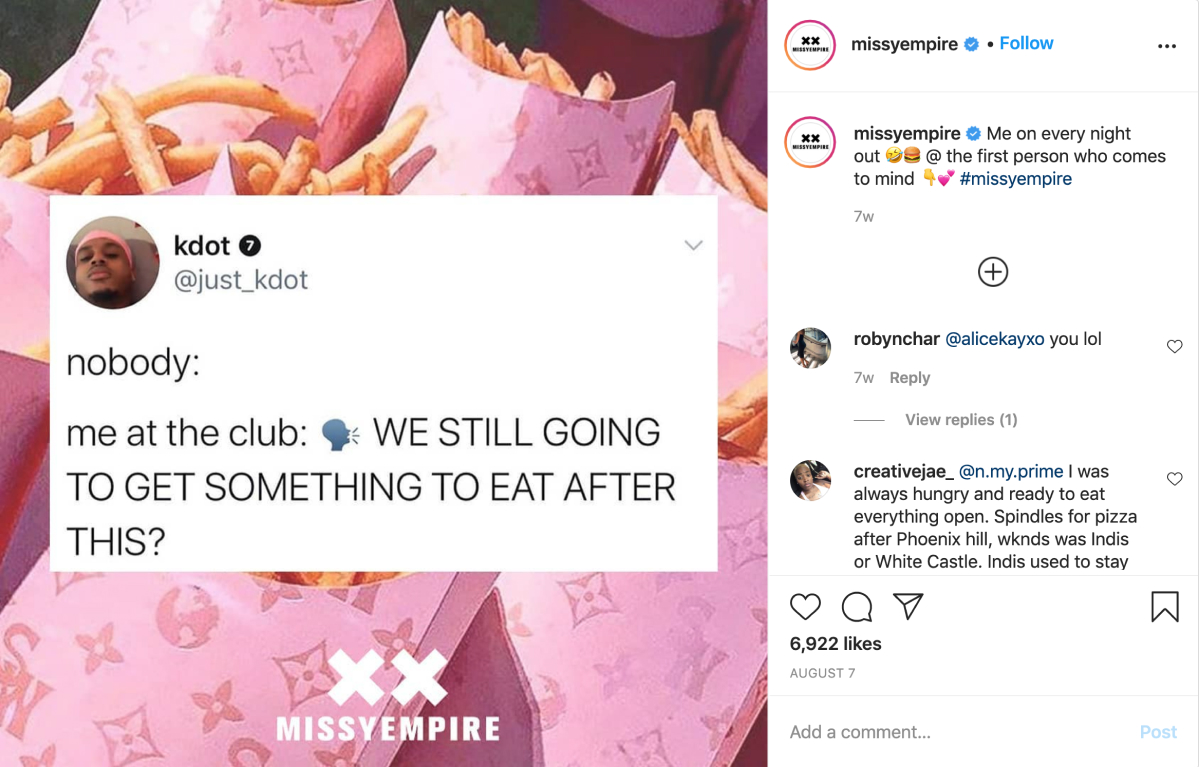 Missy Empire is an Instagram-famous fashion brand that uses awesome aesthetics to showcase Insta memes for the audience. You can try this idea for your future posts:
fancy image + screenshot with a quote + your logo = viral meme
Otherwise, you can screenshot and post a simple quote like Lilly Lashes: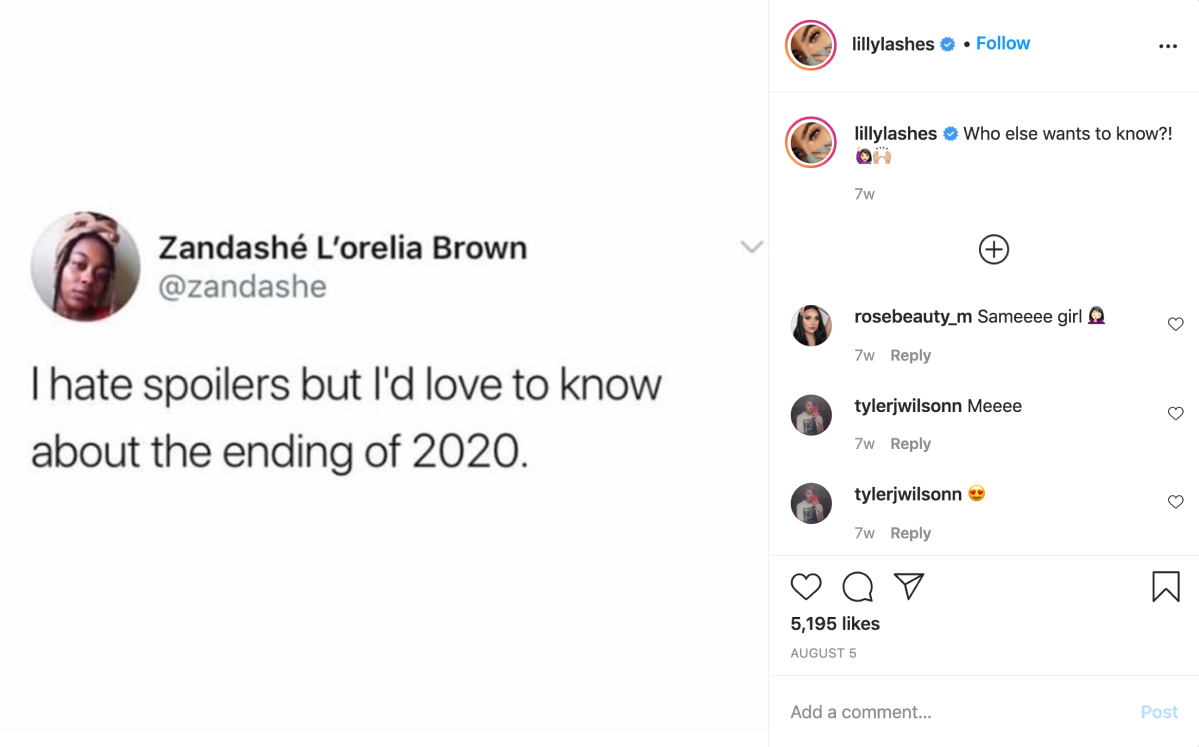 By the way, have you noticed this trend? A lot of the trending memes are dedicated to the shocking events the world faces in 2022. Keep in mind that your jokes will be massively shared if they are related to the audience's pains and the latest news. That's why a social media marketer should keep their ear to the ground.
Pro tip: If your customers are Millennials or Gen Z, I advise you to track the recent TikTok, YouTube, and Snapchat trends and memes. It's a good source for relevant and shareable Instagram content.
#3 Text message memes
You don't need to reinvent the wheel to make your Insta followers burst out laughing. Chats and messages are the most authentic and genuine memes that are loved by Instagrammers. Let's see some examples. Hinge is a dating app that often uses memes to win over a new audience. They like using screenshots from messengers, probably because the potential users of the app are always texting to their dates.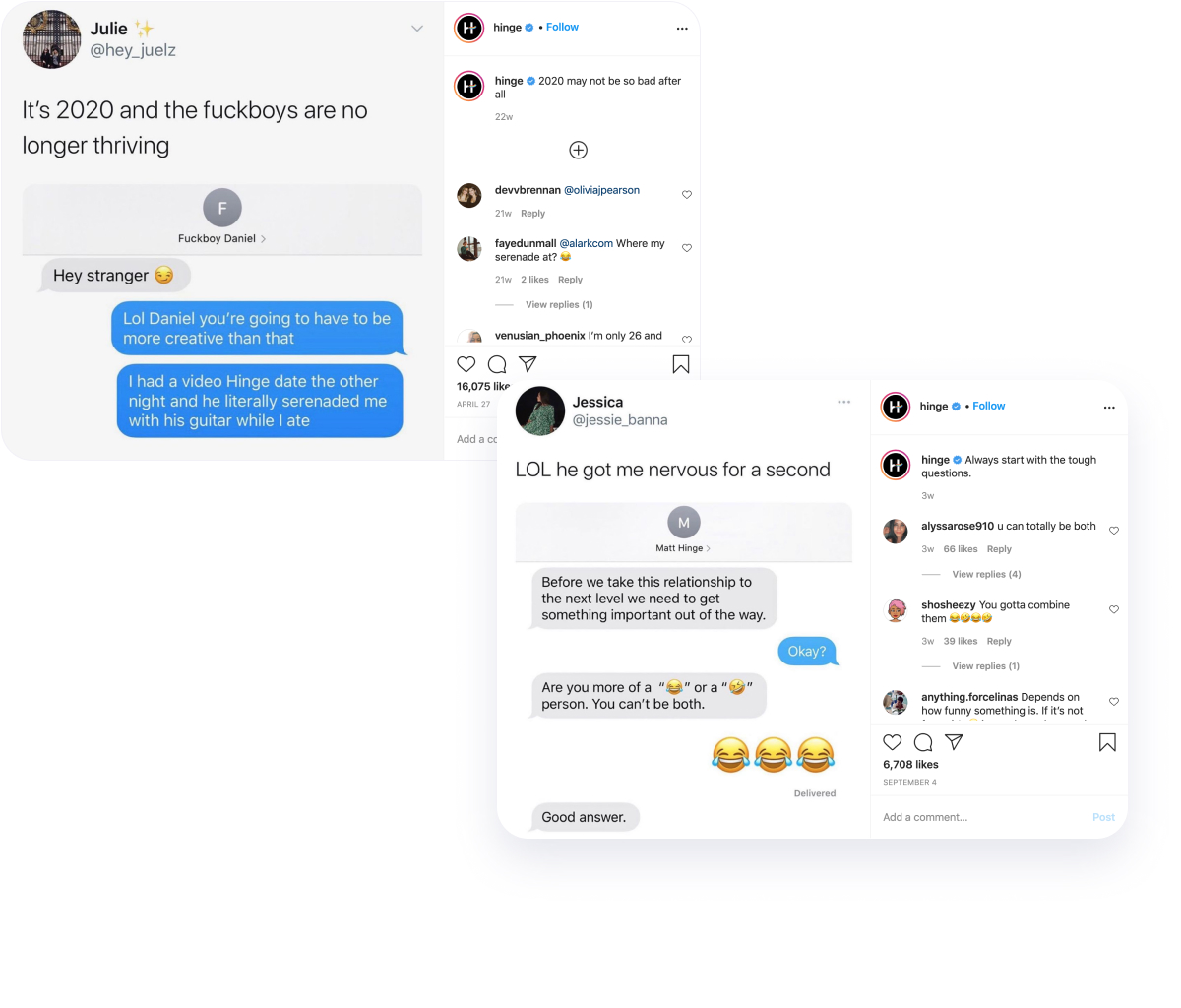 And again, the message refers to the coronavirus crisis and social changes the users have experienced in 2022. Obviously, there are dedicated communities on Instagram where you can find memes and discover the hyped topics. You can take some insights there, use the text messages memes, and design them according to your profile aesthetics. Do you like this funny text meme?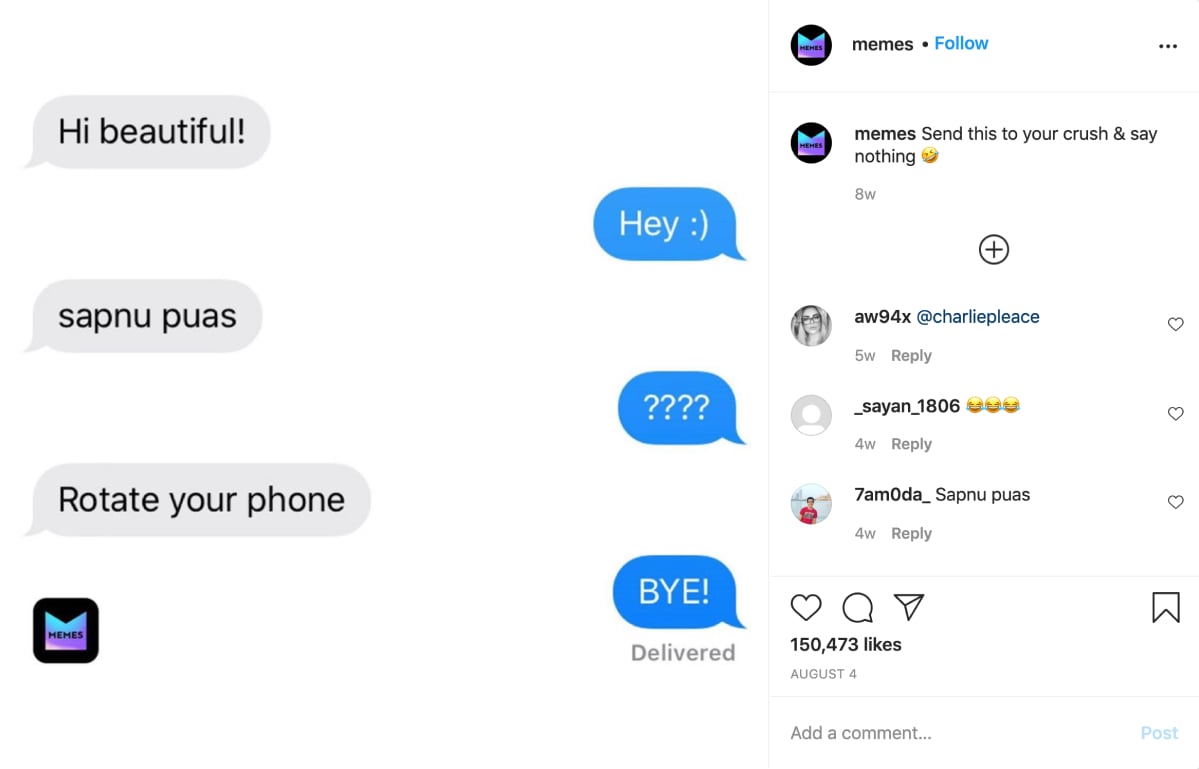 Tip: Monitor the demographics of your audience to understand what kind of memes will get the maximum number of shares and comments on your account.
#4 Memes for Instagram giveaways and contests
Many brands whose customers are Millennials announce contests using hilarious memes. They no longer post the actual image of the product or prize, they engage followers by using 90s icons and funny subtitles. Look at the great example by Nasty Gal, the apparel shop popular among Instagrammers.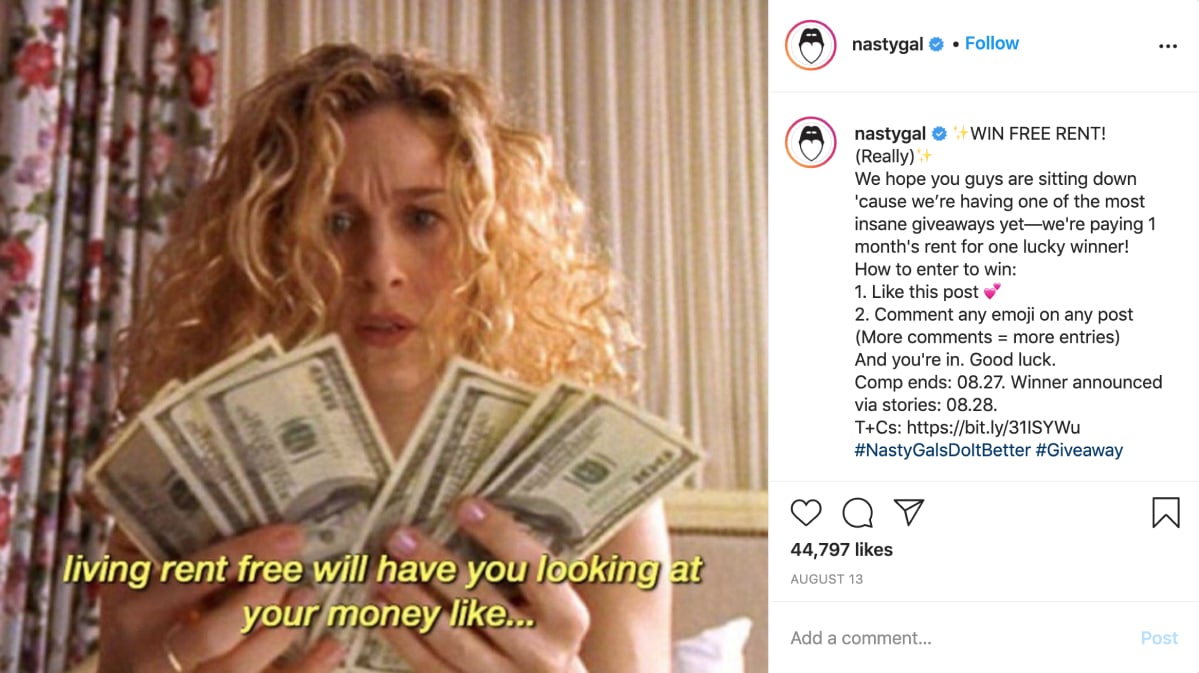 Note: More and more brands use cash prizes equal to a month's rent to engage followers in giveaways. This is not a coincidence – marketers hit the nail on the head and give their beloved followers exactly what they need.
The lesson is: understand the hidden pains and needs of your target customer before announcing a contest.
Here are some more exciting examples of how Nasty Gal launches contests. The key elements of these memes are – icons of their customers (90s stars) and a caption saying what happens when someone wins the contest.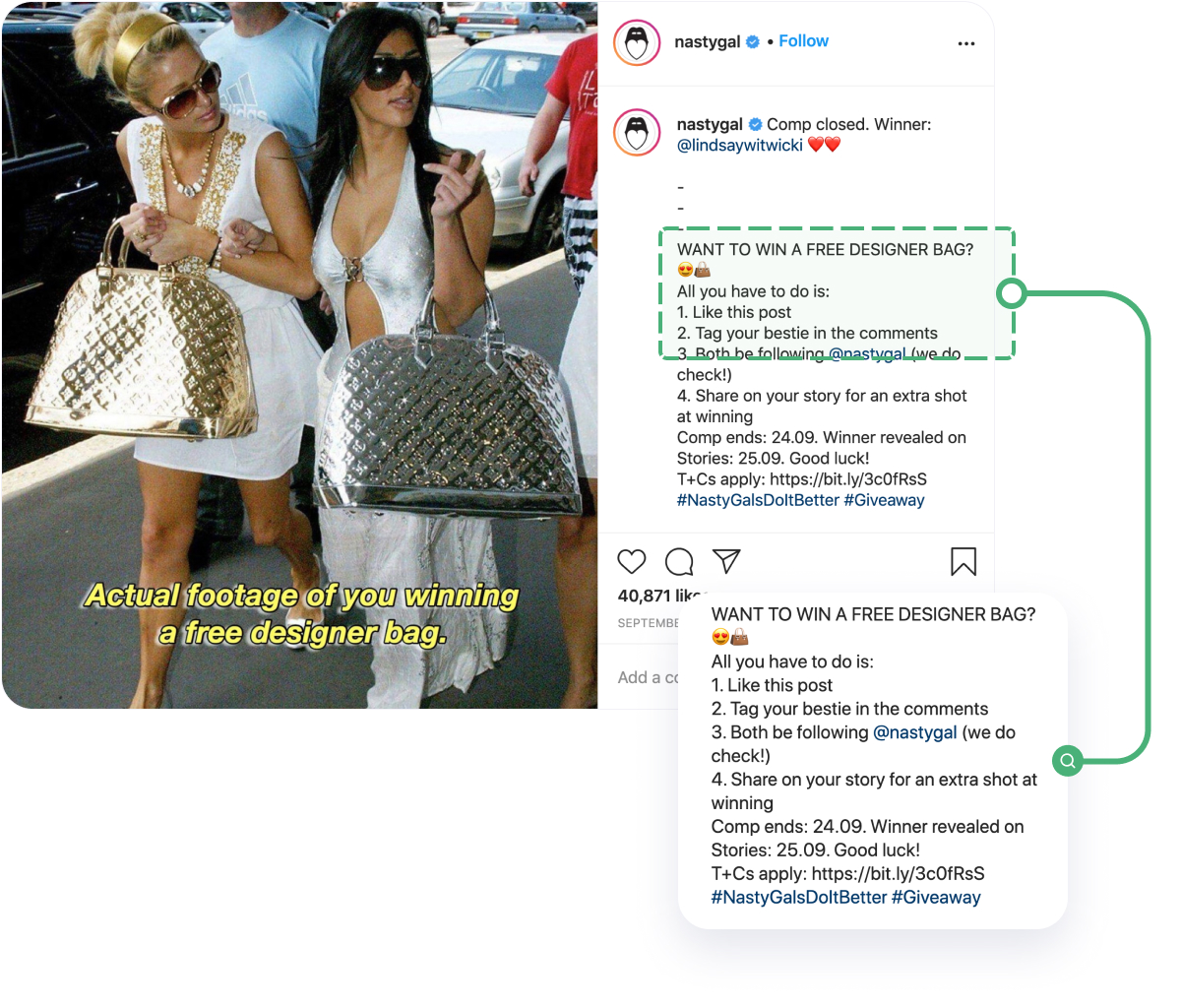 This idea is just right for your content strategy!
#5 Memes with many captions over photo
According to this trend, a perfect meme includes two must-haves: images of celebrities and numerous captions over this image. By the way, you don't even need a photo editor to add captions. Look at the Phenomenal account – they use captions from Stories and lay them over the photo.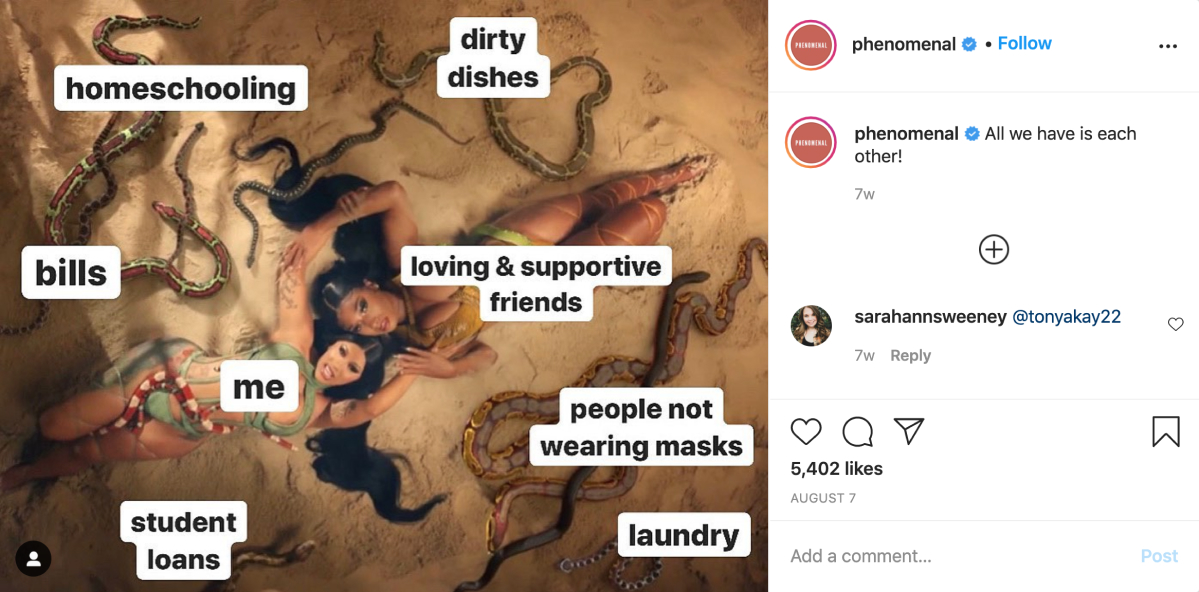 Hack: Open a photo in Stories, add texts, and download the meme to post it in the feed.
Fashion brand WILDFANG uses memes to announce sales in a creative way. They use scenes from movies and captions over images to highlight the upcoming discounts. Such a good idea for your Insta-based shop, right?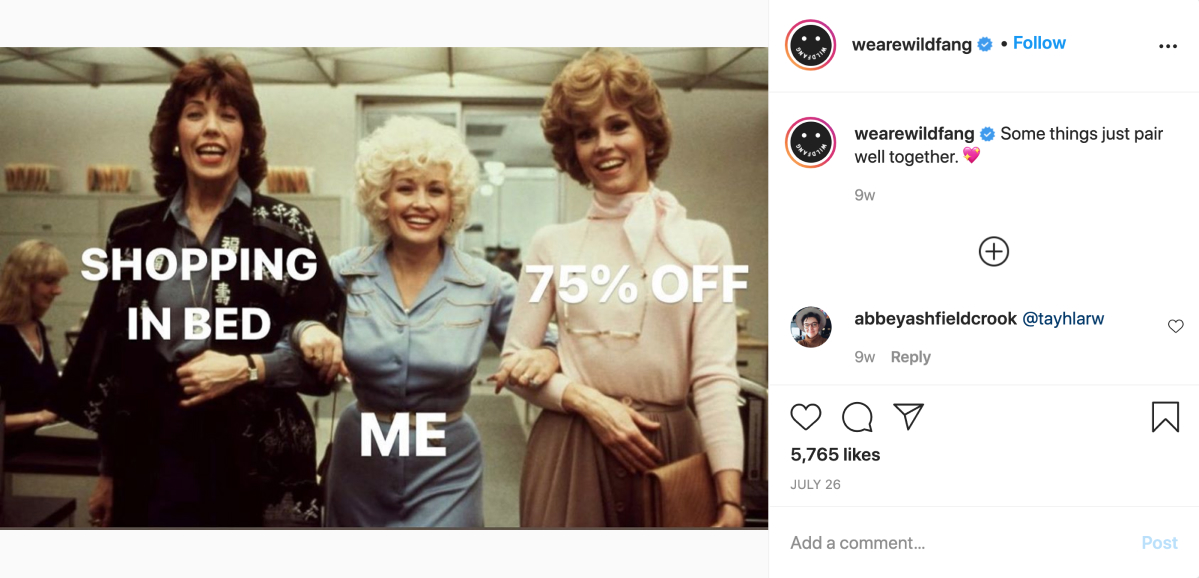 Tip: When using meme posts to notify about a sale, include in your caption a link to the website page with the items on sale.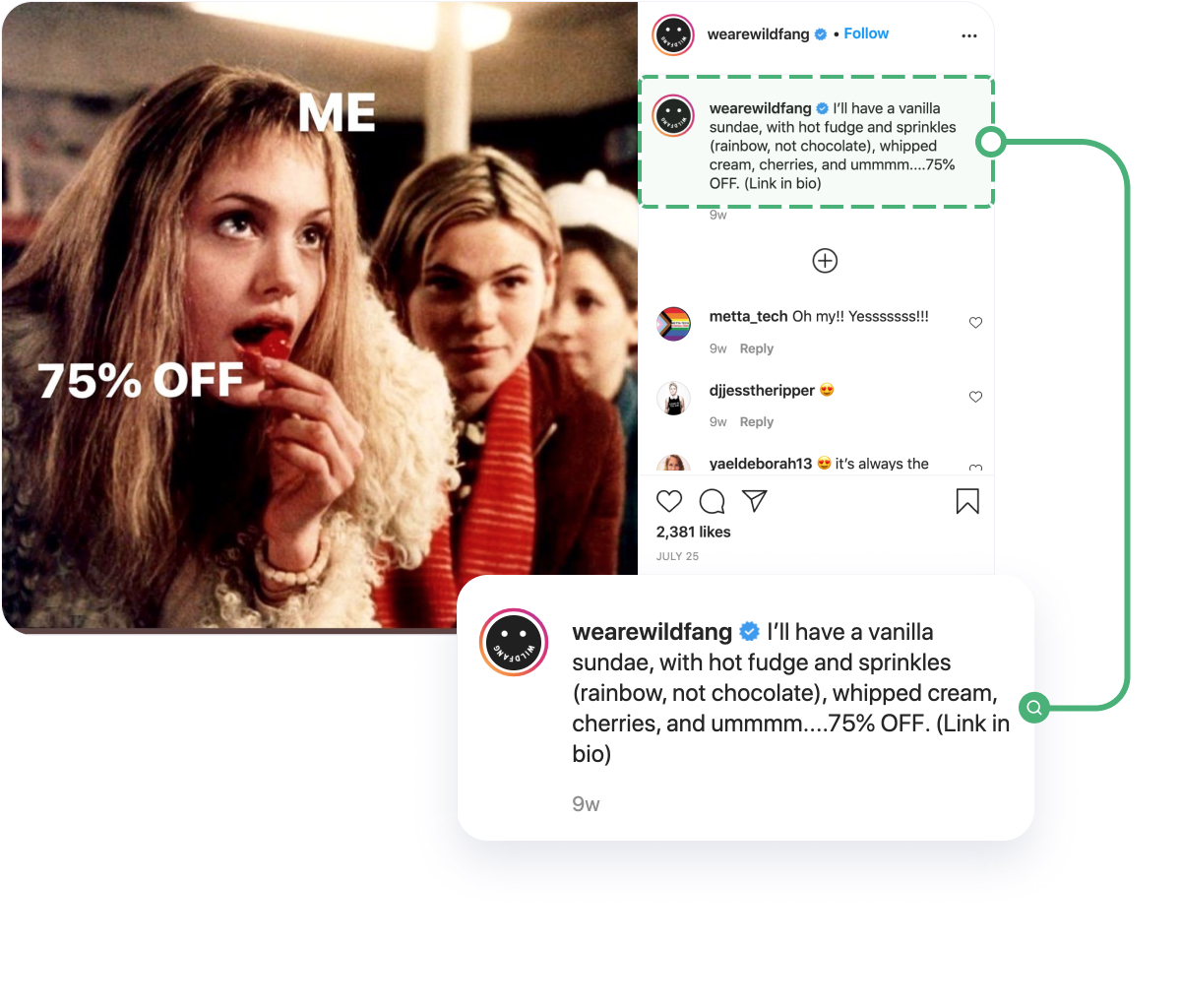 #6 Classical Instagram memes
Many brands and influencers like staying classy and post typical memes you can meet on Instagram. They are so hilarious and result in an engagement boost and shares.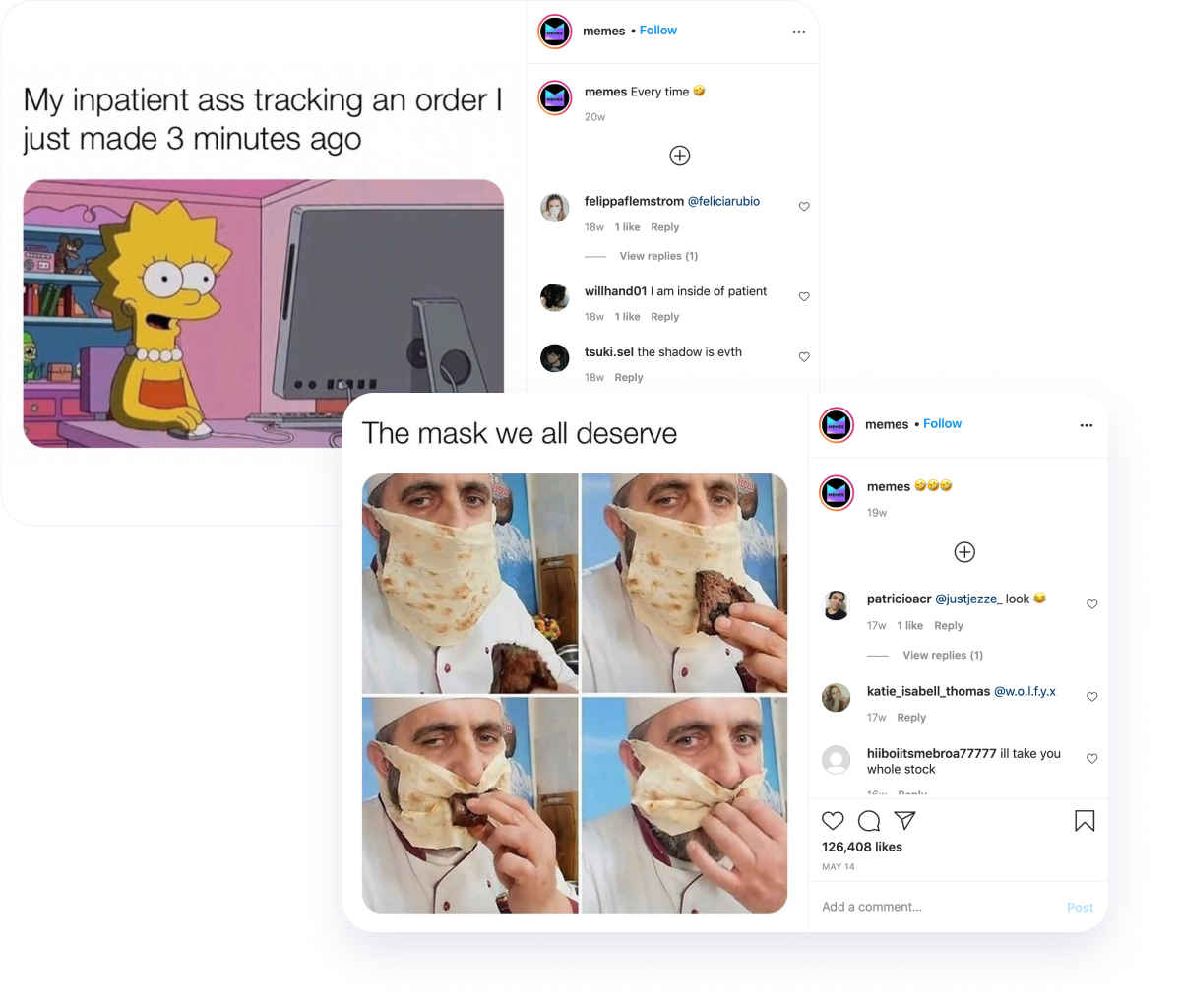 Many Instagrammers are willing to repost such funny images from top meme pages on Instagram. A vegan online fashion brand Luxe to Kill illustrates awesomely how to adapt an Insta meme to the general aesthetics of your account.
Beige background + funny joke + Instagram account name = brilliant meme post on IG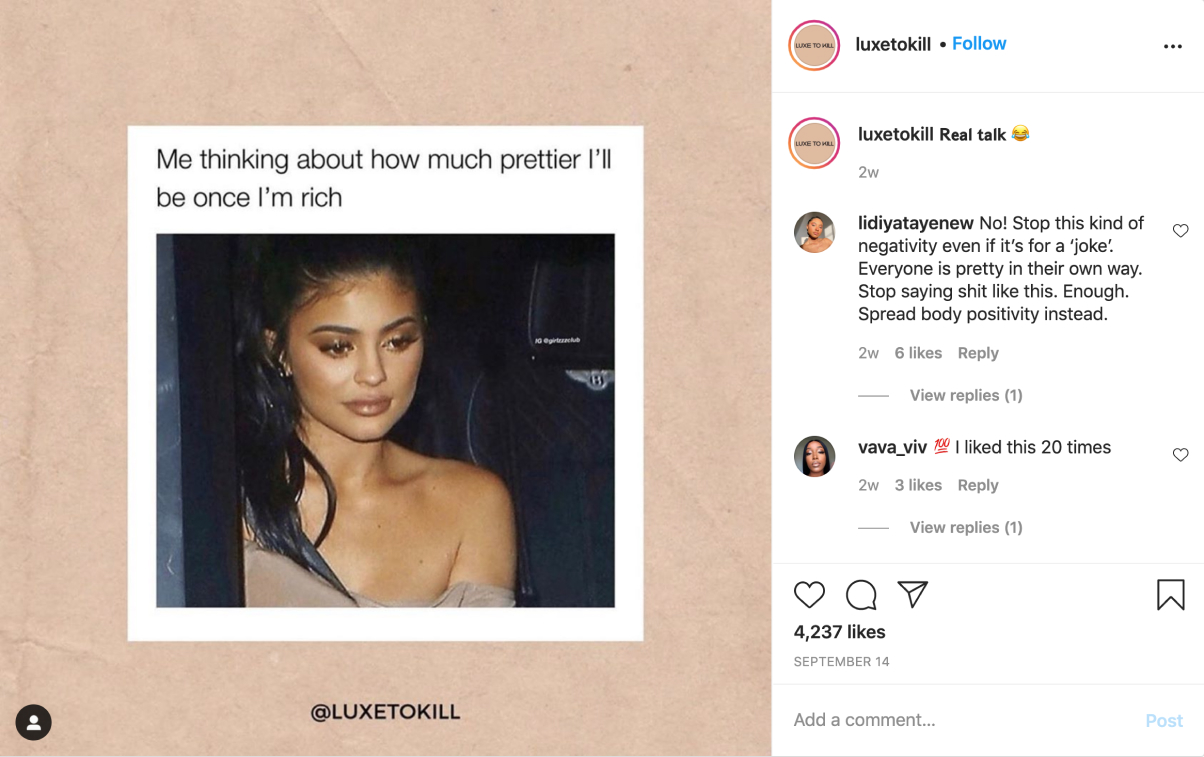 As you see below, this hilarious post perfectly fits the feed's palette and correlates with the brand philosophy.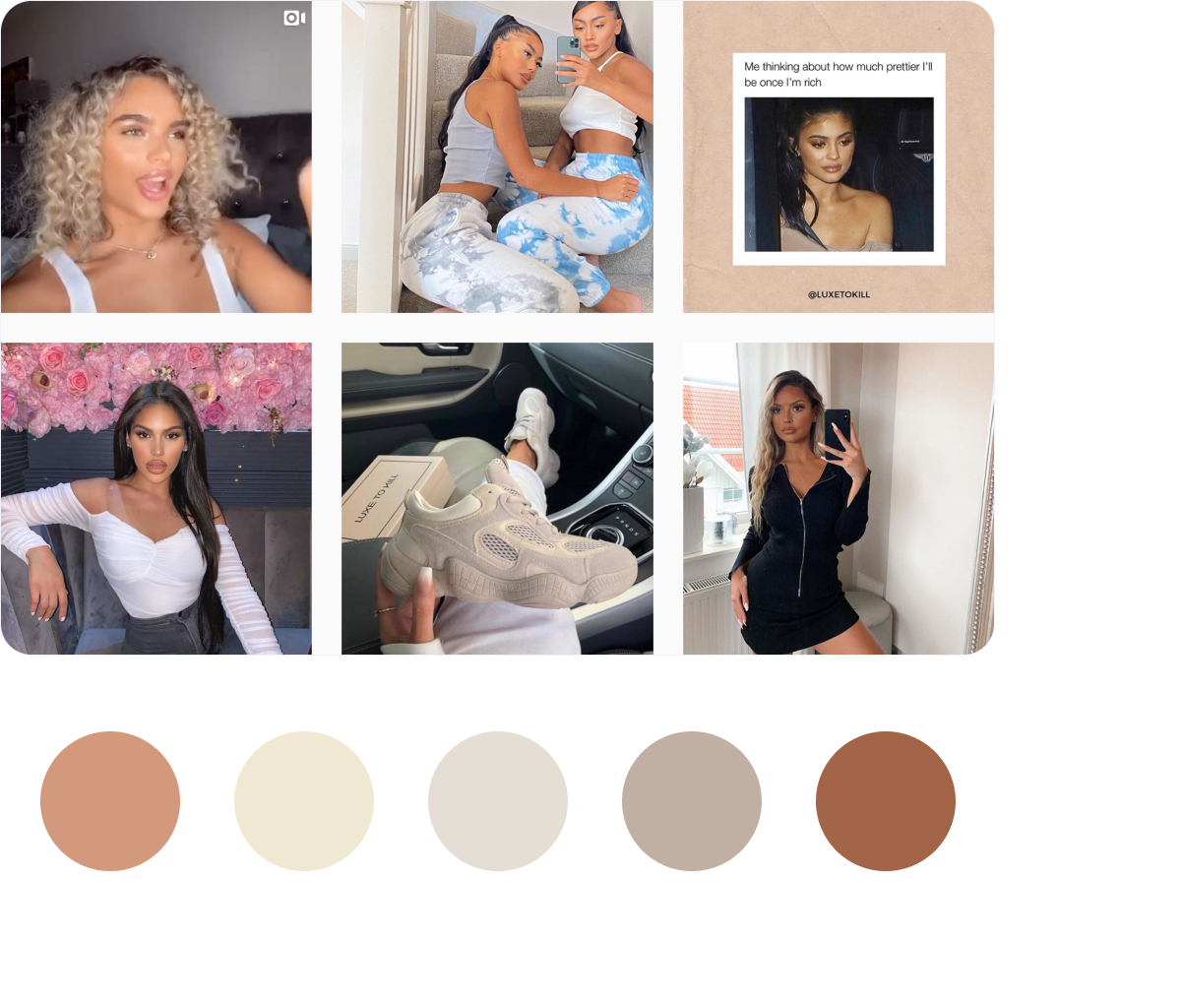 Remember: You can take the core idea of a meme and remake it on your page. Keep your eye on best meme accounts to be ahead of the competition – I will provide you with some trusted pages in the next section.
TOP 5 meme pages on Instagram
Here is a selection of accounts you can monitor to explore trends:
@memes – Instagram public account with memes to find inspiration and ideas.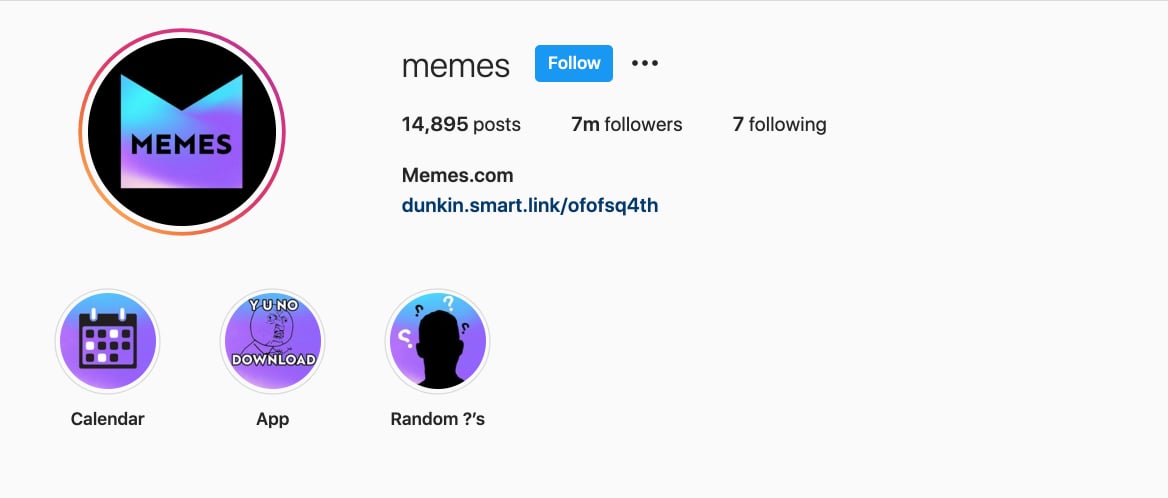 @sarcasm_only – Numerous memes with celebrities that are popular among Fashion Nova's audience.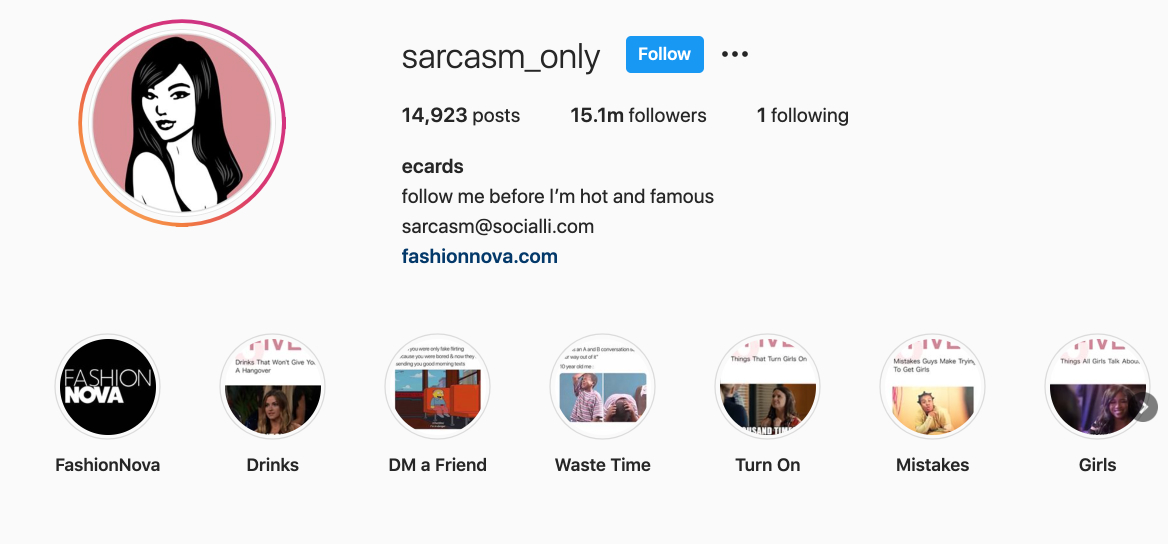 @bitch – If you prefer videos to photos, then follow this funny account with video memes.

@bviral – Follow to be aware of the latest viral memes and clips.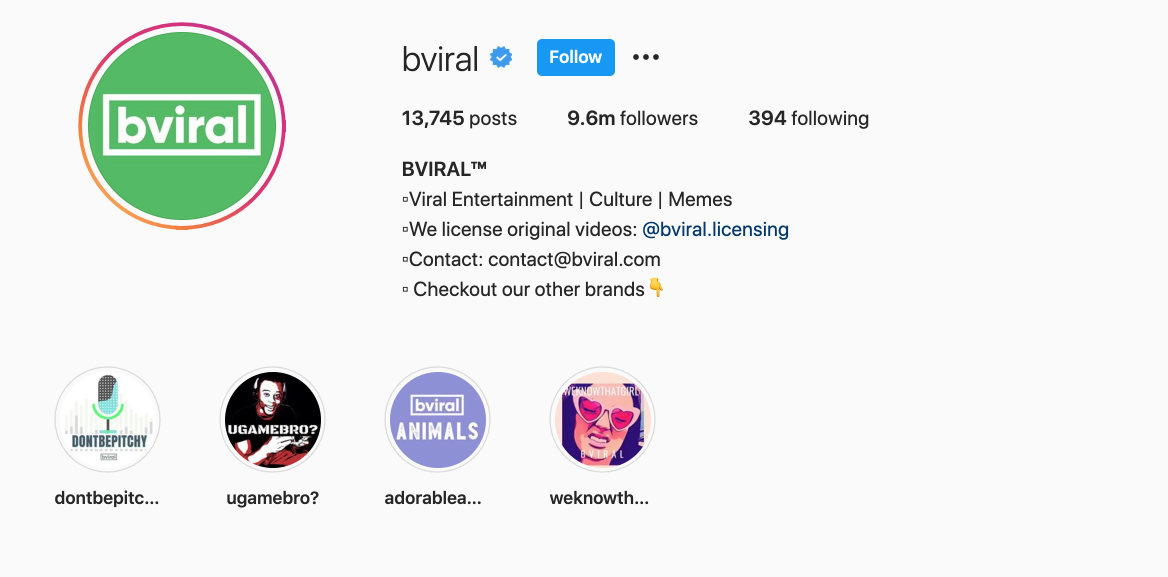 @classicalcringe – Memes based on the classical paintings will make an impression with culture-focused audiences.

My final word
Themed accounts and challenges are really helpful when it comes to diverse and entertaining content – it's easy to consume. The main point here is try to find more niche meme accounts that cater to your target audience. Remember to follow celebrities, micro-influencers, and local meme niche accounts. In 2022 Instagram content marketing based on the memes relating to Millennials will help you to be ahead of the competition.