Detailed instructions on how to save all types of Instagram content in 1 click.

Oooooh, crushing on Instagram's visual content? We have good news - you can satisfy pics, videos, IGTV, Stories regardless of device, operating system, or online/offline status. How? The secret instrument is an Instagram picture downloader.
Don't limit yourself.
You may save unlimited media files straight from the visual-sharing platform - static content, videos, IGTV, highlights. Your possibilities are endless.
Ultra-high quality.
Save&download Insta materials in their original resolution and quality.
Act fast.
All your IG videos and images are downloaded in just a few seconds at the speed of light.
Easy-to-use.
No require to login to an account for using this download module.
Pro bono.
No need to spend a penny.
Our selection of easiest and smartest Instagram downloaders makes a big motivation for you! You'll find inspiring utilities to get you creating about your personal source of visual inspiration.
A range of IG downloaders competes for the same market, forcing IG beginners and obsessives to decide between similar tools.
It's incredible to avoid this decision - essentially every brand, company, and person has your page on the image-centric platform. Thankfully, diverse features, visual concepts, and capabilities can make it easier to choose.
Looking at differentiating features, take a peek at the list of best Instagram content downloaders!
What's more, our team of experts has divided Instagram content downloader offerings into 3 parts to facilitate the search for an ideal variant. We'll consider downloaders, which could operate in the mode of here and now, browser plugins and mobile applications that are designed for the same mission. Get satisfaction!
Full list of 13 IG content downloaders:
Section#
1.
FREE
online
platforms.
Inflact
W3toys
DownloadGram
GramKeep
Gramsave
Section#
2.
Browser
extensions.
4K Stogram
WinX YouTube Downloader
Free IG Download
Video Downloader Professional For Edge
Downloader For IG
Section#
3. Mobile
applications.
RepostForIG
Video Downloader For Instagram
DownloaderForInstagram


Instagram Downloader: Online Solutions
IG is an image-sharing social network: you take images that boggle your imagination and show them your followers. But how to store media files on your desktop or smartphone? There is a ton of advice you may adopt to grab impressive materials without additional tools. But what's the point? An IG downloader is the most comfortable method for such tasks.
We've picked the top 5 easiest and smartest IG content Downloaders that help you to save all Insta materials on the fly!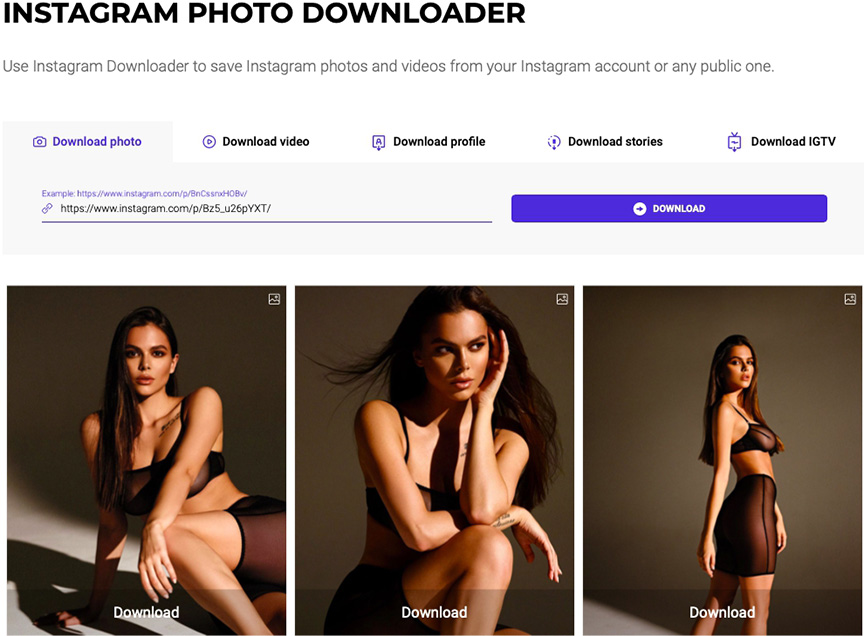 Inflact is a combination of super-cool Instagram promotion tools, ranging from Hashtag Generator to auto-messenger and auto-scheduler. Along with a standard pack of IG promotion tools, you can easily automate your daily routine and all IG processes (like, follow/unfollow) based on Hashtag, Location, Username Targeting.
Take a peek the article called "
How to Boost Response Rate and Sales? Examples and Case Study!
" to be aware of the issue on how to unlock the potential of Inflact.
Okay, let's skip to the question about the Instagram picture downloader. What is the power of this utility?
Simplicity.
To take over all IG materials, you should copy URL or the username and insert it into the search bar on the Instagram photos downloader. Nope. No sign-up process and verification.
Versatility.
Use any devices (pc/smartphone/tablet) and save content straight from IG.
Anonymity.
Hmmm... Security is a key trend in the digital world. By using Inflact downloader, there is no need to enter your email address, number phone, or personal info.
Ultra quality.
This utility lets you snatch high-res media files.
Infinite.
You have great potential in keeping any number of visual content. Your possibilities are endless.
FREE-of-charge.
Yep. Inflact Profile downloader is absolutely free. You don't need to pay a dime.
The downloading process is extremely simple. Use the link/username and save all the files connected with the post/Stories/profile.
Moreover, Inflact has created a quick guide on how to work with this useful utility, which makes it impossible for the confusion.
A quick reminder on what Inflact offers:
Photo/Video/Stories/IGTV/Profile download
Unlimited saved
A full-fledged guide on how to use the save module
No loss in quality
Search by URL-link and username
Price:
FREE

This tool focuses on saving videos/Stories/Highlights from the visual platform. Its construction and principle of operation are easy. You visit the visual-sharing platform on the web or a mobile, find the material you've liked, take the URL-link and use it on the Instagram Video Downloader page. Tap the Get Started button. Voila! Video/static content is on your gadget. Easy-peasy - that's how it's done!
A quick reminder on what W3toys offers:
Multiple video and static content downloading
IGTV videos, IG stories, highlight saved
High-resolution format
No access to a private account
Price:
FREE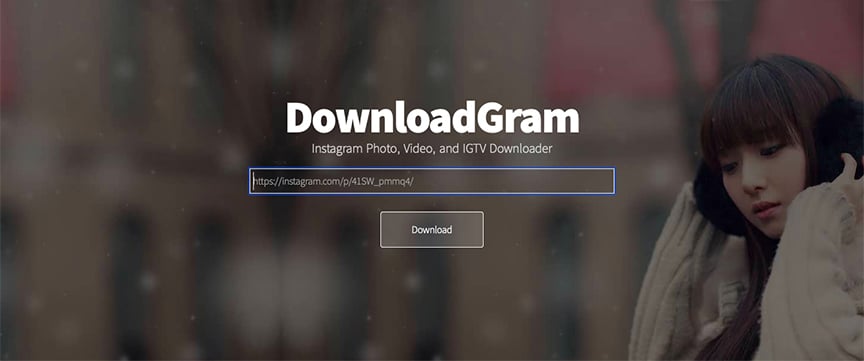 Again, a smart and convenient copy and paste tool, it's absolutely free to exploit in any browser - Windows, IOS, or Linux. Attractive and simple interface, Facebook support makes it most of our favorite.
A quick reminder on what DownloadGram offers:
Images, videos, and IGTV downloader
User-friendly interface
Price:
FREE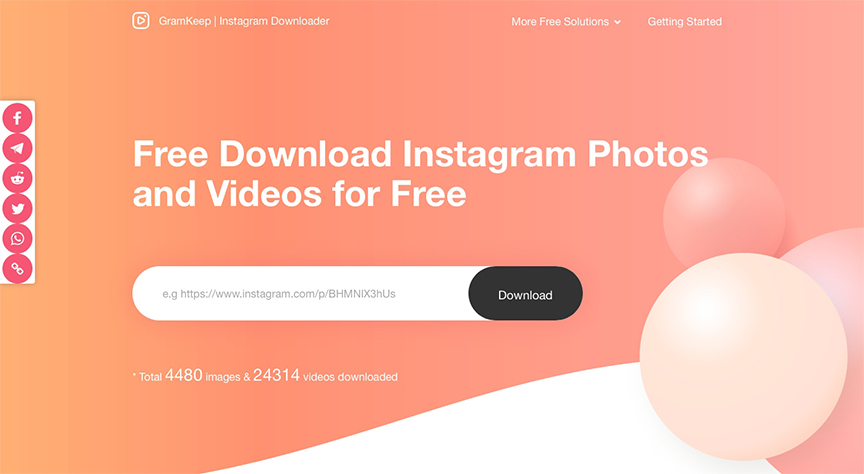 As a great alternative to DownloadGram, GramKeep is always ready to help in saving awesome media clips and static materials. How to keep a memento on your comp? Firstly, copy the link of IG picture or video. Next, go to the GramKeep site and insert the link in the box. Congratulations on a job well done. Satisfy a downloaded content at any moment you desire!
Quick reminder on what GramKeep offers:
Images and Videos downloaded
Compatible with all devices
Instant download
Impressive overall scores - near 4 752 pics & 24 590 videos downloaded
Price:
FREE

This Insta save instrument has a user-friendly interface and a classical set of IG saver features. To unlock its potential, simply enter the link of media files. Hit the Download button and IG image downloader grabs all the materials you desire. It operates as both an IG picture downloader and for IGTV/profile too, so it's an extremely useful instrument to have in your arsenal.
A quick reminder on what GramSave offers:
Instagram Image, video, carousel, and bulk download
No access to private accs
Instagram Tag and Captions download
Price:
FREE
Instagram Photo Downloader - Browser Plugin
Without further ados, let's get continued with the list of best tools to save IG videos and photos on your personal comp.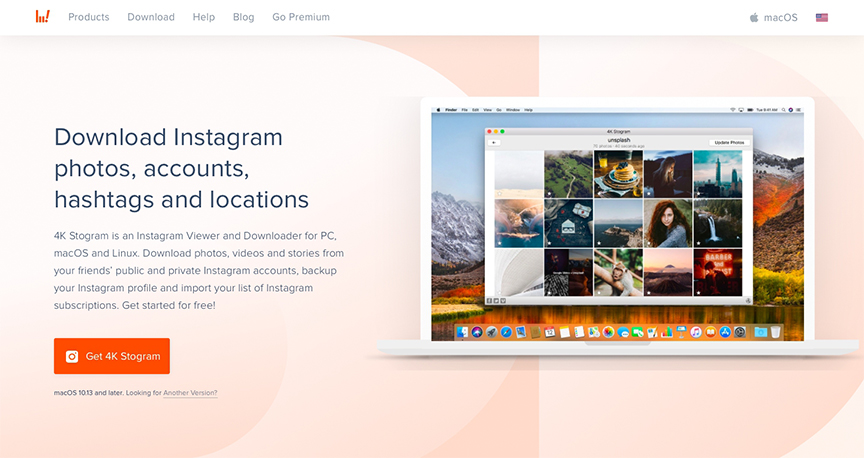 4K Stogram is one of the most convenient tools for downloading IG content. This is a small program that you can install on a computer regardless of operating systems - Windows, macOS or Linux. You simply enter the hashtag, username or geolocation in the search bar, and the application immediately downloads into a special folder. With this IG downloader application, you should be careful, because tons of pics and videos have already been posted with some tags. Note, the download can be paused at any time.
You can subscribe to multiple accs at once, and the application will automatically download all new posts. But you would have to sign up for the paid version.
Quick reminder on what 4K Stogram offers:
Short-living daily images and media clips download
Cross-platform downloader
Your own acc backup
Search by Instagram account, hashtag, and location
Comments and hashtags metadata
Safe subscription database
Access to private friends accounts
Price:
FREE. There is a paid version with extra features.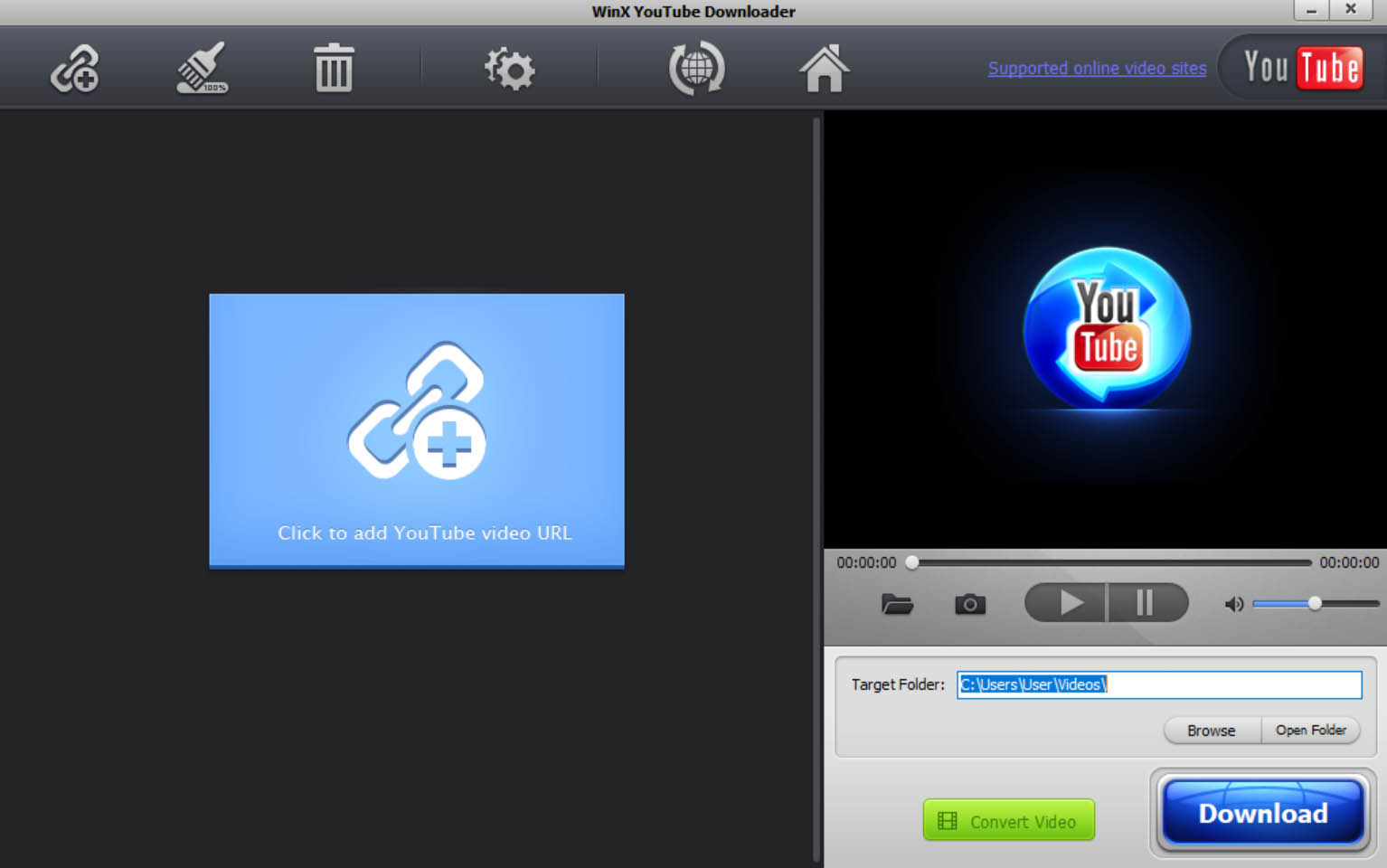 This application is universal because it allows you to download videos from numerous services, including YouTube, FB, IG, etc. It's worth noting it only supports Windows.
WinX YouTube Downloader is extremely friendly in use and it's very simple in design. To download media-clips from the IG, you need to search for this video, use the special combination of keyboard shortcuts (Ctrl+C & Ctrl+V) and enjoy the results. Plus, you can copy several links and download all the videos connected with posts at once.
A quick reminder on what WinX YouTube Downloader offers:
Multimedia elements download
Cross-platform downloader
All the possible formats to save
Super-short entire downloading process
Price:
FREE.

Free IG video Downloader is an application that requires installation. And it is compatible only with Windows. But its advantage is that it contains a number of options. Plus, it allows you to upload several videos at once. The basic principle of action is identical - you need to insert a link into the box.
A quick reminder on what Free Instagram Download offers:
pics/videos/a bunch of IG accs download
fluent downloading process
Detailed info&logs
Create favorite IG user list
Price:
FREE.

It's a Microsoft program devoted to storing videos from multiple social networks. With this application, you can always complete and expand your collection of favorite videos. No need to look for your favs in the flow of other media files. Additionally, it's absolutely free.
A quick reminder on what Video Downloader Professional for Edge offers:

Pick and play videos in one list
Cross-platform videos downloader
Price:
FREE.

This app works as a universal IG content downloader that is always ready to handle videos or images. With a stroke of the button, you may store all the pictures connected with the post straight to your G-storage. It supports Chrome and is a pro bono product in the store.
A quick reminder on what Downloader for IG offers:
Images, media clips, IGTV download
Super-speed
A versatile design of a download page
Price:
FREE.
Instagram Image Downloader - Mobile Applications
To install the following applications, visit the Play or App Stores. Let's roll before all the Instagram Image Downloaders are taken.

What our team of experts loves is an awesome design of the dashboard, streamlining the download of videos and static content. As for the rest, it's a multifunctional downloader with a classical set of features.
A quick reminder on what QuickSave offers:
Your favorite Instagram images and Video repost
Photo editor with stickers
No ads
The opportunity of removing watermarks
Price:
7-day free trial. Then $4.99$ /month

We know it's not the grabbiest name, but hey this tool lives up to its name. Extremely easy to use - Video Downloader for Instagram lets any person store media files directly from the visual platform. It's free of charge and gets a lot of positive feedback.
A quick reminder on what IG Video Downloader offers:
Download HD media files
Download Story and Highlight.
Add dark mode, optimized the user experience
Price:
FREE.

It's a viable competition despite the fact that the name of this instrument is extremely boring. Do you also think that a copywriter could do a spot of thinking at this point? Nevertheless, it keeps high-res images and videos without watermarks. Creme de la creme. The cherry on top. No matter how you say it, all features are pro bono.
A quick reminder on what Downloader for IG offers:
Fast download speed
Repost for IG
Full size photo and video download
No watermarks
Price:
FREE.
Instagram Downloader Online: Why to use?
There are a ton of reasons to use an IG Downloader. Today, I want to highlight the following:
It's a cure for emotional burnout.
Muse, where are your wings? By using IG content downloader, you pick media files that encourage you. Thus, you protect yourself from a creative crisis. The storage of inspiring materials is always with you.
It's the basis of your awe-inspiring resume.
Imagine the situation, you're a social media manager or SMM-specialist. At this point, IG is a measure of professionalism. Save media files to showcase your skills to a future employer.
It's a possibility to relive the past.
To take a sentimental trip to the past. We're human beings, and sometimes we want to go back in time and relive the night/day/dawn when the world rewarded us with true happiness. A moveable feast.
It's storage for significant data.
Yep, company/bloggers love indicating pay-related questions in their posts or Highlights. Through IG Stories Downloader, you gain access to important data at any time. Cool, yay?
Conclusion
Now you know our top-13 of Instagram photo downloaders. I guess you understand the mission of this smart, convenience, and simple tool is to save impressive and useful visual content without enormous time and effort losses. Moreover, an Instagram video downloader can help you cultivate your taste.
God bless Instagram picture downloaders!