Even if you are an experienced user of Instagram, it is still highly possible that you may not know all the tricks. In this article, I will explain to you how to post pictures on Instagram from PC.

Though we all accustomed to perceiving Instagram as a mobile app, it doesn't mean that we can't use our personal computers to run our accounts. Nevertheless, many users still from time to time face some difficulties in performing various tasks as Instagram has some limitations in its functionality on PC.
What is an Instagram business account and how to switch over?

Despite the fact that Instagram is working on the improvement of its desktop representation, it still remains a mobile-only app. And it is the company's conscious decision.
Given this fact, one of the most popular questions about interaction with the web version of IG is how to upload pictures on Instagram from PC. However, what should you do if you've taken a pic not on your mobile phone but on your camera? Of course, in such a case it could be more convenient for you to post a photo directly from your Windows laptop or Mac than to send it to your smartphone first.
To tell truth, the solution
how to post on Instagram from PC
is not so obvious as when you are posting from your smartphone. But don't panic! Here are some options for you.
How to post pictures on Instagram from PC?

We've prepared 3 main methods that will definitely help you to post every picture from PC fast and furious!

Variant 1. Sophisticated desktop hacks

It's highly possible that earlier when you asked a question on how to post on Instagram PC, you heard an answer that it is impossible to do without the usage of some third-party tools.
No, it's not true. You can do it even using your favorite browser only.
You need to have a modern version of your browser that has native features providing you with an opportunity to view Instagram mobile interface from your computer. In other words, you should gain access to your Instagram mobile app view from your PC (by the way, this option is available for both Windows and Mac users). When you will get this mobile view, you will easily manage to upload your pics just like you usually do it in your app.
I'll explain how to post pictures on Instagram from PC using Chrome browser.
Open the IG website and log into your acc.
Now it's time to open a Developer Console. Working on Windows, use the keyboard shortcut Ctrl Shift J, for Mac - Ctrl Option J. Or open the browser menu, then choose the More Tools option and proceed to Developer Tools.


Then enable a mobile device view, it's easy, just press the Devices icon.
Now you can see the Upload button, click it and post your pics just like from a mobile device (if the button is not seen, just refresh the page).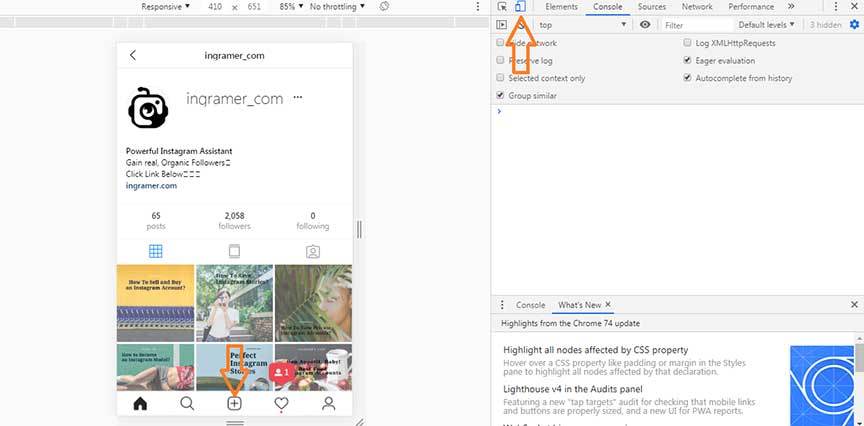 The process is just the same. You can add captions and hashtags, tag your friends and geolocate your pics.
Variant 2. External apps
Yes, if you don't feel like trying to set up your browser, just find some third-party apps and follow their instructions. There are dozens of them and you can find something that will perfectly suit you. Some of them are used directly from the browser, some others should be downloaded.
But I'd like to ask you to be extremely careful and not to share your personal details with such services as you may get into trouble (but I wish that it wouldn't happen).
Variant 3. Scheduled Posting by Inflact
I should say that our
Scheduled Posting service
will not only be your answer to the question on
how to post on Instagram from PC
but also to the question on how to save a lot of hours.
Have you already seen our article
Meet and Greet Scheduled Posting. 0,76 euro a day for a month of content freedom
?
Just imagine: you switch on your computer, upload all the pics that you are planning to post this month directly from your PC, add catchy captions (once again directly on your PC) and that's it. All your posts will be published exactly at the time that you choose but without any special efforts from your side.
Of course, you need to plan all your posts beforehand, but let's admit that a content plan is a great idea and it doesn't matter whether you use any scheduled posting services or not.
As for me, I see only benefits in this method.
It helps you:
to plan properly your publications;
to save your time on preparing your posts (as it is much more comfortable to do various things on your PC than on a smartphone);
not to worry about publishing your posts within a month (by the way, in case you have some doubts about when it's better to make posts, We've Got The Best Time To Post On Instagram! Real Investigation - just read this article).
So, as you see there are several methods on posting on Instagram using your PC, hope that in my article you have found the one that seems to be the easiest for you.
Ok, you've learned how to post a picture on Instagram from computer, now it's time to go beyond the limits and discover how to post videos and Stories.
Posting video to Instagram from any device is possible

Using Inflact Scheduled posting, you have an opportunity not only publish pictures from PC but to post videos, too. Thus, you can publish high-quality videos (not those blurred made on your phone with bad sound) shot on your camera and beautifully edited.
As Inflact is a cloud service, you can access your account from any device, upload a video, set the time for publication, and finally have a rest.
The process is the 'Instagram post picture'-like, so you won't face any difficulties. All you need is an Inflact account.
Go to Inflact account, find Posting section;
Click New Post and upload a video from your device;
Enter your description, add hashtags and geotags;
Schedule posts by setting time or publish immediately.
Want to try it out?
What about posting Stories from any device?

As I said, you can schedule and publish Stories with Inflact now.
Go to your Inflact account;
Posting section again;
Next to the Post tab, find Stories.
Upload your Stories;
Schedule publication or publish.
Got it? Now, it's time for the best promotional tip!
How to make publications performative?

There is one tip that can help your publications to gather as many likes and comments as it's possible. I'm talking about
hashtags
leverage. About a special strategy, to be precise:
Inflact allows you to update your Caption and the hashtags you've selected automatically in 10 min and 4 hours.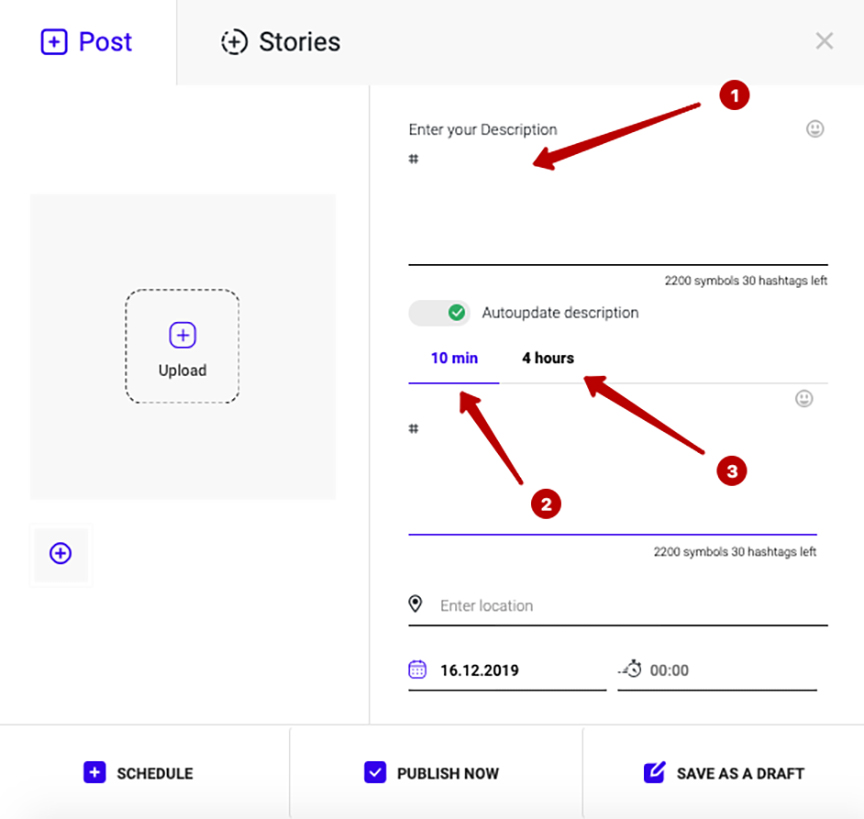 Why do you need it?
It works in the following way:
Once you publish your first-round caption with the best relevant hashtags, they start to bring new people to your posts, you gather your likes, comments and follows. When the first stream of users starts to fade away, it's time for the second round.
You refresh your caption, update hashtags, and are ready for the new stream of likes and follows.
Thus, you increase the reach of your publications.
And not just increase, but make it maximized. The higher the reach, the more attention you get. Thus, you become more and more popular just thanks to the right posting strategy.
But what really matters here is the hashtags you put.
I recommend combining most trending, relevant, and extremely specific hashtags. You can come up with them in seconds thanks to
Inflact Tag Generator
.
All you need is to enter 1-3 keywords, a URL, or upload a photo, and you will get the ultimate list of relevant tags. Sort them into 3 'packages, copy and paste to your Scheduler.
Don't waste your time!
That's all that is required of you to succeed on Instagram. Agree, posting on Instagram is a piece of cake!