Do you need to find influencers, competitors, partners, or clients on Instagram? We've updated the User Search for IG so you can save search results by purposes and implement high-level outreach.

When you need to find people on Instagram, the app itself is not your helper. We suggest using our advanced tool with filters and categories, User Search for Instagram, which is now powered with lists.
These lists will help you to group search results for different purposes. For example, you may need to find models for a product photoshoot, talent for a project, influencers, or top competitors in your niche. If you want to find these accounts in the app, the only tool you have is the search history. Imagine you want to find social media coaches in the IG application – is it convenient to browse manually and type all these nicknames into a document? No.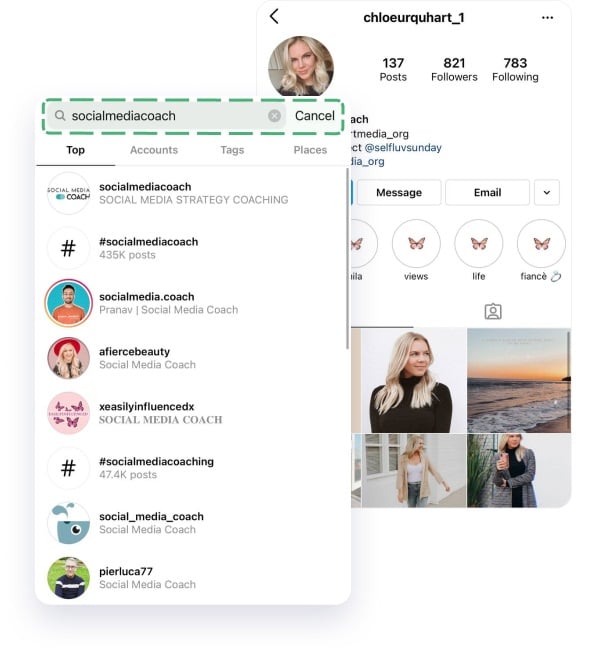 With the User Search by Inflact, you can keep the most interesting accounts in a group. And you will see their contact info (email, phone number) on the search page for convenient outreach.
Let me show you how the lists work for your marketing.
How to manage lists when looking for Instagram users
The process of finding people on Instagram with the User Search is as simple as ABC.
Type keywords or a phrase in the search bar. Alternatively, you can choose one of the suggested categories – we collected the most in-demand options in filters.
Tap on accounts you find suitable for further exploration. When you choose an account, it will be tagged with a blue tick. Click on the menu with the number of chosen accounts to add them to a new list.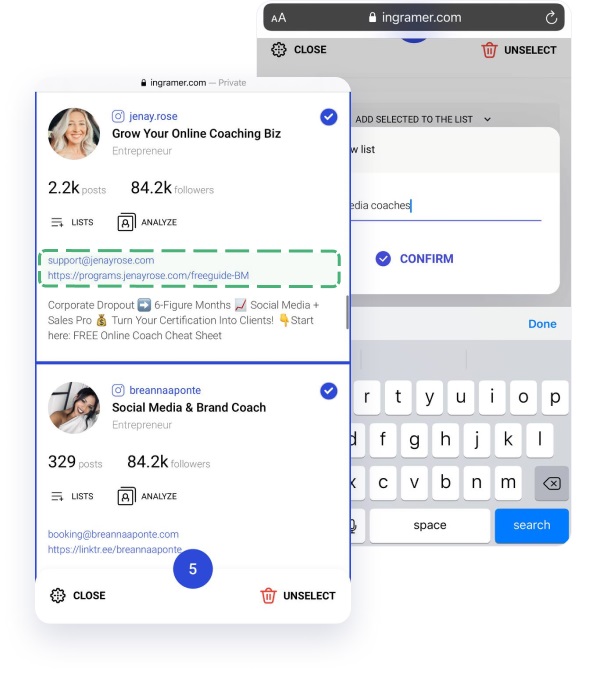 Create a new list. Write a title for the group so you can add more people to this list and find it easily. For example, I created a list called "Social Media Coaches" for my outreach. Confirm, and the selected accounts will appear in this list.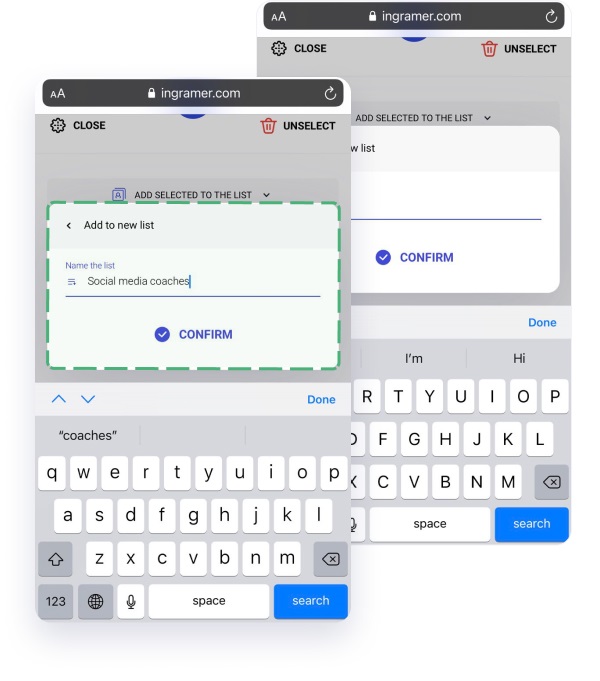 You can download the list. It's possible to export a spreadsheet with contacts that you can share with your team. In this spreadsheet, you can view the name, username, IG URL, follower count, media file count, email, phone number, and bio.
When you've got the Instagram accounts you need in a systemized file, you can begin reaching out to them. It's easy to copy and paste contacts for email outreach or contact by phone via messengers – or follow the URL if you want to connect in Direct. Read the article Influencer marketing secrets: how to find truly active influencers and contact them 2X faster via DM.
Generate lists every time you want to find the right people on Instagram – their contacts will always be at hand.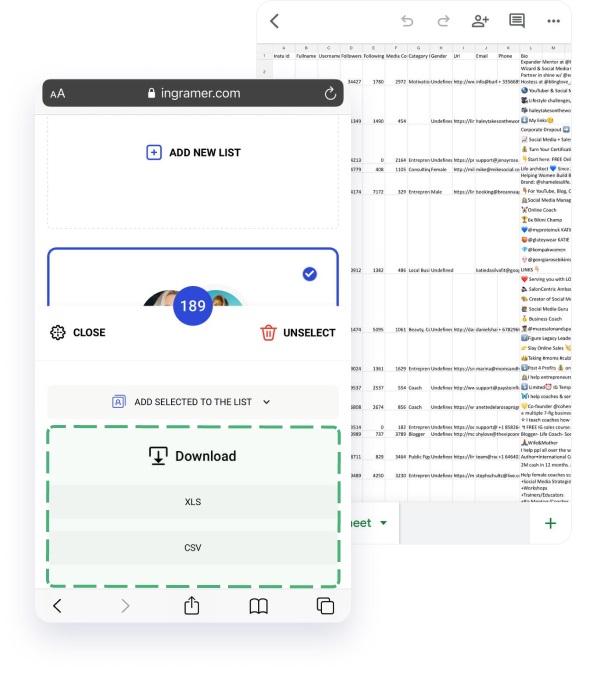 How to find out an Instagram user's email
It's not a secret that Instagram allows users to add emails so others can contact them quickly. At the same time, if you open Instagram in a web browser, you won't see emails and contact buttons.
When applying the User Search, it's easy to browse Instagrammers by contacts and copy and paste them. For example, if you have an email database of your clients and don't know their IG usernames, you can find them with this tool.
The only thing you need to do is to paste an email into the search bar and click on Search. If this account is present in our vast database, you will see it on the screen.
When you know a user's nickname and want to know their email, just do the reverse – paste their username, and the contact info will be displayed.
How to find Instagram users by a phone number
Some users also add their phones as a contact option. With our tool, you can find people by phone numbers and inspect the phone numbers of certain users. It's exactly what you need when you aim to contact clients or partners via messengers.
When your goal is to browse accounts by a phone number, insert the number into the search bar of the User Search. If this account is already listed in our database, the name will appear on the screen. We don't guarantee that you can find all users, but the database we have is the fullest on the web and is continuously updated.
According to our experiment in influencer outreach, most bloggers reply faster when you contact them in DM rather than by email. You can wait for a response to email for ages, while the Direct inbox is checked more often – Instagram is influencers' natural habitat. That's why we recommend automating this process and establishing connections with more people via the Direct module. Explore why this tool is more comprehensive than the default IG and FB messenger in the blog post The Inflact Direct module vs. Instagram default messenger: what should you choose for a business account?