Sometimes it can be difficult to keep up with Instagram updates. In this article, you will learn some of the useful features that have appeared in the app and can help you create more engaging content of better quality.

Instagram is a community that is constantly growing and improving conditions for users. Even though developers try to keep the functionality simple and easy to manage, it's inevitably getting more complex. Hopefully, these advancements can help you attract more potential buyers if you run a business or promote a personal brand on the social network.
IG updates enhancing business and private accounts
#1 INSTAGRAM ALLOWED UPLOADING STORIES IN HIGH QUALITY
Probably every social network user has been disappointed with how Instagram spoils their video quality when publishing. But it seems that the developers decided to fix this issue to help users share more quality content. It's now possible to enhance the resolution of clips you share in stories.
Now, in the application settings, you can enable the option so that videos are uploaded in high quality. Judging by the tests, so far videos in higher quality can be uploaded only to Stories. We hope that this option will be available for other video content formats.
How can you enable this option?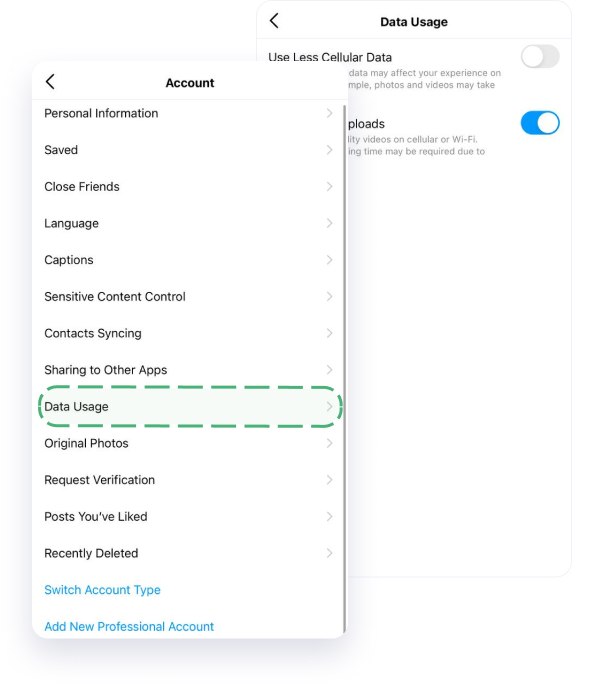 Instagram Settings Account Data Usage High-Quality Upload.
Please note that this option is currently only available to owners of iOS devices.
Here are the results from one of the tests of content uploads:
Original video captured on iPhone XS:
Resolution: 1920 × 1080
Size: 15.9 MB
Speed: 8.08 Mbps
Format: mov
Instagram uploaded them in the following resolution:
With the option disabled:
Resolution: 720 × 1280
Size: 8.6 MB
Speed: 4.63 Mbps
Format: mp4
With the option enabled:
Resolution: 720 × 1280
Size: 11.7 MB
Speed: 6.33 Mbps
Format: mp4
This is how the higher quality uploads work according to Instagram updates.
By the way, if you need to download Stories shared by other users or by yourself, you can use the Inflact Downloader. This service will help you to keep memories and content on your device for repurposing. Essentially, all the media files will be kept in the original resolution that they were posted in the app.
# 2 DRAFTS APPEARED ON INSTAGRAM STORIES – AND IT'S ACTUALLY CONVENIENT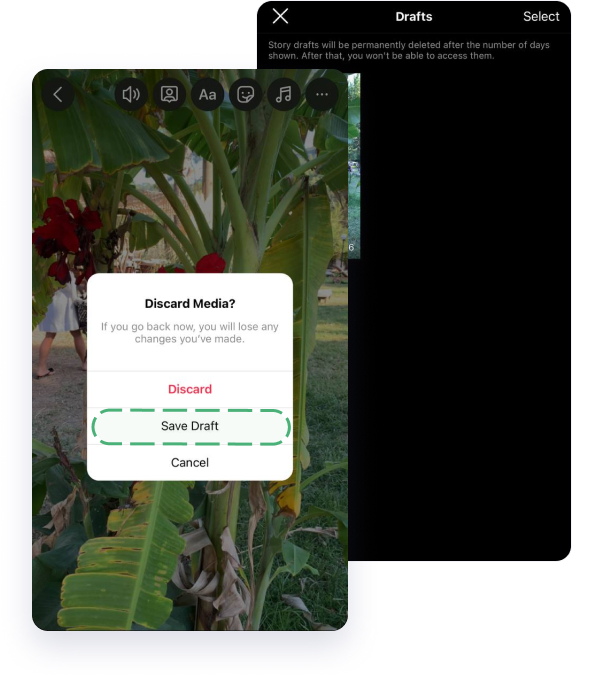 Now Stories can be saved as drafts. This update will come in handy if you create Stories using the built-in Instagram camera. Later on, if you keep these visuals as drafts, you can get back to them and decide which ones to post.
You may film several Stories at once so that later they can be published at the right time from the ready-made draft. It works almost like postponed posting but within the application.
Also, the drafts feature has appeared in Guides and Reels. Previously, they were possible already in feed posts and IGTV. So it turns out that now there are drafts for all types of content on Instagram.
Drafts in Stories
You can design Stories and add text, music, etc. Then just try to close Stories by clicking on the cross in the upper left corner – the application will offer to save it to drafts. All Stories in draft are stored for up to 7 days. And the draft itself is in the image gallery.
Drafts in posts
After you stop editing a post by attaching photos/videos and captions, just double-click on the "Back" arrow in the upper left corner. The application will offer to save the post to drafts. There is no time limit for storing posts as drafts. And the draft itself is located under the "Drafts" tab when choosing a photo from the gallery.
Drafts in Reels
The Reels editor is similar to TikTok and allows users to save ready clips in the app memory. After you finish creating, try to cancel everything by clicking on the cross in the upper left corner of the screen. The application will offer to save the video to drafts.
There is no time limit for storing Reels as drafts. And the draft itself will be placed in the Reels tab on your profile.
IGTV Drafts
You can prepare any video on IGTV and then simply click on "Save as Draft" at the bottom of the screen. There is no time limit on IGTV storage as drafts. This section is in the IGTV tab in the user's profile.
Drafts in Guides
You can prepare any IG Guide, and then just click on the "Save as Draft" at the bottom of the screen. Alternatively, you can just click on the arrow in the upper left corner of the screen — the app will offer to save the video as a draft. Guides may be kept in drafts for an unlimited period of time. You can find this section in the Guides section in the app.
It seems that these new features have already appeared for all social network users. If you have not seen them, try to update the Instagram application.
Sometimes it may be more convenient to post from the desktop and plan publications based on a schedule. Try our Inflact Posting tool, where you can set the desired time and date of publication and apply the Auto-update function for hashtags. They will be renewed by the system without your manual involvement.
# 3 A FILTER HAS APPEARED ON INSTAGRAM THAT HIDES COMMENTS AND DIRECT REQUESTS BY KEYWORDS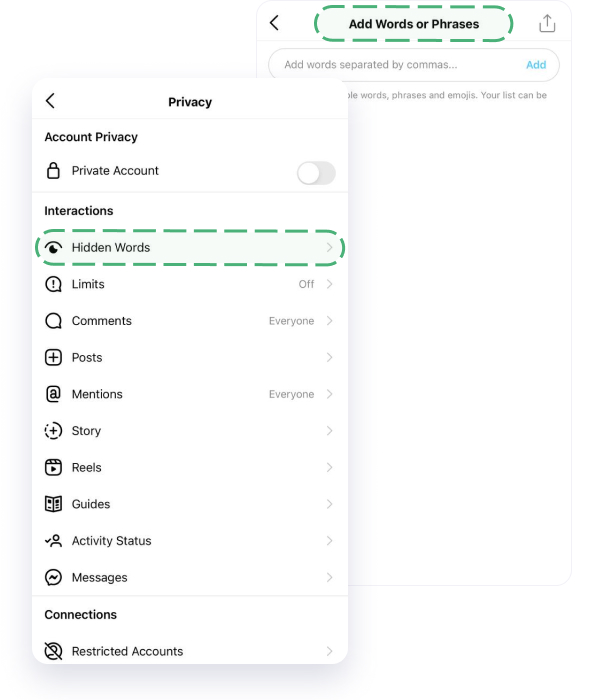 The social network continues to develop privacy settings for users. This time a new section "Hidden Words" has appeared. It allows you to configure filters for comments and correspondence requests.
There are several filtering options:
Hide Comments – Potentially offensive comments will be hidden so that neither you nor your followers see them.
Hide More Comments – This will hide even more comments that may contain insults.
Hide Message Requests – Correspondence requests that may contain insults will be moved to the hidden requests folder. Also, notifications about such messages will be filtered.
Add to list – You can manually create the desired list of words, phrases, or emoticons that you do not want to see in comments and correspondence requests. The list can be edited at any time.
Where can you find this filter?
Instagram Settings Privacy Hidden Words.
If suddenly you were overwhelmed by spammers or other unwanted persons, now you know what to do.
# 4 INSTAGRAM BLURS GEO-BOUNDARIES. STORIES ARE POWERED BY AN INTEGRATED TRANSLATOR FOR 90+ LANGUAGES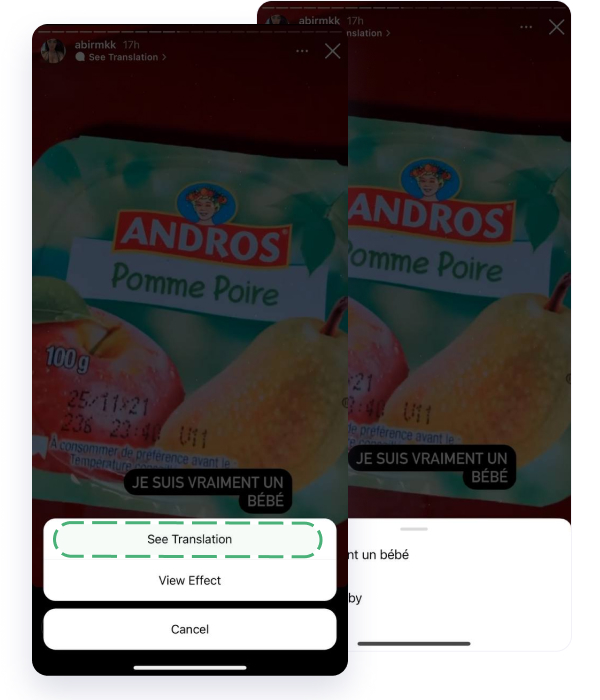 Now users of the social network can view Stories from all over the world and even understand what they are talking about since Instagram rolled out the function of translating the text used in Stories from 90+ languages.
If the system detects that you are viewing Stories in a language that differs from the one set for you, then the button "Show translation" will appear at the top under the name. By clicking on the button, a translation of the text that was written by the author of the Story will pop up.
Currently, only text can be translated, and only the caption that was added by the standard "Text" function when creating Stories. If the text was written in some kind of image editing application, the translation won't work.
Previously, the text translation function has been available in the profile header and under the posts. We are waiting for Instagram to learn how to translate speech in videos — they are already good at converting speech into subtitles. When the app becomes fully integrated with the translator, the community will be truly boundless.