Stop waiting for results. Learn how to streamline sales with Instagram DM on PC and grow your customer base by 100%.

Everybody speaks about sales on Instagram and how much a business can earn, choosing it as the main sales channel, but your account still does not sell? I will tell you how to sell more using Instagram DM on PC:

how to mail to turn followers into clients and give them a push to purchase;
how to process requests and manage communication with clients properly;
how to analyze the results.
In general, this is your complete guide to the customer onboarding process on Instagram.


WHAT DO SALES THROUGH INSTAGRAM DM ONLINE LOOK LIKE?

You need to know the stage of relationship you are at with each of your clients because you should prepare different messaging campaigns for new followers and existing ones;
Messaging;
The next thing you do is process requests from users who respond and following completion of a purchase;
For those who ignore the message, you should prepare a feedback request to question what affected their decision. Once you get the answer, analyze it, and correct the next messaging accordingly.
You can see the sales scheme below: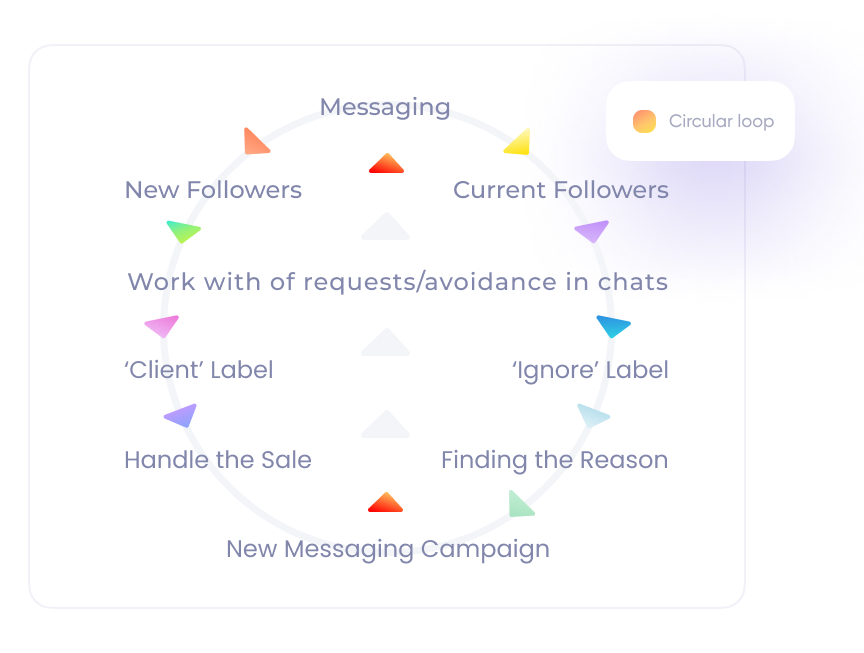 However, successful sales and client relationship management are much more than just following the schema. You should know how to correctly perform each step, all the complexities, and possible ways to attain the desired outcome.
Read what others say about Inflact:
Quantum Marketer
"Inflact Review"
HOW TO SEND INSTAGRAM MESSAGES ONLINE
It's obvious that you can't mail out manually. Marketing automation exists just for that purpose. I will teach you how to approach followers using
Instagram Mailing Client by Inflact
.
HOW TO TURN A NEW FOLLOWER INTO A CLIENT
Your first contact with potential clients is vital. Studies prove that welcome messages have a greater click-through rate. That means the highest open rate and engagement.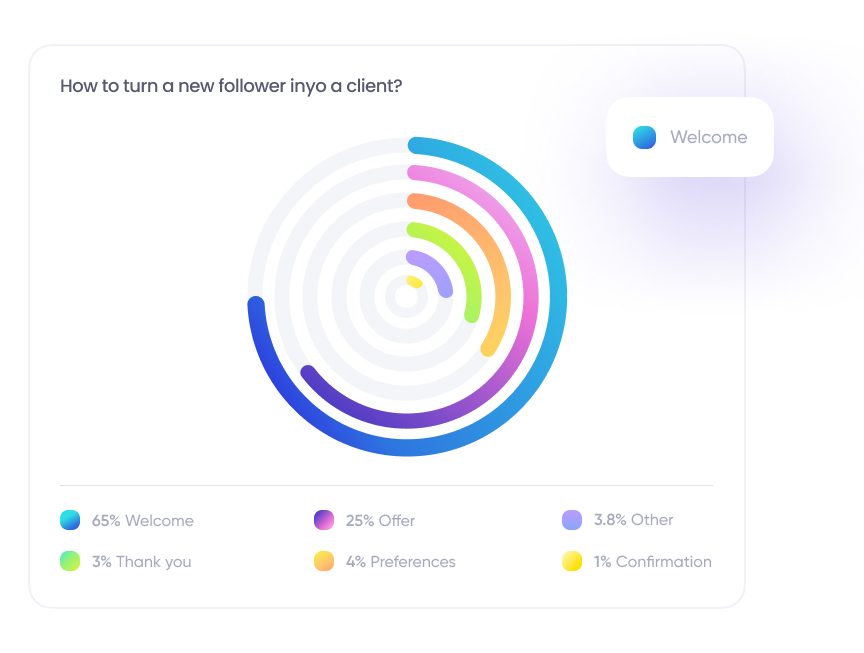 (
Image source:
How Welcome Emails Help Predict Future Subscriber Engagement & Value
, Marketing Land)
Thanks to
automated mass messaging
to all new followers, each user, even those who do not know the ropes, can easily launch a messaging campaign in a couple of minutes.
1. From your
Cabinet
, open the
Direct
tab and click
Bulk Messaging
;
2. New Message;
3. Each New Follower
;
4. Enter your message in a
Spintax
format;
Note: As you know, Instagram carefully keeps an eye out for suspicious activity and spamming. Unique content is one of the most important factors for protection from spam blocks and bans. If a task needs to place a large number of comments or send a large number of messages, manually creating databases from thousands of unique texts is actually an impossible task. To solve this issue, a special template text format was invented by Spintax.
For example: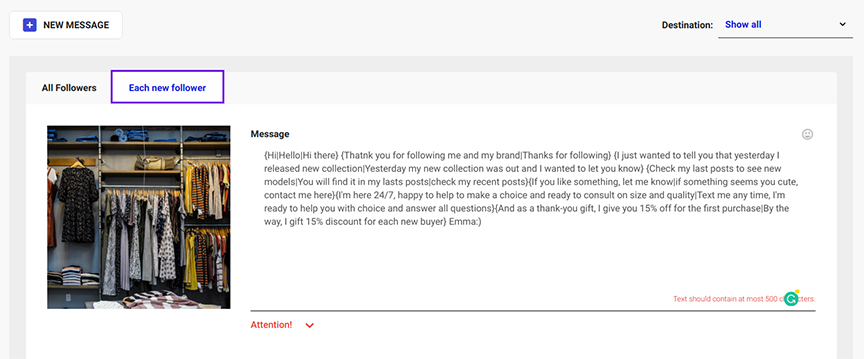 5. Set
Custom filter
if it is needed to narrow down the mailout recipients list (language, gender, # of Followers and Following, # of Posts, and the days since the last update.)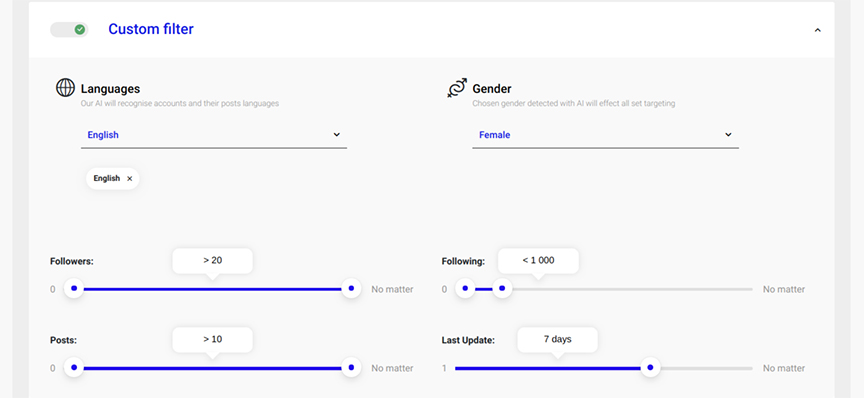 6. Click
Activate
.
General recommendations:
Welcome the new lead in a personalized way;
Express gratitude for following you and say how you value them;
Instagram is not the place to communicate formally, use humor;
Be brief;
Offer something precious for a customer (e.g. a discount.)
HOW TO MOTIVATE CURRENT FOLLOWERS TO TAKE THE ACTIONS YOU NEED

1. Active messaging
Maintaining communication with followers is no less important. Here, your task is to
show your customer-centric approach
to business. Show the true value and your concern
at least once a week
. This way, your followers won't forget about you.
1. From your
Cabinet
, open
Direct
tab and click
Bulk Messaging
;
2. New Message
;
3. All Followers
;
4. Enter your message in a
Spintax
format;
For example: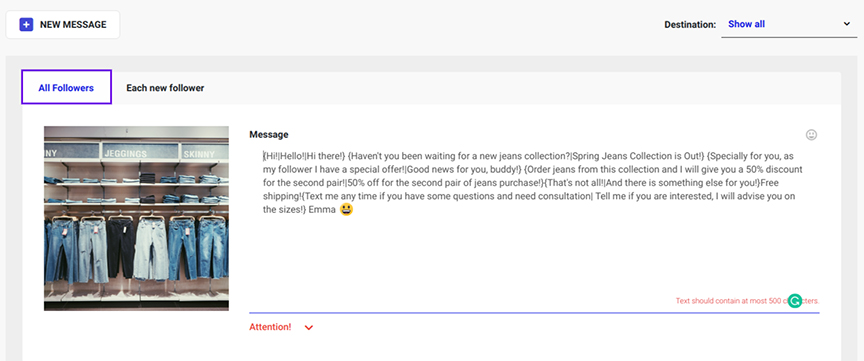 5. Set Custom filter if needed;
6. Click Activate.
2. Fast replies
Another significant criterion for stimulating purchases is the
speed of your replies to users' requests
. Poor response time may affect the sales rate extremely badly:
you have a 100 times greater chance to contact a lead successfully
within 5 min of an inquiry, as opposed to 30 min. That lead is 21 times more likely to enter the sales process if you contact back within 5 min. That's the fact.
To reduce this waiting time, make use of the
Quick Replies feature
. It reacts on certain text markers and sends an automatic reply to your client.
General recommendations:
Actually, all the recommendations from the previous point will fit here, too. Far more important is
WHAT you offer
to your followers and
HOW
.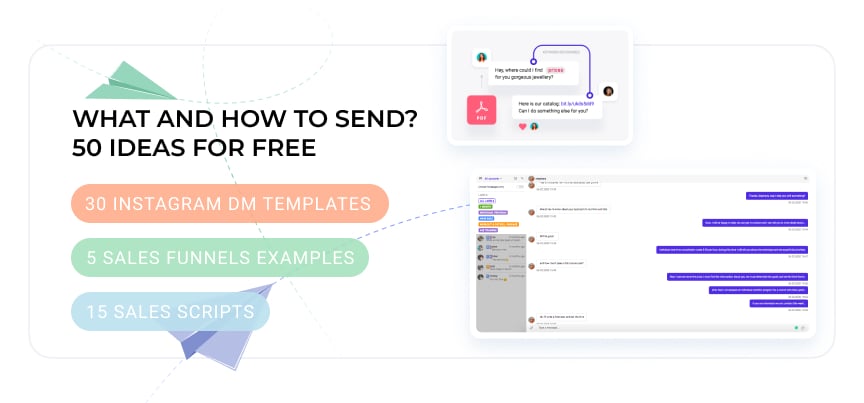 HOW TO PROCESS REQUESTS USING INSTAGRAM MESSENGER
Here, convenience is what you really need. In particular, if your account is managed by several employees. You can't do without a CRM system. So what if you get all the
CRM systems'
most needed features right in your Instagram Direct?
That's what
Inflact Direct Chat
offers. With it, you can improve the workflow on Instagram to the level you need to sell effectively.
Instagram Direct Chat by Inflact provides a number of features that you will find useful:
Users Info, Notes, Multiple accounts support, Multi-manager (access from several devices), search by messages, Labels for chats, etc.

Here is Instagram chat on the PC interface: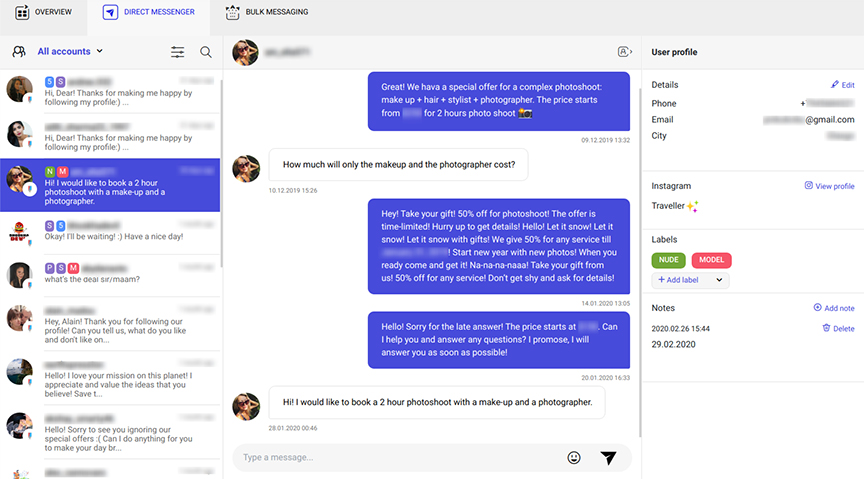 1)
Labeling
is needed to mark certain chats. As it was suggested in the sales schema above, you can leave labels for accounts that ignored your message as
Ignore
and users that responded as
Client.
You can create labels for each campaign you run (e.g. 50% off, BlackFriday) or for each product category users are interested in (e.g. Family Photoshoot, Piercing).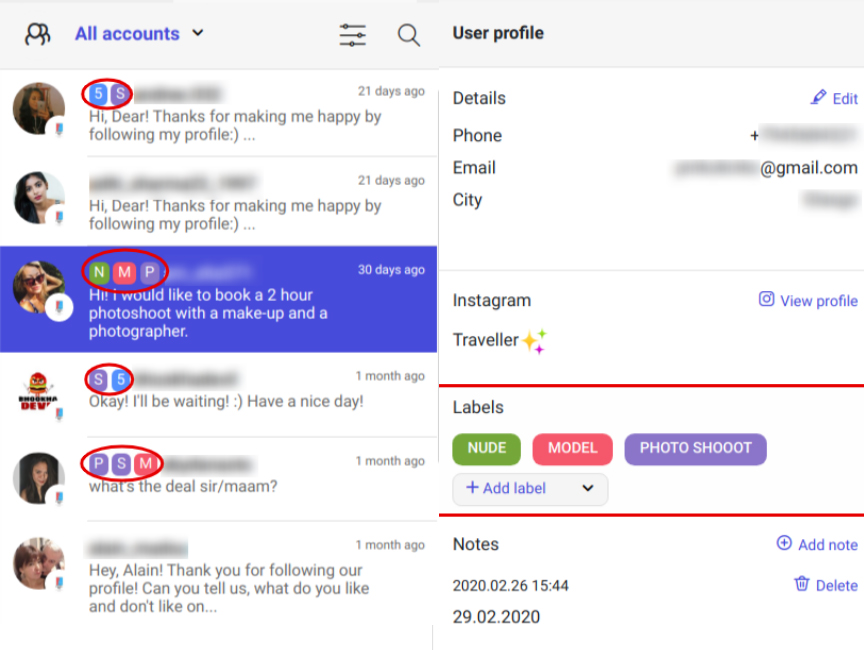 Thus, you can put several labels for each chat, and
it will be easier for you (and your managers) to navigate the Instagram DMs online
and
manage requests in a timely way
. That's vital for your customers.
2)
Use a search across messages.
A search function doesn't seem important at first thought. However, that's a misperception.
Having the option to search for certain messages across all chats and accounts gives you
control over the chats and managers
who communicate. In addition, it's a great way to
provide communication patterns
for all to emulate.
That enhances customer management and satisfaction.
Related article:
Instagram Messages Search For Your Ecommerce Activity Sake + Case Story
.
This is how to search inside Instagram messenger online: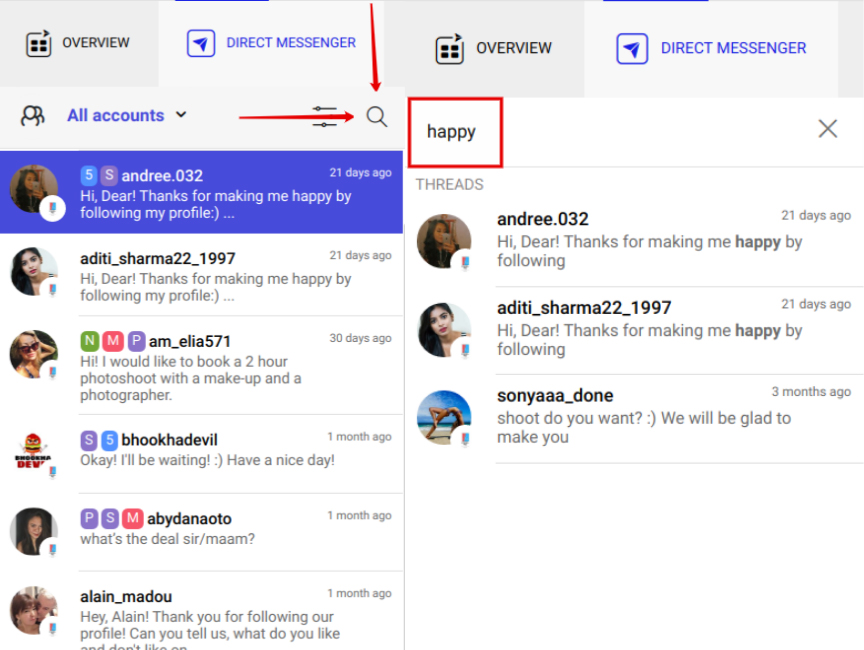 3) Complete information about customers and leave notes
for yourself and other managers. Add information about customers in the User Details section (phone, email, address, city, state, zip code.)
Leave purchase status notes
or any other important information in the
Notes
section. Without
proper customer data management
, increasing the sales rate, especially via Instagram messages on a PC, is impossible.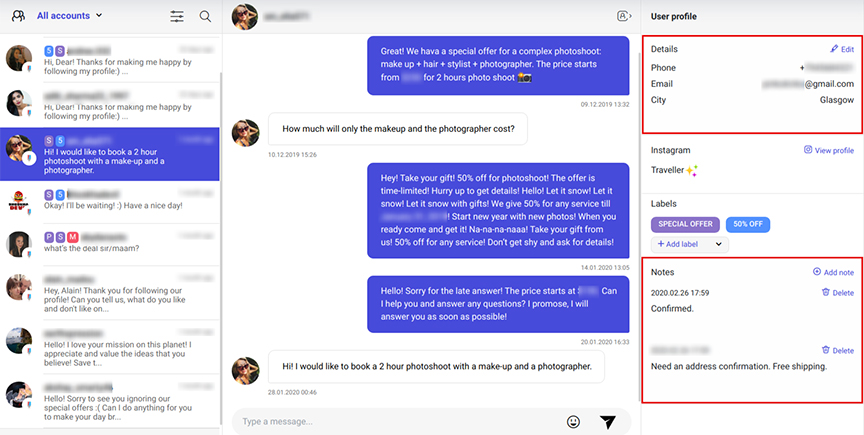 4) Connect several accounts
to access them from a single window. First, it is convenient to connect both personal and business accounts if you manage them all on your own.
As you know, experts recommend running different accounts for different activities. So, if you're a doctor who likes traveling and tackles make-up activities, 3 different accounts should be created. In this case, you can't do without a chat to which you can connect all three accounts.
To learn how to message on Instagram from a single place for all accounts, follow
the link to the instructions
(
How to add one more account
section).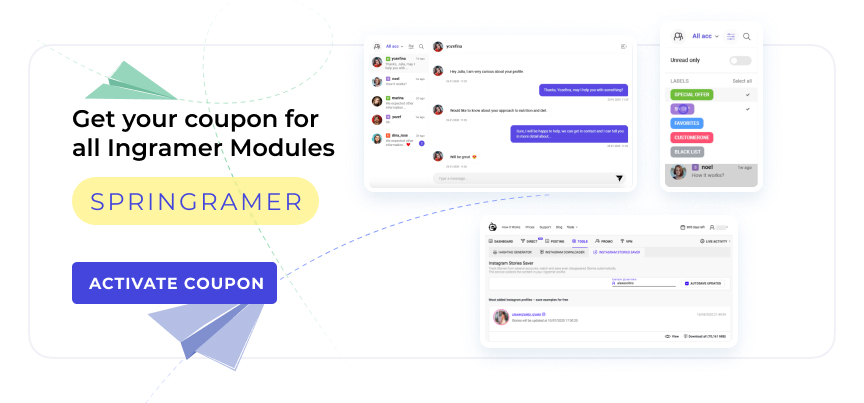 Enter the promo code during payment and get a discount for Promo, Direct Messenger and Scheduled Posting modules!
Streamline your sales right now!
THE EVALUATION OF OUTPUT (GENERAL RECOMMENDATIONS)
Analysis is key to growth. This is unquestionable. The results of each campaign should be analyzed, and so should be the results for a certain period.
Check the sales dynamics before and after.
How to measure:
sales growth rate = (Current period revenue / before period revenue) * 100
If the growth rate is over 100%, than you have positive sales dynamics.
If it's equal to 100%, you're facing a situation in which sales have not changed.
If it's less than 100%, you're having lower sales.
This way, you can find out what messaging campaigns and communication techniques work for you (or for your clients, to be precise.)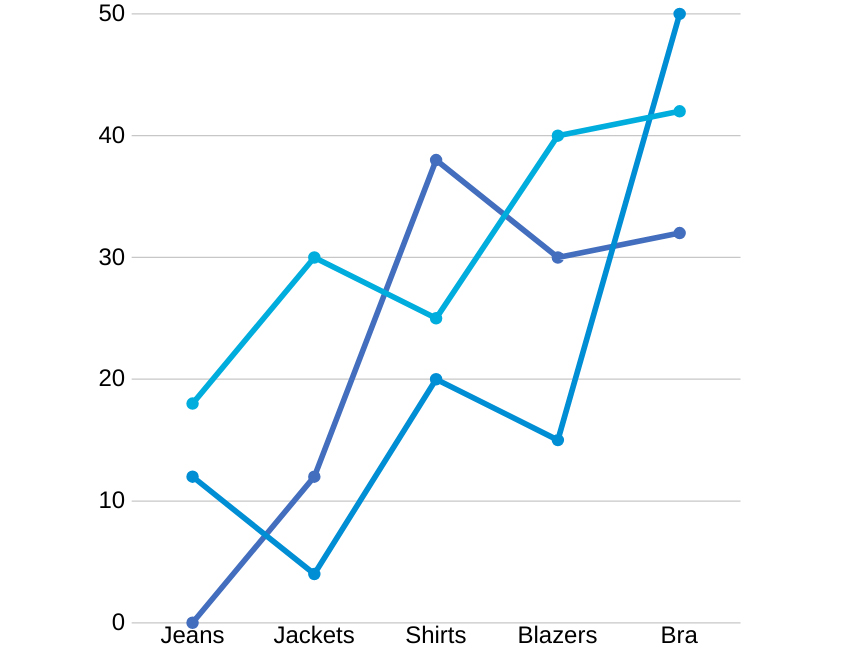 Customer Intelligence
(client base analysis.)
With it, you can identify the customer growth rate, as well as the degree of elaboration of the existing base.
You need to estimate your
total customer base
(this is the total number of customers to whom you have ever sold the goods, or you have arrangements for a future sale) and the
active customer base
(this is the number of customers who made a purchase in a certain period or for a particular product group.)
According to these two indicators, you can track the influx of new contracts, which indicates a potential increase in sales.
CAN YOU INCREASE YOUR CUSTOMER BASE BY 100% BY SENDING INSTAGRAM DM ON PC? [REAL CASE]
I would like to share one example that made all our team think that we develop really useful things that help people get what they have desired.
Related article:
$3024 in Exchange For $28 and 2 Hours: How a Business Can Boost Sales with Direct Messaging
An online shoe store has become one of the first users of
Instagram Direct Chat
. It was presented on Instagram long ago, but sales went down, and a new solution was needed.
With their permission, I decided to share their experience and results after using
Instagram Direct by Inflact
for 2 months.
Investment:
$29/mo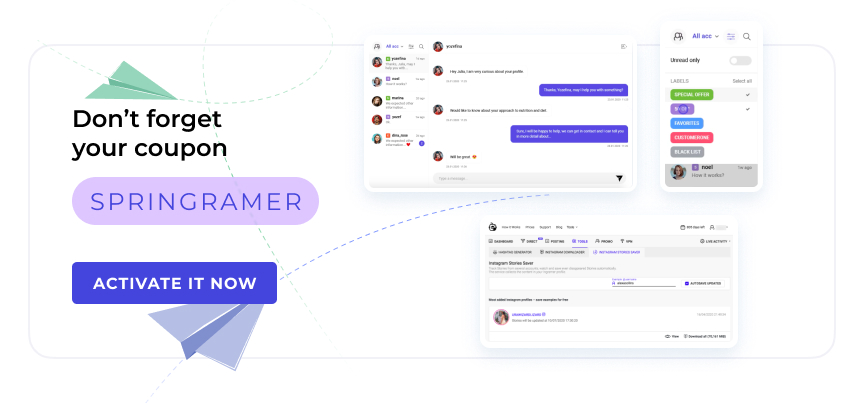 he promo code during payment and get a discount for Promo, Direct Messenger and Scheduled Posting modules!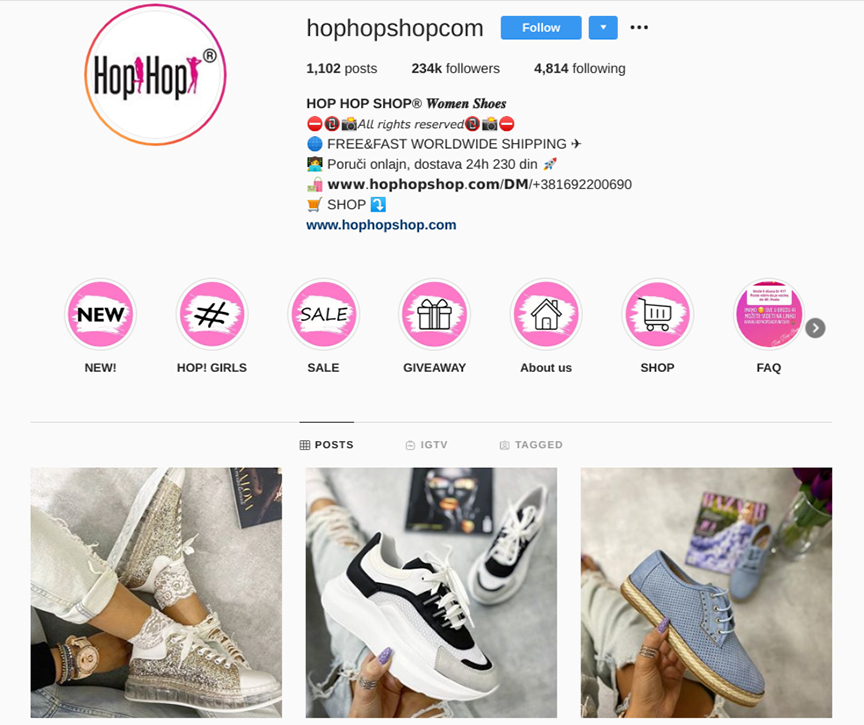 Strategy:
Growing the customer base through engaging new followers with a welcome message.
Maintaining communication with existing customers and nurturing loyalty through value messaging (notification about sales, special offers, exclusive information, etc.)
Improving teamwork inside the brand (sticking to a single communication style, avoiding mistakes, and confusion in the work of all account managers (5 people)).
Process:1. Welcome campaign
The first thing that was streamlined was the establishment of contact with new followers. As the number of daily new followers was quite high (around 90-130 users per day), automation was the first aid.
For such a great number of followers, the randomization required creating up to
5 different variants of each phrase
. Thanks to that, the account was never blocked. The campaign became successful.
Results:
The open rate was 78%.
Unique customers saw a 25% growth.
2. Increasing loyalty and sales

Only the third campaign was successful and brought visible results. The issue was that with the huge audience, the detection of active users who were ready to buy took time. Once managers sorted all users into groups (Labeling), messaging started to pay off.
Results:
The open rate was 67%.
Unique customers saw an 88% increase (1st month), and a 101% in two months.
Purchases closed saw a 262% growth (positive sales dynamic).
3. Teamwork
Such a good result was possible mainly thanks to the well-coordinated work of the team of managers, due to the CRM system implemented.
Results:
The productivity of each manager increased by 50-60% on average.