Lowering response time significantly enhances customer satisfaction — the most important metric for any business. Check how you can do it with Inflact!

91% of unsatisfied customers will never come back to you. And, as you know, Customer Churn is nasty stuff! Especially if you run the direct sales process on Instagram — users have a huge choice.

So, focusing on constant improvement of customer satisfaction is the most beneficial strategy.

According to researchers, 42.9% of customers name Response Time the most crucial factor for making a decision on an order or purchase: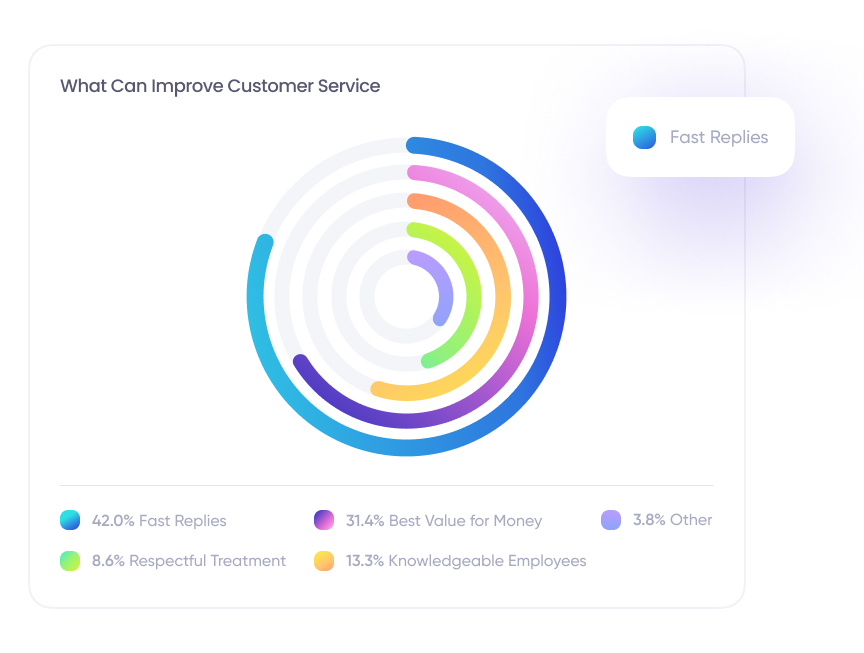 This article will teach you how to respond to customers faster with Inflact Instant Message Replies. Plus, I will share some tips on how to bag more deals on Instagram using just one tool.


How to respond to users' queries faster?
Inflact has recently introduced a refreshed Instagram Chat module and now offers Instant Replies for its clients. It will take two steps for you to lower the response time:

1. Measure your current response time and set the objectives
For small and medium businesses, the average response time should be around 5-10 minutes maximum. The perfect waiting time is up to 2 minutes.

Analyze your communication with users, calculate the average time.



If the response time is above 10 min, probably, you are losing clients.



Aim at reducing this time. You have two options: hire more managers or set up quick replies.

2. Set up Quick Replies


Go to Inflact Dashboard ➛ Direct Tab ➛ Direct Messenger;
Open any chat and click to open the Quick Replies window;
Click to create the first quick message template;
Enter your message and a shortcut keyword, by entering which the relevant message will pop up ➛ Save;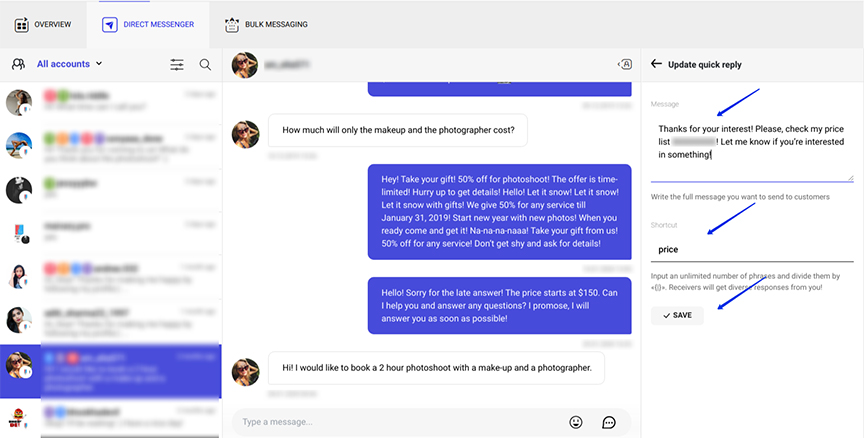 Next time you need to send a message, type the shortcut, and the message will appear immediately. Click on it and send.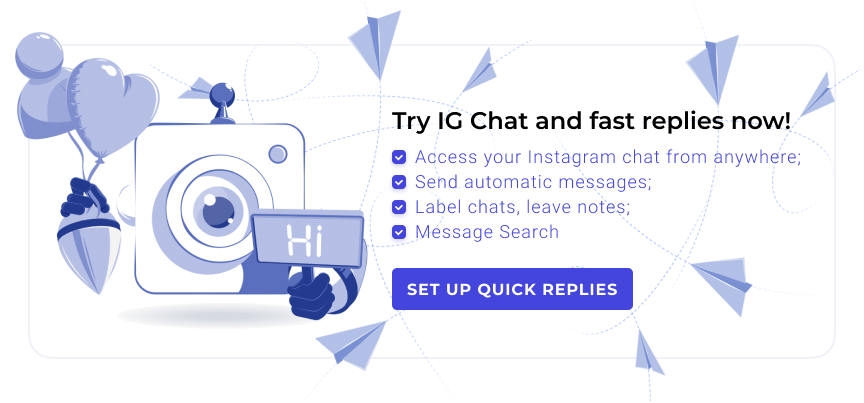 Related article: Instagram DM Online: IG:DM vs Inflact Reviews!


What messages to make quick? [+ Inflact's clients examples]
Messages about the assortment of products or service:
Messages about prices:
Messages about the quality of the materials:
Messages about sizes:
Payments details:
Shipment details:
Thanks-for-the-purchase message:
Examples: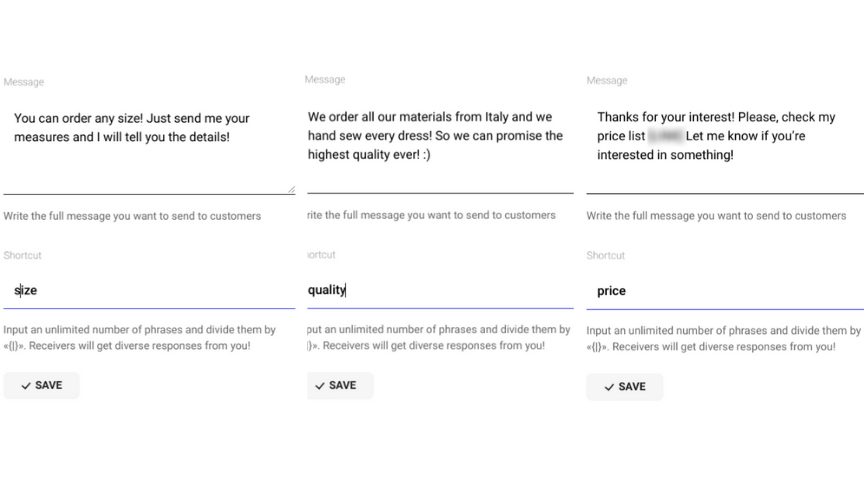 How to streamline the communication process and sell more?
Fast Replies is not the only feature of Instagram Direct Messenger. Inflact provides the full-fledged customer relations system based on Instagram Direct: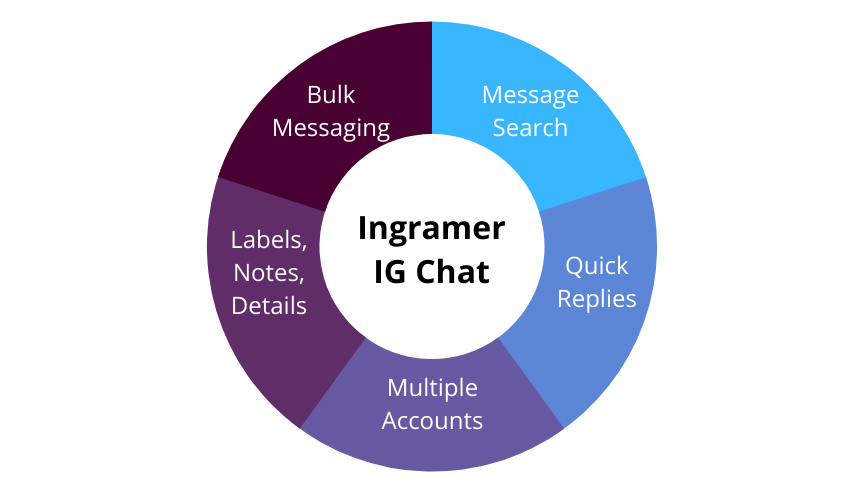 1. Send welcoming messages to all new followers. Your new followers are your potential clients. Sending 'Hello, thanks for following' will increase the user engagement.

Related article: How to Boost Response Rate and Sales? Examples and Case Study!

2. Regularly notify followers about significant news and provide exclusive 'insider' information. That will help build customer loyalty.

Related article: $3024 in Exchange For $28 and 2 Hours: How a Business Can Boost Sales with Direct Messaging

3. Label chats to categorize customers and notes to memorize vital information. That will facilitate the search across all current chats and let all your managers have equal access to information about clients and their statuses.

4. Use a search across messages to find the necessary info among thousand of chats in a couple of seconds.

Related article: Instagram Messages Search For Your Ecommerce Activity Sake + Case Story

5. Connect all your accounts for convenient access from any gadget and OS.

Basic tips for enhancing customer satisfaction
There are a couple of tips which all come down to one — put your customers in the first place — front and center.


Respond quickly;
Never be rude and categorical;
Resolve issues before they appear;
Regularly provide useful (and pleasant) quality information;
Offer discounts;
Ask for feedback;
Stick to one communication style;
Deliver what you promise.
Remember: satisfied clients tell their friends, unsatisfied tell Google.
Inflact works for your business and social media presence. I hope this article and Instagram Quick Replies, of course, will help you level up your communication with customers. If you have any questions, contact our support team.
Love, Inflact