Here are new essential social media trends for 2023 to follow. Get into this article to find what we're heading for in the topic of Instagram content aesthetic, types, and even genres.

With the year rolling out, Instagram cracks it with 2.4 billion active accounts worldwide. Moreover, 90% of users follow at least one business online, and more than 80% consider it the best place for engagement with a brand to research new products and services.
Let us face it, the platform is not about being a digital album anymore. They have created something bigger, a true universe with its authentic rules and laws. We are to decide what planet to settle on, ranging from lands with funny cats lovers and ending up in a heart surgeon's community. You see, the planets may vary, and yet they all share the same stars. It is easier for heavenly bodies, though, a black hole transformation is enough to shake the Space up. Instagram trends for 2023 should prove that they are worthy.
So if there is a wish list item to find Instafame this year, you'd better have these seven top content, viral, and smash trends predicted to get ahead along the way.
1. The Instagram trend for carousel posts & memes (continues) going viral
Creating informative carousel posts can increase engagement and reach, as your community is likely to keep them (and come back to them later) or share them with their followers.
The same can be said for memes. Memes that are done right create comic contrast and encourage users to share with friends and family.

There are two main strategies:
IN to OUT Strategy
Focus on content that generates interest. By doing so, you automatically increase engagement on the page. Gamification is a quick fixer here. Ask questions to the audience, offer various tests or challenges, even a giveaway can be a nice shot. Anything that makes the user react will do.
OUT to IN Strategy
This is the content the user is likely to go back to or share for thinking it useful. Basically, this function is performed by educational content. For example all kinds of how-tos, tutorials, and case studies, anything that potentially can teach you something seems to win a black flag.
Lifestyle informational posts might work out for mega-influencers, but the overall tendency remained somewhere in 2018. The current Instagram trends are no longer about being self-centered, the value you put into your account matters more. Don't make people jealous, try to help. Come up with picks, reviews, checklists, you've got the idea. If you give people the content they need, it would hardly ever be ignored.
You can encourage users in a like manner to share a post with friends and family or keep it for themselves with dear old memes. Done right, comic contrast makes you related. You see yourself in them, smile and keep good ones to scroll through them more than once or at least perk up somebody else occasionally. Truly an evergreen trend!
Just fancy, a single shot or a small video is able to generate an exorbitant amount of funny captions. To find that very image worthy of your natural wit for tremendous and born-to-be viral memes creation, try Instagram Downloader. It is the best tool where you can just copy the link of any meme you want to post in your carousel post and paste it into the Downloader. In a moment after you click the Download button, the image will appear in your device library. So you're ready to follow meme trends on Instagram.
Collect memes of Instagram
Get any meme from Instagram in the original quality right from any account.
Keep up with Instagram follower trends and use trending memes to humanize your brand. People like making connections. They enjoy investing their time and money in something they know are on their side and can relate to.
Please, bear with it, before incorporating memes into your social media strategy, it's important to consider whether they are still relevant. Successful memes are gaining popularity on a dime, but the reverse process is the same instant. If a meme peaked six months ago, it is unlikely to perform as effective today. Hans down, there are immortal classics, such as numerous screenshots from Friends or The Matrix.

Yet, a bunch of them are fleeting trends that die along with the newsbreak, such as the famous #mydogsteppedonabee by Amber Heard.

Does it make sense for your brand to communicate this way? If it is definitely not your tone of voice go with the content carousel mentioned in the first part.

2. Short Forms of Video Content Go on to Be Used Far and Wide
It was not that long ago, when we were testing waters with Instagram story trends. And now it is a part of everyday content creation routine. So, it is high time we mastered Instagram Reels trends that revolutionized the platform two years ago.
After TikTok took the world with its quirky, casual, and creative videos, it was a matter of time for a new format introduction. Initially the main focus was on Gen Zs in the attempt to hunt for the younger generation. Nobody expected millennials and seniors alike to flock to a new format with a similar intensity. What a sheer serendipity!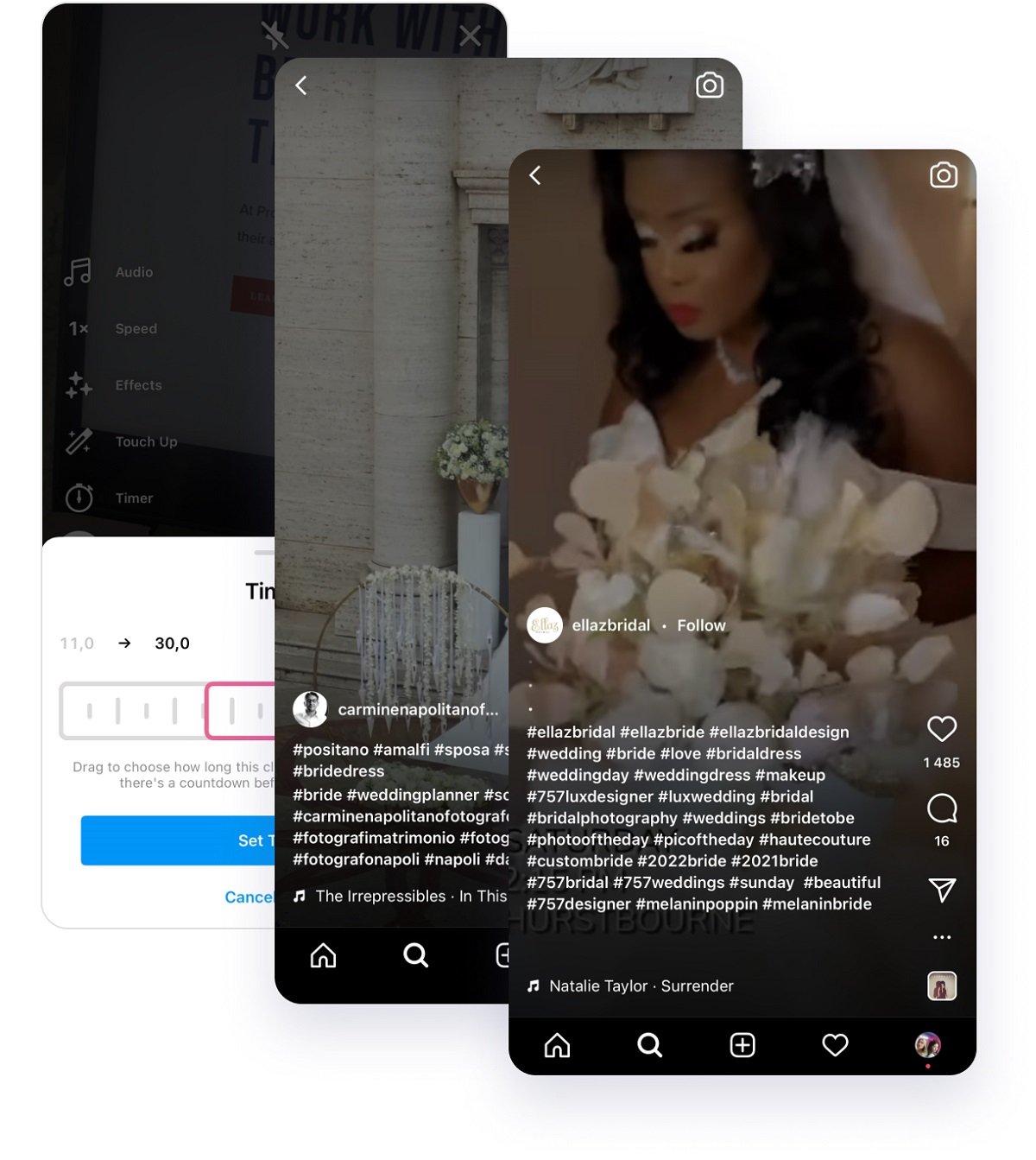 Actually, you can download any video from Instagram to reuse for your Reels.
The shift to short video content can be the result of reduced focus, ease of sharing, or the potential to go viral.
With Instagram Reels, brands and creators can create educational content, showcase their products or services, and be creatively entertained.
In 2022, we predict Instagram reels trends to be:
continuing to experiment with Reels, for example, with Reels Play challenges to earn money from Facebook for reaching certain production and performance milestones each month
creating a more personalized Reels algorithm
brands and influencers working together on Reels content
brands will be more focused on videos and stories on Instagram rather than posts
3. Credibility in Captions, Stories and Posts
Authenticity is a growing Instagram story and photo trends today, and we predict it will become even more popular in 2023.
No editing
This year, more and more influencers have used their platforms to share less carefully curated and filtered content. It is not a direct call-to-action, aesthetics still means a lot. The idea is to use more professional devices or natural presets that make any changes less vivid.
Blurred images
You can advance further and create blurry or desaturated photos as if you were just walking around, saw a beautiful frame and captured it on the go. This effect makes the picture lively and dynamic.
Color cacophony
The order of posts becomes natural. "Eternal feed", "checkerboard" or a single color scheme brings nothing. It is rather plain and boring. Style consistency is replaced by chaos and the absence of rules. Random photos, no processing, lack of single pattern are what put any profile on fire. The content may differ in quality, but the whole picture makes harmony.
Routine video

Inspiring routine videos about your daily stuff is a great content generator. Show your followers something real. You can simply eat breakfast, create, walk or take a bath, and if it is served gracefully, we bet your stories will flourish. Today you shouldn't bother too much about how to find the Instagram story trends, popular music and top-notch shooting will settle everything down.
Lined and squared
Stories that are similar to the printed publications are well-received. Various fonts, frames, diagrams and geometric lines structure the material for better perception. And as we have already learned, the focus now is on the audience. So, provide them comfort and bask in their commitment.
Moving from "perfection" to transparency can make a big difference — as it buys people's hearts and moves them a lot. The trend of Instagram businesses and influencers - more honesty. And it's not just influencers who take advantage of this — brands have jumped at the trend, too. Native ads are close to trust speculations, and at times the difference is too vague. Once public credit is lost, no money can buy it back.
The ads covered up as personal recommendations are seen as misleading and bring higher risks. Such practices are things of the past. The content now is marked as sponsored or tagged as #ad or #advertising. Straight dealing causes respect and airs reliability. Being open and honest about doing business can build a stronger, more supportive community and drive traffic to your site.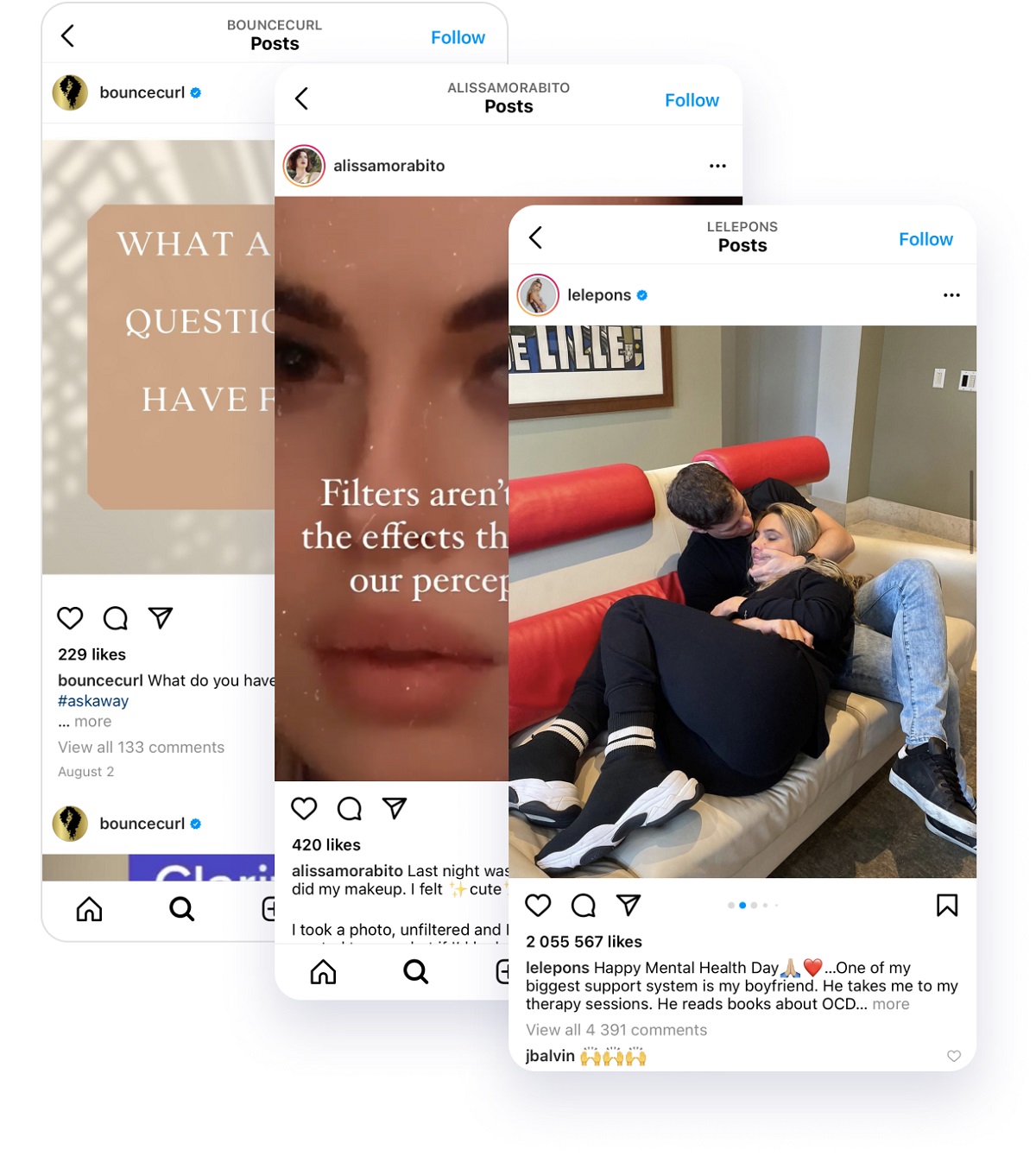 We've noticed a growing trend in conversations about mental health, body positivity, entrepreneurship, and more in 2022 — and we predict more open books to come in 2023.
4. Instagram Fashion Trends Now Set by Shops — and this is an E-commerce Tools Trend
2023 was the year that Instagram continued its try to become a digital showcase for brands and creators.
With the advent of Instagram Shopping, there is a more convenient way to find products available for purchase. That gave users the ability to "Browse Stores," view "Editor's Choice," and much more.
Instagram Shopping trend 2023
And that's not the only e-commerce feature in Instagram's toolbox. Over the years, Instagram has released e-commerce tools such as:
Shopping posts;
Story stickers;
Purchases from Creators (purchases from creators);
Instagram Checkout (purchases on Instagram);
Shopping life.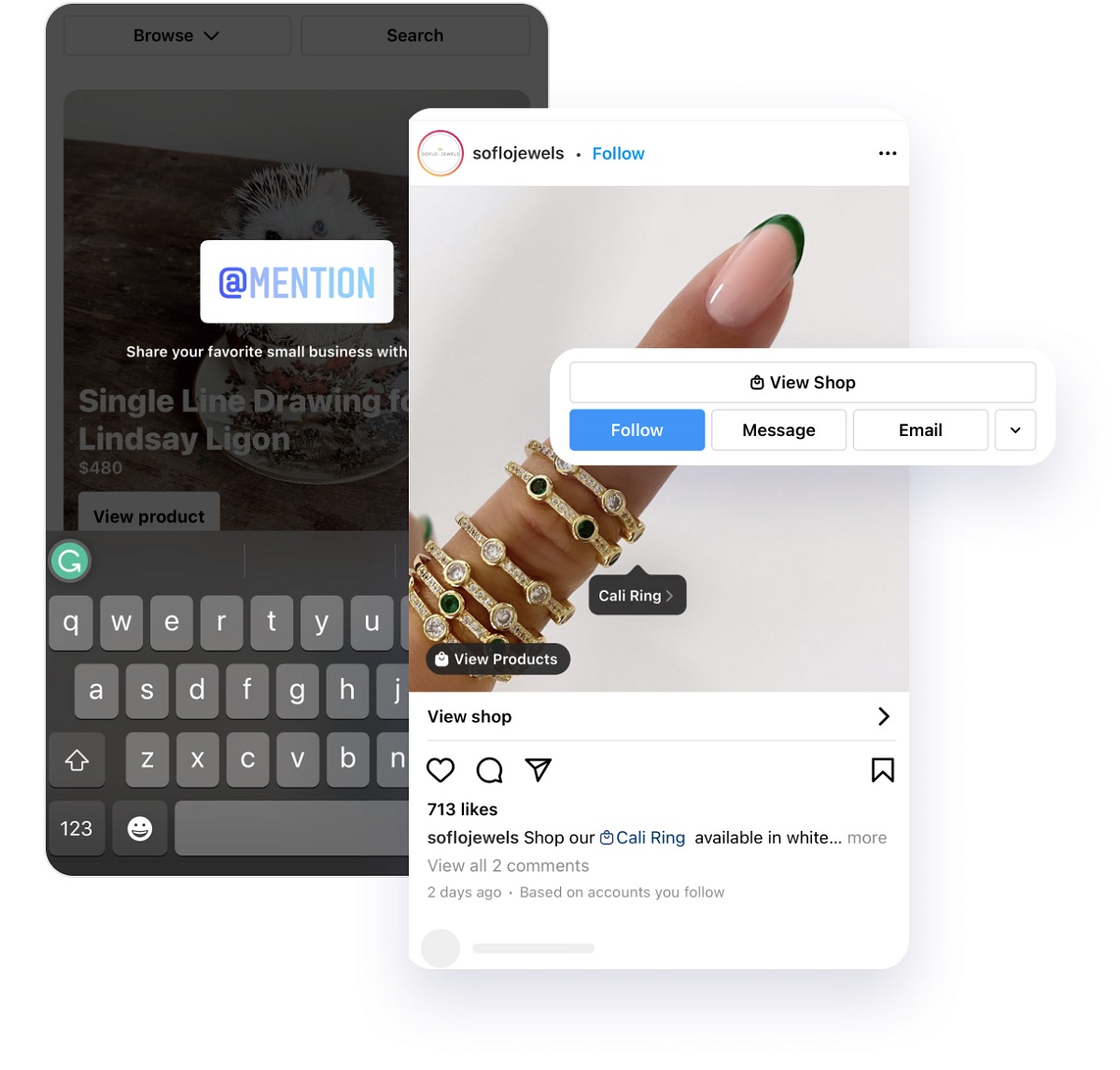 Why have many of these features become available globally, and why is there an increasing focus on e-commerce tools?
According to a May 2020 Instagram press release, this was a response to the COVID-19 pandemic:
"Many small businesses are struggling right now, and with store closings, more and more are looking to take their businesses online.
Our goal is to make shopping easy and enable anyone, from small business owners to global brands, to use our apps to connect with shoppers."
That is why it was not too late to launch an Instagram shop in 2021, and it will not be late to do it in 2023.
5. Augmented Reality Connection Instagram Trend
As AR/VR gains more attention, Facebook is working to become a leader in this area and, if it wants to maximize its appeal, especially among youngsters. It will also need to integrate more AR features on Instagram. And this is not only about beauty masks and branded AR filters.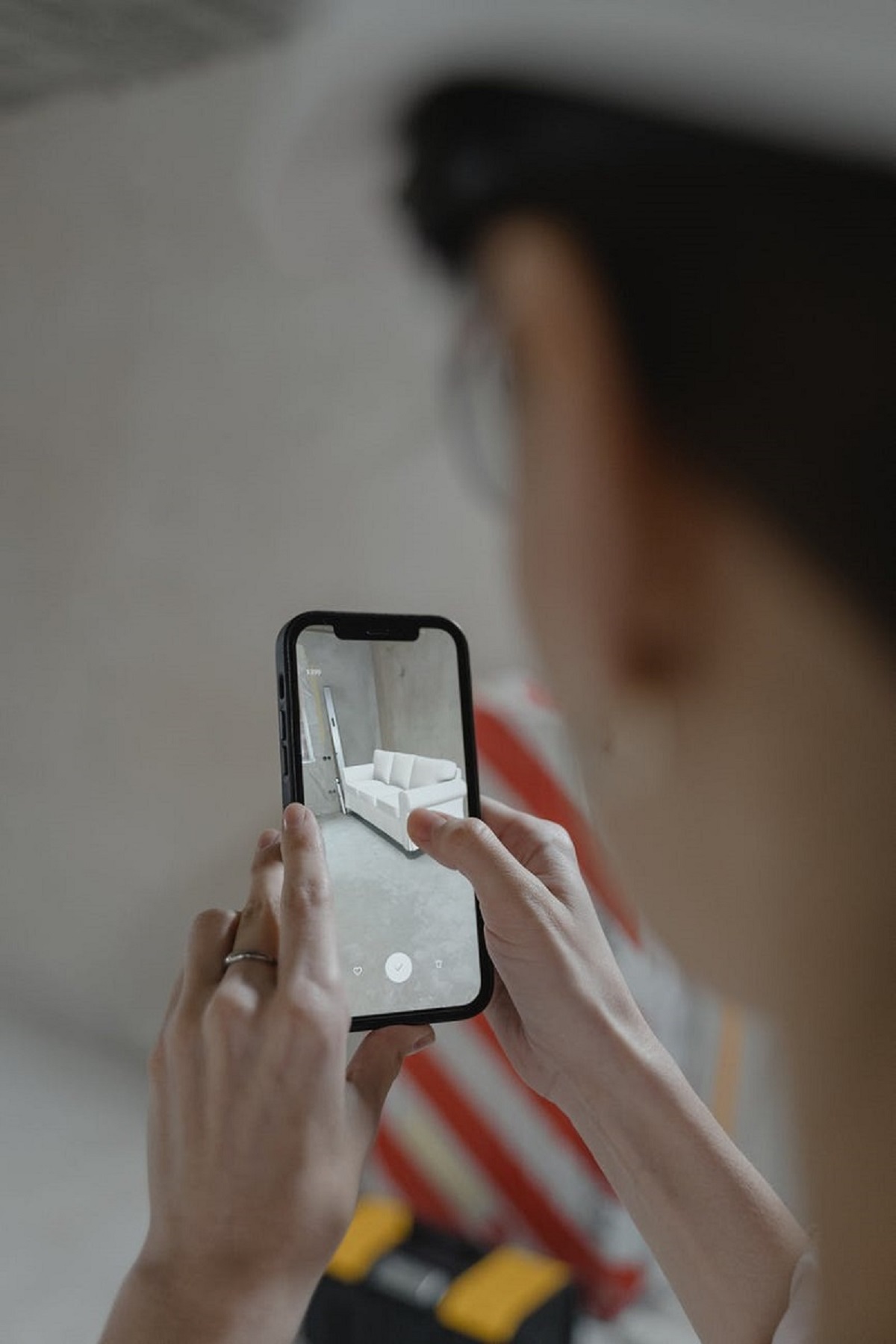 How will these new Instagram trends look in practice?
Instagram will be directly linked to its augmented reality glasses and tools, will be openly used as a platform to showcase your video footage, and will also be connected to the evolving augmented reality capabilities through Facebook wearables.
Just like Snapchat, where you test your AR capabilities, Instagram will be Facebook's AR portal, where it will connect its evolving capabilities with users. This will also extend to NFTs (already in development) and digital avatars, which will increasingly integrate into the IG experience.
6. Focus Change for Current Instagram Marketing Trends
We were half expecting Instagram to try it out in 2023, but with video becoming more relevant, we're more confident that this is what the platform is heading towards eventually. Instagram social marketing will change soon. It will provide users with the ability to open the app to view their latest stories or videos, as opposed to traditional feeds of images and video posts.
Video engagement is already dominating the platform, judging by Instagram Reel trends. With that in mind, it makes sense for Instagram to focus more on these formats, and we expect it to start with the additional Stories/Reels home screen option first before eventually ditching the traditional feed entirely. Even Instagram aesthetic trends will be created right in Stories and reels.
Users will continue to be able to post images in this new state. Instead, they'll just share them to Stories, which will remain on their profile by default. Then they will discover the variable Stories/Reels feed, relying on interaction with both.
So, if you're not ready to face any changes - it is better to download all content from yours (or any!) Instagram account. And finally, feel safe, as all the info will be stored locally.
This is a big step from the app's beginnings, but broader user behaviour indicates that it is the future, and if Instagram wants to stay connected, it needs to move away from its original focus.
E-commerce sections, like Instagram shops, will be the only area that uses traditional static messages.
7. Instagram-based Shows Marketing Trend
The first Instagram series is dated July 2013. However, the real fashion for this visual social marketing idea on Instagram has come only now. Special companies are engaged in the production of serial films, and the series themselves have significant budgets.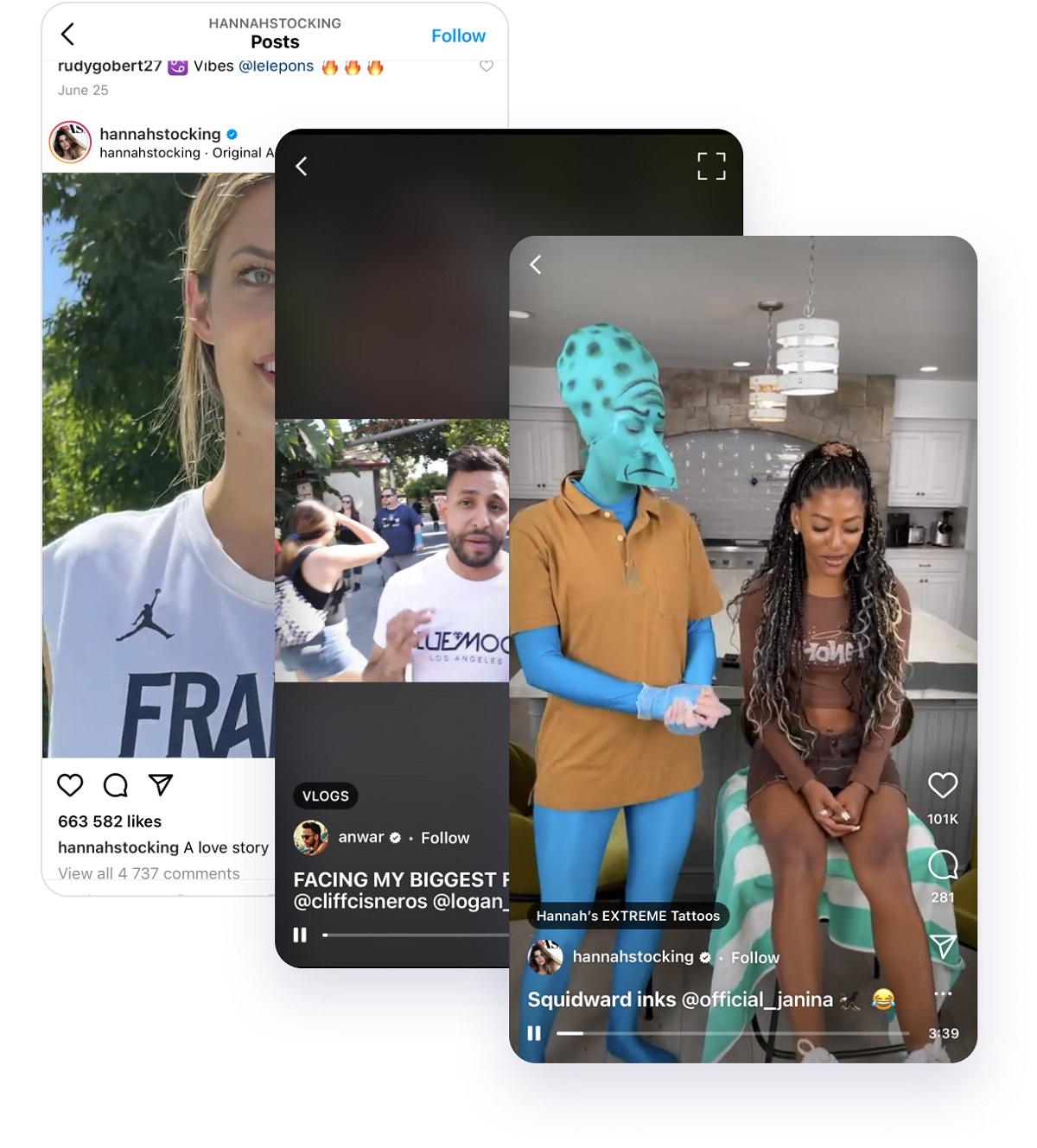 How do you use the miniseries format to follow an Instagram trend 2023?
Brands very quickly picked up the new format and began to use it for the benefit of sales. So, the clothing manufacturer GAP launched a whole soap opera on its Instagram. Or you can even shoot a reality show!What was once a beautiful photo-sharing app is becoming a complete e-commerce platform that allows brands and creators to monetize their content. And we don't think Instagram will slow down anytime soon.If you're not ready to test yourself as a filmmaker, Instagram trends search is sure to inspire you with existing cinematography.
The Wednesday Trend Phenomena
Netflix's Wednesday is the mother of this year's trends. The series literally have blown up the platform at the end of 2022, and go ahead with it. Not only did it make Jenna Ortega famous overnight, but also miraculously resurrected a ten-year-old Lady Gaga's lyrics. Her Bloody Mary crowns all Instagram music trends. We don't discard disses on exes from Shakira and Miley Cyrus, but they never dreamed of such a comeback. The most shazamed song in the world is used in a variety of videos from clothing commercials to fruit and vegetables picks.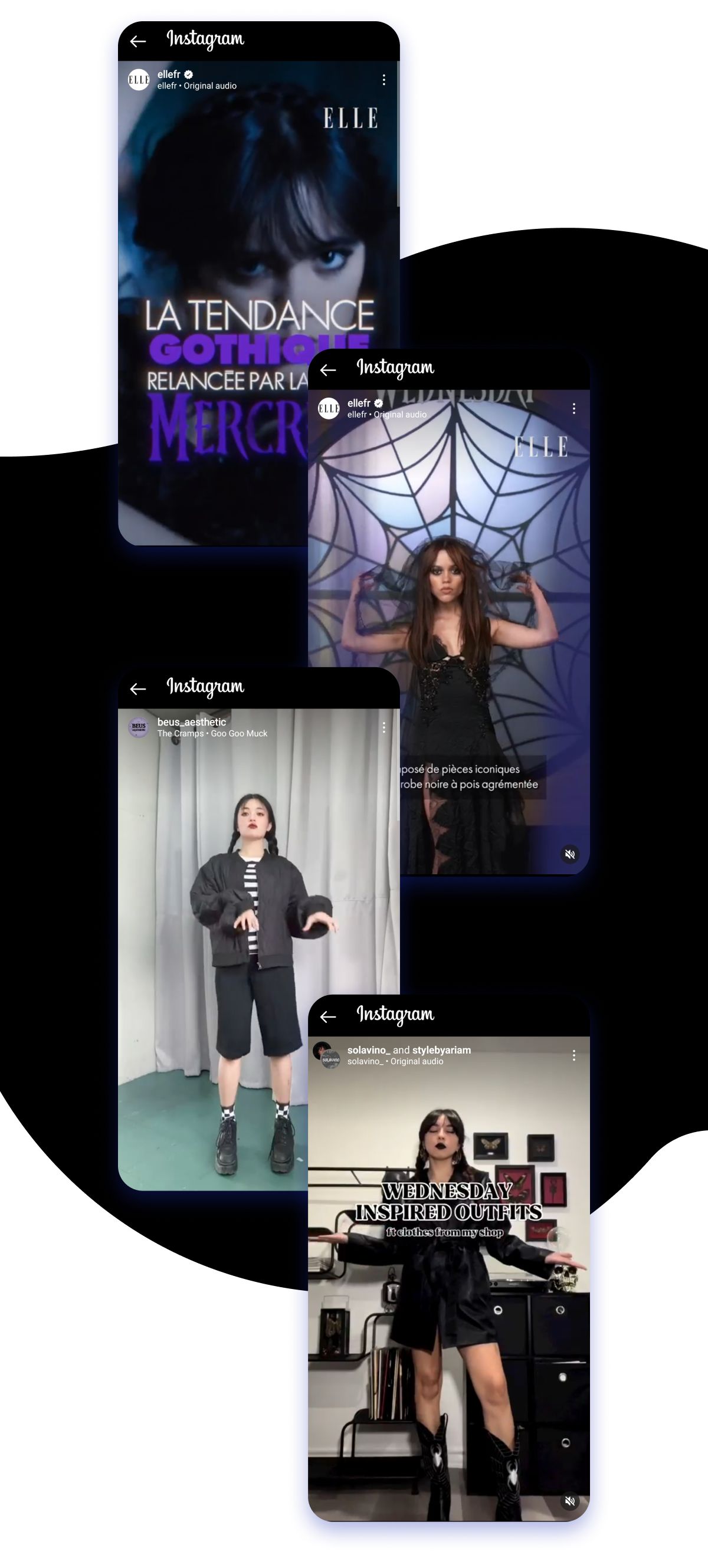 While listening to the track, you are still able to somehow restrain yourself. The uncanny show stopper from the leading lady will surely make you roll eyes and wave arms frantically. This is the real king among Instagram dance trends, being danced at home, on ice and even underwater. Moreover, energetic, explosive displays that go into quieter passages are liked by both children and adults, and even serious companies are under its spell now.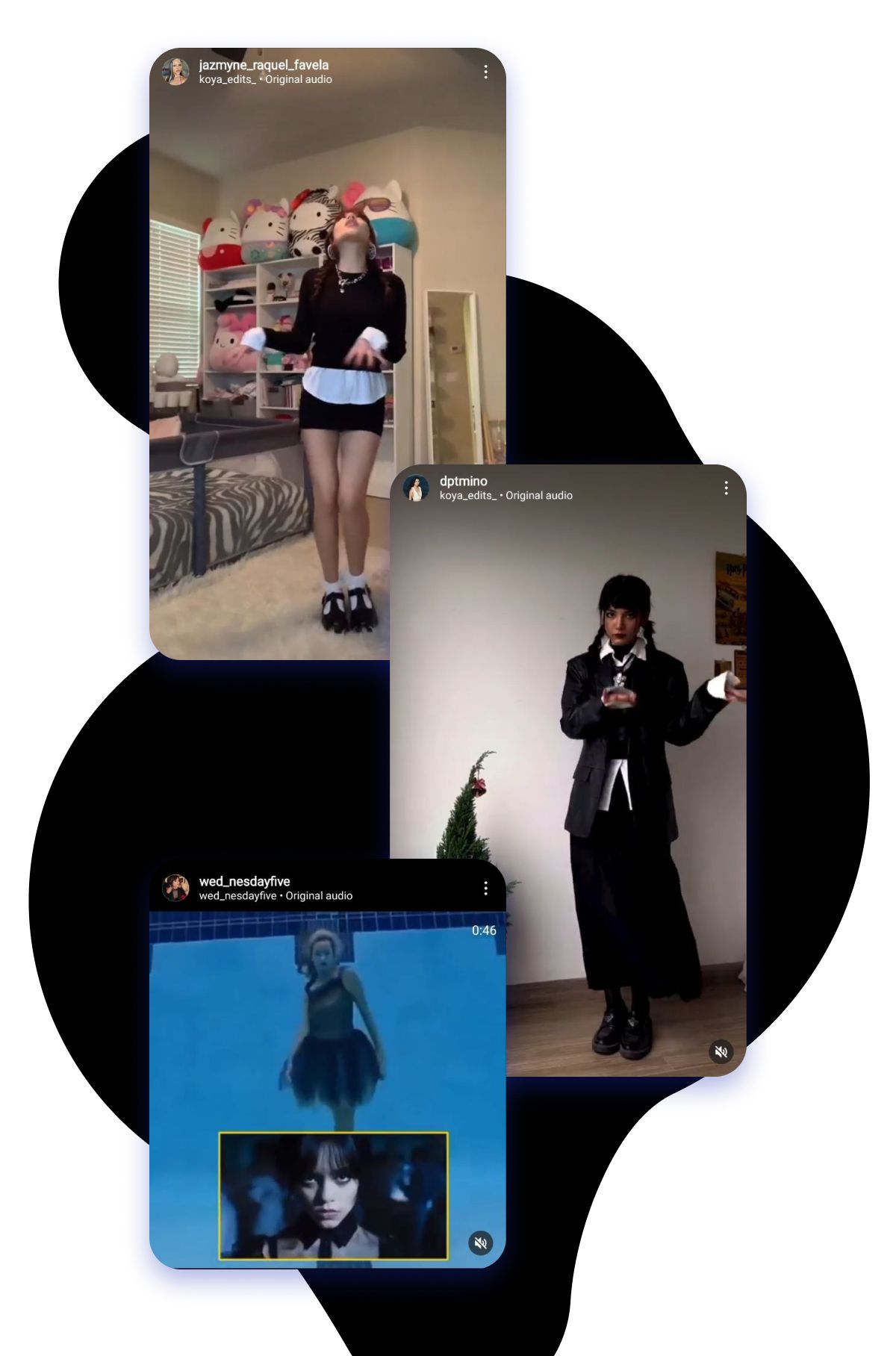 Any creative person will no doubt be imbued with the spirit of gothic romance, which is why Instagram art trends are now also paying tribute to the gloomy girl with pigtails.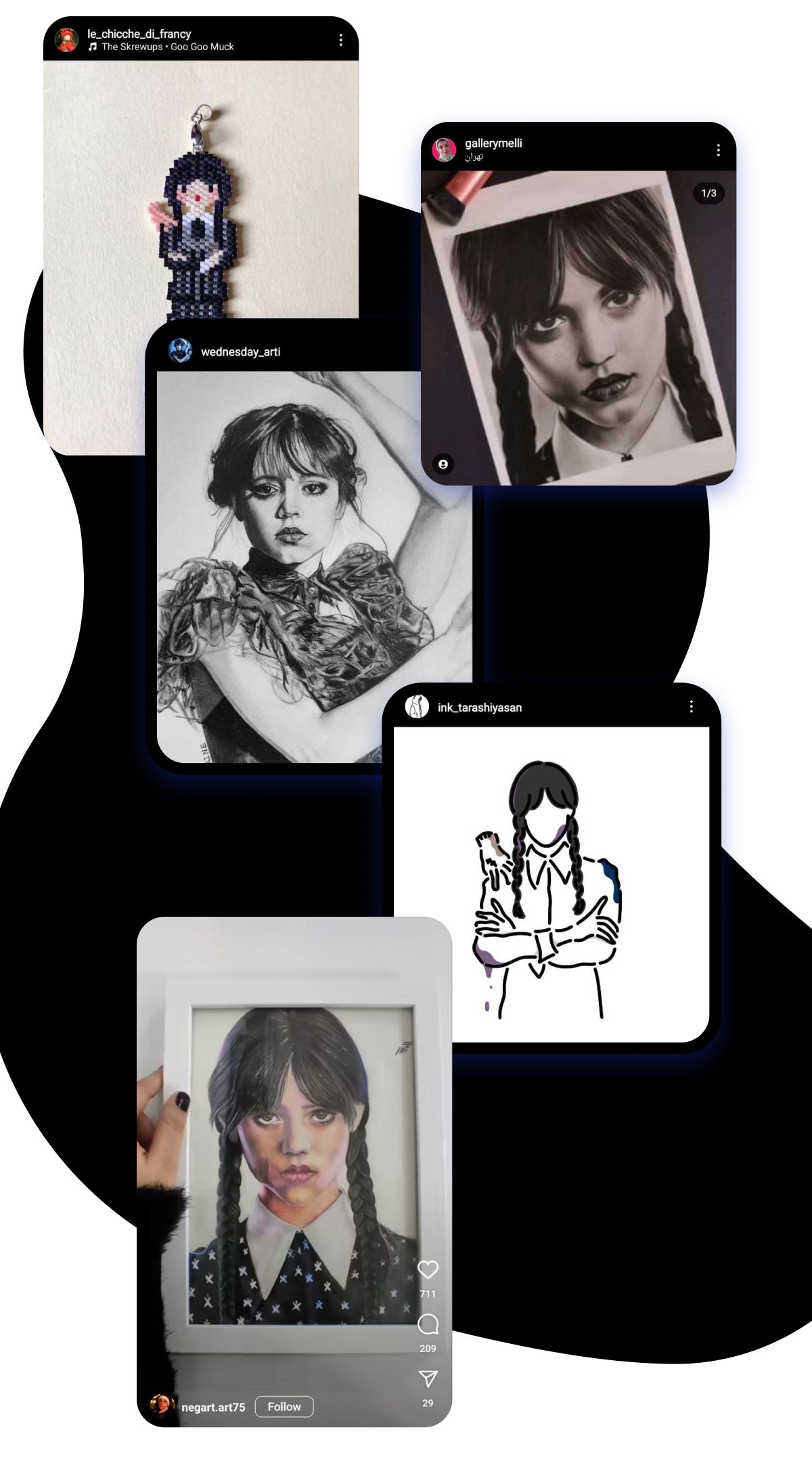 And like icing on a cake, Wednesday made its way into Instagram food trends. Many people are now celebrating in the style of the Adams family, which cannot but leave its mark on the work of confectioners.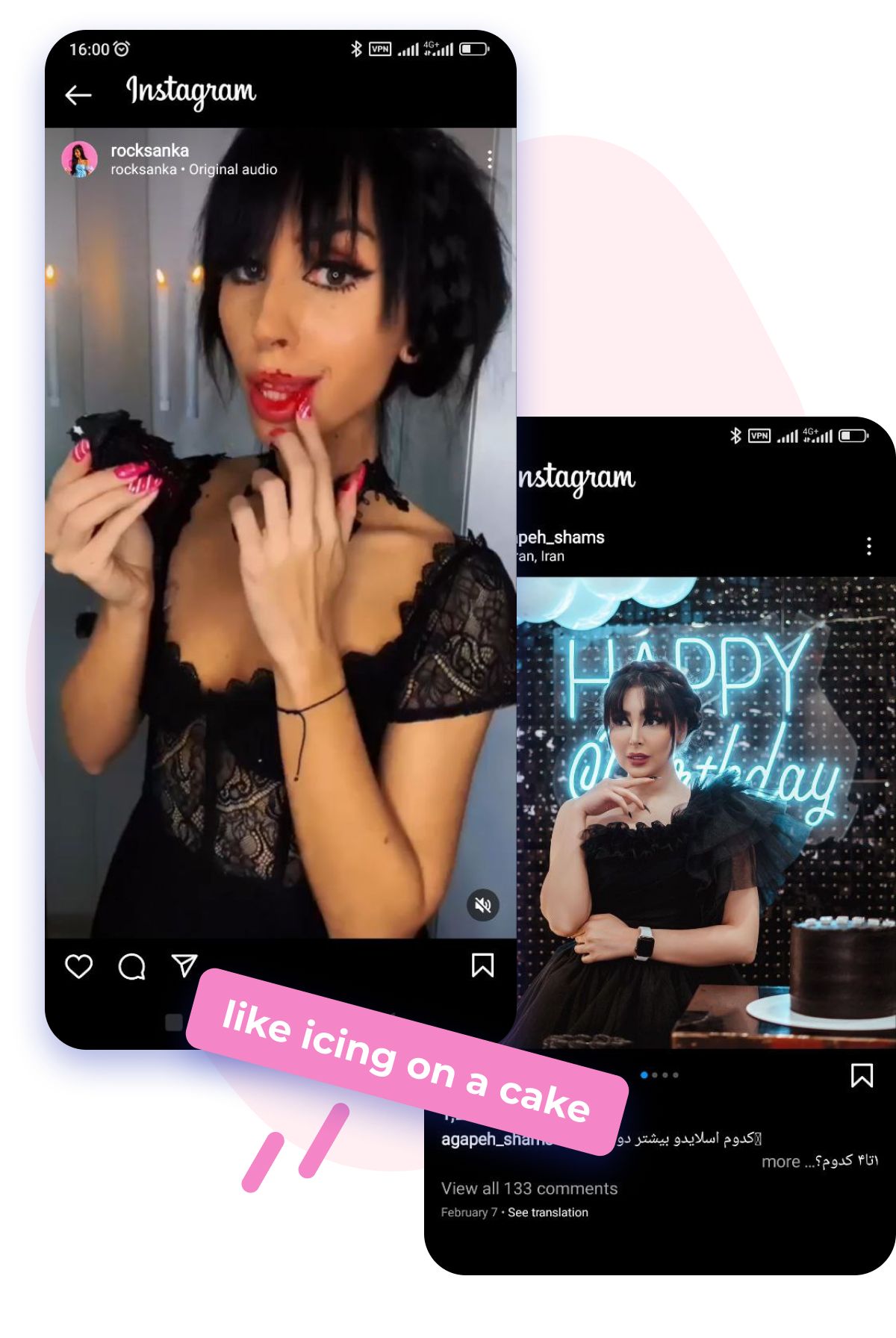 The Bottom Line
With so many changes just around the corner, it can be difficult to plan for the long run. It is almost impossible to guess whether the trend will stay for at least a year or will fade away in a couple of weeks.
And again, being equipped with these seven trends, you will be better prepared for the future of Instagram marketing and can begin to allocate the resources you need for your Instagram strategy for 2023.