The world of Instagram is a world with its own slang and concepts. And you should know them if you want to promote your product or personal brand on this site. SFS is a trend that you need to know to get Instagram followers. And based on it, a whole group of hashtags has appeared.

It is hashtags in 2023 that can help you become famous on Instagram. The fact is that the updated search algorithm in the application has greatly increased the importance of hashtags. Perhaps you have not seen or noticed this yet, but now you can search by keywords and one of these words can be a hashtag.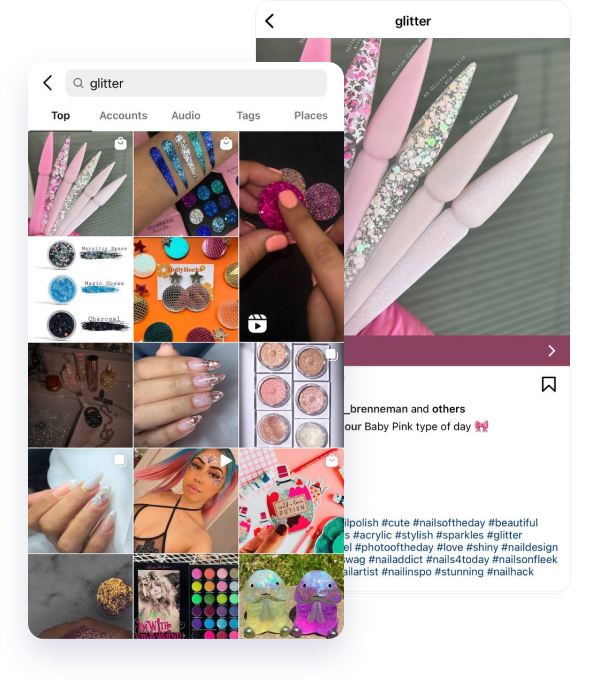 How does the new keyword search work?
The user enters a word into the search bar. For example, they want to find a fitness trainer, so they enter the phrase "fitness trainer".
The first thing they see now is the gallery of publications. That is, before it was a list of profiles and the index was based on the search for words in the bio. Now Instagram can search by the words in posts. And the index includes hashtags from the publication.
It would be inconvenient and strange to use a dozen synonymous words in the text to help you get found — for example, fitness trainer, Pilates trainer, fitness class, etc. But you never know what the target followers will search for, so the best strategy is to include as many synonyms as possible in hashtags.
Therefore, you should know two things: what words and queries customers may use to find you, and how to choose hashtags.
Later in this article, we will look at the hashtag selection mechanism — for this you only need the Inflact Hashtag Generator.
If you know trending words like SFS, then it will be easier for you to select tags to get to the top.
SFS — what does it mean on IG and Snapchat?
Each of you has seen shoutouts on Instagram. This is a type of cross-posting where a blogger or stakeholder publishes a post about another blogger, product, or service.
SFS stands for "spam for spam" or "shoutout for shoutout."
You can see this tag:
in the story caption
in the signature with the text of the post
in hashtags
By the way, the gallery of the very first and original SFS tag has more than 21 million posts.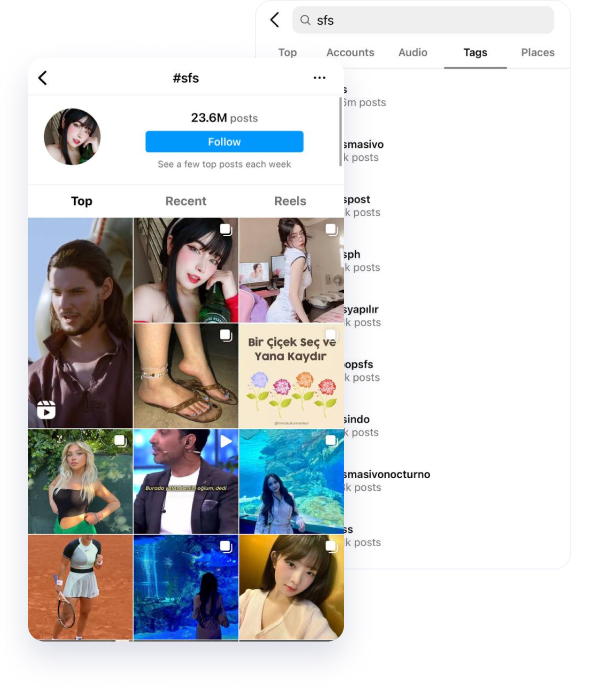 This trend originated from Snapchat. There, users can only share disappearing content. Therefore, they figured out how to promote each other faster — post each other on their page. They label such a snap with the abbreviation "SFS" (snap for snap).
Thus, using tags from the SFS group and other related ones — for example, follow for follow (F4F), like for like (L4L), etc. — you can increase the organic reach and views of each post.
By the way, publishing content without tags is almost pointless if you are not a blogger with a million active subscribers. With hashtags, your content will appear in 30 galleries for each tag. That is, it is 30 times more likely to be found by someone entering a keyword query into the search bar.
How to use SFS promotion
SFS can be a whole strategy where you will publish content on niche large accounts.
Cross-posting can be used for any form of content:
Reels — This simply must be used. You can use a video downloaded from another profile and increase its reach through SFS hashtags. That is, it will be a cross-promotion for the author.
Feed Posts — This often works with visuals that you download to enhance your feed. For example, you can find 5-10 content creators and download their photos to diversify your visuals. This is also cross-posting, because you will point the tag to the person, which can bring more viewers to his profile.
Stories — This form is more often used by influencers. They will promote brands and their colleagues by tagging such stories with ad or sfs captions. By the way, if you buy promotion through bloggers, then you should indicate that they must pin stories if you want a long-term flow of views and subscribers.
Why should I use SFS or cross-posting instead of paid advertising?
First, because SFS can often be implemented on a barter basis. And if the account has a warm audience, you are more likely to get subscribers. Because an advertising post is more often seen by a cold audience, which is much more difficult to hook on IG. Generation Z have stopped believing in advertising and are much more willing to follow the recommendations of an account they have been following for a long time.
Therefore, this type of promotion, along with accompanying hashtags, should be in your arsenal in 2023.
How to start an SFS strategy:
Research potential profiles. It can be both bloggers and niche accounts. For example, IG has profiles for promoting models, funny animals, and even belly dancers.
Start contacting them. Often, managers of such profiles indicate how best to contact them — via email or Direct — in the profile description. You can download a file with emails of Insta users through User Search. Then you can use this data for bulk emails.
To send messages to DM, we recommend the Inflact Direct Module. This is a CRM and chat that is essential for business — there you can leave notes for each person, organize chats as Kanban boards, and automate replies in Direct.
Often profiles you contact for promotion may not respond for 2-3 days or not respond at all. Usually out of 5 accounts you approach, 2-3 will answer. Therefore, the more accounts you cover for SFS promotion, the higher the chances that your content will be shared.
How to find top tags for cross-posting via Inflact
It's easy — you just have to do it right once.
Here's the wrong strategy: choose 15-30 tags once and repeat them in every post. In reality, you need to test different hashtags. New viral hashtags appear on Instagram every day, and old ones may become banned. Therefore, you need to update the tag database at least once every 1-2 weeks.
The right strategy: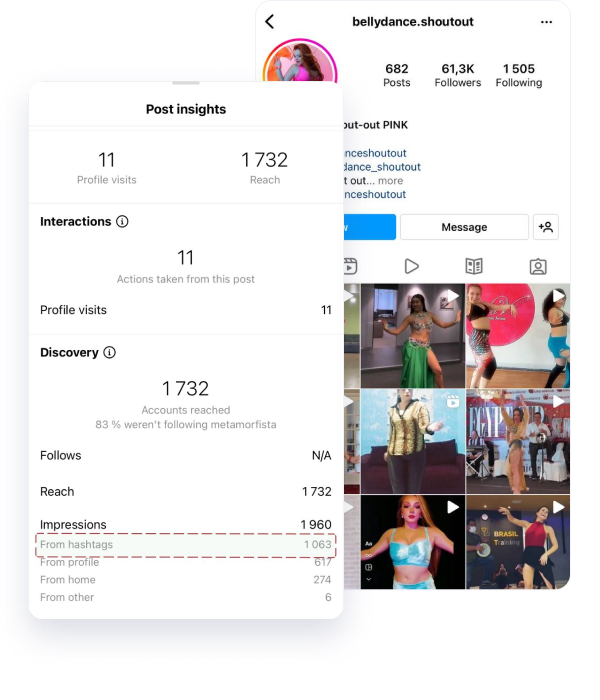 Capable of bringing almost 50% of the impressions just from a set of hashtags!
Let's clarify how to use tags in 2023 (the only organic algorithm booster!).
#1 The easiest way is to copy competitors' tags
It's fast, it's free, and it's simple; but we don't recommend making it your only strategy. To copy tags and generate more from them:
1. Find your competitor's account.
2. Insert the username into the Profile Analyzer.
3. Copy Top #Hashtags from the last 100 posts.
4. Paste one of them into the Hashtag Generator.
5. Get semantically similar ideas and paste them in your IG captions.
#2 Pro way — create groups of niche keywords
At this stage, you need to create an audience profile that matches the needs of your potential subscribers. You need to delve into the interests, lifestyles, and hobbies of your future followers.
The ideal keyword answers the question: How would customers search for your service/content in the search bar?
For example, if you're looking for hashtags for cross-posting or shoutout, you might not think of some useful synonyms and variations, such as:
#shoutoutforshoutout #shoutout4shoutout #followshoutoutlikecomment #pleaseshoutout #shoutoutme #shoutouts4free
Therefore, we advise you to use the Inflact AI Hashtag Generator — it will think for you and collect relevant ideas that include variations of your keyword. This will allow you to reach more hashtag galleries that you can rank for. It also increases the chances that you will be found through a social network search for relevant queries.
SFS-related hashtags to copy & paste
#shout_outshoutouts_ #freeshoutouts #likeforashoutout #artist_4_shoutout #instashoutout #shout_outshoutouts #birthdayshoutout #1kfollowshoutoutlikecomment #dmforshoutout #s4shoutout #artshoutout #shout4shoutout #shoutoutmeout #shoutout4shotout #shoutoutot #shoutout4stoners #shoutouts_4_cats #shoutoutmenimit #shoutout4shoutou #ilovemyfollowers #shoutouter #shoutforshout #commentsfirst #commentwhendone #commentsgofirst #shoutoutforshout #shoutoutpage #shoutoutplease #shoutoutforshoutouts #photoshout