If we view the social platform as a cross-section of our cultural needs, then it is obvious that we are interested in music, glamour, football and gossip. Here is a list of the most-followed accounts for 2022.

15th place: Neymar
167m
The young, but already incredibly famous representative of the Brazilian football school is sincerely in love with his favorite sport. Also, he likes large fees and himself – collecting awards, receiving impressive fees from participation in ad campaigns and constant posturing go hand in hand in the life of Neymar da Silva.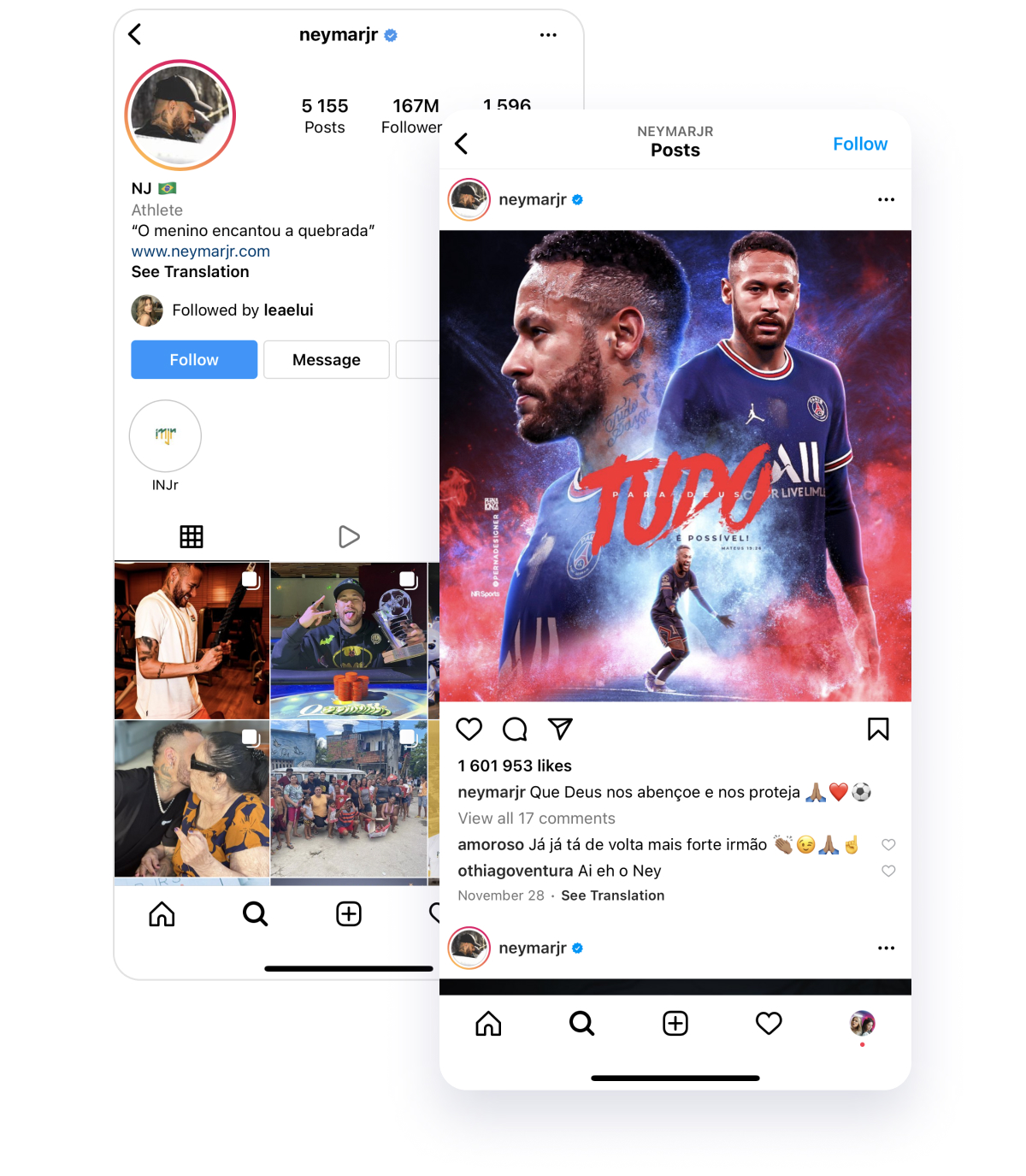 14th place: Jennifer Lopez
188m
She dedicated her J.Lo account to the thing she loves most — her work. This includes stage performances, acting, preparation of new hits, and business activities.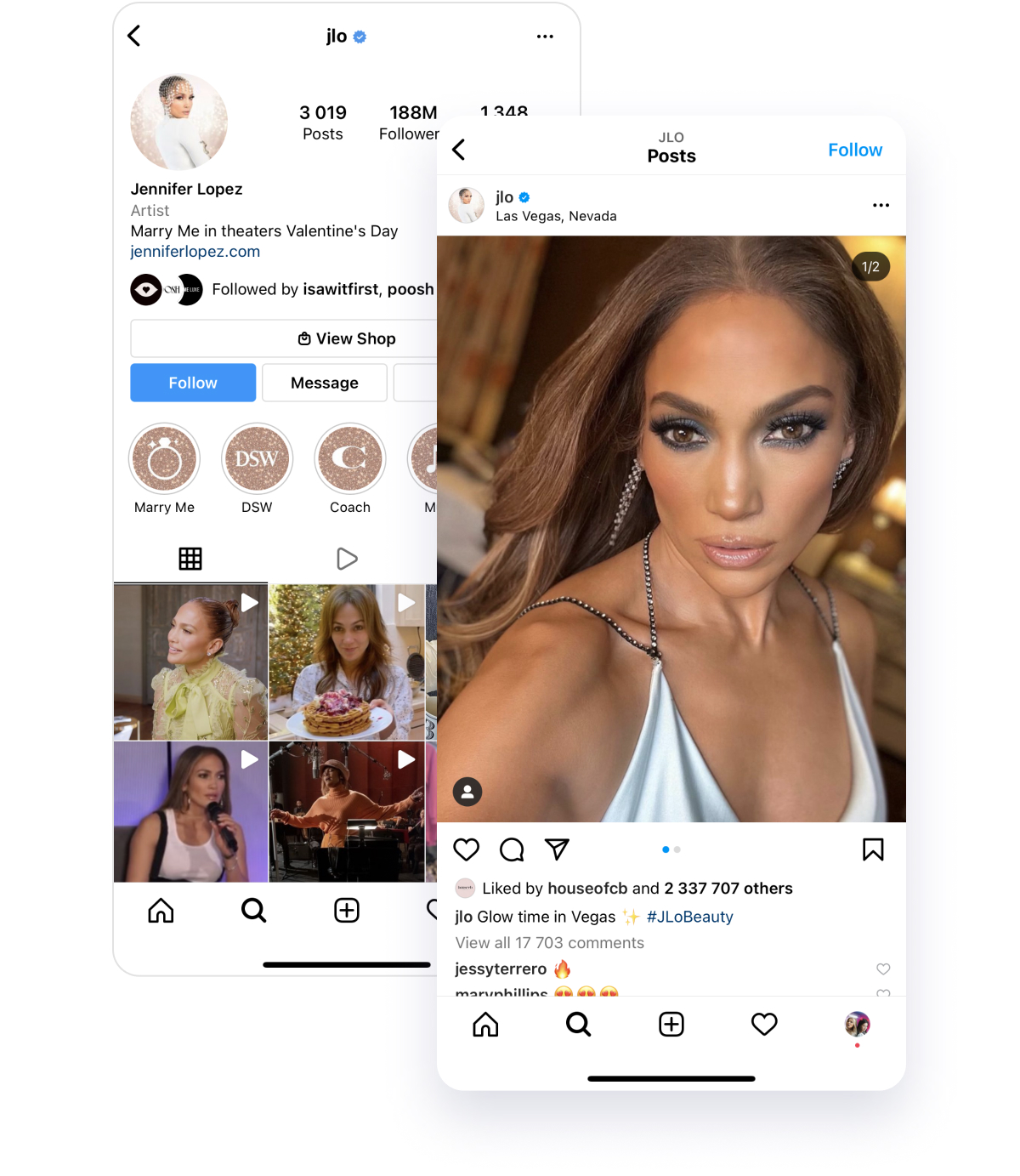 13th place: Taylor Swift
194m
Starting with the second album, which immediately reaped the harvest of four Grammy awards, the singer has firmly occupied the podium in pop music. According to Forbes, she became the second highest paid female performer.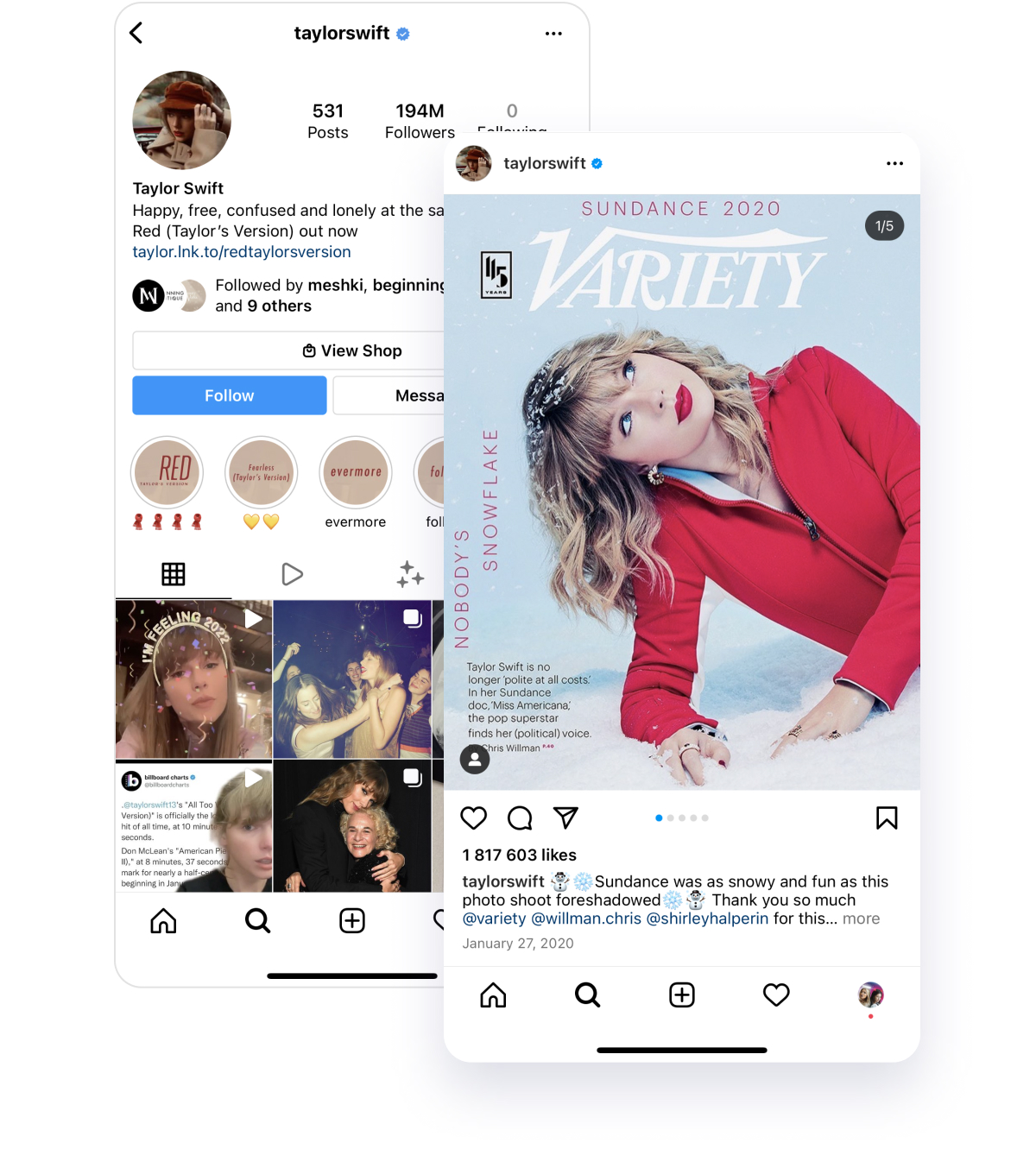 12th place: National Geographic
199 m
In this account, a person acts only as a cautious observer of wildlife, and shots of original life in distant corners of the world. All of them are of excellent quality, as opposed to the attempts of tourists with smartphones — a huge number of Instagram users can confirm this.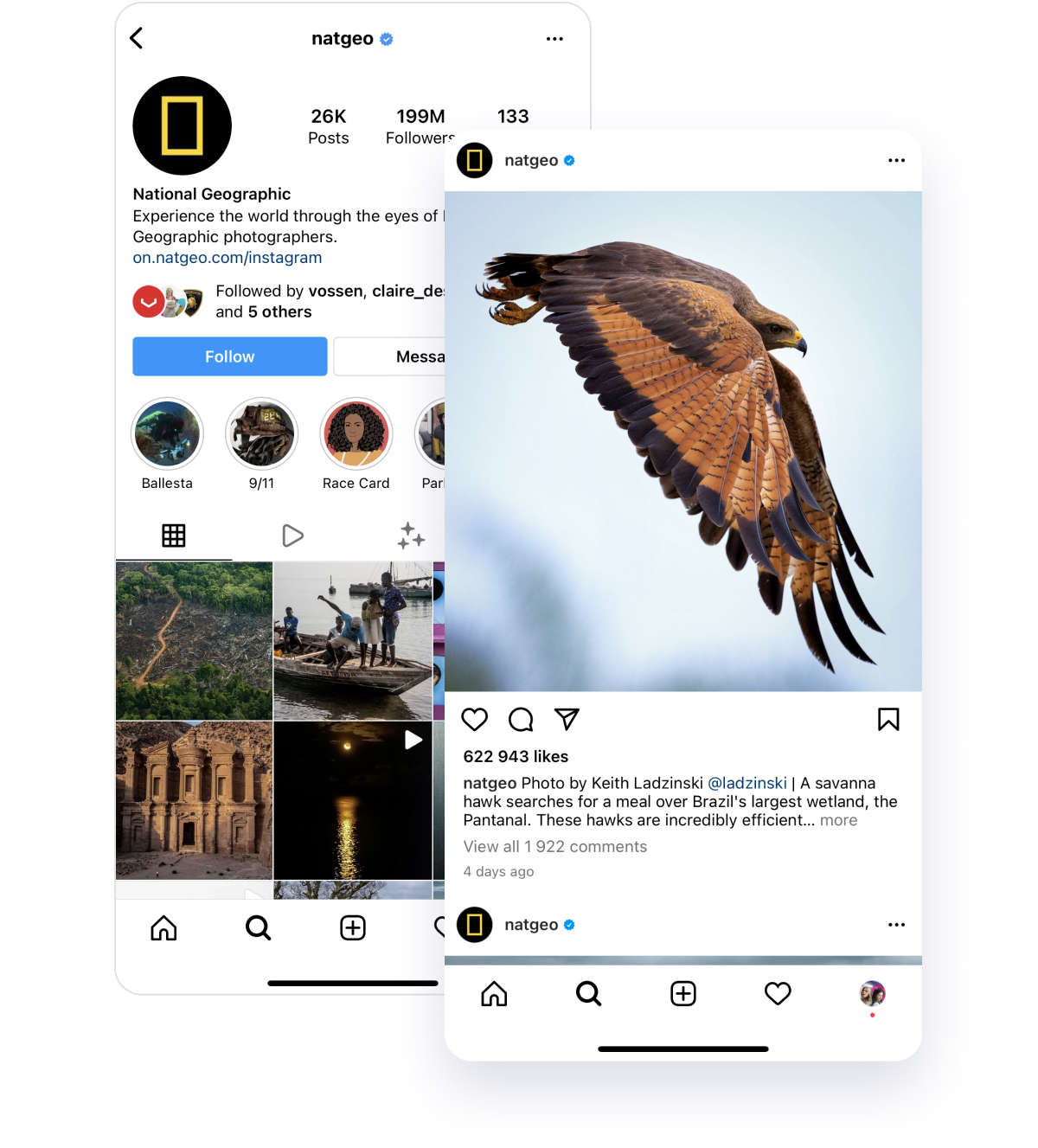 11th place: Kendall Jenner
208m
The youngest offspring 20-year-old Kendall has already managed to take part in the filming of a TV series, became the heroine of scandals in the modeling business, made useful contacts, and is confidently making her way to the big podium. Almost documentary evidence of this multifaceted process can be seen in the form of posts on her account.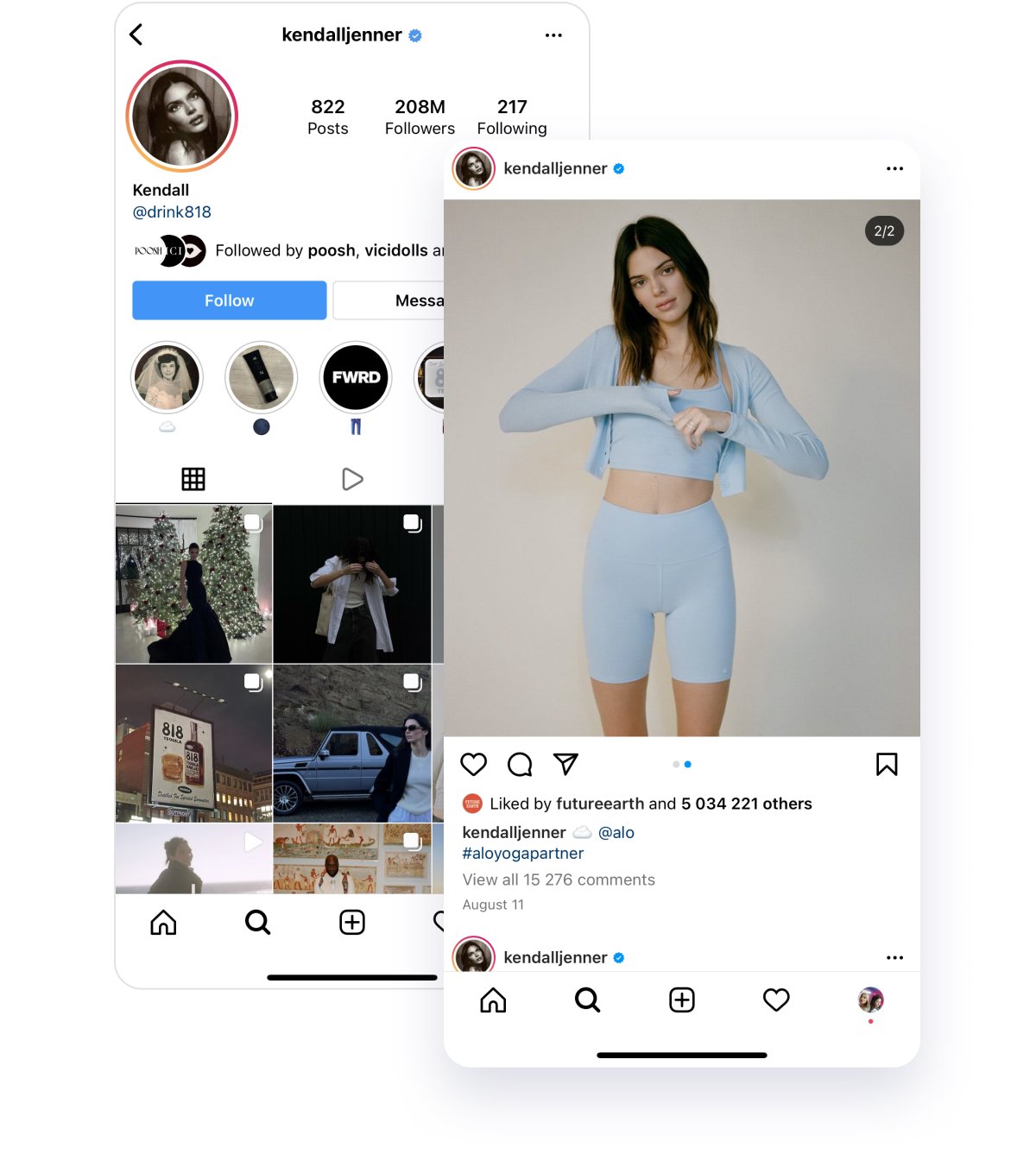 Top 10 fastest-growing Instagram bloggers in the world for 2020
The official Instagram account occupies the first place by the number of new subscribers. It is followed by the football player Cristiano Ronaldo. Kylie Jenner, a model and participant of The Kardashians TV show, ranks third.
The top ten accounts by subscriber growth are as follows:
Instagram @instagram + 51m
Cristiano Ronaldo @cristiano + 44m
Kylie Jenner @kyliejenner + 42m
Ariana Grande @arianagrande + 36m
Dwayne Johnson @therockvi + 35m
Virat Kohli @virat.kohli + 34m
Kim Kardashian @kimkardashian + 34m
Charlie Damelio @charlidamelio + 29m
Selena Gomez @selenagomez + 29m
Edison Rae @addisonraee + 29m
The highest percentage of the bloggers on this list are musicians: 35% of them. 20% are associated with The Kardashians show, 15% are TikTokers, 15% are athletes, 10% are brands, and 5% are actors. Only one actor made it into the top 20 – Dwayne 'The Rock' Johnson. Most of them, by the way, entered Instagram giveaways as a strong method to build a following on social media.
Geographically, the majority of the top fast-growing bloggers are from the United States – 85%. The others are from Spain, India, and Portugal (5% for each country). TrendHERO notes that these statistics can be explained by the fact that Instagram is better developed in the United States than in other countries. There are nearly 18 millionaire bloggers in the United States, according to the service.
10th place: Justin Bieber
212m
Scandalous for his teenage antics amid the intoxication of early fame, the Canadian R&B singer remains popular in certain circles. His achievements include many copies of albums sold, a number of awards, filming and participation in the show.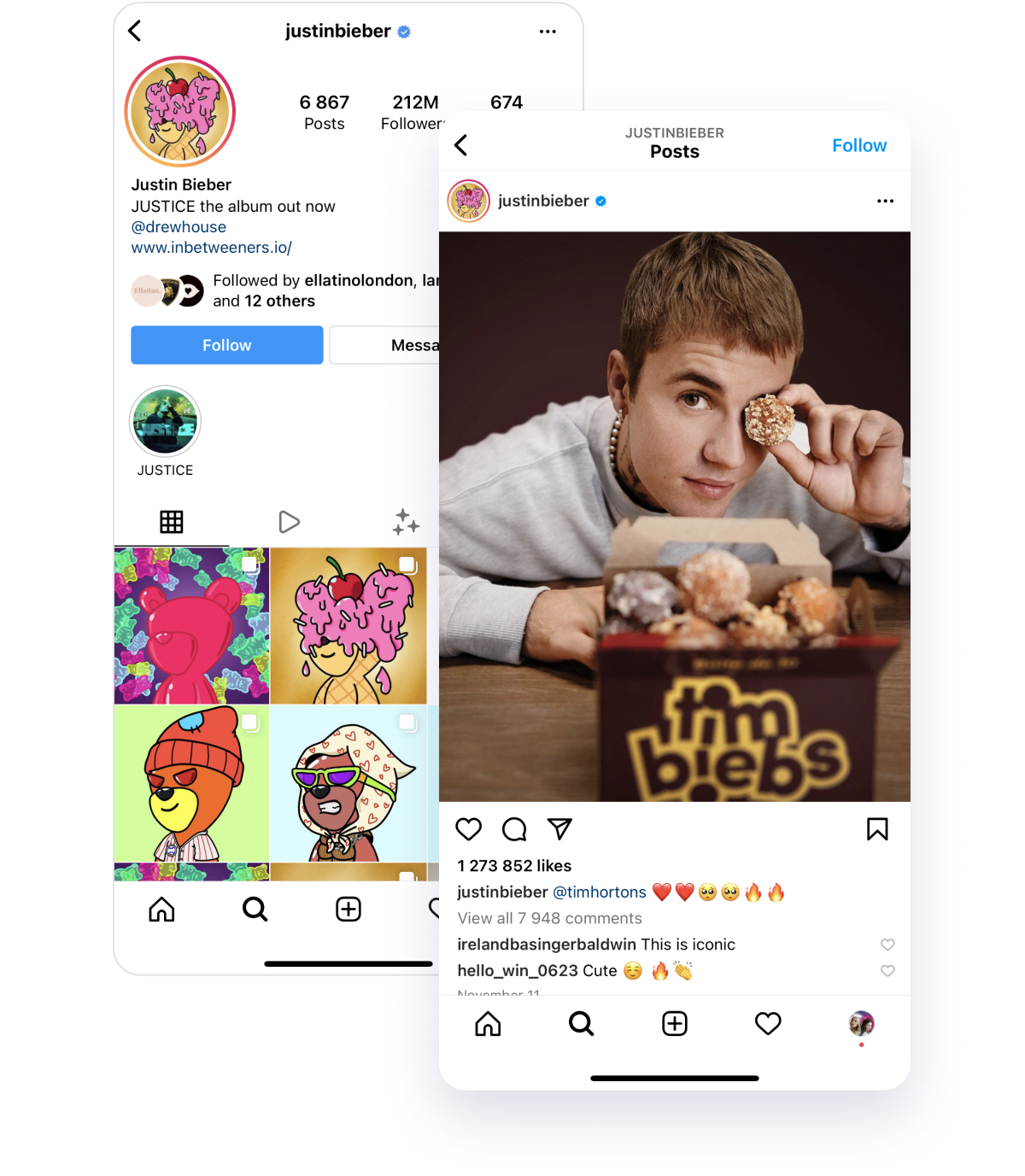 9th place: Beyoncé
227m
The legendary personality of the world of show business at the beginning of the 21st century is one of the hundred most influential representatives of the music industry. Beyoncé's albums are sold in tens of millions of copies and there is no free space on her awards wall – which is the status of only the most nominated singer in the history of the Grammy Awards.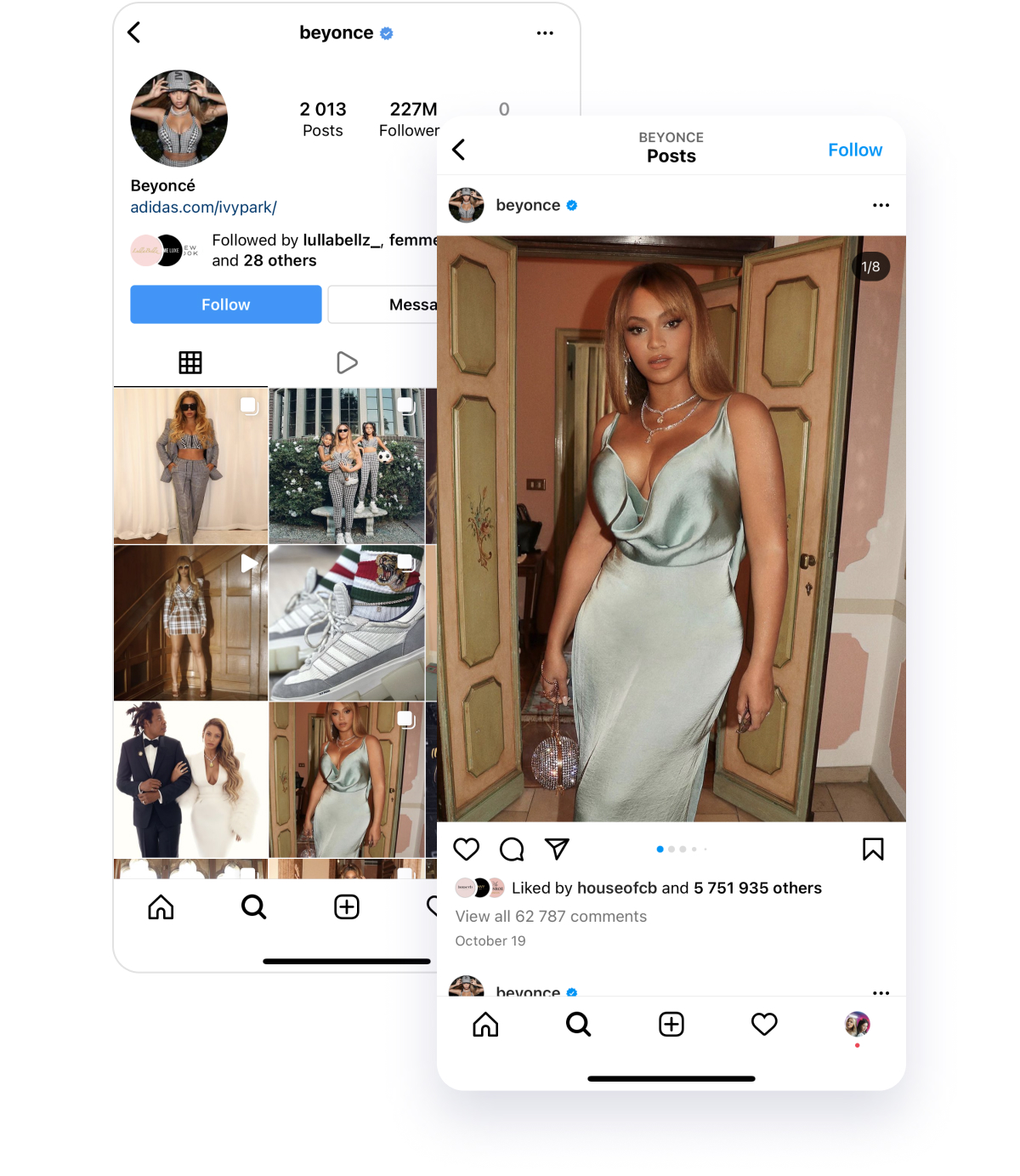 8th place: Kim Kardashian
274 m
Not so much a TV star, socialite and businesswoman, but a legend of modern times, an idol for numerous fans and connoisseurs of glamor. Her image allows you to generate megatons of visual content that is used for a variety of purposes, and each new publication invariably causes a stir. It is no longer so important what will be shown next time — almost 90 million subscribers are happy with any news.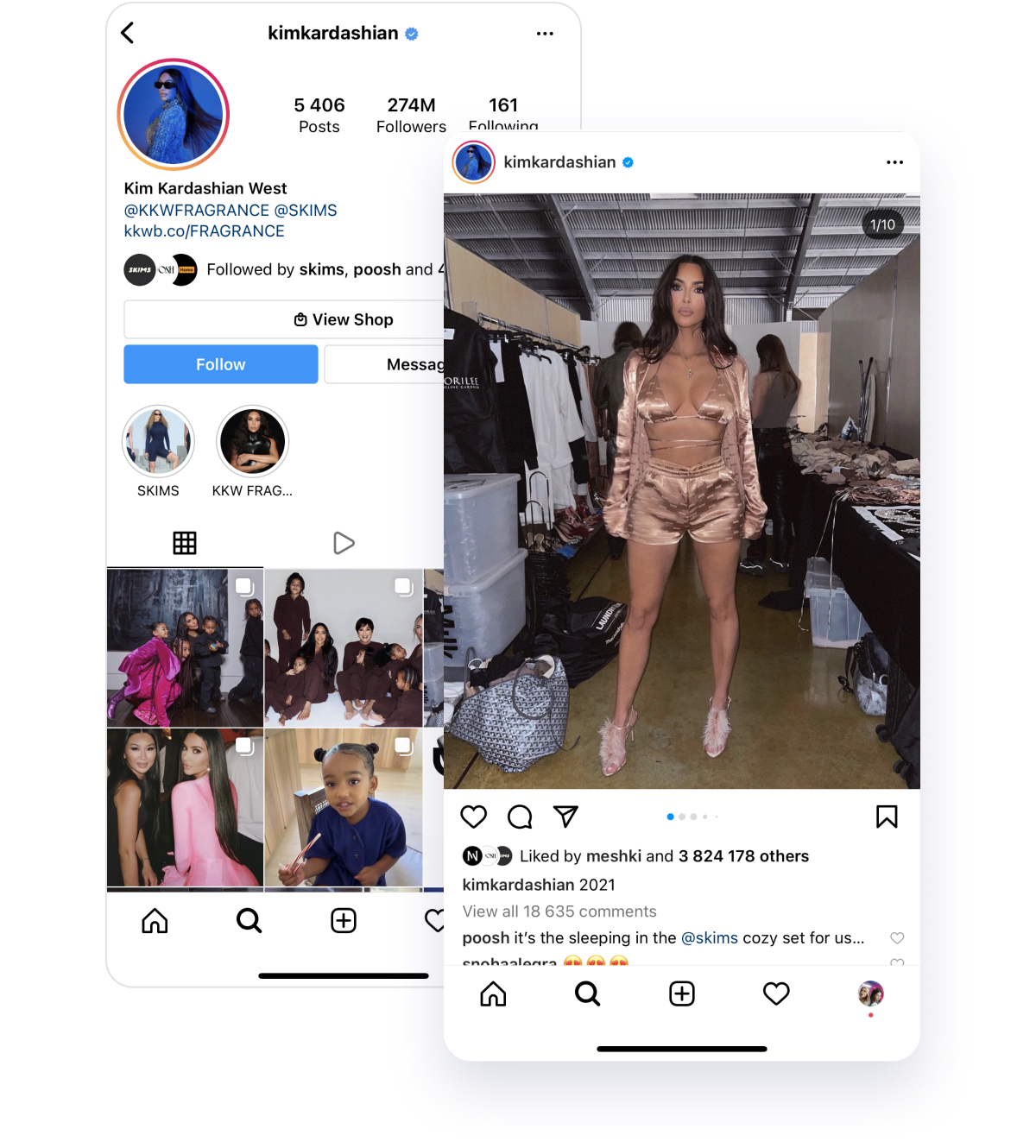 7th place: Selena Gomez
284m
Selena Gomez is a singer, actress, composer and songwriter, model and UNICEF Goodwill Ambassador. Her career began in 2002 and was very eventful, shooting numerous films alternated with album recordings and concerts.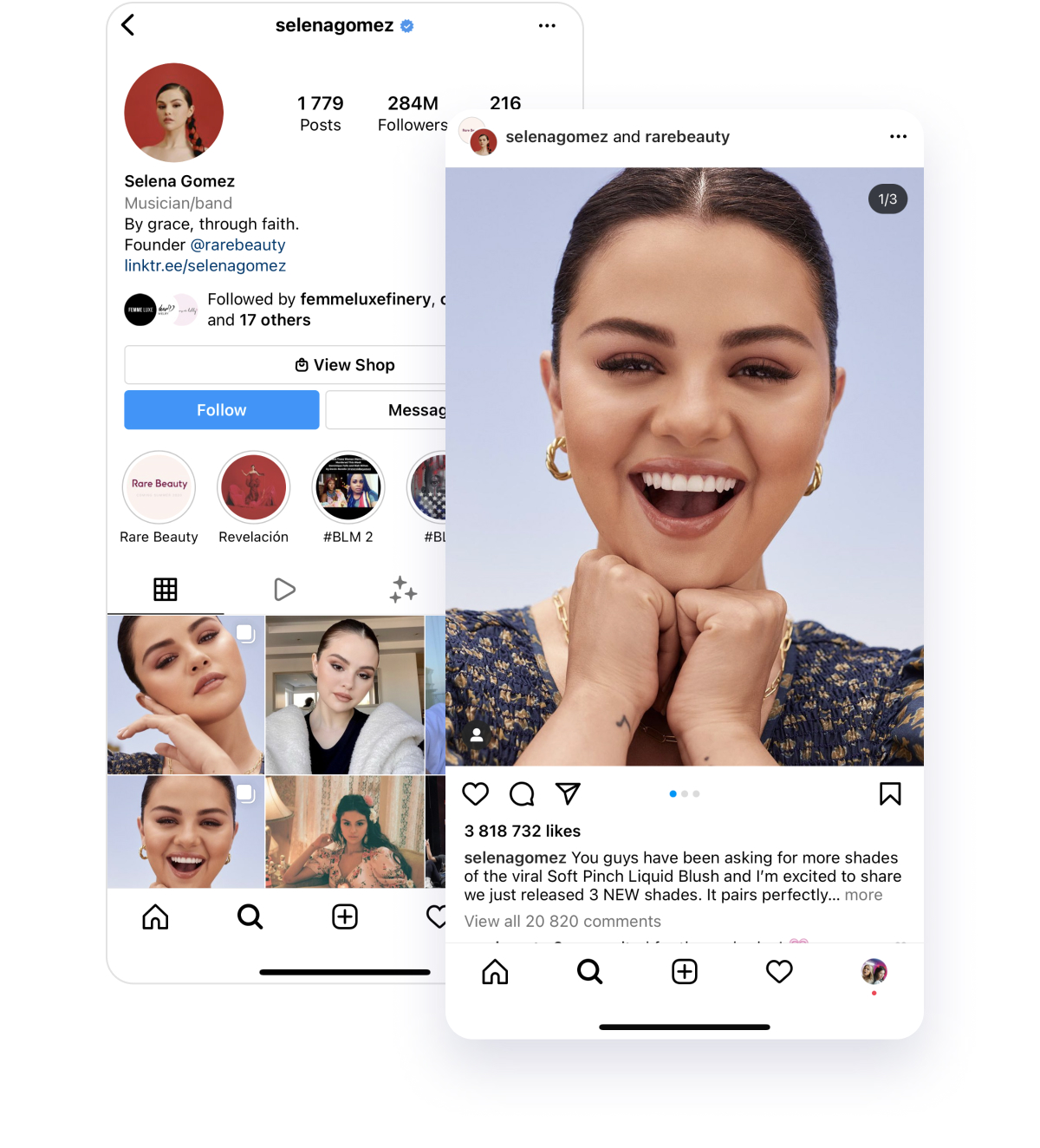 6th place: Dwayne 'The Rock' Johnson
285m
Mr. Johnson has made a name for himself in the wrestling ring, having won a huge number of awards and amassed an impressive list of achievements.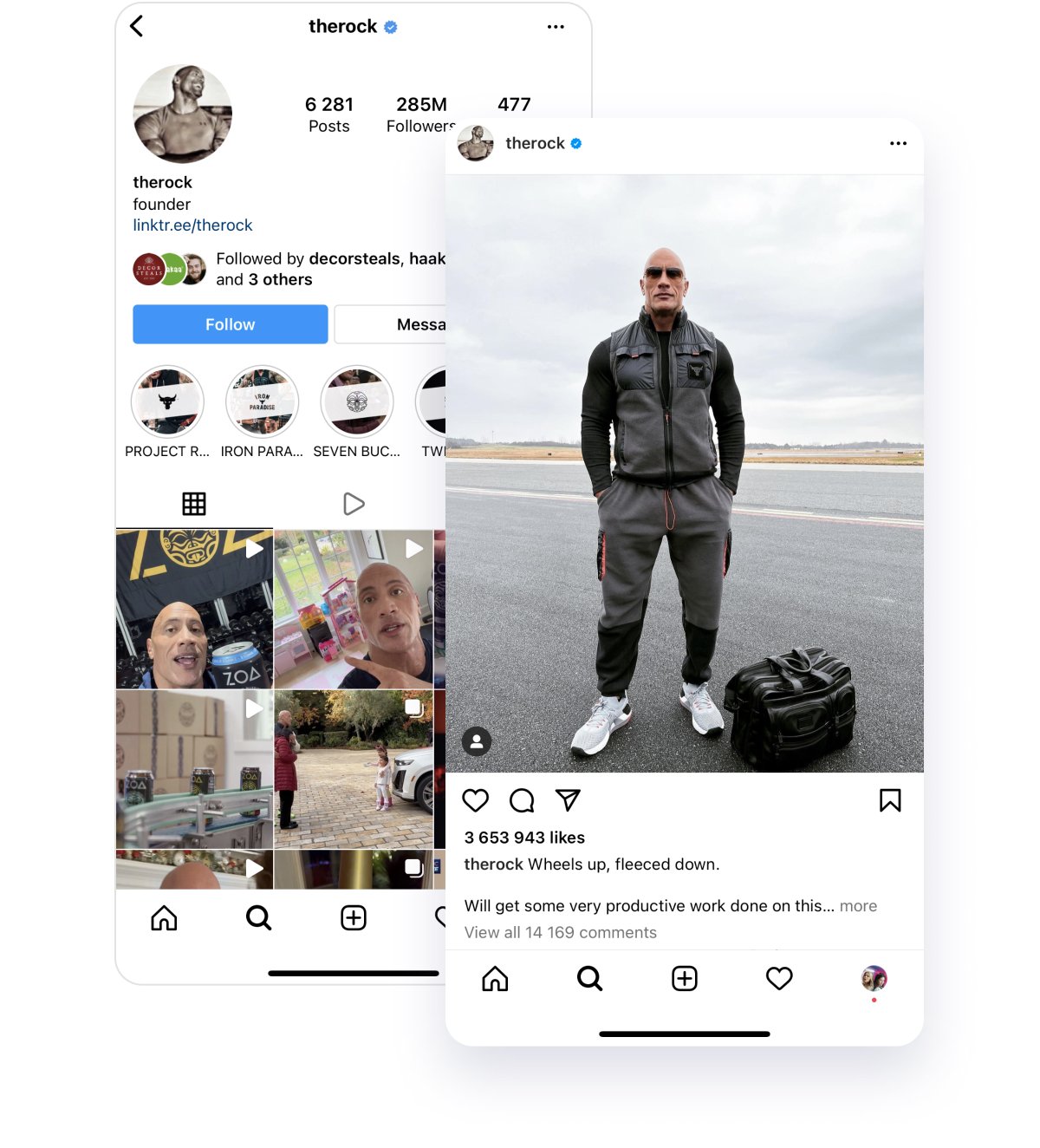 5th place: Ariana Grande
285m
Grande has successfully recorded several commercially popular albums, takes part in the voicing of cartoons, and starred in serials and television shows. Her image is at the formation stage, and account followers take an active part in it.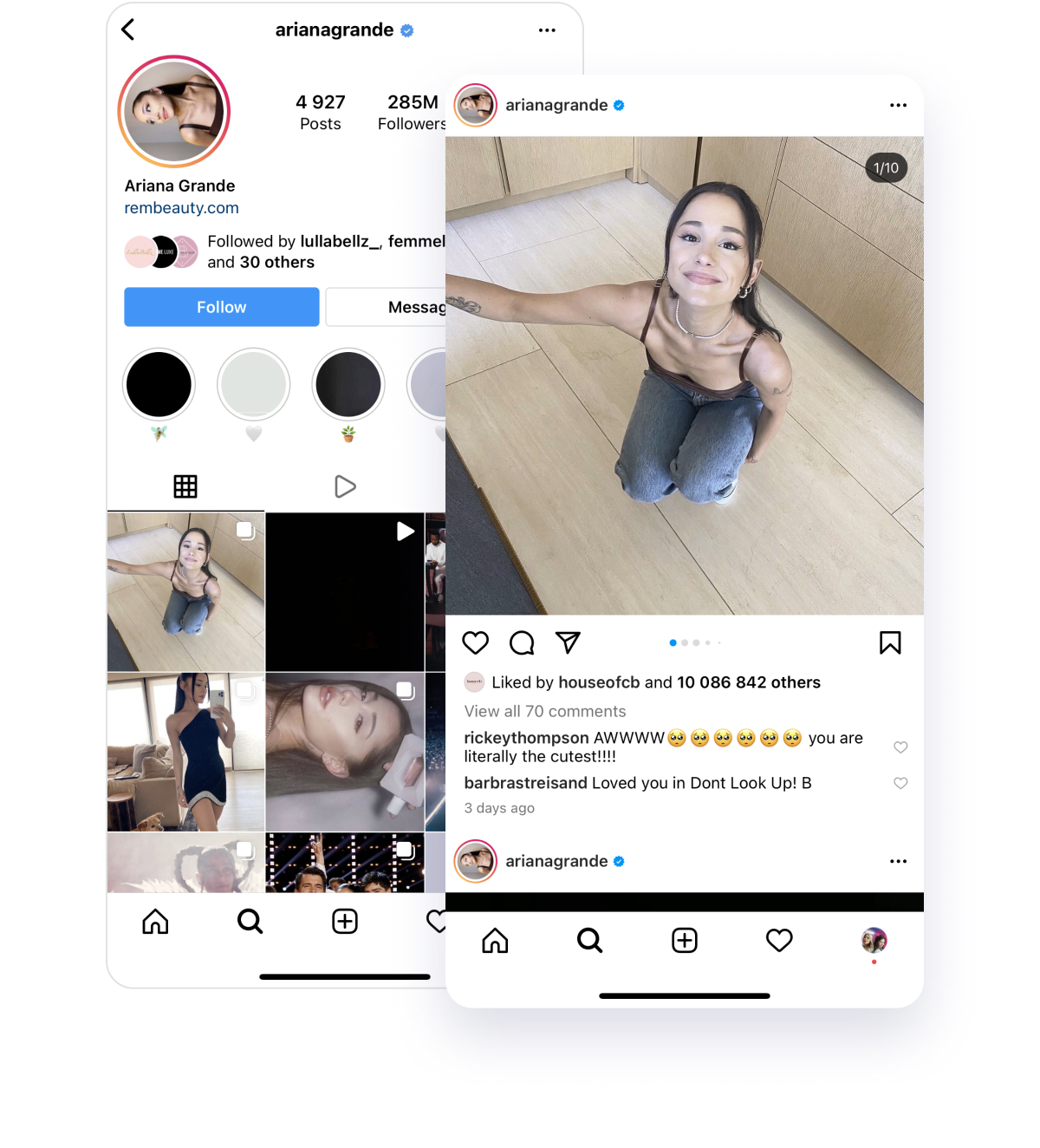 4th place: Lionel Messi
294m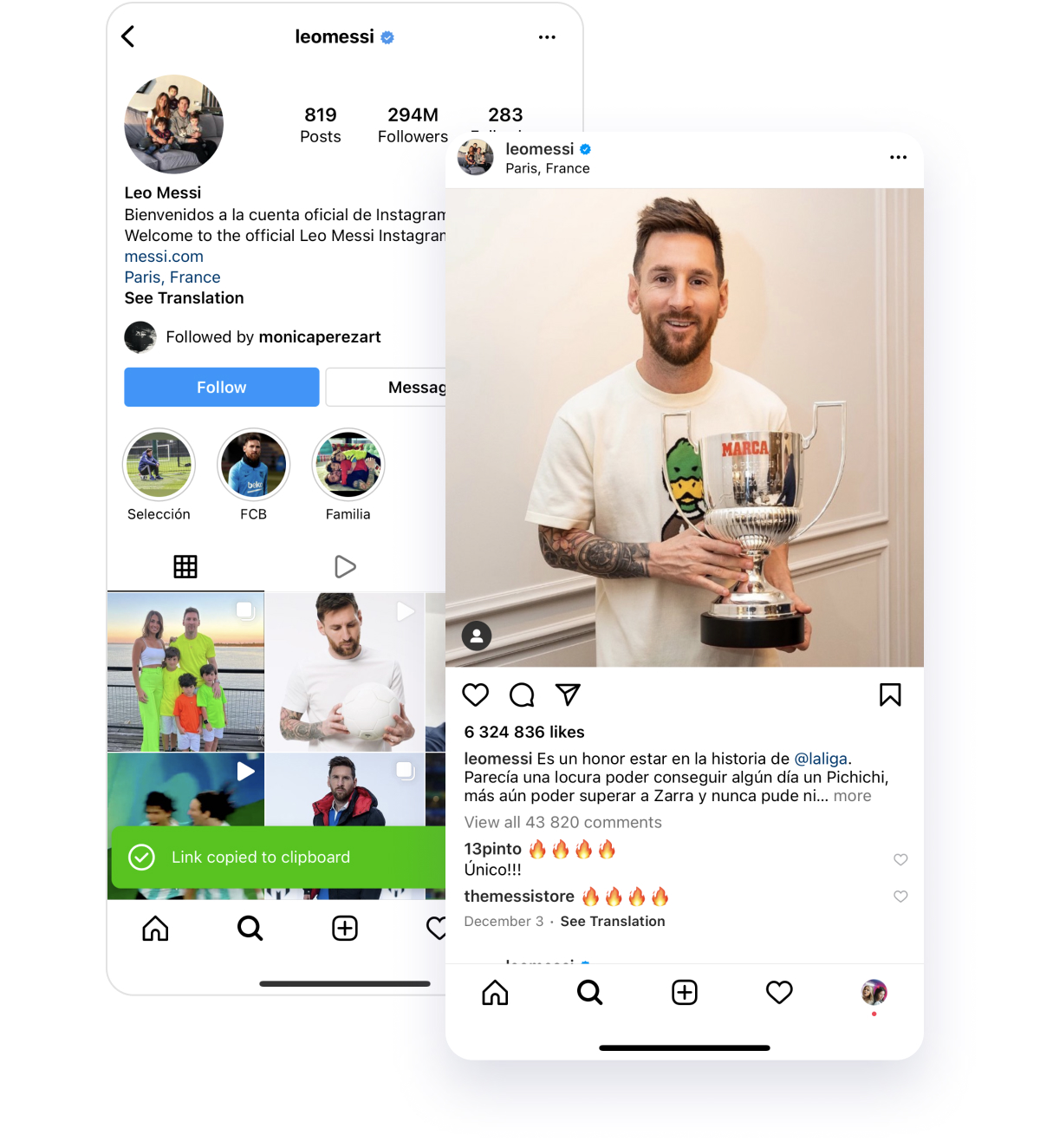 The owner of a truly countless number of sporting achievements, a permanent inhabitant at the top of football ratings, and a constant contender for the title of the best football player of all time for several years in a row. Messi uses his social media account to post photos with friends and family and in different life situations.
How to get Instagram followers in 2022 if you're not a world-famous star?
Just turn on the Instagram followers bot, and you'll get all these possibilities at once:
poaching subscribers from competitors;
the ability to search for the target audience using geo and hashtags;
collection of data about users who were active in your profile, but did not subscribe;
Auto direct with a message about a discount;
imitation of the actions of a real user: viewing the feed, breaks, likes.
Prepare your account for a follower growth
First of all, we start from the "age" of the account. It is considered from the moment of the beginning of the active continuous activity, and not from the date of registration. Moreover, if you regularly made stories and publications, and then for some reason stopped for 2 weeks or more, all the previous accumulated "age" is canceled — you will have to start over.
If the account is less than 0–2 months old, automatic mass following is prohibited. You need to manually recruit a base of 100 live and engaged subscribers. But before that, the profile should have at least 20–30 publications.
If the account is 2–6 months old, proceed as follows: smoothly reach 250 followers and connect the automatic bot to boost manual mass following. Do not forget to naturally be active in user profiles – like, watch stories, comment. To improve statistics, unsubscribe from bots and those who did not reciprocate. Do not forget that unfollows are also taken into account in the total limit, and there must be a gap between actions.
If your account is more than 6 months old, you can completely switch to an automatic mass following on Instagram. Leave helpful and friendly comments under thematic posts.
Prepare your Instagram account content – make it high quality and trendy.
3th place: Kylie Jenner
294m
Designer outfits, jewelry, photos from the dressing room and in the company of famous people — it is unlikely that millions of subscribers to the young model's account expected something else. Kylie, being younger than her sister Kendall, has already significantly surpassed her in the number of followers!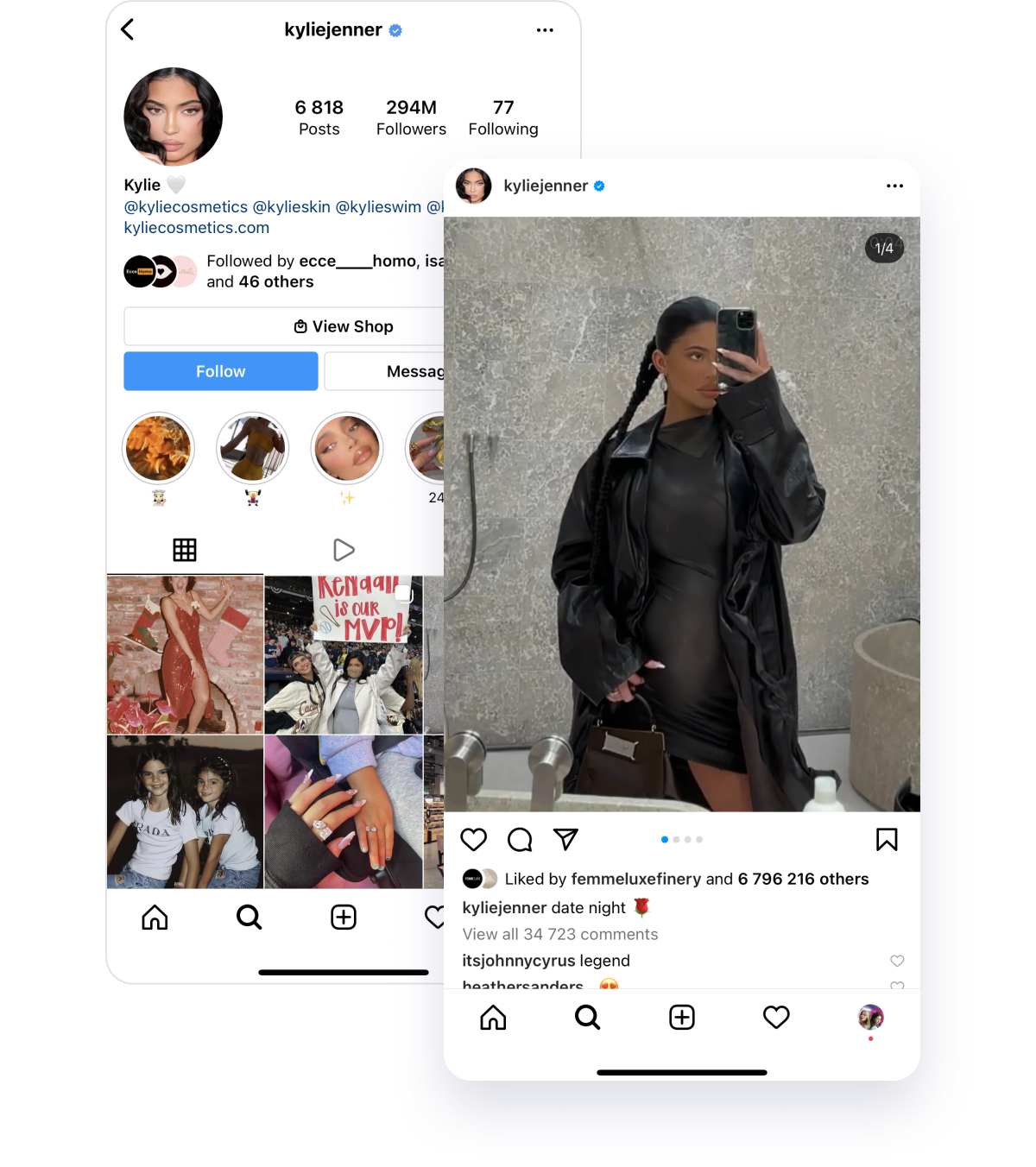 4th place: 3rd place: 2nd place: Cristiano Ronaldo
383m
The footballer whose name is associated with the greatest costs in the history of football – in 2009 the Spanish team Real Madrid paid 80 million pounds sterling to move Ronaldo from England's Manchester United. Cristiano Ronaldo does not complain about the lack of attention, and therefore his Instagram account is equally filled with pictures from the football field and in the bosom of his family.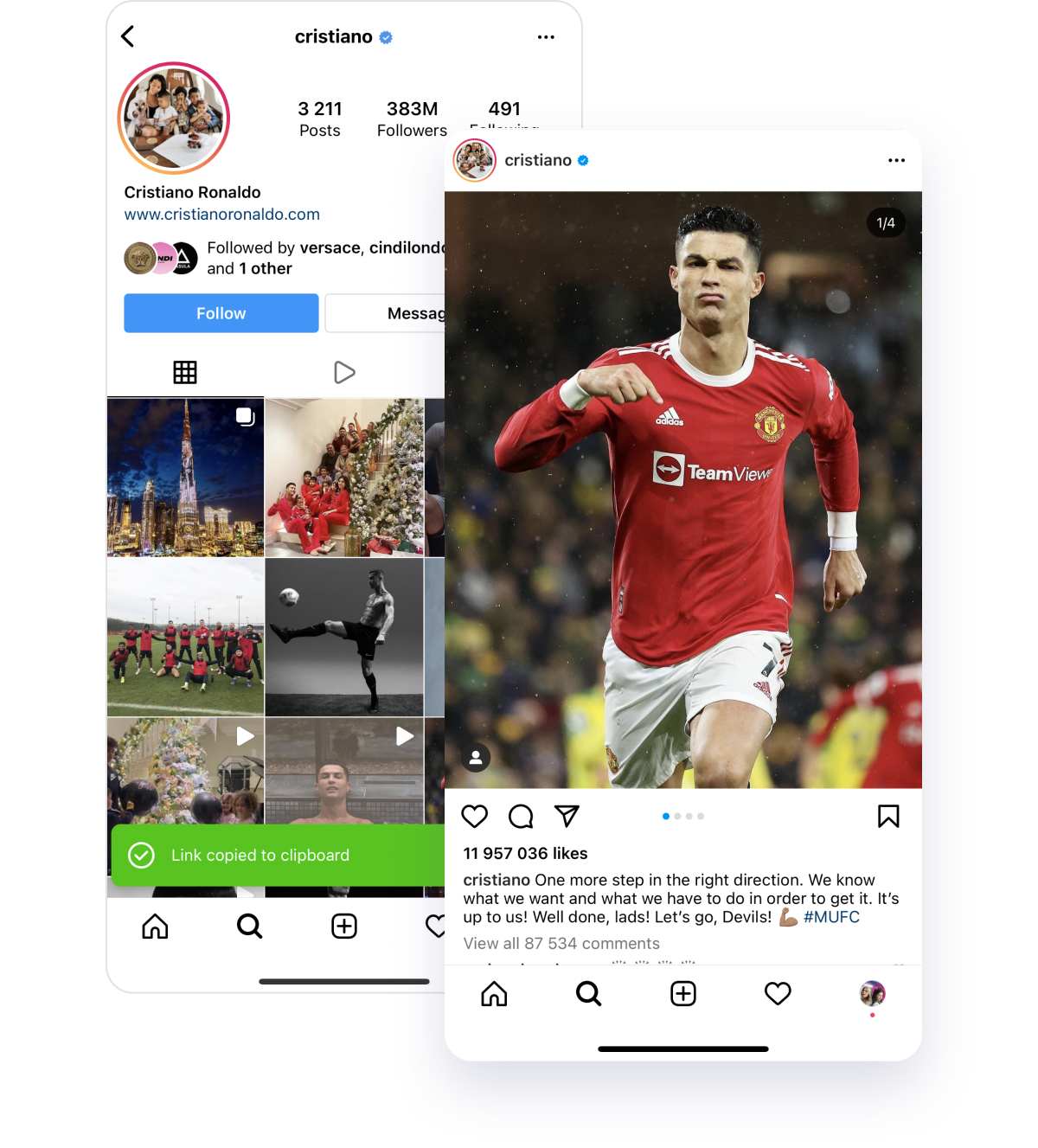 1st place: Instagram
454m
To explain what the service itself is known for is very simple – the largest platform for publishing author's photographs in the world. And it's even easier to describe the contents of its central account – they post everything.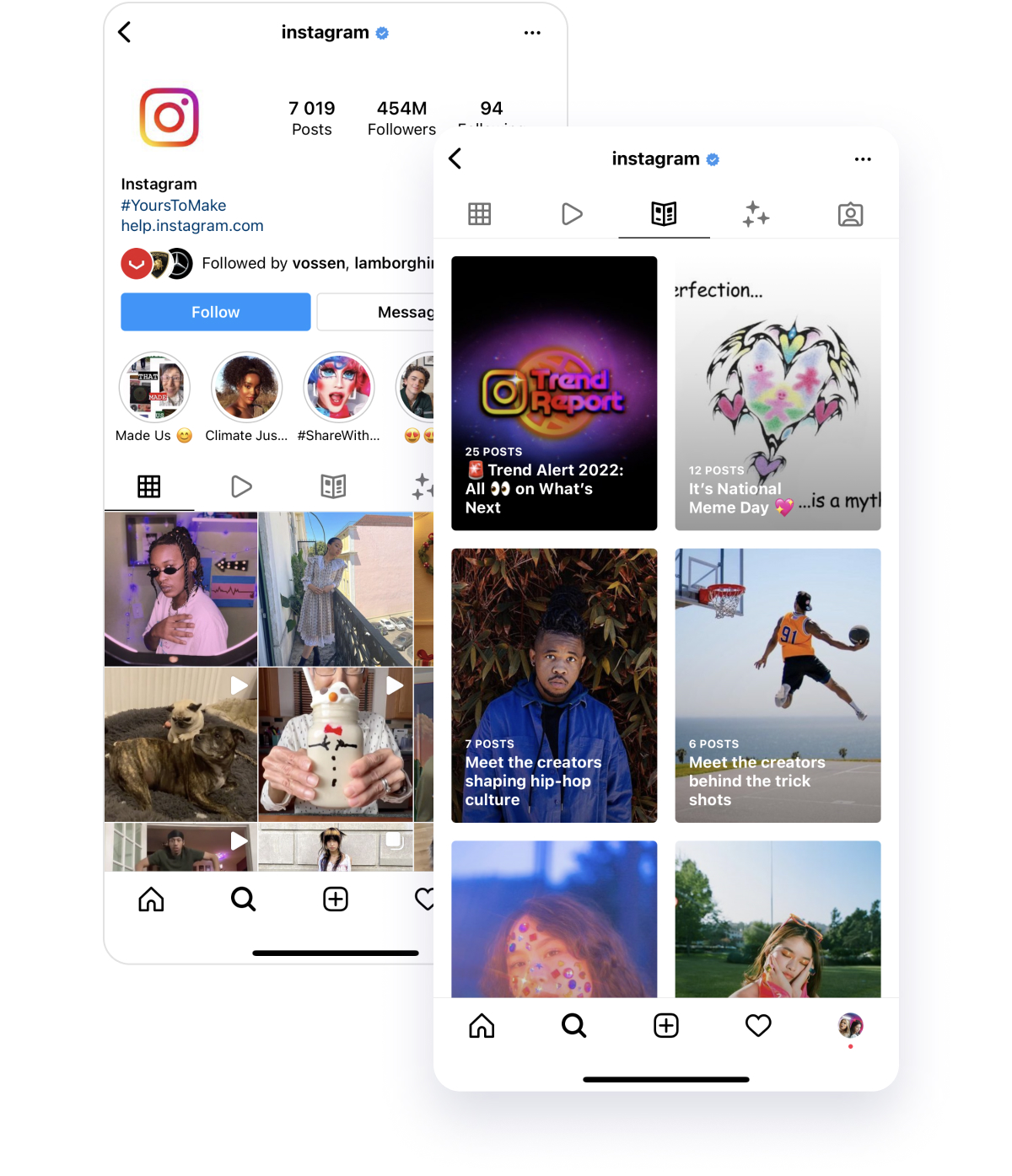 Instagram consistently holds the title of one of the most popular social networks. People go to Instagram to follow the lives of celebrities and look at photos, and those who publish them earn crazy money from advertising. And you can become an Instagram influencer too if you have something interesting to give or show to your audience. The main indicator of success here is the number of followers, which can reach hundreds of millions for top accounts.