Gaining a relevant and active audience on your Instagram profile seems an expensive and difficult task. No matter if you have a shop on this platform or a blog, the most difficult part is growing a following that is really interested in your product, topic, or service, that truly wants to follow you and suits your potential customer/client profile.

Warning! Don't go for - Instagram followers or buy them.
Why you should not buy Instagram followers
You can buy Instagram followers — this is a simple but useless thing to do if you're going to create an effective business. These Instagram users are only getting money for two simple actions: following your account and liking a few recent posts. From the moment they get into your list of followers, they are a ballast for your page. They are not interested or active, and the Instagram algorithm most likely considers them as bot followers and finds this boost of follower numbers suspicious. Soon after buying Instagram followers you'll probably get a shadowban.
Is getting free Instagram followers instantly is a bad idea too?
Free Instagram followers that come to your account from the activity of groups are 99% irrelevant and will just create a mess in your account. They won't be active on your profile anymore after the day of following. And moreover, Instagram's algorithm will probably find them suspicious, just like paid Instagram followers.
So what is the most efficient way to get thousands of Instagram followers?

This is such a simple and cool way for 2021! Get a subscription to the Inflact Instagram promotion tool and at the same time start posting photos and videos on your account, keep posting regularly, and get many followers of your Instagram account to stay motivated and engaged.
So let's see how many relevant and engaged followers you get in a month with the Inflact promotion tool working on your profile.
What does the promotion tool do for your Instagram account? How do you get Instagram followers with it?
This is simple and easy. The Inflact promotion tool makes your target audience SEE your account.
And they decide by themselves if they like your account, if they want to follow your account, or even buy from you.
It makes your account watch Stories of your target followers, like their posts, and follow them.
The Inflact promotion tool is professional and smart. It does everything within the Instagram limitations and even makes a pause for a night period imitating a real user's activity. But still it works perfectly — would any user's manual activity get them into the story viewers list of 1,579 target audience profiles? Nope. But a smart promotion tool can do this for you. And that is how it brings tons of followers to your profile.
Here is a screenshot of the account before and after a month using the Inflact promotion tool.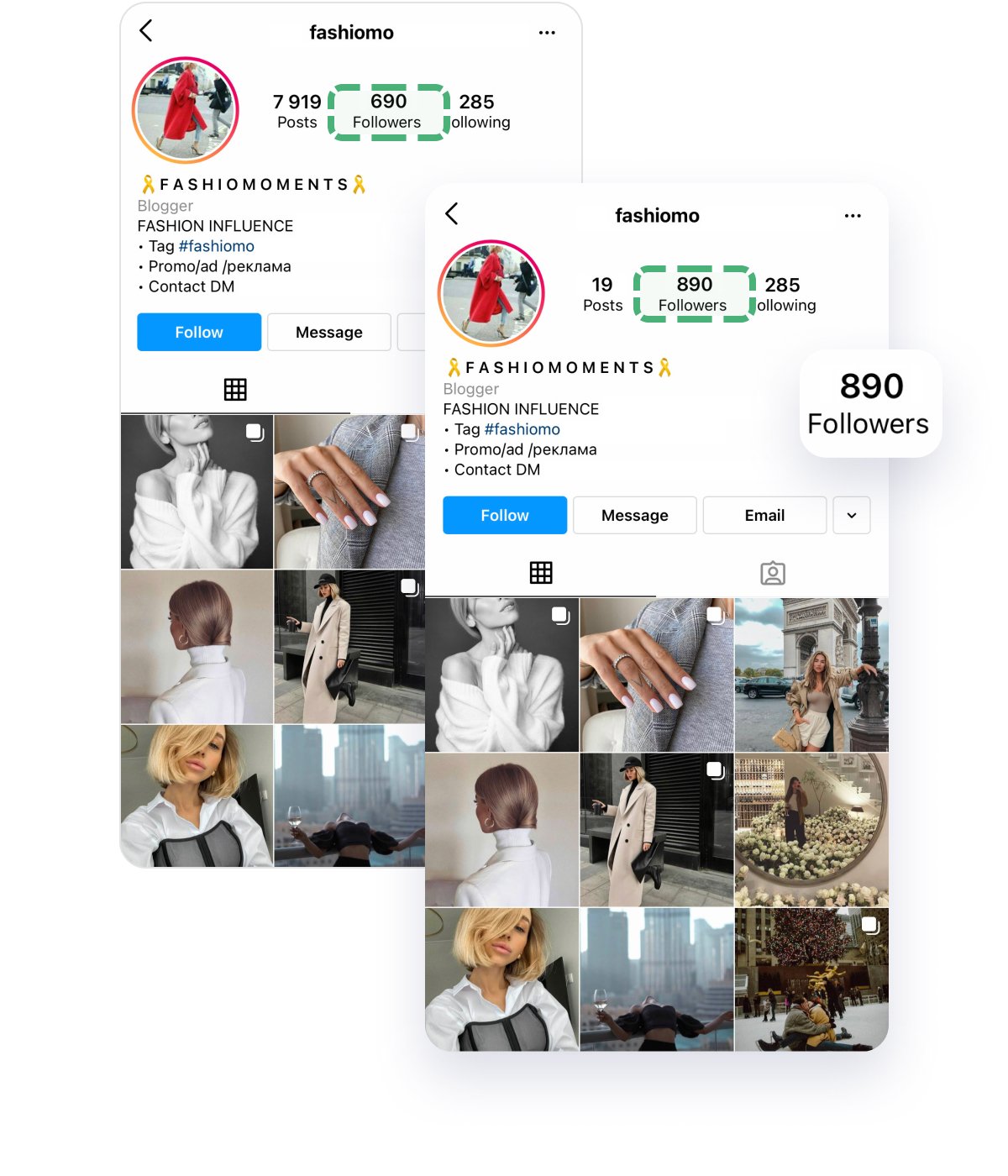 Note: This example is from the account of one of our real Inflact users. We asked her to give us access to all her stats on the dashboard of her Inflact promotion profile. In return for access to this information we've given a big discount for the next month of the subscription to the promo module. So, these are the results of a normal, basic non-professional user of the Inflact promo tool — with its own mistakes and problems. We are going to show you the basic results of a normal user.This way you can see the minimum effort that is required to get a great result and how to increase Instagram followers in one month without any moves except the initial setup in the beginning.
The account story
This experiment for Instagram follower growth was conducted on account about fashion and lifestyle.This is the blog of our client Jacky. She did all actions by herself — all the targeting and settings — so the experiment is a fair picture, because these results can be achieved by any non-professional user who tries the Inflact promotion for the first time.
The goal of the IG account
The goal of this blog is to promote the page to get more advertising partners in order to monetize the account in the future. It is about fashion tips, lifestyle, girl talk and so on.
The audience portrait
The audience of the blog is international, and the main language of this account is English. So, in terms of the targeting, the client's audience was European, American, and Asian girls who are from 14 to 27 years old. And they are interested in fashion, beauty, life hacks, styling, decor, interiors, and all things that make our living aesthetic and pleasant.
Before starting to use the Inflact promotion tool, every client will target their promotion by using hashtags, locations, and competitor accounts.
The settings of the promotion tool
This is a really cool feature to use as you can basically get your competitor's followers right from their followers list. You can get them right from their latest comments and right from their stories. This is a really handy feature for those who need to get extra relevant and hot clients.
Here we can see how the promotion tool was set up at the start of the work.
Hashtags were chosen for reaching the right people who probably have a great salary (or aim to have one) because this is a great way to form an audience of people who are willing to pay.
Locations are chosen randomly, from London restaurants to popular places in US cities, which are frequently tagged by the target audience of the profile.
Competitor accounts are chosen wisely, these are not enormous influencers but mid-level influencers with engaged audiences from 100K to 1M.
Choosing competitors' accounts is a crucial step for setting up your promotion well. We advise you to use a special Profile Analyzer tool to find competitors' accounts with the biggest engagement and the most active audience for you to target.
Note: The Instagram account wasn't active at all times during the period that the promotion tool was at work, and this is a mistake.The Instagram account needs some preparation before being promoted.
Account preparation to get more Instagram followers
Fresh posts
If potential followers come and see only information that has already been published, but not updated for a few weeks, they will be suspicious.
The state of the account on the day that potential followers get to it plays a big role in their decision to follow or not follow the page. So, here are some tips for those who are activating a promotion: make your page look active and up-to-date first.
Lead magnet
The second idea for you is to make a lead magnet. You need to create an offer that will be ultra useful for your future followers. Show them the usefulness of your account: let your followers get a free-wishlist or instruction for something which is connected to their interests and the idea of your profile.
Set up welcome message
It's a great idea to set up direct messages — this is a real treasure for those who want to connect with their followers. You can activate a welcome message for everyone who comes to your page. You can present some of your products in this message, or just greet your followers, let them know that your profile is alive and make them feel at home.
Monthly stats of Instagram follower growth
Before we get into the detailed statistics of how the followers came to the Instagram profile, let's clarify some questions: how it is technically done and why.
How many followers per month can I get with Inflact?
The results for audience growth with the Inflact promotion tool mostly depend on your Instagram account quality — on its content, topics, and the style of communication you offer.
All these parameters influence how you set up targeting in the Inflact promo system.
What the Inflact promotion tool does to grow the audience of your Instagram account is the system makes users notice you, but it's totally up to them whether to follow you or not.
Why is the software not doing many actions? How can it be boosted?
If you have recently started promoting your account in Inflact promotion tool, the system starts to speed up the bot actions gradually. It's called the "Safe Start." It may take 5 to 7 days in total to reach normal speed performance. This is necessary to avoid Instagram blocking.
We recommend adding 15-20 promotions for each of three strategies (hashtags, usernames, locations). And then every week you should check your statistics and change the hashtags, locations, and usernames that have less than 2-3% efficiency.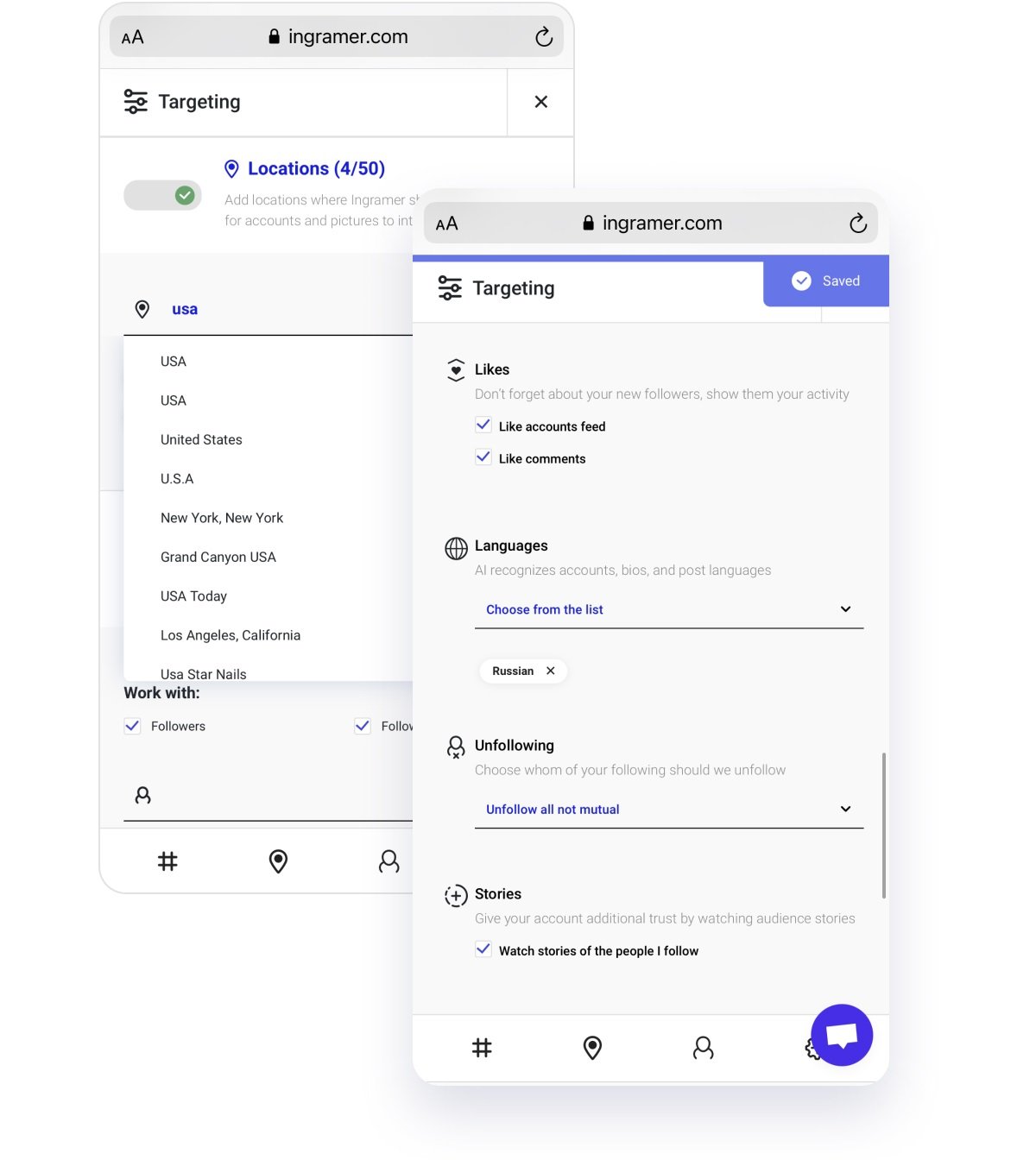 What should I do if my account has entered safe mode?
Our system analyzes your account and the promotion, and if there is any risk of getting action blocked or a ban from Instagram, the safe mode turns on automatically.
It is necessary to avoid getting blocked by Instagram.
The safe mode is required to protect your Instagram account.
To avoid the safe mode in the future, we recommend doing the following:
disable pro filters in targeting settings
disable gender and language filters
decrease the number of likes per profile to one like.
The results of Instagram follower growth in one month
The quality of the followers that came to the account is great, and the activity they made on the profile is even better than the client could have imagined. These are mostly French and Spanish girls aged from 16 to 25.
After we looked through their profiles, it is obvious that they are ultra-relevant to the subject of the user's page. I mean that they are really interested in the fashion lifestyle (as seen on their own pages), and this is great news because relevant followers are always potential future clients for you or your advertising partners. Most of followers came from an influencer's blog, which were targeted in the competitor's section.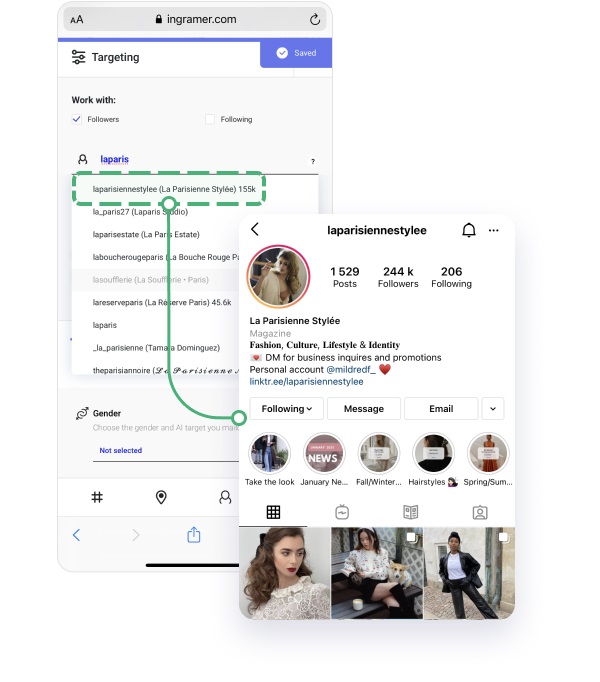 After you give Instagram promotion some thought, your objective will turn from "get as many followers as you can" to "increase my audience with relevant people." In 2021, the goal of getting Instagram followers has changed as the system and algorithm of Instagram has changed.
Now we're afraid to get banned, and we want to get followers who want to follow us and engage with our posts. So we've made a tool that looks up specific hashtags and relevant competitor pages and interacts with the photos, videos, and stories there.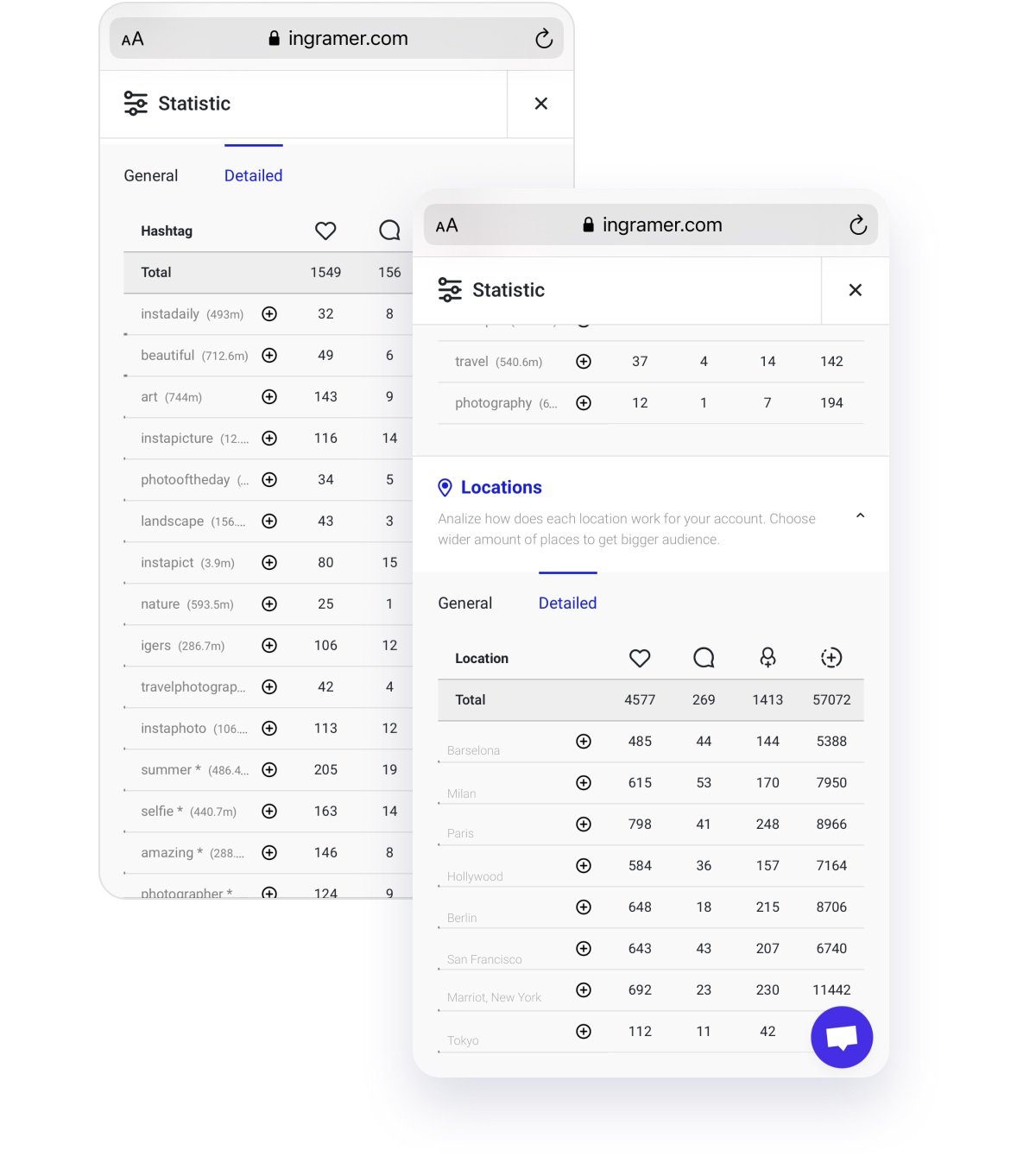 Moreover, the Inflact promotion tool can unfollow accounts automatically after a certain period, so that the account won't reach the overall Instagram follow limit of 7,500.
By making your Instagram account really engaging and ready for follower traffic, and with a thoughtful set-up and activation of the promotion tool, you can get thousands of followers in a few months. This example is basic and shows the minimum that can be done in just 30 days without any additional preparations.
Try it out and get 1,000+ relevant followers in a month with this amazing tool.