While Instagram is one of the unstoppable money machines in 2021, Direct is its steering wheel.

If the basic Direct of Instagram is poor and nonfunctional for business management, we have an advanced and optimized tool to replace it. At Inflact, we have a lot of services and tools.
The highlight is our advanced Instagram Direct module. This is an indispensable tool for those who do not want to lose buyers on Instagram due to a late response — the auto-reply function guarantees that will never happen again.
This is also a treasure for those who need to segment and systemize their clients on this social media platform — the labeling function makes this a breeze.
With the smart filtering by labels, you can set auto-responses to any actions, such as reactions to stories, for example.
The Inflact Direct module is the coolest way to track each client in the database, where you can make notes about the clients, their delivery addresses, preferences, and more. You can even search your messages by these notes.
Moreover — it's a secret, but I'll share it here — in a month, the module will transform into a full-fledged CMS for Instagram, which is mega important for those who have a lot of sales here.
I'm going to show you the 5 most useful and popular use cases among our current clients who are managing Instagram Direct as a boss:
#1 Instagram Direct is an imperative if you launched a new account and need to greet every new follower with an offer.
This includes the use of the auto-reply function. You can switch it on by going through DirectAuto-RepliesAdd auto-replyWelcome message.
For a new business account, it is more than important to contact your future clients directly. Of course, this doesn't mean that you need to sell to them with the first message. No, this will look spammy, as the trustability is very low for new accounts without any feedback or history.
This is a great way to engage with your new followers with a welcome message. To greet every new follower and tell them about your business, offer help or any free things that you can offer for the moment. This is an amazing way to build trust and communicate.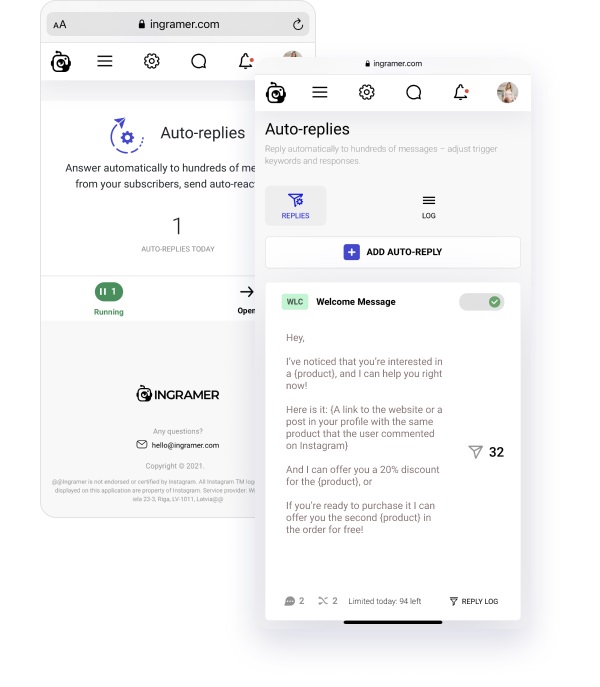 Moreover, this is a great way to learn more about your future clients. Of course, not everybody will answer you — but approximately 30% of recipients will respond. Best of all you can chat from any number of accounts and send lots of messages automatically — with just one set up.
In this blog post about automated messages on Instagram, you can find even more advice for setting up your campaign.
The automated messages work amazing in a conjunction with an Inflact bot. It finds your target followers, and an automated message will be sent to them after they follow you. You can be offline the whole time!
#2 Use the advanced Instagram Direct to sell much faster than your rivals.
In the Inflact Direct module you can automate the responses by setting up trigger phrases and shortcuts. What does it mean for your Instagram business? It means everything when it comes to questions from your potential clients. When they look for something they're ready to buy from a suitable shop on social media, they will surf through 2-10 shops to find the perfect offer.
The potential client asks questions about the price, delivery, materials, and many other options they're interested in. And the shop whose manager is fast enough to satisfy the client wins.
So every time you're delaying the reply to your potential clients' questions, there's always another shop that will answer faster — and get the sale. Don't miss the opportunity to be the first and most consistent. Set up trigger words in the DirectAuto-replyReply to keyword.
And let your potential client get the lightning answers that will lead to a sale.
In this blog article, you can find an instruction for setting up this kind of auto-replies.
#3 Inflact Direct is an irreplaceable tool if you have several managers in your company to delegate every client.
What if you need multi-access to an Instagram Direct account for all your managers? And even if you know what proxy and VPN mean (so as not to get banned for multiple entries to one account) — this is terribly inconvenient in the basic Instagram Direct! Unread messages can't be flagged, messages that have been read by one manager can't be delegated to another one (only by screenshotting), the list of messages is a dump that can't be segmented for business goals and for a target to work with every client.
In the Inflact Direct module you'll be able to create a label for each manager. It is highlighted with a color and their name. So after the manager labels a client, he won't lose them in the list of hundreds of messages.
And of course, having both mobile and desktop versions of the Inflact Direct module is more than convenient for use by several people at the same time without any difficulties from the different geolocations of account managers.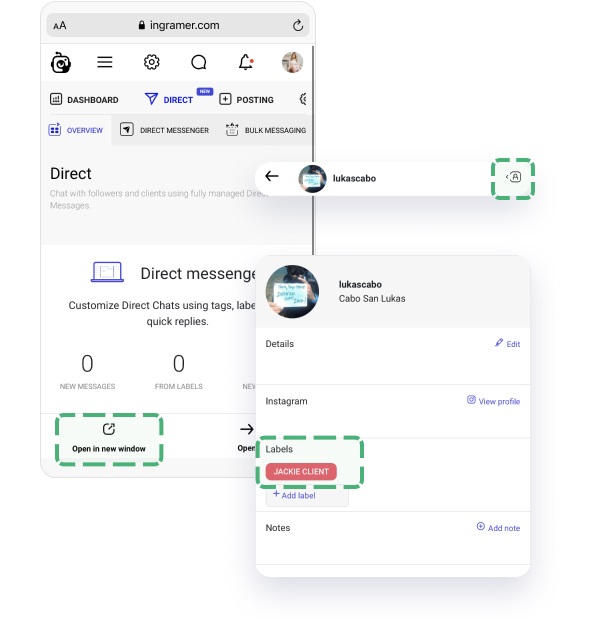 Just go to Direct, choose an account in the list of messages, tap the account icon in the upper right corner, and add a label with the name of the manager.
Now you can filter your messages by any label.
#4 Inflact Direct is a salvation for those who need to mark each client with their delivery address.
What if you sell a physical product on Instagram? And you need to have all addresses of your clients on hand? I bet you have a variety of Google docs for this purpose, where you diligently copy every Instagram account name and sort the address of clients to each of the rows and columns. People send their addresses as a full text and never sequence the address information as it is set by the post office. So this is a headache to filter, gather and make the addresses clear and ready for work.
In the Inflact Direct module, you can add addresses line-by-line, right in the profile of any client now.
Once and for all the addresses will be saved in a clean look for all of your clients' accounts. And you won't need to copy them to any other document or search for the addresses in long message threads anymore.
P.S. The Inflact Direct module will be a powerful CMS for businesses soon. We will inform you by email as soon as the update is ready, and Kanban desks will work here. Join our newsletter here.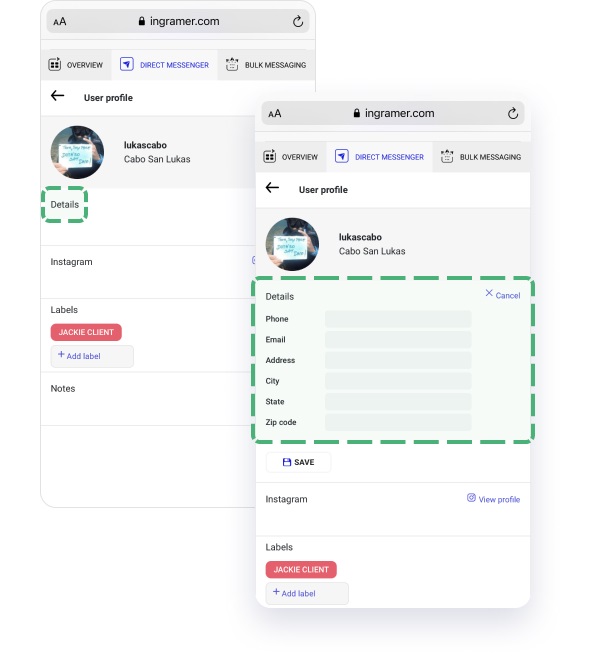 #5 Create new Direct threads for any activity in your profile – Story reactions, comments, and more.
When dedicated users (they don't have to be your followers, but can be anyone who's interested in your content) ask you about your products in the comments or react to your Stories, it means that they are halfway to becoming your hot prospects.
As a businessperson, you need to reply to them instantly and mark these people as "Interested."
You just need to set up fast replies and labels.
Master this by following this simple process: DirectAuto-RepliesReply to comment.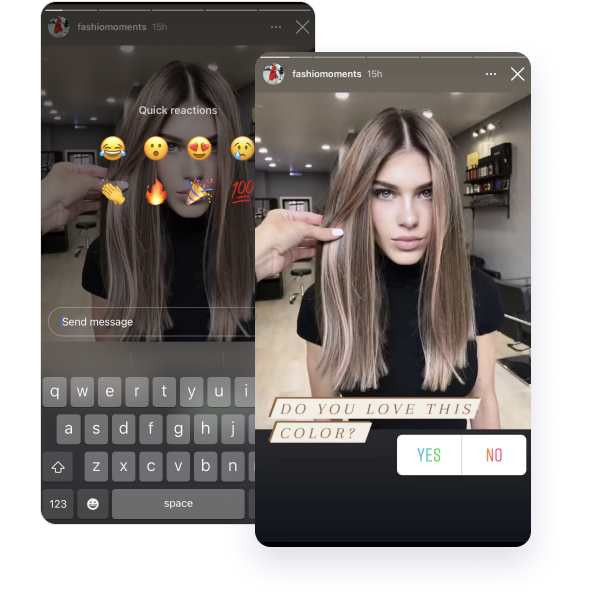 The abilities of our Inflact Direct module are endless and by combining them, you can make your Instagram Direct a powerful tool for sales, promotion, and keeping the clients hot. There's no other tool on the web that has so many useful functions in one dashboard. Or that is so convenient to use both on mobile and desktop.