What is your go-to Instagram promotion tool? There is the Hashtag Generator by which you can boost 24,4% more traffic to your account in 3 month! Intrigued? Head over to the article! The list of banned Instagram hashtags is attached!

The central topic of this article is hashtags. Yes, I'm eager to tell you about new hashtag analytical methods by using which your business will flourish. Before we plunge into the depth of Hashtag Universe, let's jog our memory and recollect what the essence of tags is.



Ladies and Gentlemen of IG, the subtopic #1 is about broken and abused IG tags (to exclude the possibility of shadowbanning), the subtopic #2 is how hashtags have positive effect on your Insta popularity, and the subtopic #3 is what snazzy IG hashtag analytical methods are.



There is a tool that will help you to promote your account WITHOUT BANS!
Smart Hashtag Generator by Inflact
Fast and precise hashtags selection
By keywords, photo and URL
Analytics of each hashtag
Multilingual search
Start effective promo campaign right now!
Try out Hashtag Generator
Do you desire to discover a new era of promotion on IG? Keep scrolling!
A few words about a tag

A hashtag is a sign marked as a hash that accompanies each of your captions. After entering the hash, you select the actual word(s) by which individuals find you.


You need to pick trending, highly-specialized, and non-highly-specialized tags by-hand or using Hashtag finder services. Well, I'm going to discuss hashtag generators later. With the perfect combination of tags, you can ramp up your IG promotion and boom your photos' impressions. But not all tags have a good reputation. Some of them can hurt your acc and be a reason why you are banned. In the next chapter, I'm going to tell you about Instagram banned hashtags in 2022.



Why they ban hashtags?

Ou la la, IG started banning hashtags. But some specialists reckon that it's a hoax, and there is no categorical proof of shadowbanning. However, despite the contentiousness of the issue, I've written the list of banned hashtags on Instagram — especially for ones who refuse to take any chances. Moreover, I've prepared a brief guide on how to check the hashtag for banning.
Broken hashtags are hashtags that were used by a ton of Instagrammers. Your hashtag can be banned as a result of failure to follow the IG rules. For what offenses and according to what laws can the hashtag be blocked?
The person shares the material for which he has no right to post;
The person uploads "nude" pictures;
The person is on contempt of other IG users;
The person is involved in terrorism or crime groups;
The person posts materials with self-harm content;
The person doesn't warn that the photo or video should not be watched by children or pregnant women.
How to check if a hashtag is banned?

Now, to skip ahead, there are two ways of hashtag testing - manual or through an Instagram shadowban tester. But that's a topic for another time.
In the beginning, I tell you how to view banned hashtags through the IG search system.
There is a step-by-step tutorial that helps you to avoid creating posts with illicit hashtags:
Log in to your IG application on phone.
Tap the loupe symbol.
Start typing your tag.
If the notification 'the posts from # are currently hidden' or ' appears, there is a significant risk of the tag is blocked - temporarily or permanently (see the picture).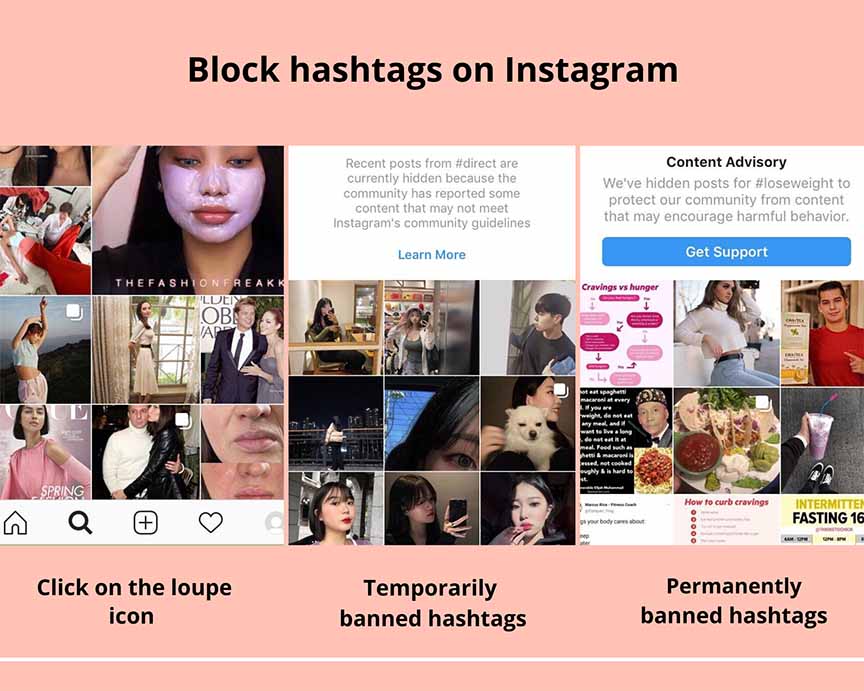 It's a difficult and complete way for hashtag testing. So, I strongly recommend using a smart and simple shadowban checker.



The list of banned Instagram hashtags 2022

Let's look at the list of abused and banned hashtags Instagram. Try avoiding their use. Otherwise, your post will be marked as insulting.


#adulting

#alone

#americangirl

#armparty

#asiandick

#attractive

#babyrp

#bacak

#badbitcztwerk

#baddie

#balenciaga

#curvygirls

#customers

#dating

#Direct

#DM (Oh, my heart is broken. How can I create captions on Instagram Promotion topic?!)

#elevator

#PornFood

#Ravens

#StreetPhotos

#SunBathing

#TodayImWearing

#Undies

#WTF


Now, you don't have to conduct shadowban test.




How to Activate Hashtags Power?

# are essential for your captions because it's a convenient method to chase down a person, community, event, or a company. You just type words and get the desired result.

Find out more about the right hashtags use: Read How to Find Top and Trending Hashtags to Use on Instagram. It is the full guide for you to become a success on Instagram!

# are literally divided into groups by frequency (frequent, overage, rare) and essence (trending, branded, niche, non-niche). The comprehension of hashtag diversity is a source of inspiration for creating a successful IG promotion strategy.


Trending tags. By using hyped-popular tags, you get more recognition, love, first-timers, and influencers. I strongly recommend mixing extremely popular # with narrowly focused and niche tags. And make sure you check banned Instagram hashtags! I sprung a surprise for you — a guide on how to make an Instagram shadowban test. Using a detailed tutorial (see the chapter on shadowban from Instagram banned hashtag above), you may verify any tags and use them without fear to be shadowbanned.


Specific tags. The niche # race is minimum compared to the general ones, as they are more fresh and organic. Therefore they are working and can have your post featured on the trending posts block.


Hashtag by region. The most successful tags are that specify the geo-point of your enterprise. Individuals really often look for items in their cities/towns/provinces.


Branded tags. If you are an entrepreneur or blogger, you may make up a personal hashtag. Take a peek at the cosmetics brands such as The Body Shop or Dove! Through their unique tags, you understand their mission, or you can join the marathon, for instance. Inspire your obsessives to greatness! # are always ready to help you grow.


Example #1. Through tags, the body shop's team shows a deep perception of themselves, their mission, and demonstrate a willingness to consume consciously. And encourage a woman to become a part of their massive movement.



Example #2.
In this case, a unique tag reflects the company's determination to shatter beauty stereotypes. Tapping it, you can learn more about the #Showus that is about changing the manner media & advertising represent women.



Psst, if you don't know to make up unique tags, the team of Inflact experts has prepared a full-fledged guide. There is a mix of useful hints. Take a peek the article called "How To Create a Hashtag on Instagram for Brand?" and flex your creative muscles!




Why Do You Need To Use Tags on IG?

When used effectively, you can increase benefits, get win-win outcomes, and global prosperities. A hashtag's mission is to simplify your life (and the life of your customers). By using tags, you can categorize your content. Thus, to search for the right material, you'll need a few moments and clicks on a keyboard or a mobile phone.


via GIPHY




So, let's define the privileges of using the IG hashtag. I've counted 5 significant reasons for including tags in your IG promotion strategy.


Reason #1. Glorify your page

Find the most actual hashtag and add them to your post. You'll attract first-timers and expand your audience.


Reason #2. Boost engagement

Tags are can contribute to your brand (personal brand) awareness elevating. Also, you may prepare a personal tag that will cultivate your clean image that will become the best asset.


Reason #3. Find out your clients/fans

# help to bond with the Insta audience. Monitoring hyped-popular tags, you may define who your average follower is. By heeding your clients and concentrating on their business issues, you can develop new services/products on an international and national basis.


Reason #4. Identify your content plan

Protect yourself from a creative crisis with a hashtag finder. When you have the set of hyped-popular tags, you may navigate a labyrinth of social networking tendencies and make up a content strategy according to individuals' needs.


Reason #5. Analyze your promotion strategy

Via a smart analyzing tool, you are aware which things stimulate human beings to purchase and build up a perfect promotion strategy.


I hope you are aware of the essence of tags and determine its privilege. It's high time to delve into promotion strategies with tags!




The Best Hashtag Technique For Boosting Your Traffic

I've prepared a full-fledged guide on how to implement hashtags in your IG promotion strategy to rock your IG.


One, two, three... Tap the IG promotion button!


#1. Choose a perfect hashtag generator

There are a ton of excellent growth trackers - from simple and convenient tools that provide you with related hashtags through analyzing a keyword to super-smart instruments with the diversity of super-cool features such as multilingual finding, detailed hashtag analytics, and AL-based hashtag finder. If you are confused and have no idea how to select your ideal hashtag finder, there is one. Click the button!




#2. Highlight hyped-popular tags and determine niche hashtags
Complete the range of trending and hashtags concentrated in your sphere. Use the combination of ideal tags to provoke the avalanche of content impression. Yep. The right combination of tags may ramp up your promotion. No wonders. Only the structured hashtag strategy.


#3. Analyze hashtags

Using only trending tags, you can't highlight among other Insta-habitants. At the same time, however, you won't be overhead with only very specific tags. Needless to say that users can't search for your images/videos/GIFs.


Your task is to improve the balance between hyped-popular and narrowly-focused hashtags. Such a strategy helps to span more Insta-habitats and increase your popularity on Instagram.


#4. Track the top posts

It's a necessity to realize which kinds of topics are successful. Continue to attach importance to image/video/GIF, captions, and tags and make up content according to trends.


#5. Learn the history of trends

As we mentioned above, you need to continuously track users' behavior, analyze the newest trends, and implement leading technologies and strategies to create a successful presence on Instagram. But build your Instagram strategy with one eye on history and one on the future. Fashion is cyclic. And past trends help you to define how to proceed.


#6. Monitor trending hashtags

When you understand which kind of hashtags have power over your audience, don't forget about trending hashtags. I've written the case-story of how to build f fashion community with trending hashtags. Read up the article to the end to rock your Instagram.


#7. Classify products, events, marathons by hashtags

There are two advantages of using separate hashtags — they streamline the search for useful information and help you to track which a product/service or event is the most successful.


#8. Use a permissible number of hashtags

The formula for your IG success is simple. Use 3-4 trending (or frequent) hashtags, 6-8 average, and 12-16 rare tags related to your photo. That will increase your posts' impressions.


#9. Turn on hashtags by location

With the help of a multi-language hashtag search, you can optimize a list of hashtags to your region. It helps to attract newcomers' attention across the world.


#10. Track influencers

Imagine the situation. You have created a new gothic dress, a la Martisha Addams. Your aim is to show up it on IG. You are searching for a blogger. Don't find influencers through "fashion" or "gothic" hashtags - that's too common! Hashtags like "AlternativeStyle," however, can help you to figure out bloggers who have real passion.




How To Make Your IG Acc Flourish With Inflact Hashtag Generator?

I've prepared a brief case study on how an alternative fashion brand can realize the power of the hashtag generator and boost its traffic by 24,4%.


Rogue+Wolf, a retail company, has 600,000 thousand individuals interacting with the company every month, either on the site or on Instagram.



Kate Johansson, Director of the brand, has chosen a classical Instagram-Promotion set - an Auto-Messenger, a Scheduled Posting module, and a hashtag generator.
There are three great aims:
Attract first-timers through trending and organic hashtags.
By using Auto-Messenger, build happy communication with newcomers and loyal individuals.
Find ideal posting time (when customers are particularly sensitive to beauty) and make the account perfect. The Inflact Scheduled Posting races to the rescue!
A tool to Zen: from chaos and stress to concentration and sensemaking!
By using Inflact Post Scheduler, you can:
Plan posts a month in advance
Find perfect posting time
Adhere to the common vision for the feed
Free up your time
Do you want to plan three posts FOR FREE?
Process:
The
first
step was to select frequent, average, and rare hashtags. Note that you can generate hashtags by a photo, URL-link, and keyword.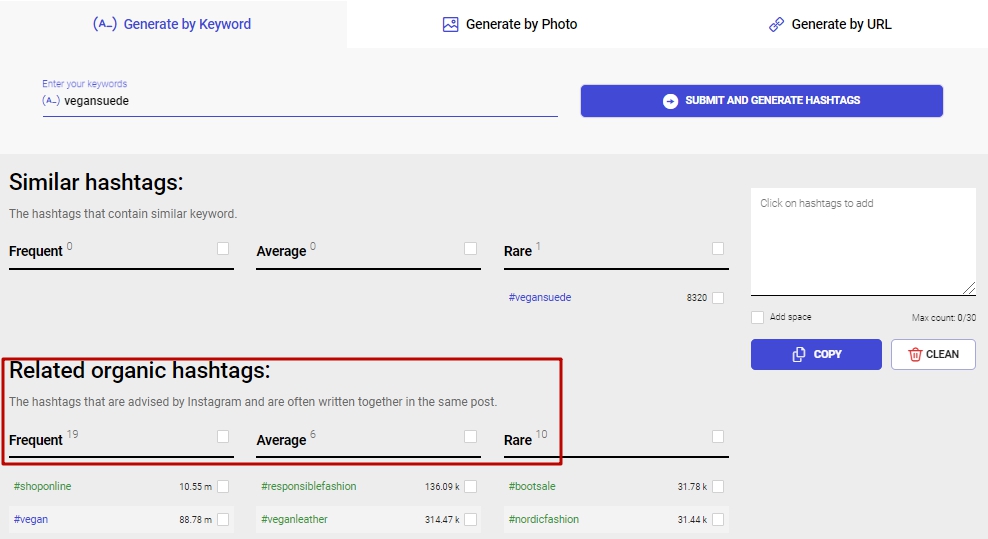 The second step was to use the right combination of hashtags. According to research, the perfect ratio is 3-4 trending, 6 or 8 average, and 12-16 rare hashtags.


The third task was to categorize products by hashtags - #gothboots, #iphonecases, #blackjewelry, etc. Moreover, the team of marketers creates personal tags to interact with the massive general public and to figure out the consumer's personas.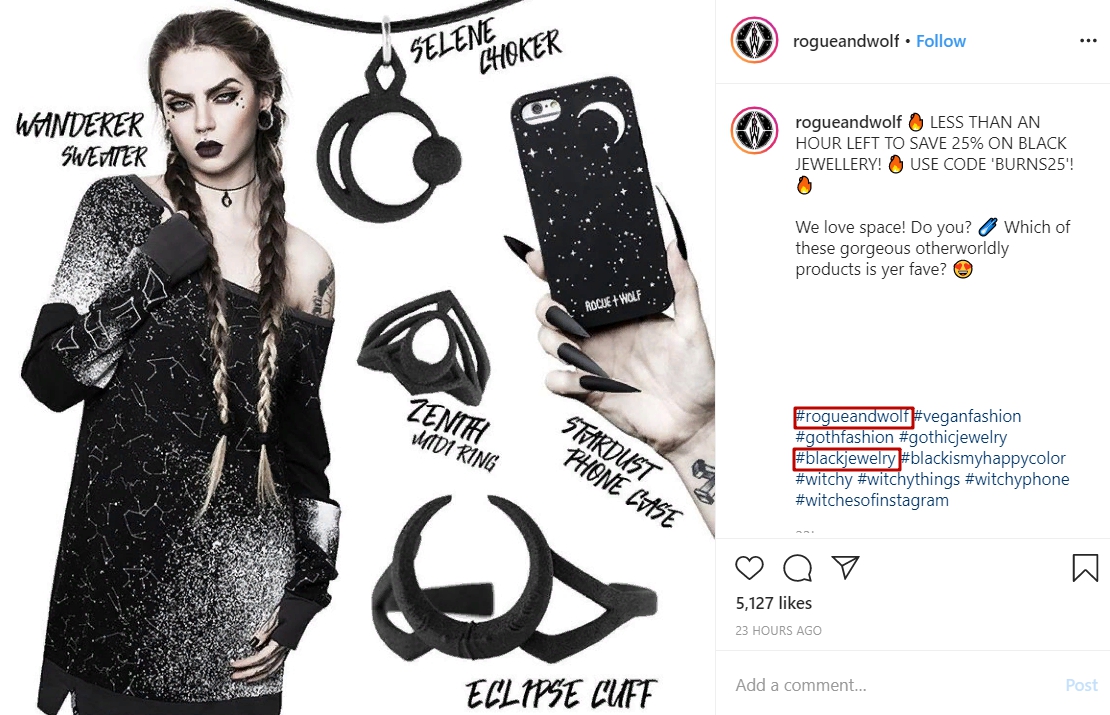 Thus, the traffic increased, and the percentage of individuals who came from IG became twice higher.


The result after 3 months of the Hashtag Finder usage.


It is possible to create and promote a new brand on IG for 4 months. During this time:



24,4 traffic boom with the help of hashtag power.
21K general followers boost in 3 month
253 the number of individuals started following #rogueandwolf hashtag.
Conclusion
Guys, now you know that hashtags are the base of promotion on the photo-sharing platform, and you won't ignore such a significant tool.


Shoot for the moon with our Hashtag Generator!


It's smart and useful with super-cool features - 5 keyword combinations, multilingual search, and hashtag assessment. It's just the right balance that produces a remarkable effect!


Drive more individuals interested in your sphere
Optimize tags to your region


Liven up your Instagram

Optimize tags to your region
liven up your Instagram


How is Hashtag Generator doing?