Emanuel Daze is a photographer from Mexico, who used the working formula of photography hashtags and increased followers rate in 10K for 3 months!

Today, a young photographer who wants to be noticed needs a portfolio on Instagram. It is opens up unbelievable opportunities and has always been an income source for photographers. How to gain more on Instagram? Get new followers and their attention. How to get new Instagram followers? You need to promote your Instagram account. See the story of our client, Emanuel Daze who managed to get popularity with only 1 tool:
Inflact Hashtag Generator.
Emanuel Daze is an aspiring photographer from Mexico who discovered the world of photography a couple of years ago. During this time, he has managed to make a good portfolio to start doing photography on a professional level. To attract as many customers as possible, who can order his photoshoots, he has decided to post his work on his Instagram profile and tagged them with the trending hashtags. What has become of it? Read on!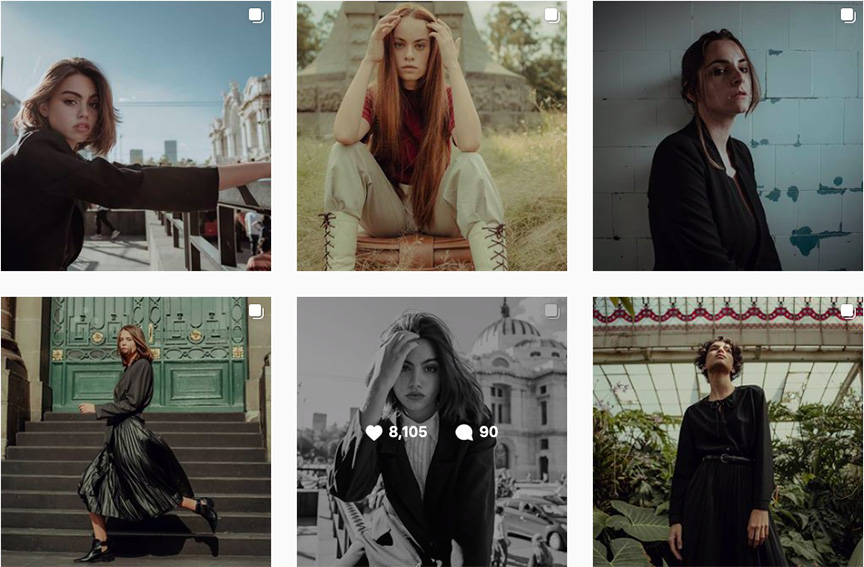 x5 Traffic Growth and 75% Orders Increase!
Before we talk about any results, let's see how the account looked 3 months ago:
Number of followers - 4K;
Number of publications - 65;
Likes per post - 1K;
Comments per post - 20;
Number of direct requests - 10;
Number of overall impressions - 20K.
It is quite good results, for 3 months of leading Instagram before the experiment.
Reason
Why did Emanuel decide to use hashtags to increase the total profit of his Instagram account?
Firstly,
hashtags are a new trend
that everyone uses to structure photos and posts into specific categories.
Secondly, it is convenient. By tagging a post with the right hashtag, a person does not waste their time and the time of other people who may be interested in his post.
Thirdly,
it is a
free promotion tool
that does not require anything from the owner of the page, except properly placed hashtags.
To correctly select and put hashtags, Emanuel used
Inflact Hashtag Generator
, which selected only trending and working variants of
photography hashtags
for him, based on the theme of his publications.
Boost Traffic To Your Instagram Account!
Try Inflact Hashtag Generator!
Strategy
As you can understand, Emanuel didn't know how to make the most of hashtags so that his posts would be at the top and attract a new audience to his account. So he decided to turn to the Inflact team. The girls from the technical support have given him some tips on the correct selection of photo hashtags.
They offered him the following scheme of work, which was supposed to bring the first results within a month of the experiment!
Emanuel had to choose from the list different variants only 5 hashtags. To facilitate the process, he analyzed each hashtag. He compared the frequency and difficulty of use, as well as which days of the week it has been the most popular.
Then he used the previously selected hashtags for one week, after which he analyzed the results. Later, he chose the other 5 hashtags and compared the results with the previous ones. Thus, he did 4 weeks, after which he was able to select those hashtags that work individually for his profile as efficiently as possible.


Practice
Here's how the process has looked like in practice!
On a particular photo that he was going to upload to his profile, he wrote in the search line few words according to the theme, for example:
photography, photoshoot, vscocam
. Then Inflact selects the most suitable variants of Instagram hashtags for photography (about 100). They are divided into 3 categories:
Frequent, Average, Rare.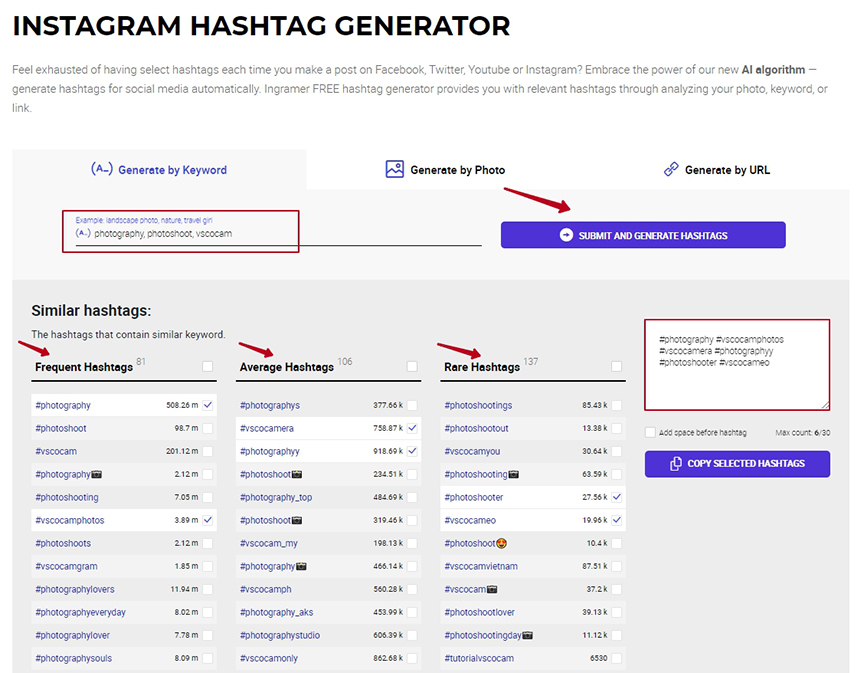 From each category, he took a few hashtags and did an analysis on them, which is also available in hashtag generator: the hashtags are analyzed by the difficulty. It shows how hard it is to get traffic with a chosen hashtag. The main rule is to take popular hashtag with an average or low difficulty. It helps to drive the maximum attention to the posts. But remember, there's no unique and golden secret, the success comes to every account through experiments and analyzing the results. Go and check the
free version of hashtag generator
and get your first results. It costs nothing, but you can easily check a few hashtag ideas to get new audience!
Let's get back to a case story. After a little searching, our photographer chose the most popular and relevant hashtags, used them under the publications for 1 week. He changed the selection of tags for every publication. It's really easy to do in the Instagram Insights. It shows the reach of every post and a number of profile visits, caused by the post. So it's pretty easy to analyze the impact of relevant hashtags choice.
This process, he repeated for 4 weeks, and each time he compared the results of his hashtags choice. Important: the hashtags choice must be unique for every publication to avoid a "shadow ban".
Such actions allowed him to deduce the ideal scheme of using hashtags, which attract 5 thousand views for every thousand followers. That is, if your audience is 100 thousand people - then you are guaranteed 500 thousand views daily, provided that you choose the right hashtags specifically for your profile. Visually, it looks like:
"1000 followers = 5000 impressions"
For the remaining two months of the experiment, he used the chosen hashtags strategy, which increased his profile impressions in 5 times!
Use Hashtag Generator for Photo Hashtags!
Make The Formula Work For You!
Bottom Line

How can we demonstrate to you the received results? Yeah, using numbers! Here are the numbers that Emanuel has for December 2019!
Number of followers - 14.4K (+10K);
Number of publications - 158 (+93);
Likes per post - 15K (+4K);
Comments per post - 100 (+80);
Number of direct requests - 58 (+48);
Number of overall impressions - 72K (+52K).
And he is not about to stop there. After all, for an effective promotion campaign, it is necessary to change the chosen strategy every 3-4 months!!!
So for sure, Emanuel is already developing a new scheme for the use of trending hashtags and deduce a new formula. But, as before, Inflact Hashtag Generator will help him to choose the best variants for implementation!
Emanuel, thank you for choosing us, thank you for sharing your experience. We are so happy to have so talented clients. We wish you success, popularity and constant flows of new followers to account! Just take a look at the top selection of girls on his Instagram account! Click on the picture below, you will be redirected to the Instagram account of our client! Don't forget to tap on follow!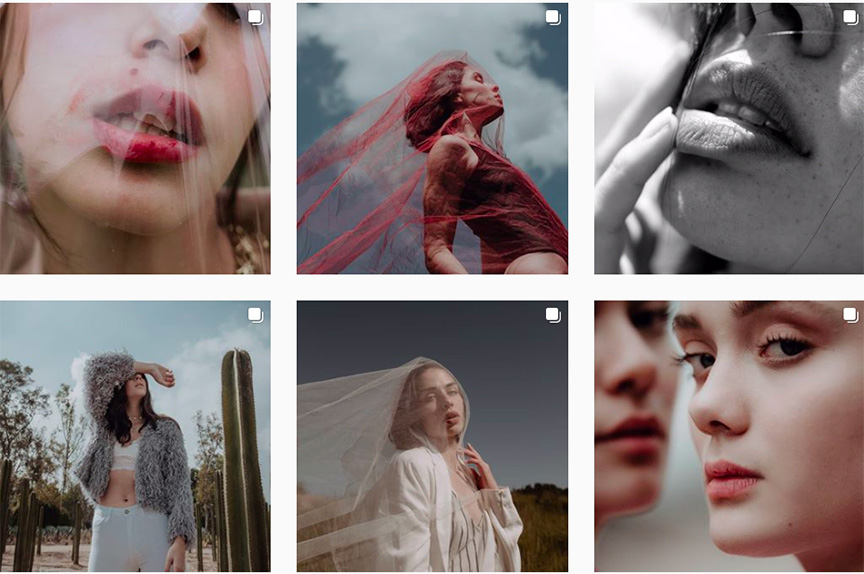 The best photography hashtags for your use!
Do you want to use only trending hashtags that will help to expand your audience and attract only interested followers? Take advantage of
Inflact Trending Hashtags
!
Now, we select trending hashtags for you, depending on your chosen popular category. That is, choose the theme "photography" and the service will show you 10 frequent, 30 average, and 30 rare hashtags on this topic!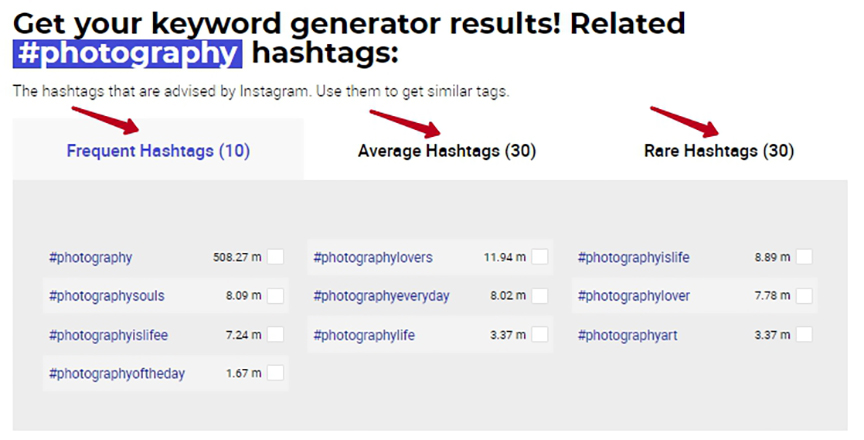 Besides, in real time, you can see all the latest publications that have been tagged with this tag and analyze them. Yeah, the feed may be trashy sometimes if you enter a really popular keyword, but there's always a golden mile for ideas or new vision.
Above all, now you have access to a comprehensive analysis of the selected hashtag. Make it every time you have a new idea and decide whether to use hashtag or not!