Among IG customers in 2022 there are many children who grew up on the Winx, Bratz, and Disney and get enchanted by fairies. The fairy aesthetic is a 100% sales stimulator for an online business, e-commerce, TikTok, and Instagram. If you want to get followers on Instagram, this aesthetic will help you to be explored often. Generation Z grew up on fairy-tale heroes and is happy to see them in adult life — including in your IG brand aesthetics.

Familiarity with this style, its attributes, color palette, and trends will help you adapt your business idea to the trend of the Instagram community. In addition, this trend has grown in the even more buzzy social network TikTok. Videos in this style have scored a bunch of views and comments.
For online promotion through TikTok, top influencers redirect viewers to Instagram. This is the "content funnel" to find customers and sell physical products or services. Next, we will review a specific case in more detail.
Note: Especially with the development of the Metaverse and virtual fashion, many influencers can apply fairycore on themselves without arranging a photoshoot with clothes. Even if you are a virtual artist or a virtual designer, then knowing this style will help you create a trending post on Instagram that will increase audience engagement.
Frequent uses of fairycore for business:
Etsy store promotion through IG
Sale of vintage items
Sale of jewelry
Sale of decor
Sale of clothes — e.g. corsets and dresses
Virtual fashion design
Sale of presets for photo-editing
Sale of services — e.g. styling, photo, design, shooting, make-up
Fantasy style makes your content more Instagrammable. So you can take off on the organic promotion of the algorithm.
In addition, when you clearly position the style of your account and your business, it will be easier for you to promote it because the content will be niche. You can simply choose niche hashtags, find relevant Instagram feature accounts for promotion, and find content ideas the audience will be interested in.
You should not start a business on Instagram if you have not decided on the style and concept. And if you haven't decided yet, you can choose a ready-made trend that has been formed by the community and make a product tailored exactly for this trend.
Knowing this style, trend, colors, and examples will help you to be on the wave and use it for your brand image.
Spoiler: Many influencers have started to earn money only by tweaking within a certain style. This has become their competitive advantage and allows them to promote their services and products to the target audience. We will look at a live example of a fairycore influencer — this girl began getting orders through Instagram thanks to posts in the fairycore mood.
Quick introduction: Fairycore vs. Cottagecore
The fairy aesthetic is often confused with cottagecore — a similar style. To get a better idea of fairy posts, have a look at the pictures.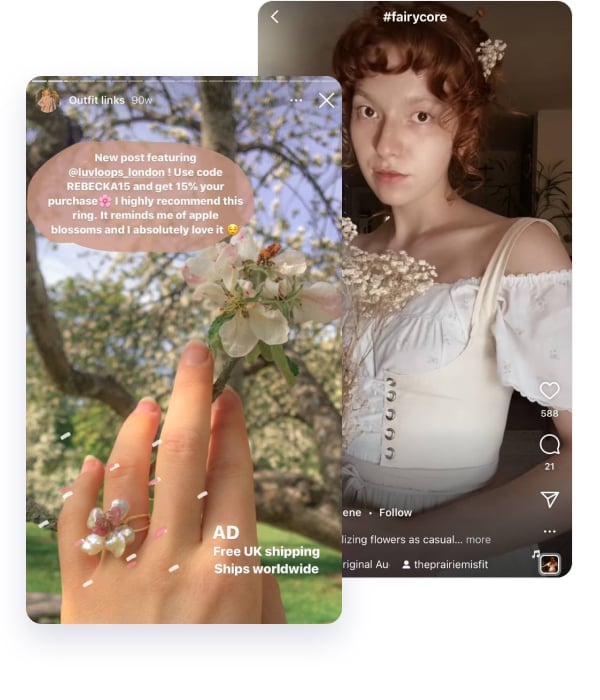 As you can see from the examples, these are fantasy images that help to add magical and fabulous attributes to the daily routine. This does not mean that you have to wear fairy wings or sprinkle sequins from head to toe.
There are many references that are based on regular (or vintage) clothes and many of these clothes can be bought in second-hand shops or on flea markets, which makes this style even more entourage and authentic. Next, we will observe an influencer who helps clients to collect a style bundle in fairycore by purchasing clothes by references.
Since the mood of the 2000s will be extremely popular in 2022, this trend will also be reflected in the aesthetics of the Instagram profiles. At the same time, fairycore can be perfectly introduced with all the attributes of the 2000s – rhinestones, pink, infantile jewelry, Paris Hilton mini bags, and belts with rhinestones shaped in butterflies (see the Bluemarine latest collections).
To keep your profile on Instagram relevant, you should follow world trends, including fashion.
Like fairycore, cottagecore also involves Victorian dresses, delicate pastel colors, corsets and unity with nature. However, it has more to do with the romance of country-house life, picnics, and trips to the woods than mythical creatures and cartoonish vibes.
If you aim to start producing a product or enter Instagram to promote yourself as a fairy influencer, then stock up on the necessary wardrobe items.
In order to create a style mood board, you may find the Inflact downloader useful. This is a universal tool that allows you to download any picture/video from Instagram that you can extract to collect visual references. With these references, it will be easier for you to find the things you need, and in general, you can use pictures downloaded from other Instagram accounts in your feed.
If we try to convey the style in words, then we come up with the following associations:
Victorian look, light wavy flowing hair, spring joy and magic, flowers, muted colors, butterflies, cute animals (like deer, cats, and rabbits), and books and paintings that depict fairy-tale characters in a soft and pastel palette.
In many ways, this style resembles baroque paintings — the lightness, fabulousness, and flamboyant colors. However, with the addition of characters' fantasies, you can spice things up with elf ears or fake wings. At the same time, do not overdo it. Below you will see how ordinary people can present content to create a fairy look with small things — rings, flowers, pets, etc.
The #fairycore hashtag gallery lists 1.1m posts including Reels. Reels is the fastest and surest way to get to the top because this content attracts attention from the Explorer page and is trending.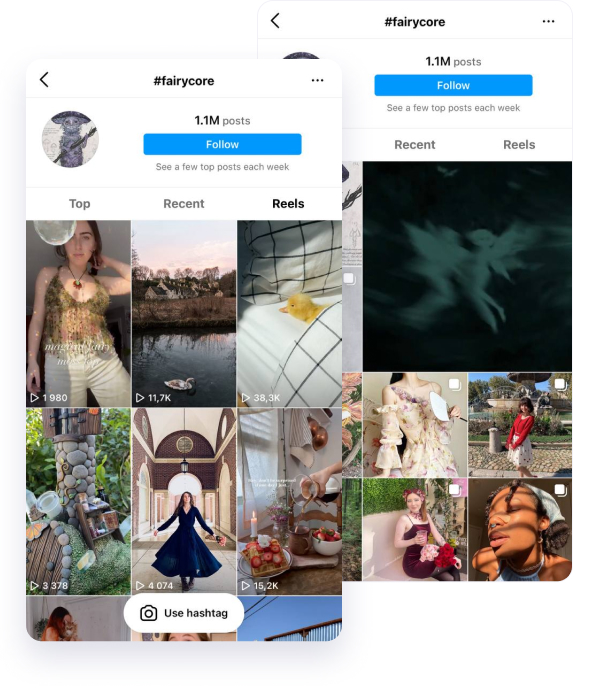 Hack:
With the
TikTok downloader
you can get to the top Reels gallery, for example in the #fairycore tag.
A quick plan on how to get to the top of the hashtag gallery through Reels:
Find an example of a TikTok in this style — it's very easy, millions of clips are posted with this tag.
Download it via the Inflact TikTok downloader — it's free and there's no watermark.
Find the top tags on the topic — we collected the hashtags relevant to #fairycore through the Inflact Hashtag Generator in just two minutes. You can copy them or explore the tags based on any keyword.
Post Instagram Reels with these hashtags. This will allow you to increase the reach of the post and bring 3X the people to your account.
Read more about hashtags for Reels in the article.
Fairy aesthetic examples
To collect references, you can explore illustrations for children's books about fairies, or watch Disney cartoons about fairies and princesses, as well as vintage cartoons about unusual creatures. In photo processing, you should stick to soft colors, use blurry effects and, of course, glitter elements.
Best locations for content production:
Any natural location — flower meadows, forests, seaside, a lake, a river. It can be your room decorated with wallpapers, printed art or LED projections.
Props you may need: wings, hairpins, umbrellas, white gloves, bows, ruffles, the predominance of white and earthy tones in clothes, sequins, fruits, baskets, fluffy pets.
Remember that you don't have to follow the templates and the examples below. After all, fairies are mythical creatures and they can live in forests, near water spaces, or just in the air of your room.
Things to avoid:
Too perfect editing
Glam ideal makeup
Minimalism
Fairycore outfits
To get prepared for a fairy look you will need the following items:
Open shoulders in clothes, laces, corsets, white/colored tights, transparent materials, and bows, which you can make from a ribbon.
As for makeup, it may not be used at all; in any case, the face should look as natural as possible. For example, on a clean face without mom makeup, you can apply glitter or highlighter — this is the simplest way to get the right mood.
The hair is often loose or carelessly tied. Nails are cut short and either without nail polish or covered with light shades — nude, pearly, a soft pink.
There are many shops on Instagram that sell fairy jewelry. It will help you stand out. Even a single ring and your arm can create a post in this style. More often, natural stones are used, such as moonstone and amethyst, and green stones remind us of magical rituals and forest creatures.
Shoes can contrast the whole image. For example, if you have a romantic delicate dress with bare shoulders and a semi-transparent corset on top, you can have modern NewBalance sneakers or you can be barefoot.
Remember that the style reflected in Instagram posts should be applicable to real-life — your potential customers should imagine themselves wearing these clothes in life.
3 Fairy aesthetic Instagram accounts for sales
#1
The Wild Rose & Sparrow account is a great example of how fairycore helps to promote Etsy shops. The creator of the store attracts the Instagram audience to follow the Etsy shop links so that they purchase Instagrammable items.
The fact is that on Instagram you can form a closer relationship with your target audience, especially if your audience is women under 30. By building social network loyalty with constant content and examples of successful use of your product, organizing online meetings, and constantly posting stories, you strengthen the desire to buy your products on the e-commerce platform.
You see examples of products that people attracted by the aesthetics of these posts can order anywhere in the world.
Hair accessories such as hair ties, headbands decorated with flowers, and nature motifs are great fairy product presentations.
#2
Ann.tique is an example of an Instagram shop that designed the feed and produces items in the fairy aesthetics. Under each post, you can find hashtags that allow more users to discover publications through the trending gallery.
This is a cool example of how an Instagram trend can lead to shop growth. Here you can notice a dress with floral and translucent patterns, dropped shoulders, made of light fabrics. The promotion of such a store is much easier since the style is understandable and the audience is loyal to this vision.
Rebecka Wahl is another example of fairycore usage for personal image promotion. This influencer posts photos inspired by mythical creatures and promotes a physical product much more effectively.
For example, in the bio links to this account, you can find links to the services performed by this influencer. Rebecca offers presets and maintains a YouTube channel.
Styled Instagram posts and content are a great way to reach the people who are likely to love your physical product. Therefore, in the marketing funnel for promotion on Instagram, the key – the upper level – is the aesthetic Instagram account. It is on visuals that potential customers peck, whom you will direct through communication to purchase the goods you have created.
Fairycore color palette
It may be pointless to describe colors in words, so take a look at a selection of three Pinterest boards that we found for you.
Pinterest boards:
You can easily complete a mood board with this type of content and get a personal color scheme. To do this, you need to download photos from Instagram or other social networks. You can do this using the Inflact downloader. After that, you can use a service like Coolors.co which, based on your photos, will determine the palette and offer it to you in HEX format — that is, all your colors will be translated into the international color code.
And it's a handy tool to create a site, brand products, and explain to employees in what palette you want to see the visuals.
Business Case: how to become a paid fairycore influencer
The influencer is a perfect example of promotion and social media funnel based on a certain style. Now we will discuss step by step how a blogger promotes her services and gets leads.
#1 BOOST TIKTOK
TikTok is a platform for instant fame but not so handy yet for sales. A video can become viral there thanks to hashtags — we discovered this blogger via TikTok.
It is easy to find users by a certain tag, so if you make niche content, you will be sure that people will discover you in trending. Having found the clip, in the clip description we see a redirect to the Instagram account.
#2 REDIRECT TO INSTAGRAM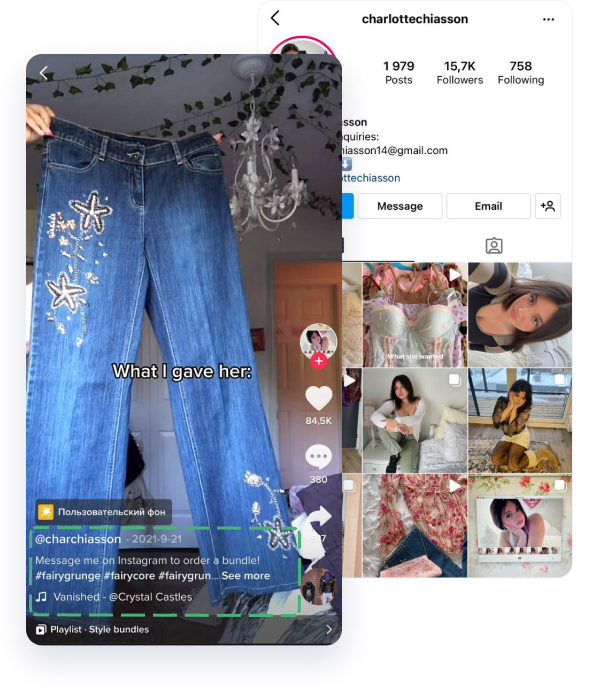 At this stage, the client is already interested because they took the step of clicking on the related link in your TikTok and opening your Instagram. That is, they are already warmed up and interested in your content — visually attracted to it.
Continue to work with them. To do this, you must have examples of what service you offer in your Instagram account. For example, Charlotte makes a TikTok clip repost where she selects clothes in a certain style for her clients.
The key point is that people who have just switched to your Instagram from TikTok should clearly understand what you are doing. Open up your account with a new look and make sure your service is clearly articulated so people will understand that you can help them pick out their wardrobe. Use Highlights and feed posts.
#3 CREATE SALES POSTS
As in the example, you can reuse content, i.e. download TikTok videos and re-upload them to Instagram. It is also convenient to remake Instagram Reels out of them.
#4 GET ORDERS IN THE BIO LINK
The link in the bio should contain all the services you provide. For example, Charlotte linked a form for getting orders in Google forms and links to other socials.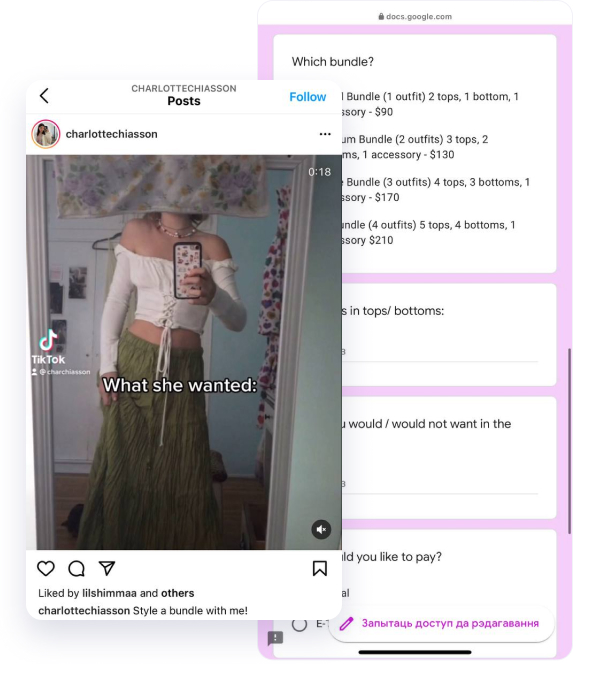 Also in the account, there is a lot of content generated by users and real clients. That is, she surveys each client with whom she worked and makes a clip — the reference to what they wanted and the result.
This content is pinned in Highlights and there are posts in the feed. In order to collect the publications of your clients, you can download them in their original quality using Inflact.
Fairycore hashtags — copy & paste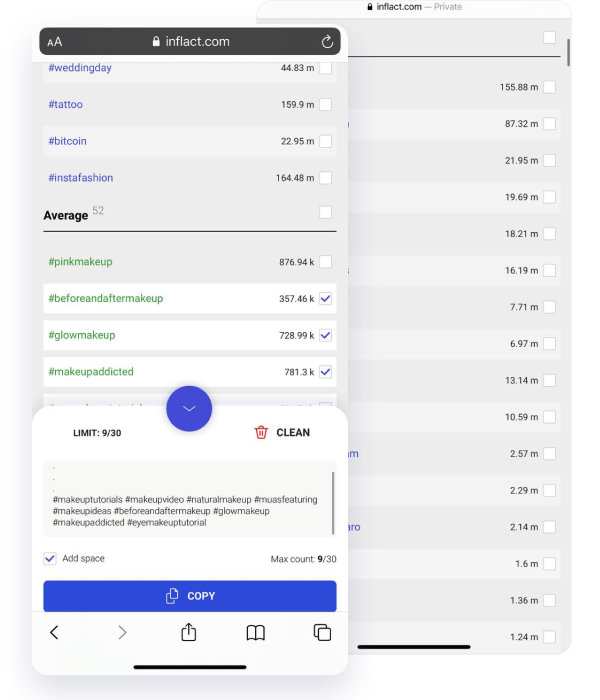 You can use this collection of tags to more effectively promote any business or your account in this style. And we generated these hashtags by using the Inflact Hashtag Generator.
Don't forget that in this example, we have pasted the keyword "fairycore." However, to pick up even more relevant tags, you need to browse for other potential keywords — for example, nymph, forest fairy, fairy dress, and other keywords that can more accurately describe your product.
To get the set with such tags, use the Inflact Hashtag Generator, which contains the widest relevant database.
#fairycore
#fairycoreaesthetic
#fairygrungecore
#fairytalecore
#grungefairycore
#fairycorefashion
#fairycoreacnh
#fairycorejewelry
#fairycoreart
#fairycore🧚‍♀️
#fairycorenecklace
#fairycoreoutfits
#fairycorestyle
#fairycorejewellery
#fairycoreisland
#angelcore
#naturecore
#cottagecorecommunity
#cottagecoreaesthetic
#cottagecore
#goblincore
#fairyaesthetic
#witchcore
#forestcore
#cottageaesthetic