I'm sharing some excellent travel quotes for Instagram. Are you interested? Open the post!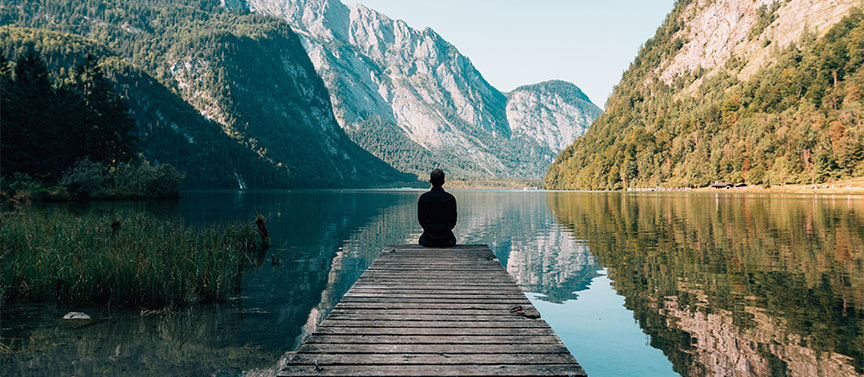 It's time to provide you with more ideas for your inspiration that will be extremely useful if you like traveling.
How to write amazing Instagram Quotes?
But before we proceed to some samples, it will be an excellent idea to understand how to make up quotes for Instagram. Though writing a text for your posts is
not just a mechanical but creative process
, we can define the main rules and steps of this task.
Let's imagine that you have decided to publish a photo made in the recent journey. A breathtaking pic definitely requires some good words, doesn't it?
So, we have just agreed that nice captions are a must. But how to make them up? I've prepared a short guide for you, my friend:
Accumulate info about photo or video. If it is needed you can use geotags as well. Where have you been? What is shown? Based on the pic that you are posting, you can tell a short story. Today people like interesting facts.
Don't hesitate to stay emotional. Express your feelings, your thoughts about the place If you like it and you are happy, share your happiness. If not, tell it as well but don't forget about censorship, please.
Write what you think, write what you want other people to know. People appreciate openness. If you feel like writing some freaky mood Instagram quotes, why not? Inspiring captions? A good idea! A little bit of practice, and maybe you will find your own style. That's will be great.
How to improve your quotes for Instagram?
Traveling is a very popular topic today. People adore journeys. That's why it's a great chance for you to win the hearts of your audience.
People should somehow
notice you
. The easiest solution to help them is to use
appropriate tags
. But it is necessary to define them.
I strongly recommend you to test the capacities of our
hashtag generator
.
In my previous article I've explained in details how you can use it but now just let me remind you why it is much
better than you could even imagine
:
It's absolutely free. Yes, it's not a mistake and stop blaming your eyes, can believe them without any doubts.
It's 100% effective. The tool is powered by AI which guarantees the effectiveness of its functioning.
It's easy in use. Absolutely. Browse a photo, insert an URL or enter a keyword. Just a few clicks and a list of relevant hashtags will be displayed.
I've just typed the word "travel" and that's what I've got.
#photography #photooftheday #picoftheday #nature #instagood #travel #travelgram #travelling #travelphotography #travelholic #traveler #traveller #travelguide #travelbook #traveling #travellers #travels #travelbag #travelers #travel_drops Not bad, don't you think so?
Try it on your own! You will like it.
Now take a look at some freaky Instagram quotes to get inspired and maybe for some copy-paste.
Ideas of Instagram quotes
If you've brought dozens of beautiful photos from your recent travel and now can't decide what text should be written under them, here are you some samples.
Seaside
Life seems to be much better if you can listen to the sound of waves.
The best way to make me happy is to take me to the beach.
Salty hair, I don't care.
That's completely unfair that I can't spend 365 days per year at the beach.
I hear the sea calling me. I must go, guys.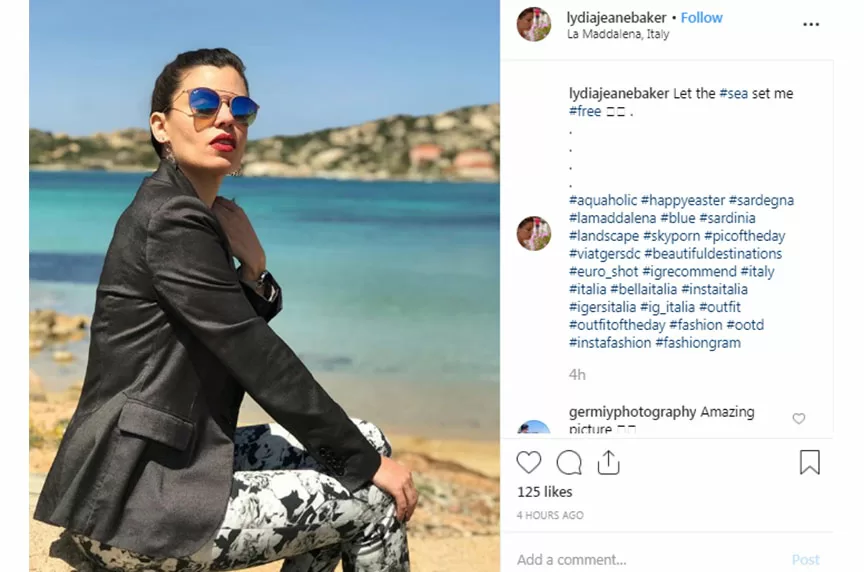 Mountain captions for Instagram
There are no heights that you can't conquer.
This Earth is more beautiful if you look at it from the top.
All sunsets are amazing but sunsets in the mountains are unforgettable.
The more peaks you conquer, the less you are able to give up.
You never feel more powerful than at the moment when you are standing at a new peak.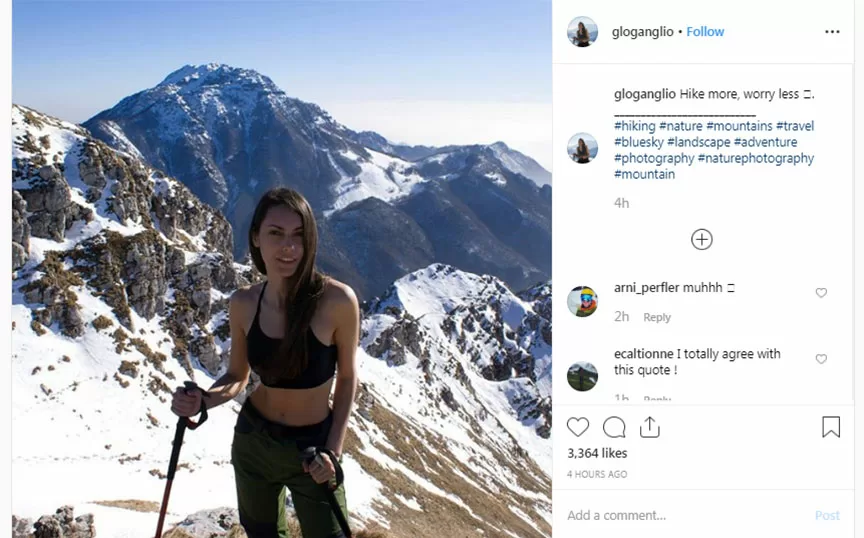 Cities/countries
When in Rome I did as the Romans do.
Could you pass me my tea, please? It's 5 o'clock. *London*
This city has definitely stolen my heart. Why not to stay here forever?
Why should I care about anything on this Earth, I am in Paris and I am too busy: I am enjoying.
No time to explain, take your passport and go to Vegas.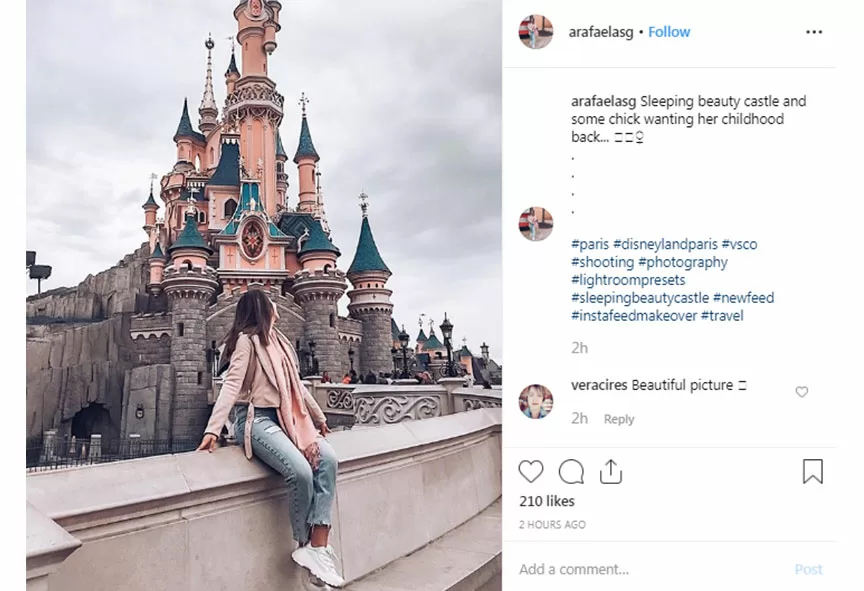 Traveling
Can I be happier than having a ticket and going to the airport?
If journeys were free, I don't think that you would ever see me at the same place for more than a week.
Life is too short to spend it in one place.
In the end, I don't want to regret that I have had not enough journeys.
Your morning coffee is tastier if you drink it every day at a new place.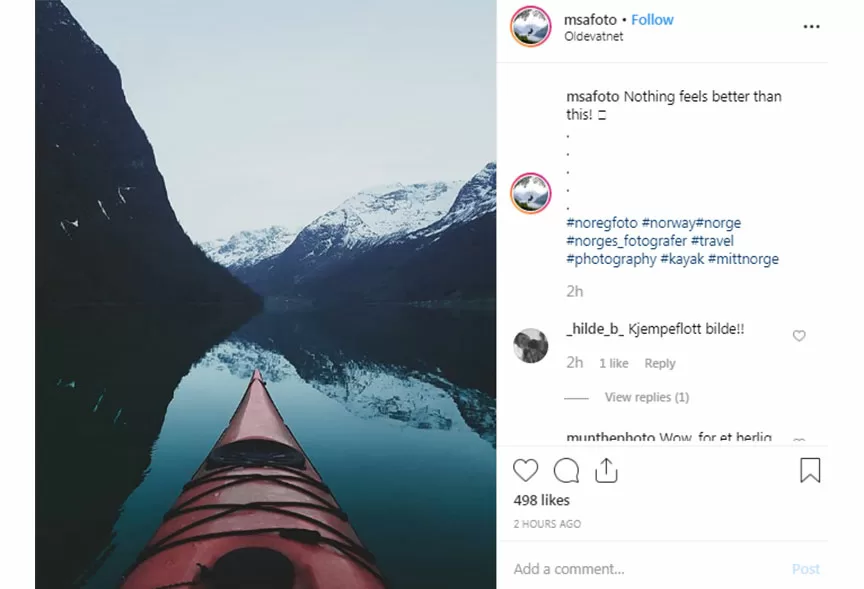 Freaky mood Instagram quotes ideas

You were asked for some
freaky mood Instagram quotes
, so I've prepared 12 best, funniest freaky quotes Instagram has ever seen. Check them out!
It's needed to travel and It's not needed to live.
A good traveler has no tough plans to arrive. Like me:)
Don't worry about this world is coming to an end today. It is already tomorrow in Australia.
If you think that adventure is dangerous, try routine — it is lethal.
The best trek is the one that never ends. I would love to take one.
They say there are two classes of traveling — the first class, and with kids. I prefer the first one.
There ain't no better way to get to know if you like people or not than to take a trip with them.
People who travel around the world, where do you take money for all these trips? ... I want too!
Km are shorter than ml. Save oil, take the next journey in km.
be cruising for a bruising!
If you have no clue where you are going, any road can take you there.
Adventure is worthwhile. Aristotle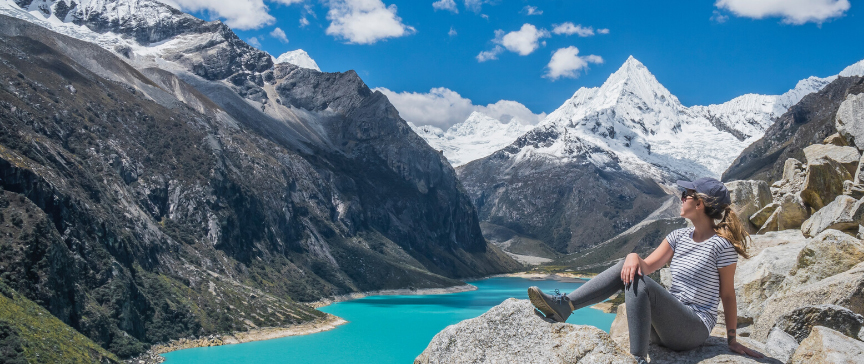 Have you already planned
your next freaky post for Instagram?
Good, I hope these funny travel captions for Instagram will encourage you to travel more and to share it with Instagram. We need it!
Ok? Need more fun quotes? I have something, check it out!
The top funny short quotes for travelers + photo caption examples
As we know, brevity is a soul of wit. Oh, that is soo true! Do you agree? That's why writing
witty but funny short quotes
makes you look smart. You attract more followers, and your posts gather more likes and comments. That's the best strategy! I have gathered for you the 10 best, from my point of view, funny short captions that will inspire you and your profile viewers. Plus, you will get a couple of photo caption ideas which will be useful even for designing your highlights and separate posts.
1. If you need a rest, you live wrong.
2. Traveling forms the mind (if you have one).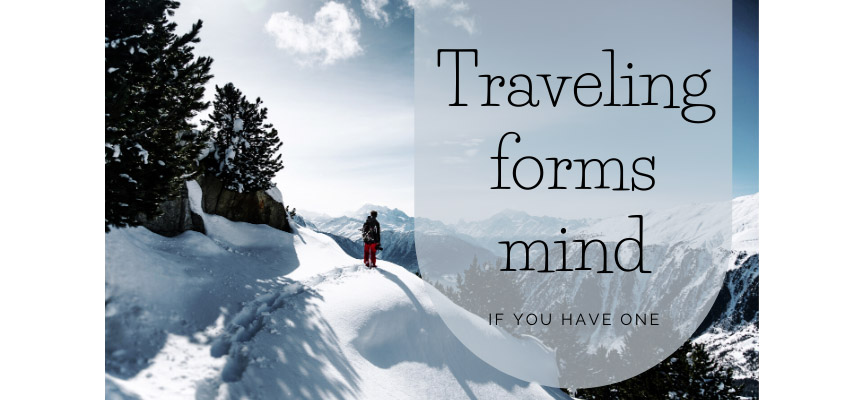 3. Traveling helps you find yourself.
4. Life is the only way to travel through time:)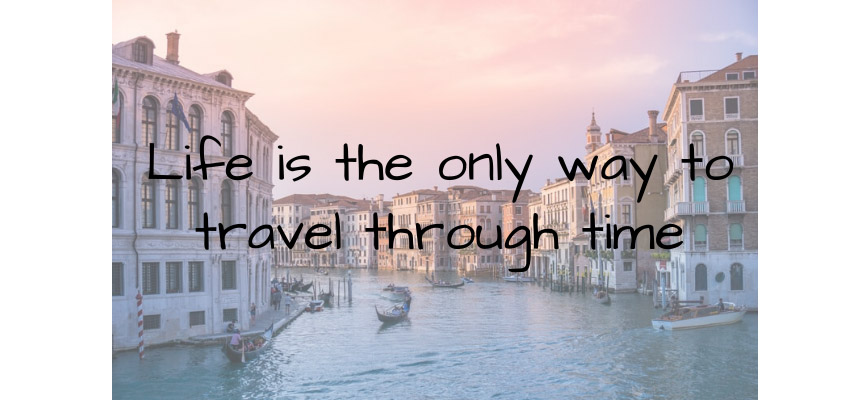 5. Everybody needs a vitamin Sea.
6. To travel a lot, you need to eat a little.
7. Wander often, wonder always.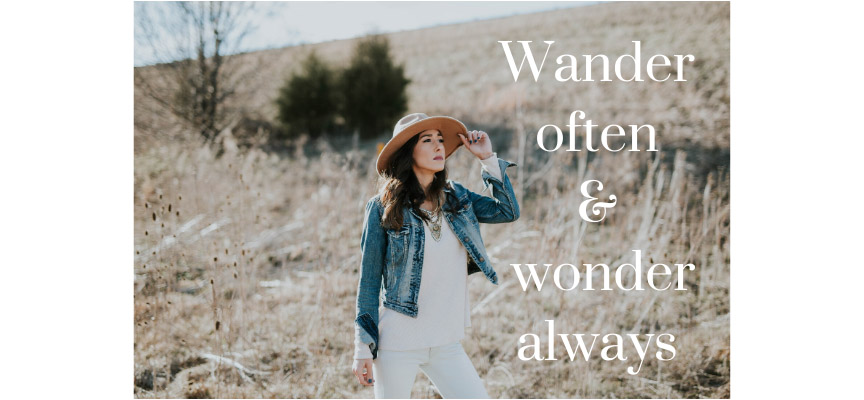 8. Life is either a desperate adventure or nothing.
9. I met a lot of people in Europe. I even met myself.
10. Why not travel? You can book your memories!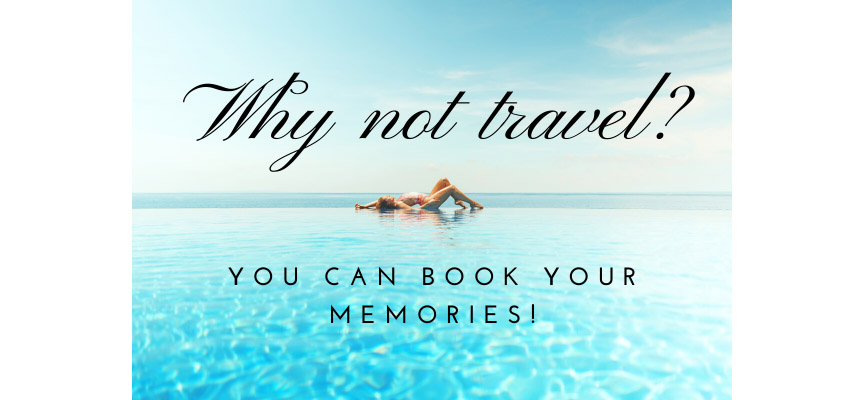 So, you either can copy and paste or customize these short funny quotes to your vision and post.
The top stay positive quotes and self motivation quotes for travelers
Sometimes, even adventurous types and severe daredevils can lose courage. So these are
15 positive quotes and self motivation quotes for every traveler
. Inspire and get inspired!
1. The true aim of your journey is not the point on the map, it's a new point of view.
2. When you reach the top, continue going up.
3. Make a step, and the road will appear.
4. Traveling is an opportunity. Opportunity for life.
5. Each becomes a Columbus for a while, hitting an unfamiliar city, or starting a new love affair.
6. The farther I leave, the closer I get to myself.
7. One life. One world. Explore it!
8. All journeys have secret destinations about which you have no clue.
9. Let's wander where the Wifi is poor!
10. That's travel that leaves you speechless and then turns you into a storyteller.
11. It is good to be lost in the right direction
12. Travel is the best education a person can get.
13. Traveling is deadly to close-mindedness and intolerance.
14. Let's go and explore the great unknown!
15. The adventure begins with the rejection of common sense.
Are these cute inspirational quotes not the ones you have been searching for? If not, leave a comment with your suggestions!
Now let's discuss something more complicated than funny short quotes — how to write captions when you really eager to tell about what you have seen and experienced.
Instagram Quotes of the Top Travel Accounts (Examples)
Let's analyze the
publications of the travel niche leaders
to have a better understanding of what works for them and most likely will work for you, too. Here you will find freaky quotes, funny travel captions for Instagram, interesting thoughts.
Stay&Wander is an account that gathers amazing travel-content around the globe for advertising purposes. What about their cations? Each of them is unique and creative and at the same time, easily understandable. Thanks to it, posts there collect thousands of likes.
There are some examples of their captions:
With a road like this, does it really matter where it's heading?
Even the mightiest can't withstand the unrelenting power of the ocean.
Some people go to great lengths to have an awesome time.
Alex is a travel filmmaker, photographer and TV host with a cool life motto — travel farther, fail smarter, never give up. He runs his account quite peculiarly — smart captions, a lot of sense of humor, a lot of useful information, a lot of personal thoughts.
A couple of his captions I liked:
Change is the only constant.
I love being in nature, but hiking and camping can leave me smelling like a yeti.
It's bizarre when a wild animal walks over and starts smelling your armpit, but when your deodorant smells as good as [ad] I guess it's normal.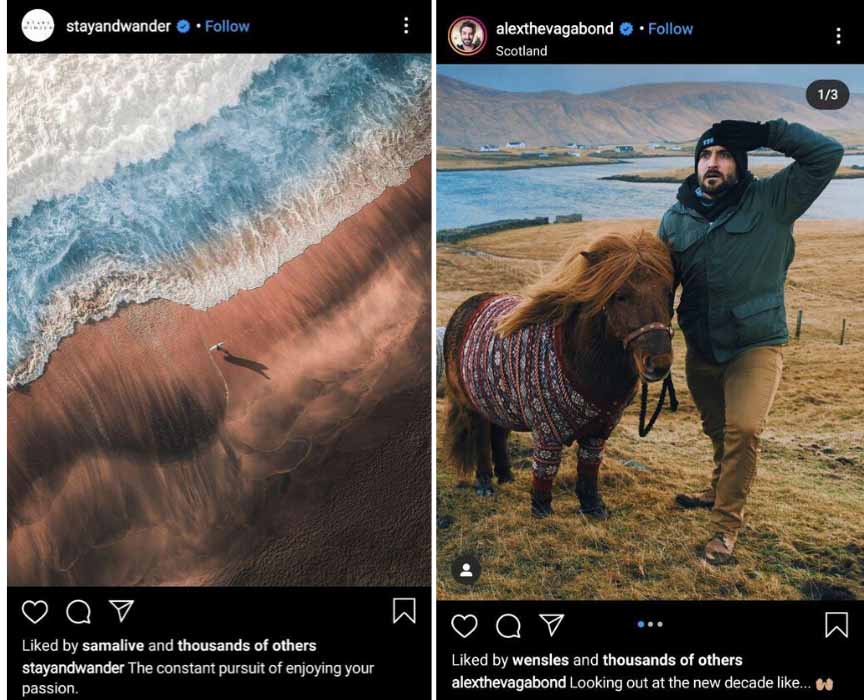 This account is dedicated entirely to the Maldives. Who can judge? I would also dedicate my life to these islands. Some of their Instagram quotes are the following:
Aaah! Sound of waves crashing on the shore! The most relaxing sound on earth!
I never get tired of this view! (duh)
Palm trees, ocean breeze, salty air, sun-kissed hair. That endless summer, take me there!
Check the acc! What do you think?
I have another island-account as an example, about Bali this time. It's created in the form of the Bali guide, which adds value to it. Great, high-quality pictures, amazing caption. Example:
Looks like the perfect place to relax and enjoy holiday.
Looks like the perfect place to enjoy close to the nature.
The beach is calling, tag your weekend beach-buddy!👙☀️🏝
Try to analyze this account, you will immediately notice that the owner decided to pick up 3-5 templates for description and then just change the vital part, making it unique.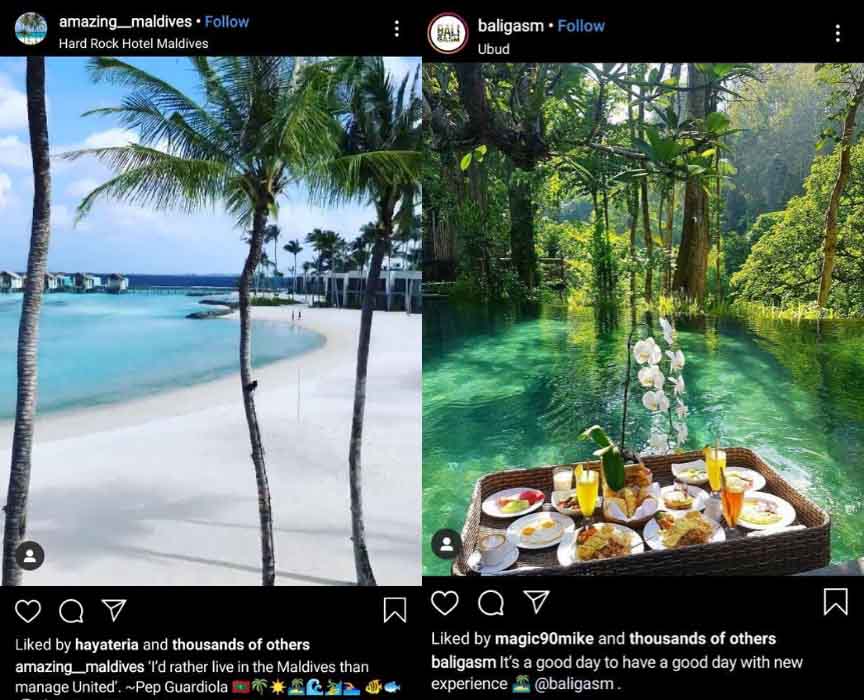 Andy if a travel photographer with 27 thousand followers around the globe. Why do I like him? Check his posts, pay attention to instagram quotes!
Anyone else obsessed with red rocks like I do 🙋🏻‍♂️?
What a View to wake up to! Hand down one of the best campground I've ever camped.
I have a thing for blue lakes and mountains 🏔 😍 and 🌈 too.
Mark is an avalanche hunter with 11.6 thousand followers. Mostly, he prefers to put only hashtags to promote his account, but when he write captions, they are cool. There are a couple to my liking.
No gobro, no set up shots, no wiggling, just good old fashion falline powder skiing.
Don't wait for Santa to bring you what you want, just go out and grab it😂
Sometimes you win, sometimes you lose and sometimes you have to dick around in the trees cause everything else is wind jacked🤣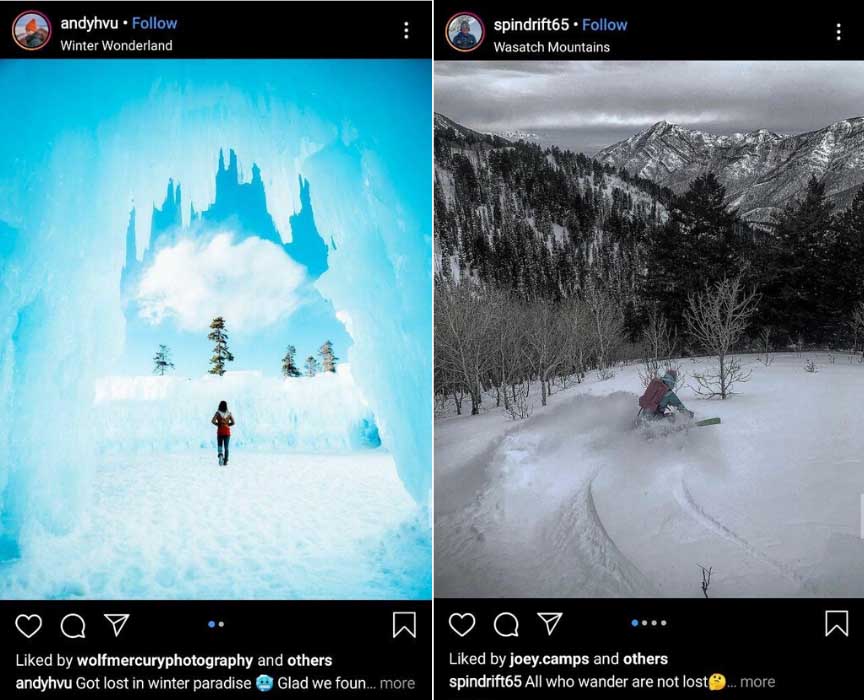 By the way, if you want to pick up great hashtags just like Mark, use Hashtags generator. It will be much more efficient and faster than thinking them up by yourself.
This account is breathtaking. It should be on your Following checklist — adventure inspiration won't be odd! There are some examples of its Instagram quotes:
It's tough to have a bad day in Grand Teton National Park!
Let's get away to a Swiss winter wonderland!
No caption necessary. Enjoy nature's beauty!
Arvind calls himself magician/photographer/adventurer. I agree this guy is really good. His pictures amaze — they are moody, deep and breathtaking.
Find me in the mountains ☁️
Spotted this iceberg from far away, 1.5 hours later we were here. Nature's work of art.
Witnessing the greatest show on Earth. ✨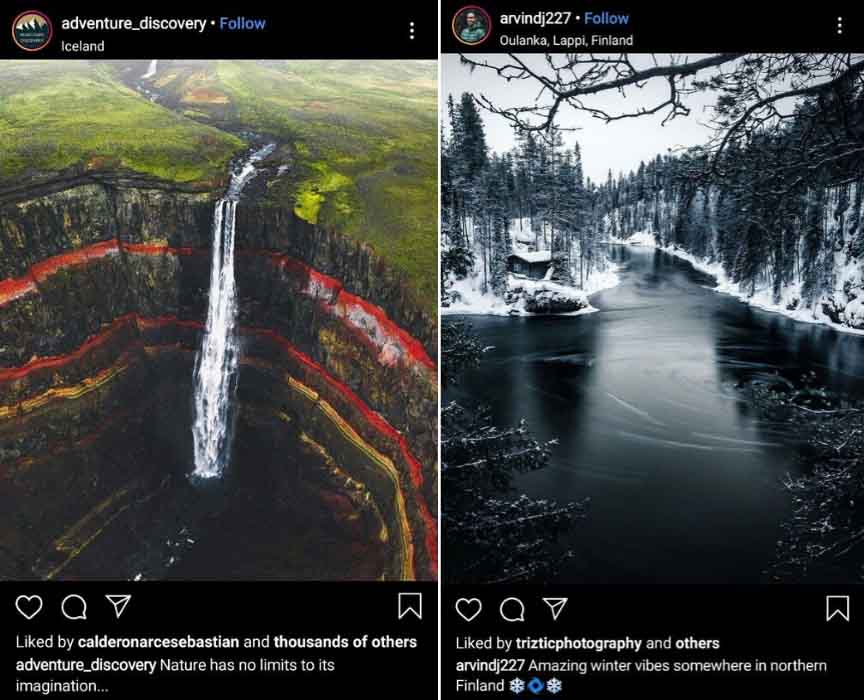 I get chills when I see the pictures of this family scrolling the feed. They are wonderful — James, Paige and Oliver, their son. They show by their own example that children can't make you give up traveling if you truly love it.
Their captions are the best. That's it.
The bad news is time flies. The good news is you're the pilot 👨‍✈️✈️👩‍✈️
Kayak more, worry less 🤙
So much of who we are is where we have been 🌏
Have you noticed how actively emoji are used? Take heed!
The account shines with female beauty. Today, Wander Women Hike is an adventure brand. Their captions are very much engaging and sometimes existential. Check them out!
The best gifts come from Mother Nature. 🌿
Finding paradise in Vietnam ✌🏼
When the mountains are calling, you must go right!? Or something like that! 😂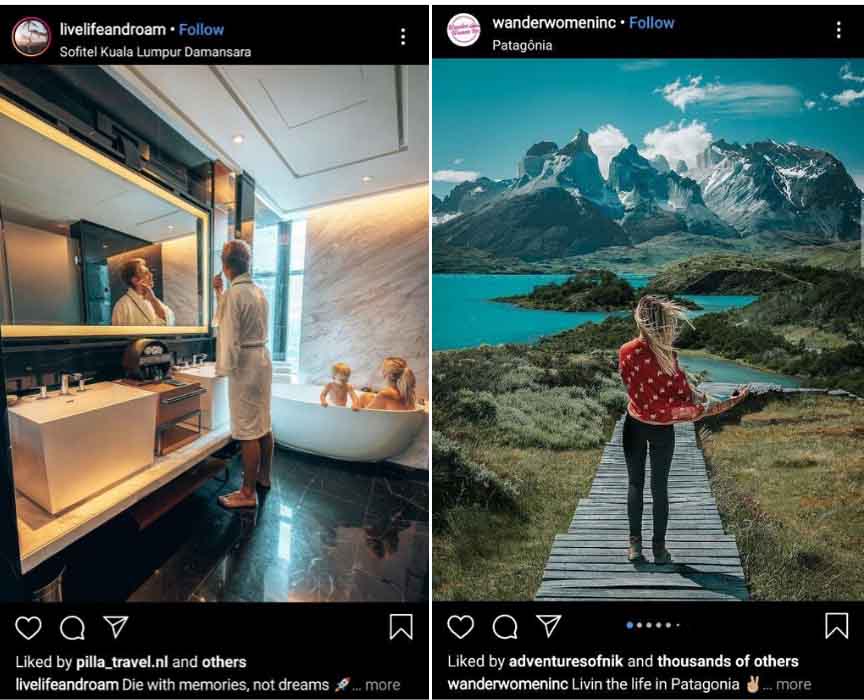 Good Instagram quotes do not end there. Read on!
Top kayak captions for real fans
What associations do you have when you hear the word 'kayak?' For me, it is adventures, explorations, discoveries, and fun! Many people will agree with me, as I've received a lot of requests to add some kayak captions to this selection.
So enjoy the
top travel Instagram captions about kayak-life
!
I do not swim with the current, always against.
Do not worry, kayak more.
Kayak is the answer! Who cares what the question was?
My kayak is my place of freedom.
Let's kayak it!
Discovering the world in my kayak!
This is how we row:)
I feel happy anywhere where I'm in my kayak.
Only when I'm kayaking, I feel the motion, that's priceless.
If you are looking for adventures, just buy a kayak. It works like a charm.
So, this article has provided you with ideas for both freaky post for Instagram and nice captions for Instagram, so your content can be more diverse! Use these ideas to improve your content and get more followers on Instagram!
How to write about travel not turning into Wikipedia? Step-by-step guide
Let's consider all the travel stages and think about what captions are the most suitable for them.
1. Photo at the airport or from the airplane
Create text for your photo while you are waiting for a flight. Tell people how you feel about flying? Love or afraid? What are your favorite airlines? Do you earn SkyTeam or Oneworld miles? Share your ways to spend the time on the plane. You can immediately think about this pillow that is worn around the neck and ask followers whether they like it or not.
Let your followers write comments while you are flying.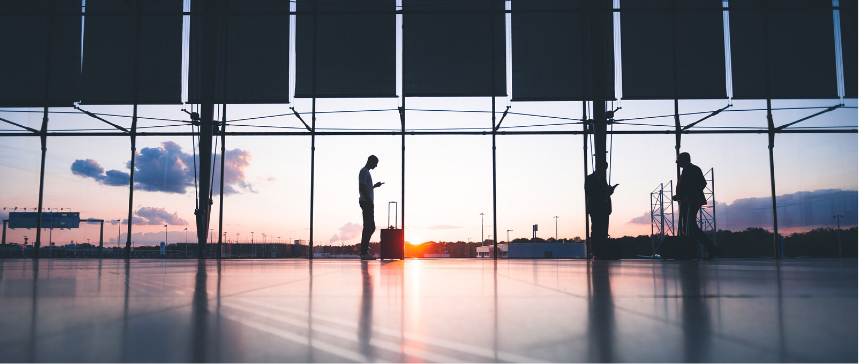 2. The first photo from the journey
"
We're going to Paris for five days to eat croissants and drink wine.
"
Announce your plans in your caption.
Create a check-list: We will swim naked, we will climb an active volcano, we will visit the hippie village, we will see whales, we will go to a football match. For a greater impact on the reader, add "Excited! I get goosebumps!" After the list. Immediately announce the hashtag of the trip and encourage everyone to follow it to stay tuned.
And of course, ask for advice on what to visit and what to eat in the place where you fly. That will increase activity on a page and audience engagement.

3. Bars and parties

To write about bars, and about travel in general, you need observance. When you are at the bar, look around and file away: Who is around, what kind of people, what they drink, what kind of music plays, what kind of atmosphere. If you understand the language spoken around, try grabbing a couple of dialogues. They will be useful to you -- insert into the text.

For example, when I was in Barcelona, I noticed that tourists ordered sangria, while locals drank clara (beer with lemon), vermouth, and cava.

4. Photos of seas, oceans, beaches, mountains, sunset, dawns

There is not much happening in such photos. Therefore, it seems that there is nothing to write about. What to do?

You are lucky if there is a story behind the picture, for example, how you climbed the mountains at dawn. Then retell what this adventure was like.

If your adventure consists only in the fact that you came to the beach by 17:00 to watch the sunset with a glass of wine, you can get out like this. Let the sunset become a symbol of the end of the day. And retell your day in your caption.

Plan B — Consider what this place teaches you. Write everything that comes to mind, even if it is something like "Bali taught me to choose a delicious papaya from hundreds of papayas."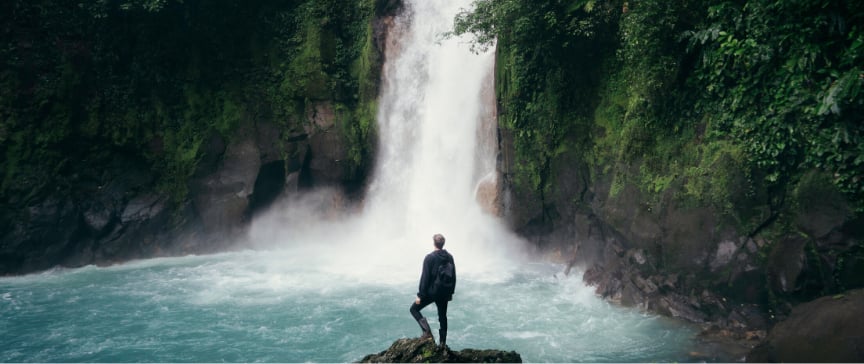 5. Your selfie, photos with friends, family, and strangers
Take a couple of funny photos and tell who these people with you in the photo are. Tag everyone (it's a great promo strategy!), write how this person makes your trip special. Who always works as your navigator? Who is looking for the best hotels and come up with a route? And who, without understanding a word in Spanish, somehow miraculously selects the most delicious dishes from the menu?
6. You and some sights
You visit historical sights and museums, and you are in danger of starting to tell in what year the Colosseum was founded and who fought there. Leave this to Wikipedia. Make a break and think about what you know that Wiki doesn't. For example, it has no idea what aromas walk along the streets of Paris, where they sell delicious buns in Amsterdam.
You can also put together non-obvious facts about the country, what you learned not from the guidebook, but from the locals or from your own observations. Think about what surprised you during the trip. If it surprised you, it will surprise your followers.
What else to share and to write about:
food photos, extreme sport, photos of locals, street photos, shopping. Take a funny picture, write a cool caption. You will win Instagram's love.
How to make Instagram quotes catching and engaging? Bloggers' tricks
If you are interested in how to make Instagram quotes really good
, there are several hints for you.
Storytelling.
This format is good for anyone who likes to write long posts, going into details. Your goal is to capture the reader, tell about what he saw in your post so that he/she can share your emotions and feel like a participant.
Something unusual happened during a trip? Tell about this.
Tips and hacks.
You do not like to write long posts? Share the facts! They are interesting to absolutely everyone who wants to learn something new about a country or city. Just don't turn into Wikipedia.
All observations should be yours, and the words and impressions come from the heart. Show your point of view, I know you have it.
Notes and facts.
The most useful and most popular post format. Everyone wants to know how to get to a secret place or save on air tickets, where to drink the best coffee in the city or how to visit most of the sights for free.
Call to action.
Always add CTA. Tag friend, live like, comment if…, share with a friend who, etc. It motivates people to take action.
Questions.
Questions work in a similar way. Once you ask something, users will answer eagerly. Thus, you will engage users in a dialog. Check it yourself if you don't believe me.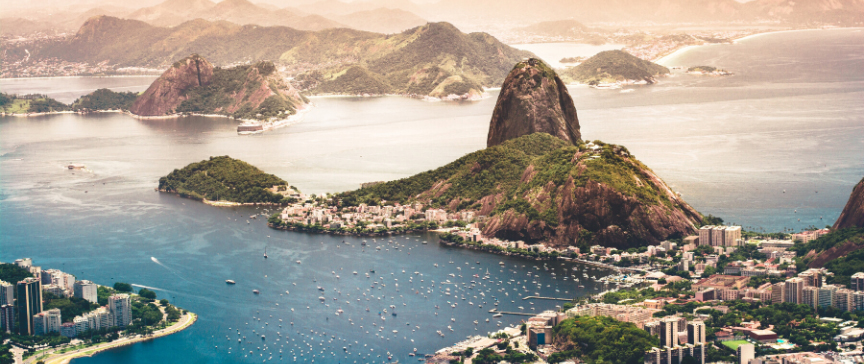 I'm sure, now you know how to create only good quotes for Instagram.