Even though many people watch stories without sound, music is a striking tool on the social network. Soon, users will add tracks to favorites, and the section will be viewable on their accounts. Therefore, understanding how to add music to an Instagram Story will jumpstart producing appealing on-trend visuals.

Various techniques can be employed to reveal your playlists. Explore feasible methods for attaching tracks to a visual below, even for scheduled content.
Why should one be inspired to include music into their content strategy?
Such clips look dynamic and bring tonnes of reactions.
A fitting playlist for businesses may cater to the target audience's tastes.
Tracks nourish the corporate identity, excluding background sounds of clips.
Influencers and large businesses on Instagram support this trend.
When music is combined with clips, people tend to spend more time engaging with them (if they want to know the details about it).
For instance, when users are interested in a song, they will likely want to tap and inspect it. Consequently, this action will contribute to promoting the account and content in the future.
The algorithm takes into account the time users consume content. Thus, just one attached song may confirm to the system that it's impressive. That's how it will more often display a Story to other users and show your other content to those users who view songs. The algorithm crawls all the interactions that take place in-app.
In the screenshot, you can see an example of how a brand employs a music track in their thematic content: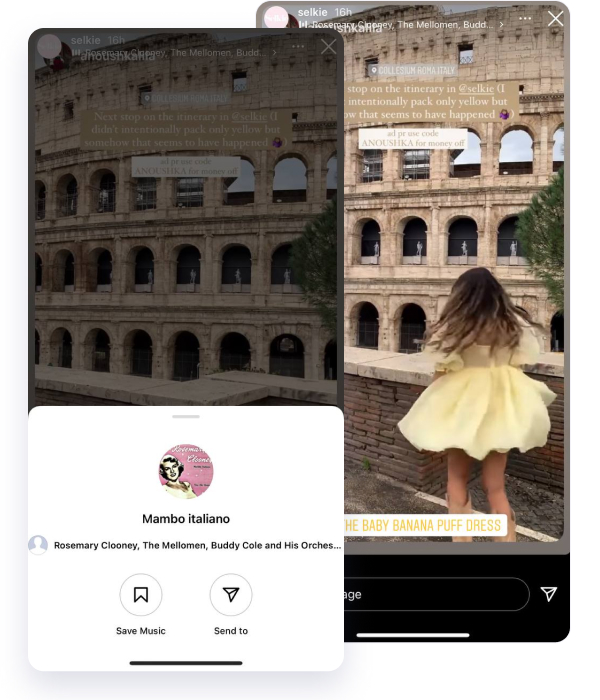 Method#1 – How to add music to Instagram story without extra platforms
Navigate to the creation section. Begin from the main account menu hitting the Plus symbol or swiping right– the built-in camera is available here. where you can capture a photo or video and then apply various effects and add relevant stickers. Otherwise you can pick images or clips from the phone gallery.
Tap on the needed sticker. Once you have picked your visuals, go to the stickers menu. The item Music on this screen is the only way that allows you to deliver a visual with a song.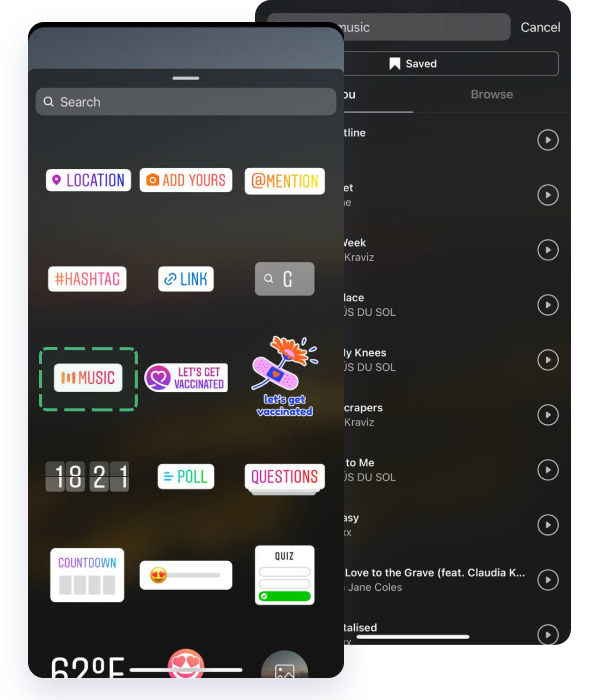 Navigate to the tunes collection. The archived IG tracks will open a moment after you pick the sticker. Actually, the gallery contains all the freshest released tracks and albums, hence users are able to attach even some exceptional compositions just uploaded online. It's an opportunity to express your individual artistic tastes.
What's more, the collection is suitable for internal research. People can see selected tracks based on their preferences once they've attached compositions to their posts. Instagramers may likewise save tracks in favorites via the section Saved.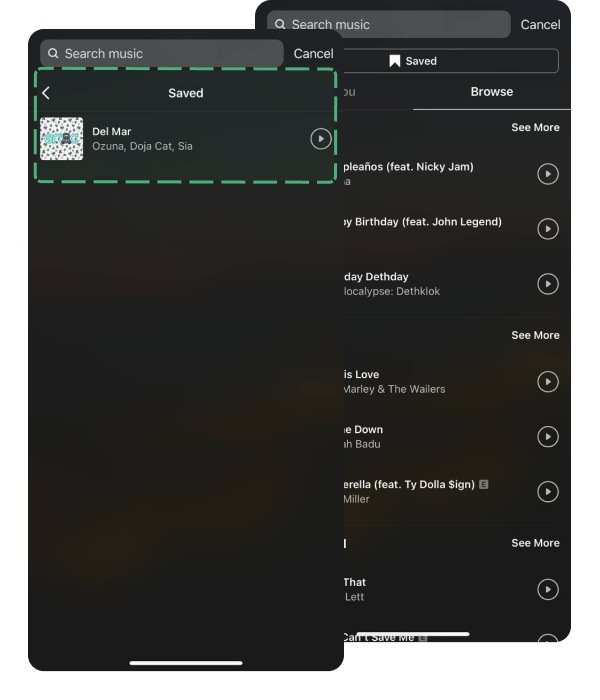 All ringtones are sorted by genre. Therefore, if you can't recall a certain name right away, you can start from a particular musical genre, which may be to the audience's taste.
Conveniently, you can listen to song tracks immediately on IG before attaching them by tapping on the Play button. After you confirm that the song is suitable, go to the next step.
Choose the design. The most striking part begins when you have settled on the song because you have several alternatives for exhibiting it in Stories. For example, you can choose to display a song icon or the song lyrics.
Choose how to show lyrics. For example, you can choose between displaying an icon or displaying the song lyrics. If you choose the lyrics, they will appear sequentially (like karaoke) automatically. This effect may help to retain the audience's attention. Nevertheless, users must understand that the text should not overpower your visual. If a story itself or some part of the clip is more eye-popping than the text, we recommend you choose the following alternative for designing the song.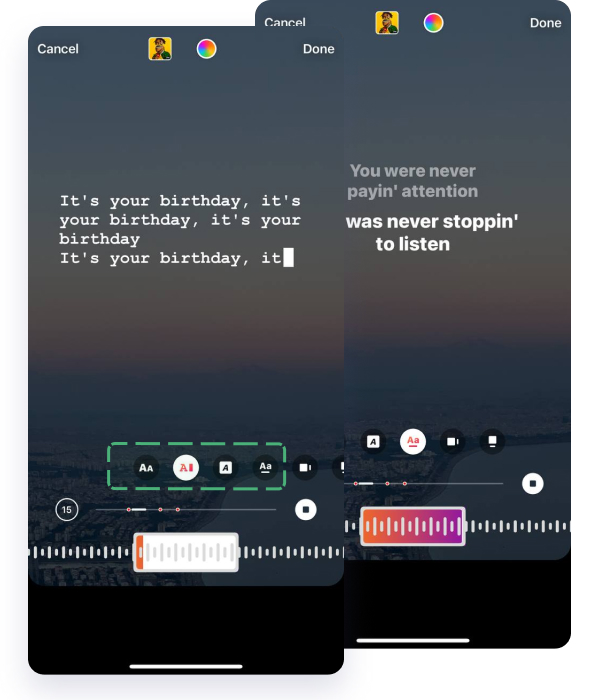 Another option you have is how to display the song's cover image. You can choose to display the whole cover, a square, or a rectangular version.
Resize the album photo to such a size that it will not cover the main visual, or remove it completely from the visible area.
Choose the most explosive moment. After you figure out how you want the tune to look visually, define the specific fragment of the melody that users will hear. You must understand that one Story lasts 15 seconds, so that is how long an excerpt from the composition will play as well.
To determine the juiciest and most popular fragment, you will need to manage red dots on the song timeline. It is these red dots that are marked in the Instagram system as the the most attractive piece of the composition. Therefore, one can set the track to play precisely this segment guided by the red marks.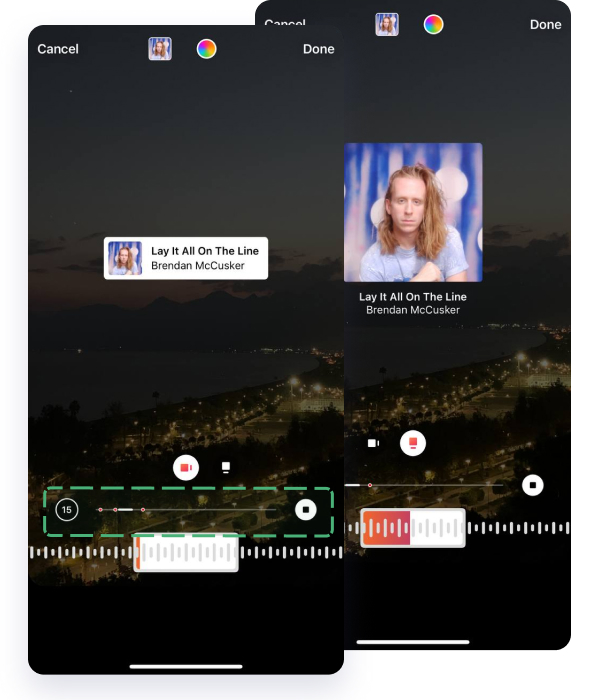 Lifehack: In fact, the tune can be played for less time and one can modify the settings for the duration required. You can tap the circle with the number 15 – it's a menu for setting the duration.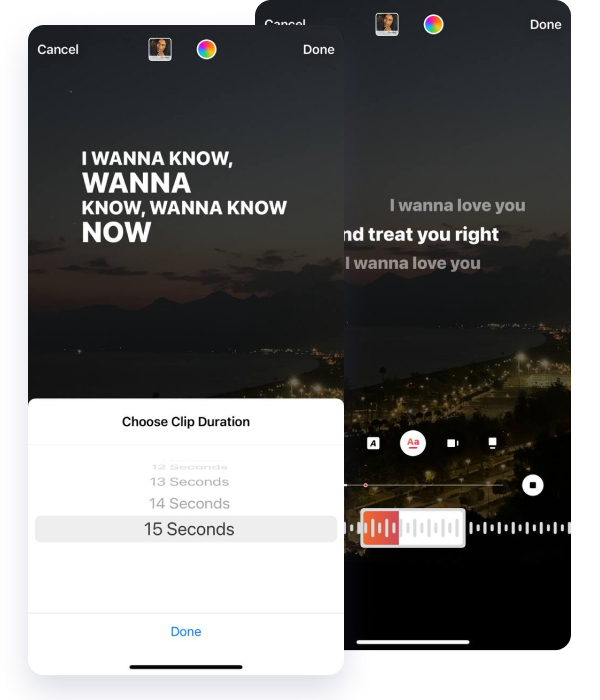 Note: After selecting the desired segment, check the sticker's appearance. If the album icon is represented, and your intention is to attract awareness to your own visual, do not distract from it with additional images – swipe to move the icon off the screen. You may shrink it to microscopic size and swipe it to any corner.
It will disappear forever, but the melody will still play. Like any other sticker, you can attach it to a moving object if uploading a video.
Following all the manipulations, choose the option Share for posting.
Your first captivating story is set. Next, let's inspect what alternatives exist to add impact to the content.
Method #2 – How do you add music to an Instagram story linked to other platforms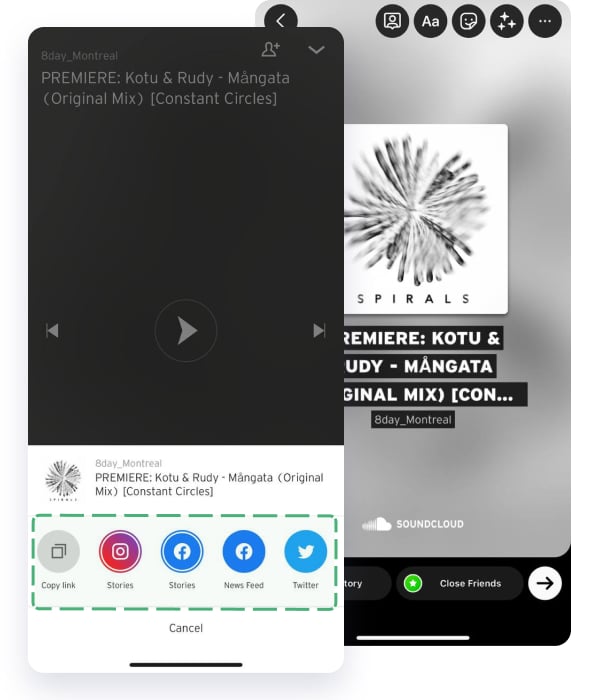 If you use popular music apps to find songs, you can distribute tracks directly from those apps. This is actually handy because it enables you to generate Stories when using other applications and hunting for the top music for your followers.
Now we will study how to distribute music within several traditional applications. In this situation, the melodies won't be played since they are not attached to the Instagram database.
Note: You can post only the title and the cover. But users can follow a direct link to the song on the original platform, which will likewise affect the interactions and impressions on your content.
Considering the melody will not be played, you most likely need to attach captions to draw followers' attention.
As soon as you have noticed any cool track, you need to open the menu. On the menu, select the Share item. Later, you will be shifted from Spotify to Instagram and will shortly start a ready-made story – it will be sufficient just to pick the post option.
When users view it in the feed, there will be an active URL to that associated track that you've posted at the top of the story. Therefore, this is a helpful approach because both applications are connected.
In this application, up-and-coming musicians often upload their tracks. And this is very convenient because directly from the app, they can add music in IG Stories. To attach a song, you need to start from the menu.
Click on the three dots.
Among all the ways, select the menu item open in Instagram Stories.
Now you can immediately post this Story.
It will also be linked, and users can tap the link presented at the top of the screen to hear the melody in SoundCloud.
Shazam is an application that allows you to identify a track and artist by listening to the song. This is a very good way of interaction because you can share real-time content. For example, if you hear a melody somewhere you can immediately find it through Shazam. After that, you can share this music on Instagram Stories and leave your personal comment about this song and the situation in which you found it.
Thus, the content you share will be interactive, captivating,, and unique. It is unique content that is the key to popularity on Instagram in 2021. In order to share a track from the Shazam application itself, there is no quick convenient button; you will need to click on More, then Share, then select Instagram as the share option.
How to add music through Story Editors apps
If you are designing Stories in advance and don't shoot content through the camera (business account managers do so often), it will probably be more convenient for you to know how to add music to instagram story via third-party apps. In this case, using the Instagram library and music may be a less convenient option, because when designing stories in certain applications, you can immediately overlay a certain story with a needed track.
StoryBeat – With this app you will have access to your Spotify library while you are editing. This means that when creating visuals for Instagram Stories, you can immediately add music to the clip, and thus you will not need to search for music through the library. Next, you can schedule posting of Stories through the Inflact Posting Module, for example, so that your story will appear in the application at the right time.
InShot is the application for editing the Stories with tracks stored on your device. For example, you can download songs to your phone and open the gallery while editing in order to add a music track. This method is not suitable for iPhone users and is more convenient for Android devices because the music tracks there can be downloaded to the device memory. At the same time, there are free music effects and a voice recording function. Next, you can edit and trim the music track to fit the clip.
PicMusic and VivaVideo give you open access to the iTunes library. Therefore, these applications are suitable for users who want to add music to their stories through an iPhone.
Also, both applications allow you to add voice recordings and an internal library of free sounds. You can also control the audio volume, which is handy if you don't want to draw a lot of attention to the music. You can adjust from what moment the music in the story starts to play in order to synchronize the visual with the audio.
How to download Stories with music
One of the ways to get a ready-made Story with a music overlay is to download it from thematic accounts. This way of reusing content is trending right now. You can also generate musical stories if you download TikTok videos that will be saved to your device with music, that is, in MP4 format. In order to download creatives that are already ready-made with music, you need to use special online web services:
Downloader for Instagram Reels. This service is completely free, and to download you only need a link to the clip you are interested in. You can read more about creating viral Reels in the article Instagram Reels hashtags will make Instagram Reels viral (+ bonus tool to download Instagram Reels for smart re-use).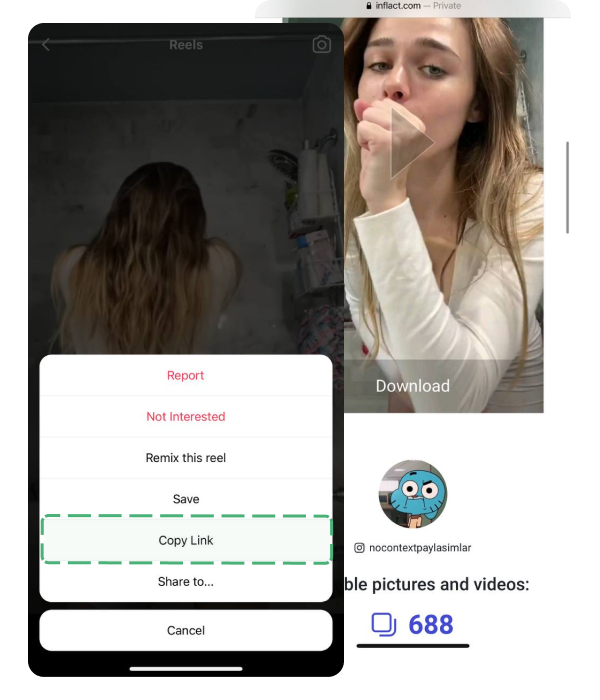 TikTok Downloader. If you need to download the most musical kind of content online from TikTok, you can use the downloader for TikTok. The advantages and uniqueness of this method is that the video clip will appear without watermarks and TikTok branding. That means if you later want to repurpose a TikTok as a Story, you will have to have permission from the creator so as not to violate copyright.
How to find engaging music for the story: 4 tips to tailor the music to your brand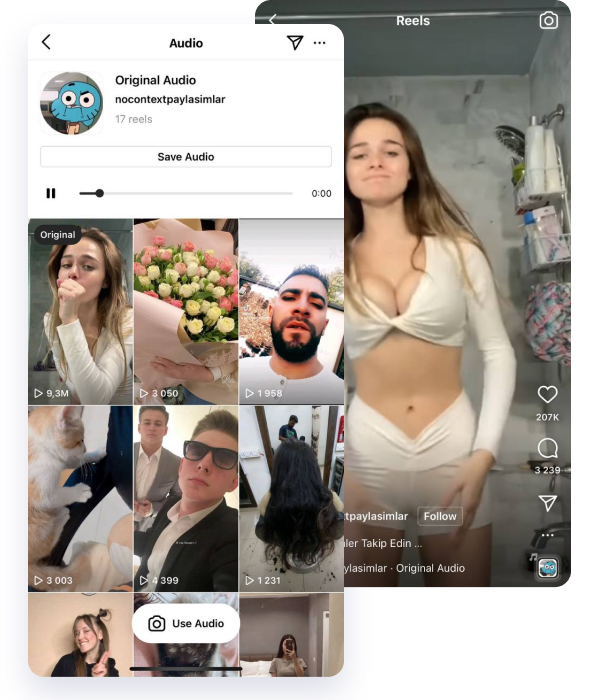 To ensure that the music you add to your Stories really leads to an increase in interactions with your content, use the following tips:
Choose story music that is relevant to your target audience. For example, you can periodically conduct polls in Stories to find out the favorite artists of your audience. Create such a list of artists and search for similar tracks through music apps. This will hit your audience's musical tastes and will be a great way to generate engagement through surveys.
Choose the music that suits the visual. You may not know what your followers like, but that shouldn't stop you from using music that is visually relevant. You can be trivial and, for example, under a Story with a cup of coffee, select the track "The Coffee Song" by Frank Sinatra, which you can find in the library if you enter a keyword in the search.
Do research in music apps. Subscribe to your target customers' accounts and playlists. For example, if you sell goods for girls 20-25 years old in the USA, then select 5 such playlists of users and follow their preferences.
Do research on TikTok. Periodically open the trending music app. Select the most popular TikTok songs and use them to create Stories with music.