Now the Inflact Hashtag Generator allows you to create folders with tag collections, see more hashtag ideas with one click on a tag, and preview the tag gallery.

The new interface offers more options for deep hashtag research while keeping the design of the site as simple and minimalistic as possible. To check out the updated version in action just follow the link to the Hashtag Generator and sign up.
Hashtag Generator update 2022
Now when you enter a keyword, you see updated search results with a new design and great features.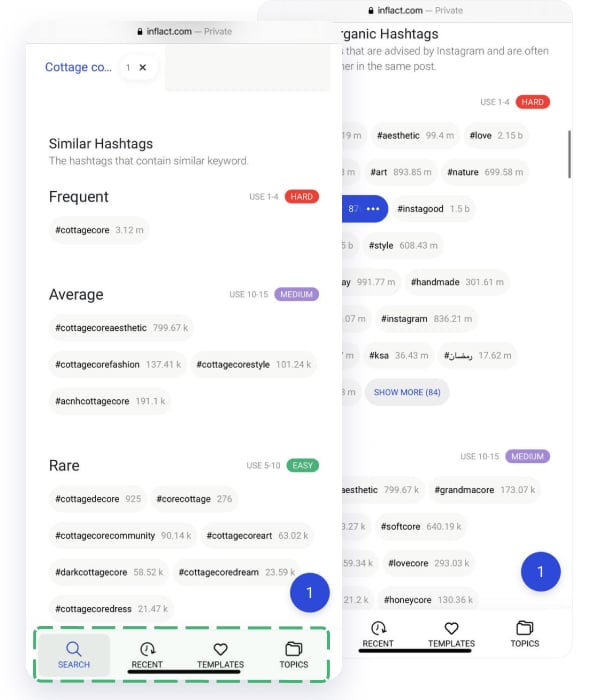 #1 THE SMART SELECTION BUTTON
On the right in the window where you can select tags, a button for the lazy appeared — Smart Selection. Since it's desirable to combine hashtags from different groups, for example some with a reach of one million posts and others with 1,000 posts, it may take you a while to manually check off the tags with different frequencies.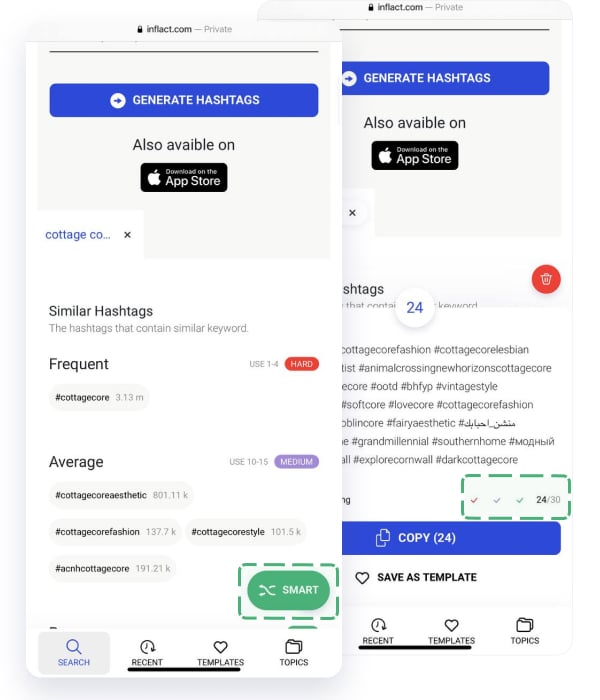 Now by clicking on one button, you will receive a selection of tags of different frequencies. Check if they suit you. If yes, copy or save the selection as a template for the future.
#2 CREATION OF TEMPLATES
Previously, you could copy and paste tags directly into a post or into notes or spreadsheets where you track them.
Now you can manage sets of tags for each type of post and account in the Hashtag Generator.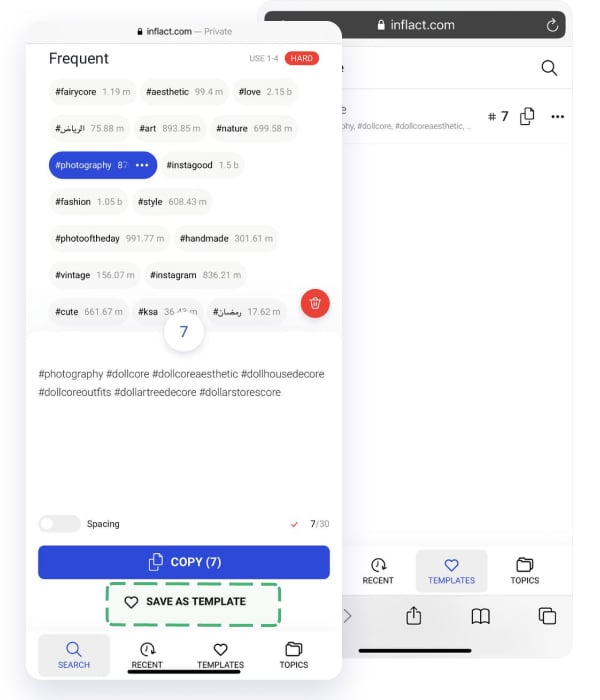 To create a template, choose a name for it — this will help you quickly find and copy all the tags from the template when you need it.
For example, if you run an account selling flower bouquets, you can search for tags for different types of floristry — wedding bouquets, birthday flowers, flowers for men, etc. Then for each, you need to choose a template with hashtags so that customers who are looking for these flowers can find exactly your offers — what they have typed into the IG search bar.
Note: Don't post irrelevant content in the hashtag gallery, even if it is very trending. In this case, you won't get organic clicks from the hashtag gallery.
#3 QUICK JUMP TO RELATED TAGS, POST GALLERY, AND TAG ANALYSIS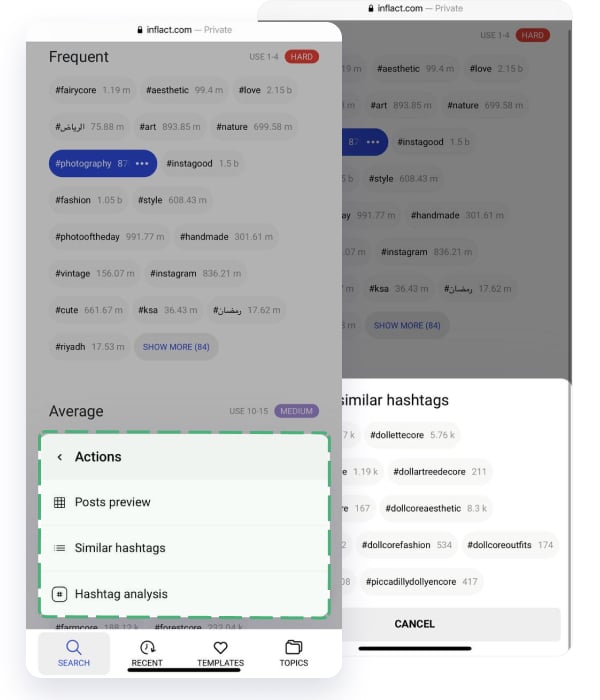 Now you can go to the extended menu for EVERY hashtag both from mobile and from a computer – without additional switching of pages.
For example, if you were looking for tags on the topic "cottage core," you can hover over the #cottagecorestyle tag (on mobile, just click on it). This tag may suit you best, but in this way you can get even more relevant ideas.
In the quick tag menu, you will see 3 options:
Posts preview – click here to open the hashtag gallery and see if the content here is right for you.
It is important to understand what posts exist in the gallery of the tag in order to determine whether it is spam, whether the publications there are relevant, and whether the competition is high.
Similar hashtags – click here to get tags with the same semantic root.
For example, for the #cottagecorestyle hashtag the Generator showed in Similar hashtags #cottagecorestyles. This will allow you to include all tags with the same root to cover all variations — sometimes there are a lot of tag variations and fewer publications in their galleries because they are new. In such galleries, you will likely become noticeable.
Analyze — use this button to quickly go to the analytics page.
Here you can study the competitiveness of the tag in more detail, find the number of posts per day, and see top publications.
#4 SEARCH HISTORY
The history of tag searches is stored in the memory of the Inflact Hashtag Generator, and the latest collections are displayed in the Recent tab. This is convenient and will help you not to lose the latest search ideas, even if several people use your account.
#5 TABS TO SEARCH FOR DIFFERENT TAGS IN ONE SESSION
If you need to find hashtags for the keyword "dog," and then dive deeper by the keyword "pug," then the results for each inquiry will be placed under different tabs. It looks just like tabs in a browser with several websites open.
It is easy to switch between them and close them.
Next, we share a selection of hashtags that you can copy for the top popular queries. Remember that tags can increase your organic reach by hundreds of times — completely free.
When using the Inflact Hashtag Generator, scroll down to the Related Organic Hashtags section. Here the Generator offers not single-root ideas, but similar ideas. You might not have guessed them, but other users often use these tags along with your original ideas.
This is a great chance to get niche and trend tags that you might not know about.
Hack:
For the trendiest tag galleries, visit the accounts of influencers or businesses in your niche. Paste these account names into the
Inflact Profile Analyzer
and find the hashtags they use.
Based on these competitor tags, generate hundreds more ideas through the Hashtag Generator. This method will help you infiltrate the tag galleries where your competitors live in order to displace them and gain views and an audience.
With these updates, the Inflact Hashtag Generator has become a smart system for fully managing tags, storing hashtag lists, and quickly copying ideas. This Generator updates the database regularly, so you will find ideas that other less advanced services have not yet parsed.
Dog Instagram hashtags copy & paste
#dogsofinstaworld #dogloversclub #dogvideos #dog_of_instagram #dogplay #dogmomaf #frenchbulldoglovers #dogsarebetterthanpeople #oldenglishsheepdog #dogsareagirlsbestfriend #dogaccount #dogspa #dogleash #dogumhediyelikleri #dogsofmaine #dogoargentinousa #doggames #dog_of_world #dogsofuk #dogumgünühediyesi #dog_and_puppy_features #dogakoleji #happydog #instadoggy #dogbreed
If you're looking for dog or cat tags for your pet account, copy these ideas. But you can't stop there, as you will need to add tags related to your breed. For this, you can use the Inflact Hashtag Generator.
Fitness hashtags Instagram copy & paste
#fitnesstime #fitnesscoaching #fitnesslovers #ig_fitness_freaks #fitnesshumor #fitnessindonesia #barrefitness #fitnessblender #fitnessgirlmotivation #fitnesstyle #fitnessdecombate #fitnesspeople #fitnesspartners #fitnessforever #fitnessbabes #fitnessmania #fitnessguys #fitnessfuel #alatfitness #corpofitness #fitlifestyle #fitnessvideos
This is a selection of broad tags on the fitness topic. To delve into the topic, select hashtags for the types of training, the direction of fitness.
Fashion hashtags Instagram copy & paste
#fashionaccessories #fashionstudent #fashionjakarta #fashionkid #fashionbloger #fashiononline #punjabifashion #fashionday #fashionclothing #fashionkidz #fashionterbaru #casualfashion #teenfashion #fashionstreetwear #fashionghana #fashionita #fashiondaries #fashionkorean #vintage #lifestylemodel #fashiongrammer #lookoftoday #fashionlooks #streetfashionstyle
You can copy these ideas or find even more tags to copy in the trending hashtag section.