It is the era of short videos on social media now. This was instigated by the Instagram stories format and TikTok shorts. This format requires videos that are brilliantly scripted, consistent, and full of useful information – and which are much shorter than normal videos. Long plays and serious plots are left for Netflix or YouTube. So, what's needed now is to skim the cream off the top in just a minute or so.

When Instagram invented their IGTV, everybody was trying to use this format – and everybody tried to watch it. For a few months, it was a hilarious and engaging experience. It was on-trend, but soon Instagram users created too much IGTV content. It was starting to ruin the "fast-food" character of Instagram consumption. Moreover, some videos were too long, up to one hour, and this required long and expensive production for each video created on IGTV.
Instagram TV updates
But the team of Instagram developers didn't want us to give up on IGTV, so they upgraded this project and continued investing. Now it has different features that can be used by a user in the app, such as adding music. They redesigned the homepage completely in 2020, made it tailored to each user's interests based on who they follow and whose content might be interesting to them. The app is also getting a Discover tab to surface new and relevant IGTV content as well as a hands-free recording mode.
The IGTV Discover tab is the biggest update this time. A Discover tab can get users to relevant content faster and encourage them to use the app.
Set up IGTV in 2021
Creating a worthwhile IGTV channel on your Instagram account can popularize it and help you to get more followers. More than 50% of Instagram businesses that are selling products or services on Instagram are using IGTV for different goals – from growing their follower list to answering popular questions from their clients in a video format.
In this article, we beyond a few life hacks and tricks for your TV channel on Instagram and give you a step-by-step guide and some must-see examples of IGTV channels.
Set up IGTV in 2 steps
Get the IGTV app and sign in to it or log in with your usual Instagram username and password.
Click on the Settings in the right-hand corner, and click "Create Channel."
Or in case you don't want to download the IGTV app, just start with the Instagram Explore page!
Just tap the IGTV button at the top of the Explore page and then the "+" symbol in the upper right-hand corner. Here you can open it up and upload your first IGTV video!
After this you'll find a new section on your Instagram account — right under highlights, there is a tab for your IGTV channel.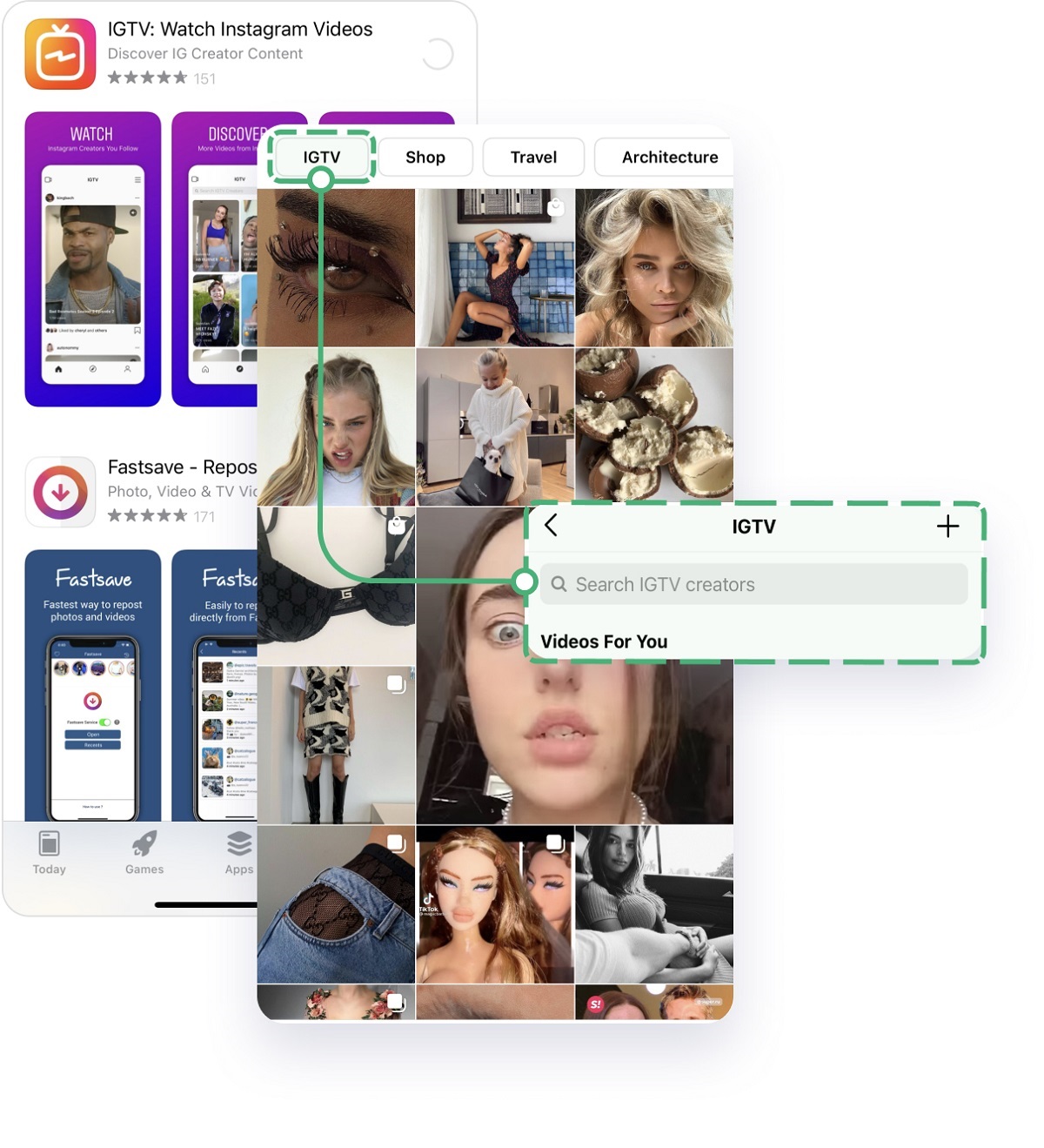 Technical specs for IGTV
Format: MP4
Length: 1-60 minutes
Size: 650 MB for less than 10 minutes; 3.6GB for up to 60 minutes
Aspect ratio: 9:16 or 16:9
How to make an IGTV channel to boost your following
Your goal for IGTV videos is to go deeper and wider on the topic of your account. Try getting inside of the content and create as many useful videos as you can.
This can be less beautiful but much more useful content than in your feed. This can be real-life capturing, or backstage of all your business processes – anything that provides enough value for your potential followers.
Top IGTV channels for 2021:
Look through these amazing accounts, and you will understand:
#1 How much their IGTV content can vary from the content of the feed.
#2 What is the optimal length of the videos?
#3 Are these videos more valuable or just beautiful?
Chiara Ferragni
Italian fashion blogger Chiara Ferragni is one of the most influential on Instagram. Her channel on the top of IGTV channels now. Behind-the-scenes look into her life, Beauty and fitness hacks on her channel.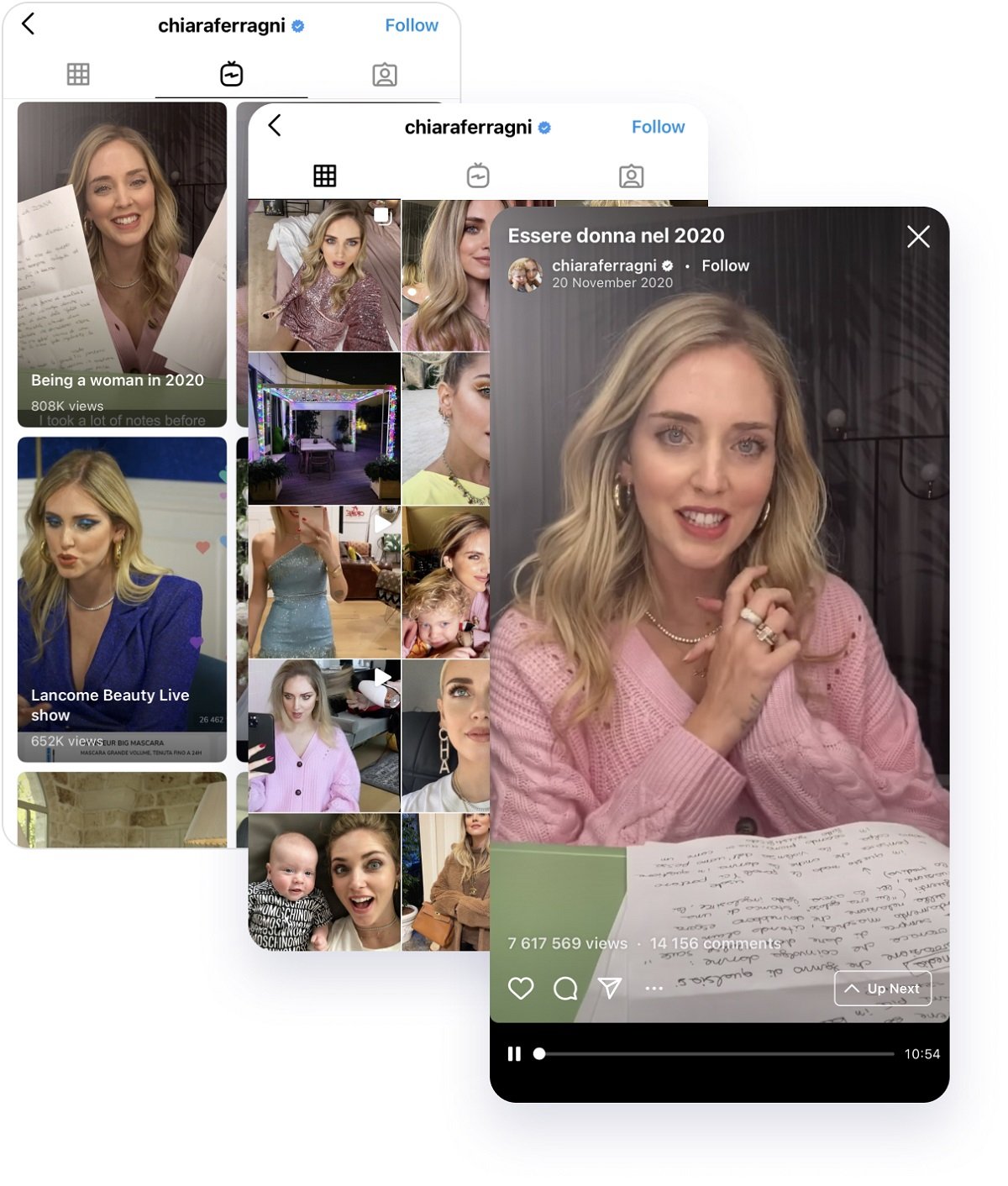 Lele Pons
This smart and very funny girl has a popular IGTV channel. She presents her show "What's Cooking with Lele Pons," featuring other stars and friends.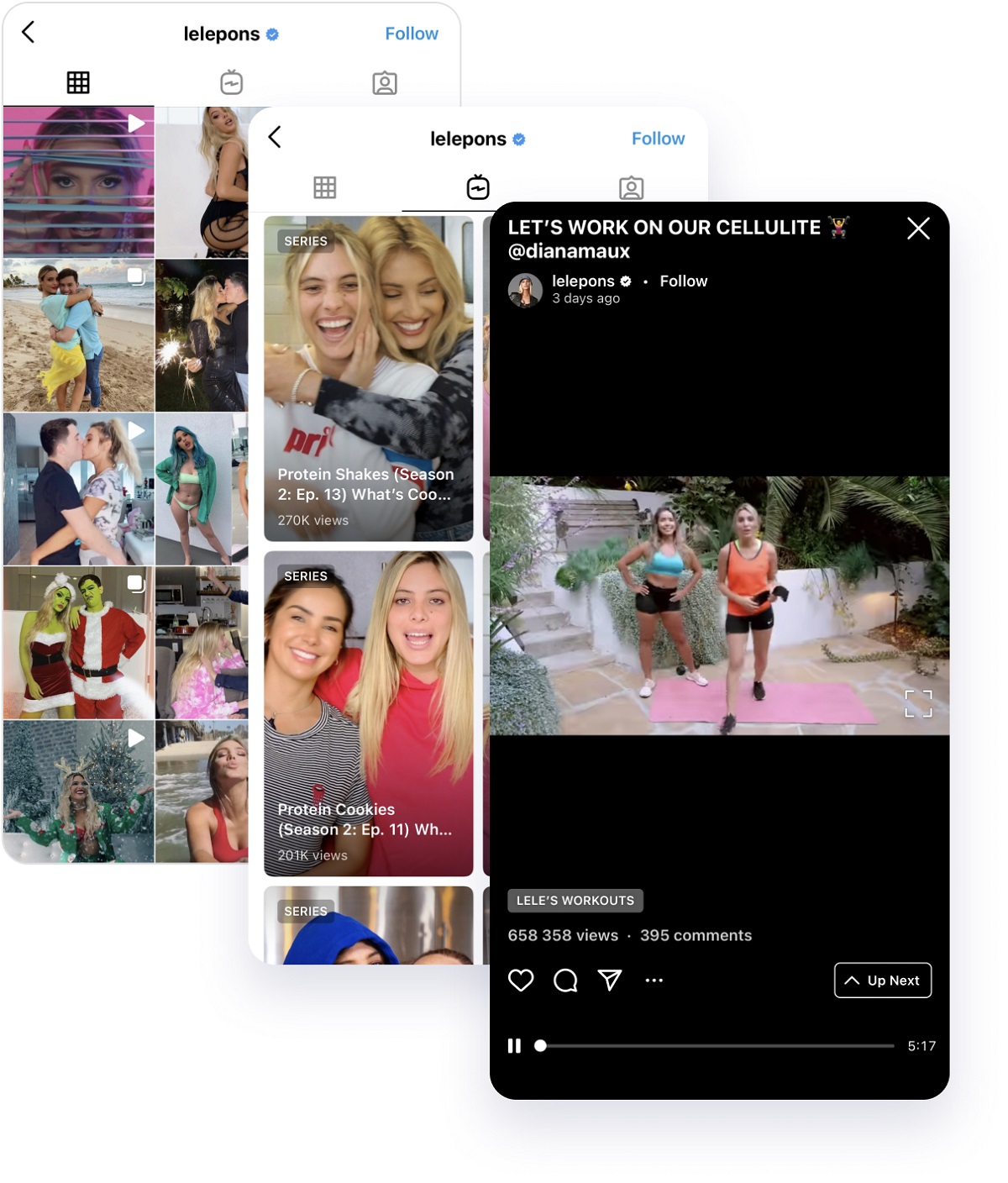 So Yummy Food Videos
Popular short cooking videos and photos on Instagram. This account shares recipes and longer versions of some of their favorites.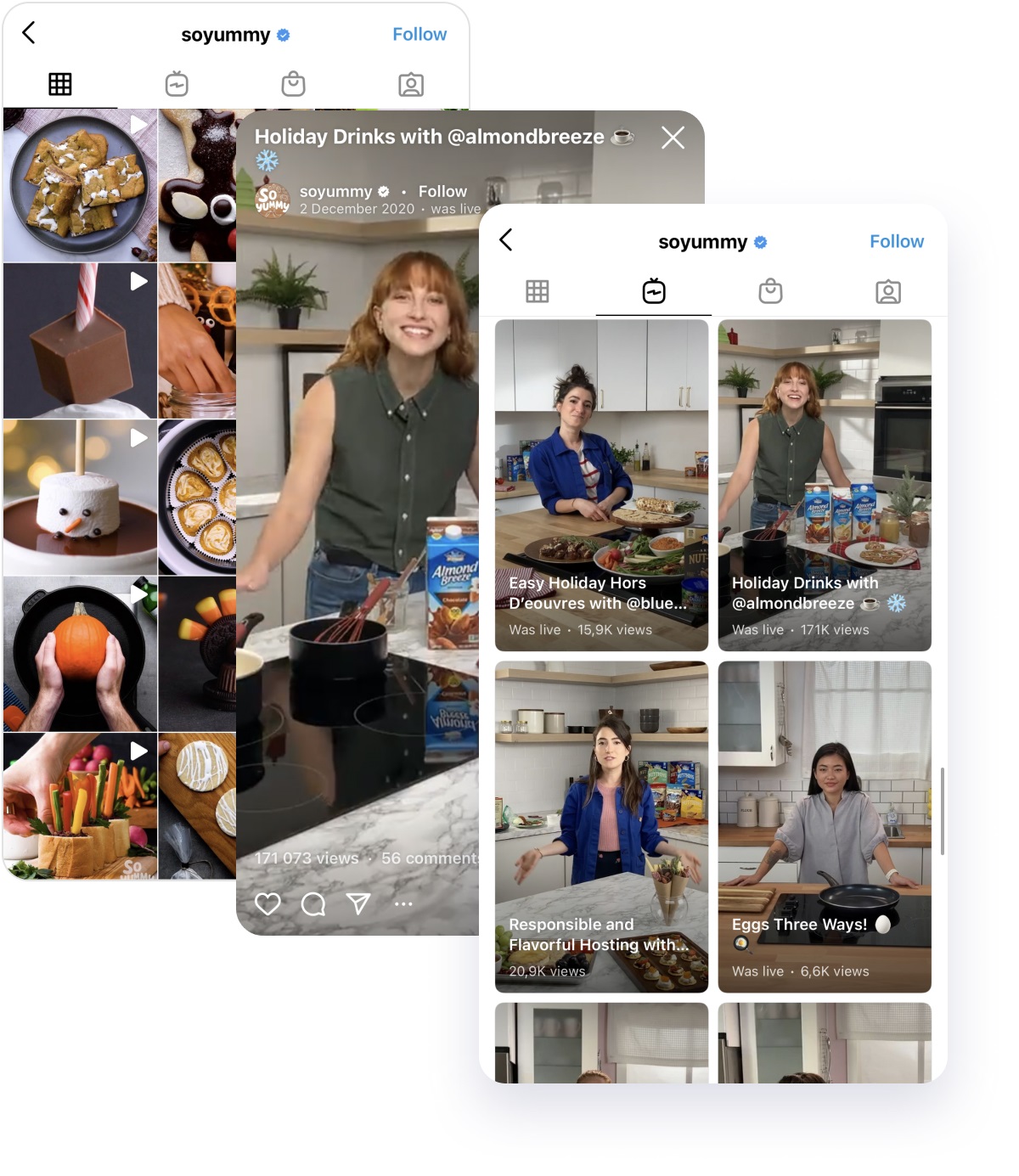 Create video for IGTV in 3 steps
STEP #1
Brainstorm. Plan. Schedule.
Useful and necessary ideas are obligatory for a successful IGTV channel in 2021. Users are not ready to waste their time watching dull videos nowadays. Create an idea, develop a concept, and even some screenplays. You need to show them the most engaging and most useful content right from the first second.
Brainstorm your ideas, research your rivals, and start gaining followers with your IGTV.
STEP #2
Create. Describe. Promote.
Create 2-3 good quality and engaging videos.
Work with your watch time while creating a strong IGTV channel. Try to do your best on the video content, camera work, and quality of the video file.
Find the best keywords to describe what's going on in the video. Use the maximum characters to make a full and searchable description for your IGTV.
Pro tip: You can't edit the description of the video in the app. But you can do this from a browser version of the Instagram app.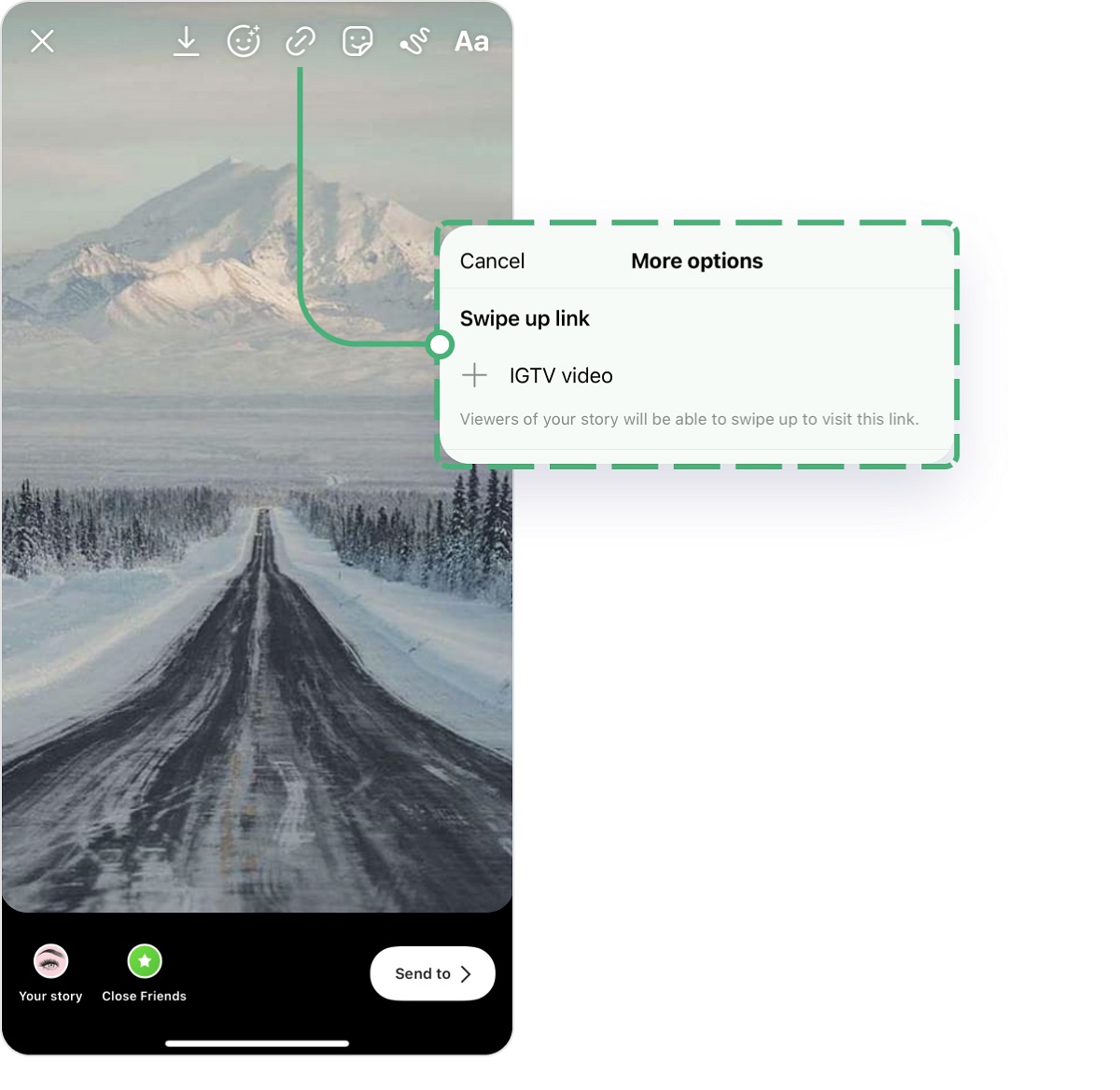 Create a clear vertical cover specifically for each of your IGTV videos.
Use photo editing apps for that. Fill 20% of the coverage area with an engaging and promotional text (which is not restating the title of the video).
Add links in your IGTV video descriptions if you have them. Link the video to your website, your shop, etc.
Promote both from your feed (as a preview) and a link from your Instagram Story.
STEP #3
Analyze. Try more. Get followers.
Now it is time to analyze the activity around your IGTV videos.
Your engagement and audience insights will show you:
Views – How many people have watched more than 3 seconds of your video.
Likes – How many users have liked your video.
Comments – How many comments have been made on your video.
Average percentage watched – This is the average length of your video watched by all viewers.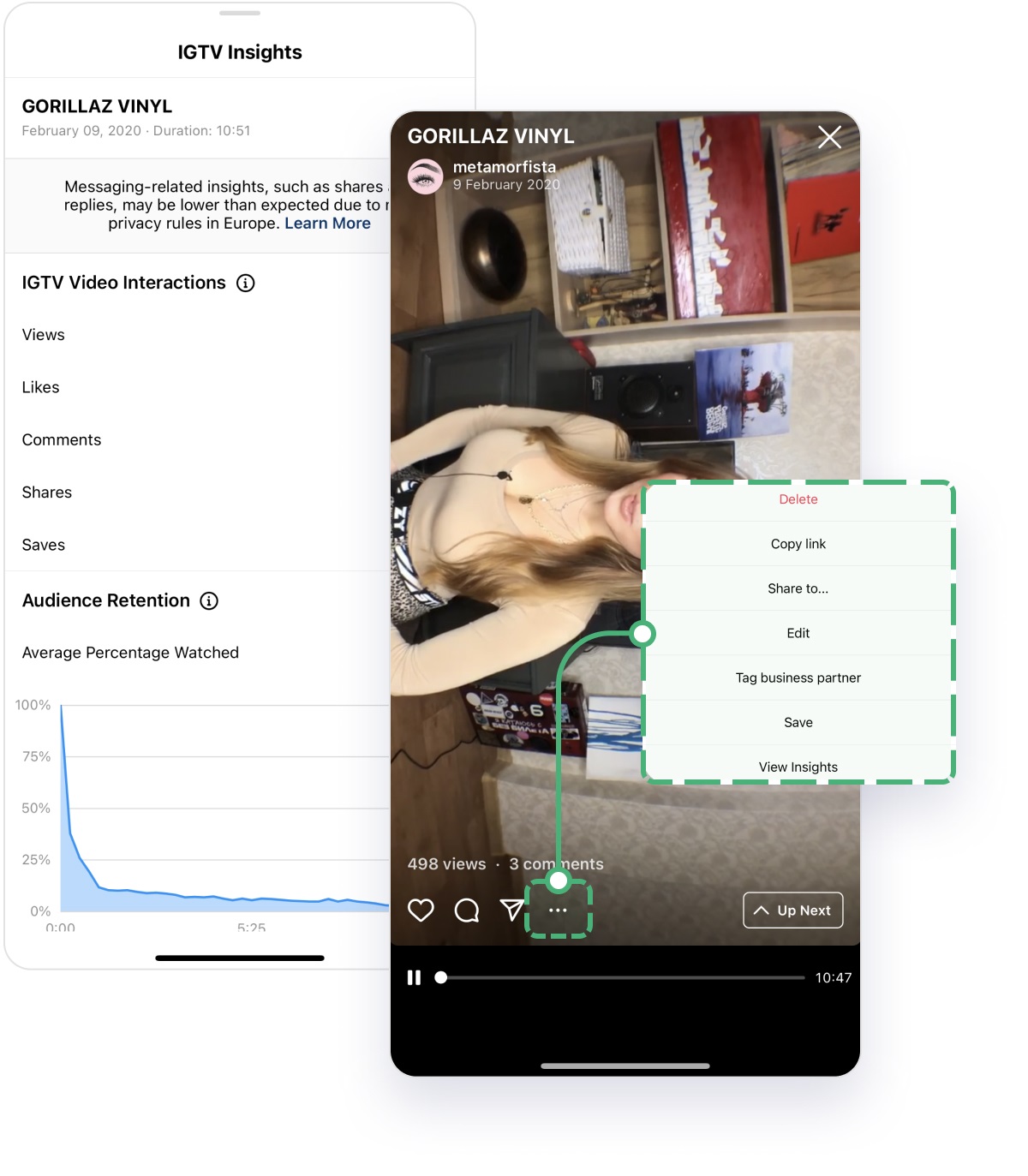 To access the analytics, head to your IGTV Channel.
Tap on a video that you want to see the analytics for.
Tap on the three dots icon and then select Insights.
With a few additional features and functions, IGTV can become another pillar for Instagram and a great way for regular users and companies to promote their brand to their target audience.