If you are thinking about selling on Instagram, we advise you work out a certain style. By knowing how to stick to trends you'll be able to produce content for targeted users, especially if your prime focus is Gen Z.

Boujee pink baddie aesthetic — in case you're hearing this term for the first time, look at the example and you will surely understand that you have known what it means for a long time. Look at this baddie Pinterest board:
This trend is manifested in the clothes of influential people; it has become popular due to the combination of underlined glamor mixed with sports chic. Now, this style is the epitome of beauty standards, especially for the young audience under 25 which is the key audience on Instagram.
For example, in order to match the baddie lifestyle, you need to have perfect makeup, crop tops, hoodies, and branded sneakers, interspersed with pink accessories with rhinestones. All this can be mixed with sequins and necessarily long nails. And many rap chicks like Cardi B, Rihanna, and Nicki Minaj have been natural carriers of this style for several decades. Now, thanks to the fact that we have the opportunity to observe the daily styles of famous people, this trend has become manifest not only in clothes and make-up but also in the style of Instagram posts.
@garzalashes
Most popular style:
#therealgoldenani¸ #lashextensions, #lashstrips #lashes #garzalashes #baddie #virallashes #lashplug #smallbusiness #bestlashes #beauty #trending #eyelashes
World-famous Instagram shops and businesses have quickly adapted and offered the audience clothes, accessories, and shoes that emphasize their preference for baddie style. Examples of such iconic shops are Fashion Nova, Forever21, and Oh Polly.
Here are a few cases where knowledge of the style may be useful to you:
If you want to provide services on Instagram. For example, if you are a stylist or makeup artist, by joining this style you can attract a large number of followers. The Instagram community respects this aesthetics and therefore posts quickly become trending and people get interested in your offers.
When you aim to sell physical goods. If you are thinking about producing clothes or making jewelry, we advise you to choose an existing style that is popular with Instagram's target audience. For example, this accessory store from Germany offers baddie niche products and receives a huge number of orders. We also see that the owners of this store are promoting their accounts on TikTok.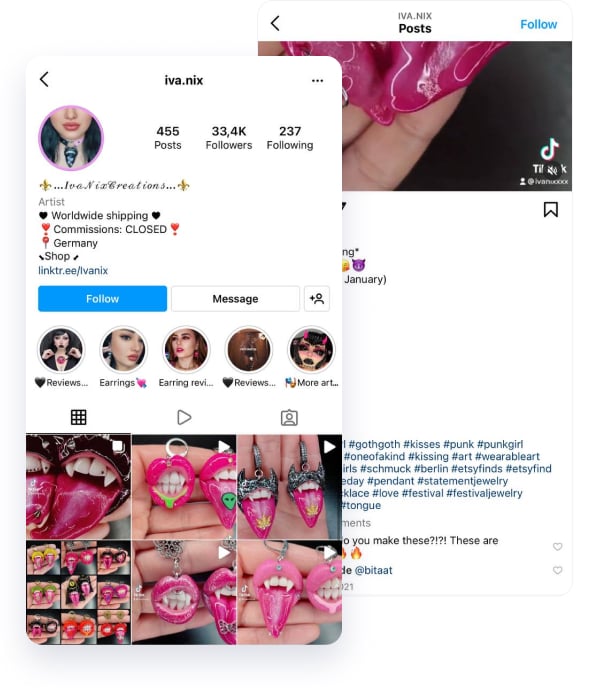 Yes, this is just a great way to attract buyers due to the fact that your product is fully consistent with the taste preferences and visual code of the audience on Instagram.
In this case, you will be able to quickly reach organic growth.
However, if you are adept at niche style, then you also need to pick up a certain hashtag set. The point is that with the help of tags, Instagram users can purposefully search for what you offer and find your posts.
For example, some users may follow a tag related to the baddie aesthetic. And if your store or product is constantly using it, this post will appear in their feed automatically.
You will have to spend very little on paid promotion as tags are an organic way to bring your content to the eyes of the target audience. Later in this article, we'll look at hashtags that marketing managers can use to grow in a specific style. We'll tell you how to pick hashtags if you want your posts to evolve. For example, among the top styles for sales on Instagram are fairy core and dark aesthetic, and you can read in detail about the specifics in our articles.
In the following sections, we will look at examples of how real users create content in this aesthetic and use visual code to attract people. Moreover, all these accounts operate in completely different directions. You can be an influencer and a model, or you can run a shop account that sells physical things. In any case, this style can play into your hands!
Examples of baddie aesthetics for follower growth
Different profiles use this aesthetic. The fact is that when you choose a single style, it will be easier for you to find a niche audience for your content or services.
This is suitable for a store of physical goods, services, and for personal promotion.
#1
This is the profile of a virtual stylist, who is working in the baddie style. The fact is that now you can earn on the services as a stylist without personal meetings. You can collect requests of clients' preferences, ask them to upload photos, and the virtual stylist will assemble ready-made clothing sets according to their budget.
Also, followers who subscribe to such user profiles on Instagram look for ready-made ideas with a selection of items. For account creators, this is a great way to monetize because they can partner with brands to get their accounts listed and earn commissions on the selling of items.
The main advantage of this account is that it emphasizes a clear belonging to the baddie style. The creator of the profile even uses a username that includes Baddie. This helps to find this profile in the first place in the search since the username is first indexed by the search engine.
It helps people better understand what your account is about without having visited it yet. The main takeaway from seeing this profile is how it maximizes the use of diverse hashtags. We see such tags under absolutely every publication, and they include not only the name of the style but also certain brands that are associated with this style. Later we will learn how to select tags so that key customers can find you.
Optimize each post with tags to increase sales!
#2
This is an account of an influencer and model who also prefers the baddie style and posts niche content in order to attract subscribers. We also see that the post that is made tailored to the style lists a lot of niche tags. This allowed the blogger to appear in the top gallery and thanks to this, we discovered these publications!
Using a certain style in conjunction with the hashtags, you show the algorithm that you are focused on certain areas and in the audience group. And soon these people will appear in your profile!
#3
And this example is probably familiar to you because the sensation Fashion Nova made in Insta growth is partially due to her commitment to a baddie style. Because the company produced clothes that were known to be Instagrammable, and promoted them through top influencers showing the items, we instantly saw them sold out. Therefore, if you want to find references and examples of the baddie aesthetics, you should carefully look through this Instagram shop.
How to find niche-relevant hashtags
As we found out above, relevant niche-tied hashtags are a guarantee that your publication will get to the top of a certain gallery (though maybe not instantly). Also, many users follow tags. It is more convenient than subscribing to hundreds of similar influencers, since all posts with this tag will automatically be visible in their feed. And also tags are a way that you will be explored from the Instagram search bar. The fact is that Instagram indexes the words that users enter into the search bar and prompts them to select a search by tags.
Therefore, the task of anyone who promotes an Instagram profile is to select exactly the terms that the potential audience is most likely to enter into the search bar. It is difficult to get these tags off the top of your head!
Think about what words the target follower may enter in order to find your account. And if you are thinking of entering these words into the search bar to see the hashtags associated with them, you can forget about trying this trick. You can't copy anything right from the search bar. In addition, even if you want to copy competitors' hashtags from their publication, it will be impossible to do this because the text of someones' post in the application cannot be copied.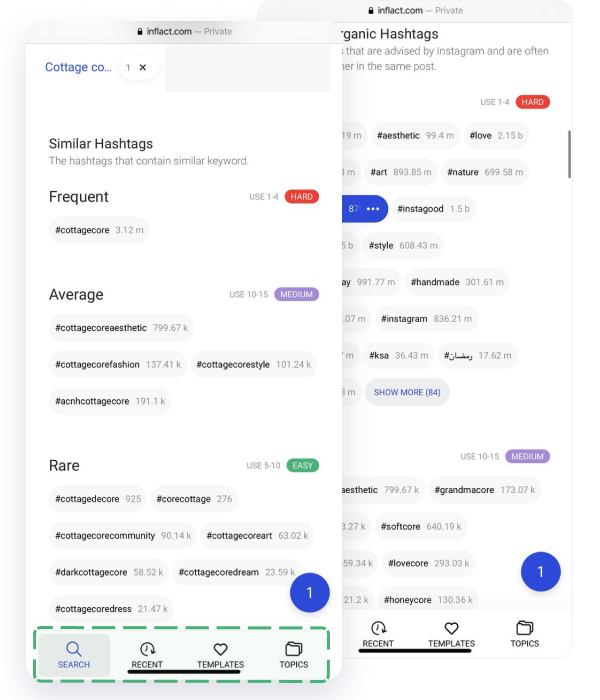 Therefore, a tool like the Inflact Hashtag Generator is the most updated source of tags at the moment. The tags database lists more than 12,000,000 ideas and the advantage of this generator is that they update the database daily. That is, all the latest trends in tags that appear in the community are promptly loaded into the generator. And also this is one of the few generators that allow you to insert several keywords at once in one single search round.
If you want to find baddie-related hashtags, you might not have guessed that this query includes synonymous tags such as Y2K. This is a vital feature that allows users to get more relevant hashtags that don't contain the exact word form in the original query.
Therefore, by using this generator, you will find many synonymous ideas that fit the meaning of your publication. And now the generator has been updated to a new advanced version , and you can find similar tags for any hashtag displayed by clicking or holding on it.
You can also create sheets and collections of tags for certain publication groups. This is useful if you manage multiple accounts or sort content by meaning. Lists, folders, and the entire search history will be conveniently saved in your personal account in the Hashtags Generator dashboard.
This is the most ambitious generator that will help you curate copyable tags as if they were keywords for SEO promotion. You can also watch analytics every day in order to assess your competitiveness. The more publications are already in the gallery, then the more difficult it is to get into the top section. However, such tags have a very high number of views — that is, you can reach more of their users!
However, the optimal strategy is a mix of trending and rare or niche tags to uplift your discoverability. We also provide below as a bonus some baddie tags that you can copy if you are inspired to follow this trend.
Pink baddie aesthetic hashtags
#baddieoutfits #baddieedits #baddieoutfit #baddienails #baddieposts #baddiealert #instabaddie #baddiebey #baddiesonly #igbaddies #baddieaesthetic #baddieaesthetics #baddieaestheticpost #y2kaesthetic #pinkaesthetic #y2kfashion #instabaddie #baddieoutfits #baddieedits #purpleaesthetics #baddieposts #igbaddies #y2kaesthetics #90aesthetics #baddiecaptions #baddiestyle #instagrambaddie #2000saesthetic #y2kprincess #y2kangel
Keep in mind that in the generator, there are ready sets sorted by key topics that are blooming on Instagram. For example, themed hashtags are dedicated to fashion, food, fitness — all these successful sets you can copy just by clicking on one button. The library is ready for use and will be constantly updated. You can also create custom collections.