In 2021 you don't need to partner with top, expensive influencers to display your products. Besides, they seldom check their DMs. Instead, you can reach out to micro-influencers who will partner in exchange for your products. Find the examples and instructions you need below.

Collaboration with influencers and sponsored posts in feature accounts work great when you need to draw target clients. Even a new shop will get its first sales and followers after appearing in the feeds of influencers and feature accounts. Sometimes it's even more effective to promote this way than via targeted ads.
Here are the benefits of influencer marketing in 2021:
Targeted and hot audiences discover your brand from the account they trust. This means they will be more loyal to your product or service and are more likely to buy than via ads.
You get aesthetic and diverse visuals that depict your goods in use. It's a big trend in 2021 to post customers' images to the feed and Stories. These posts build trust. You don't need models – real clients will make the visuals more genuine.
You can attract visitors from bloggers' accounts long after they publish a post. You need to ask them to save a story or a feed post to Highlights. Then even the new audience of a blogger will visit your account and can become clients.
Besides bloggers, there is a myriad of feature accounts in all niches. For instance, you can cooperate with fashion accounts and magazines to promote a clothing brand; Instagram-based galleries if you sell artworks; interior design communities if you produce furniture and household goods. It costs $15-35 to get featured, but you can attract the target audience quickly.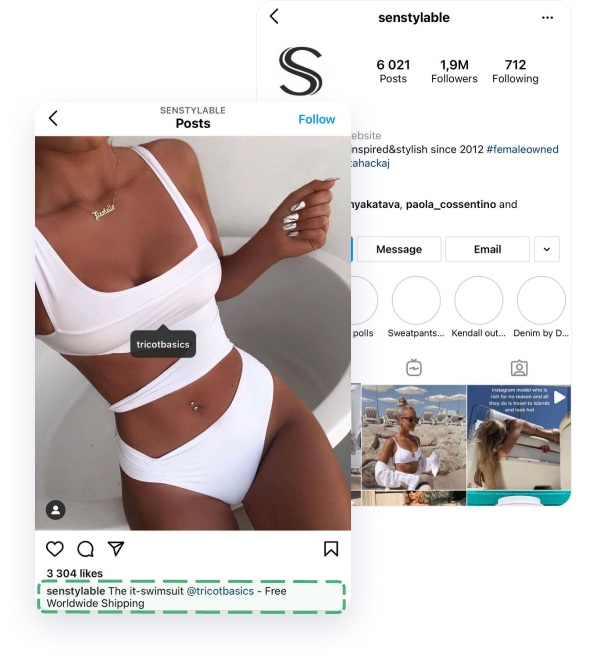 Below you can find win-win examples of partnering with influencers and customers for brands. Use them to think over this type of engagement for your Insta-based business.
Influencer marketing benchmarks: 3 trendy ideas to pick up
#1 COLLABORATE WITH MICRO-INFLUENCERS WITH A 1-2K AUDIENCE
It's a strategy of numerous new jewelry brands to reach out to their possible customers and offer collaboration. Instagram users with fewer followers are more likely to find your message in Direct and accept the offer. Usually, brands offer items free of charge but with paid delivery. In exchange, users need to produce content with their products and tag their account.
Here is an example of such correspondence with a growing jewelry shop: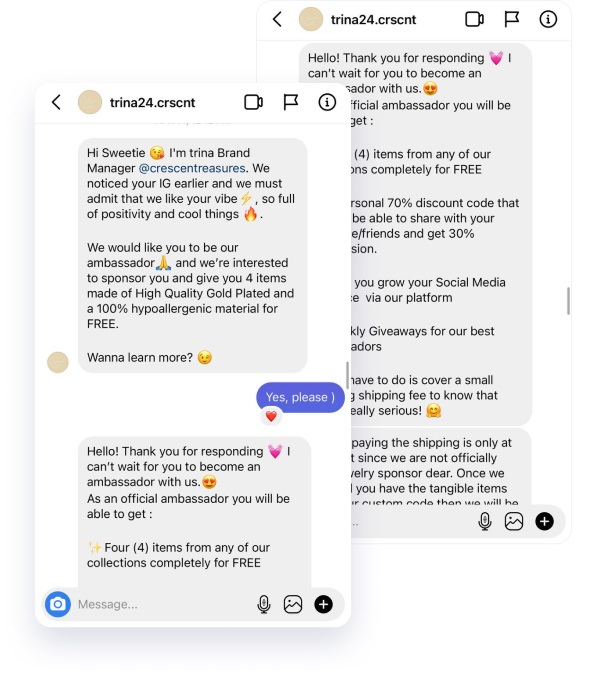 If you choose this strategy of influencer outreach, you probably will need to contact numerous users. Thus, you will get content for feed and Stories and many users will mention your company. This is also good for Instagram SEO because the algorithm detects your account as popular and will promote you in feeds.
#2 USE THEIR IMAGES IN YOUR PROFILE TO DIVERSIFY THE FEED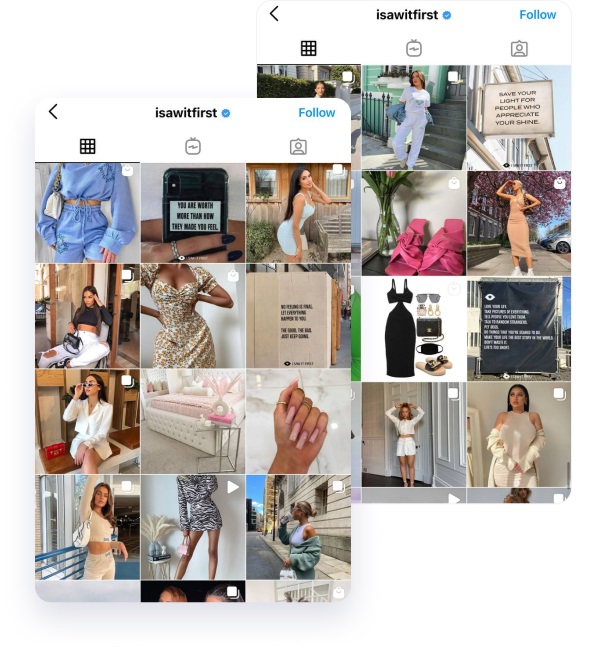 Now you don't need to organize photoshoots in a studio or pay models, photographers, and makeup artists. Feeds like this might look dull and not dynamic. Instead, use photos of various people, locations, and color palettes to make the gallery eye-popping.
In the examples below, you will find excellent examples of a feed full of photos made by different bloggers around the globe. Despite the fact that the images were produced by various people, they look cohesive in the account.
#3 ADVERTISE VIA PROMO CODES AND GIVEAWAYS FOR INFLUENCERS' AUDIENCES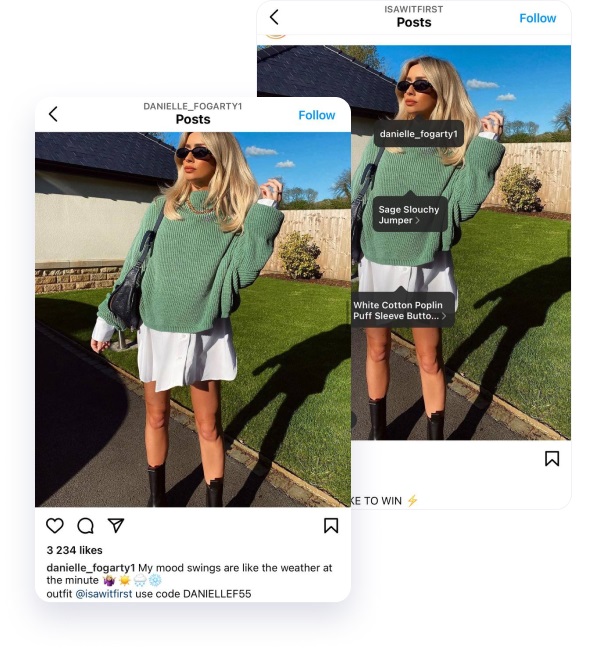 It will be a significant incentive for an influencer to partner with you if you supply them with benefits for their audience. Like in the example below, ask them to mention the promo code in the caption. This way you can track how many purchases resulted from a particular blogger.
By the way, when you offer barter in exchange for content, it's better to send two products — one for the influencer and one for their audience.
How to find influencers for reaching out: top problems & solutions
One of the most challenging things is to discover the right influencers and communities for promotion. The process might take time and effort, but you can double or even triple orders and audience size as soon as you find them. Don't give up if you face the following hardships – there are solutions for them:
Hard to find influencers in the IG app. Use User Search for Instagram, which allows you to discover thousands of accounts in a second. You can save and group them in lists and view their email and links to IG for convenient correspondence.
It's time-consuming to contact them in Direct. Use the Direct tool with labels, kanban boards, auto-replies, and bulk messages. It will help you connect with many influencers and IG accounts and categorize them.
Bloggers don't reply. It's typical that influencers don't respond or get back to you for weeks. If you are promoting a new product, there's only one solution: contact as many of them as you can. If one out of ten influencers replies, it's a huge success – so don't give up. Another way is you may use paid influencer platforms, but not all bloggers are represented there.
When a blogger is ready to collaborate, make the most of it and remember these 3 crucial things – they will enhance your traffic for a longer time.
Ask bloggers to tag your account, like your posts, and reply to your Stories. As a result, it boosts the trust of the algorithm. Consequently, you will rank higher in hashtag galleries, get into Explore easier, and you will be shown more often to their followers and your followers.
Feed posts and Highlights guarantee longer-lasting reach growth. The one-time story will drive the audience for a short time, while feed posts and highlights will bestow your account with an influencer's traffic for a long time after posting.
Make friends with them and surprise them with little pleasant things. When you find at least 5-10 loyal influencers for steady cooperation, you will easily get traffic and clients when launching new goods. When negotiating, showcase that you are interested in a long-term partnership if it goes well.