You would need at least 4,390 minutes to search the 4,390 users in the category "Jewelry" in the Instagram app. But you need just 1 minute to do this with Inflact user search.

Whenever you want to find influencers in a specific niche or a local business, you type keywords in the Instagram search bar. And you see several accounts, and some of them are not even relevant. Has this happened to you? Stop this time-consuming and ineffective discovery and check out the Inflact tool – Instagram User Search. The database includes hundreds of thousands of accounts, all filtered by categories, audience size, and gender. What's more, you can find people by keywords. Let's dive right in.
Instagram account search: features that simplify digital marketing
After the latest updates, User Search for Instagram has become more precise and robust. Look what's new and how you benefit:
Adjust fields for search by keywords. You can indicate places where you want a keyword to be present – bio, name, username, phone, or email.
Hack: Find people by email and phone numbers by using this function.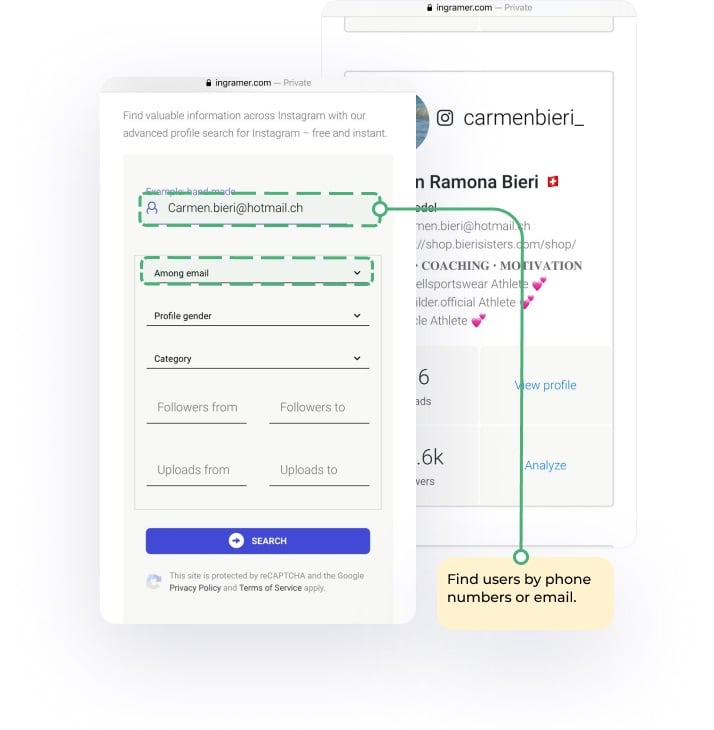 How do you make the most of it? Generally, your search has become more targeted. For example, you can find accounts in specific locations. Simply type Berlin in the search field and choose, for example, the category "Beauty, Cosmetic & Personal Care" to find an aesthetician in Berlin.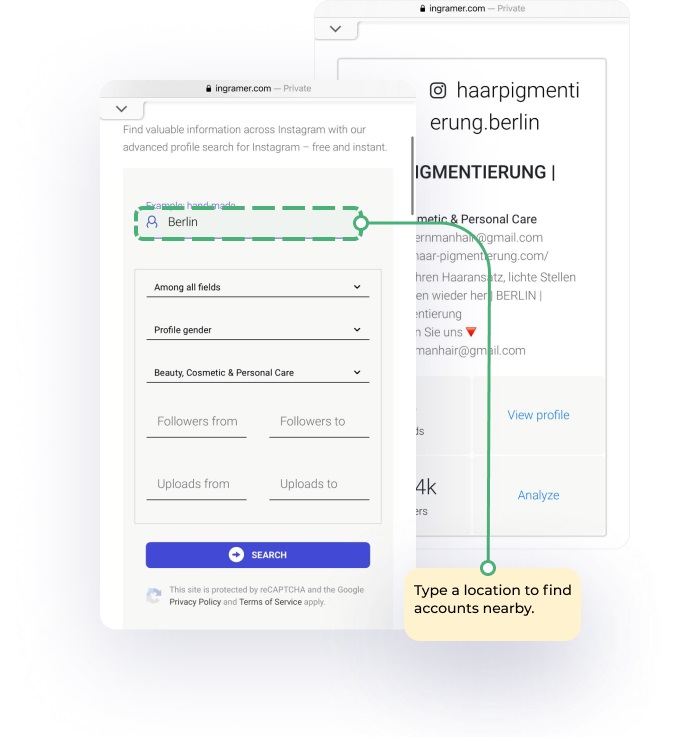 More account categories. It's possible to leave the search field blank and choose a category – now there are dozens of them. We added such niche areas as Car Dealership, Florist, Physical Therapist. Cool, isn't it?
How do you make the most of it? You can enjoy even more niche-specific market research than before.
View the contacts. Emails and phone numbers are mentioned for every user (if they are mentioned on their accounts. This option is only available for registered users, so don't be lazy to leave your email if you want to reach out to people.)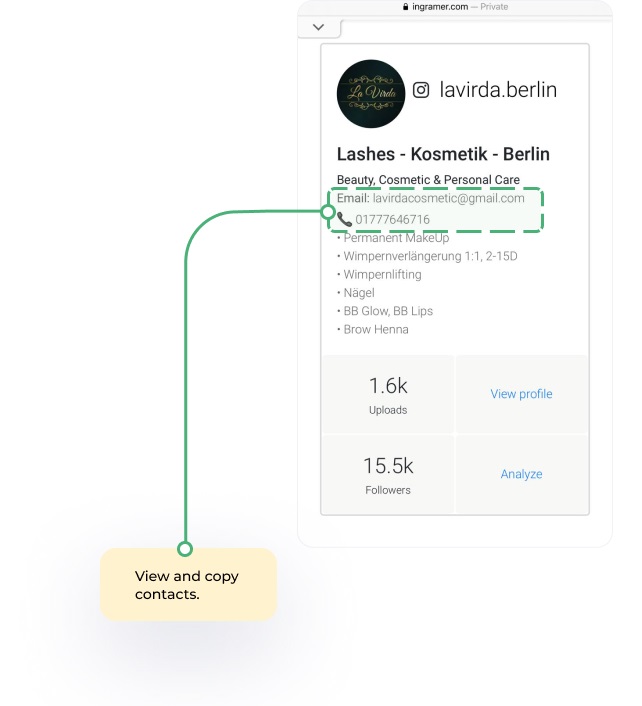 How do you make the most of it? If you need to contact users by email for outreach, you can open a spreadsheet to copy and paste their contacts. It's really a quicker way than the in-app method – there you need to tap on the contacts button, and the copy function is missing.
Get actual data about users. When you go to the search results, you will find the menu item Analyze. Click on it, and you will see many valuable parameters that will help you realize the true activity, engagement, and top content.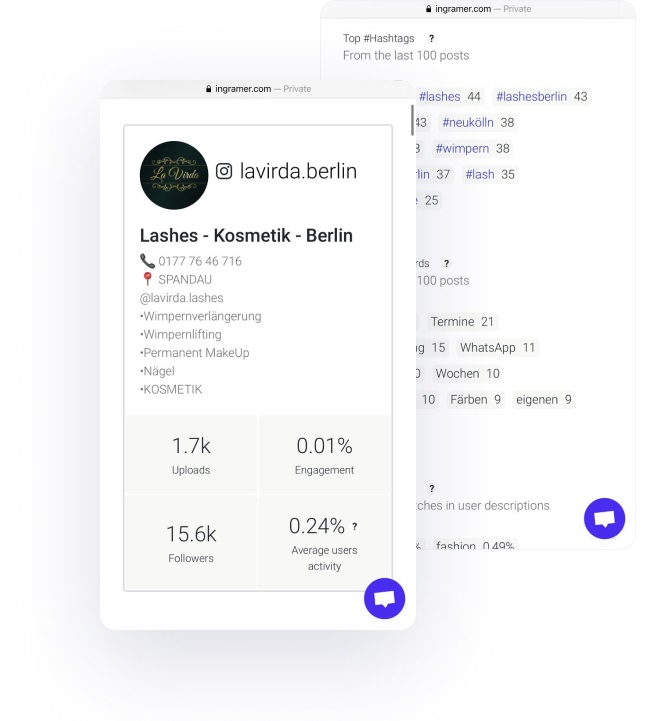 How do you make the most of it? Always analyze the profiles of influencers you consider partnering with. They may indicate deceptive data in their media kit, so why not check the truth on your own? Also, analytics is crucial if you employ the User Search for investigating competitors.
Note:
You can use the Inflact
Profile Analyzer
as an independent tool – just to get insightful data about any public account.
Download results as a file. Now users can keep the information as a CSV file (a spreadsheet). You will find this option if you activate your subscription.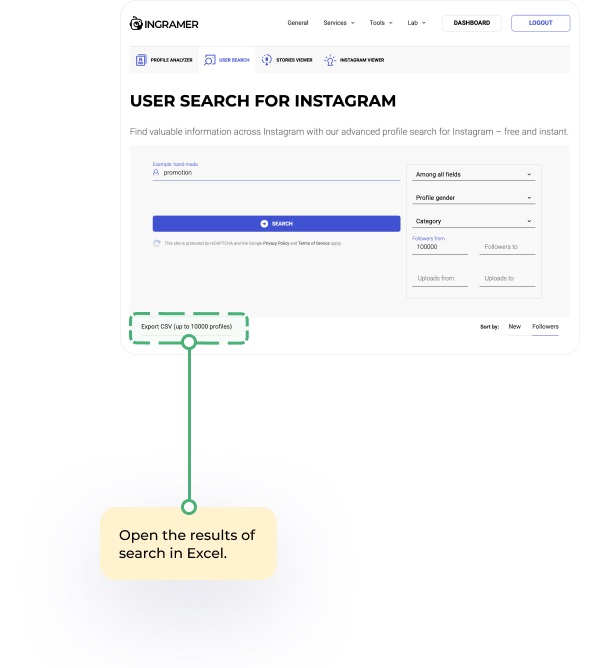 How do you make the most of it? Share the results of your investigation with colleagues in a convenient way. You don't need to send them tons of screenshots – every person can copy data from the spreadsheet and organize data in Excel. As you see, the updated User Search for Instagram is truly powerful if you know how to use it right and how to utilize the data. I admit you may not realize how beneficial this tool is for your digital strategy. So, read the next section to uncover the true potential.
Use cases for Inflact's Instagram User Search
Instagram is a great source of data if you know the right tool and how to use this data right. You don't need to leave your home to know your competitors' promotion techniques, understand market trends, and establish lucrative connections. Here are just a few reasons you should integrate the Inflact User Search into your business:
Influencer marketing outreach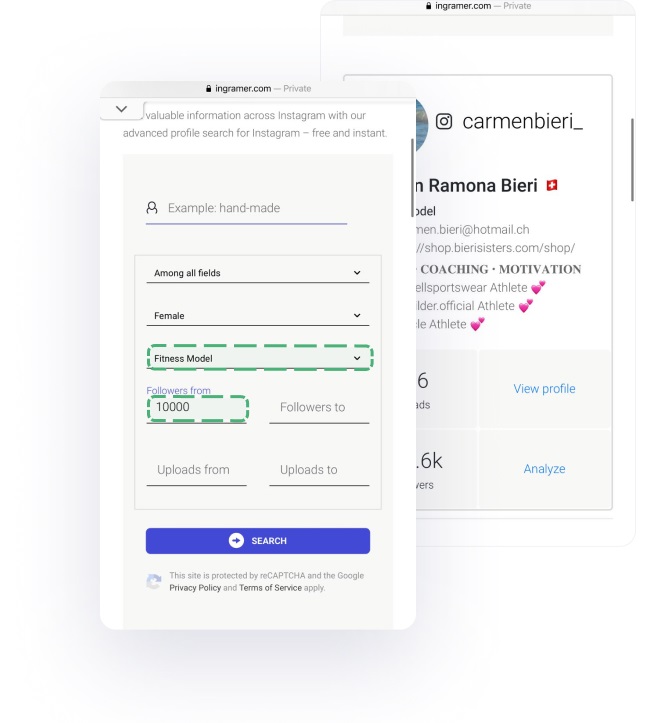 Influencer marketing is a powerful tool for both startups and market giants. With the help of Inflact User Search, you can keep in touch with carefully picked bloggers in all industries.
You can specify the audience's desired size so that you'll find micro and macro influencers for partnering.
Track their real success via the in-built Profile Analyzer – all the info is calculated by Inflact.
Copy the contact data and get in touch via email – if their Direct inbox is busy, they seldom check the requests.
With this tool, you no longer need to use overpriced Instagram marketing platforms or, even worse, try to find influencers manually in the app.
It's a trend to organize contests and giveaways with partners. For example, if you manage a yoga studio, you can research a manufacturer of yoga accessories to collaborate with them. Remember, you can promote via larger accounts in your niche – they already have your audience. This kind of promotion is often paid, but the investment is worthwhile if the activity is organic. You can quickly check if an account has real and active followers by clicking on Analyze. Pay attention to activity rate, top commented posts, and the frequency of posting. Read our article Instagram contests that rock in 2022: Top techniques to win followers to get fresh ideas for your future activities.
How do you outline a unique selling point? Can you get it out of your head without competitor research? No.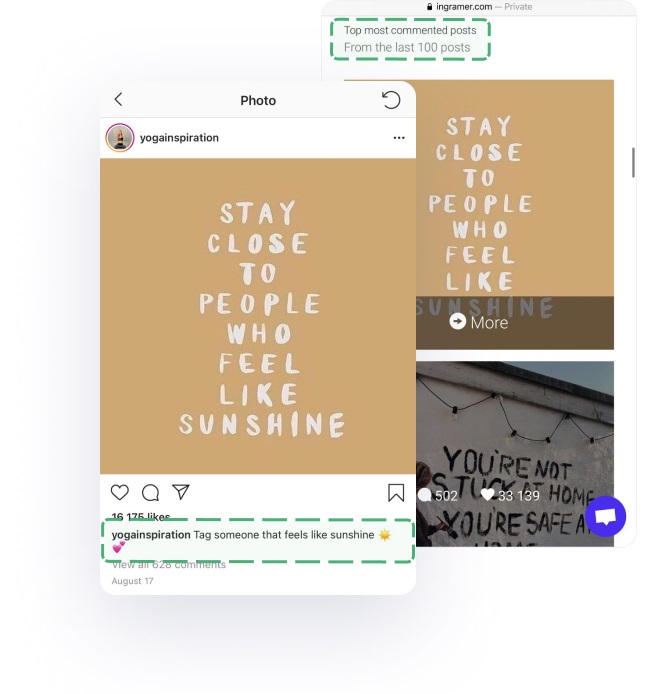 Moreover, this kind of analysis will help you get inspiration and ideas for your content strategy and define the best time to post. So, here's what you need to do:
Set the criteria in the Inflact User Search (your niche, number of followers, and you can indicate a location in the text bar).
Choose 7-10 accounts from the list of competitors and analyze them.
Check the posting schedule and try to post at the same time. Likely your audience will be active at this time. Read more about posting time in the article Lifehack for IG: How to recognize the most popular post time in 10 screenshots.
Take away ideas from the best performing content. Look at the most liked and commented publications and figure out why they gained engagement. Maybe it's an appealing caption or a contest? Try to note trends among your target customers.
Grab their hashtags. The Analyzer will show you what hashtags your rivals use – why not try them too? You can generate semantically close hashtags via the Hashtag Generator afterwards. Read the article Instagram promotion lifehack: a clever way to reuse your competitors' hashtags.
Finally, you can find talent for your projects via User Search. For example, if you need a fitness coach, a designer, or even a dentist, you can find them in the database. It's convenient because you will likely see the reviews on their job and portfolio on their Instagrams. You don't need to register on hiring platforms for short-term cooperation – simply find employees on Instagram.
How do you search for a user on Instagram?
Open the Inflact User Search.
Specify your search criteria – enter keywords or choose a niche.
Click on Search.
View the results, copy contacts, or analyze accounts.
Download them as a spreadsheet if you need them at hand.
Lastly
Now you have many ideas of how to use the
Inflact User Search
for Instagram. It can level up and simplify many aspects of your online promotion. If you've found out more options for applying the Instagram User Search, share them here in the comments below.