Do you want to hire influencers for brand promotion? Explore how you can use Inflact tools for intelligent influencer outreach. Find truly authoritative bloggers and save your time.

---
In a time when anyone can buy Instagram followers, likes, and views, being trusted and authentic is a new luxury. When you decide to partner with influencers, you are ultimately responsible for the result – the final number of new customers and ROI.
If you aim to get the best possible result, you should put effort into influencer research to ensure that their audience is active and need your product or service. Even five micro-influencers can bring you more profit than influencers with an audience of a million.
In this article, I will show how you can easily find and analyze influencers before pitching them. Also, I will reveal efficient techniques for contacting influencers via the Direct Module.
Find Instagram influencers and check their true engagement
It's possible to find bloggers by searching on Google, utilizing special platforms, or discovering influencers right on Instagram. Each method has its pros and cons. Alternatively, you may employ the User search tool combined with the profile analytics.
When you find influencers in Google, you might get obsolete social statistics. When utilizing influencer platforms, extra time might be needed to check true engagement on your own. At the same time, the User Search is already powered with a button to view key analytics. Below you will find steps to find Instagram influencers.
Open the User Search. Read instructions in the article How to use Instagram user search for influencer marketing, market analysis and talent research.
Pick a category. You can browse users by industries and find synonymic ideas for categories.
Adjust the audience size and the number of posts of your target influencers. Don't ignore influencers with fewer followers – they usually have a higher user activity rate (which means more trust).
View the list of influencers and proceed to analytics. When the list of bloggers is in front of you, and you've got hooked by someone's bio, name, and profile image, it's time to investigate. Click on Analyze and observe the real activity on profiles to make a wise decision: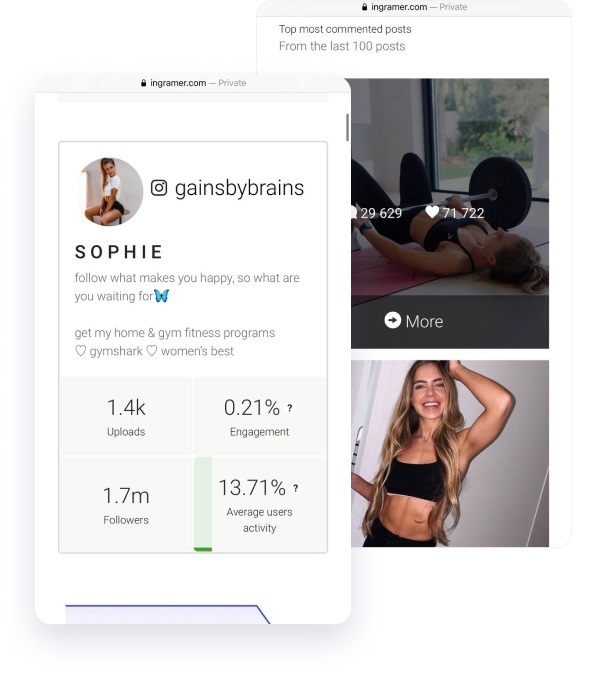 Pay attention to the engagement rate, user activity, and most-commented post.
Note: It's possible to examine profiles free of charge autonomously from the User Search.
No matter where you've found an influencer, use our tool for extra verification.
Amass the best candidates in a document. You can download an Excel document of your research. It's straightforward to share with your team and discuss each influencer. It's convenient that contacts are placed in the document, so you don't need to manually copy them.
When you've gathered the influencers list for pitching, and your offer is ready, it's time to build contacts with them. You can email them or fill in the contact form on their website. But not all of them may have an email indicated on Instagram. It's a good approach to private message them on Instagram Direct because these people, or their managers, are almost always online on this platform.
In the next part, I will demonstrate how some Direct Module functions can help you negotiate on IG and manage influencers' personal data and group chats.
How to contact Instagram influencers 2X more effectively right in the Direct Module
Follow these steps to optimize the part of influencer outreach you are going to conduct on Instagram. You can find more ideas to optimize your Direct chats in the guide How to sell on Instagram with DM for brands and influencers (strategies for 6-figure sales and 300% engagement growth).
Think over your offer and save it as a quick reply. On the Inflact Direct Module, you can save prefabricated messages with shortcuts that you will distribute to other influencers. When you start typing the shortcut name, the message appears on the screen automatically. Make your DM short, minimalistic, and catchy – they have tons of offers every day. Why should they choose yours?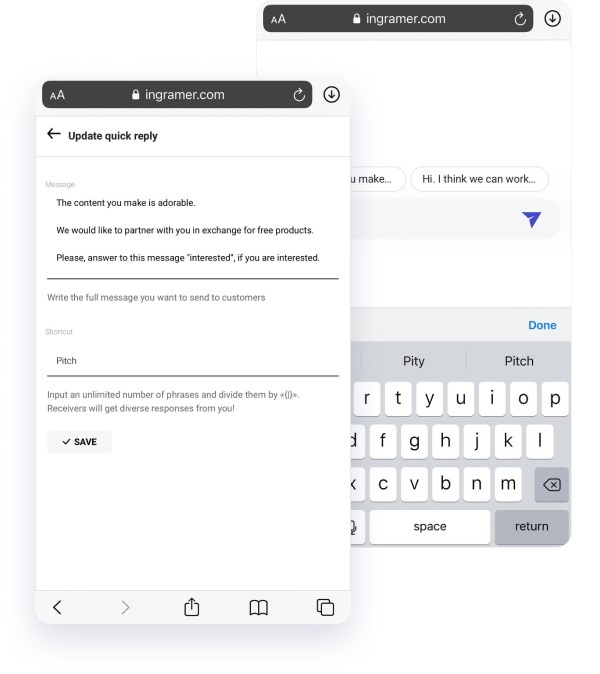 Find influencers you researched via the User Search tool. Use the search bar in the Direct chat. You can find any user by copying their username from the spreadsheet. Click in their name and begin your conversation.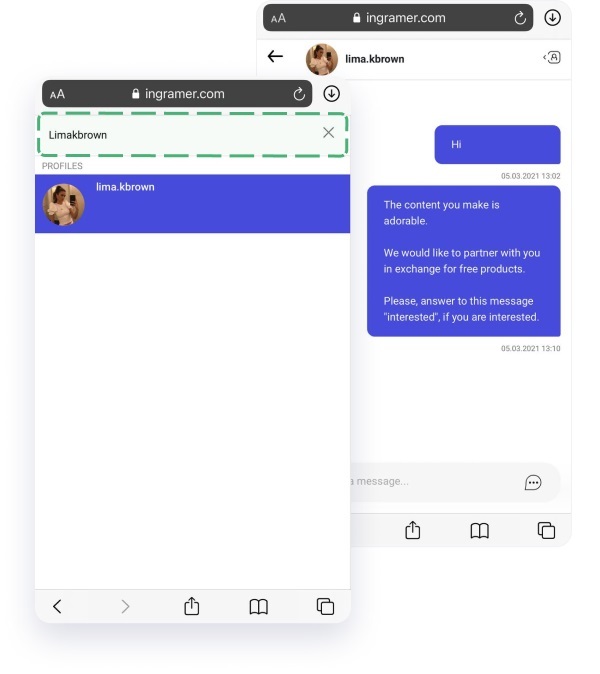 Sort influencers by groups for various campaigns via labels. You can think over various criteria for grouping influencers – by campaigns, products you want to promote, locations, their conditions, size of audience, etc. For example, I add the labels "Interested" and "IGTV campaign." And when I choose these labels in the search bar, I will see only chats listed in these groups.
Ask them for contact data and fill in the personal card in the Direct Module. When you decide to partner with an influencer, I advise you to fill in the personal card – that's how anyone from your team can get the precise information. For example, you can add their email, phone, location, and a link to their website. You can use words from these sections in the search bar too (for finding influencers in a certain region, for instance).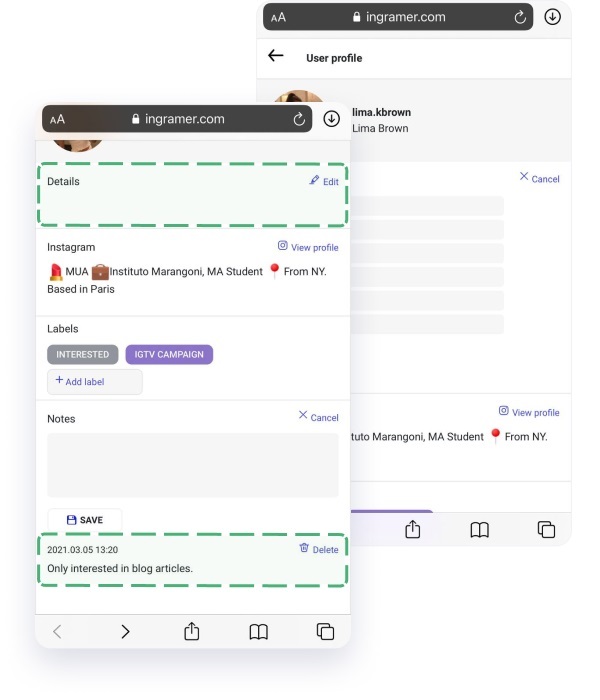 Add notes about the status of your communication. When an influencer replies to you, the conditions and outcomes are usually different from your initial proposal. And you don't need to scroll your conversation back to the beginning to understand the details – simply add a note about the status. For example, if an influencer currently doesn't produce content for IGTV but would like to share a guest post on their blog, note this data. Also, they may be on vacation and ask you to get back on a certain date – mark this as a reminder in the notes. Later you can find chats by keywords from notes.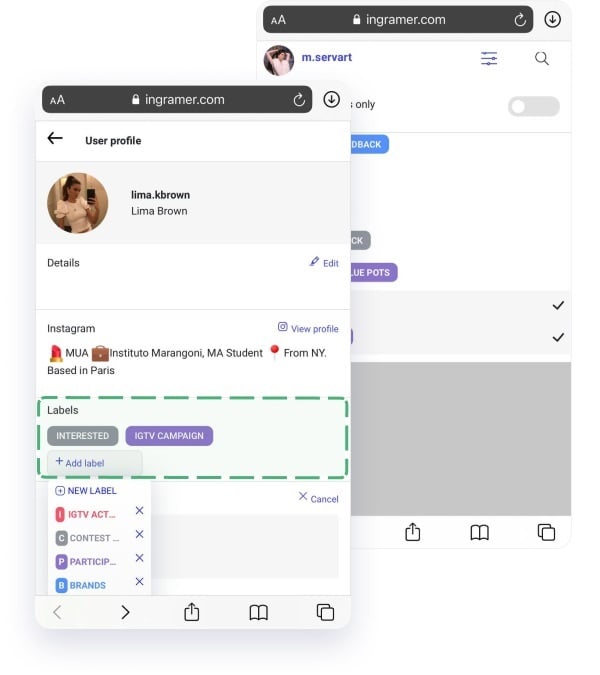 Set up auto-replies by keywords to reply to those interested in collaboration. On Inflact you can set up numerous target auto-replies. If you ask influencers to use in their reply a special keyword, they will get an automated response. For instance, you can ask them to use the words "Interested" or "Conditions" if they would like to get further information.
Finally
You can fine-tune the whole communication with bloggers and partners on IG via Inflact tools. People will get instant responses and you won't spend time on manual replies. Afterwards, you can find the auto-replies log section and browse chats by filters. User Search, Profile Analyzer, and the Direct Module are helpful to organize influencer marketing – don't miss an opportunity to check them out.