Do you wreck your brain when posting stories? Explore winning story examples that help attract attention to your products, no matter what you are selling on Instagram.

Stories can be a great way to boost the interest of your community. Moreover, the more reactions and shares you get on stories, the more effectively your content is promoted by Instagram.
Let's learn from the best examples of what things to post in stories if you are managing a business account or promoting yourself as an influencer.
Instagram Story ideas: series to announce tempting deals
Saint Valentine's Day and International Women's Day are around the corner. No leading Instagram-based shop misses this chance to increase revenue and stimulate purchases. Follow their path. You can use some of these ideas not only for a holiday but every time you need to increase purchases.
A compelling series of stories can encourage followers to open your website and order. All of them are triggering and creative.
Further, I'll point out certain techniques for stories that help brands to gain mind-boggling profits.
@luxetokill – set a timer to create urgency on stories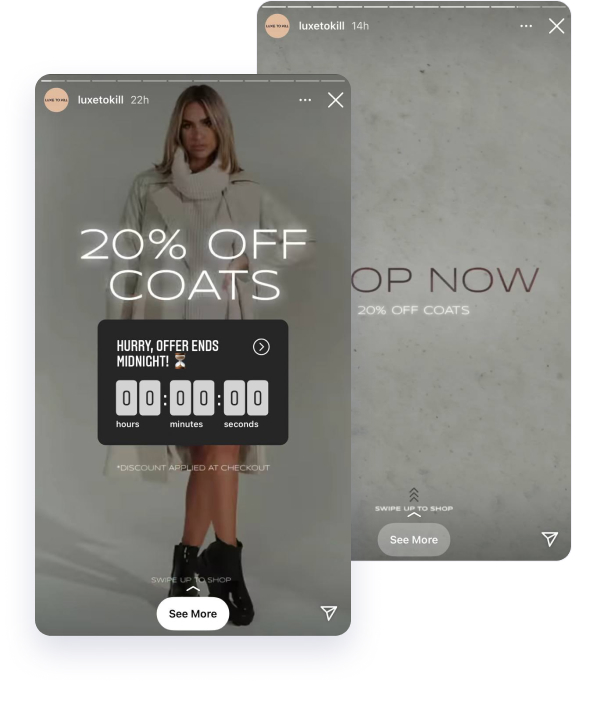 @luxetokill is a vegan online fashion brand. And you can check on their stories to learn powerful hacks for driving sales on Instagram.
The idea is simple yet effective – use the timer sticker when you announce discounts via stories. Other ingredients of a selling story:
Use clear copy with a declared discount amount.
Use the image of the product in the background.
Insert the timer sticker, which you can find in the story's settings. Set the date and time when your offer expires.
Add a link button to your story. If you don't have enough followers for this function, add a CTA inviting users to follow the link in your bio.
For the next stories in the series, use the images of products with discounts.
As a final story, post a CTA. @luxetokill uses a simple caption, "Shop now, 20% off coats."
Users may overlook your feed post, but they more often check stories. Use the provided example when you plan big sales in e-commerce.
@elfcosmetics – issue e-cards for on-site purchases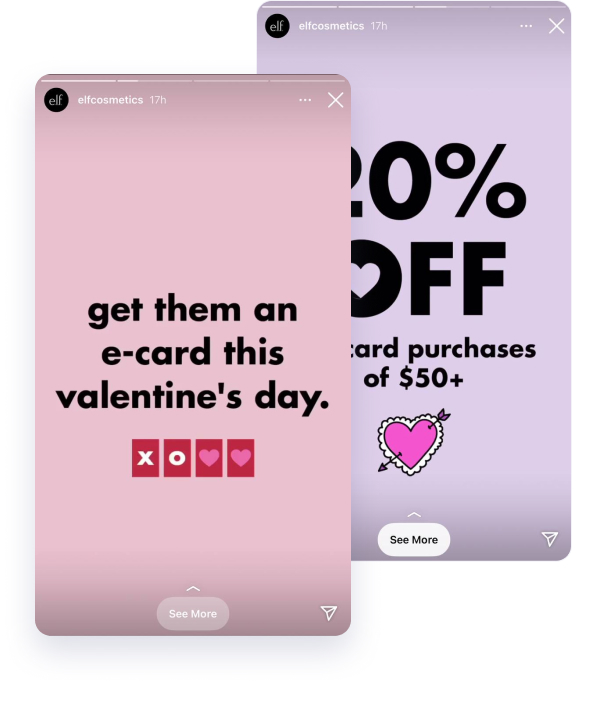 @elfcosmetics is a famous cruelty-free skincare and cosmetics brand. Even if you are far from this industry, this account is a precious source of marketing insights.
For example, you can create gift cards and give a discount if people use them when buying. In this case, your on-site sales will significantly grow – people can choose which items they want to buy at a discount.
Well, it's a brilliant idea to post several stories announcing gift cards, especially before the holidays.
Add bold text on a solid background. If you're not promoting certain items/collections, don't overthink the story's background. Choose a color correlated with your brand's mood.
Divide your message into several stories. Don't try to give too much information in one story. Make people curious and encourage them to tap on stories to learn more.
@boohoo – handpick items for sale and post in stories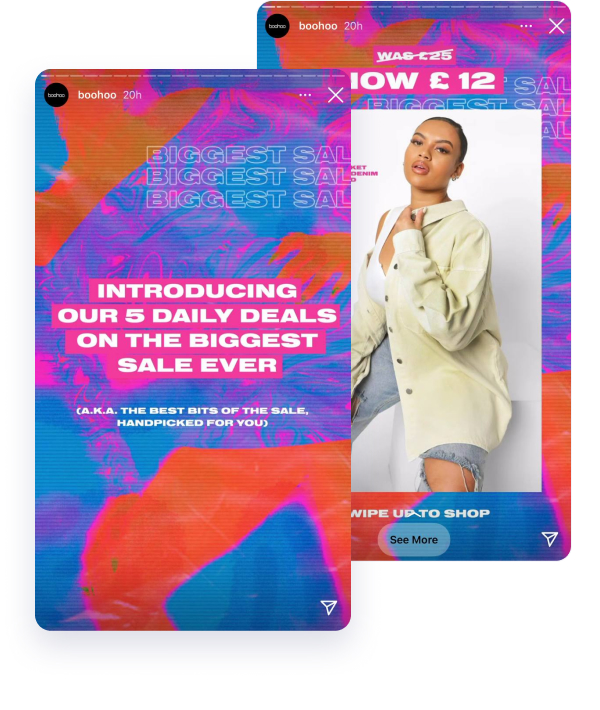 @boohoo is a global fashion brand where you can learn working sales techniques you can apply to any retail product. Let's see why their offers on stories are exceptional.
Hack: If you offer many pieces for sale on your website, place the best of them in stories, like @boohoo. It will be easier for your customers to notice them.
How do you create profit-making stories?
Pick the best five deals you want to announce in stories.
Post the introductory story.
Example: "Introducing our 5 daily deals in the biggest sale ever."
Publish images of win-win items with a previous price and a sale price.
Close your series of stories with a CTA.
Example:
"Swipe up to shop the biggest sale ever."
I bet after this effective presentation, these items will sell like hotcakes.
@egooficial – upsell by placing matching items all together in stories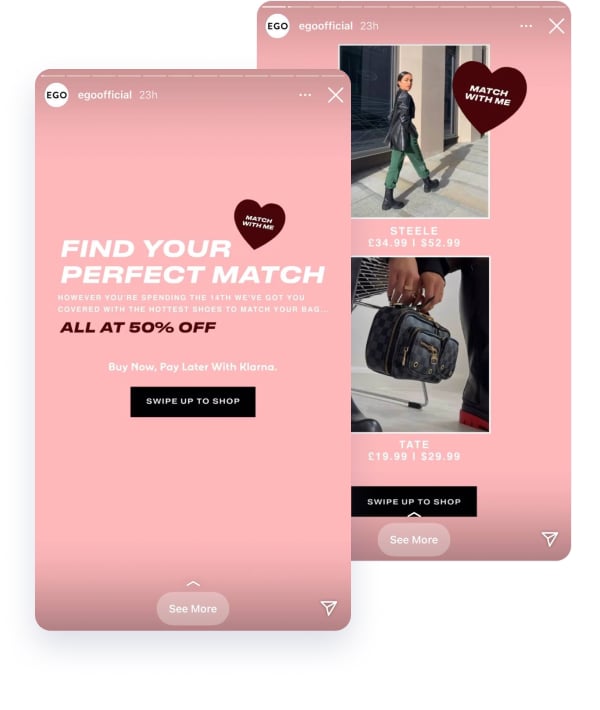 @egooficial is one more Instagram-based shop with over 2 million followers. No matter what you are trying to sell, I recommend you look at their creative stories.
For the ongoing Valentine's Day sale, @egooficial suggests the best-matching bags and shoes from their collections. You can use this idea for your goods as well.
Suggest ready-made goods combinations in stories. If it's clothes, style items so people would like to buy the whole pack – at an attractive price.
The scheme of these stories is simple:
Post an introductory story to explain to users that you give a discount on matching sets.
Create a collage with images of both products. Indicate prices and provide a link to purchase.
Ready – now, your audience will be waiting for story updates from your account. Your products are the best things to post in the Instagram story, but now you know how to add value to such content.
Instagram Story ideas for influencers to sell via stories
If you are promoting a personal brand on Instagram as an influencer, pay attention to these ideas for upcoming stories.
@maurahiggins – repost from the feed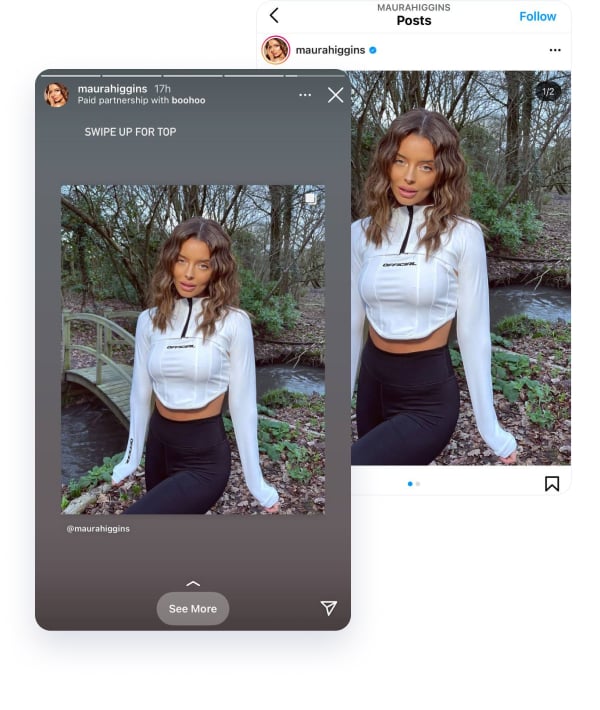 @maurahiggins is an Instagram model who runs successful campaigns with top brands. Nevertheless, you can apply her techniques to your content strategy.
The idea is simple – the content in stories shouldn't necessarily be the original. You may repost your own feed post as a story. Thanks to this, the chances are higher that more people will see it.
@katieprice – demonstrate products in stories & use promo codes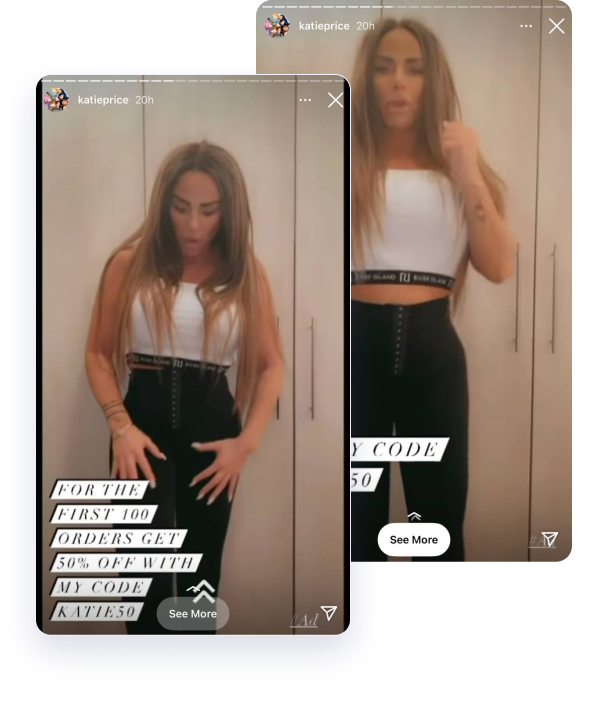 @katieprice is an influencer with an audience of 2.4 million. This lady knows how to produce sales-driving content and cooperate with brands.
Is it easy to sell leggings on Instagram when there are plenty of them? You just need the right presentation.
In the latest stories series, Katie demonstrates a pair of leggings, reviewing every single detail. She precisely illustrates the fabric, shows how she moves, as if she is talking to her best friend. On top of this series, the influencer provides a promo code giving a 50% discount. Can you resist buying? I guess not.
So, a detailed and true product demo can uplift selling via stories.
@staceysolomon – back-to-back stories with live sessions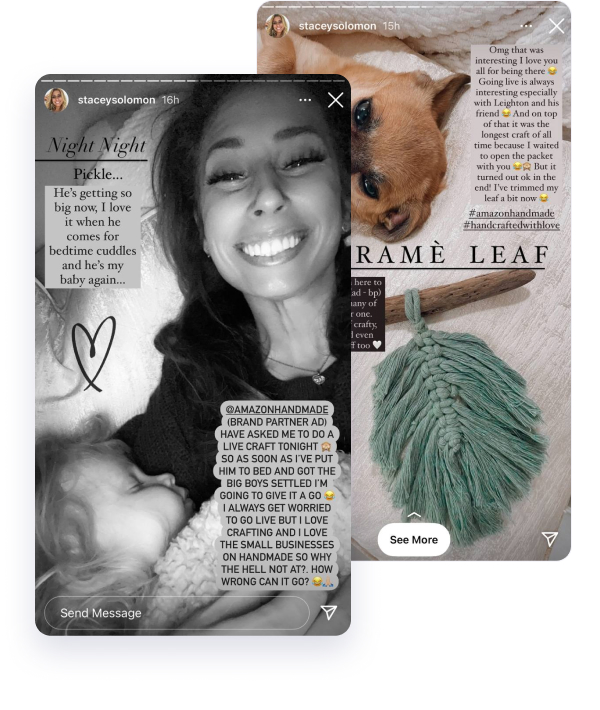 @staceysolomon is a savvy influencer with 4.1 followers on Instagram. If you want to learn how to monetize your content, keep an eye on her account.
In her latest partnership with a brand, she uses lives in combination with stories. She was doing a live craft and promoted @amazonhandmade goods. After a live tutorial, she posted a story mentioning this account where viewers can buy crafty and homemade bits.
This is a helpful strategy if you aim to sell products requiring tutorials and demonstrations. Yes, you need to be confident to go live. But this interaction with your community is one of the warmest and effective in terms of lead generation.
In conclusion
When you are in doubt about what you should put in IG stories, try to find inspiration on top accounts (not necessarily in your industry). Here you can find win-win strategies that help warm up the audience, nurture their interest, and grow revenue.