Instagram ban? Instagram account disabled? Isn't this the most scary, frightening, and disappointing thing that can happen to your Instagram?

Definitely yes. It is scary. And while most users think that it is impossible to get out of the Instagram ban or blocking, we know and use some secret steps that can help you to get out of it. Not in minutes, of course, but in some time – from one day to a month. But this brilliant time can bring you back your Instagram account! Safe and sound.
What is an Instagram ban and block?
Before coming to the reasons and solution for Instagram restrictions we need to make a diagnosis for your situation. What do you see on your device display? Dropped reach insights? Or a window with:
"Your action has been blocked by Instagram"?
Or the worst variant:
"Your account has been disabled for violating our terms"?
Firstly, we need to clarify that these three messages indicate three types of ban from Instagram. First one – all is working but something is not ok. This is a shadowban. Second one – your Instagram is partly working, partly not. This is an Instagram block. Third one – your Instagram doesn't work. Instagram disabled your account.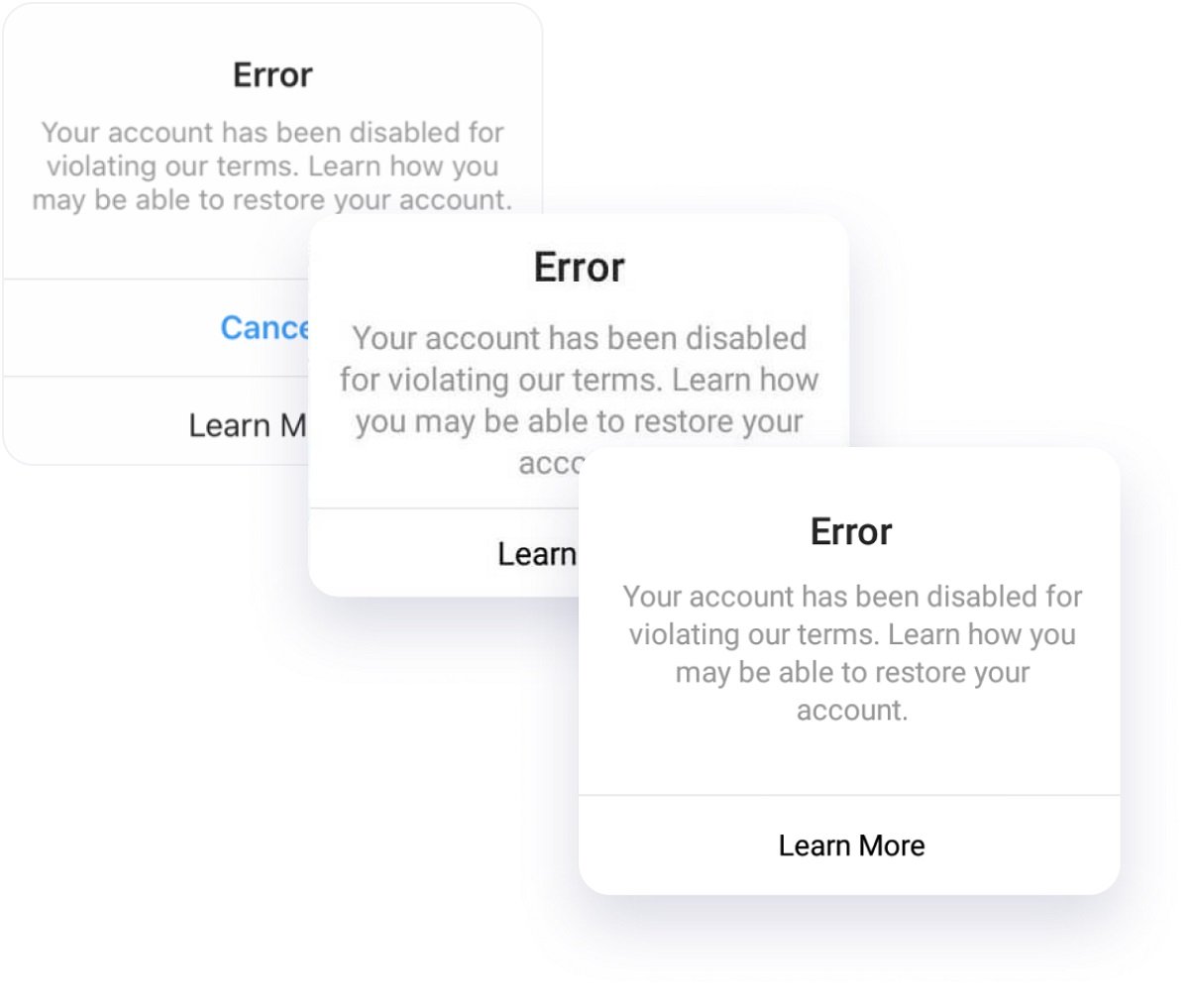 Later we will find out what's going on your profile when you face one of these three terrible messages. But first – reasons. They are all the same for all types of Instagram restrictions. Breaking Instagram rules. But the extent of Instagram rule breaking influences which type of account restriction you will get.
Note: Before we get into the topic, let us give you the first secret lifehack: download your account once a month. Download all data including stories, IGTV, etc.
This will help you to avoid losing everything you've done for a long time, and it will give you an amazing feeling of security – and you can upload everything to a new account, if your existing account is disabled without an opportunity to recover it.
Reasons for shadowban, action block, or disabled account
Too much or too little activity on account
How can you exceed the Instagram daily/hourly action limits?
Mass following
Mass liking
Too many direct messages
Too many comments
Too many story reactions
Too many posts
Too many stories
Too little activity
Instagram has daily and even monthly limits on actions that can be performed by users. They are even counted in actions per hour or day. These limits are constantly reducing, so now, if you use a bad-quality Instagram bot or try to perform Instagram promotion manually, you are at risk of getting blocked. It is really easy to exceed these limits. Moreover, limits on Instagram actions may be different for each account depending on its age and activity level. The younger the account is, the more limits it has.
Note: A 1 to 3-month-old account is still young but much more limitless than a 1-week-old account.
The latest official Instagram reference says:
(but it changes so often!)
maximum number of likes per hour: 60
maximum number of comments per hour: 60
maximum number of follows per hour: 60
maximum number of messages per hour: 60
For young accounts:
maximum number of likes per hour: 30
maximum number of comments per hour: 30
maximum number of follows/unfollows per hour: 30
You can't take more than 1,440 actions on your account daily.
Tip: Look through profiles of spammers that are following your account. Check them to see if they are blocked. 80% of those accounts will already be blocked because they exceeded the limits on follows and likes.
Can you still use automated Instagram account promotion?
Yes, but use a smart and trusted service for this.
Our service Inflact avoids bans from Instagram and has a safe mode, and works much better when you use our VPN and keep it connected while using the Instagram app.
Inflact system is positioned as safe. The system creates the appearance of the work of a real person. The activity of our system is limited to avoid bans from Instagram. We want everything to work well for you, which is why our system works this way. At the beginning, during the safe start, the system performs all the actions safely, and gradually increases speed. This helps protect your account from blocking.
Inflact follows Instagram limits
The Inflact bot is not considered to be an independent Instagram account promotional tool, since it performs the activity allowed by the Instagram limits only to demonstrate an online presence to your audience with regular activity when you are busy or can't use the app yourself.
Inflact imitates a real person's actions
We have intended breaks during the day. We make pauses so that Instagram doesn't suspect you of using third-party services. In live activity you can see when the system starts again. We also have a night pause. During this time, the system sleeps to simulate real user behavior.
Violation of Instagram rules
Violation of Instagram community rules leads to a temporary block, and this is a really frequent reason for your Instagram account to be disabled.
Note: If you've violated the Instagram guidelines from one account, it may influence your other accounts run with the same IP address. Use proxies or a VPN.
Instagram has a long list of rules. And remember you put an "agree" tick when you registered your account.
The rules that are most frequently violated by Instagrammers:
Using inappropriate photos and videos on profile. Naked bodies, discrimination, sexual content, and violence. It doesn't matter what your goals are – you will be banned.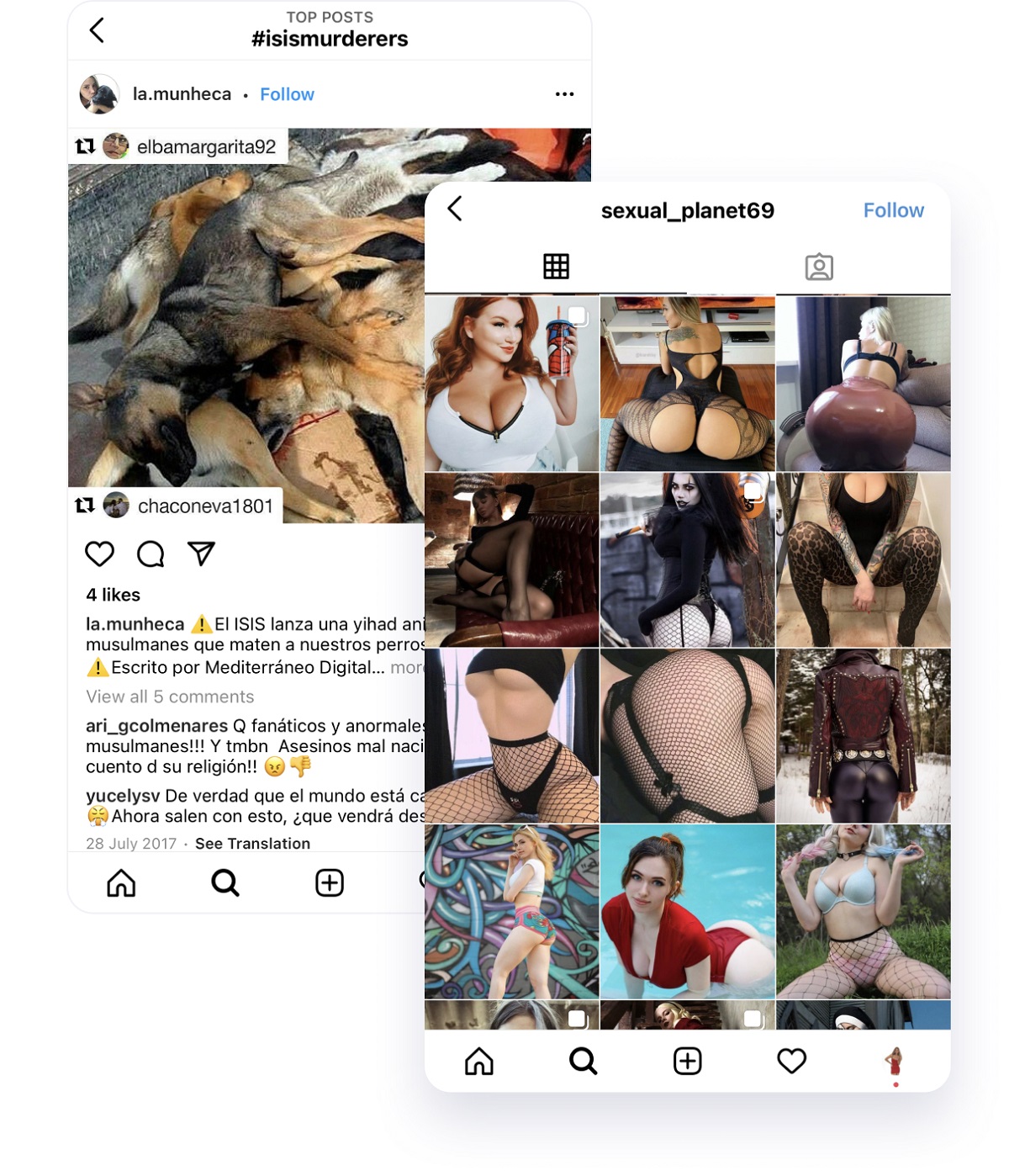 Various IP addresses or devices. Don't play around with logging into your account from multiple devices. Instagram may think your account has been hacked by scammers.
Note: Set up the two-factor authentication to be able to confirm to the system that you are the rightful owner of the account.
Spam in comments or direct messages. Don't try to promote your Instagram account by spamming – Instagram will punish you for sure. It's better to use a professional tool for messaging your potential followers or clients.
The Inflact Direct module will send your direct messages following Instagram action limitations, and moreover it gives you an opportunity to make variations of your messages. And Instagram won't think that you are spammer, as every message will be individually made with lots of differences.
Fake engagement groups. In 2022 this method is considered spammy by Instagram. The algorithm easily detects such activity and blocks all the members.
Copyright infringement. All images, videos, and now even captions in your account must be either yours or permitted by the author. Especially if you use all these for commercial reasons. Never ignore the copyright rules.
Complaints
Someone clicked the "Report" button. And one more person did it. And one more. Obviously, we don't know how many clicks of this button are needed to block your account. So, be careful with the users around you.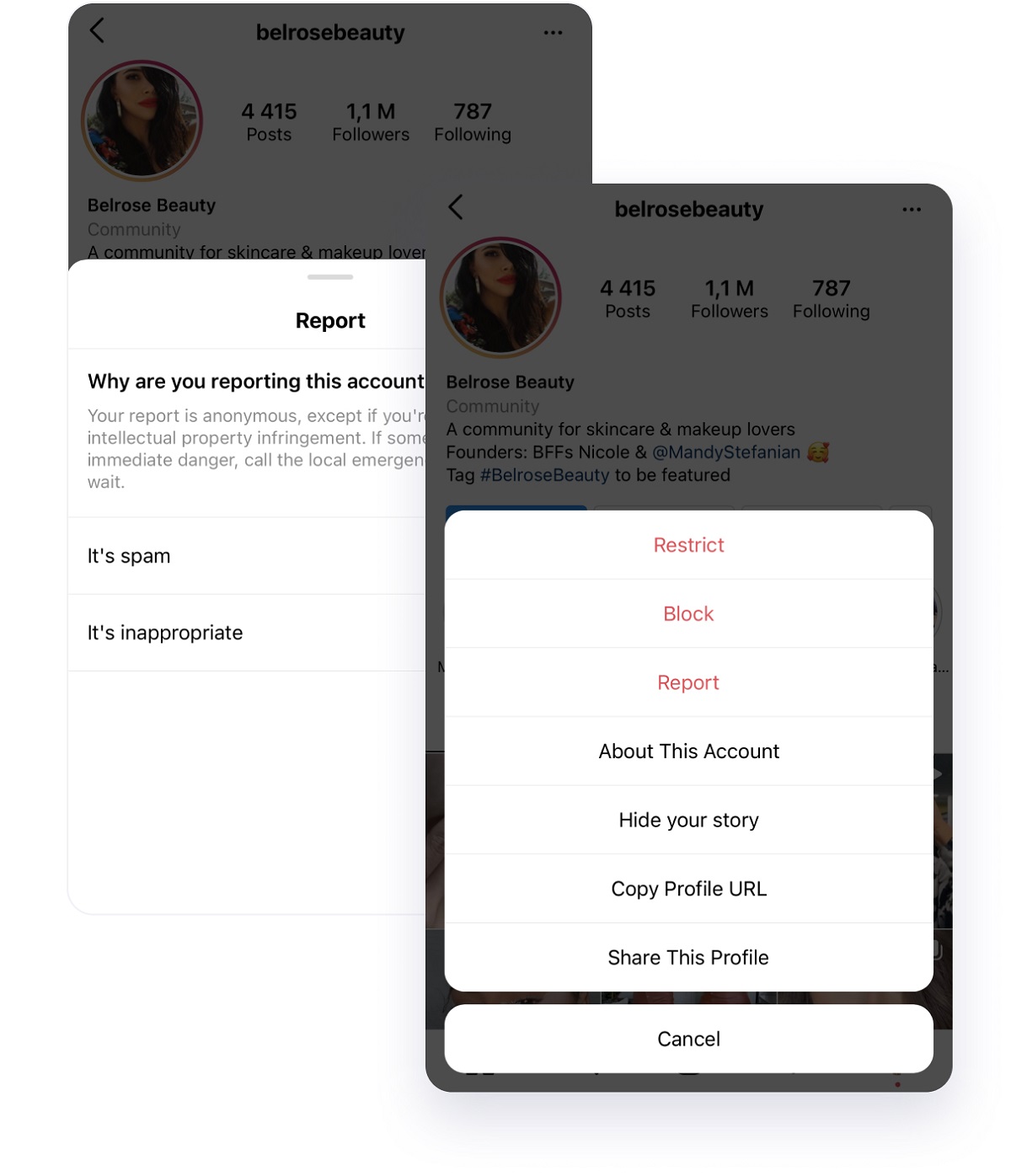 Shadowban tester
This kind of ban means that you are under suspicion. And the Instagram algorithm or support team are not really sure if the actions from this Instagram account are taken to reach devious spammy goals (from spam to spreading sexual content for example) or if this Instagram user account is ok.
How does it feel?
The Instagram shadowban is not obvious, but you can feel it.
Your reach has dropped more than 30%.
Your followers don't see your newly published content.
Your ads check is increasing, but reach not.
How to test if you are shadowbanned
Compare the insights of previous weeks and the latest.
If the reach dropped more than 30%, you are in a shadow zone.
Check if the cost of ad clicks is constantly growing. Compare last month's average cost to today's.
Ask your followers. Create a story with a poll – "Do you guys see my stories?"
Note: A shadowban wave is more dangerous before big holidays like Christmas. Be careful at this time.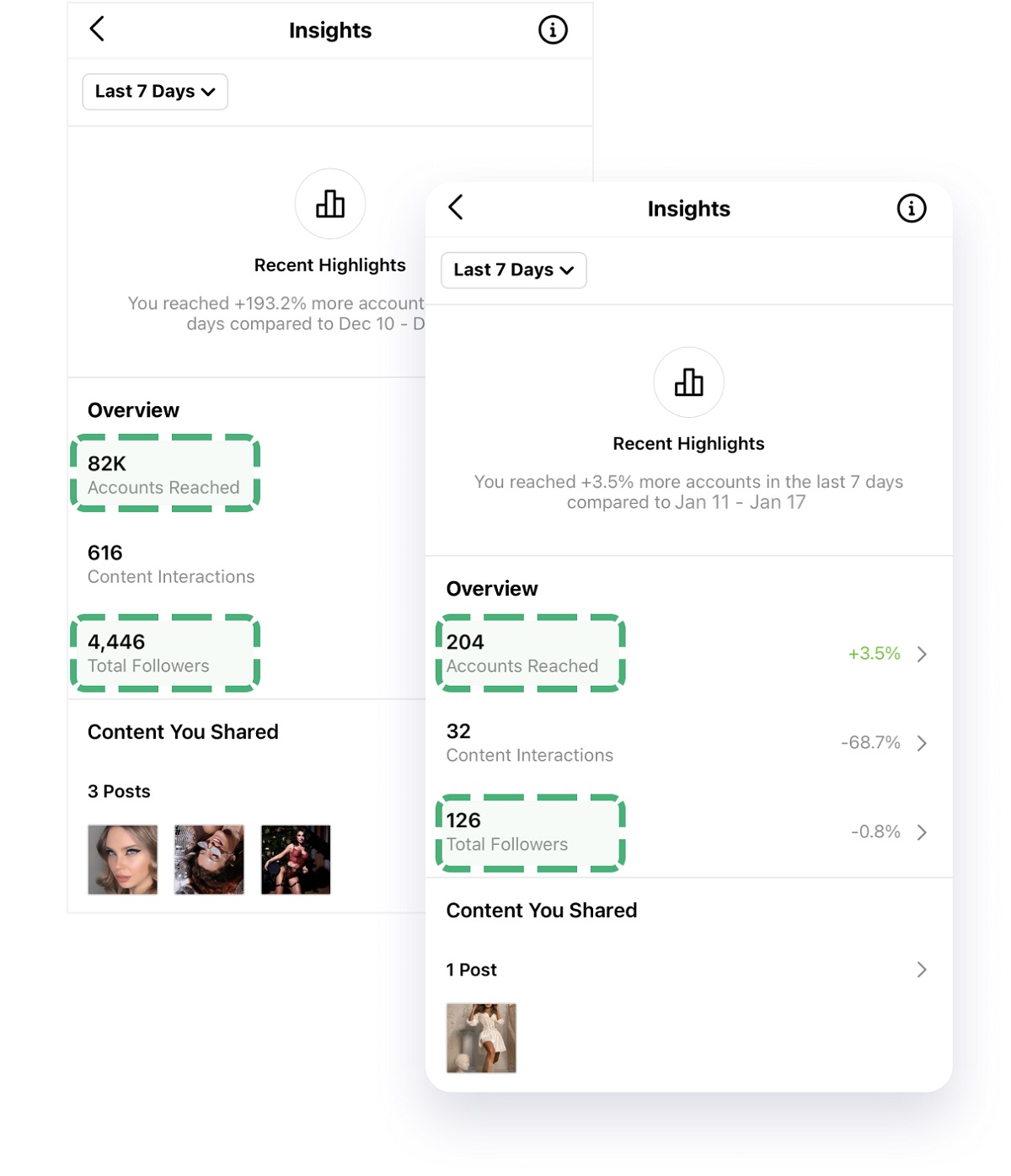 What can you do with a shadowban? Try these simple steps:
Don't post anything for more than 2 weeks.
Stop all automated activity for a month.
Log out of your account everywhere, and don't enter it for a week.
Change your password.
Enable two-factor authentication.
Account blocked from actions
This is the most dangerous and really difficult thing to get through. How does it feel? It feels terrible because you're opening your account, and you can post nothing.
What to do if your Instagram account is action blocked:
Reinstall your Instagram app.
Wait 24-48 hours.
Report a problem.
Link your Instagram account to Facebook
Stop all automation services.
"Your account has been disabled for violating our terms"
It feels … nothing, but a disaster. No more words, just help. Here is the ASAP step to recover your Instagram account. Appeal the deactivation by this link and wait patiently.