Check out how to conduct Instagram analytics to reach your audience, post more engaging content and develop a more effective social strategy.

'Health, Fitness, and Yoga' is one of the most popular directions on Instagram after traveling, beauty, and fashion. If you represent this niche, together with highly possible success, you get a huge competition. That's why it's important to use all means and try out different strategies until you find one that will get you to the top.
This article will tell you how to conduct the Instagram profiles audit and how to interpret the results through the example of Flora Beverley. Plus, I've gathered some general recommendations that rookies may not know.
Precise profile analyses is a core
Make the AI Instagram tracker a part of your strategy
• Find new content ideas;
• Discover the best hashtags for promotion;
• Learn what your perfect posting time is;
• Track the most vital metrics of Instagram.
Hurry up to try it today!
It is FREE!
Analyze Instagram Profile!


How to work with Instagram Analyzer?

Instagram analytics tool by
Inflact
is the most advanced high accuracy analyzer developed for you to have full insight into your account performance and some idea what happens on other accounts.
To get the Instagram statistics:
Go to Profile Analyzer page;
Enter your username or any other username and click Analyze;
You will see the profile audit result.
Here is the most interesting part starts — results interpretation.
Instagram analytics: Metrics to observe while analyzing your own profile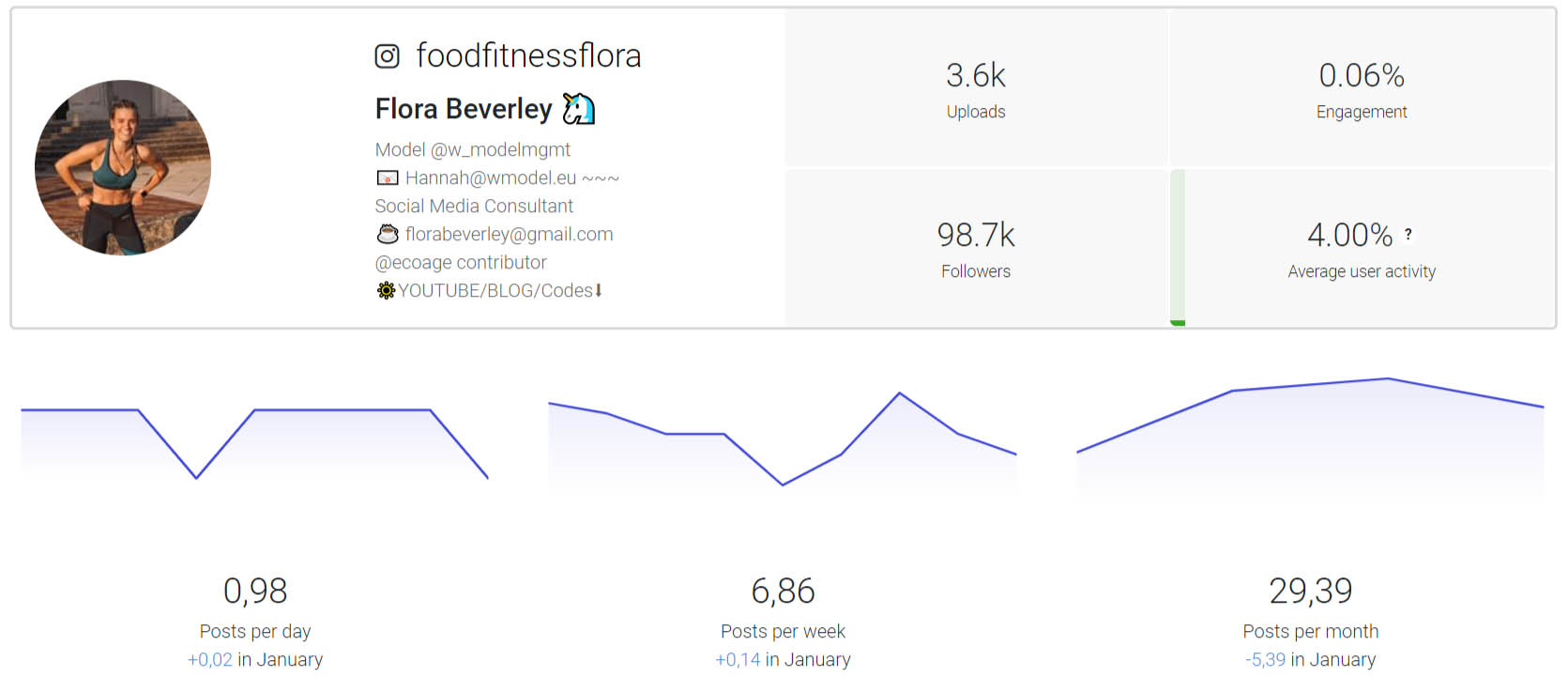 Uploads and Followers
The first thing you notice is the number of followers and number of uploads (publications) — these are the numbers you know without Analyzer, but they are vital for calculation of other rates and figures.
Engagement
As you can see from the screenshot, Flora's number of posts os huge, which is great. And it seems that the number of followers is great, all is good here, right? Not quite. Look at the engagement rate! 0,06 % — low for such a number of followers! That means improvements are needed vitally. Otherwise the profile won't grow and bring much profit.
Average user activity

This figure shows how many likes and comments occur for a number of posts and for a number of followers. 4% is definitely not enough for increasing the audience's engagement!

Engagement by weekdays
As we can see, the best time for publication for Flora is 6-7 PM on Saturdays and 8-9 PM on Mondays, Tuesdays, and Wednesdays — the ER of these posts is much higher. That is what matters.
Most popular post time
Flora posts at 8 PM on Mondays more. That's the right strategy as it coincides with the time of greater engagement.
Related article:
Finding The Best Time To Post on Instagram To Become Freaking Popular
.
These were metrics that primarily interest a user himself. It is they that help to understand a user his/her weak and strong points and develop a solution for improvement.
Get a broader picture of your account state! Make relevant adjustments!
The following metrics are great for analyzing other users' accounts and taking a page out of their book:) Flora's way of running an account can be an example for aspiring Insta fitness trainers, studios, and bloggers!
Instagram analytics tool: Metrics to observe while analyzing other users' accounts

Top hashtags
These are the hashtags that are used more often. That means a user see the value of them. You can see that Flora uses marathons-related hashtags and quite a popular hashtag — #fitnessmodel. That's not surprising. Fitness models become popular on Instagram quite easily. Check out our selection of best fitness models —
20 Hottest Instagram Models and Sexiest Fitness Girls
.
Top caption words


This section is for those who are still choosing their way of writing captions for posts. Pay attention to what words were used more often and try to add them to your captions. It can work out!
Related article:
Captions For Instagram For Girls! Make Your Instagram Precious!
Audience interests
This chart is for a better understanding of a users' interest. It shows the categories which are specified according to the hashtags and caption words that were used by a person. Thanks to it, you can trace either the interest of a user you look up to or to identify the areas where you can continue developing and attracting a certain audience. For instance, Flora can publish more content about clothing and clean food, and thus, she will attract even more people. As well as talking about an extreme sport.
Instagram tracker: How to find content ideas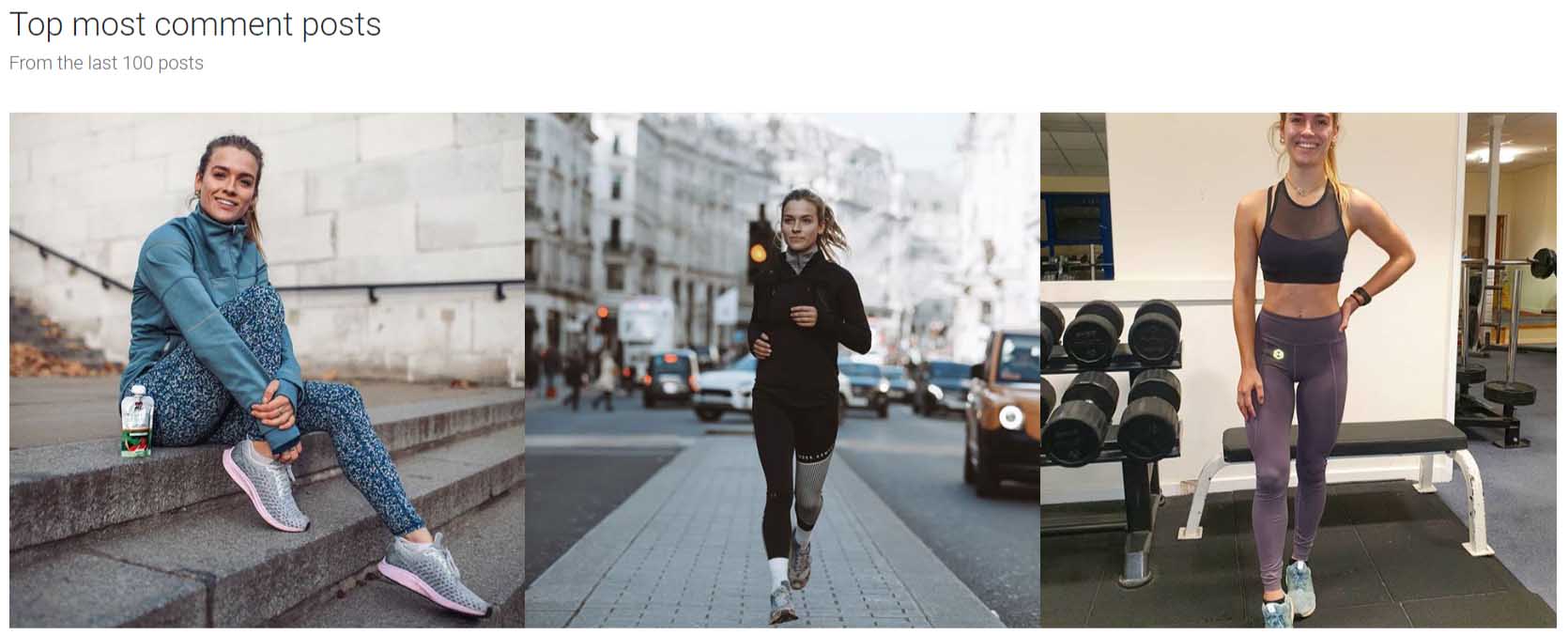 Top most commented posts
You see the top 3 most commented posts of a profile. Look at post, estimate the pictures.
The pictures are clickable; they will direct you right to the post on Instagram. There you can estimate what type of caption was written, what call to action was used. Take a person's point.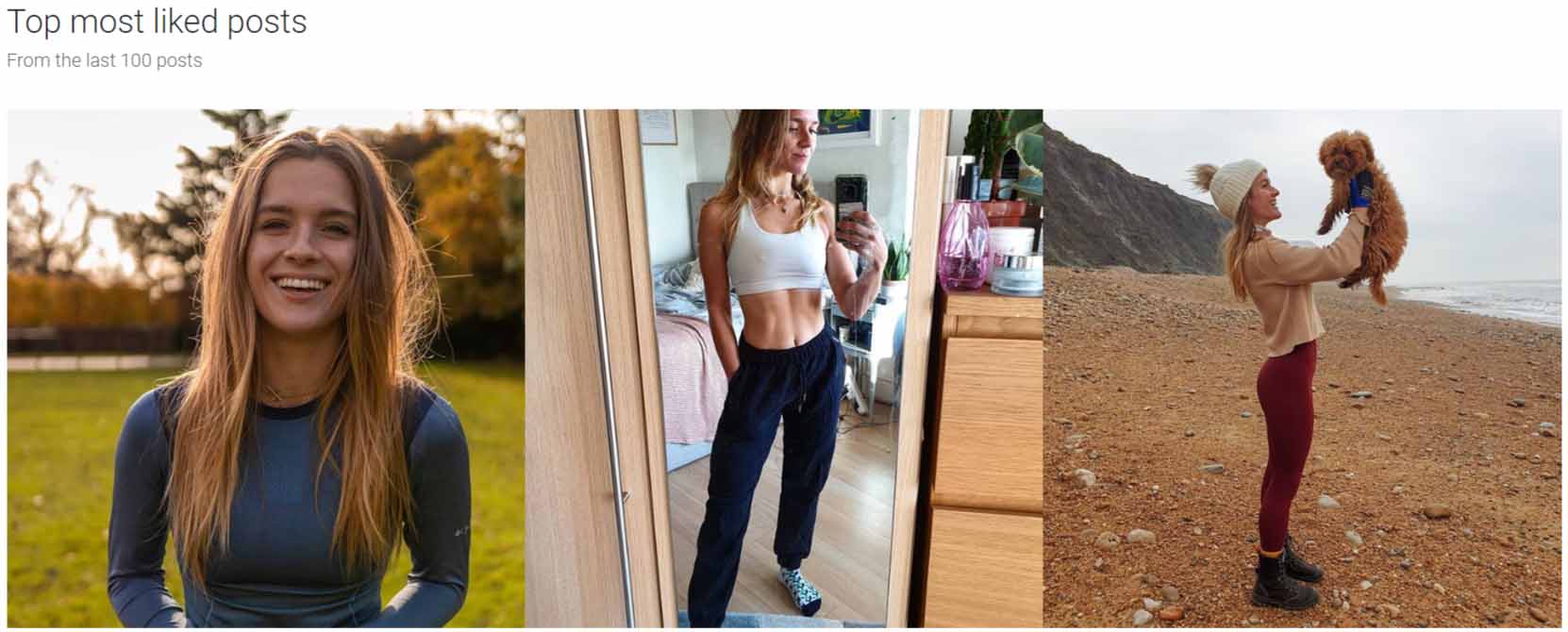 Top most liked posts
What posts motivate people to like the posts? Maybe that's the sincere smile? True! And a not less sincere caption. Here are the three posts of Flora's profile that were liked most of all.
Deliver Data-Driven Content Only!



Instagram statistics: General recommendations
1. Do not choose the accounts of celebrities as a prime focus. Why? These people have already gained their popularity; they do not use hashtags; they do not publish proper captions; they do not try to engage the audience — they simply do not need this.
Choose an example to emulate among those who reached success through Instagram.
2. Always search for profiles example of which you will follow. Each time choose a more successful account. Thus, you will grow with them.
3. Regularly check your profile analytics to timely define weak points and eliminate them without harming your account.


So how Instagram analysis helps you?
1. Engagement growth
You understand what the engagement rate of your profile is. If it's not high enough, work on it. Moreover, the correlation of your activity and the activity of your followers and random users is vital for the engagement rate growth.
2. Activity increase
A number of posts per day/week/month are important for maintaining high activity on the page. Plus, niche leaders' numbers will give you a hint on how often to post.
3. Best hashtags and captions ideas
You will find what hashtags your icon use more often and include them into your list of must-use hashtags. The same is for captions. Take a look at what captions are used by your niche stars;
4. Reach expanding
You can find new audiences if you track the User's Interests chart.
5. Posts ideas
You can finally start realizing what posts are liked and commented more than others. Thus, you will increase the activity on your page and the ER of your audience by up to 50%.
Spy on your Instagram competitors and improve your strategy now!