Instagram DM online: the working method for using Direct on your computer!

Would you like to use Instagram on your PC or laptop? I don't mean browsing your news feed, editing your profile, or liking your followers. I mean using full functionality, including the Instagram DM online.
After all, you must agree, how cool it would be if Direct Instagram could be used on a computer! But what if the developers have not taken care of the online version of direct for PC? I have a solution: you can find several other ways to Use Instagram messages on computer.
Let's consider the most convenient ones!
Use Inflact Direct Messenger
Direct Messenger online is a convenient tool for managing Instagram communication on your PC. There are no restrictions: you can send and receive text messages, add pictures and videos, send in chat posts and stories of other users and all this from your PC by using convenient web service.
Besides, Direct Messenger has really important advantages that the official application would hardly boast:
The possibility of creating automatic mailouts: you can send messages to new followers or all followers;
The possibility of creating message templates for distribution, and then save them for further use;
Auto-replies to messages that allow users not to wait for hours for a response if you have an online store;
Convenient Direct Chat, which at the same time it is possible to correspond at once with multiple accounts in one window;
Use the searching line to choose the necessary user or keyword to start chatting with;
Ability to add any media files that will help to make messages attractive;
To start using Instagram DM online, follow the instructions: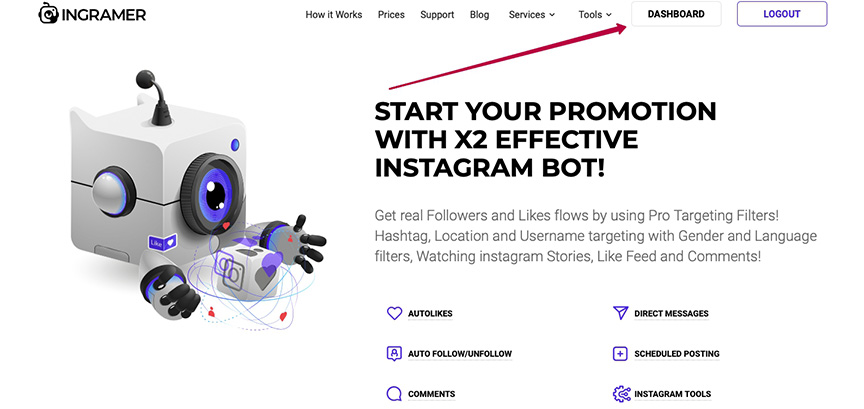 2. In the panel, select the Direct module and click on it.

3. Select the necessary functions of Instagram Direct Module.
4. Click on the new message button, you can choose to whom the service will send auto mailouts: new followers or all followers.

5. Next, you can set the necessary filters: for example, gender or language.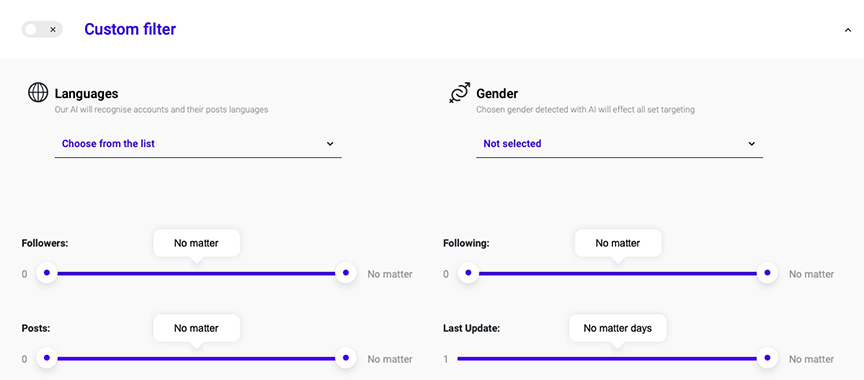 6. In the right, you will see the Direct Chat button, click on it and use a convenient chat in which you can chat with several accounts at once.

Obvious advantages
If you are interested in the marketing aspect of Instagram, then
direct messenger
helps you to stay in touch with your customers, who remain satisfied after communicating with you. Using direct messenger you can increase customer loyalty several times because you will surround them with attention and interest using greeting and habitual messages.
Agree that writing to all your followers about all the news, promotions and contests manually takes a lot of time, which is not so much. But with the help of direct messenger, many processes can be automated. As a result, it leads to increasing the number of orders in your store.
Using the proposed features correctly, you can earn a reputation as an honest, decent and attentive Instagram brand!
Use Windows app
In case you use the Windows operating system, then congratulations, you are lucky! You have the opportunity to download the free official version from the Microsoft online store.
With simple installation steps, you can send messages directly from your computer without having to switch to the mobile version:
Open the official app store;
Find and download Instagram app;
Install it on your computer;
Start to use the app;
Click on direct icon in the upper right corner;
Write a message and send it.

P.S.: Don't forget that Instagram messenger for PC only works on Windows 10. So, remember to upgrade your computer and install the new version on your PC.
Use BlueStacks emulator
If for some reason you do not want to use the official Instagram app for Windows, then you can use the capabilities of direct emulators, for example - BlueStacks.
Bluestacks provides you with the possibility to use Instagram direct message on laptop: send and receive unlimited numbers of messages, add pictures, videos and stickers to your messages. In addition, you can create chat conversations directly in the emulator.
To start using the emulator, follow the action plan:
Go to the official website of BlueStacks and download it;
Add the data of your Google account;
Add Insta to the emulator and run it by entering all your data;
Start using Direct, as you do with the traditional version of Instagram.

Use third-party service
Another working way to use Direct Instagram from a computer is third-party services. As a rule, such services make it possible to use not only Direct, but also the functions of auto mailouts, Direct chat, post planner, scheduled posting, and much more.
If you are interested in this option, you can use the service Bigbangram. Go to the official site to start using.