On Instagram you can come across a lot of people — from old acquaintances to someone sitting at a nearby table in a café. How do you find the right person among the billion Instagram users?

Everybody uses Instagram reverse image search, but what if it doesn't work?
In this article, we will analyze the most effective methods of finding anybody on social media: reverse image search on Instagram, search by phone, or search by name.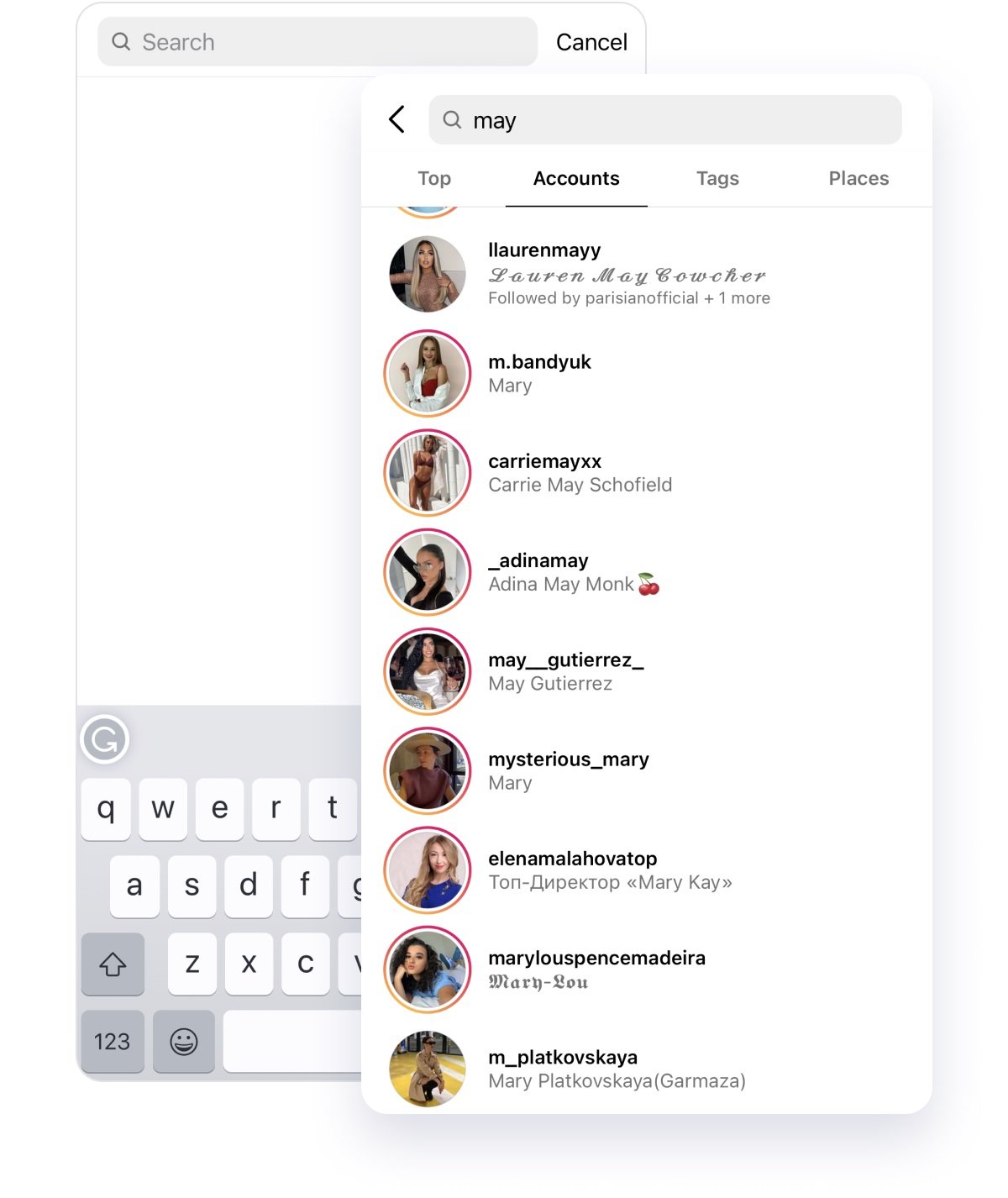 Is a reverse image search on Instagram the only way to find a user?
The Instagram image search function is an illusion. There are no convenient filters for finding people like Facebook. Here you cannot enter data such as country and city of residence, age, job, and many others. All because of the social network policy. Instagram takes very strict care of the privacy of each of its members, so users are not filtered by any parameter except by name and hashtags.
Finding Instagram people without knowing their account names is not an easy task, but if you know a couple of life hacks about how to do a reverse image search on Instagram or a lot of other secrets about finding people on Instagram, it's still a feasible task. The search can be performed on different data, not just on the photo. Let's look at all the options:
Instagram photo search
Of course, it is the search on Instagram by photos that has a better chance of success. But in this case, you should have a clear and high-quality photo or video image of the person you want to find on the social network.
If you have a photo of a person you'd like to find, the first thing to do is:
Open Google Image Search.
Click on the camera icon on the right side of the search bar.
Click "Upload an image" and once an image is selected click "Find."
If nothing suitable is found on Google, do not despair! Some other services can help you find a person on Instagram.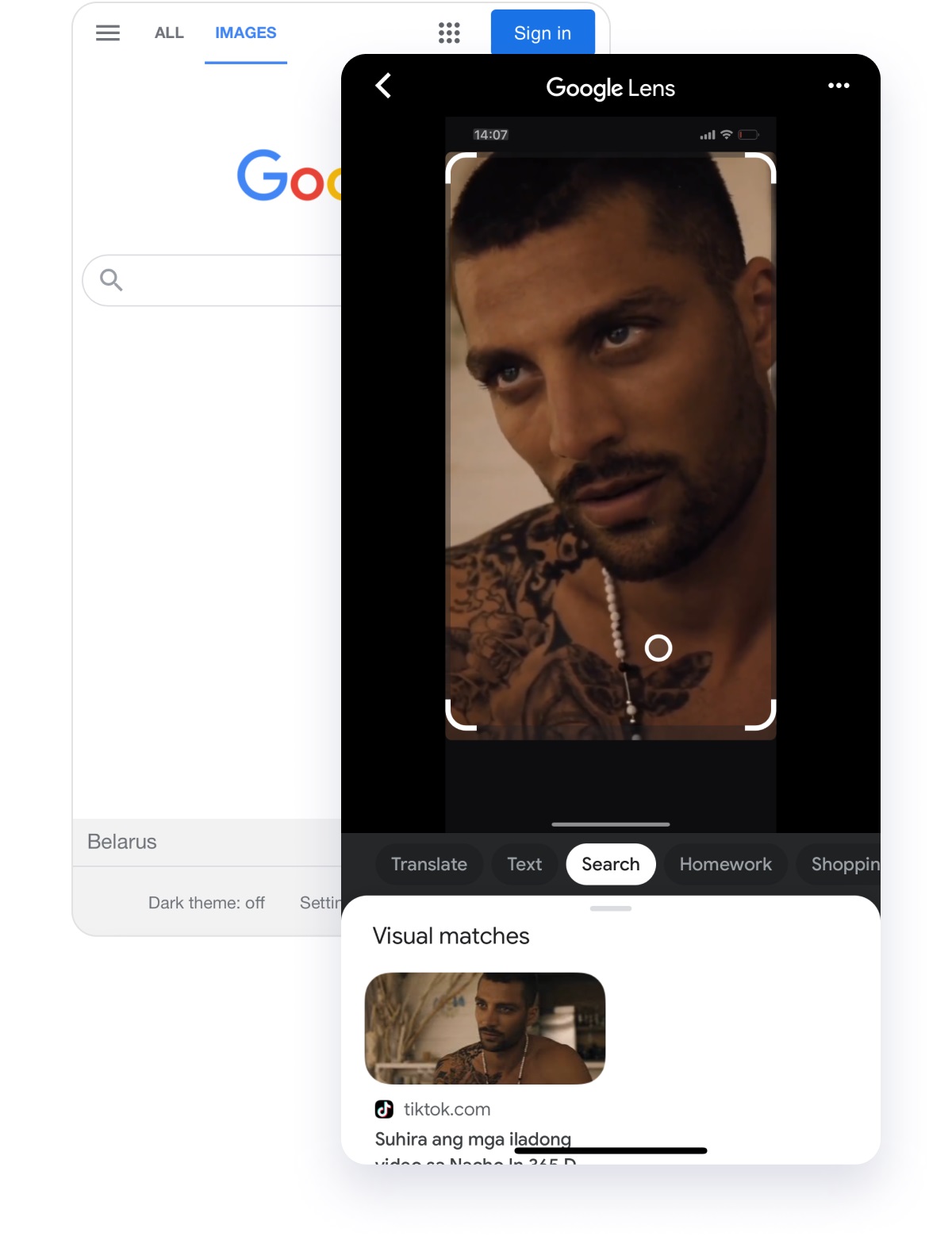 You can also use the service Yandex.com. The process of searching for images in Yandex Image Search is the same as in Google.
Go to Yandex Images.
To the right of the search bar, click the visual search icon - this allows you to specify the image. There are two options to choose from: either upload an image from your computer or enter a link to it.
After the image is uploaded from your computer or a link to it is provided, Yandex will automatically start searching.
At the end of the search, a search results page will open, which will display similar images.
If similar images could not be found, Yandex will report it.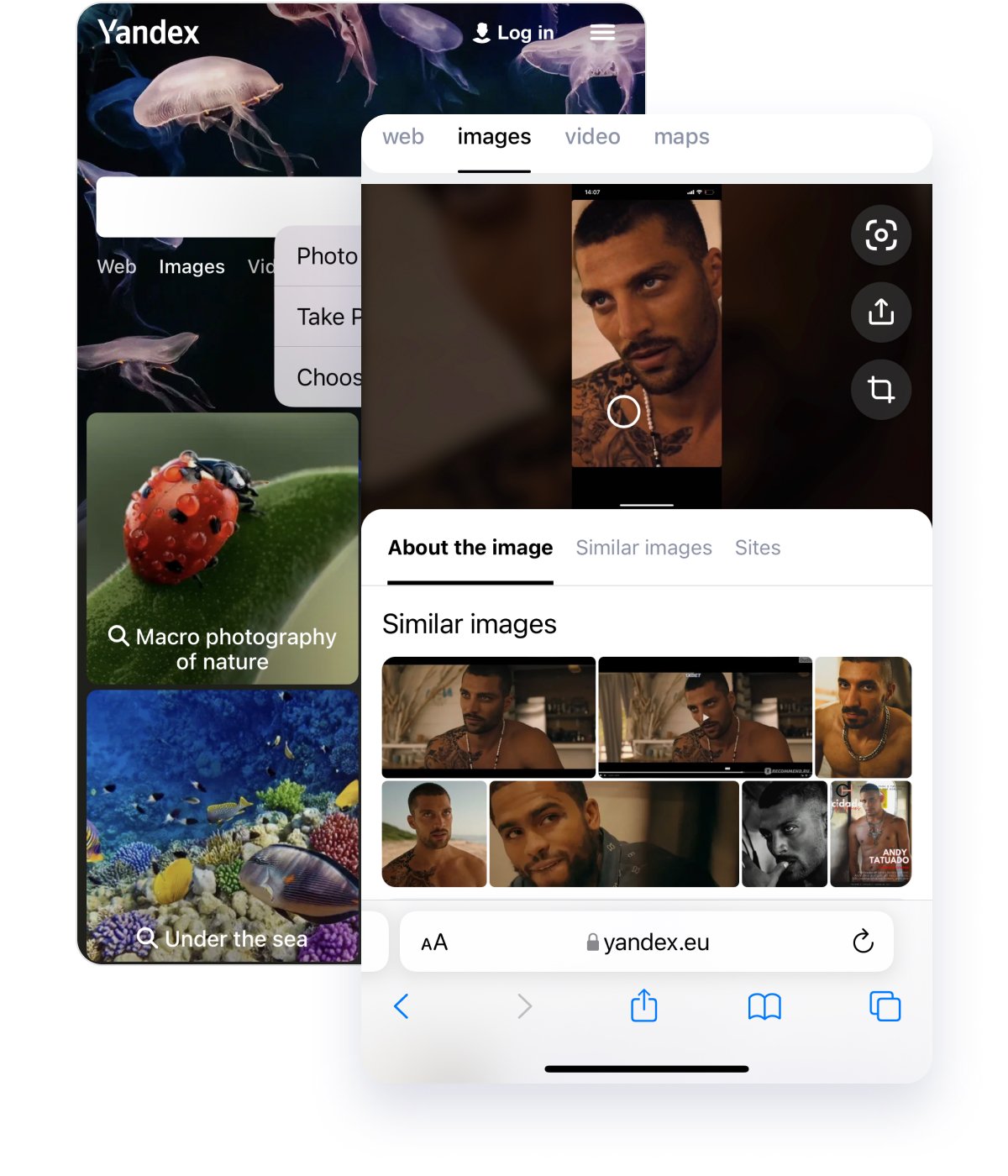 This is what the reverse image search results look like on Instagram. Among similar photos, you can find exactly the photo on Instagram.
This is what the search result for a person looks like in the picture. In this case, the Instagram account ID is immediately visible in the list of found photos similar to yours. When searching for an image on Instagram there is a chance that the photo will lead you to a profile on another social network, like Facebook, and this is fine because there you will find a link to the person's Instagram. But you may not be so lucky — the chance here is 50-50.
Search for an Instagram profile by name
The chance to find a completely unfamiliar user on Instagram, about whom we know nothing except their name, is one in a million.
Note: Each user registered on the social network chooses a unique nickname, and it is not always tied to their name; in fact, you can say a very small percentage of accounts have a name or a profile spelling that contains the name or surname of a real person. And even if their name is used in their nickname, it's still a thousand combinations from different users. And it's almost impossible to guess which nickname is the one you need.
But you should at least try using the basic Instagram search. The professional Instagram search is better for this goal.
Therefore, ideally, you also need to know the last name. How do you use this data to search for a person?
Open the Instagram app.
Click on Instagram search.
Then click on the empty "Search" field located at the top.
Select "Accounts."
The "Accounts" tab is just created so that you can find a person by the last name through the search. In the search results, Instagram will give only a small number of users, and those who are somehow connected with your profile — or your friends are subscribed to them, or vice versa. Here you can only count on luck. The rarer the first and last name occur in the same combination, the higher the chance of finding the right person. And then only if they found it necessary to indicate their full name in the biography.
If neither the reverse image search nor the basic Instagram search by name worked, we have a lifehack for you.
Lifehack: If the Instagram basic search didn't find anything, then we have good news for you: there is a free Instagram search tool that works like a reverse image search only by first name or last name.
With the Inflact Instagram search, you can configure many filters to perform a more accurate search. Moreover, Instagram rules do not limit this search. There are no restrictions on the accounts offered - you can search for more than 18,000,000 Instagram accounts around the world.
Open Inflact Instagram search.
Enter the information you know about the person in the search box.
Set up filters, select the gender and location of the account.
Perform a search - and among hundreds of results you will most likely find the one you were looking for.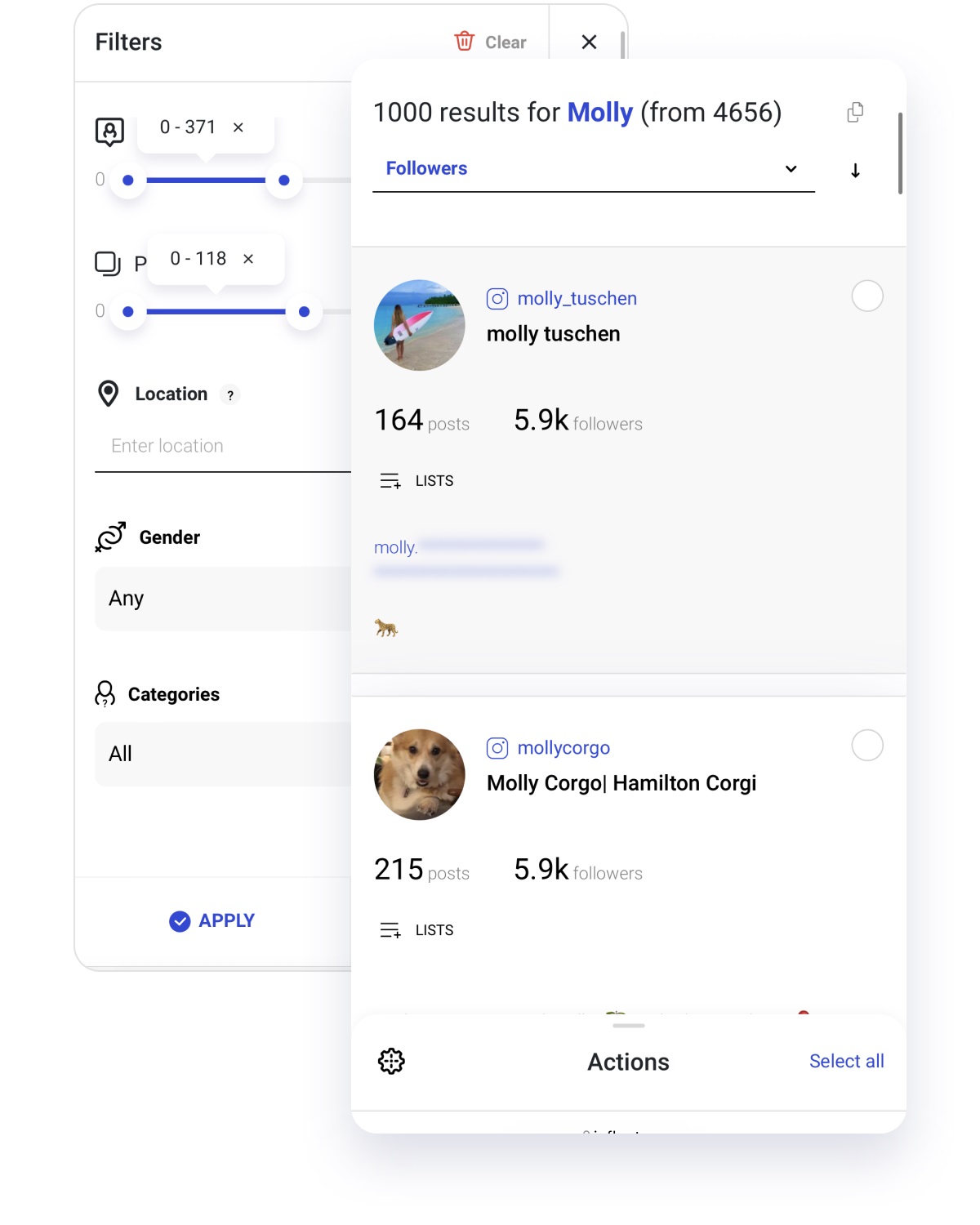 Find a person on Instagram by phone number
Every Instagram user has the option to search Instagram by phone number. Searching for a person by phone number is considered the most effective on Instagram. The social network has developed a convenient synchronization of contacts. If your phone book contains the number of the person that is linked to their account, then the search will take only a few minutes. Or if you find out a person's phone number and enter it into your contacts intentionally, then this method will also work.
If the user's Instagram is linked to a Facebook account, followers from this social network can be added in the same way as phone contacts.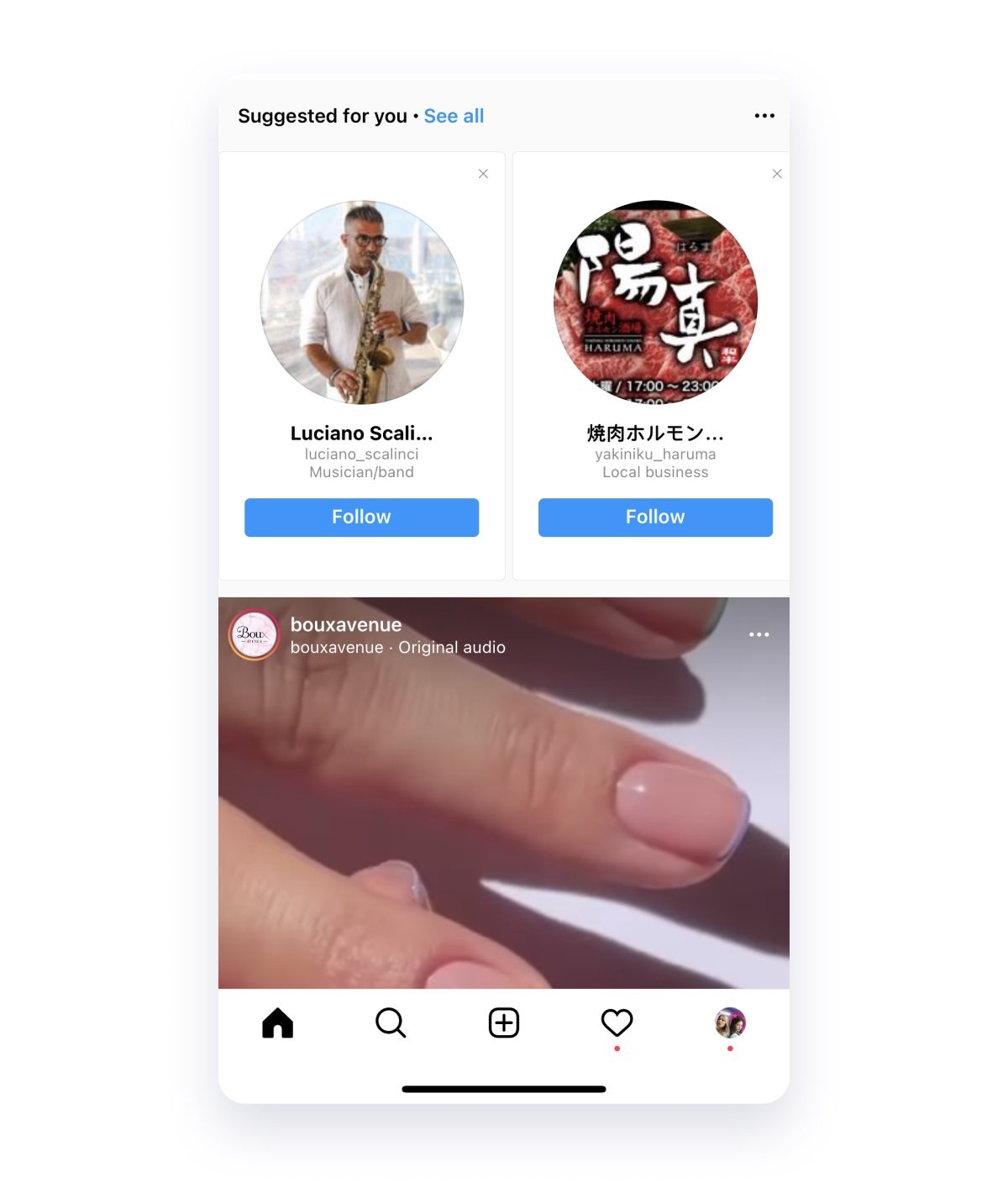 The process is simple:
Enter the number of the person you are looking for in the contacts on your smartphone.
Log in to your Instagram account and your page.
In the upper right corner of the screen, click on the three bars to open the side menu.
Select the "Recommended users" tab.
Allow Instagram access to the phone book, then find the desired contact in the list that appears on the screen.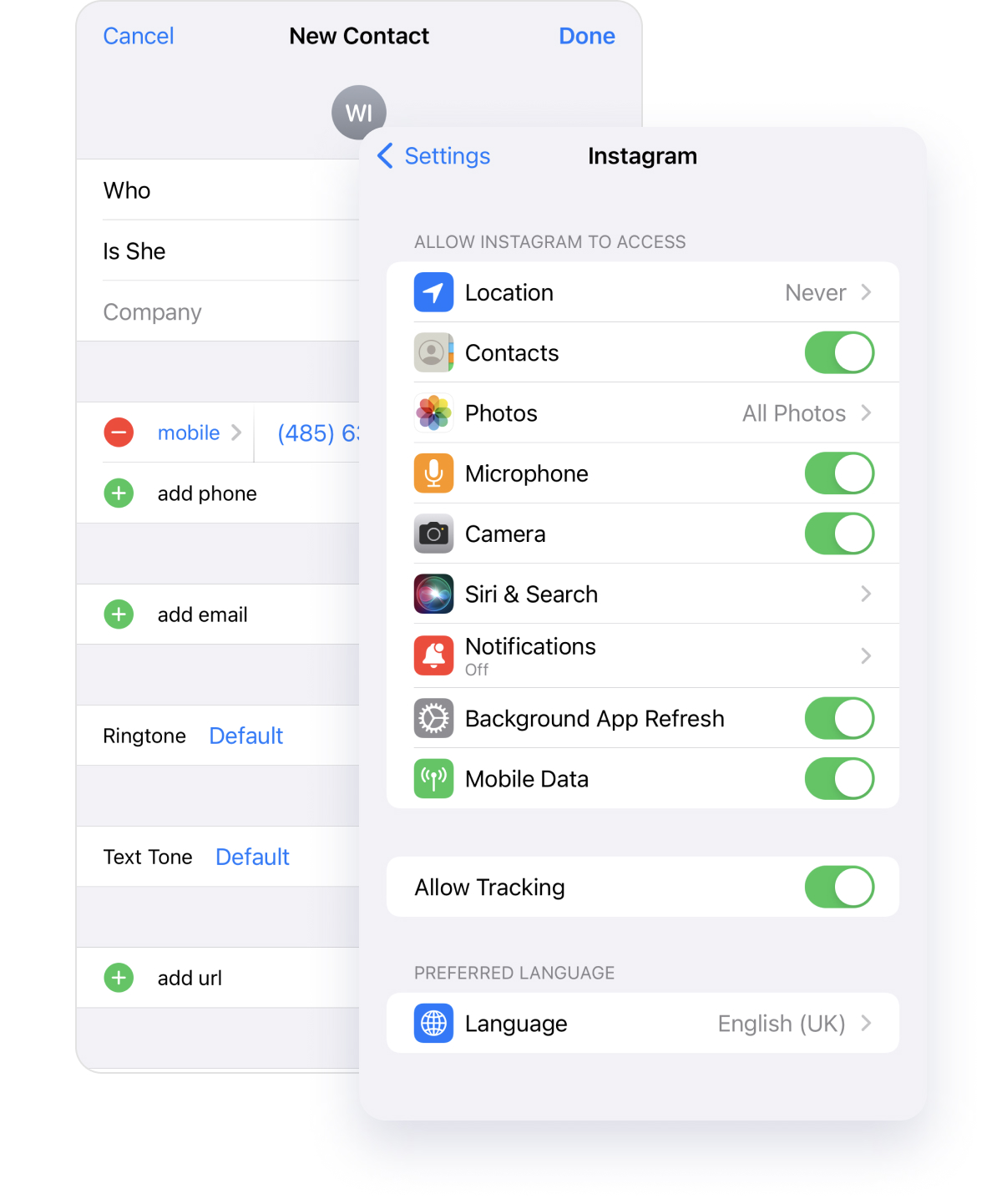 A final word about ways around reverse image search on Instagram
As you can see, this is not a dead end if you know almost nothing about the person you are looking for on Instagram. Instagram has a lot of ways to find an Instagram user with Instagram image search, phone search on Instagram, and other methods. You can find a user even with a minimum of data. Bookmark this article to use when needed.
If none of the methods in this article helped, it might very well be that the person simply does not have an Instagram profile, and we are looking for something that does not exist.