How can you recognize you have fallen under a shadowban on IG? Explore the definition and the way out of this temporary trouble!

Shadowban is a very tricky punishment – you should be super observant to spot your profile is banned. Users are not removed from Instagram, but they notice crucial downfall in impressions, their posts are not appearing in the Explore section. Instagram authorities never notify you of that! Reasons are quite variable – too active behavior, other users' complaints, and applying banned hashtags.
Keep on reading this article to uncover:
the true meaning of Instagram shadow ban;
3 signs you got shadowbanned;
3 ways to avoid shadow ban Instagram;
the safest way to apply hashtags.
Well, let's start!


What is a shadow ban?

Instagram shadowban is impossible to recognize at first sight from a position of user. The initial goal of this ban is to hide the posts from active followers and other audience media. When you are shadowbanned, only people who follow you can view your posts. Generally – they may don't notice your images since Instagram algorithms remove them from the feed.
Note:
if you suddenly marked a downturn in posts impressions, such as reach, views, interactions, you are likely shadowbanned.
Why does Instagram shadow ban users?
Many social media sites, including IG, conduct shadowban to its users. Firstly, this punishment helps to optimize community work. Implementing this sort of ban, Instagram gets rid of profiles that violate guidelines. Secondly, shadowban is essential for generating genuine and appropriate content.
Why shadow ban is frustrating?
Obviously, Instagram is no longer only a place for sharing memories with your close circle of friends. An account on this social platform may cost million of greens. Thus, influencers, celebrities, businesses lose their primary source of income when they drop the reach. Even such an inoffensive thing as a banned hashtag can lead to this fine. So, you are better to use trusted services when driving followers with hashtags:
Thus, classy shadowban changes only your presence among those users who don't follow you. Nevertheless, those Instagrammers who experienced being banned, claiming that they disappear from the main feed as well. Believe it or not, but sometimes even a shadowban checker doesn't recognize your got banned. Look through three signs Instagram authorities interfered with your social media life.
Instagram shadow ban test: 3 points you are banned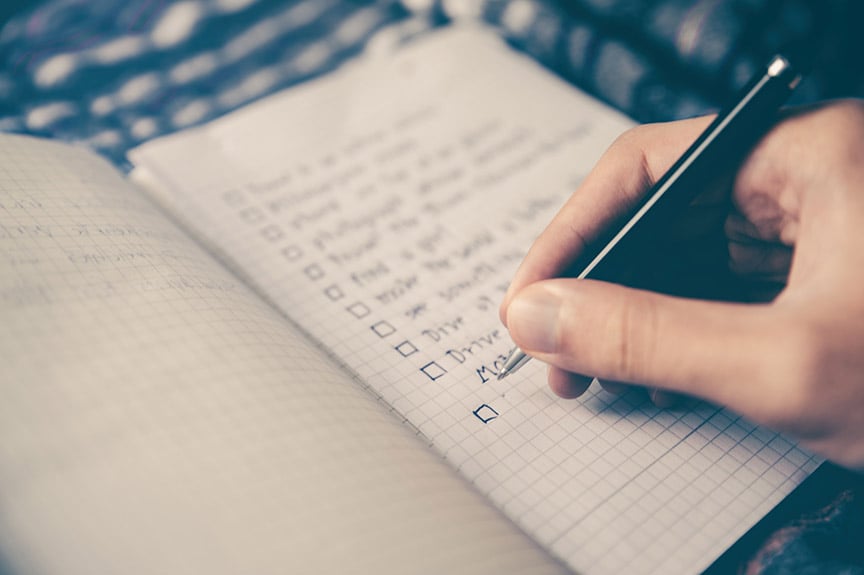 We should highlight the main rule – you should better run a business account to determine if you had been put into a ban. Instagram metrics that a business profile provides is the only way to check the current state of your account. When you view your analytics, pay attention to these three bullet points:
1. The number of likes/comments falls. When Instagram puts users into a shadow ban, the decrease in the impression is unforeseen. Don't worry; this happens not because people don't like your post; it just doesn't appear on their feed. The downfall is repetitive for several latest posts.

2. You can't streamline the audience through hashtags. When you check the in-app content insights, you can see the figure telling how much different accounts have come across your media through hashtags. If you apply niche tags, and this number is poor or 0, possibly, you are in a shadow ban. The point is your content doesn't appear on the TOP, so that is not delivered for the audience, not following you. How to generate traffic-boosting hashtags? Use smart Hashtag Generator tool:


3. A decrease in reach. The crucial metric is Reach – it shows the number of unique accounts that saw your post. Don't mix it with Impressions showing the overall number of views (one user may view your post several times). If the reach has suddenly dropped, and your marketing strategy has remained unchanged, Instagram is likely to ban you.
When you notice all these metrics downfalling without any reason, you can make a conclusion your profile is under the shadowban. Instagram algorithms are not working in your favor anymore. That is sad, but we suggest several ways on how to overcome the challenge!


3 proven methods to avoid shadowban
Follow the steps listed below to avoid and remove your page out of the IG shadow ban.
1. Take a short pause
The very first and easy thing you should do is to quit posting on Instagram for several days. The rest will be healthy for your mind and speed up a ban removal. We recommend you to log off the app, don't leave likes, comments, and surely, no posts uploads. On average, it takes 48 hours for Instagram to forget about the violations. You can even prolong the pause for up to 3 days for a better result.
As soon as you return, follow the guidelines of the Instagram community. Don't post inappropriate content or leave an excessive amount of likes and comments. Instagram is fighting against robots so that shadowbanning artificial behavior.
2. Avoid that other users report on you
Aiming to improve content quality, the Instagram support team has become very responsive to complaints. Any Instagram user can go under your post, click on three dots, and pick "Report inappropriate." This happens not only to sexually-charged content but also to spamming posts, violence, and racism. Mind that platform is widely used by underages, so developers are struggling to make the social media proper for everyone.
Even celebrities haven't bypassed shadowban when posting nudity on Instagram, some of the millions-worth accounts were also removed. You can explore the topic in our
dedicated article.
In a nutshell, if you post authentic, appropriate content, other users won't be capable of putting you in a ban. Otherwise, your engagement and metrics will suffer, and it might take months to restore your typical experience.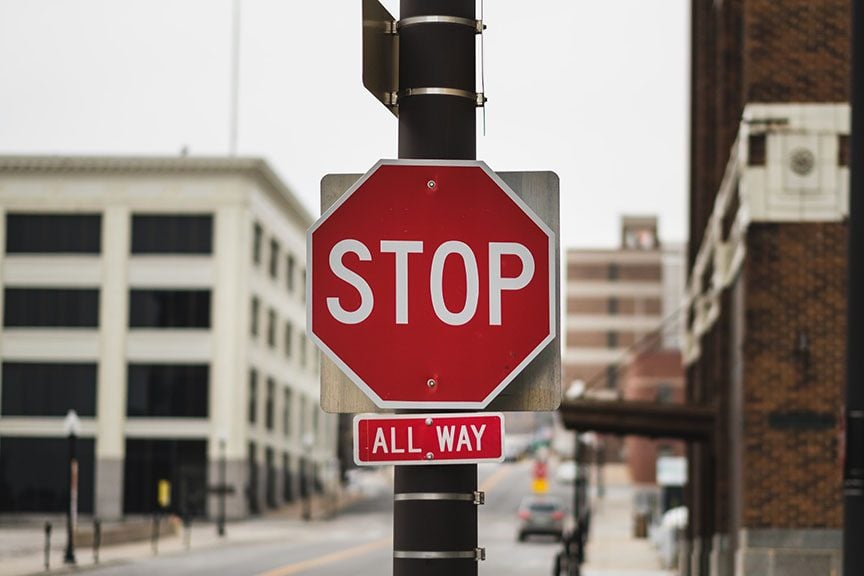 3. Apply hashtags wisely
Until you have faced the severity of a shadowban, you might ignore how much right hashtags are significant. Broken tags are often the cause IG is putting people into a shadowban. They work as a red flag for the system. Basically, you have
several approaches to bypass banned hashtags
check manually the list of banned tags made by Instagram developers;
monitor the hashtags status through the IG search;
use automated Hashtag finders that exclude banned tags by default;
copy Top trending hashtags published online.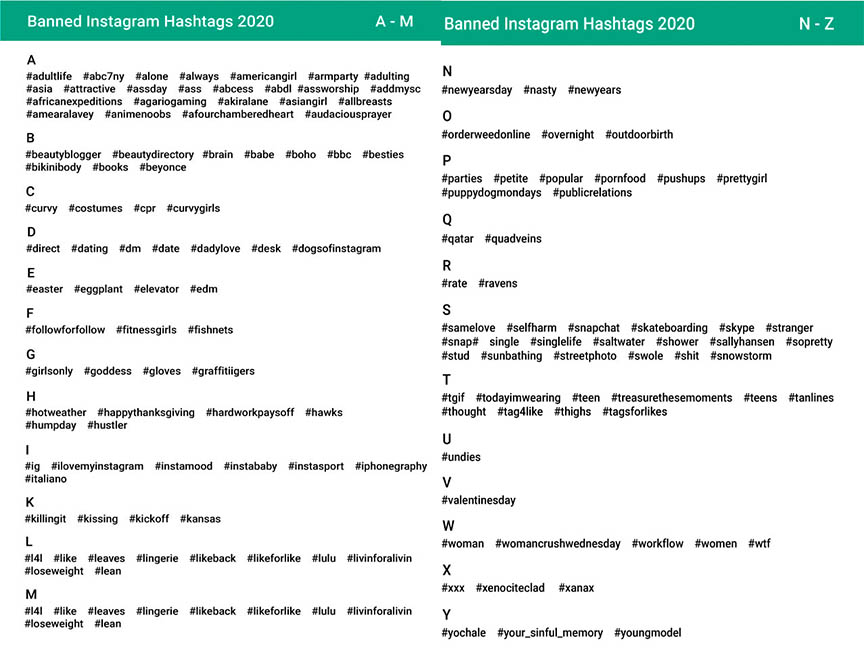 Considering the situation when you need to apply 30 hashtags under a post, manually inspecting all of them is a time-sink. We advise you to take advantage of the quick yet proven way to use hashtags without falling under a temporary shadow ban. You can also use Top trending hashtags carefully systemized by categories for free – they never contain any broken hashtags!
Go on reading this article to discover the fastest and safest way you should add hashtags to avoid shadowban. No manual check-ups are needed!
"Am I Shadowbanned?" How to overcome shadow ban?
We have already discussed with you what is shadow banning and how to understand whether your page has been banned or not using various methods and shadowban tester. Besides, we have learned what to do to avoid the possible risks of falling into the shadow ban.
But, there is one crucial unresolved question, how to get out of the shadow banning without any severe consequences? I have prepared some cool methods for you how to overcome shadowban Instagram and how to use shadowban checker in the future not to be shadow banned again.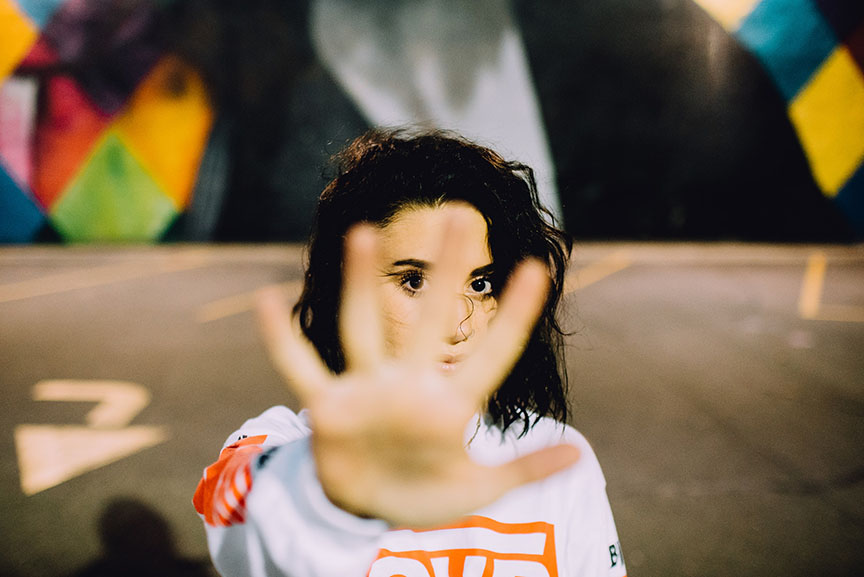 1. Stop using automatic promotion services for your account.
It is the first and most important rule - don't use the automatic means of promotion. It might be different Instagram bots, services, promotion programs like massfollowing and massliking. I agree that this is quite difficult to do, because such tools save you a lot of time, effort, and sometimes money, while it brings a vast result after the first days of use. However, there are some disadvantages of such a method. First of all, you collect an army of fake followers who are not your target audience and will unfollow you in a few days.
Therefore, when taking any action on Instagram promotion, you need to focus your attention and strength on proper ways to promote. These methods may not work as quickly and will not bring you the desired result soon, but they are aimed at long-term success and achievements. Besides, such legal ways of promotion make everything possible for stopping the shadowbanned process on your account.
2. Delete any banned hashtags, as well as hashtags that don't work.
Do you probably think that using hashtags under your posts doesn't bring you any right or harm results? However, this is not true. Today, hashtags are a useful tool for promoting publications and accounts. It is essential to select the working and trending hashtags that will help the page to be in the top of views and attract the target audience to the profile for the following. However, if you don't choose the right hashtags or use banned hashtags - Instagram can ban your account.
I've written more about illegal hashtags in the article
Is It A Hashtag? No, It's A Jail!
Don't make mistakes and use only verified hashtags!
How to select working and trending hashtags? You can find them using Inflact Hashtag Generator! Just write some words on a specific topic and the service selects for you the list of the most reliable hashtags! Hashtag Generator chooses the best variants based on the particular chosen theme of your future post. It divides them into frequent, average and rare. You can come up with the choice and place no more than 15 hashtags under one publication! The first result will be after some seconds of implementation!
Use Hashtag Generator Right Now!
Select the trending hashtags and get the glory!

Your success is waiting for you!
3. Take a break from Instagram activity for 48 hours.
After you have completed the previous 2 steps, try not to participate in any Instagram activity for 2 days. It is best if you do not open your page during this time. According to statistics, this period is ideal for resetting all settings. If you want, you can increase this time to 5 days and completely relax from an active social life.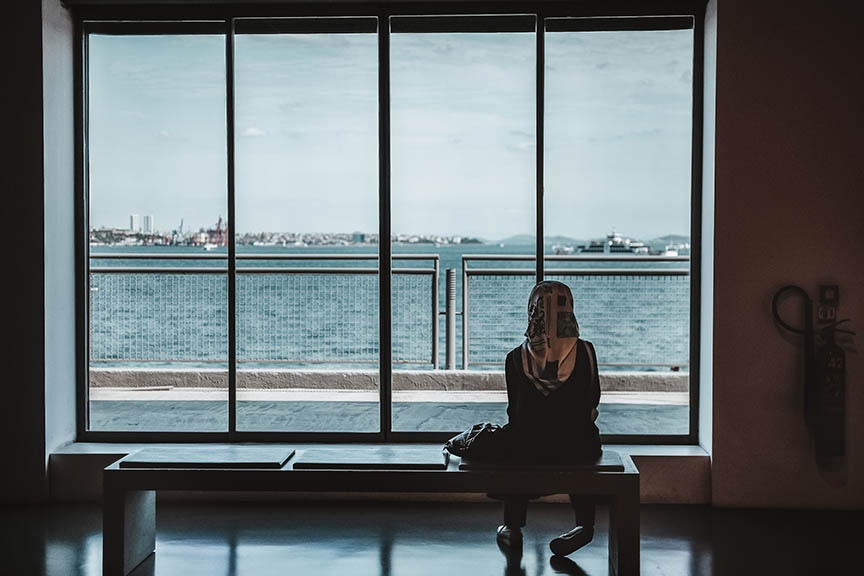 After a break, you can log back into your Instagram account and continue promoting it, but taking into account the possible risks of a shadow ban. Therefore, focus on manually promoting your Instagram profile, which does not have any illegal consequences.
4. Follow all the community rules and don't allow any "growth hacks" in your Instagram account.
Perhaps you could read different articles that offer you various methods of promotion on Instagram. For example, these can be tips for using hashtags. The main idea of these tips is that you need to change and add new hashtags under your posts.
New Instagrammers have forgotten that the allowed number of hashtags under one post is 30 hashtags. However, they add more hashtags and write them in comments fields. Thus, the total number of hashtags under one publication becomes 60. This number is illegal and Instagram will naturally block a user who follows such promotion tips. Therefore, before taking any action, read the rules for using Instagram, and only then implement new ways of promotion.
In this article
Trending Hashtags On Instagram Right Now
, I have prepared several
recommendations for you on using hashtags under publications, as well as several legal working methods for placing them.5. Write to Instagram support.
As you know, Instagram does not have a traditional user support service. However, you can still get in touch with the developers. To do this, you need to do the following:
Go to your Instagram profile;
Click the icon in the upper right corner;
Click the "Settings" button;
Select the "Help" option;
Click on "Report a Problem".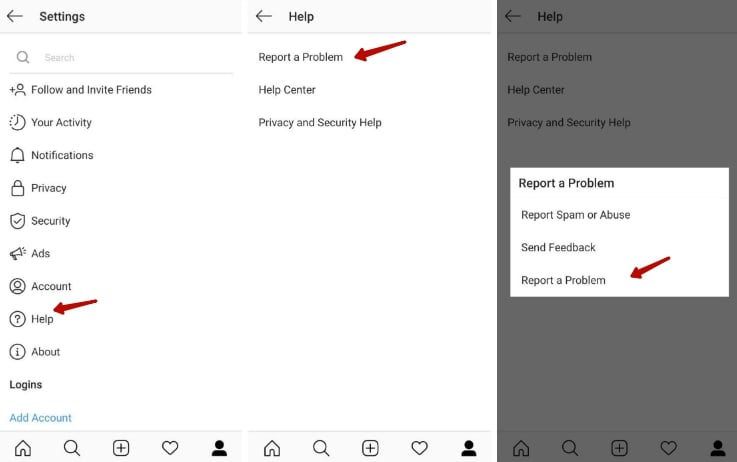 Next, you will need to select the appropriate category of your problem and describe it. Don't panic if you cannot contact Instagram management using this method. Do the procedure several times, because there are no other ways to report them.
6. Switch your business account to a private profile.
It is known that Facebook and Instagram are the same company. Facebook is known for limiting reach and engagement results to attract more people to buy ads for promotion. Perhaps this is the reason for getting business accounts in shadow ban. Therefore, if you suddenly find yourself in a shadow ban and you are the owner of a business account, then try to switch your account to a personal profile. Also, don't forget to follow the tips I've described above. After that, your chances of a successful exit from the shadow ban increase.
So, as you can understand, you don't need to panic if you have been banned on Instagram. First of all, you need to calm and brace yourself. Then, you should follow the above steps and return your Instagram page from shadow ban and again receive new followers, comments and likes in the same amount and even more!
Now, as I've promised, let's look at how you can add trending and working hashtags to your posts!
The valid way to use hashtags
Rather than seeking for a shadow ban tester, manage hashtags via a
Hashtag generator.
How to use Inflact tool bit-by-bit:
1. Indicate up to 5 keywords in a search bar: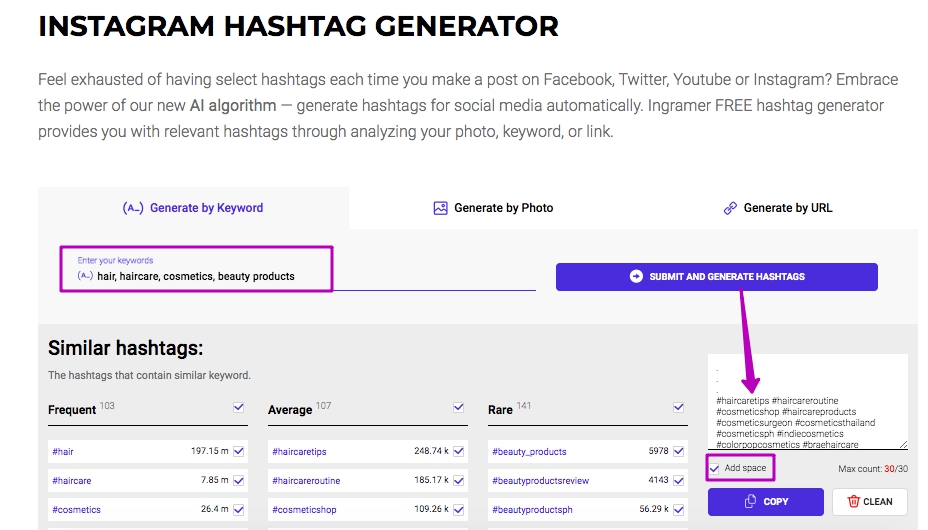 Note:
you can make use of cross-language search. Type key referring to the countries of the target location.
2. Copy 30 relevant hashtags
The search result is based on the regularly updated database.
Tip:
the right proportion of tags per post – 2-3 TOP, 6-8 average, and above 10 niche tags. This formula promotes your posts to the TOP on the rare tags while trending hashtags bring likes and reach.
3. Paste them and enjoy traffic boost

Place the hashtag set into the post caption. Use the automatic spacing to divide them from the main text.
Tip:
check the impression on the first hour after posting. If this combination doesn't do its job, you can replace it with different tags.
Note:
Inflact Post-Planner allows you to enjoy the auto-correction tool. Thus, you can schedule hashtag combinations to change at a particular time. That is how you post gain even higher reach!
Conclusion
To keep protected from shadowbanning, you should constantly monitor the legitimacy of the hashtags you apply. The lists are daily updated so that you are better to stay tuned. Use free lists of TOP hashtags or generate niche tags via the valid Hashtag searcher!
Follow the updates on this article to be in the loop of the news about shadowbanning!