Do you want to view who is sending requests from private accounts? Or maybe you need to open the profile picture of a user who put you on the blacklist? Meet and try the new Inflact service.

It often happens that someone is sending you a request or texting in Direct, but this account is private and you have to identify this person by their feed posts. For this situation, you can use the Profile Picture Viewer and Downloader.
By default, the display picture in the Instagram app and the web version is too small to view the details – with no chance to zoom in. But when you open it in our tool, the image is on your device in full size. And you can click one button to download it.
How does the Profile Picture Viewer for Instagram work?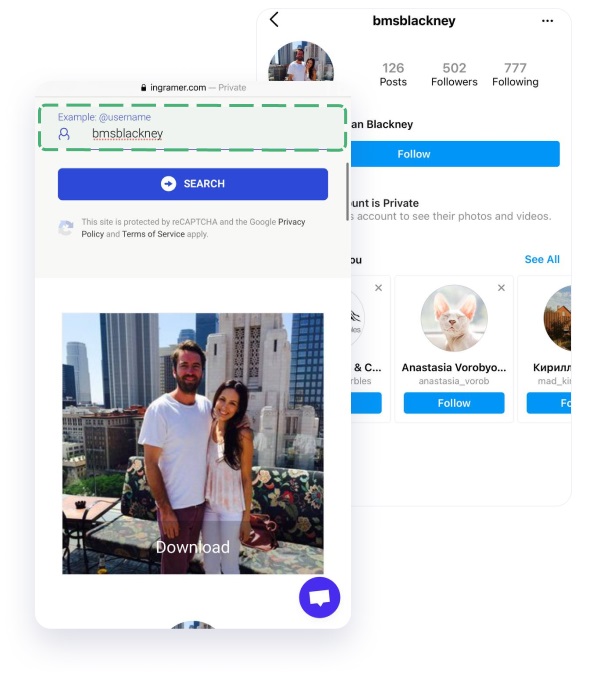 Good news – this viewer and downloader is free, and you can perform an unlimited number of queries with it.
Here are the steps to inspect the display pictures on Instagram:
Open the Instagram account of a user you want to monitor.
Copy the username. Avoid mistakes and typos so the tool works correctly.
Paste this nickname into the Profile Picture Viewer.
View the main image of the desired user. The media file will be displayed in original size so you can view the face behind a private account.
Download this media. You can save the image to your device.
Instagram users often use their best images for the display picture. But it also happens that they don't post these photos to their feed. You can view the rare visual in seconds.
Even those people who have blocked you on Instagram can be inspected. The issue is you never need to log into your IG account when using the Downloaders by Inflact. This means that you beat the system and can view all the content posted on Insta even without an account. It's possible to view feed posts and stories of people who banned you or without an IG account.
How can I view Instagram posts of those who blocked me?
Apply the following Inflact tools to discover posts, stories, and highlights. You can even delete your account and still be able to monitor someone's content.
Web Viewer. This tool allows you to open any public Instagram account and inspect feed posts. It can be used free of charge. You can't see the comments.
Story Viewer. This service is created to help you view stories of users who blocked you or whom you don't follow. The tool is fully anonymous and has a premium feature of story tracking. It will automatically collect updates of any public account you mention. Thus, you can view stories after 24 hours. You can choose a few of them or download them in bulk as an archive.
On our website, you will find the Downloader for all possible content people post on Insta. The media files will be saved to your device in authentic quality so you can edit them later. Check it out now and start using it, if content creation is a vital part of your job.