You probably already noticed that the Ingramer logo has disappeared and the service offers you redirection. Don't worry – a new era of our partnership is starting now. Learn what opportunities for online marketing you will find on Inflact.

A few days ago, we finally updated the logo and name of our service – the old Ingramer is now called Inflact. All the tools and services you have been applying as an Ingramer user will remain the same. You will also not find significant changes on the dashboard. At the same time, after rebranding, we aim to help you reach more clients online via different platforms apart from Instagram. Time doesn't stand still, so neither does Inflact.
Ingramer becomes Inflact: 3 things you should know
#1 – YOUR LOGIN AND SUBSCRIPTION SETTINGS ARE UNCHANGEABLE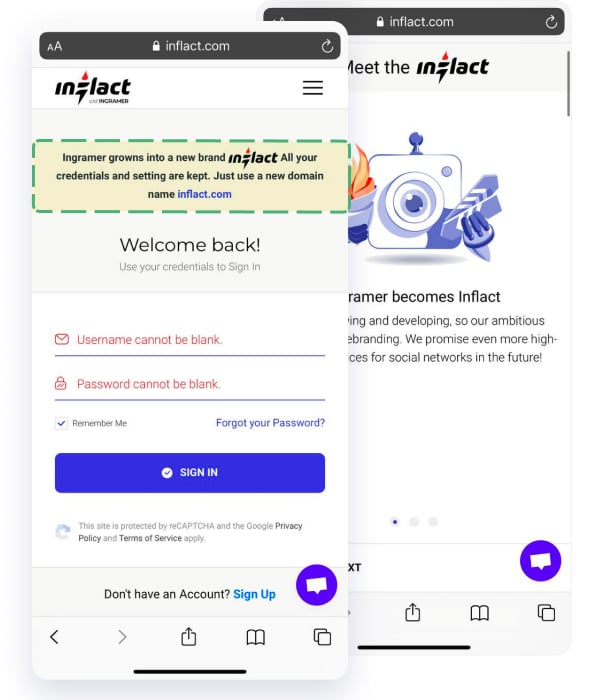 Your credentials, tariffs, and subscriptions remain the same on Inflact as they were on Ingramer. Despite the change of the domain name, all your information is automatically transferred to the new service. If you experience any difficulties, please contact our 24/7 support via live chat or at hello@inflact.com.
#2 – APPROVE REDIRECT TO OPEN THE WEB SERVICE
Several weeks after the rebranding, the former domain ingramer.com will still work but you will need to accept the redirect. So, if your fingers will type "Ingramer" on autopilot the first time, it won't be a problem. But we recommend that you add Inflact.com to bookmarks on your browser.
#3 – EXPANDED FUNCTIONALITY FOR DIGITAL PROMOTION
In the past we were focused mainly on Instagram promotion, but our goal is to develop in new directions. So, apart from using Instagram marketing tools, you can grow sales in various other ways. For example:
TikTok, Facebook, & WhatsApp Tool
These socials are goldmines for market research, attracting leads, and engaging with customers. We are planning to introduce to you many new possibilities for boosting your marketing results on TikTok, Facebook, and WhatsApp – stay tuned and follow the updates.
Mail, SMS & Push Notifications for Client Groups
Soon it will be possible to reach out to clients not just on Instagram Direct but via email, phone, and many other forward-looking ways. Are you excited to grow your income with more sources gathered on the same service?
Influencer Management System
It's likely that influencer marketing is a vital part of your online promotion scheme. Customers in every niche trust bloggers more than other ways of advertising because they risk their personal image. Inflact will be focused on developing a fully-fledged service for finding and establishing contacts with influencers.
Onboarding Automation for Clients
We'll present systems for automated contact with clients and engaging them in work processes. You'll be able to find extensions like chatbots on Inflact.com.
Finally, new name, new game – keep an eye out for our updates that will help to boost your online business.