New Outreach Function for those who want to contact all active followers with their offers and get a 100% response

WHAT IS BULK MESSAGING?
Bulk Messaging
is a service that automatically sends one message to several followers. To 10 or 10,000 followers (or more) – depending on your account scale.

Inflact makes it possible to mass message to all Instagram followers, including welcoming messages to all new followers and custom lists of followers. The new function is described below.

Bulk messages help to reach the entire target audience, engage users in communication and interaction, and increase brand/service awareness.

Who needs it: small, medium and large brands, individual entrepreneurs, micro- and macro-influencers – everybody who thinks it's vital to communicate with potential and existing customers.

Related article: How to Boost Response Rate and Sales? Examples and Case Study!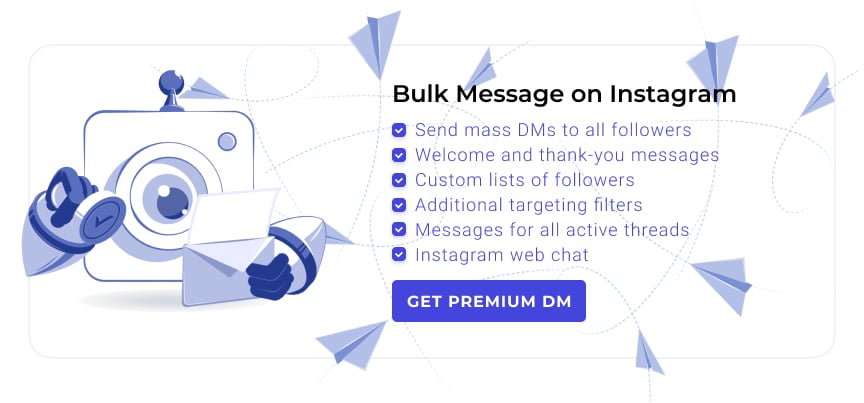 HOW TO MASS DM ON INSTAGRAM TO GET A 100% RESPONSE
There is one peculiarity of direct messaging campaigns – high open rates and relatively low response rates.

It happens because you do not know your audience in person – that's impossible if your brand has several thousand followers. You can't be sure whether they need your Super Special Offer right now. That's why some percentage will just ignore you.

So how do you mass DM on Instagram with 100% efficiency?

The new Inflact function allows you to send your message to all the active threads – to people who you've contacted before, who know you and what you can offer. According to our research, such messages get a response in 99-100% cases.

To send a DM to all active threads:

1. Go to your Dashboard → Direct → Bulk Messaging;
2. New Message → All Active Threads;
3. Enter your message, randomizing your text.
Example:


4. Use the custom filters if needed (Languages, Gender, # of Followers/Followings, # of posts and their age);
5. Activate Now.

This is how to send bulk messages on Instagram. What about deleting unnecessary campaigns?

How to delete bulk messages on Instagram:

1. Open your active campaigns and find the one you want to delete.
2. Click Delete:





Related article: How to Streamline Sales with Instagram DM on PC [+ Coupon Inside]


IS SENDING MASS MESSAGES ON INSTAGRAM SAFE?
Many think that such 'spamming' behavior will come back and bite users. It will never happen if the service you use supports the Spintax format of messages.

In this case, your messages will be randomized – you send unique messages so Instagram doesn't block your actions.

Inflact DM service, as one of the leading in the sphere, supports such a format of messages.


WHAT ARE THE BENEFITS OF BULK DMS TO ALL ACTIVE THREADS?
Such messaging is your chance to reach out to followers that are already engaged and convert them into paying followers:


Increased open and response rates;
Improved followers' engagement and loyalty;
Boosted awareness of your audience about the product and services you offer.
If you have questions to ask, go ahead, ask here in comments or contact our Support Girls via email or live chat.