If you have ever bought products on Instagram, then you may have faced scams. In this article, we expose popular types of fraud and give recommendations for shops to prove they are trustworthy and grow sales.

Let's start with a real situation that may have happened to you. If you have more than 500 followers on Instagram, shops may slide into DM and offer cooperation. Most often they are jewelry sellers and offer tempting bargains.
For example, they may let you choose several items for free – their product will likely be valuable, for example, gold plated jewelry. In return, you will only have to pay for the delivery and make several publications in your Stories, which they can then use in their account. Scammers will contact you through dummy accounts and multiple people may work for such "shops" and send the messages from different accounts in order to reach as many people as possible.
Here is a real example of what they may write: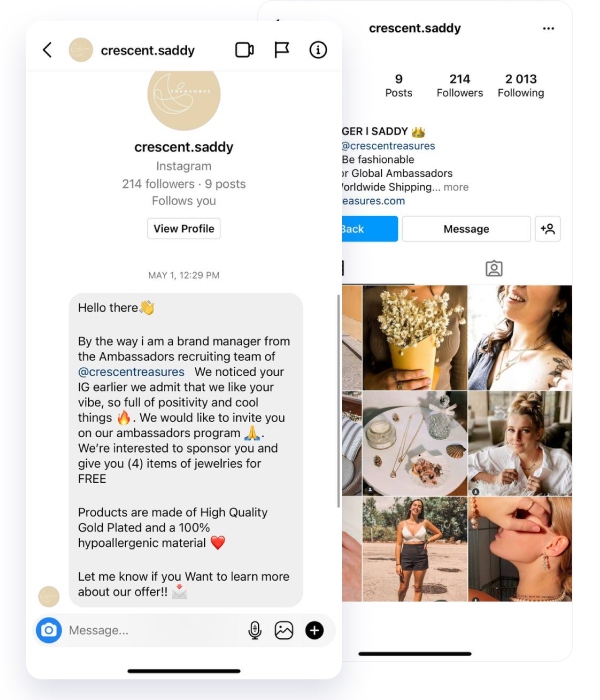 By the way, they may send a very inspiring message that dispels your doubts and inspires confidence. After paying for the delivery and choosing the goods, you will most likely have a message that the goods cannot be sent right now and you need to wait – in the hope that during this time you will simply forget about the order.
Wait a few weeks – of course, no one will return the money to you and the goods will not be delivered. This is currently the most popular scam, but we will consider other types of fraud that you should know about if you are an Instagram user and especially if you shop through your Instagram.
Unfortunately, in the case of this top scam, it will not be possible to refund the money, because most often such stores use fake addresses and they simply cannot be found. The only value you can take from this is to warn other users so that they do not transfer money to this shop. We will discuss a way to report scam shops in the section below.
Sadly, the presence of scams on Instagram can become a serious obstacle to the development of your business. Even if you are doing business on Instagram in good faith, you attract customers, and you want to sell real goods and honestly benefit people, such situations may seriously hinder your promotion.
People and influencers may not be so willing to contact you on a barter basis, after they have already been deceived once.
We reveal a solution for business to prove that your Instagram store is honest and reliable for cooperation and shopping.
Instagram safe shopping – how can users get scammed by a seller
Fake accounts of real brands
In this case, you may stumble upon an official account of a famous brand – you may find an active offer and products with big discounts. But the deal is not real. It is a scam because most likely you will not get this product at a discount. It is just a lure in order to get followers and money. Be sure to click the menu and check the country of origin of the account. This may help you to make sure that the account is registered in the location where the brand should be actually located. For example, if you order shoes from a UK brand, make sure that the location of the account is not Morocco.
Cheating investment schemes
In 2020, more than 160 persons became victims of such scammers – in no case should you get fooled by a request for a money transfer. Often these scammers may say that they need investments in a small amount and you will be reimbursed with interest. But after the transaction, scammers disappear without a trace.
Scammers can announce giveaways and arrange lotteries
Often you can see accounts where expensive things are being given away – iPhones, branded jewelry and many other lux things. However, this is often a non-existent prize and people are simply increasing engagement in the account due to the fact that you like, share, and comment. But afterward none of the participants will win the prize. Therefore, take part in giveaways in approved accounts only. You can also read an article about Instagram lottery – this account is not fake.
Fake barter
As mentioned at the beginning of this article, scammers may offer you free products in exchange for publishing. With this type of account, it can look convincing as there will be several hundred thousand subscribers, even a real website and a payment function. But this does not guarantee that you will receive gifts or the return of money paid. Therefore, in this case, check the country of origin of the information account.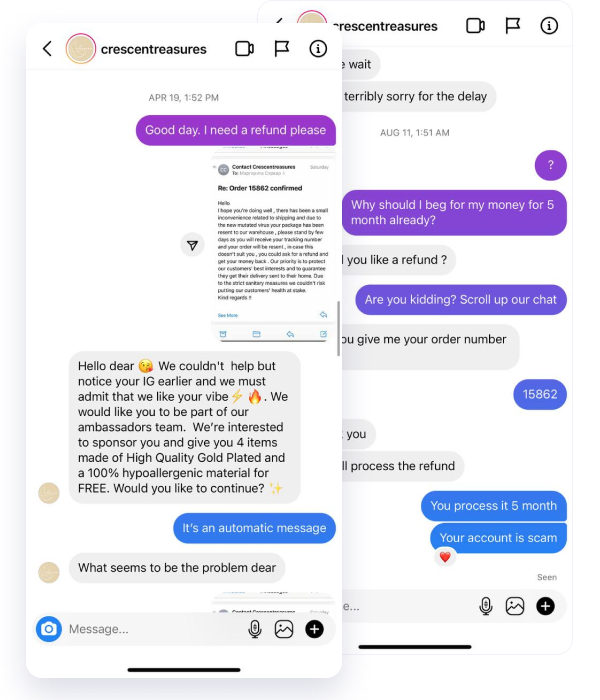 Phishing
Fraudsters can try to use personal data to log into your account. After your account is hacked, they will demand a certain amount of money or performance of certain actions if you want to get the account back. In this case, you will probably be contacted in the Direct. As a result, in no case follow the links that are sent on IG or other platforms where you need to enter personal data to log into Instagram.
Tips to avoid scams on Instagram:
Check the account country of origin. Often accounts that are registered in third-world countries can be run by scammers. However, this is not a guarantee and any user could register an account through a VPN – so this cannot be the only way to verify.
Check the account creation date. When making a purchase and payment via Instagram, do it for accounts that have been registered for a long time. However, this also cannot be the only guarantor, because new stores appear every day, and fraudsters can buy an old account and redo them for their malicious purposes.
Avoid accounts with grammatical mistakes. Often scammers do not bother with grammar and you will encounter many errors.
Put an end to people offering you prizes in exchange for action in private messages. More often than not, it turns out to be a scam – it significantly slows down the fruitful interaction between micro-influencers and brands. So if you have a small audience, real brands may actually contact you. To make sure that this is a real brand, ask them to contact you by phone, for example. Also, you should be contacted from the official account of the brand – not from artificially created accounts with empty feed.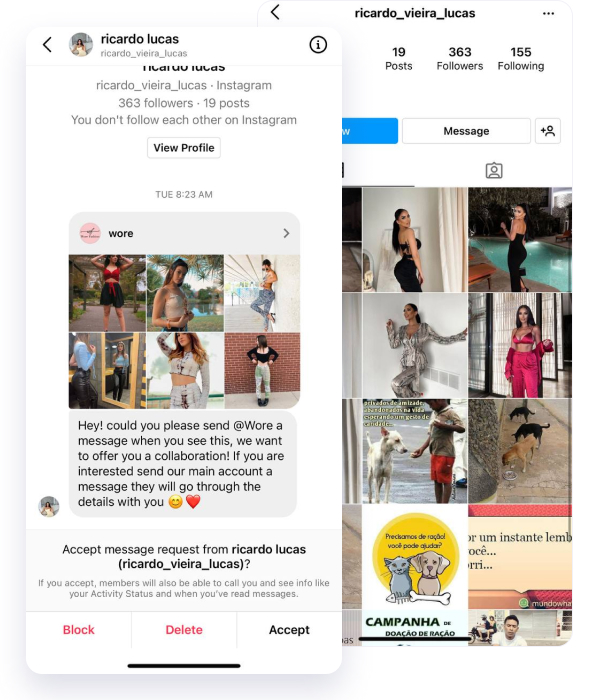 Check the followers in this profile. Oftentimes, fraudulent accounts cannot get real followers. However, if you open the followers' tab and see bots – a bunch of identical templates, cover photos, and names, then these are just purchased followers that you need to ignore. Do scroll through the followers' section to make sure true people are present there.
Do not open links in private messages if you do not know who is texting you. Also, scammers could have hacked an account; so even if this is a verified account, scammers could still write to you from it.
Help other users avoid situations like this by complaining about the scam in the application. Here's how you can do it: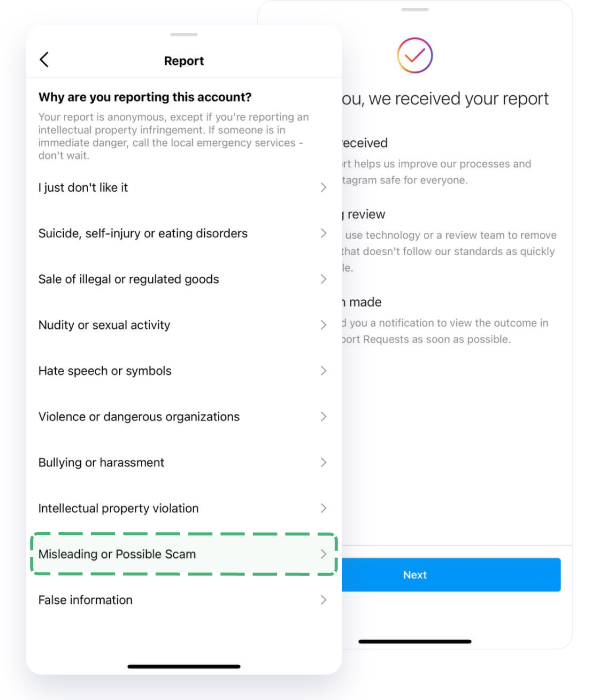 Open the profile of the user/shop that tricked you.
Select the menu with three dots.
Tap the menu item Report→ Report accounts.
Select the reason (Misleading or Possible Scam) and follow the further instructions.
Instagram support should respond to your complaint.
If a lot of complaints are received on an account, then soon it may be removed from the community. Also note that such complaints are anonymous.
How to grow your Instagram shop credibility
Download customers' photos. While bloggers may not trust you due to many scammers, customers can directly affect your sales if you sell directly from Instagram without a website. Therefore, in order to increase sales, photos of satisfied customers will be useful – publish them directly to the feed and tag users and past customers. In this case, people will be able to follow tags to check on these accounts. They will see real users – these people are allowed to get marked in the photo. This social guarantee is the best way for even a novice store to demonstrate they have real customers.
You can download high-quality photos of clients from their profiles. Browse the content they publish in Stories, Reels, and in the feed. A downloader for Instagram will help you to do this. Downloaders for any kind of content allow you to collect videos and photos from social networks in original quality so you will not need to message clients to get photos. But when you use their materials, you'd better ask for permission – it will also allow you to establish closer bonds with past clientele.
Collect reviews in Direct. After completing the purchase transaction, try to reconnect with past customers. First, it will show your best side. That is, you demonstrate to customers that you care about their opinions and collect real reviews about products to improve the service.
Secondly, It will help you to improve the trust in your account and attract potential customers. You can use the Inflact CRM and Direct Module to maintain communication on Instagram and not forget about these important follow-ups.
The Inflact Direct Module is a unique CRM that is an online DM messenger and a system for keeping track of customer lists. You can tag past customers and sort them by Kanban boards. This way you may create a Kanban board with past clients, and the Direct dialogs will be sorted so that you can recontact them in a few clicks.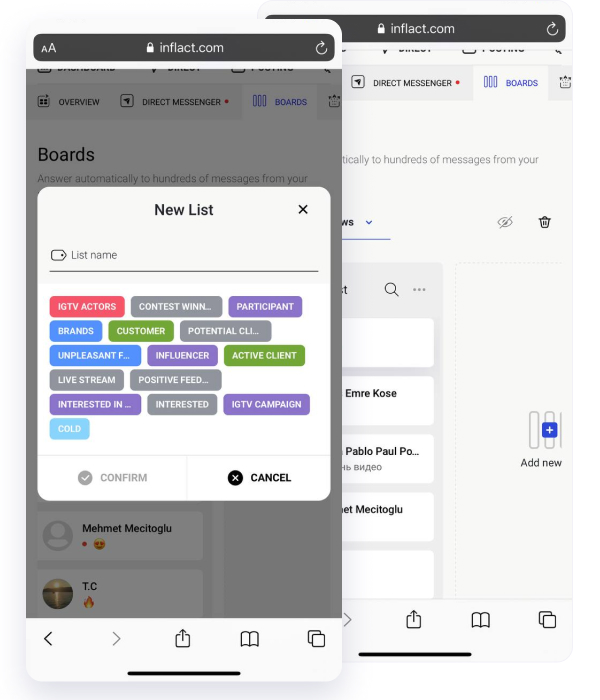 Apply the convenient search function by text fields in the messenger. That is, you can indicate in the notes the exact date when you need to recontact the client. By entering this date in the search string, you will be shown those clients from whom you need to collect feedback.
Set up quick replies in Direct. If you quickly and promptly respond to customers' incoming questions, it's likely that your store will grow. Since shops can often stop responding, you must show that you are ready to help potential clients at the moment they are interested. Plus, it will drive organic sales in your Instagram account. In the Direct Module, you can set up quick reactions and auto-responses that will be triggered by keywords. That is, you can assign an answer to typical questions that are asked in the DM – they will be automatically sent from your account within 5-10 minutes.
Don't buy followers. Yes, there is a great temptation to buy an audience for a beautiful number. But the presence of robots will only ruin your reputation if someone wants to see the list of followers. Therefore, if you want to quickly gain followers without spending hours putting likes and subscribing, try to transfer these tasks to the bot – Promo Module. This is a 2022 trust bot that brings targeted customers to your profile from competitors' accounts, similar profiles, and niche tags. Read our article on how to grow your followers and likes organically.