Perfect tools exist for lazy entrepreneurs who value their time. Generate leads and build your brand on IG, even if you don't know how to get your first clients.

Millions of entrepreneurs are using Instagram to sell globally without an online shop. The issue is:
Entrepreneurs need to put a lot of effort into gaining their first customers from Instagram. Checking on competitors, following their followers, and engaging with content may take several hours a day. These hours could have been spent on developing your product.
In this article, I'll show you a tried and tested method of streamlining customers without the necessity of living in the app. Adjust the targeting once and let the money flow to your pocket.
Instagram for business revealed: how to attract customers automatically
Selling on the platform is easy if your content reaches those users who are looking for it. One option is to start an ad campaign, but ads can't interact with potential clients when you are offline. Plus, once spotted in the feed, ads alone can't build brand loyalty.
At the same time, automation tools, like the Promo mode, give you more than clicks on your account — your customer gets human-like attention, which results in consumers' trust.
Next, I'll show you a step-by-step technique to sell on Instagram.
Situation: I want to sell jewelry on Instagram. I don't have a website or client lists.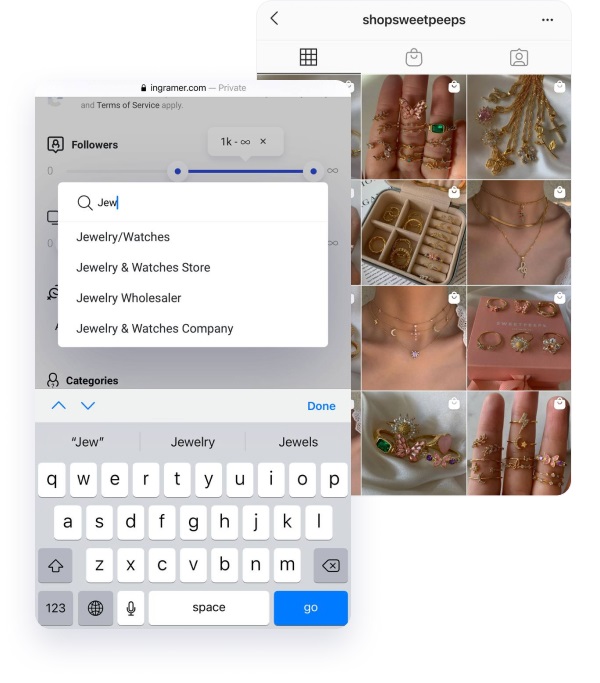 Here is what I should do to get my first clients from IG:
Examine competitors and copy their usernames.
At this stage, it's simpler to apply the User search. It helps to collect and analyze top rivals in any niche in seconds instead of seeking this information in the app for hours.
Determine the category, adjust filters, and view profiles. For instance, I picked the category Jewelry & Watches.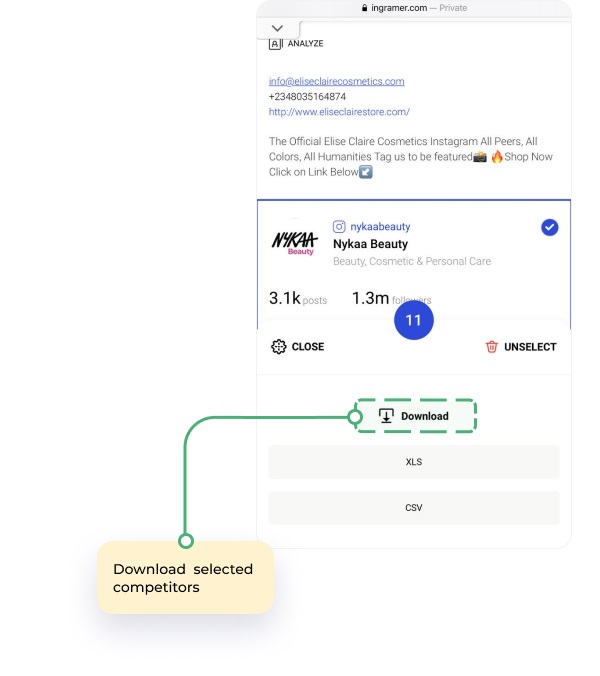 You can delve into all the possibilities in the blog post How to use Instagram user search for influencer marketing, market analysis and talent research.
Hack: You can type a particular city in the menu to discover similar accounts in your area.
Important: We'll copy the usernames of top rivals. Download an Excel file or manually copy from the webpage.
Competitors' names are required for targeting adjustments.
When you research opponents, be attentive to bios and niche statements. Determine a unique selling point (USP), so consumers prefer you over them. A USP illustrates why your offer is better than other market players'. You can find examples
here.
Copy their hashtags.
The list of accounts in the jewelry industry is right before my eyes. It's time to dive deeper and analyze their accounts. To view the in-depth statistics, I'll click on Analyze.
Monitoring will help you identify major content trends, get insights for future posts, and identify the most effective time to publish them.
However, the goal is to scan hashtags to employ them for Promo set up.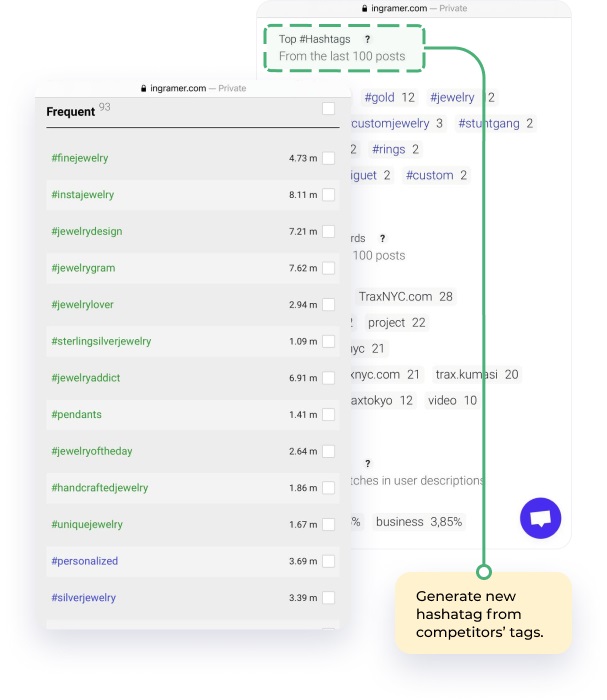 Find top tags on the analytics page.
Copy relevant ideas into a document.
Insert tags into the Hashtag Generator and get hundreds of new ideas.
Collect all these hashtags in a document to quickly copy and paste.
Read how to smartly repurpose competitors' hashtags in our article.
Set up Promo mode on Inflact.
Disclaimer: Usually, the promotion starts several days after the Safe mode. So, don't expect hundreds of users to follow you in an hour. Be patient to meet real and long-term clients.
Activation of the Promo mode starts with connecting your account to Inflact. We suggest using the Promo mode with the VPN on to enjoy growth without pauses. Read more details in the post How to grow Instagram followers securely and faster.
Register on Inflact and choose your plan.
Open the dashboard and log in to IG. The account should be at least 14 days old and list no less than 12 publications.
Click on Targeting in the menu. Now it's time to apply the usernames and hashtags we've found previously.
Paste usernames from your document or Excel spreadsheet. Inflact will interact with followers of these users and/or accounts they are following. Interactions are fully customized. You will follow/unfollow, like, and watch stories of your community members.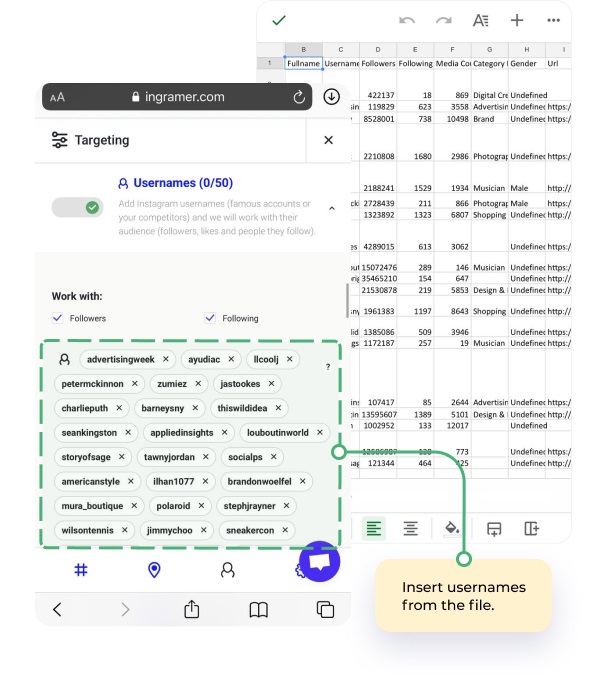 Consistent interaction means clients and fans of your opponents will notice you. If they admire your content and products, they will likely become your clientele.
Paste hashtags we've researched from competitors and the Hashtag Generator. AI targeting will engage with accounts that use or follow these hashtags.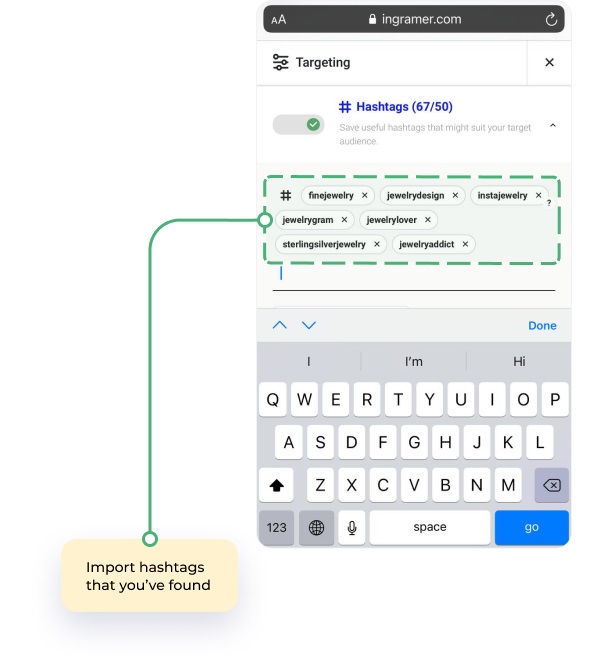 Several days after the promotion launches, you can view analytics and determine which usernames and hashtags bring you more results — followers, likes, DMs. You can exclude inefficient ones in the dashboard.
Note: Most of the automation tools don't work these days, but Inflact is rated 4.7 on Trustpilot. It proves that hundreds of thousands of people achieved business growth thanks to our AI target growth.
As soon as you set up targeting, Inflact will engage with these accounts.
How to sell on Instagram and outwit competitors via DM
Most Instagram users follow a business account, which leads us to the fact that many of them expect to receive customer support in comments or direct messages.
The speed of reacting to DMs is crucial. If replies aren't instant, your leads may go to rivals.
But it's so burdensome to respond to the same questions over and over in Direct, right? You can develop your client relationship management and sell more on Instagram with automated messages. Read in detail how to increase your sales via messages in our dedicated article.
Don't try to sell directly in messages, but it's a good idea to set a welcome message with a coupon for new followers to stimulate sales.
Moreover, in the Direct module, you can save information about clients and separate chats into categories with labels. Afterward, you can filter dialogs and reach out to a particular audience.
Lastly
The world is your oyster – you can sell products on Instagram even without a website in 2021. No matter what you sell, you need to gather leads, not just followers around your content. Tools like the Promo mode by Inflact will help you get a niche audience who is likely to be interested in your product. Moreover, constant interactions with their content results in building trust and loyalty.