If you still think that making money on the internet is difficult and requires special knowledge, this article will dispel your doubts. Sometimes you don't even need to produce content to earn money. All other important knowledge is already in this article.

About half of all users said that IG is a platform they use to discover new brands online.
This means that you don"t need to understand the complex algorithms of e-commerce platforms - and what's more, you don't need to create a site with a shopping cart for your business. Every post and story on Instagram can sell. And anyone can do it successfully through personal and reactive communication with clients online.
Pros for an Instagram seller to start a business on IG:
You can start selling from zero even without a website (or with a simple one). By uploading photos of your work or products, and interacting with customers, you draw attention to a great product organically. To do this, you don't always need paid advertising. By the way, Gen Z is less sensitive to target ads, so they might not perform well for you.
Instead of hiring an assistant, you can connect the Infact Promo Module - it will like, view customer stories, and subscribe on your behalf.
Rapid growth through influencers. When developing a business through IG, you can get a sale faster due to influencers - bloggers who might like your product and can boost sales instantly. This is much more effective in 2022 than impersonal advertising with costly clicks.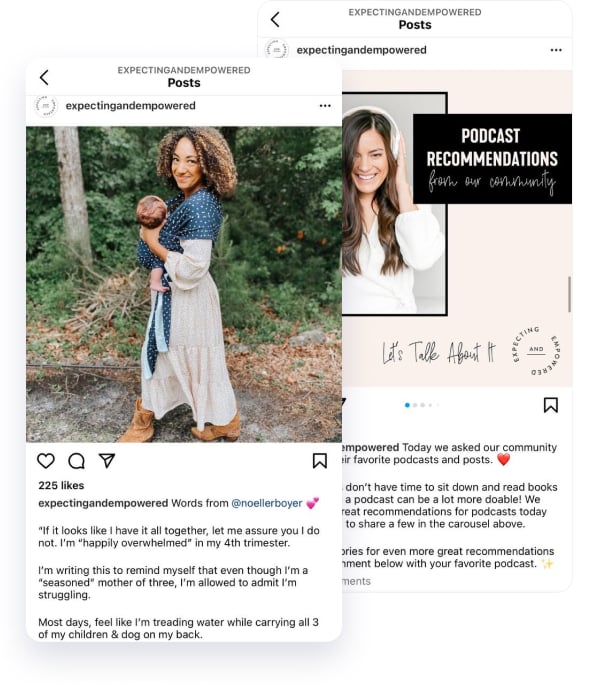 Communication with customers in real time. In 2022, sales need to be fast, and customer relationships need to be constantly nurtured - with personal stories, responses to their content, and after-sales service. It is much easier to do on IG than on a website or an e-commerce platform.
Attention:
Despite the market volume and simplicity, selling on Instagram may not be suitable for all businesses. Consider the social demo of this platform - this is the favorite network of
gen Z and average users are 18-34 years old
.
In addition, little on the platform is especially for sales - the application and the design of the functions do not allow you to keep track of customers, select targeted hashtags, and search for customer names.
Next, we will look at a set of services for business - even if you are still testing an idea without a website.
Tools to sell on Instagram without a website
Free Hashtag Marketing
The easiest and most effective thing you can do to increase sales is to find sales tags. They will help you optimize each post the way keywords optimize each page on your site.
Therefore, hashtags must be selected for each post, and be suitable in meaning.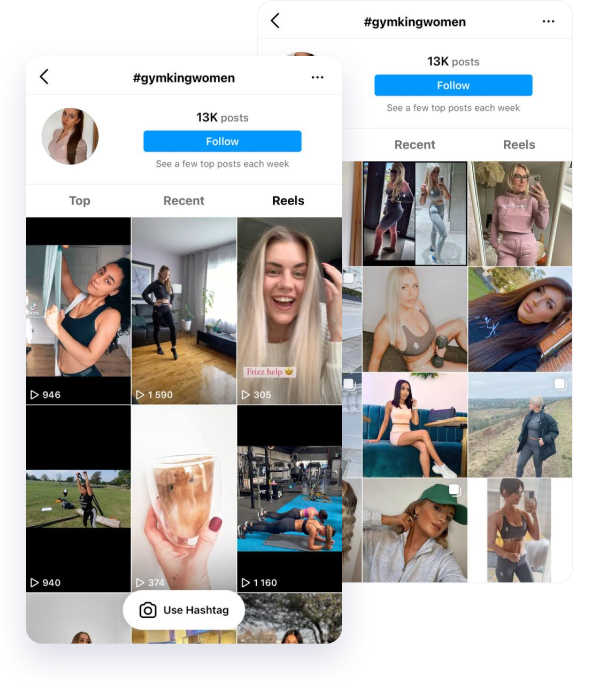 For a personal account, coming up with a couple of tags from the top of your head is a normal strategy, but for marketing it will not work. You should try tag generators like Inflact Hashtag Generator (its database is up to date and has advanced multi-word search capabilities).
Match tags with keywords. This means that you need to select groups of words for which customers can find you. Do not focus too much on what is in the picture, although it is easy to do. A hashtag is a search term. So think like a customer searching for you on Instagram.
Make a selection of tags by product, your location, buyer intent. Look for word ideas in your SEO keyword pool, niche forums, and competitor accounts.
Hack:
You can quickly copy competitors' tags through the
Profile Analyzer
. You won't have to spend time looking at every post. Then use good ideas to generate through the
Hashtag Generator.
Include your branded hashtag in your bio. If your goal is to increase awareness, work with bloggers, and boost long-term sales, then a brand tag is a must. Yes, there won't be many posts on it at once but it's handy to apply it to sort posts and navigate clients. But by including it in the bio and encouraging customers to produce content with it, you will rock this tag gallery.
Sales on Instagram Direct
Once your store is full of content, you can start selling in a more personal way. Here is a minimum profile plan with which you can start offering products to customers in private messages. Without this, alas, you may be treated with disdain.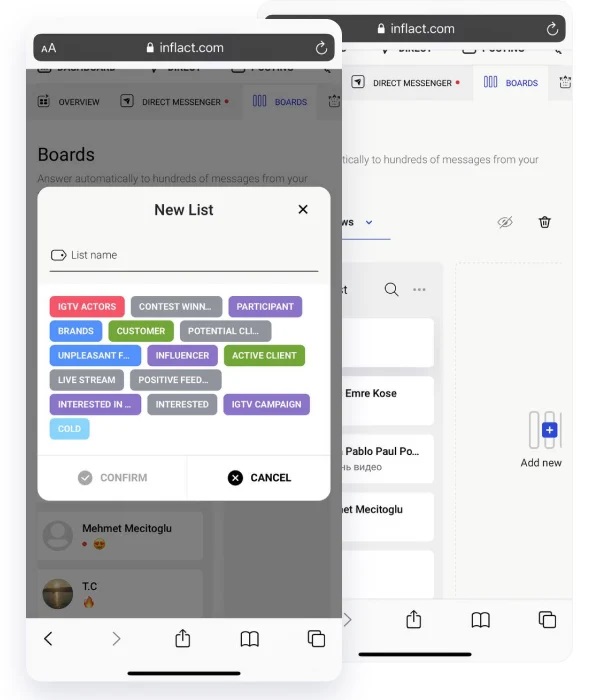 Read how to prove your store is trustworthy and that you are not a scam.
Checklist before selling in Direct:
In the nickname, bio, and name there is an offer / your mission / clear business statement.
Posts with clearly described services and USP - at least 12 posts.
Photos and reviews of real customers.
Answers to FAQs in Highlights.
Clear payment and purchase guide.
Links to contacts or a website.
Live story (will inspire more credibility).
So, now you can start to write to people who are warmed up leads:
Those who leave likes and comments, and watch your stories.
Those who interacted with you in a competitor's account - for example, replying to comments.
Those who ordered from you before, but not through IG. You can find these clients through their emails via Inflact User Search for Instagram and follow them.
How not to scare people away when selling through Direct:
Free product. A lead magnet is a great way to start a correspondence, test interest in a product, and find your first loyal customers.
Discount on the second product. Stimulate sales with favorable conditions, which you will inform in Direct.
Access to exclusive content/deal/event. You can create private content or unique conditions for the first clients. This will help you get the first reviews and sales.
Read more strategies for selling via Direct and setting up auto-message chains in the guide.
Attract customers through third-party services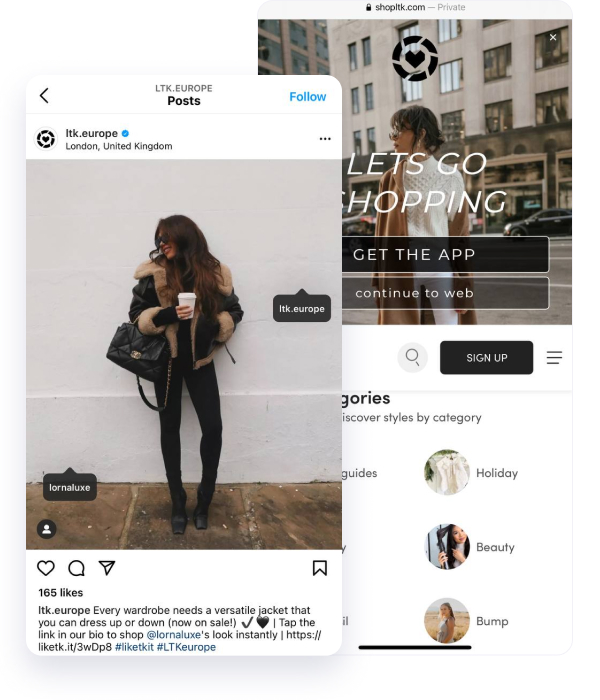 For sales on IG without a website, you can use special services like Liketoknow. This is a platform enabling Insta users to buy goods directly from influencers' posts. They follow the affiliate link to your IG, from where they can make a purchase.
This way you can reach customers through blogger cooperation. It works like a catalog. The service has an app and this site has already gained trust among influencers and brands.
Through such sales, you can establish a more personal relationship with customers than through the e-commerce site catalog.
Link in bio for URL navigation and quick sales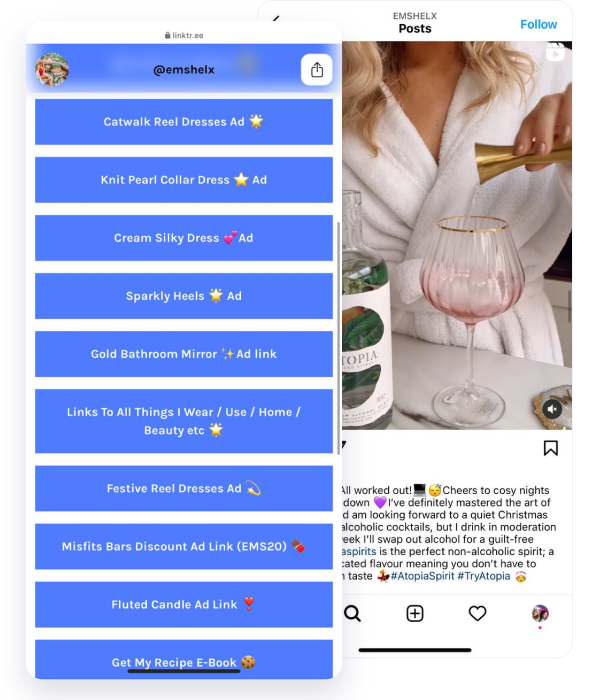 If you sell through a website or blog, then on Instagram you can make the user's journey easier - from the exact post to the linked product URL. With the help of the link in bio storefront you can increase the conversion and views of each product's page. This is especially relevant if your store is tied to an e-commerce site.
There are many services that allow you to associate each post with links:
Link tree
Likeshop
Sked Link
Major brands apply showcases tied to every post - for example, Loreal and Vogue. In the latter case, account managers link each post to a specific blog post on the site.
Attention: In each caption under the post, indicate that the link in the bio leads to the product or to the continuation of the article (if you promote a blog).
Hack: You can link each post to a different site and sell without a personal site. That is, each post can be tailored to an affiliate link to the product site if you receive commissions as a blogger.
Thus, with a showcase you can not only sell physical things, but also raise a blog's organic reach and get affiliate commissions.
Instagram Checkout
Now the platform is actively developing in-house shopping and it is becoming available in a large number of regions. This is a unique opportunity to sell directly from the application, without having a website and without registering on e-commerce sites.
Read more in the article Should you start an Instagram shop in 2021? Discover the basics & ideas from million-dollar stores.
The disadvantage of this feature is that buying and selling cannot be implemented in all locations. Also, the social network charges a commission for transactions. The amounts are no more than 5%, but for a small business it can be a significant extra cost.
Quick sales through comments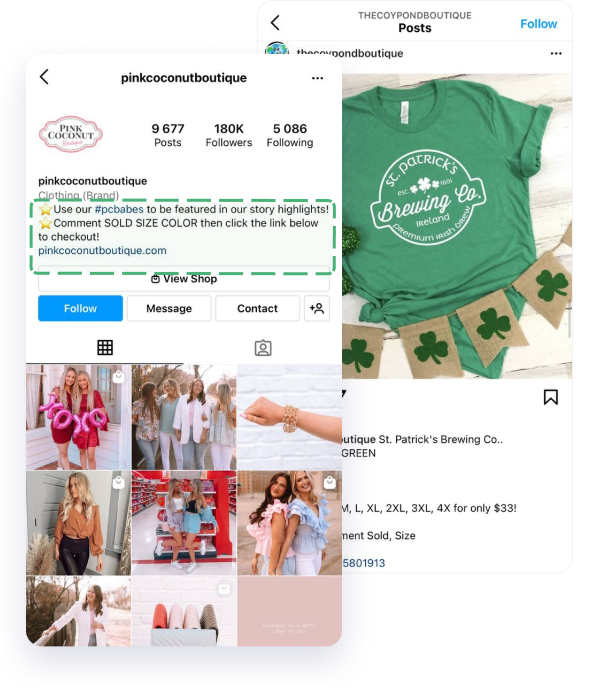 Many Insta buyers love to ask questions about products right in the comments. That is, this section of the application can become a place to make a sale without a website.
To set up sales through comments, you can connect special services like CommentSold. After connecting the account, the service will detect the comments with keywords. That is, you can set keywords that will mean they want to purchase - most often this is a hashtag, for example, #buy+[the item name].
Some services work through a comment connected with an email. The comment text should include the address (which will help you build a mailing list).
As a result, under each post you will have an increase in the number of comments - it is a perfect sign for organic promotion by the algorithm.
The disadvantage of such sales is that it can be inconvenient for a huge flow of customers. Also, you will not be able to establish a personal contact as through sales in DM. It won't be handy to upsell or offer additional products and bonuses.
Also, clients gained from comments are not as convenient to supervise as from desktop chat and CRM.
Selling through top influencers
You can grow a store if you invest in barter. For this you need to find the right influencers. It doesn't have to be top bloggers - these people often miss DMs and may not be willing to barter.
Therefore, start with micro and medium bloggers - with the number of followers up to 5K. Do not get frustrated that they have a small audience. The most important indicator is engagement. This means that the community's trust in the micro blogger can be higher due to more friendly relations with the audience and less advertising.
You can check the engagement of an influencer for free on the Analyzer. Pay attention to posts with the most likes and comments.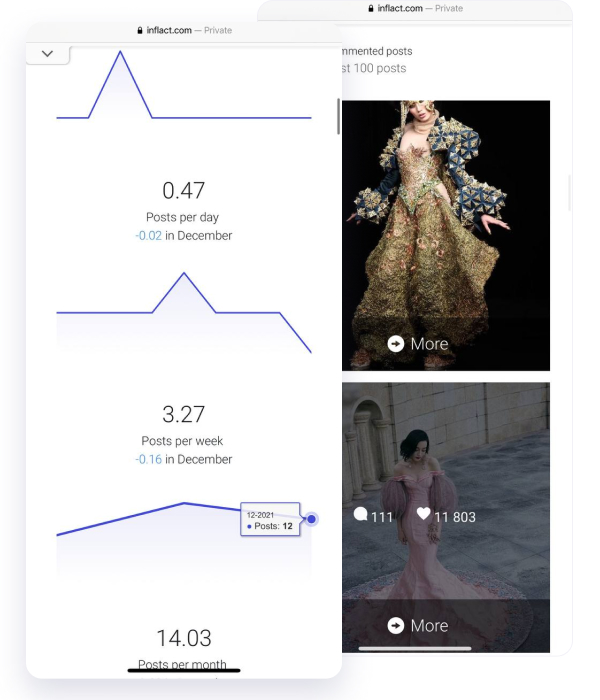 With the assistance of a blogger, come up with a creative and a presentation to make your product fit in organically with the influencer's style and concept.
Top selling Instagram items 2022
If you have not yet chosen what to sell on Instagram, it's time to do it. You can create multiple accounts for different products to test.
Physical goods
Gilded jewelry
Handmade items
Resale accounts
Mono clothing store (for example, only corsets)
Art objects (created by you or resale)
Online products and services
AR filters
Selling ads in thematic accounts
Courses related to your expertise
Marathons in private accounts
Online promotion services (targeting, design, copywriting)
The most important thing is focusing on a narrow segment and a niche product. The more difficult it is for a user to understand what your store is about at a glance, the harder it will be to achieve a sales boom.
With clear positioning, you can easily target and open a flow of loyal customers.
For example, instead of a broad graphic design service, offer menu design for restaurants and cafes. With such an offer, it will be easier for you to bypass giant competitors in the market.