If you're growing a small business on Instagram, your heart may have skipped a beat recently for as much as 6 hours. An outage on the biggest social network can cost a lot. In this article, you will learn how to save your business and your customer base if such a collapse suddenly happens or you get banned.

What should we learn from the recent global interruption of Instagram, WhatsApp, and other Facebook services?
You need to learn "not to put all your eggs in one basket." That is, to develop alternative communities in instant messengers and social networks, so that in the event of any failures or blockage there is a place for communication with your clients, colleagues, friends, and family. And essentially, you need a third-party tool to monitor and update your Instagram customer base.
A lot of indignation took place about the fact that business owners had everything tied to WhatsApp and suddenly their beauty salons, shops couldn't communicate with customers.
But it is not only failures and breakdowns, but also, for example, a banal hacking of your Instagram profile that can strike a blow at your business and other affairs. Yes, in most cases it is possible to restore the account, but sometimes it can take several days, and in some cases, it will not be possible to restore it at all.
The same issue concerns banning – you can develop your profile on the social network for years, spend a lot of money, and then one day lose everything. Therefore, it is important to diversify beyond relying solely on one network.
Instagram for businesses: what data is a treasure that you need to keep and update
After the latest disruption of the social network, many business account owners are probably thinking about how to further build their online sales process. When your business is present only on Instagram, it is of course convenient and can provide you with a stable income. However, as experience has shown, this can be very unstable.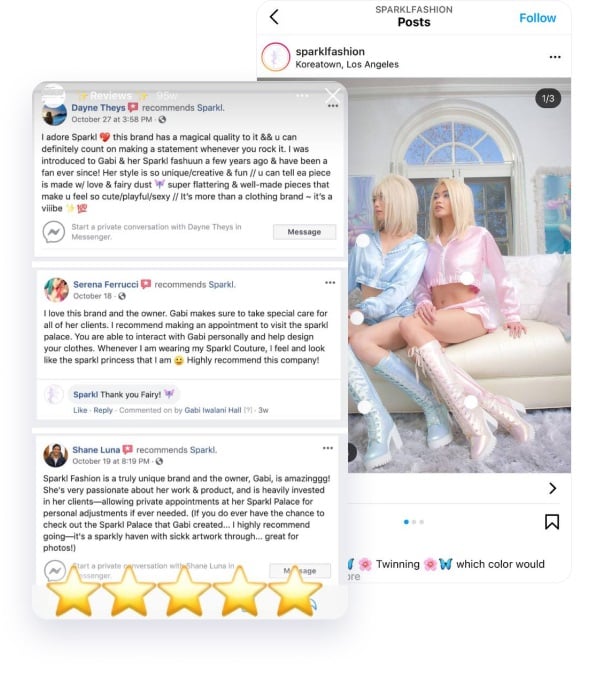 Therefore, your task is to realize how to save all this significant information that you have been accumulating for not just a few days but possibly many years of communication and sales. It is all stored in your Instagram profile.
This information is about your business, about your customers, about your income. And if now you do not use any side CRM and don't even keep any accounting in primitive tables, then in some situations you can seriously suffer. And therefore, it is now extremely important to structure your customer base on Instagram, and later in this article, I will tell you the simplest tools to do this.
The threat of service disruption or even a targeted shadowban, as well as Instagram blocking, can affect your sales. What should you attend to on the social network in order to be able to restore everything you need in case of malfunctions without taking a hit to your income?
Complete personal information about your customers. Information such as date of birth and address, telephone, mail – it's very important to know all the details about each client who orders from you. Because after the first purchase, any knowledge about the customer can help get repeat sales and build loyalty. So in the event of a collapse, you can contact the client through alternative communication methods, for example, send to a mailing list by phone numbers, or send an email newsletter. Therefore, it is extremely important to manage not only your customers' Instagram nicknames but also other contact channels.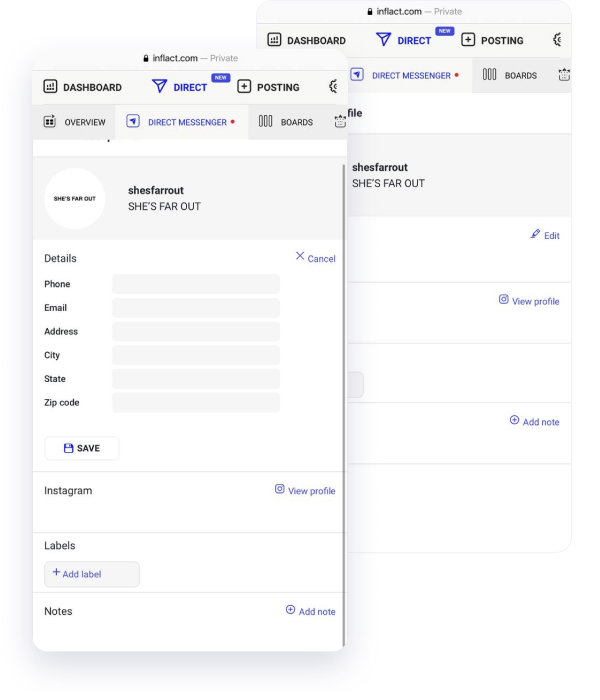 Read an article on how to manage your Instagram customer base.
Instagram shopping history. The fact is that when people order through Instagram, compared with impersonal buying through the website, you most likely communicate with each customer privately. Especially if you have an expensive product that involves repeat sales, this approach is extremely effective. Therefore, it is important to monitor not only the client's personal information but also what they buy from you, how often, and why. Below you will find a service tied to the DM messenger that will allow you to collect and record all this information about each customer.
Answers to the most frequently asked questions. Oftentimes a business account is not only serving sales and brand promotion but also can support clients by answering their questions. Therefore, it is extremely important to collect the frequently asked questions to systematize your answers for buyers who are not familiar with your brand, so that you can overcome their possible objections. You need to use this information on a website, in messengers, and in communities.
Your Instagram content. All your photos and video clips, as well as user-generated content that you publish or that your customers publish under a branded hashtag, are a social guarantee, demonstrating to new potential customers that your product or service is successful. If many people trust you, it encourages others to contact you.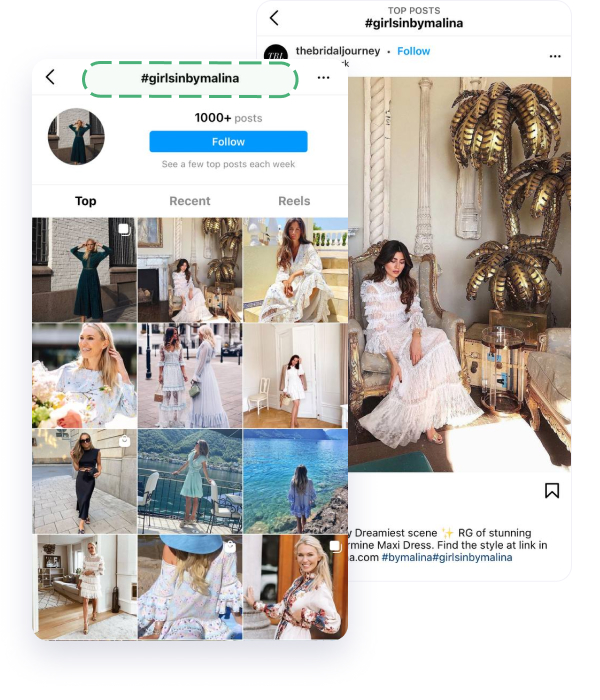 Therefore, all the content that you publish or your customers publish about you, must be collected and downloaded. Maybe it will help your website, your chat in Messengers, or a group on another social network. It is important to organize the content that is stored on Instagram and have an archive of all those visuals that you have created.
Now it may seem that collecting and storing all this information about your business is quite difficult.
"I will need to go to the correspondence with each client and scroll through all the correspondence to understand what they ordered or wanted. Or somehow cleverly download each visual from a profile, including Stories."
Scroll to the next section and you will discover it is not as hard as you think. You will find methods that are not tied to Instagram. This means that in the event of a collapse of the social network, the data is always saved on the servers of these tools.
This is the valuable data about your company and business that will help restore everything from the ashes in case the social network is blocked by breakdowns or any other reason.
Back up plan to save your business: how to restore all the data about clients from Instagram
#1 USE THE DIRECT MODULE AS A CMS
Keep contact data, history of purchases, and communication history in a third-party service.
The Direct module is not only a smart Messenger that allows you to set up automatic messages and reactions to Stories and manage bulk messaging in Direct, but it is also a CRM for managing orders that you receive on Instagram.
Personal cards. It is a convenient desktop dashboard in which you can enter data about each client. For example, there is a personal card for each chat built-in. You can monitor the address, mail, phone number, and other personal data.
Notes. There is also a section where you can track the purchase history or what the person was interested in. Mark or develop keywords for yourself and your team, and use them to search for specific categories of chats.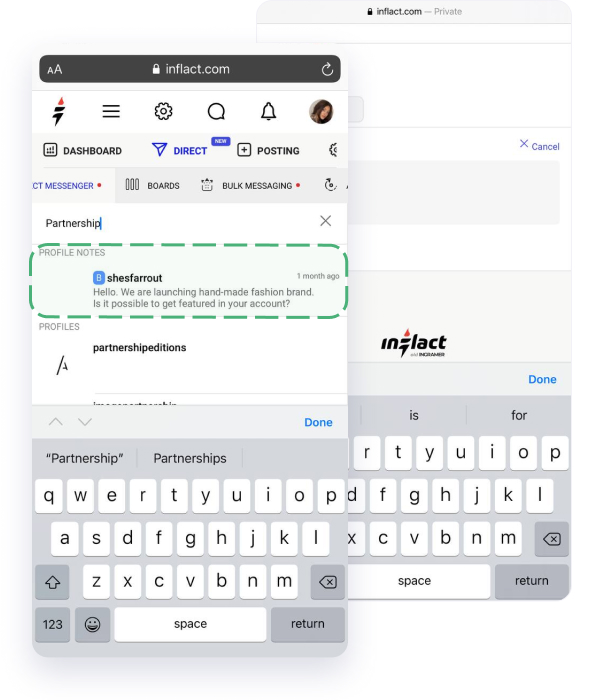 Attention: it's a very important feature that simplifies the search for Instagram correspondence by keywords. You can enter any word, for example, some product name in the search bar, and the system will show you all the people you tagged earlier with this keyword.
This way, if suddenly your account is blocked, or you end up in a shadowban, or you just want to stop selling through Instagram and relocate your business to a website, all your information about past purchases and already loyal customers will be in a safe place, where you can conveniently export it as you like.
#2 KEEP CUSTOMER BASE IN A SPREADSHEET (ALTERNATIVE WAY)
This is an alternative way to curate a customer base on Instagram, on separate sources, which is not tied to the network in any way. Yes, it is not as convenient as customer cards and notes that are immediately integrated into the chat, but it is better than completely trusting a social network and not monitoring or systematizing information about your customers.
You can download this table and use it in case of sudden trouble. All the necessary columns are already included in it and you can add what is right for your business.
#3 DOWNLOAD YOUR CONTENT IN BULK VIA PROFILE DOWNLOADER
All the content that is stored in your profile is a visual diary of your business. And it is vital to collect and download all the visuals that your clients send or that you create and publish in your profile.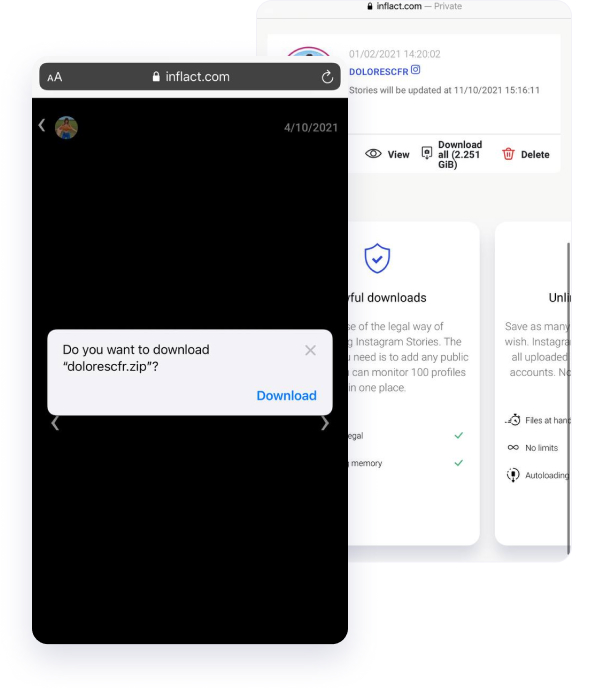 They may be stored in the memory of your phone or computer, which does not always happen. But when you download them in one archive, they will be structured and you will not need to find them across various devices. Apply the multi-use Inflact downloader for doing this operation in seconds. We also advise you to collect all the content that your customers post under a branded hashtag for easy download.
#4 ORGANIZE A PRIVATE CHAT FOR LOYAL CUSTOMERS IN A SAFE MESSENGER
Now, after the Instagram outage, business owners are thinking about how to transfer important communication with clients from a social network to some Messenger. Moreover, by using such methods, your communication becomes instant and personal. However, customers need motivation to join your chat in a Messenger or private community. So, offer something special and exclusive for loyal customers.
It can be unique content that you will not publish anywhere else, or it can be discount coupons. And in order to gather your audience in the messenger chat room, you must choose a verified and convenient channel for everyone. WhatsApp is often used now, but since it is also owned by Instagram, it may have a problem. So try to look for alternative sources, for example Telegram or any other private chat.